One of my favorite pre-keto foods was sandwiches, and while mug bread and a plain loaf of keto bread can do the trick, this Keto Garlic Bread will take your sandwiches to the next level! Filled with freshly minced garlic and shredded asiago cheese, this is perfect side dish to meal prep for meals and snacks all week.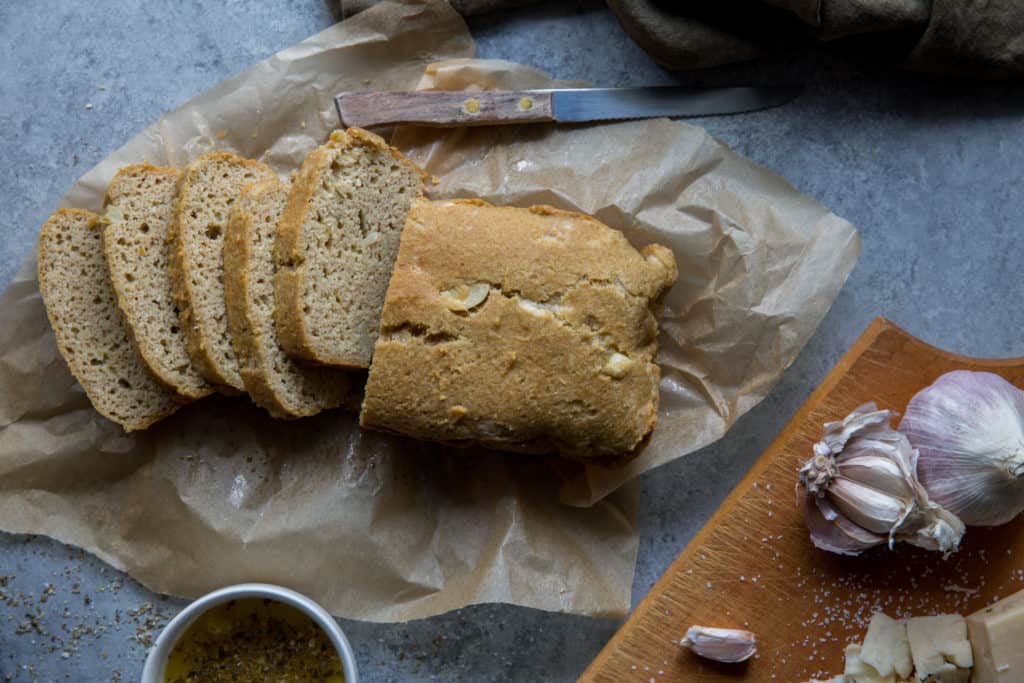 What Makes The Perfect Keto Garlic Cheese Bread?
From all our experimentation with baked goods we've come to find that the combination of almond flour and coconut flour achieves that best baked good, whether it be a dessert or a loaf of bread. For this keto garlic bread in particular we also added some golden flax seed meal, which gives it a toasted look and taste, but also cuts through any potential eggy-ness.
Make Your Keto Bread Less Eggy
From working with all types of low carb flours to making hundreds of failed loaves of keto bread, we've been able to find two fool proof methods of cutting through any eggy texture when making your bread.
Add a 3-5 drops of liquid stevia: you don't want so much that a savory bread turns sweet, but just enough to cut through any eggy texture.
Add 1/4 tsp of apple cider vinegar: it may not seem like a lot, but apple cider vinegar can is very strong in flavor so a little will go a long way.
In this recipe we used both methods to ensure that the only taste is garlic and asiago cheese and the only texture is comparable to a traditional moist and dense bread loaf.
Baking With Almond Flour
Almond flour is one ingredient we always keep stocked in our kitchen. It's not only the most commonly used flour in low carb baking, but it's versatile in what it can be used to make! We've made chocolate chip cookies, keto cookie dough, and our foolproof low carb pie crust using it. It's one of our preferred flours because baked goods come out perfect every time. You can also use it as breading for savory dishes like our chicken tenders. Pro Tip: For long term storage, seal the almond flour it in an air tight zip top bag and refrigerate to preserve freshness!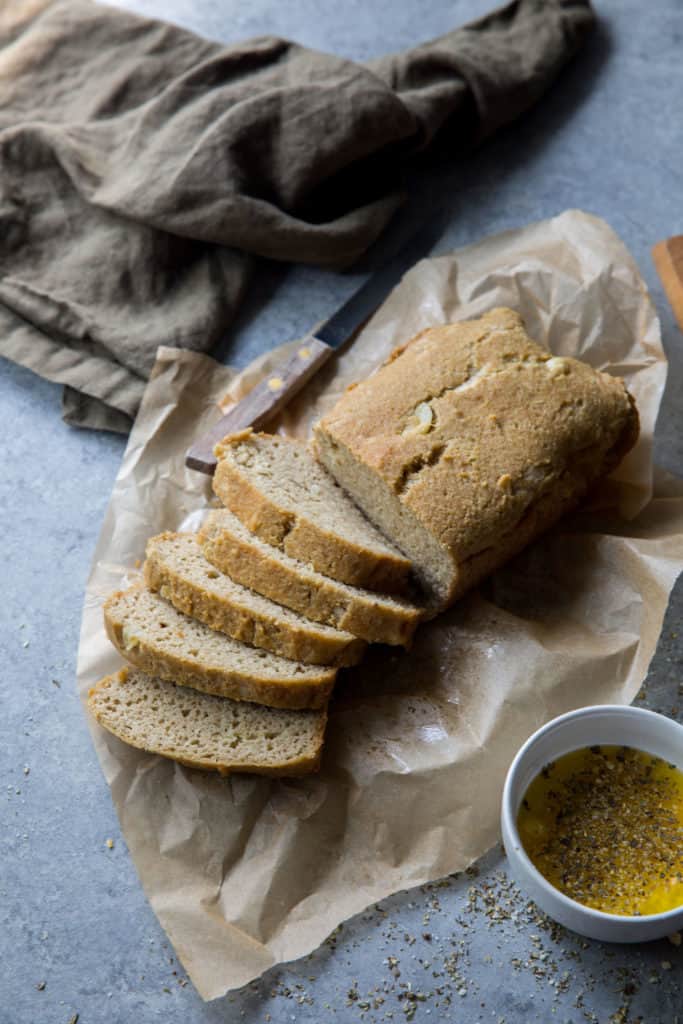 Make Some Easy Keto Garlic Bread
Roasted garlic and melted cheese in a toasted loaf of bread makes the perfect any time snack. Spread it with butter, dip it in olive oil or toast it up and serve it with a charcuterie board. You can't go wrong. What makes this loaf the best is the use of golden flax meal. It gives the bread a hint of toasted and nutty flavor, and makes it a little more dense and 'bread like' than our original "best keto bread".
Keto Garlic Bread
If the combination of roasted garlic and asiago cheese doesn't win you over, I'm not sure what will. This loaf of bread rises giving you perfect slices for buttered toast and eggs in the morning, for a hearty lunch sandwich or for an after school snack for your kids. Looking for more keto snacks for your kids, keep on reading!
We've Got The Best Keto Snacks For Kids
No matter how picky your kids are we know we've got you covered with the snacks on our food blog! Some of the snacks we plan to have in our house or make for our kids are:
low carb nature valley granola bars perfect for packing in school lunches.
keto pigs in a blanket perfect for an after school snack, and
low carb cheese crackers for grab and go anytime of day!
Make one or make them all. We guarantee your kids will love them!
Consider reading our review for Hero Bread!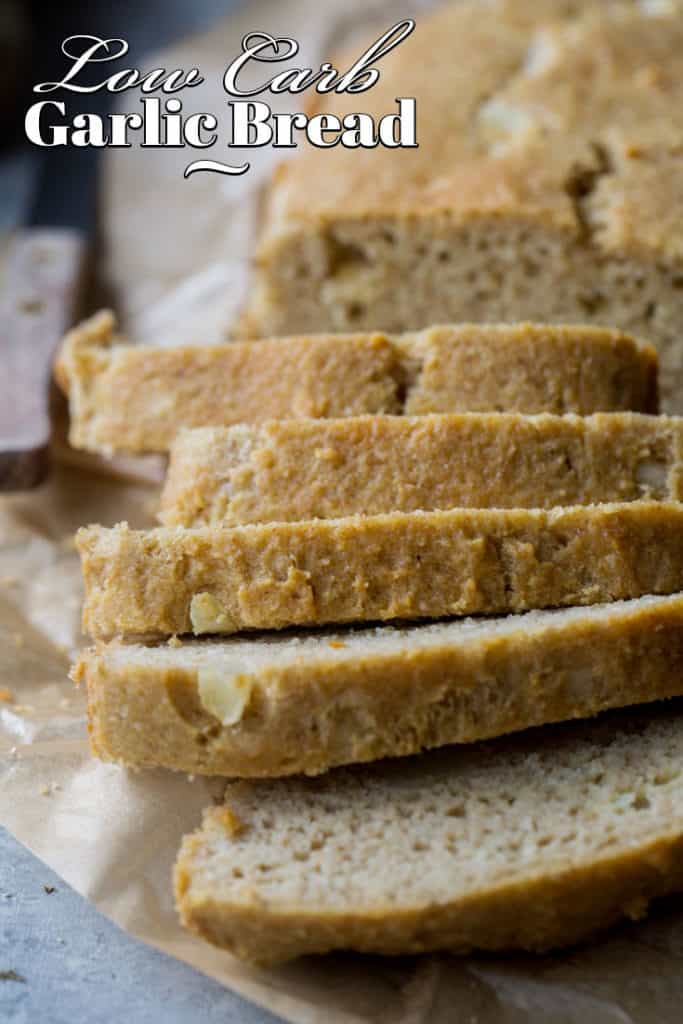 Recipe can be quickly added to MyFitnessPal – Search "KetoConnect – Keto Garlic Bread"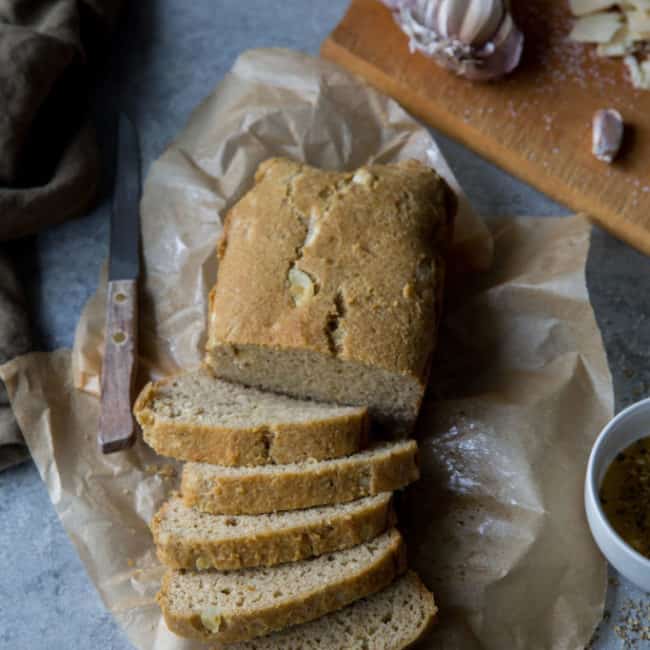 Keto Garlic Bread | Roasted Garlic And Asiago
A low-carb bread made with asiago cheese and garlic.
Servings 12 slices
Calories per serving 164kcal
Prep Time: 10 minutes
Cooling Time: 10 minutes
Cook Time: 50 minutes
Instructions:
Preheat your oven to 375F.

Spray a 8.5 x 4.5 bread loaf with oil of choice. Can also line with parchment paper for easier removal.

In a medium bowl add almond flour, coconut flour, ground flax, psyllium husk, salt and baking soda. Stir until well mixed.

In a large bowl add the melted butter, eggs, water, apple cider vinegar and stevia extract. Mix until well combined.

Add the dry ingredients in 2 batches to the wet ingredients so that they are entirely incorporated.

Fold in the sliced garlic and asiago cheese

Bake for 35-45 minutes. Check with a tooth-pick. If it comes out wet, cook for another 5- 10 minutes. It should be golden brown around the edges.

Let sit for 10 minutes and transfer to a cooling rack to continue to cool. Slice into 12 and enjoy!

Best stored in an air tight zip top bag in the fridge up to 10 days. Do not store on the counter top!
Notes
Net Carbs: 3g Serving Size: 1 slice Yields: 12 slices
Nutrition Facts
Keto Garlic Bread | Roasted Garlic And Asiago
Amount Per Serving
Calories 164 Calories from Fat 117
% Daily Value*
Fat 13g20%
Carbohydrates 6g2%
Fiber 3g12%
Protein 7g14%
* Percent Daily Values are based on a 2000 calorie diet.