Need a delicious and creamy sweet treat to enjoy on a hot day? Our Keto ice cream sandwiches made with Mammoth Creameries Ice Cream are the perfect fix for your sweet tooth.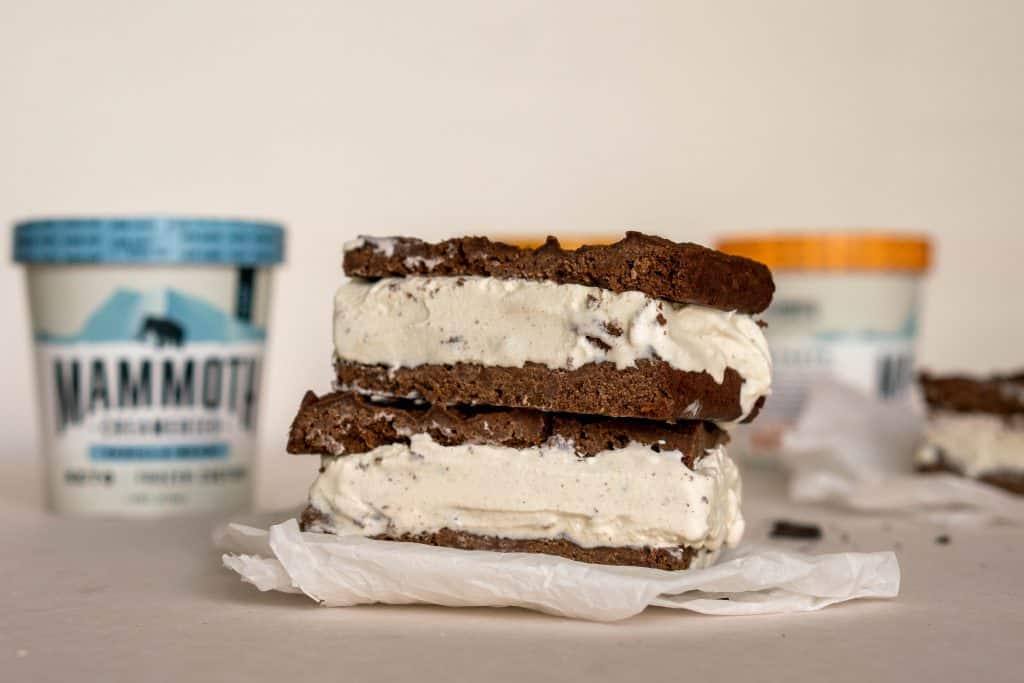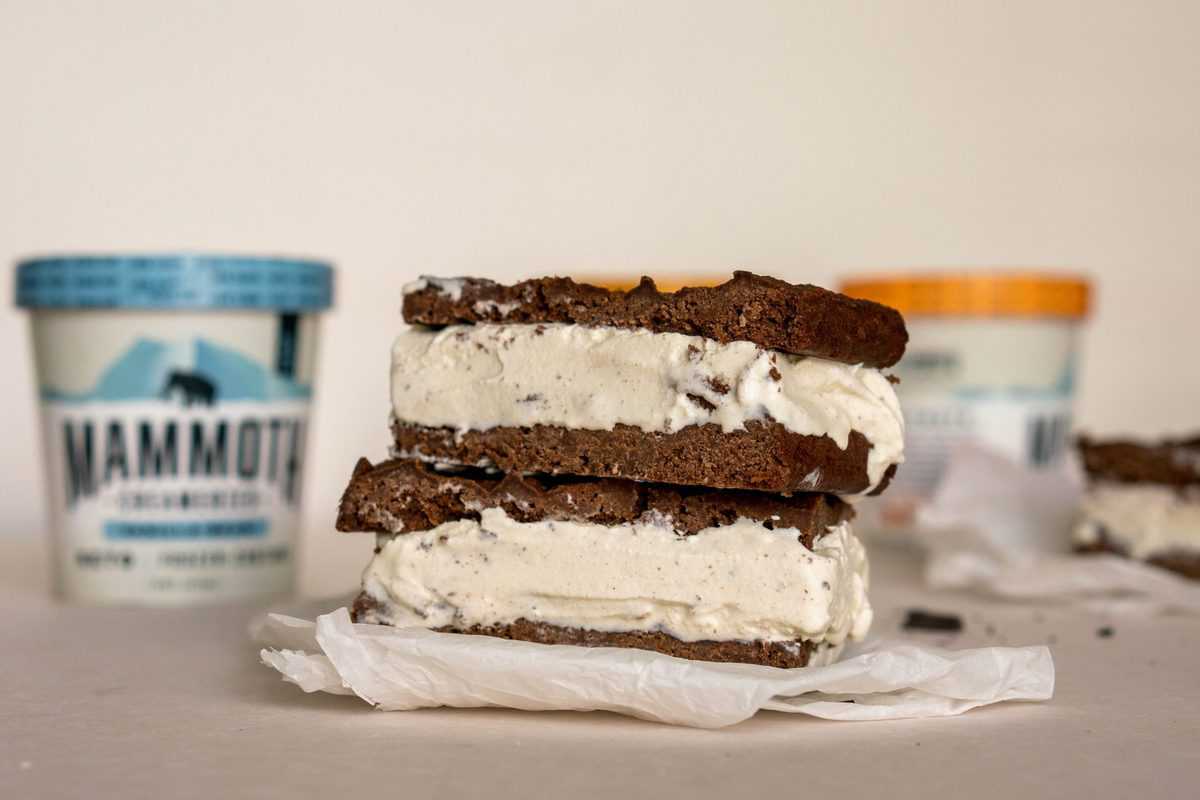 Mammoth Creameries Ice Cream
If you haven't heard of Mammoth Creameries before you're going to hear about them now! Mammoth Creameries sugar free keto friendly ice cream is what makes this ice cream sandwich recipe possible.
Having a low sugar and low carb ice cream is a game changer for those that don't want to take the time to make their own. Plus, this ice cream saves you extra net carbs so you can enjoy a little treat after dinner every night guilt free.
Keto Friendly Low Sugar Ice Cream
Unlike normal ice cream brands Mammoth Creameries uses a sugar free sweetener called xylitol. Xylitol is a sugar alcohol that's calorie and net carb free.
Enjoy this sugar free ice cream treat guilt free knowing you're avoiding extra carbs AND sugar!
An Ice Cream Maker Free Recipe
Most keto ice cream recipes will require an ice cream maker. Thankfully, our ice cream sandwich recipe uses a fresh pint of Mammoth Creameries instead to take out any extra work.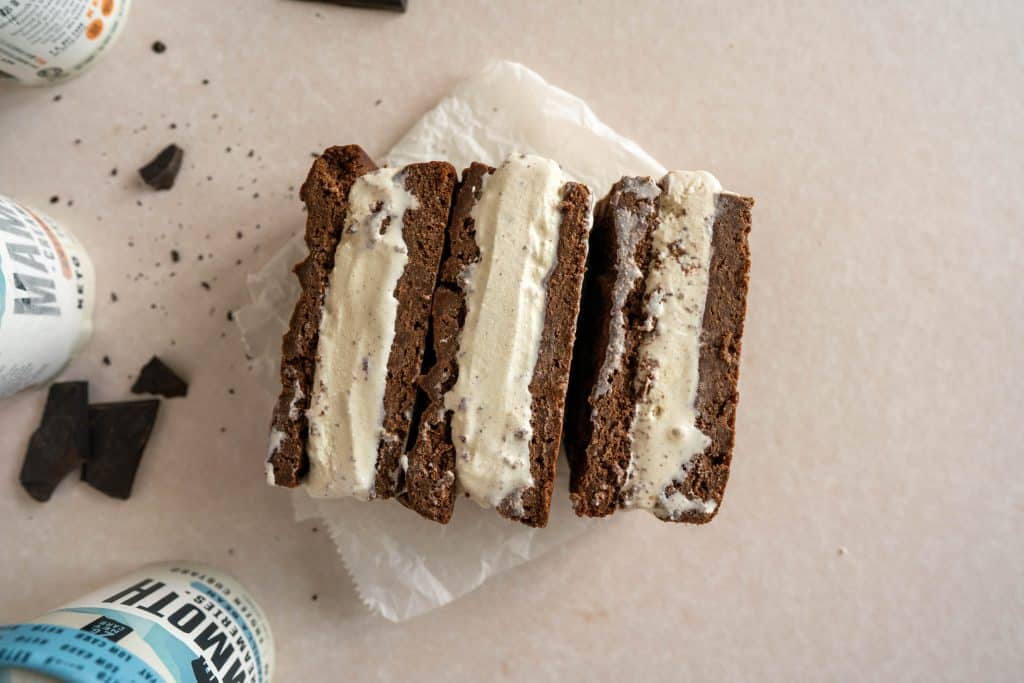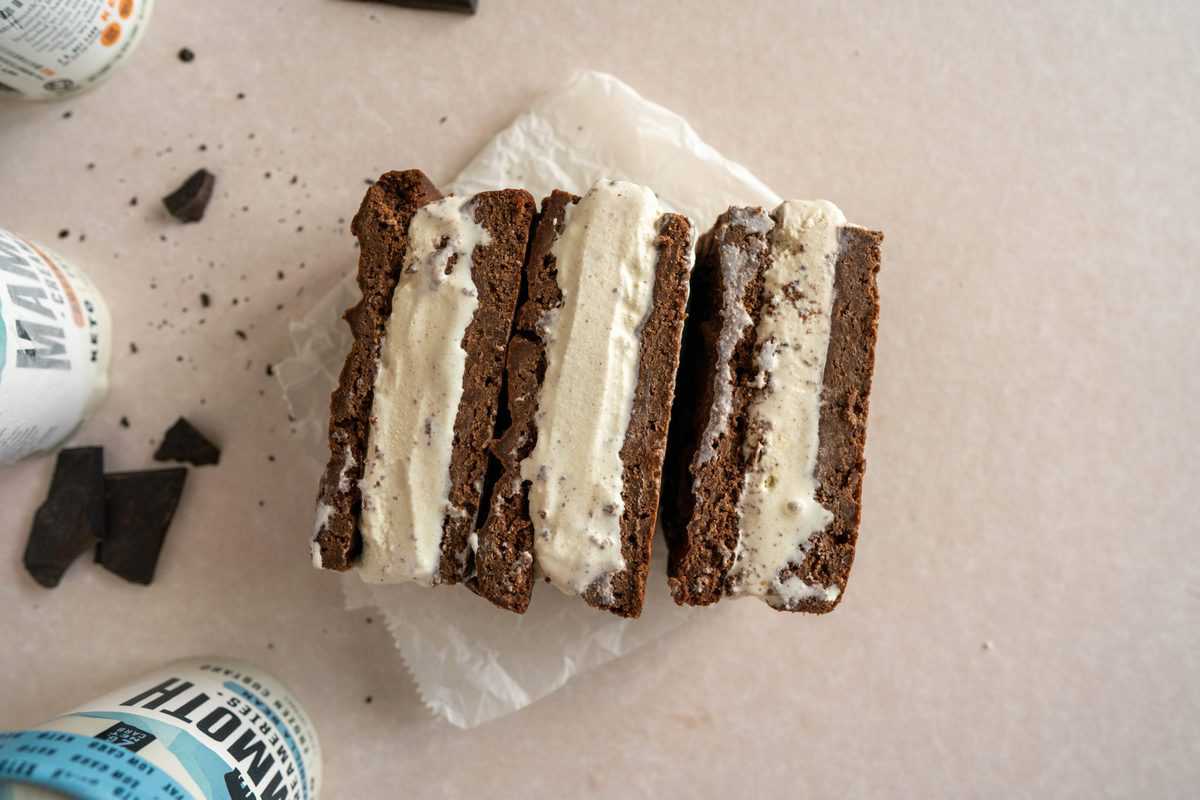 How to Make Keto Ice Cream Sandwiches
These low carb ice cream sandwiches are the perfect treat to enjoy on a hot summer day. They can be customized with chocolate chip ice cream or sprinkle filled edges, it's all up to you.
If you're gluten free this recipe is great for you too because it uses a grain free chocolate cookie base. Now you can get all the delicious chocolate flavor without an upset stomach.
Ingredients
To make these keto ice cream sandwiches you will want to start with the chocolate cookie base. These low carb cookies use butter, eggs, liquid stevia, vanilla extract, and dark chocolate/ or chocolate chips (chopped well) as the wet mixture.
Then for the ice cream sandwich cookie dry ingredients you will need almond flour (finely ground), coconut flour, erythritol, pink salt, and baking powder.
Finally depending on the amount of ice cream you want, you will need 1-1.5 pints of Mammoth Creameries ice cream. Their keto ice cream is super creamy and perfect for making rich keto ice cream sandwiches.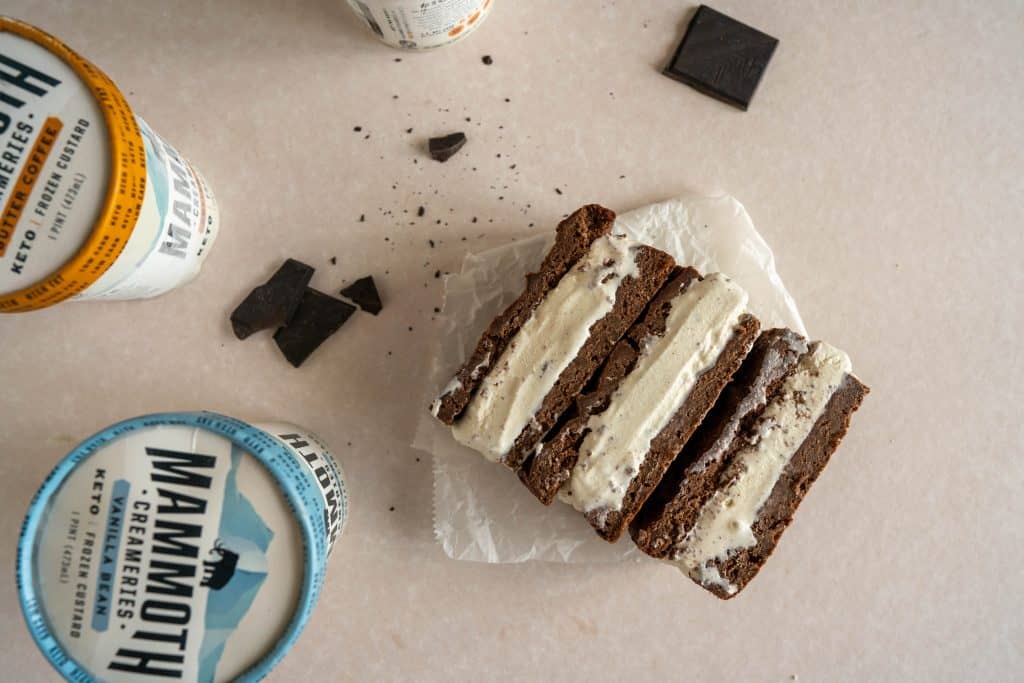 Why we Don't Use Cocoa Powder
A typical store bought ice cream sandwich recipe has vanilla ice cream and a chocolate cookie. Instead of using cocoa powder we chose to use melted dark chocolate to give a much richer flavor. If you don't have chocolate you can add 2-4 tbsp of cocoa powder, just note you may need to add extra nut milk to thin out the batter.
Optional Mix- Ins
Ice cream alone is delicious and keto ice cream is even better. If you do want to spice it up you can always add extras into your ice cream to make a chocolate chip cookie sandwich with low carb chocolate chips, or nuts for a chocolate walnut keto ice cream sandwich!
Making Keto Ice Cream Sandwiches
Now that we have our ingredients brought out it's time to start baking. To make our ice cream sandwiches we will begin with the cookie base.
Preheat oven to 350 and line one 9×9 brownie pan with parchment paper to prevent sticking.
Next in a medium sized bowl whisk together your dry ingredients minus the erythritol.
In a large bowl melt the butter and dark chocolate together. Make sure to melt in 15 second intervals to prevent burning. Once melted add in the liquid stevia, erythritol, and optionally vanilla extract. Mix well to dissolve some of the erythritol.
Now that the erythritol has cooled down the butter and chocolate mixture you can add in the eggs and mix again.
Combine your wet and dry ingredients then mix well to break apart any clumps.
Pour the cookie batter into your baking dish and smooth out with a spatula, it will be brownie batter-like.
Bake for 10-12 minutes then allow the cookies to cool for 20 minutes. Afterwards freeze them for another hour.
Cut the cooled cookies in half and fill with your softened pint of ice cream. You will want to leave the bottom half of your cookies in the parchment paper lined pan to allow ice cream edges to form. Place the top half of the cookies on top and press lightly to create a seal in the pan.
Refreeze for another 1-2 hours and then slice into four ice cream sandwiches. We like to do this in the pan and then pop them out one at a time.
How to Store Low Carb Ice Cream Sandwiches
Obviously low carb ice cream sandwiches store great in the freezer, but like any other treat they do have a shelf life. These almond flour cookies will last great wrapped in parchment paper then aluminum foil after slicing for 2 months. You can also pop the parchment paper aluminum wrapped ice cream sandwich recipe into a gallon zip lock bag in the freezer for a 3 month freezer life.
If you like this recipe, make sure to try our keto ice cream bars!
More Low Carb Sweet Treats
If you loved these low carb ice cream sandwiches you're going to love our other keto dessert recipes. We have a ton of sugar free treats from homemade ice cream to full blown keto cinnamon rolls. Try our:
Blueberry Walnut Poundcake– Blueberry poundcake makes a great partner with a cup of freshly brewed coffee. If you weren't sure what to make before you will be now, with only 6 net carbs per serving this cake is sure to please!
Chewy Chocolate Keto Cookies– Keto chocolate chip cookies calling your name? Our low carb chewy chocolate chip cookies are soft and sweet with hints of vanilla extract.
Easy Keto No Bake Cookies– Only have ten minutes and need a delicious grain free cookie in a jiffy? These keto chocolate no bake cookies are the perfect 10 minute hands on recipe so you can simply toss everything together in a mixing bowl and go about your day!
These are just a few of our favorite keto recipes, but there's even more in the dessert recipes section of our blog! We have everything from peanut butter fudge to cookie dough fat bombs, and almost everything is great stored in the freezer! If you make them last long enough to freeze….
Be sure to check out Mammoth Creameries keto friendly ice cream!
Use the code KETOCONNECT and get 15% off your order…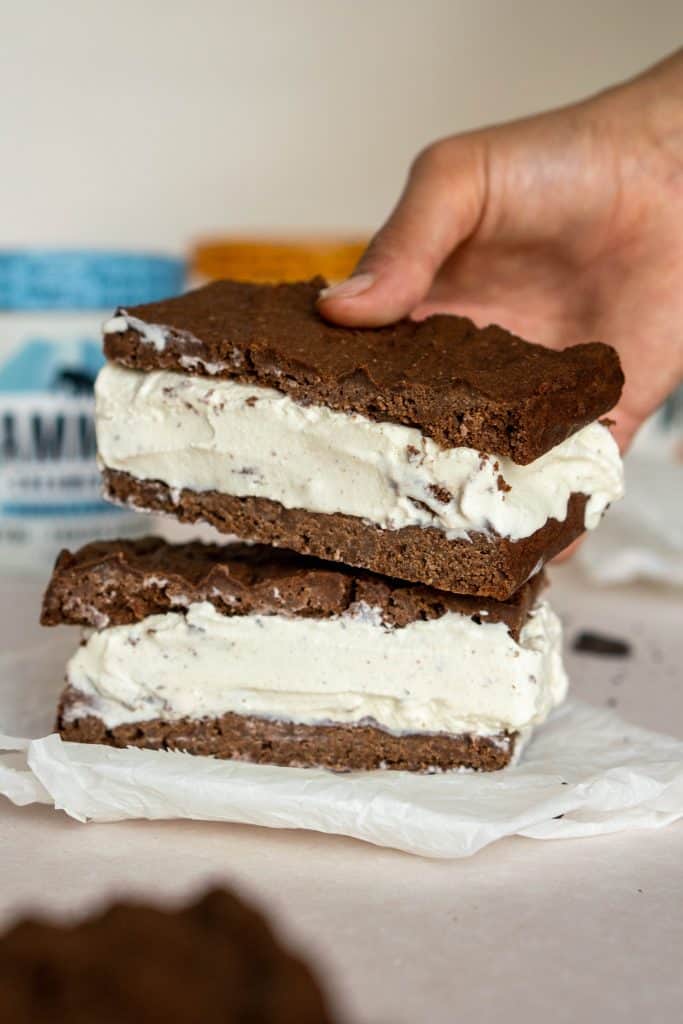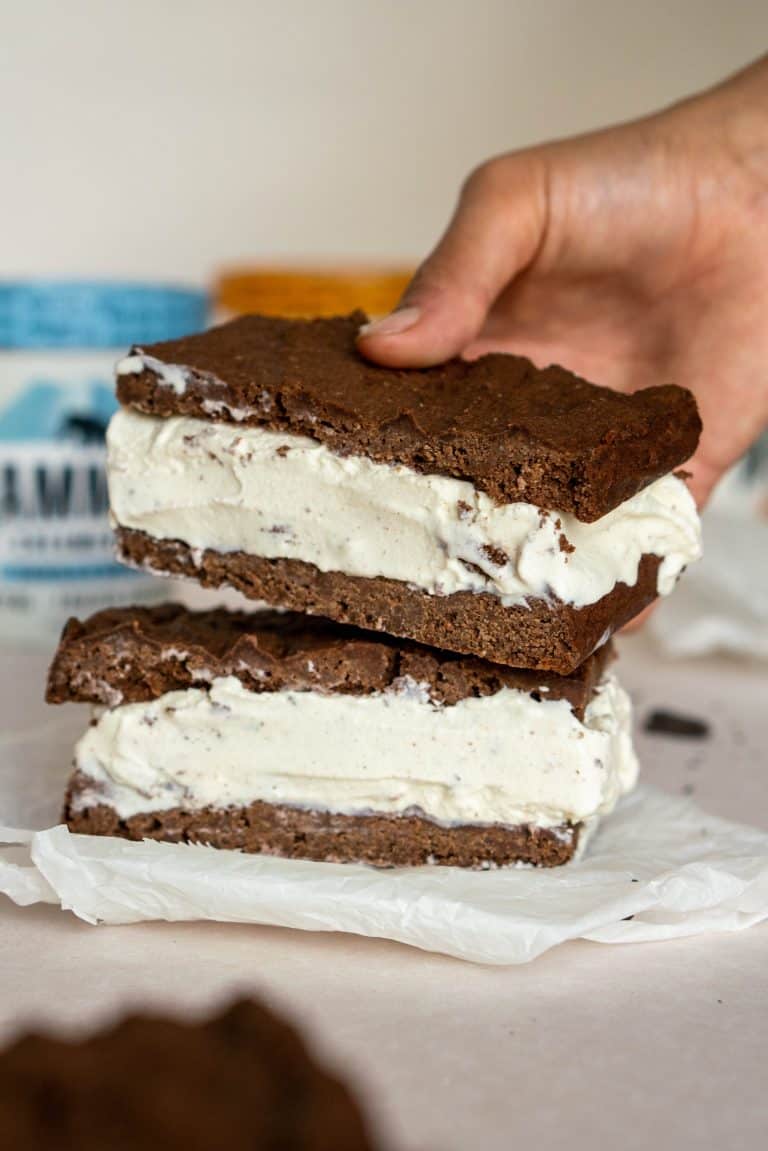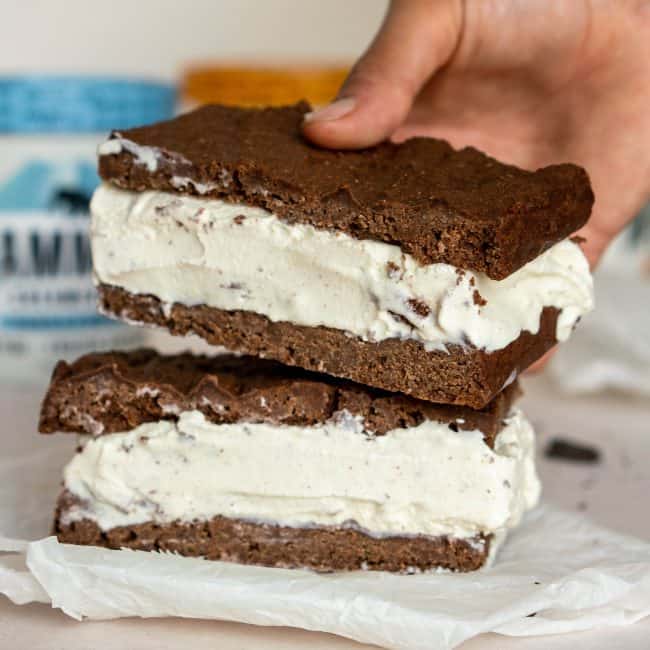 Keto Ice Cream Sandwiches
Sweet and creamy vanilla ice cream filled sandwiches. These chocolate and vanilla cookie sandwiches will take you back to your ice cream truck filled childhood!
Total Time 2 hours 20 minutes
Servings 4 Sandwiches
Calories per serving 644kcal
Prep Time: 10 minutes
Cooling Time: 2 hours
Cook Time: 10 minutes
Instructions:
Preheat the oven to 350 and line a 9×9 brownie pan with parchment paper.

In a medium sized bowl mix together all the dry ingredients minus the erythritol.

In a large bowl melt the butter and chocolate in 15 second intervals to prevent burning. Once melted add the liquid stevia, vanilla, and erythritol.

Next add the eggs and stir again. Mix in the dry ingredients to form a uniform batter and transfer into the brownie pan. Spread the brownie like batter with a spatula to form an even layer.

Bake for 8-12 minutes or until a toothpick comes out clean. Allow the cookies to cool for 20 minutes and then place into the freezer for an hour.

Slice the chilled cookies in half and remove the top half from the pan. Spread the softened ice cream on the bottom half still in the parchment paper lined brownie pan.

Place the top layer of the cookies on the ice cream and press down lightly to mold the layers together. Freeze for another 1-2 hours then slice into four ice cream sandwiches
Notes
Net Carbs: 6   If you want thinner cookies half the batter and bake for 6-8 minutes instead!
Nutrition Facts
Keto Ice Cream Sandwiches
Amount Per Serving
Calories 644 Calories from Fat 585
% Daily Value*
Fat 65g100%
Saturated Fat 30g150%
Trans Fat 1g
Cholesterol 230mg77%
Sodium 553mg23%
Potassium 316mg9%
Carbohydrates 12g4%
Fiber 6g24%
Sugar 1g1%
Protein 13g26%
Vitamin A 1252IU25%
Calcium 129mg13%
Iron 5mg28%
* Percent Daily Values are based on a 2000 calorie diet.
Written By