When eggs and bacon start to get old and you just can't make them any longer, dig into some Low Carb Breakfast Casserole! You can finally start changing things up by cooking with different meats and veggies.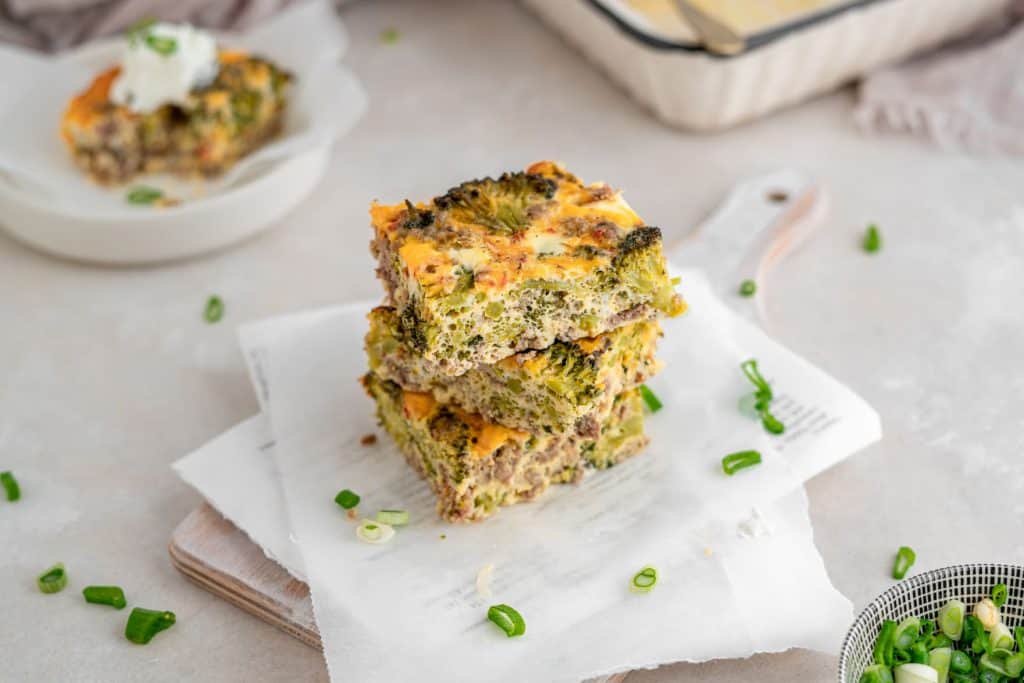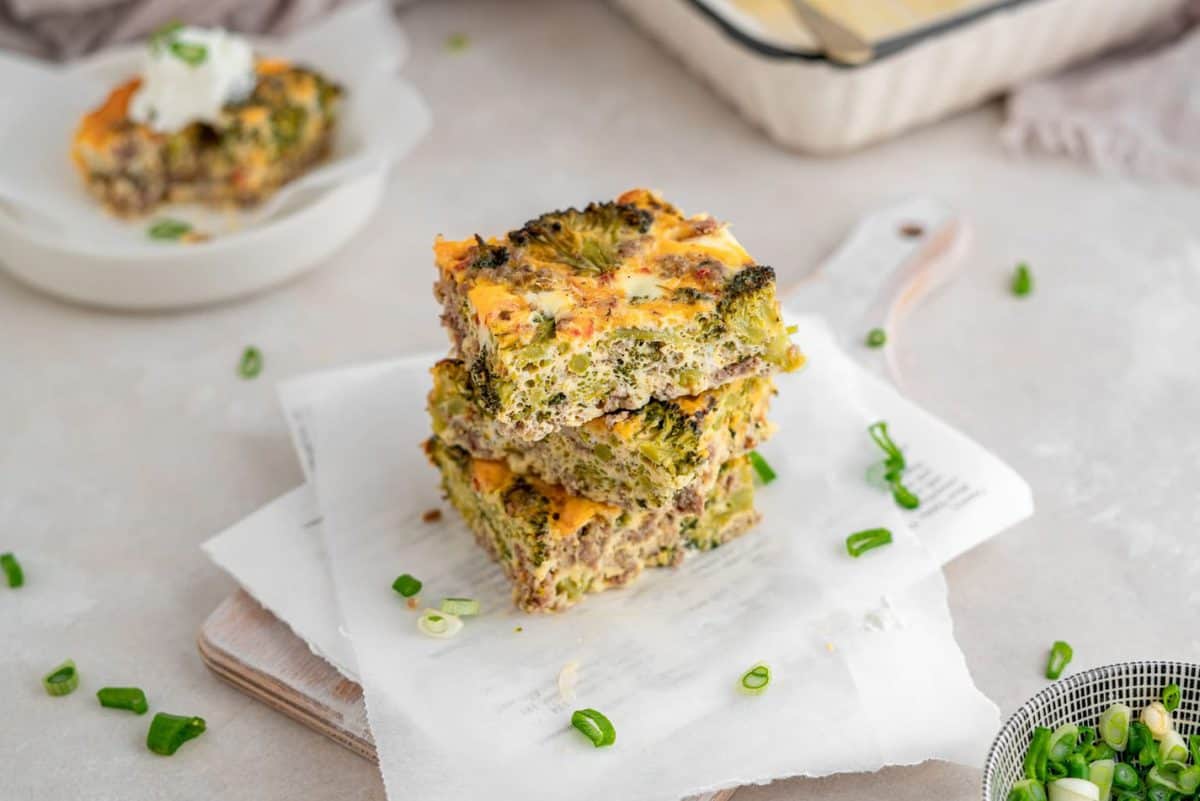 We perfected the ratio of eggs to meat and veggies for you in this recipe so there's no guess work. You can even double it for a bigger group or for leftovers that will last up to a full week in the fridge! Watch me show you just how easy it is to make in the video below.
Tips to Make the Best Breakfast Casserole
If you're trying to make the best possible keto low carb breakfast casserole you won't want to miss out on these tasty tips.
Don't Over-bake it!– Dry eggs and mushy broccoli are certainly no good. Don't forget about this casserole and let it bake too long. When in doubt do a toothpick test to check if it's done.
Season it up– Salt and pepper are great additions to any keto low carb breakfast, but they shouldn't be your only seasoning. Enjoy some herbs and spice to really enhance the flavor experience.
Mix up Your Mix-ins– Tired of the same old same old vegetables? Maybe you don't like sausage and prefer bacon, either way you can have it all! As long as you follow the breakfast egg base you can add in whatever mix-ins you prefer.
A big Mixing Bowl is Better– Just trust us on this one. You do not want to try mixing heavy whipping cream and half a dozen eggs in one teeny tiny bowl.
Those are some of our favorite tips for making the best possible breakfast. Like we said above don't be afraid to deviate from the recipe card to create your perfect breakfast casserole!
A Make Ahead Keto Breakfast Casserole
If you were wondering whether or not you can make ahead keto breakfast casserole, the answer is yes! We love to prepare this breakfast casserole ahead of time in a baking dish and then store it in the fridge to enjoy all week. We simply bake it following the recipe card, then let it cool and cover it with plastic wrap so it is tightly sealed. It will store for up to a week.
You can also freeze keto breakfast casserole if you decide you want to make one massive batch ahead of time that will last you the next month. Meal prep is always a smart thing to do especially if you are busy and don't always make the best food choices.
Meal prep will allow you to eat keto friendly meals that keep you on track. We love easy to make keto recipes that store and freeze well because it saves us a headache later. Even better, is that leftovers tend to have more flavor than the original recipe because they had a chance to marinate. Double win!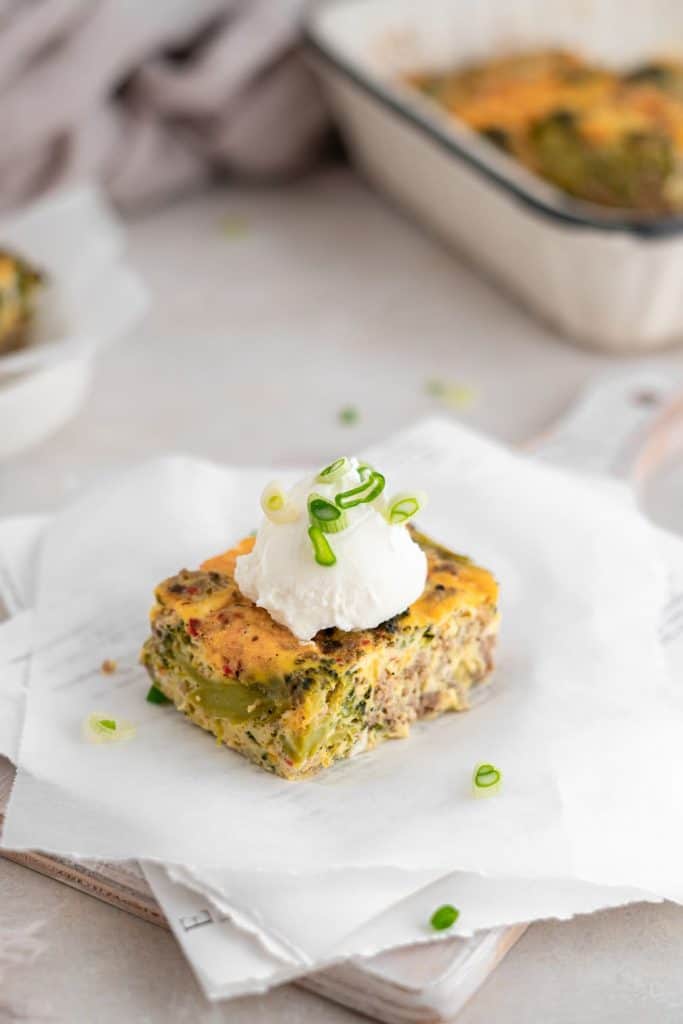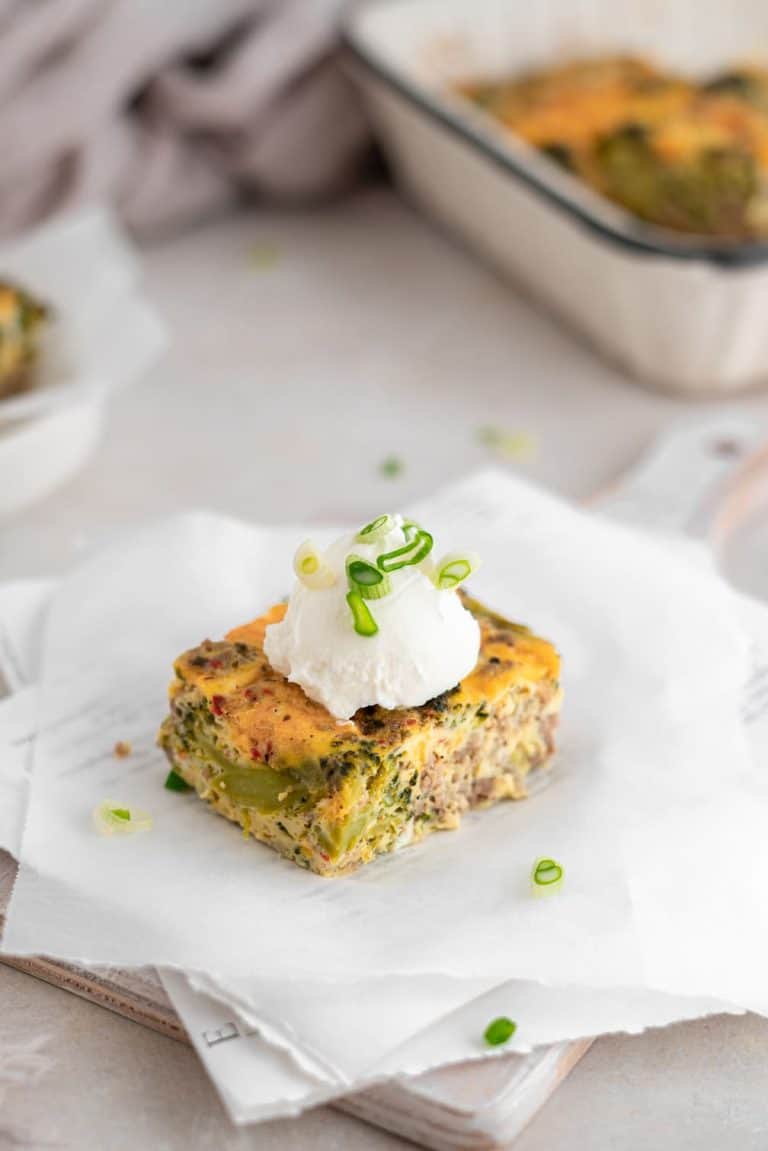 The Master Trio- Ingredient Perfection
When it came to the fillings for this breakfast casserole Matthew and I could only agree on sausage and cheese. He was insisting on broccoli while I was dead bent on bell pepper. After trying it I am SO glad we chose broccoli over bell pepper.
Not only is it better for you nutritionally, but it is extremely filling and cooks perfectly in the oven. Either way you choose to go though, you can't go wrong with a base of eggs, sausage and cheese!
Picking the Casserole's Ingredients
Maybe you don't like broccoli, or maybe you're not a sausage fan. Wait no, that can't be it… No matter what your food preferences are theres no stoping you from being able to enjoy this tasty breakfast casserole. There are plenty of keto ingredient swaps you can make with both meats and vegetables.
Meats
It's crazy to me that some people don't like sausage. Sausage is a great keto friendly option because it's high in fat and protein without containing more than a gram of carbs per serving. You can check your sausages nutrition facts, but we usually find all of them to be low carb. Some other meat options you can use in this recipe are:
Bacon– Pre cook the bacon in a pan and then chop it into little pieces. You can mix the cooked bacon in with the eggs or sprinkle some bacon on top.
Chicken– This one is a little less obvious, but chicken makes a great ingredient in the recipe. When people first start the keto diet they may find fat is easy to get, but protein not so much. Chicken is a great easy source of protein that can be made ahead and put in a variety of recipes.
Ground Turkey– Ground turkey is another protein source your can enjoy on the keto diet and can be made ahead. Season it up and it can taste just like ground breakfast sausage.
Vegetables
We love breakfast casserole because it's also a good may to get some fiber in. Fiber can help with constipation on keto and also aide in gut health(1). Some other low carb vegetable options include:
Spinach– Wilting a handful of spinach is a great way to get some extra minerals in a small amount. Just toss a handful into your sausage while it's cooking and follow directions like normal.
Bell Peppers– Depending on if it's a green or colored bell pepper you may find the carb count is higher per serving. However, bell peppers give a great subtle crunch to keto recipes and make it easy to sneak in some extra color.
Roasted Cauliflower– Roasted cauliflower is a delicious keto option that's perfect for those who don't like broccoli. It's a little blander but equally full of fiber. You can prepare it just like the broccoli in this recipe, or you can pre roast the broccoli and then just add it in to the egg mixture.
This breakfast casserole recipe is yours so don't be afraid to change and adapt the recipe to your liking. Let us know in the comments if you changed any of the meats and veggies and just how tasty it came out!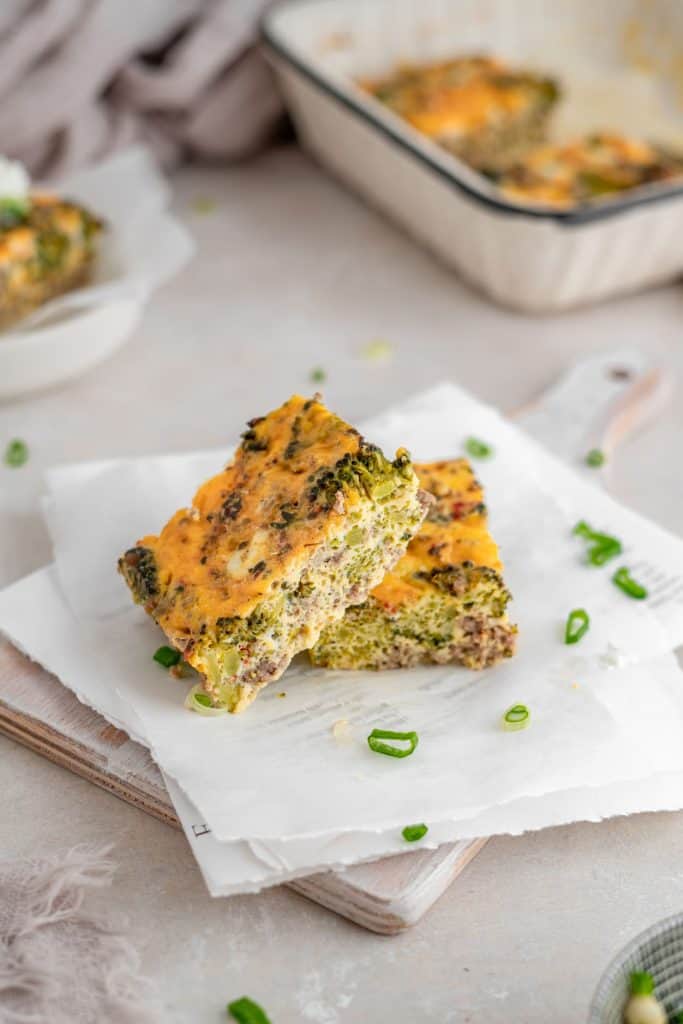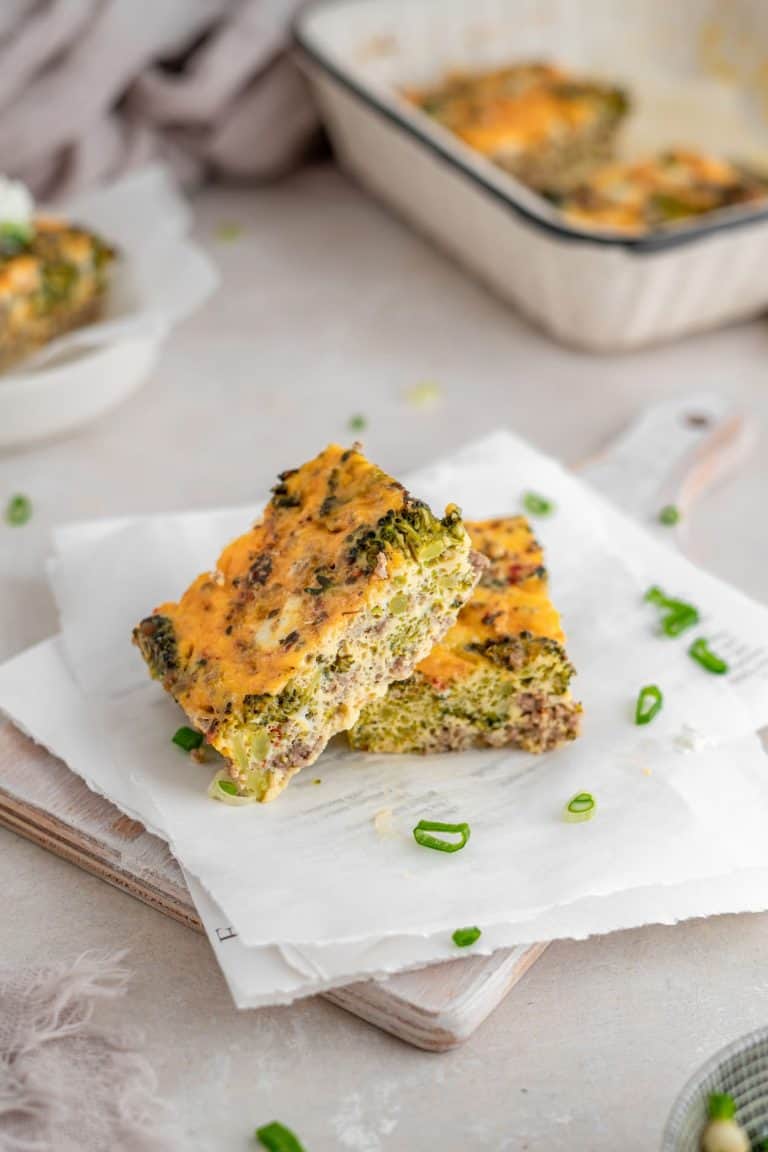 How to Make Keto Breakfast Casserole
This easy breakfast casserole requires a large skillet and a few toppings. The options are endless but we love everything from Italian sausage and cheese to crumbled bacon and cheddar. Whatever you choose just make sure those eggs are set before serving!
Equipment
To make this easy keto breakfast casserole you will need a large baking dish, we used an 10×6in casserole dish. You will also need a skillet or nonstick pan to cook the sausage before adding it into the casserole. Finally, you will need a mixing bowl for the egg mixture.
Ingredients
Now for the keto friendly ingredients we used in this super easy breakfast casserole. We started with a base of ground sausage and broccoli that has been chopped into bite sized pieces. Then you will need lots of eggs (this is a keto breakfast casserole!) and shredded cheese.
We chose to use shredded cheddar cheese, but any low carb cheese should work just fine in breakfast recipes like this. To the eggs we add heavy cream, coconut milk, oregano, red pepper flakes, onion powder, and salt and pepper.
Finally we finish it off with some minced garlic for extra flavor. Low carb keto breakfast casserole shouldn't just have salt, get creative and really play with the spices in your keto recipes.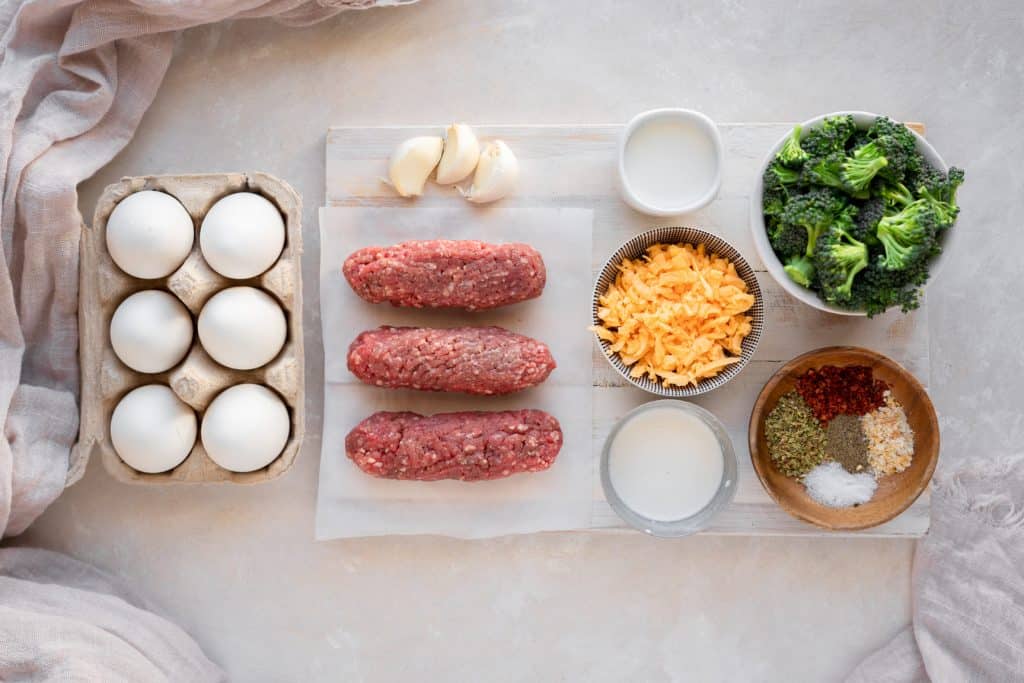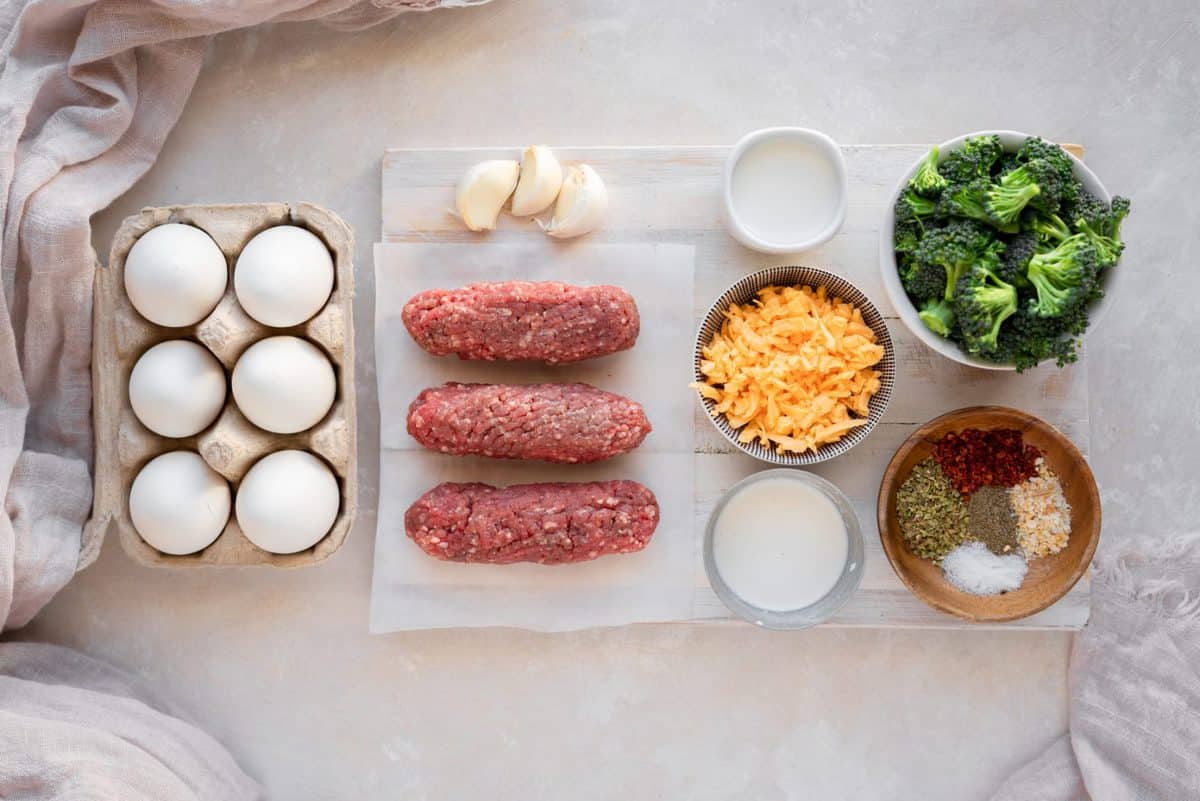 Making Keto Breakfast Casserole
To make your keto breakfast casserole begin by removing any sausage casings and crumbling the sausage into a medium high skillet. There shouldn't be a need for oil as sausage is normally pretty fatty, but if you find it sticking add a little butter or oil.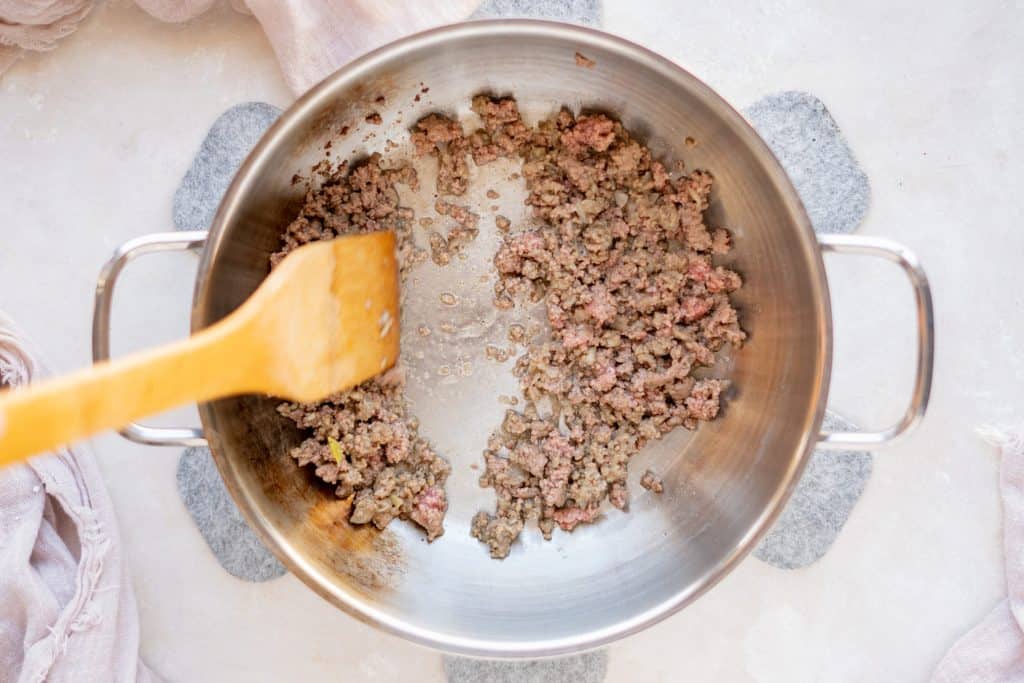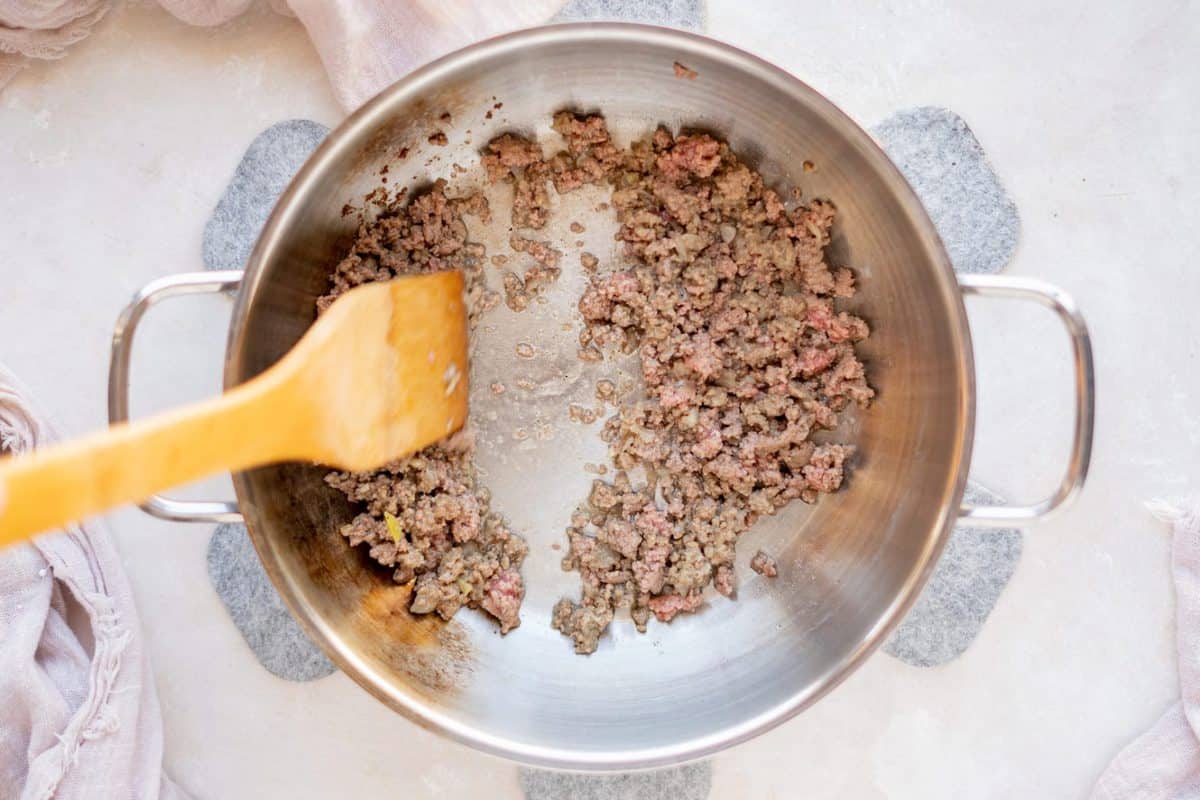 When the sausage is close to being done add in the chopped broccoli and minced garlic cloves. Cook the meat for an additional 2-3 minutes. The broccoli should go a bright green hue, but we do not want it fully tender as it will continue baking in the oven.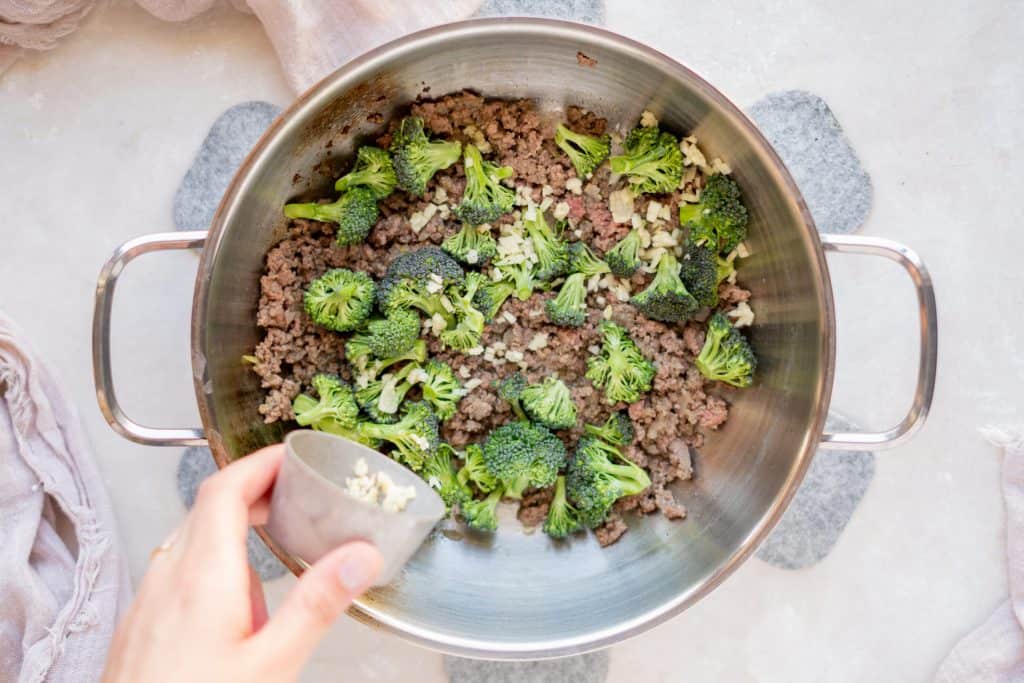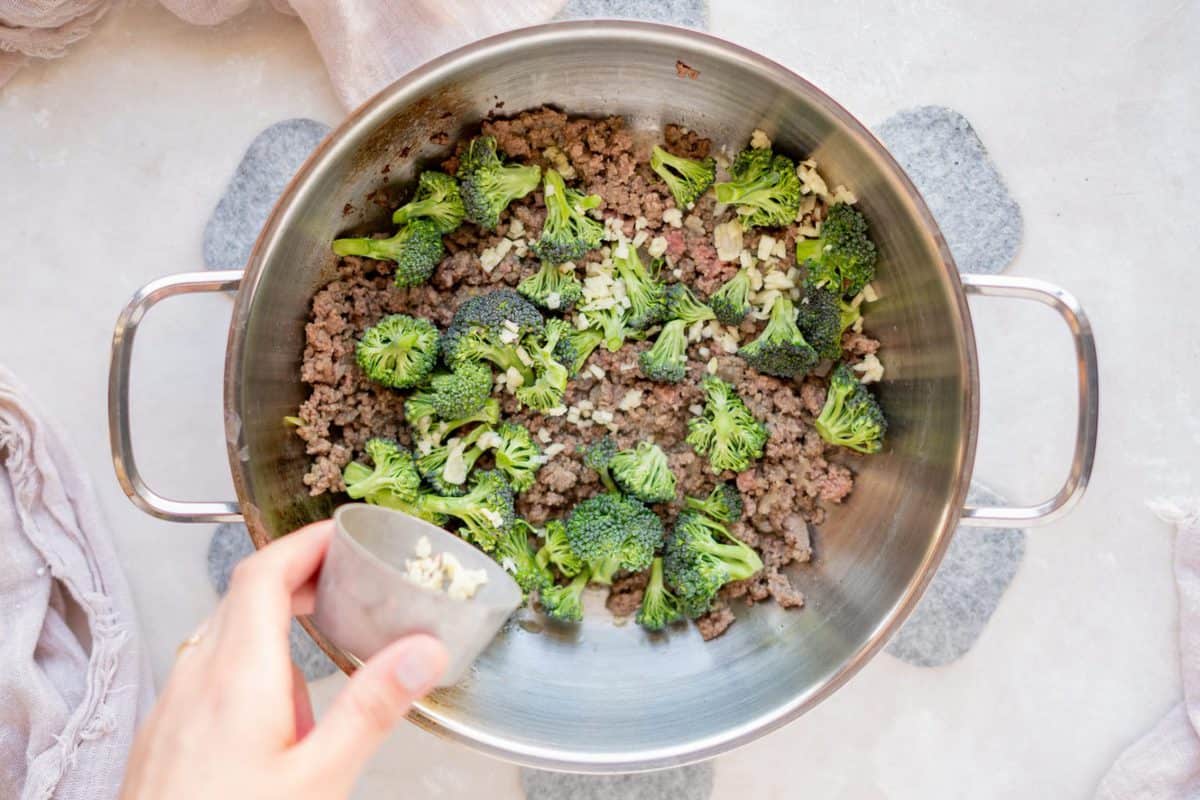 While everything is doing its last cook, mix the eggs, coconut milk, heavy cream, seasonings, and half of your cheese together in a bowl.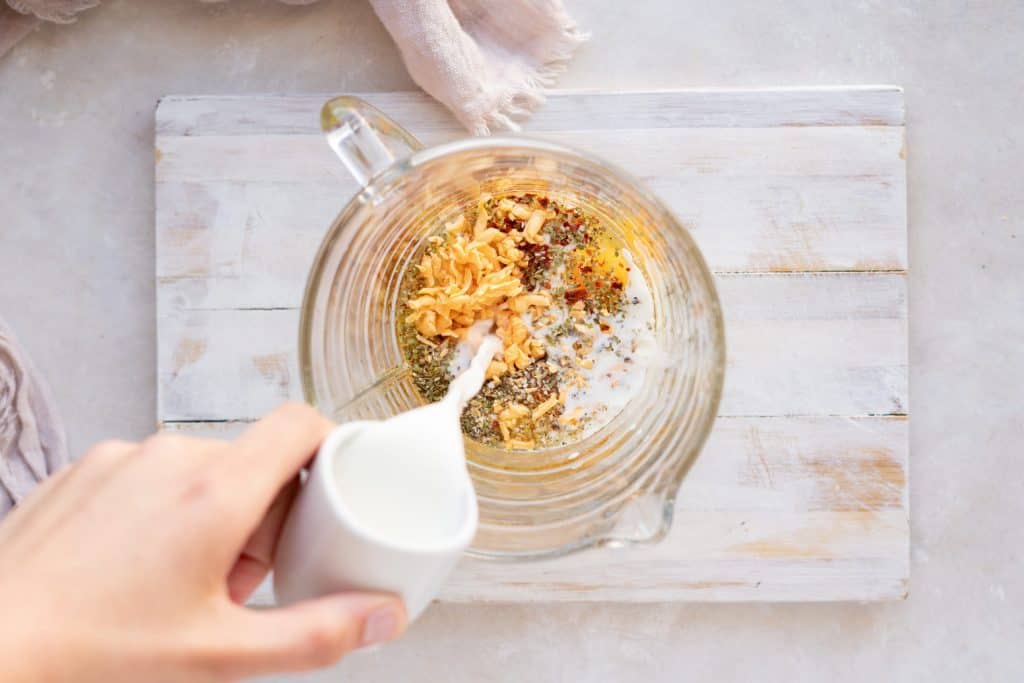 When the broccoli and meat is cooked transfer it into your baking dish and spread it in an even layer.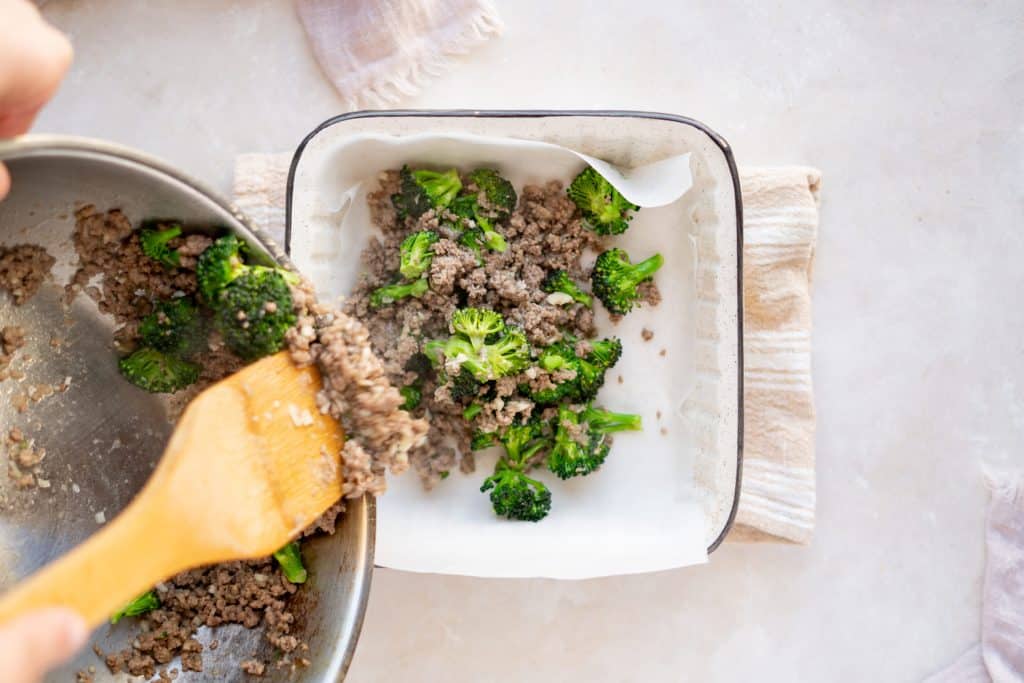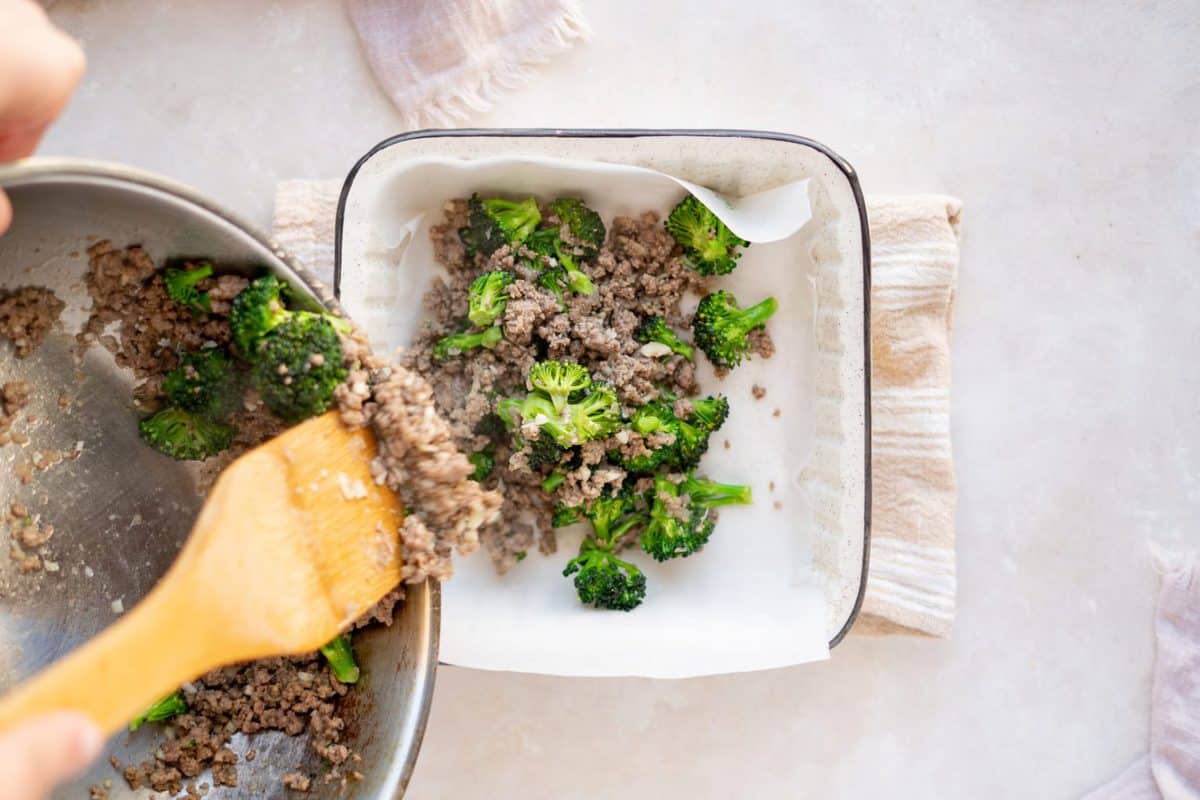 Pour the egg and heavy cream mixture over the top as evenly as possible. If some parts are too saturated you can carefully swirl the baking dish to help move the eggs around.
Sprinkle your remaining cheese on top of the keto breakfast casserole and bake at 350 degrees fahrenheit for 35-40 minutes.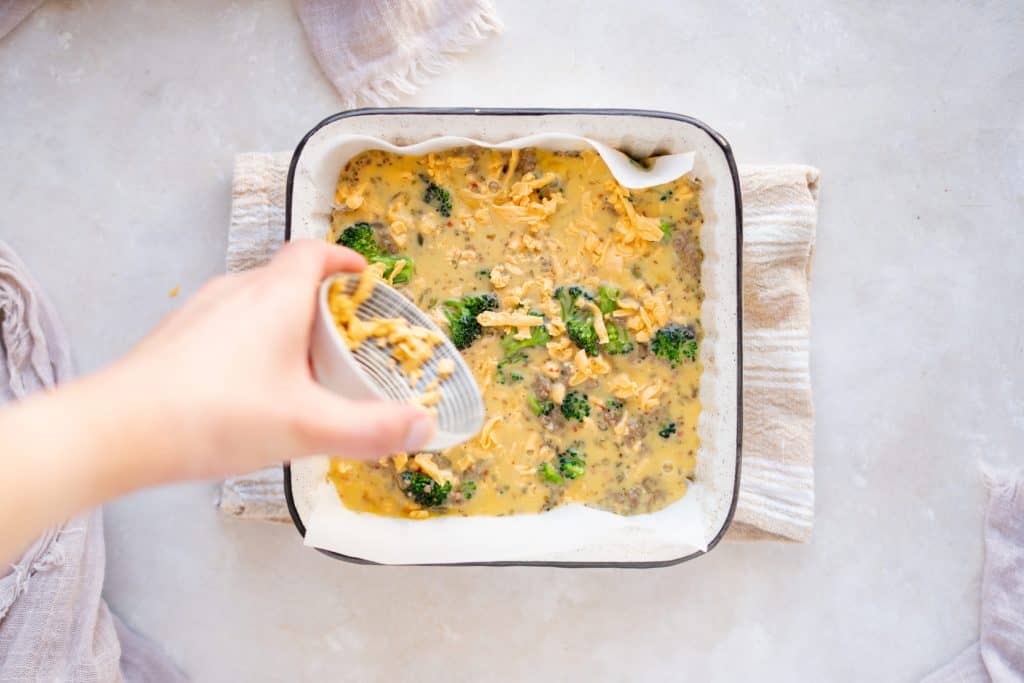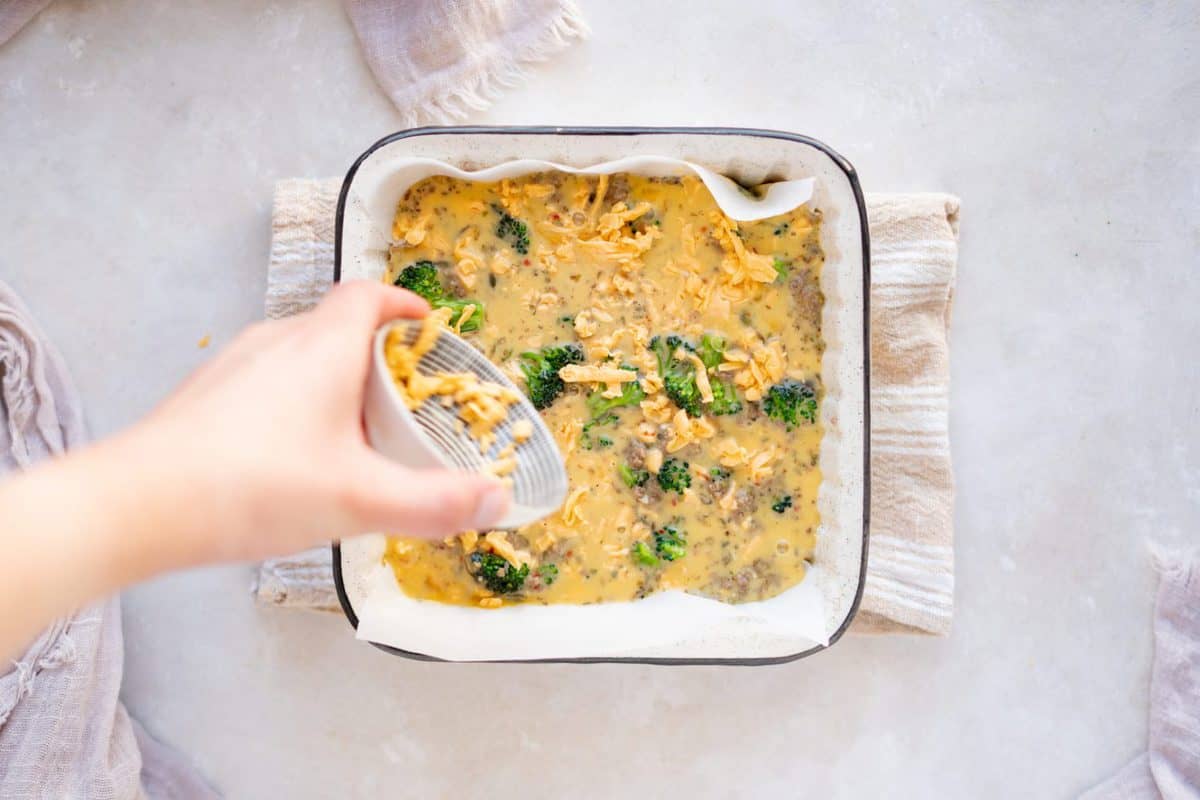 Serve warm and enjoy! We love it topped with creamy avocado and extra cheese.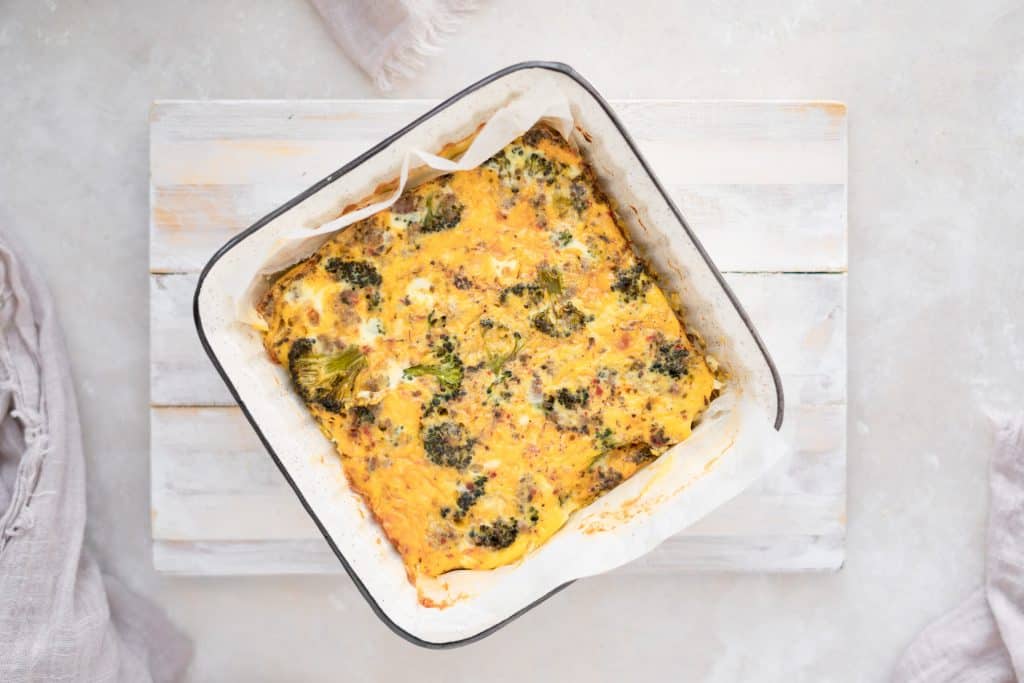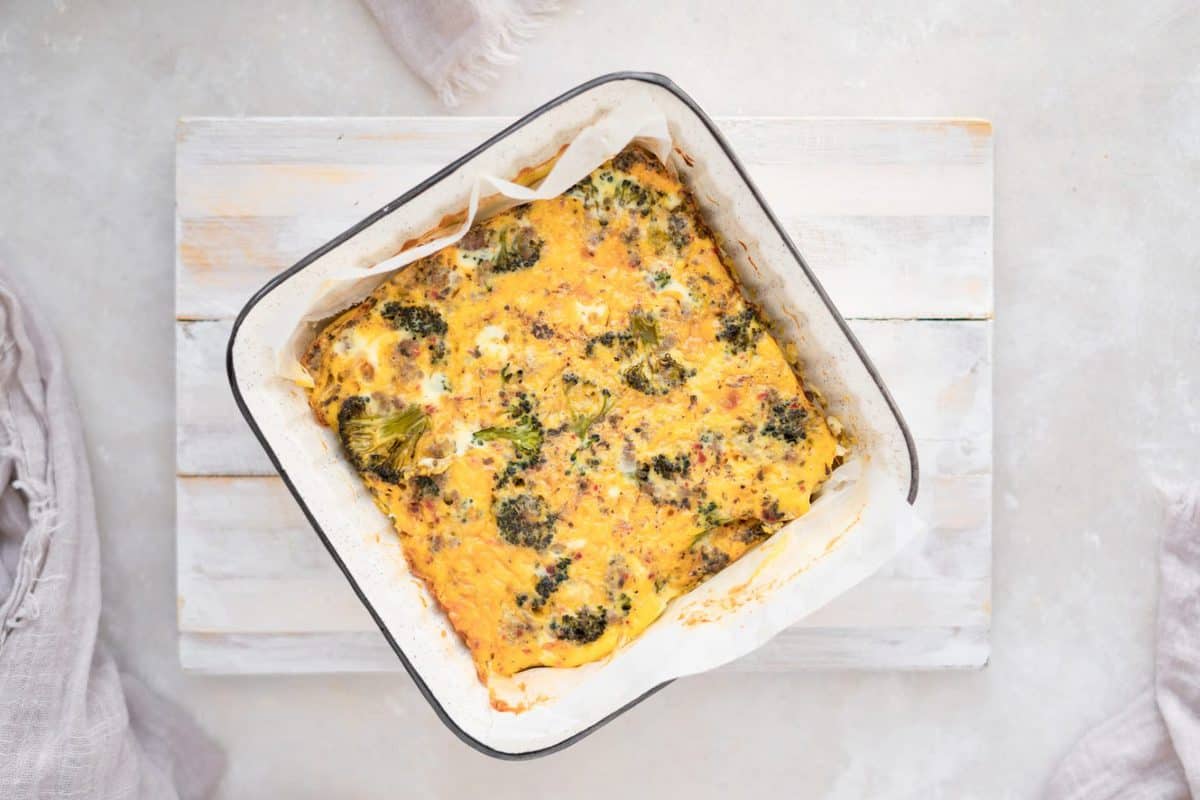 Storing This Easy Keto Breakfast Casserole
This is the perfect keto diet breakfast because the total time for prep is minimal and it makes lots of leftovers to enjoy all week. To store this easy keto breakfast casserole in the fridge, tightly wrap the casserole dish with plastic wrap after it has cooled. It will last in the fridge for up to one week.
For freezing you can either pre portion the batch in zip lock bags (so you know the per serving calories), or you can skip a serving size and just freeze the whole dish. We reccomend wrapping it a few times with plastic wrap and then a layer of foil to prevent freezer burn. To defrost simply place your easy keto breakfast casserole in the fridge 24 hours in advance.
What Are The Best Low Carb Breakfasts?
Matthew is the biggest fan of breakfast foods I've ever met. He could seriously eat it for every meal for the rest of his life. So if breakfast casseroles aren't your style, fear not, because we have a variety of breakfast recipes to choose from. You could make our:
Low Carb Cereal– This cereal is our version of cinnamon toast crunch! It's crisp and crunchy while still being sweet and cinnamon-y.
French Omelette– Looking to perfect your breakfast cooking skills? Try making this French omelette recipe – it's all about the technique!
Classic Keto Waffles– Who doesn't love a fluffy and sweet keto waffle? These are perfect topped with a pat of butter and extra syrup for an original breakfast experience.
These are just a few quick and easy to make keto breakfast ideas, but we have tons more breakfast recipes on our site just waiting for you to check out. So if you're out of ideas, but want to make a super easy and delicious keto breakfast try one of these recipes.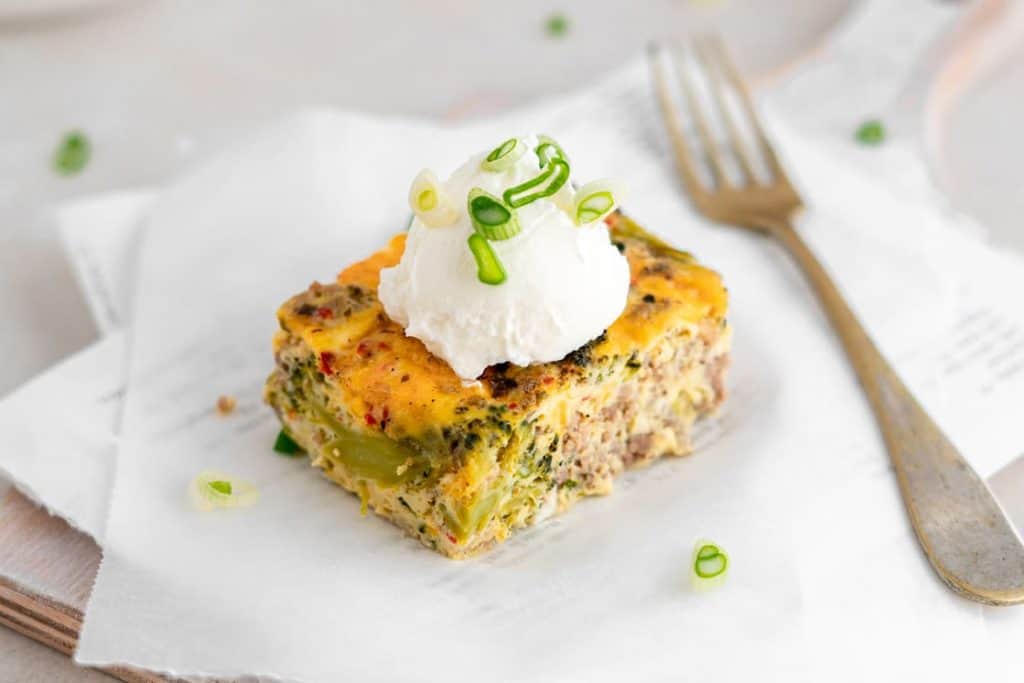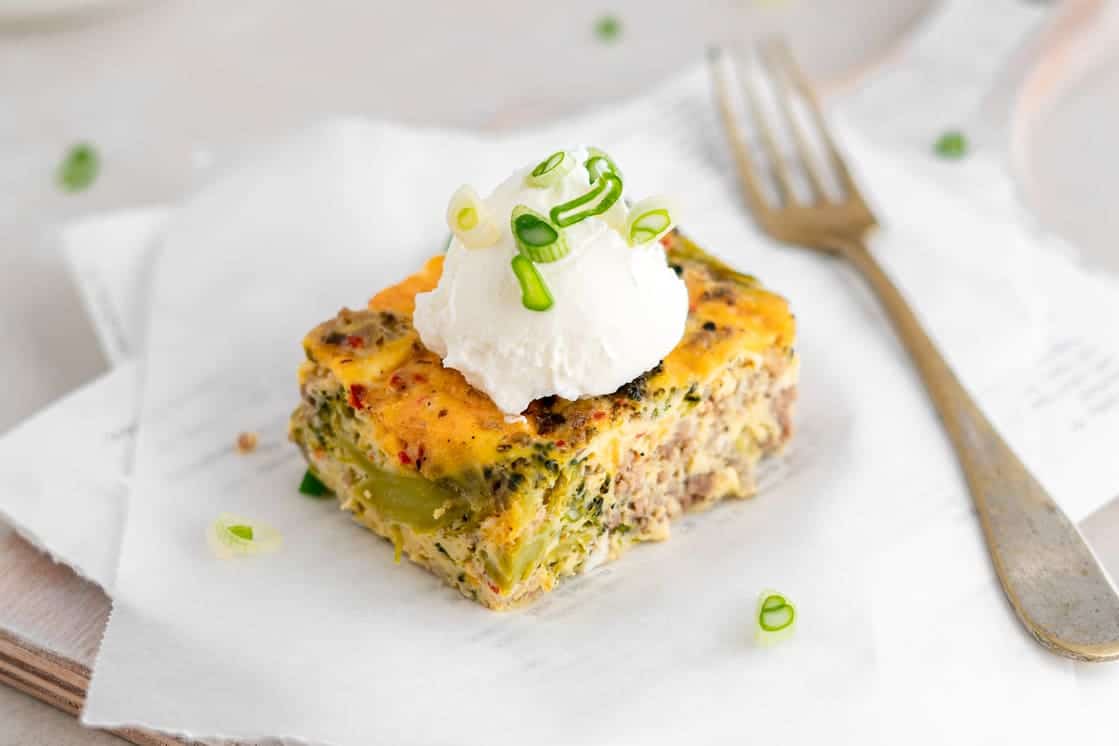 More Easy Keto Casseroles
Who doesn't love a casserole? We love the simplicity of low carb recipes for casserole because it takes just a few minutes hands on, and then we have food for the rest of the week. Some of our favorite easy low carb casseroles are:
Keto Pizza Casserole– Gooey cheese, warm sauce, and hearty sausage make the perfect pizza editions. This casserole has it all, plus stores great for leftovers all week.
Keto Tuna Casserole– The nutrition information speaks for itself on this one. There are ZERO net carbs per serving and less than 200 calories!
Low Carb Taco Salad Casserole– You may not have expected this one, but we're sure you'll be happy it's here!
We have a wide variety of casseroles on our site from easy low carb dinners to quick and easy keto breakfast recipes. Don't be afraid to get creative and try making your own keto breakfast recipes for casserole like we did here. There's really no way to go wrong if you start with meat, cheese and eggs!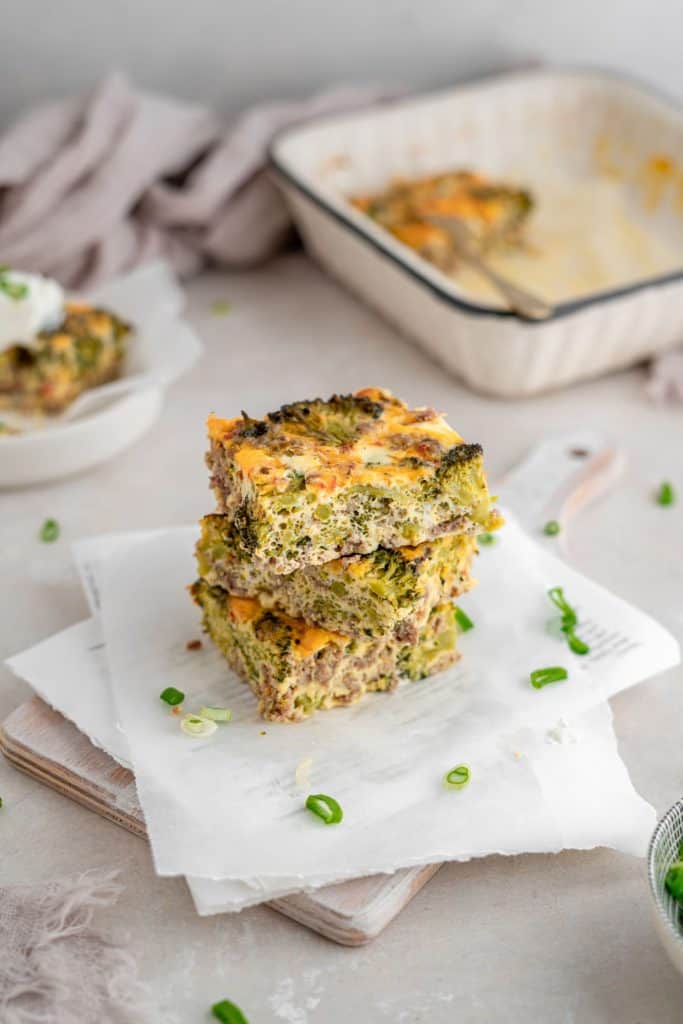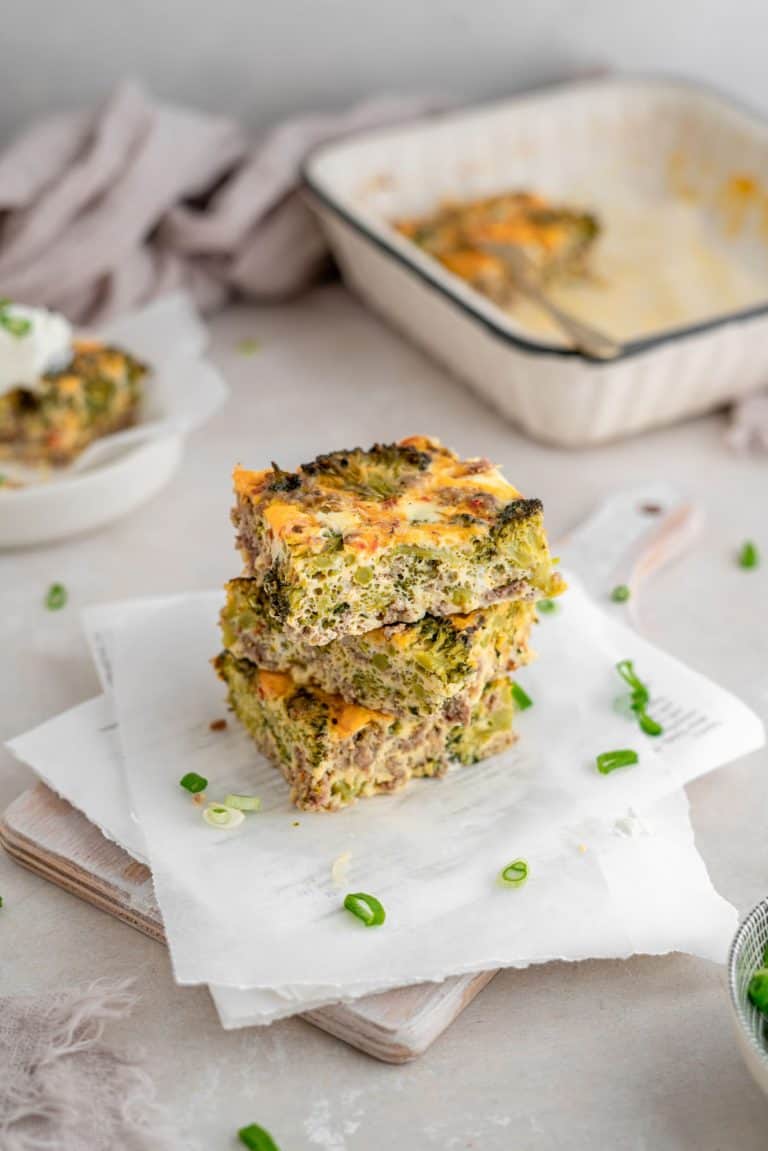 Low Carb Breakfast Casserole
We kept our casserole pretty simple with one meat, one veggie and cheese. You can opt to go all out on the veggies which will up the carbs, or go crazy with different meats for a more filling, fatty casserole.
The beauty of any casserole, whether breakfast, lunch or dinner, is that you can toss together whatever you have left in the fridge, add a binding agent such as eggs or any form of cheese and bake! Our low carb breakfast casserole is the easiest breakfast you'll make this weekend!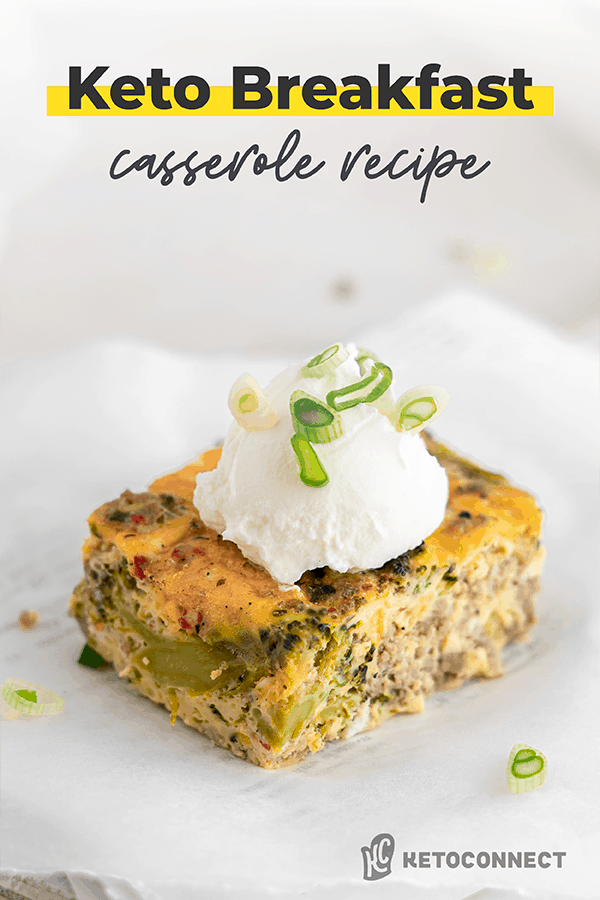 Recipe can be quickly added to MyFitnessPal – Search "KetoConnect – Low Carb Breakfast Casserole"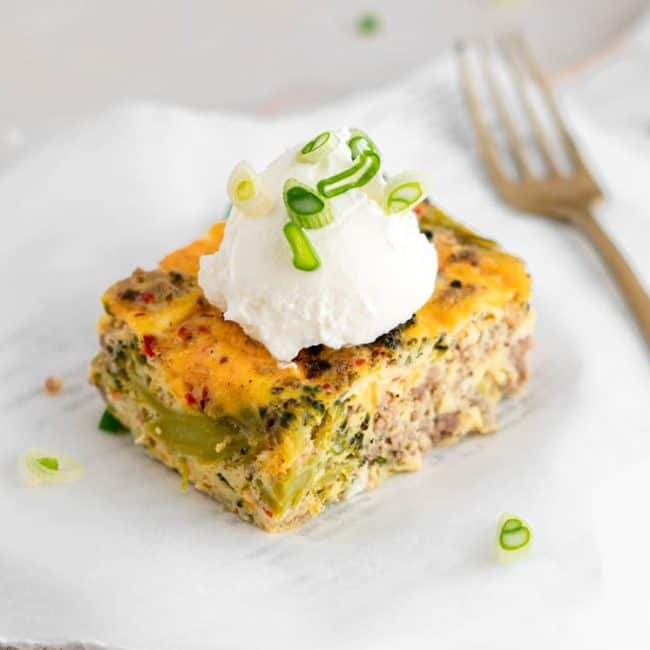 Low Carb Breakfast Casserole
A hearty keto casserole to get the family going in the morning filled with veggies, cheese, and sausage.
Total Time 55 minutes
Servings 6 servings
Calories per serving 248kcal
Prep Time: 15 minutes
Cook Time: 40 minutes
Instructions:
Remove casing from sausage and crumble into a medium high heat skillet.

Once the sausage is almost fully cooked toss in the chopped up broccoli and minced garlic cloves, and cook for an additional 2 minutes (until broccoli turns bright green).

As the sausage and broccoli are cooking add the eggs, coconut milk, heavy whipping cream, seasonings and half the cheese (1/4 cup) to a bowl and combine well.

Once the broccoli and sausage are done cooking transfer them to a 9×13 casserole dish and make a flat layer.

Pour the egg mixture over top as evenly as possible.

Sprinkle the rest of the cheese over top oft he casserole and bake at 350 degrees fahrenheit for 35-40 minutes.

Serve warm and enjoy!
Nutrition Facts
Low Carb Breakfast Casserole
Amount Per Serving
Calories 248 Calories from Fat 171
% Daily Value*
Fat 19g29%
Carbohydrates 4.2g1%
Fiber 0.8g3%
Protein 15.7g31%
* Percent Daily Values are based on a 2000 calorie diet.
Written By