Pregnant or not, pizza is always on my mind! This Keto Pizza Casserole comes in handy when you have a craving or you're looking for easy, delicious dinner for the whole family. I like to keep toppings simple with cheese, pepperoni and olives, but feel free to get wild with the toppings to satisfy your cravings.
This Is Your New Favorite Easy Keto Dinner.
What's not to love when you combine the hearty sausage, tender cauliflower and top it with cheese and pepperoni?? That was a rhetorical question, of course. The best part about this casserole, as well as most others, is that you can have fun with the toppings! Your kids can join in and dinner can become a family time activity. Matt and I love cooking in the kitchen together as we listen to music and feed little nibbles to Julius (our dog). It enhances the flavors of the food and our relationship!
We Love Casserole Recipes!
Casserole recipes are great for meal prep, easy to assemble and whip up quick on any busy weeknight of the week! You can also clean out your kitchen via casserole, but cooking everything down in a skillet, topping it with cheese and baking it until melty and delicious. Some of our favorite casserole recipes are breakfast style. Eggs are filling, tasty and easy to mix in with whatever fillings you have on hand! If you're egg lovers like us, give our broccoli, cheese and sausage breakfast casserole or cheesy cauliflower breakfast casserole a try. If you prefer something a bit more complex in flavors give our enchilada casserole a try!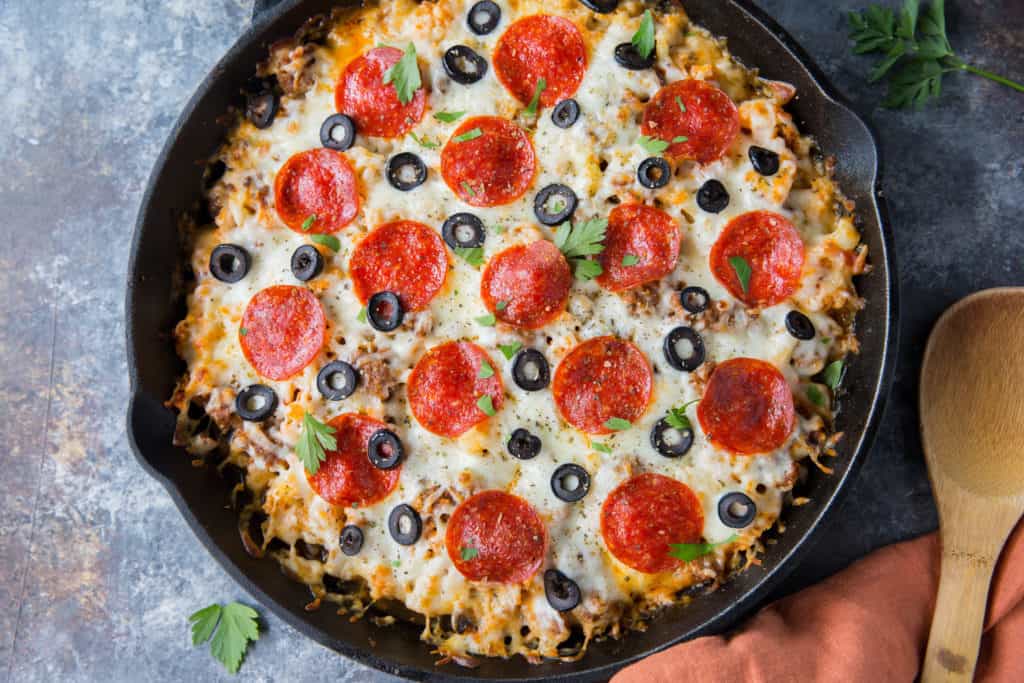 Keto Pizza Casserole!
If I could eat one food for the rest of my life it might just be pepperoni pizza. You get protein and fats and sodium from the cheese and pepperoni as well as calcium from the cheese. If steak didn't exist I would say pizza is the perfect food. Give this Keto Pizza Casserole a try tonight with your family and let us know what you think!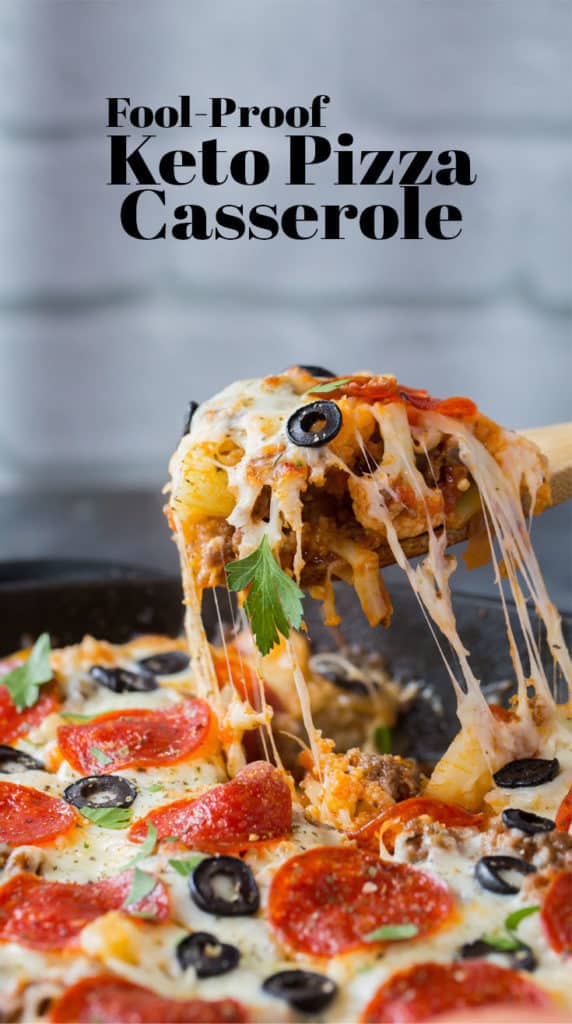 Recipe can be quickly added to MyFitnessPal – Search "KetoConnect – Keto Pizza Casserole"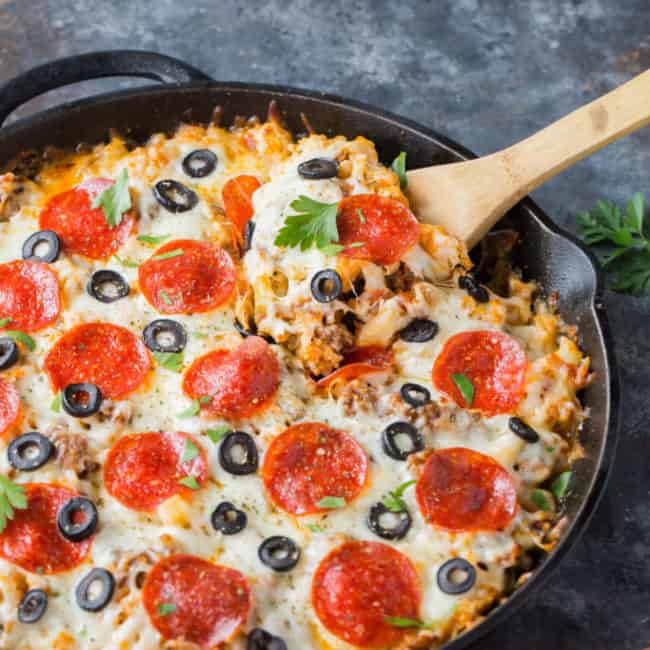 Keto Pizza Casserole
A heart pizza casserole made out of cauliflower and your favorite pizza toppings.
Servings 6 servings
Calories per serving 413kcal
Prep Time: 10 minutes
Cook Time: 20 minutes
Instructions:
Preheat oven to 375 degrees F.

Pour 2 inches of water into a large saucepan set over medium-high heat. Place a steamerbasket inside and add the cauliflower florets. Cover and steam for 5-6 minutes, or until thecauliflower is tender but still slightly firm.

Meanwhile, large cast iron skillet to medium high heat. Add sausage and break apart using a wood spoon. Once partially cooked, add the onion, and mushroom and saute until browned and everything is cooked through, 5-7 minutes.

Add garlic and cook 1 additional minute, until fragrant.

Add pasta sauce to skillet. Season with 2 teaspoons Italian seasoning, salt, and pepper, stirring well (if using unseasoned sausage).

Add the cauliflower to the skillet and stir to combine. Remove from heat and sprinkle the top evenly with mozzarella cheese. Evenly place pepperoni (or desired toppings) on top of the cheese.

Bake, uncovered, for 10-12 minutes or until cheese is melted and the edges are golden brown. Sprinkle with remaining Italian seasoning and serve.
Notes
**If you use seasoned sausage, feel free to skip the additional seasonings. Net Carbs: 7g Serving Size: 1/6th casserole
Nutrition Facts
Keto Pizza Casserole
Amount Per Serving
Calories 413 Calories from Fat 288
% Daily Value*
Fat 32g49%
Carbohydrates 10g3%
Fiber 3g12%
Protein 23g46%
* Percent Daily Values are based on a 2000 calorie diet.