We love our keto coffee creamers because even though keto is sugar free you can still enjoy a rich, creamy, and sweet coffee without the carbs.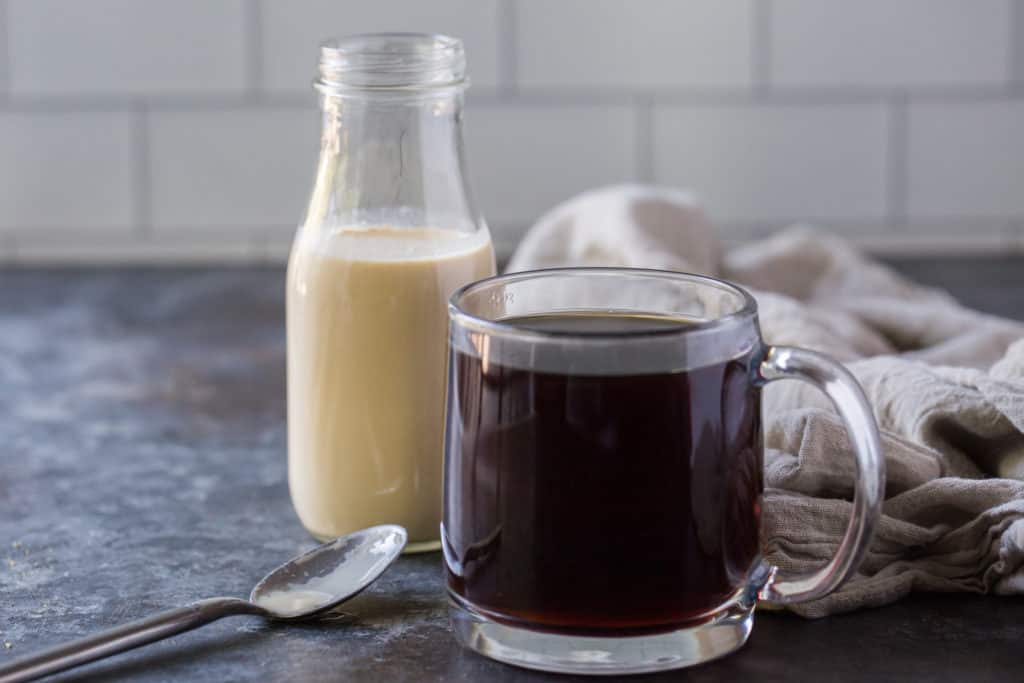 Whether you're on a keto diet or not, a morning coffee is pretty standard for most people. Some like it black, some like it Bulletproof, and a lot like it just with a splash of cream.
This Keto Creamer recipe takes less than five minutes to make and can be made in bulk to add to your coffee all week long.
Here are a few reasons why we love this Keto Coffee Creamer:
Flavorful – can be made using any flavors you like. We went with vanilla.
Budget-friendly: Buying expensive keto creamers is costly and hard to find at your regular supermarket.
Simple ingredients: We used ingredients you have right at home in your kitchen. You know exactly what goes into this keto coffee creamer.
Can You Have Coffee Creamer on Keto?
Most coffee creamers are high in sugar and processed ingredients like Vegetable Oil, Dipotassium Phosphate, Natural and Artificial Flavor, Cellulose Gel, Cellulose Gum, Carrageenan. Store-bought creams, also can be full of sugar and unnecessary thickening agents, so why not make your own at home!
One serving of Coffee Mate comes in at 5g of net carbs, all from sugar. A few tablespoons of creamer can put you at 15g of carbs before you've even had your breakfast, which is why we don't recommend standard coffee creamer on a keto diet. Opt for homemade keto coffee creamer like the recipe below, or stick to heavy whipping cream and liquid stevia. Even half and half isn't the best option on keto.
What Can I Put in my Coffee on Keto?
There are a few fancy keto coffee creamers available for purchase like Picnik and NutPods, but here are some basic low-carb additions to any cup of coffee:
Benefits to Fatty Coffee
There are a few benefits to drinking low carb fatty coffee made from things like butter and mct oil. Caffeine from a cup of coffee gives you energy while fat inside your cup of joe helps to blunt the caffeine spike for sustained energy.
Butter and mct oil coffee can also aid in weight loss because it converts fat into ketones with medium chain triglycerides. So, the next time you are looking to have a delicious low carb coffee, make it a high fat one too!
The Best Nut Free Keto Coffee Creamer
Most keto coffee creamers use some kind of nut milk like almond milk or cashew milk, our creamer recipe on the other hand doesn't use nut milks or even coconut milk. We wanted to keep it 100% nut free and as low carb as possible so you could enjoy delicious high fat creamer without worrying about nut allergies.
Milk Base Options for This Keto Coffee Creamer
The base of our creamer recipe is heavy cream. We like to use heavy cream because it's super thick and low carb. If you are dairy free you can still sub ingredients to make this coffee creamer keto and dairy free.
The options you have are subbing heavy cream for canned coconut milk that's super thick, or almond milk and adding in a bit of xanthan gum.
Xanthan gum will help to thicken the base if you choose to use a thinner liquid like almond milk. It will change the consistency so it's not recommended as a first choice and instead stick to canned coconut milk if possible.
How Do You Take Your Coffee?
For busy mornings or days you just aren't hungry, a quick coffee will do the trick. If you're on a keto diet, that is likely the case for you. This keto creamer can help make your mornings even easier and you can store it in the fridge at work. Add it to our bulletproof coffee recipe or to keto Starbucks drink!
However, if breakfast is your thing we've got a ton of great recipes for you from our macro pancakes to our low carb breakfast casserole! Give our food blog a browse and let us know what your favorite recipe is.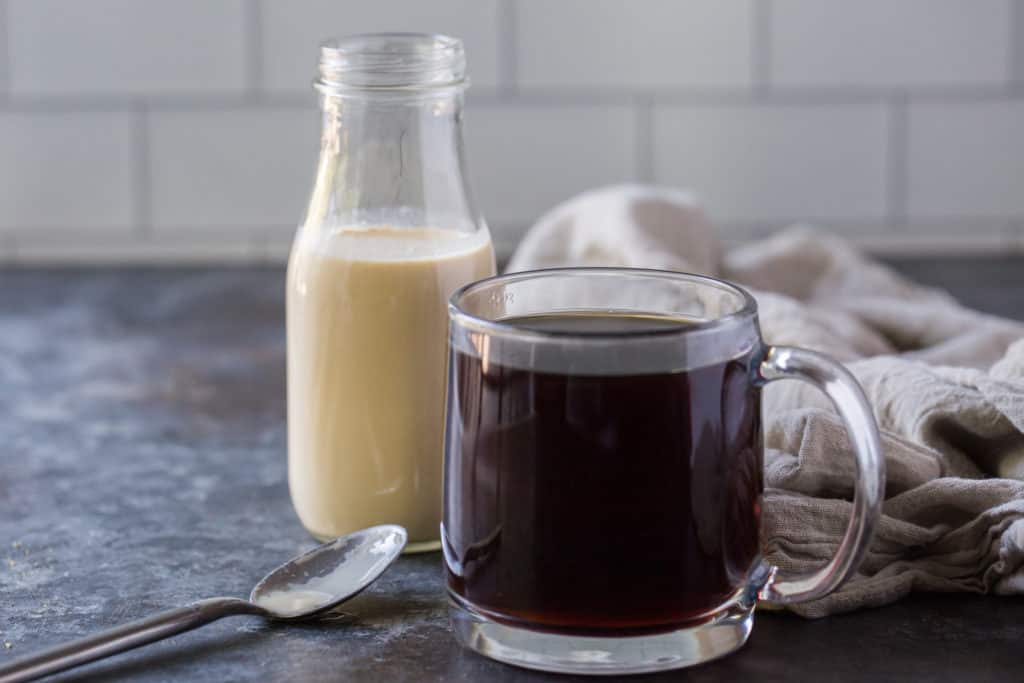 Sweet Creamy Base
No matter how you feel in the morning, having something sweet and creamy to add to your coffee will make it a great day.
By making this sweet creamy base ahead of time you can quickly add it to coffee, smoothies or any dessert. You'll always have the perfect ratio of cream to sweetness!
How to Make Keto Coffee Creamer
Ready to make the BEST keto coffee creamer ever? It's just four simple ingredients and makes the perfect base for any of your favorite flavors.
Ingredients
To make this keto friendly coffee creamer recipe you will need fresh heavy whipping cream as the base. Then for the sugar free sweetener you will want a low carb and keto friendly sugar free sweetener. Our favorite is powdered erythritol and liquid stevia.
Finally you will need your base flavoring. We always add vanilla extract and then build on that with flavor extracts like peppermint or hazelnut.
Making Keto Coffee Creamer
To make this keto diet friendly creamer begin by adding the cream and powdered erythritol into a sauce pot on medium heat.
Whisk ingredients together until everything is fully dissolved, it will take 2-3 minutes.
Remove the heated mixture from the stove. Add in the vanilla and stevia then stir and allow to cool.
It stores well in a mason jar for up to one month.
Storing Homemade Keto Friendly Coffee Creamer
We recommend storing this sugar free keto creamer in the fridge inside a glass mason jar. Whether you make it with coconut cream or heavy cream, this keto creamer should last you about a month.
Add Your Own Flavors
We kept it simple in this recipe with the addition of vanilla extract, but some other great options would be hazelnut or peppermint extract.
If you don't have extracts you can also use spices like pumpkin spice, cinnamon, or nutmeg whisked into the prepared creamer. Spices will only have .5-1 gram of carbs per serving making them a great coffee addition.
A little cream and extract could transform any coffee into a delicious morning beverage. It could also be great blended into your bulletproof coffee!
Common Coffee Creamer Questions
Making some of our keto recipes and want to make the best keto creamer to go in your coffee alongside it? Follow along with these recipe tips to make the best blood sugar managing keto creamer out there!
Can This Recipe be Made Dairy Free?
Yes, you can make this low carb diet creamer dairy free too. Simply sub the heavy cream for coconut cream and if you are making bulletproof coffee switch the grass fed butter for coconut oil.
What Can I Use to Flavor my Creamer?
On keto we are looking for flavor that doesn't have a ton of added sugars or carbs. That's why when flavoring our creamer base we decided to compile the best list of low carb and low sugar flavor mixers. Try adding:
Mct oil Powder– It comes in all kinds of flavors like chocolate and cinnamon. Just make sure to add a little extra cream to thin out the mixture.
Collagen Powder– Another great flavor addition packed with protein making it perfect in your morning cup.
Flavor Drops- There are tons of flavor drops and extracts that make the perfect low sugar flavoring in your cup of joe.
Simply add your flavorings into the creamer when you add the stevia and mix well. If you use a powder you may want to thin out the creamer with extra nut milk or heavy cream.
Can I Make Low Calorie Coffee Creamer?
Love sneaking in healthy fats but don't want to drink too many calories in butter coffee? Don't settle for black coffee just because you didn't have a low calorie option!
Try cutting this creamer with some unsweetened nut milk or a little bit of store bought collagen. Creamer doesn't have to be boring and adding in some collagen will help to bump up the protein in your creamer options.
Per serving of this creamer there are about 100 calories but if you cut it with almond milk you'll lower the fat and overall calories.
Just make sure to not use extra butter (regular or grass fed) or coconut oil and make it bulletproof if you want a lower calorie drink. Oils rack up your total calories fast!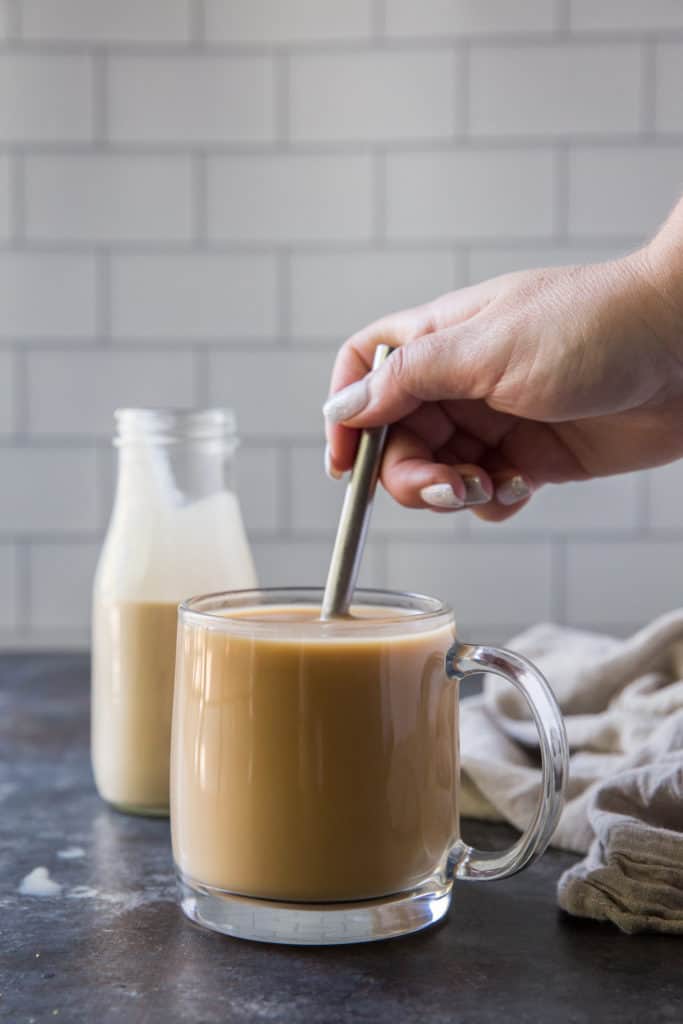 Easy Breakfast Prep
This will probably be the easiest meal prep you do and it won't take up a lot of room in your fridge. We like to make a double or tipple batch with some fresh heavy cream and then divide it out into two mason jars before adding the extract. This way you have options when making your morning coffee!
Tip: A good way to know how long it will last you in the fridge is by going by the expiry date on the heavy cream you use to make it. It could weeks or months!
Crazy for Coffee- The Best Keto Coffee Recipes
Can't get enough keto coffee recipes? Then this round-up is for you! Our blog has tons of delicious warm drinks and coffee recipes. Try our:
Dairy Free Macadamia Nut Coffee– If you like subtle nutty undertones and chocolate notes, this is the low carb coffee for you.
Keto Iced Coffee– Calling all Frappé drinkers! Our keto iced coffee is sweet, creamy, and refreshing, perfect for a creamy Frappé lover.
Low Carb Breakfast Coffee– Prefer a basic and more traditional coffee drink? Our keto breakfast coffee is a nice simple way to start your morning.
These are our favorite homemade keto coffee recipes, but don't be afraid to check out our go to Starbucks drinks too.
Coffee Keto Creamer
If you love a hot beverage in the morning, whether it be coffee or tea, this homemade keto creamer is a must have in the fridge at all times. It will save you time during busy mornings and ensure that you always have something sweet to add to your drinks. You can store a jar at home and one at work so you never have to drink your coffee black again.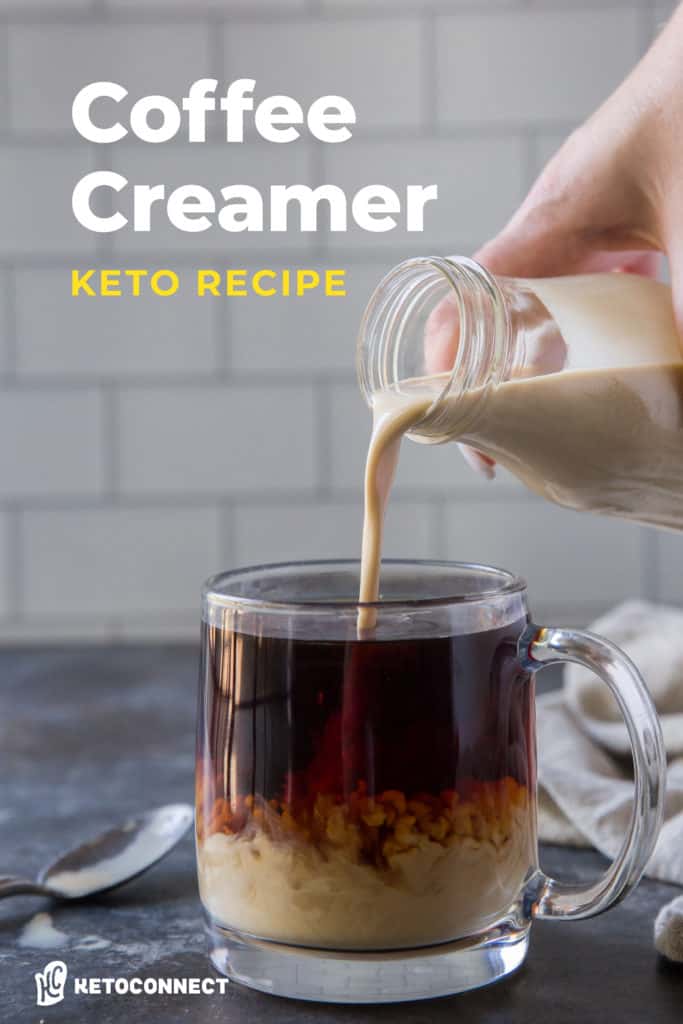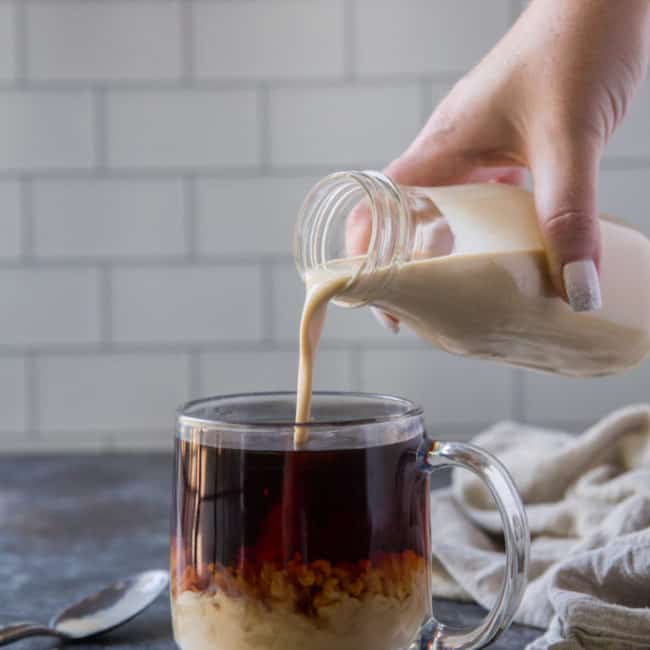 EASY Keto Creamer Recipe
A sugar-free coffee creamer flavored with vanilla and sweetened with erythritol & stevia.
Servings 8 servings
Calories per serving 104kcal
Instructions:
Add the cream and the powdered erythritol to a sauce pan and heat over medium heat.

Stir until dissolved completely, about 2-3 minutes.

Remove from heat. Add in vanilla extract and stevia extracts. Let cool.

Store in glass container in fridge up to one month.
Notes
Serving Size: 2 tbsp Yields: 8 servings Net Carbs: 1g
Nutrition Facts
EASY Keto Creamer Recipe
Amount Per Serving
Calories 104 Calories from Fat 99
% Daily Value*
Fat 11g17%
Carbohydrates 1g0%
Protein 1g2%
* Percent Daily Values are based on a 2000 calorie diet.
Written By