Whether you're on a keto diet or not, a morning coffee is pretty standard for most people. Some like it black, some like it Bulletproof, and a lot like it just with a splash of cream. Store-bought creams, however, can be full of sugar and unnecessary thickening agents, so why not make your own at home! This Keto Creamer recipe takes less than five minutes to make and can be made in bulk to add to your coffee all week long.
Here are a few reasons why we love this Keto Coffee Creamer:
Flavorful – can be made using any flavors you like. We went with vanilla.
Budget-friendly: Buying expensive keto creamers is costly and hard to find at your regular supermarket.
Simple ingredients: We used ingredients you have right at home in your kitchen. You know exactly what goes into this keto coffee creamer.
Can You Have Coffee Creamer on Keto?
Most coffee creamers are high in sugar and processed ingredients like Vegetable Oil, Dipotassium Phosphate, Natural and Artificial Flavor, Cellulose Gel, Cellulose Gum, Carrageenan.
FREE PRINTABLE: Keto Food List
Join 150,000 others to get a FREE keto food list and new recipes every week!
One serving of Coffee Mate comes in at 5g of net carbs, all from sugar. A few tablespoons of creamer can put you at 15g of carbs before you've even had your breakfast, which is why we don't recommend standard coffee creamer on a keto diet. Opt for homemade keto coffee creamer like the recipe below, or stick to heavy whipping cream and liquid stevia.
What can I put in my coffee on keto?
There are a few fancy keto coffee creamers available for purchase like Picnik and NutPods, but you here are some basic low-carb additions to any cup of coffee:
How Do You Take Your Coffee?
For busy mornings or days you just aren't hungry, a quick coffee will do the trick. If you're on a keto diet, that is likely the case for you. This keto creamer can help make your mornings even easier and you can store it in the fridge at work. Add it to our bulletproof coffee recipe or to keto Starbucks drink!
However, if breakfast is your thing we've got a ton of great recipes for you from our macro pancakes to our low carb breakfast casserole! Give our food blog a browse and let us know what you're favorite recipe is.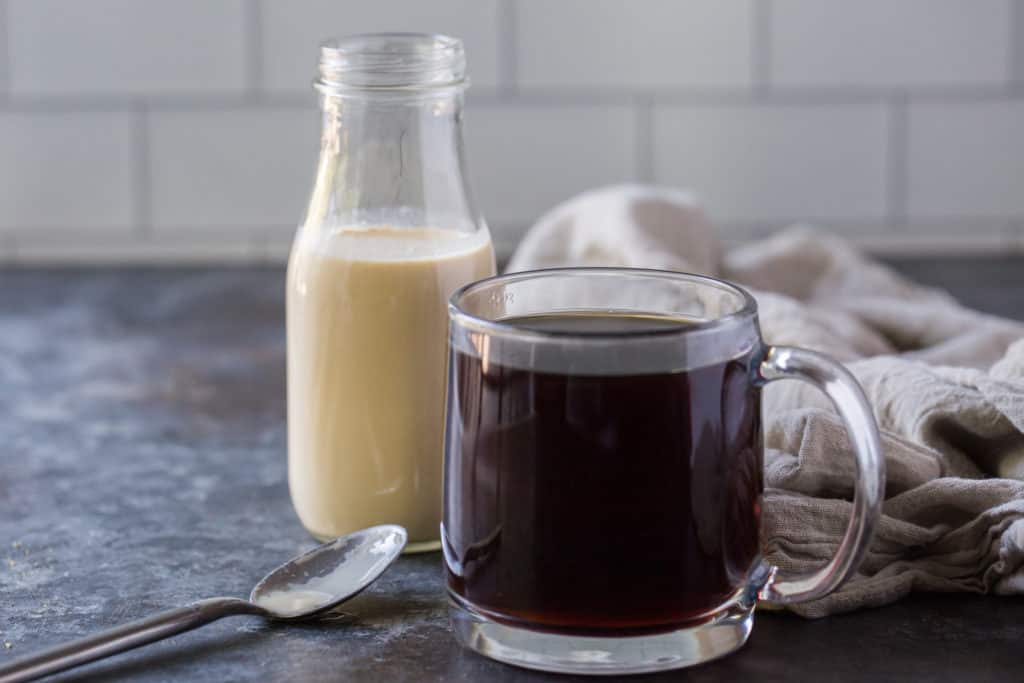 Sweet Creamy Base
No matter how you feel in the morning, having something sweet and creamy to add to your coffee will make it a great day. By making this sweet creamy base ahead of time you can quickly add it to coffee, smoothies or any dessert. You'll always have the perfect ratio of cream to sweetness!
Add Your Own Flavors
We kept it simple in this recipe with the addition of vanilla extract, but some other great options would be hazelnut or peppermint extract. A little cream and extract could transform any coffee into a delicious morning beverage. It could also be great blended into your bulletproof coffee!
Easy Breakfast Prep
This will probably be the easiest meal prep you do and it won't take up a lot of room in your fridge. We like to make a double or tipple batch with some fresh heavy cream and then divide it out into two mason jars before adding the extract. This way you have options when making your morning coffee!
Tip: A good way to know how long it will last you in the fridge is by going by the expiry date on the heavy cream you use to make it. It could weeks or months!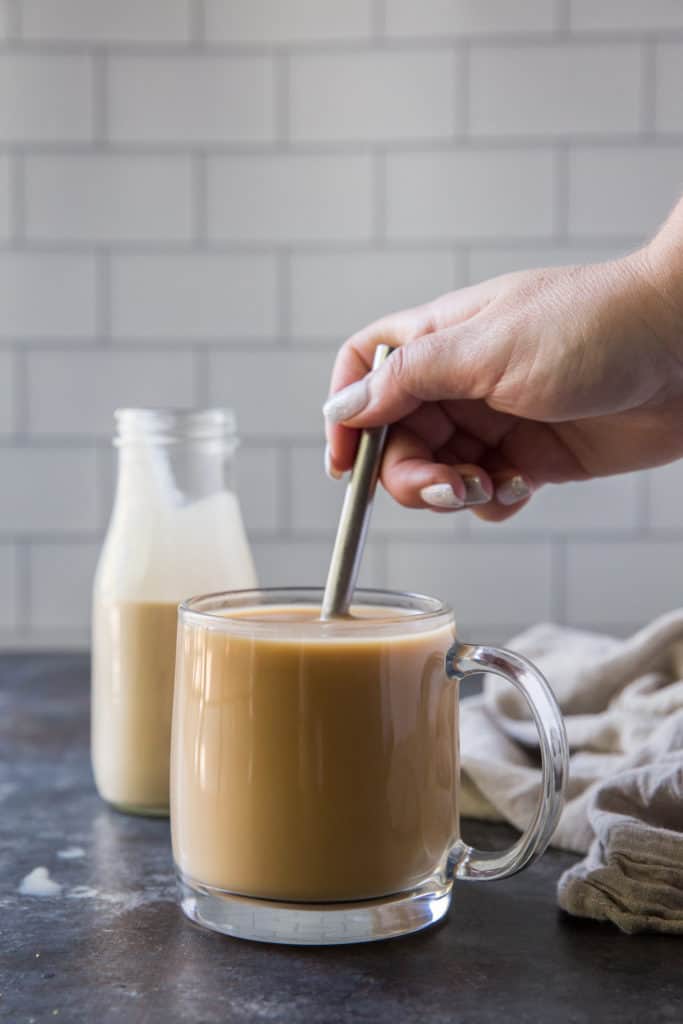 Coffee Keto Creamer
If you love a hot beverage in the morning, whether it be coffee or tea, this homemade keto creamer is a must have in the fridge at all times. It will save you time during busy mornings and ensure that you always have something sweet to add to your drinks. You can store a jar at home and one at work so you never have to drink your coffee black again.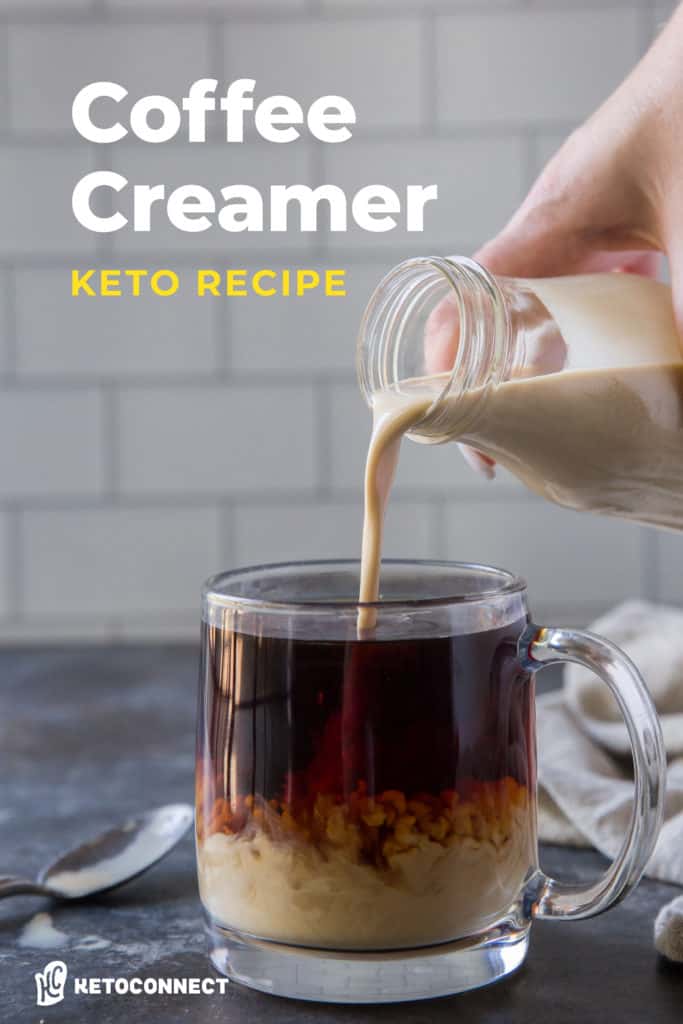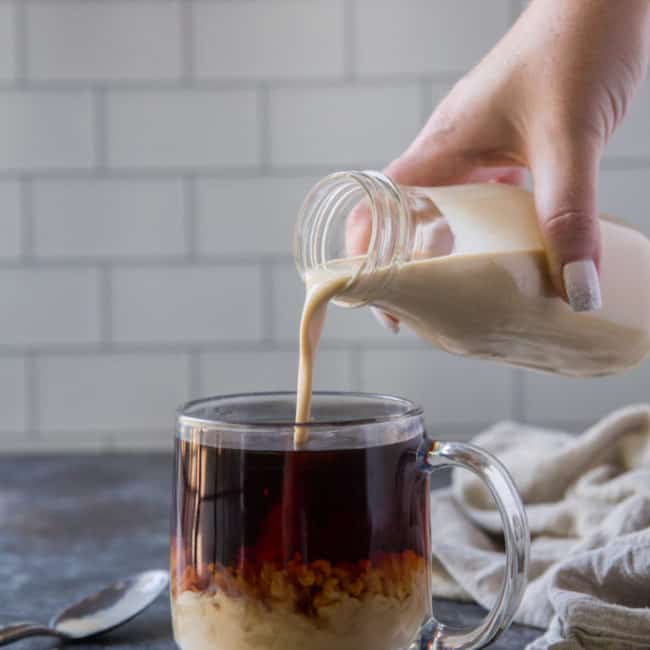 Keto Creamer
A sugar-free coffee creamer flavored with vanilla and sweetened with erythritol & stevia.
Servings 8 servings
Calories per serving 104kcal
Instructions:
Add the cream and the powdered erythritol to a sauce pan and heat over medium heat.

Stir until dissolved completely, about 2-3 minutes.

Remove from heat. Add in vanilla extract and stevia extracts. Let cool.

Store in glass container in fridge up to one month.
Notes
Serving Size: 2 tbsp Yields: 8 servings Net Carbs: 1g
Nutrition Facts
Keto Creamer
Amount Per Serving
Calories 104 Calories from Fat 99
% Daily Value*
Fat 11g17%
Carbohydrates 1g0%
Protein 1g2%
* Percent Daily Values are based on a 2000 calorie diet.