​

Finally. We made keto brownies. You're not the only one who's been waiting. I've gone through test batch after test batch trying to find the perfect keto brownie recipe. I've tried many packaged ones also and nothing really delivered like true brownies. Until, I made these Keto Brownies. I cannot tell you how many times a day I think about these. Nothing stands in the way of my love for these, not even Matt.
Sugar Free Brownie Recipe!
Spoiler alert: this is only one of two incredible sugar free brownie recipes we are releasing, and although both are very different and equally delicious, I am going to go as far as to say that these are the best keto brownies I have ever had. What makes them so incredible is that they are fudgy and dense, just as every brownie should be! It's a hard task getting them to come out fudgy and moist, especially with coconut flour, but we did it!
Keto Brownies - Moist and Delicious
There are so many brownie recipes out there and being that they are my all time favorite dessert I have gone through a lot of batches! Before this blog even started I was testing out other brownie recipes I found online, and nothing has compared or ever satisfied me like these have. I kid you not. Some were too dry, some were too oily and some just didn't taste like brownies at all. Once, Matt tried making me avocado brownies, and needless to say, they were a no go.
Our Favorite Keto Brownies Recipe
I recently discovered I am allergic to almonds so these came just in time. Since a lot of dessert recipes are made from almond flour I was extremely relieved to know my favorite keto dessert is made from coconut flour. Some other great dessert recipes of ours that don't use almond flour are:
Give those a try and let us know how they stand up against these fudgey Keto Brownies!

Big Tip: If they cool completely we recommend reheating them in the microwave for full brownie impact!
Recipe can be quickly added to MyFitnessPal - Search "KetoConnect - Keto Brownies"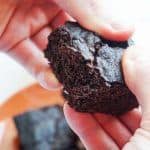 Keto Brownies
Print Recipe
Instructions
Preheat oven to 325 degrees

Combine coco powder, coconut flour, and salt, and set aside

Add eyrthritol, eggs, vanilla and mix with a hand mixer. Mix until the volume of the mixture has tripled in size. This should take about 3-5 minutes on high.

In a 3rd bowl, melt together butter and bakers chocolate. This can be done using a double boiler method, or by repeatedly microwaving for 20s and mixing. If using the microwave be careful not to burn the chocolate.

Add egg mixture to the butter/chocolate mixture in 3 parts, folding in each time. Most of the erythritol will be at the bottom of the egg mixture, thats ok!

Once the wet ingredients are all combined, begin adding the dry ingredients. Add 1/3 of the dry mixture and fold into the wet. Repeat this process 3 times until all of the dry mixture is used and a homogeneous brownie batter is formed.

Place into a 325 degree oven for 50-55 minutes.
Nutrition
Calories:
227
kcal
|
Carbohydrates:
5
g
|
Protein:
4
g
|
Fat:
23
g
|
Fiber:
2
g