If you want pizza NOW and don't have the time to make a low-carb crust, then you're in luck. Ditch the crust and make a pizza dip!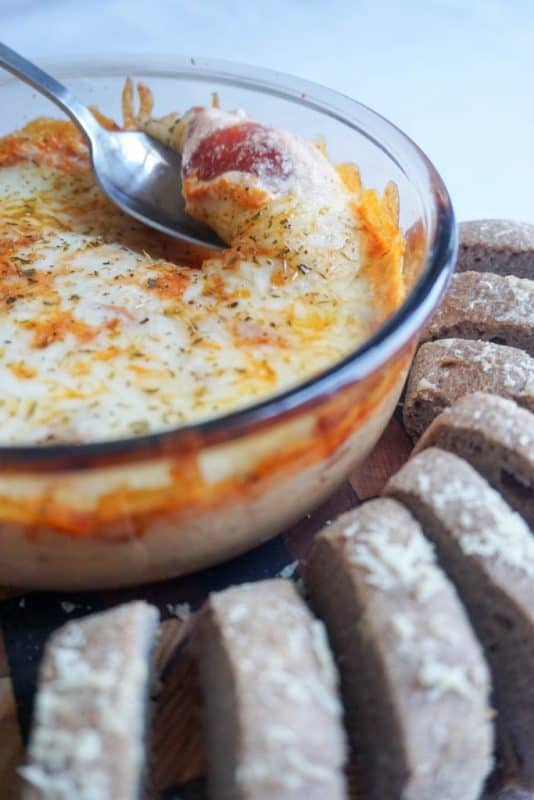 One of my fondest memories is standing in my best friend's kitchen devouring Easy Pizza Dip that her mom made for us.
There would always be two fresh baguettes sliced up for scooping and shoveling dip into our mouths. It wasn't the healthiest of foods, but back then nutrition wasn't an issue. We ate what we wanted and then went outside and ran around to work it off!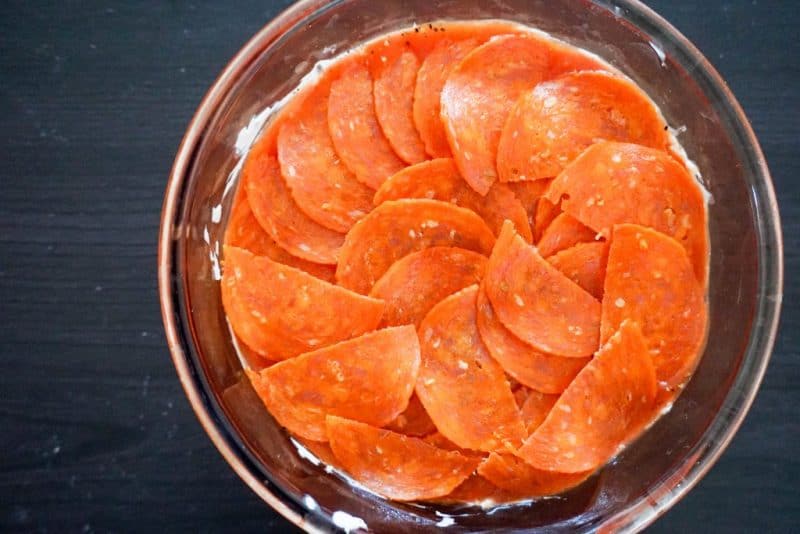 What to use for Keto Pizza Dip | Dippers!
That's a good question, and we know the options can be somewhat limited on a keto diet.
We made our low carb dinner rolls recipe into a baguette shape, then brushed it with some olive oil and sprinkled with parmesan cheese.
Some other ideas and keto friendly options are:
Baguette using this recipe– Our low carb bread rolls turned into baguettes are the perfect boat for the cream cheese mixture, and pizza sauce combo.
Pork Rinds- Pork rinds are normally my go to when I don't feel like cooking anything else. They are zero net carbs and light like a chip. Just be careful because it is very common to open the bag and then not be able to stop eating them!
Keto Bread– Similar to the baguette, fresh keto bread that has been toasted makes a great boat for most keto recipes. It works as dippers, sticks, or even pockets stuffed with filling.
Keto Crackers– Thought crackers were a no go on keto? Think again! Keto crackers are the perfect high fat low carb dipper for those that don't want or like pork rinds.
Zucchini- Calling our veggie lovers! Zucchini is a great option sliced into chips to scoop up all this cream cheese pepperoni goodness.
Keto Chips– This tortilla chip recipe is just 2 ingredients! All you need is some cheese and almond flour to create a crisp and cheesy chip.
These are our favorite keto dipping products. They all have a crunchy and salty element that pairs perfectly with this keto pizza dip.
Plus they vary in carb counts so you can pick the low carb dipper that fits best in your macros that day.
Substitutions
Is there an ingredient or two that you wish you could change in this recipe? Thankfully with our low carb substitutions you can make this pizza dip recipe exactly how you want.
Cream Cheese
For this recipe we used 1/3 less fat cream cheese due to its general lower carb count. A regular block of cream cheese has 49 calories, 5 grams of fat, 0.6 grams of carbs, and 0.9 grams of protein per tablespoon.
The 1/3 fat varieties have 35 calories, 6 grams of fat, 0.4 grams of carbs, and 2 grams of protein per tablespoon.
Depending on your goals you may choose one over the other. These are just the two options we had and decided to go with the lower carb one. Both options will still work great on a keto diet.
Sauce
Sauces can be tricky on a keto diet because tomatoes are quite high carb. That's why whenever you want keto recipes that have tomatoes you will have to do some extra digging to find the lowest carb option.
Some of our favorite low carb but high quality sauces are:
Most sauces will contain some kind of Italian seasoning, but if you find a lower carb pizza sauce you can use that instead of the marinara and just add Italian seasoning.
Meat
Not a pepperoni fan? While I most definitely think you're crazy, there are other meat options. We will commonly make pepperoni pizza dip, but that doesn't mean it has to be pork pepperoni. Try turkey pepperoni if you want to save on calories but like the pepperoni flavor.
If you just don't like pepperoni pizza style dip at all, try cooking Italian sausage and layering it the same way.
It will fill up your baking dish the same and keep an Italian flavor profile without traditional cured meats.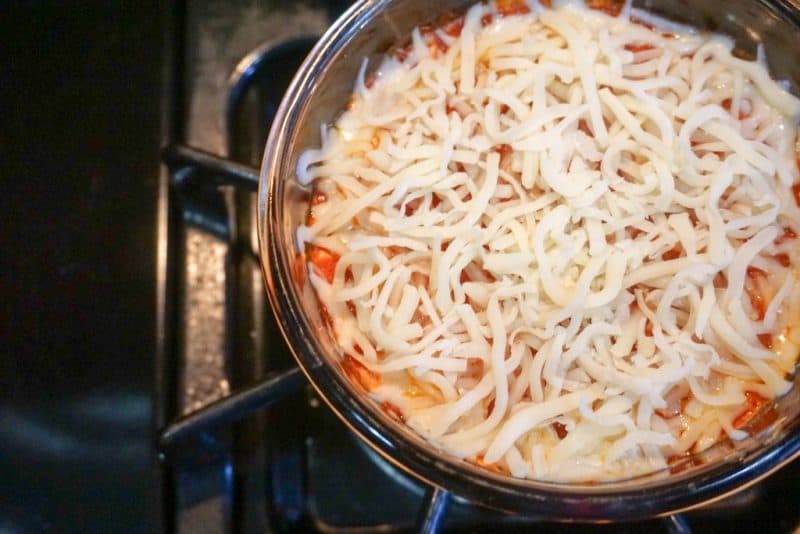 How to Make Keto Pizza Dip
Now that you're ready to make this recipe for the best keto pizza dip we can begin!
Ingredients
For the cream cheese mixture of this keto pizza dip you will need sour cream, onion powder, oregano, red pepper flakes, garlic powder, and of course cream cheese (softened).
As for the rest of the low carb dip layers you will want salt and pepper, tomato sauce, pepperoni and cheese.
Making Keto Pizza Dip
To make this keto pizza dip begin by preheating the oven to 350 degrees.
Next make the cream cheese mixture by combining the cream cheese, sour cream, onion powder, oregano, red pepper flakes, and garlic powder. Mix well to make sure everything is incorporated.
Spread this easy to make cream cheese mixture in a 9 inch baking pan. To that add a topping of pizza sauce and then season with some salt and pepper.
Now for the best part, we get to make pizza dip with a hefty topping of pepperoni. Layer pepperoni all over the sauce. The pieces can be whole or chopped.
Bake the low carb dip for 15 minutes. Once cooked, top with a cheese layer of shredded mozzarella and place it back into the oven for 10 minutes. Optionally you can broil the pizza dip for a browned cheese topping.
Serve warm in the baking dish or in a bowl. Enjoy!
Can I Make Keto Pizza Dip Ahead of Time?
This easy baking dish recipe makes for a great keto appetizer because it has a short cook time and is pretty filling without a big serving size.
We will often make appetizers ahead of time to avoid the pre party rush. If you want to make this dip ahead of time we recommend prepping it and then popping it in the oven to freshly cook before the party.
Cheese doesn't always melt as well the second time, so it's best to just prep the dip and then just bake it while you get ready.
More Keto Appetizers
Want even more tasty low carb appetizers to enjoy alongside this pizza dip recipe? Don't worry, we've got you covered with a few recipes that pack in nutrition and healthy fats.
Cauliflower Hummus– Creamy low carb cauliflower hummus is the perfect light appetizer to bump up your fats for the day.
Keto Mozzarella Sticks– If you love this cheese pizza dip you're going to love our gooey mozzarella sticks.
Deviled Eggs– Simple deviled eggs are a great simple and quick recipe. They will make a great snack, or full appetizer for a party.
Stop eating half the serving size of one type of chip at a party to stay within your carb count. Instead, start enjoying healthy recipes that let you stay full and satisfied.
Easy to Make Keto Pizza Dip
This keto pizza dip makes the perfect healthy snack or quick cheesy party appetizer. It's delicious, nutritious, and 100% keto so you don't have to worry about breaking your diet to eat it!
Remember if you're feeling extra fancy you can even use our keto bread roll recipes to make a baguette to serve alongside the dish. No matter whether your party guests are keto or not they are going to love this appetizer and commend you on how delicious your cooking is!

Search "Ketoconnect – Easy Pizza Dip" On MyFitnessPal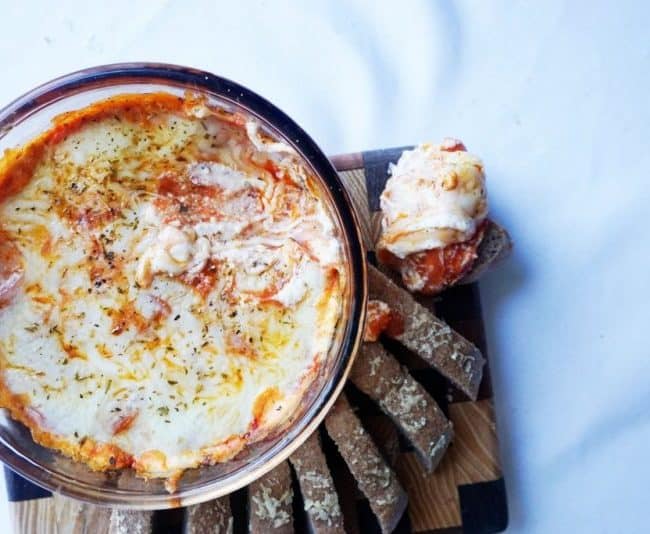 Easy Keto Pizza Dip Recipe
Whip up this savory and delicious easy pizza dip for a simple night in or for your next party!
Total Time 30 minutes
Servings 8 servings
Calories per serving 162kcal
Prep Time: 5 minutes
Cook Time: 25 minutes
Instructions:
Preheat oven to 350 degrees.

Combine first six ingredients in a bowl and spread onto the bottom of a 9 inch baking pan.

Top with pizza sauce and season with salt and pepper.

Layer pepperoni on top of sauce whole or chopped up in pieces. Both work great!

Bake for 15 minutes.

Pull out of the oven and layer on the mozzarella cheese and bake for another 10 minutes or until cheese is fully melted.

Serve warm and enjoy!
Nutrition Facts
Easy Keto Pizza Dip Recipe
Amount Per Serving
Calories 162 Calories from Fat 126
% Daily Value*
Fat 14g22%
Carbohydrates 4g1%
Fiber 0.25g1%
Protein 6g12%
* Percent Daily Values are based on a 2000 calorie diet.
Written By