Cobbler has now been added to my favorite dessert list! This keto blackberry cobbler makes the list because it is super easy to make, guilt free due to the minimal ingredients and I always have berries in the fridge that are on the verge of going bad and need to be used up!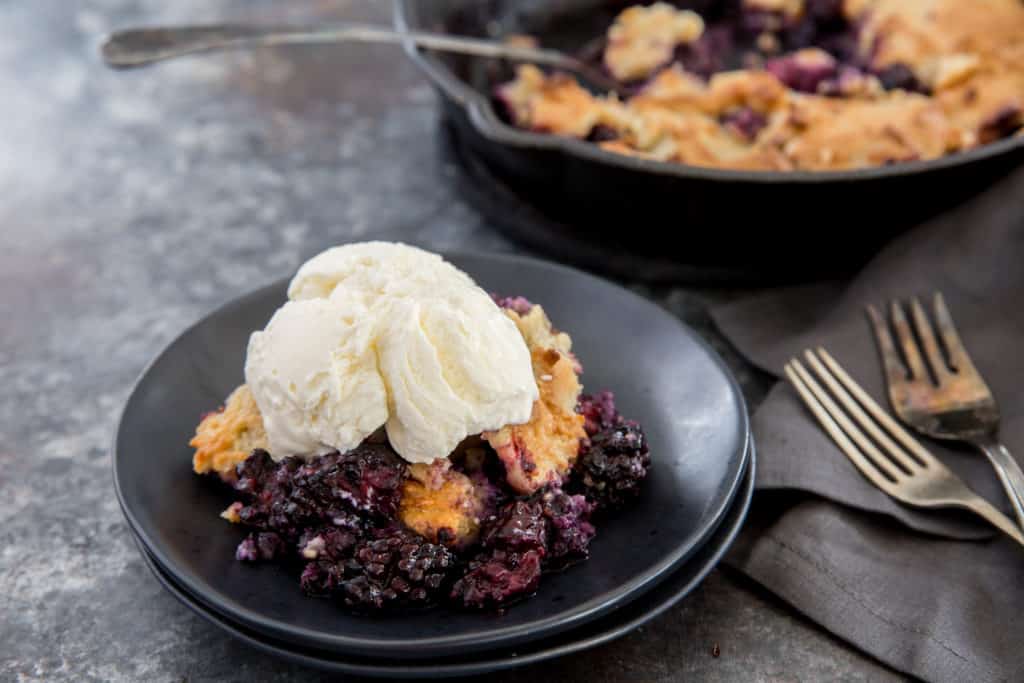 Summer Time Keto Desserts!
Summer time calls for running through sprinklers, rolling around in the grass and eating fruity desserts! I never come in from being out in the sun all day and feel like indulging in a batch of fudgy brownies, although I wouldn't mind lol. I'm normally in the mood for something lighter and filled with fresh berries, like our:
How Do You Make Blackberry Cobbler From Scratch?
It's simpler than you think. I was actually very surprised when I found out cobblers and crisps only require the fruit you are using a couple ingredients you are likely to find in your pantry! This blackberry cobbler will impress you friends with how fresh it tastes and complex in flavors and textures.
The baking of the whole, marinated fruit is really the deal maker here. It breaks down the berries allowing them to release their natural juices. The xanthan gum then comes into play by helping to absorb and thicken those juices so each bite is the perfect pairing of crisp topping and juicy, tender berries. You can't go wrong with this keto cobbler.
Topping To Blackberry Ratio
I'm going to be honest, the topping is aways my favorite so I like to double time on making it. You can't ever have enough! That being said, the recipe we've given you below is the perfect ratio if you like your topping to blackberry ratio 1 to 1.
If you decide to make extra topping, it can easily be stored in the fridge for weeks and used at a later date! And, if you're anything like us then you'll always have a fridge full of berries and be using the topping really soon for a raspberry cobbler *mouth drool*.
How Do You Store Blackberry Cobbler?
There is something that feels really good about eating the cobbler all warm and sizzly right out of the skillet, but unless you have plans to eat it all or you have enough people to serve it up to, there are inevitably going to be leftovers. So, how do you store something that is supposed to be crispy and gooey straight from the oven without totally ruining the cobbler experience?
Well, there are a couple things I highly recommend when it comes to storing and reheating:
When storing it try to keep the topping intact with the blackberries.
Store in an air tight container in the fridge up to 5 days.
When reheating, pop it in the oven for optimal taste. A microwave will do and still taste great, but the oven will re-crisp and re-bubble the cobbler.
Oven: bake at 300 for 10-12 minutes
Microwave: 60-90 seconds
Easy Keto Blackberry Cobbler
If you can't tell from the directions below, this is going to be one of the easiest desserts you make all year round. It's perfect for serving at brunch with friends (no one will know it's lo carb), bringing to Thanksgiving dinner and making on a busy weeknight when your hankering for something light and sweet.
Let us know how you dress your keto blackberry cobbler up – we love to top it with low carb ice cream, or what berry you use (raspberries work great!).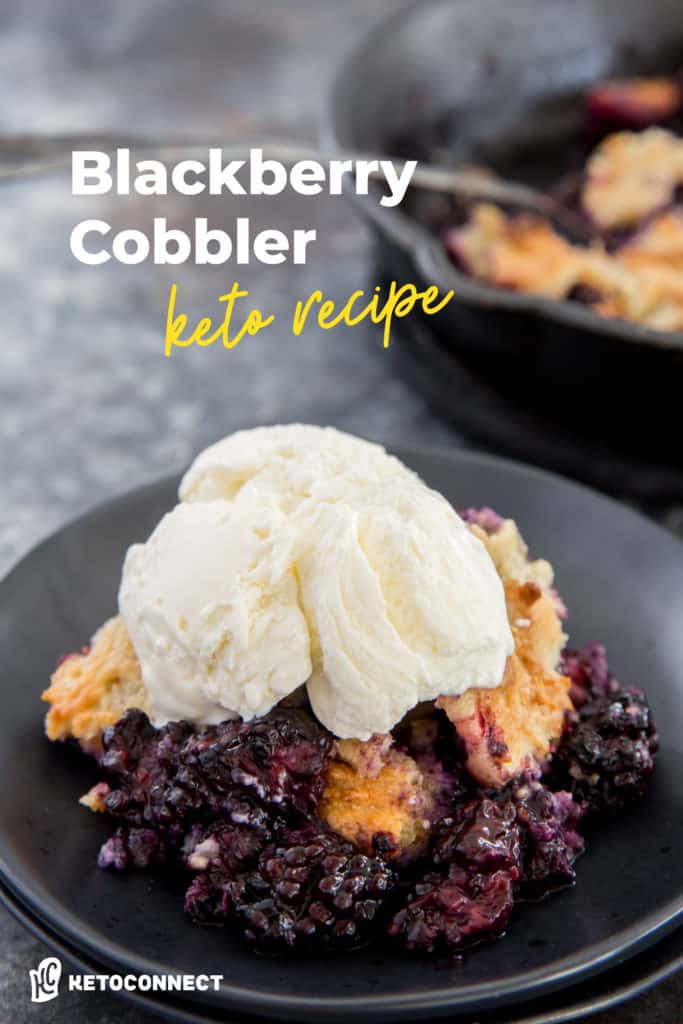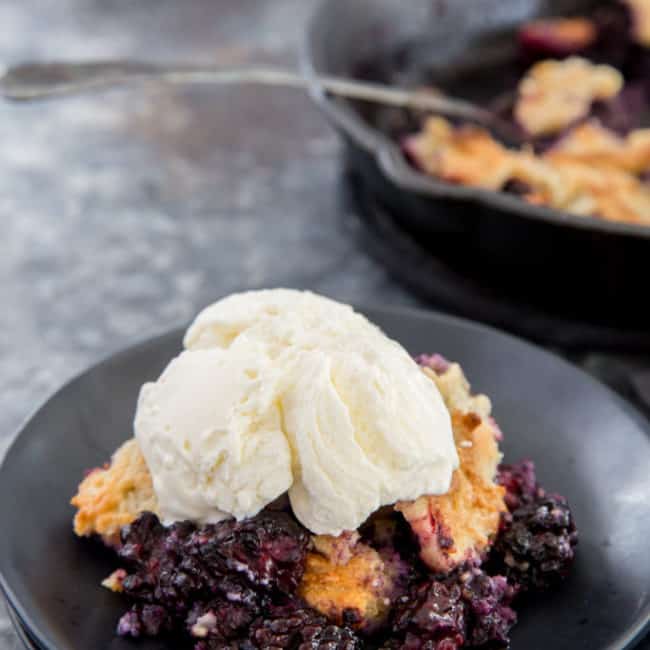 Keto Blackberry Cobbler
A super simple and delicious keto blackberry cobbler recipe designed to minimized ingredients and cleanup!
Total Time 35 minutes
Servings 6 servings
Calories per serving 225kcal
Prep Time: 5 minutes
Resting Time: 5 minutes
Cook Time: 25 minutes
Instructions:
Preheat the oven to 375 degrees F.

Combine blackberries, 1 tablespoon erythritol, lemon juice, and xanthan gum in a bowl using a spoon and make sure everything is coated well. Transfer to a 8-inch oven safe skillet.

In another bowl, add egg, melted butter, remaining erythritol, stevia and vanilla, whisking until combined. Add the almond flour and whisk until a thick dough forms, changing over to a spatula when necessary.

Spread the dough over the berries and bake for 20-25 minutes, until the top is golden brown and the berries are bubbling.

Let set for 5 minutes before serving. If desired, serve alongside your favorite low carb ice cream (we love Rebel and So Delicious!).

Best stored in an air tight container int he fridge up to 5 days.
Notes
Net Carbs: 4g
Yields: 6 Servings
Nutrition Facts
Keto Blackberry Cobbler
Amount Per Serving
Calories 225 Calories from Fat 180
% Daily Value*
Fat 20g31%
Carbohydrates 9g3%
Fiber 5g20%
Protein 6g12%
* Percent Daily Values are based on a 2000 calorie diet.