You've probably have heard of radishes, the small root vegetable commonly used in salads, but now that you're on a keto diet, you might be wondering… are there carbs in radishes? Yes, but not many! Watch the video below to find out how to cook radishes into the most delicious potato replacement and keep reading to find the full recipe.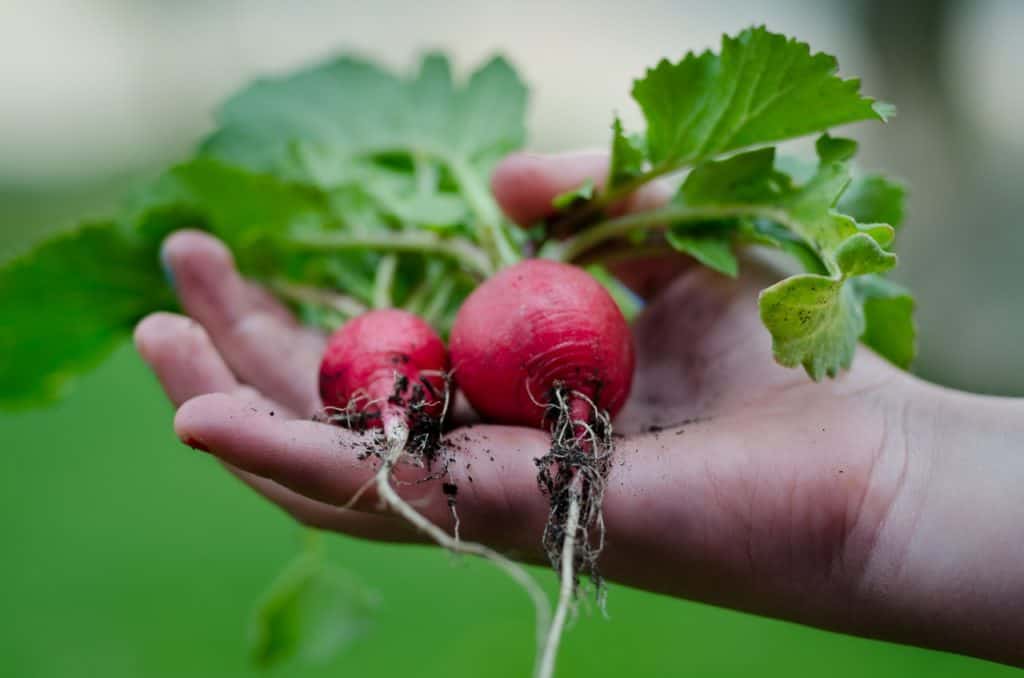 How many carbs in radishes?
Net carb intake is what you should track when following a ketogenic diet. This calculation is pretty straightforward: Net Carbs = Total Carbs – Fiber.
For example, one cup of radishes has 3.9g of total carbs and 1.9g of fiber. That would mean one cup of radishes has 2g of net carbs. We count net carbs because dietary fiber does not have a significant metabolic effect, meaning it doesn't spike blood sugar levels.
To learn more about Total Carbs versus Net Carbs, watch Matt's video course on The Curve where he talks about counting carbs and weight loss.
Can you eat radishes on keto?
A ketogenic diet is a high-fat, low-carb diet. Carbs should make up less than 5% of your caloric intake. When getting started, less than 20g daily is recommended. On it, you'll replace starchy breads and sugary cereals with avocados, butter, and fatty cuts of meat. Many people use the keto lifestyle to treat health conditions like arthritis, diabetes, and chronic inflammation.
One medium-sized radish contains just 0.2 grams of total carbs, making them a great addition to your keto diet!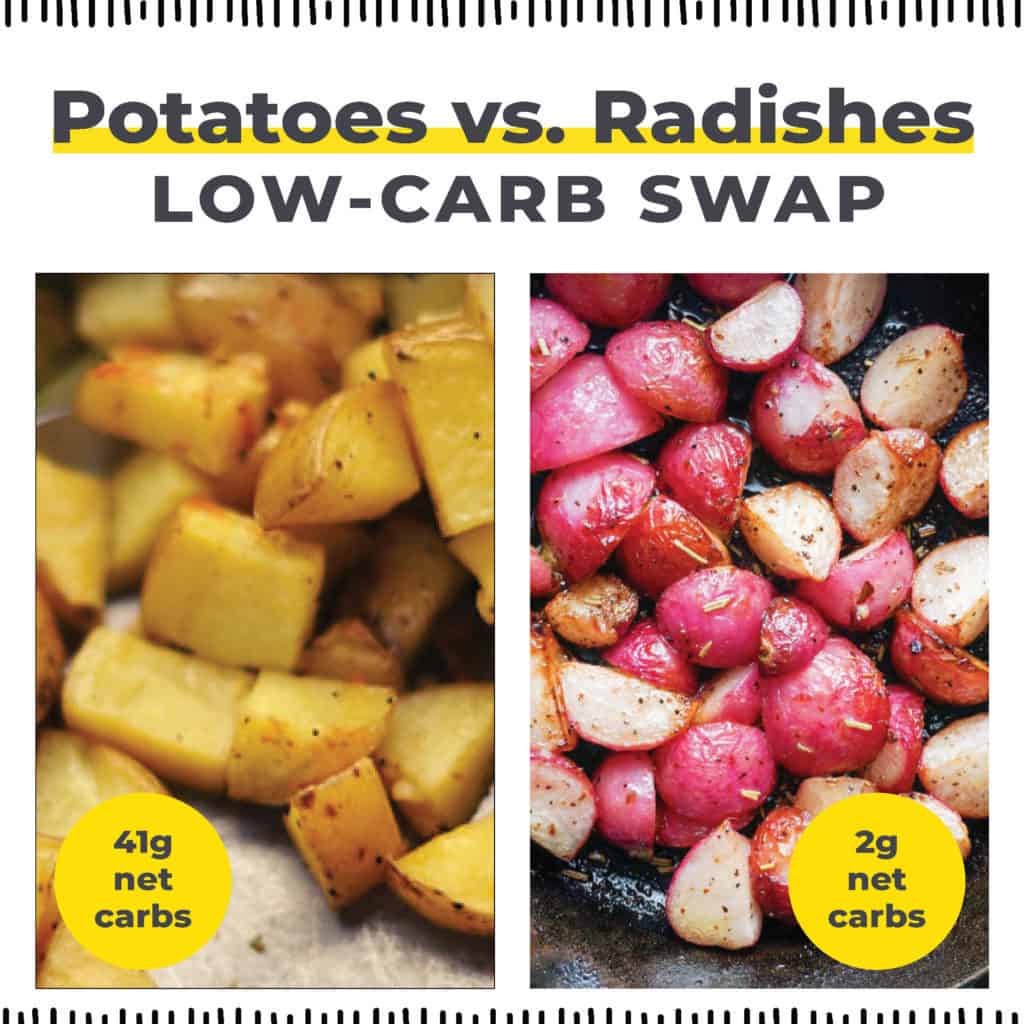 Are radishes good for weight loss?
During the first 3-7 days on the ketogenic diet, your body transitions to a state known as ketosis. First, the lack of dietary carbohydrates forces your body to deplete its glycogen stores, which it keeps for energy.
When you restrict your carb intake down to 20g per day, your body adapts to using fat for fuel as the liver produces ketone bodies ("ketones") for energy to replace glucose.
Think of it this way: ketosis literally converts your body into a fat-burning machine. You don't have to use up all your energy stores before you lose fat, like on a standard high-carb diet.
Foods like radishes, meat, eggs, and other low-carb vegetables are great for a ketogenic weight loss plan since they are all very low in carbohydrates and sugar.
What vegetables can I eat on a no carb diet?
Not all vegetables are created equally. You would never call a basket of French fries a salad, right? Vegetables that grow below the ground such as potatoes, beets, sweet potato, carrots and onion tend to be higher in sugar and starches. If you're trying to restrict your carb intake, it's best to avoid or properly manage your intake of these root vegetables.
1 Medium White potato – 31g net carbs
1 Sweet potato – 26g net carbs
1 Medium White Onion – 8g net carbs
1 cup Carrots – 10.g net carbs
1 cup Beets – 12.5g net carbs
1 Cup Turnip – 7g net carbs
1 Cup Parsnip – 28g net carbs
Radishes are an exception! They grow below the ground, but contain only 2g of net carbs per cup.
For a low-carb or no-carb diet, you want to look for veggies high in fiber or leafy greens. Here are some great vegetables for a keto diet.
1 cup Cauliflower – 3g net carbs
1 cup Broccoli – 3g net carbs
1 cup Zucchini – 2.5g net carbs
1 cup Cucumber – 3g net carbs
Spinach – 0g net carbs
Lettuce – 0g net carbs
1 cup Celery – 1.5g net carbs
1 cup Asparagus – 2g net carbs
1 cup Cabbage – 3g net carbs
1 cup Mushrooms – 2g net carbs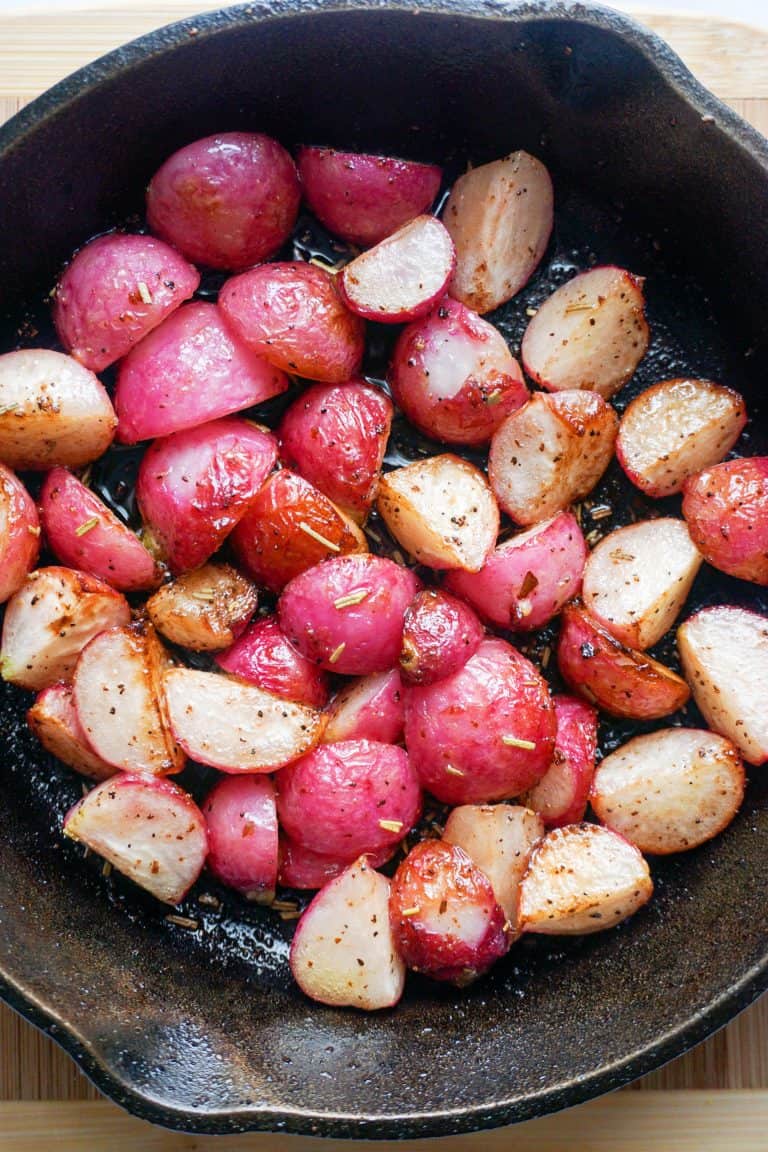 How to Cook Radishes
You can enjoy radishes raw, but we prefer to roast them like you would potatoes or air fry them as a keto chip option. Try roasted radishes in our Keto Breakfast Bowl!
Pan Fried Radishes: Cut radishes into bite-size pieces and add to a pan at medium heat along with butter or fat of choice. Season with salt and pepper and sauté until fork tender.
Oven Roasted Radishes: Preheat oven to 425 degrees F and coat radishes in oil or butter. Season with salt, pepper, and whatever other seasonings you like. Toss radishes into a baking dish and roast for 25-30 minutes.
Air Fryer Radish Chips: Thinly slice radishes and reheat Air Fryer to 400 degrees F. Spray the chips with olive oil or coconut oil and season with salt and pepper. Cook for five minutes, flip, then cook another three minutes. Watch full recipe video!
Is ___________ Keto?
We have dozens of posts answering your most common questions regarding ingredients and if they should be used on a keto diet. Read some of the most controversial and and heavily discussed articles.
In Summary
Radishes are a low-carb root vegetable you can enjoy in place of potatoes.
One cup of radishes contains 2g of net carbs.
Radishes can be part of a low-carb, keto, weight loss diet since they are low in sugar and calories.
You can cook radishes a number of ways, such as in the air fryer or roasted in the oven.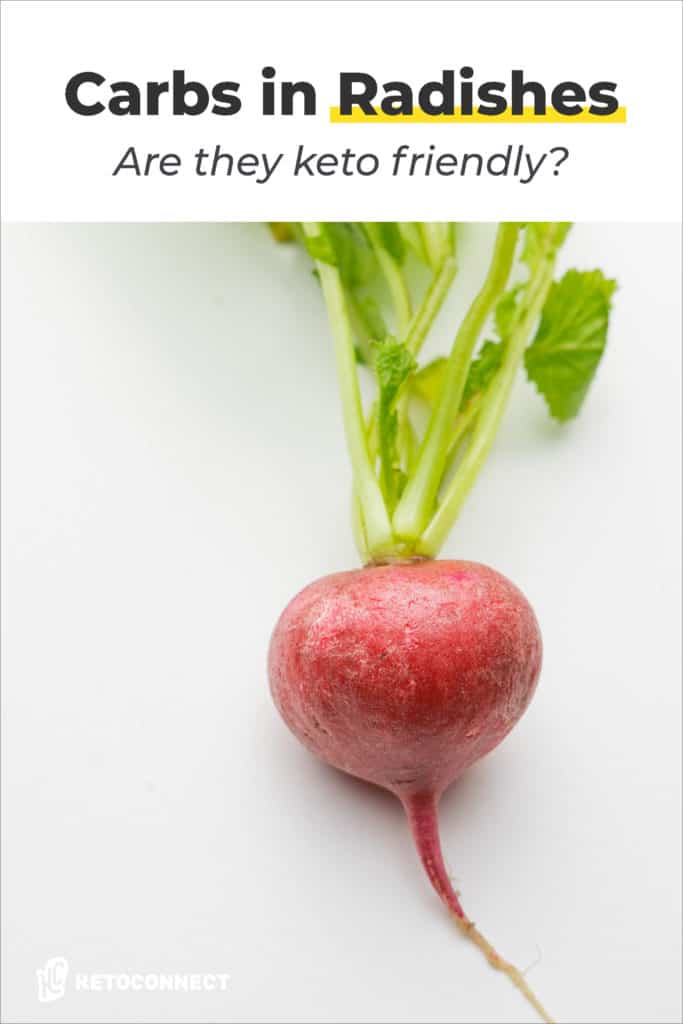 Written By