If you love crackers this is the list for you. We've compiled all our keto crackers recipes as well as the best store bought crackers you can eat on keto. There's almond flour crackers, cheese crackers, and even flax crackers for every dipping occasion. Plus we even created the perfect cracker pairings. So get your favorite dip and let's get cooking.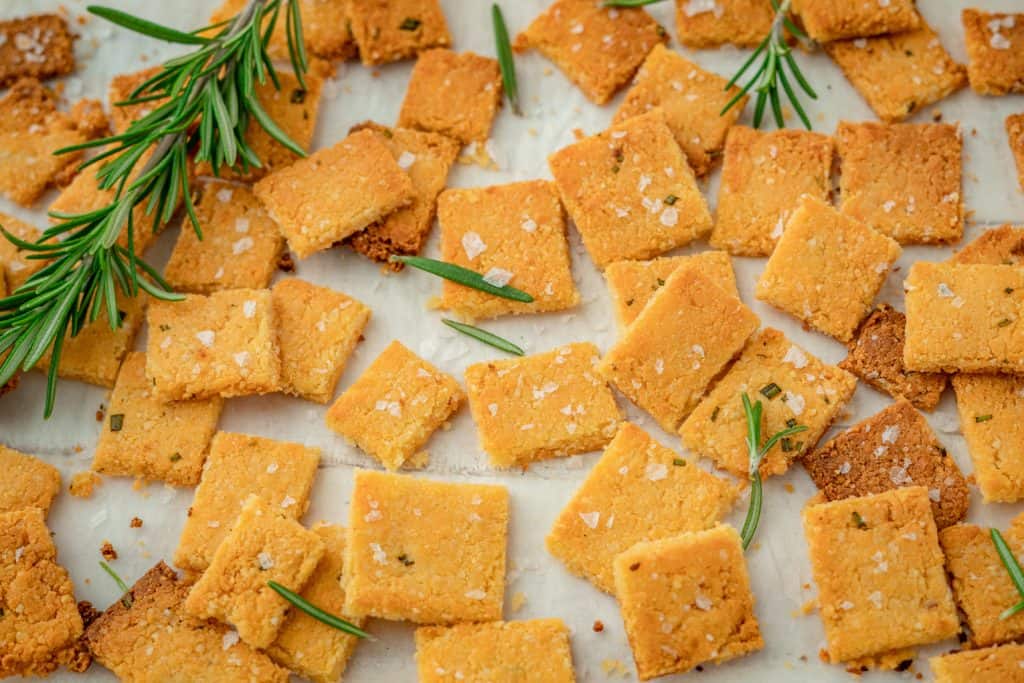 Store Bought Crackers
We know not everyone has time to figure out how keto crackers are made, that's why we came up with the recipes for you. However, we also know some people just don't have time in general to be messing around with dough and almond meal. Instead we created a list of all the keto crackers out there to take the guess work out of finding low carb snacks.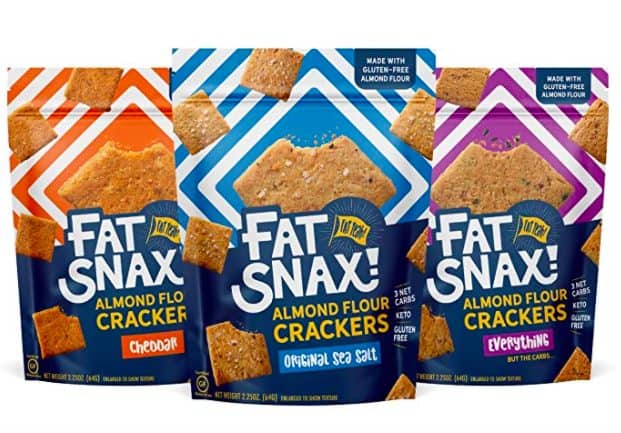 We always recommend purchasing trios from brands whenever possible to try all the flavors. These three crackers are crunchy, nutty, and pair perfectly with cheese and cured meats. Per serving there are between 2-3 net carbs depending on the flavor you choose.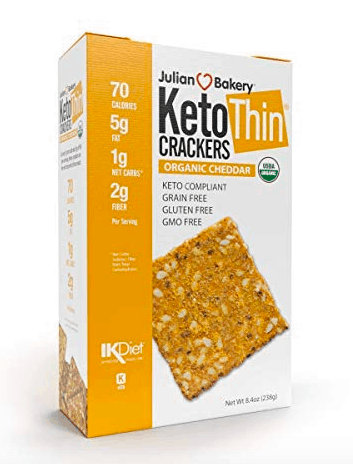 These keto crackers are similar to those you would make at home with flaxseed and almond flour being main ingredients. Per serving there is only 1 gram of net carbs and 2 grams of fiber.
You may also like our review covering Trader Joe's Cauliflower Thins.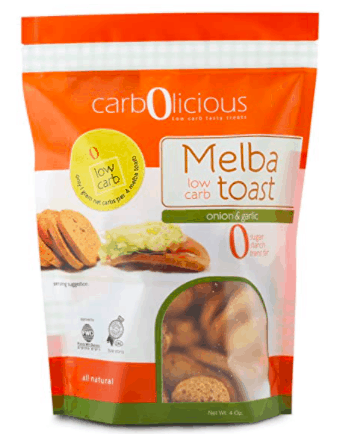 These toasts are very similar to the toast points you can purchase for charcuterie boards. However these have practically no net carbs bringing in just 1 net carb per serving. They make the perfect low carb option for meat and cheese boards, as well as for those who want crunchier keto crackers.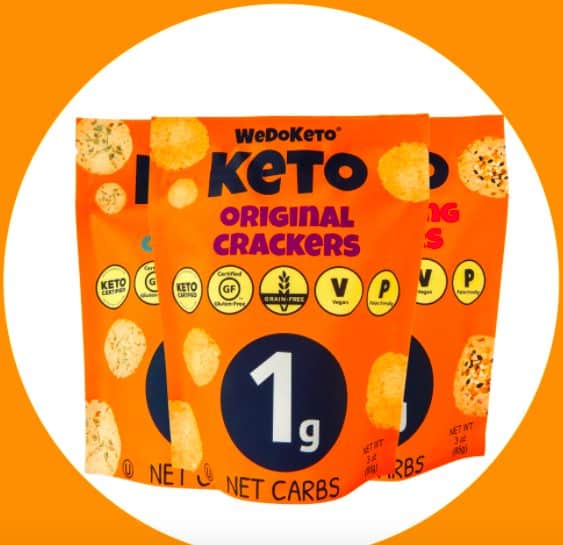 WeDoKeto crackers can actually be found in Walmarts as well as ordered online from walmart.com. Three containers of keto crackers cost just $23.87 and are made with healthy whole ingredients. They start with almond flour, flaxseed, and onion. Then they add in spices like pink salt, rosemary, oregano, basil, and thyme. Everything is organic and everything is definitely keto! Each serving is 3 total carbs 2 fiber, aka 1 net carb.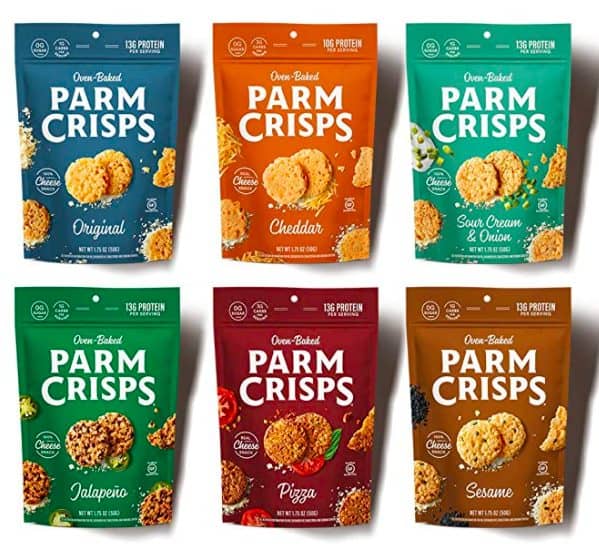 Just like we said before ALWAYS get the variety pack. These cheese based cracker crisps make the perfect salty snack and dipping vessel for keto recipes. They have tons of flavors like cheddar cheese, pizza, jalapeño, sesame, and sour cream and onion. Don't stop the cheese train there, grab your cream cheese and dip away! Depending on the flavor you choose it is either 1 or 3 grams of carbs from spices. Trust us these crispy cheese bites are worth all three!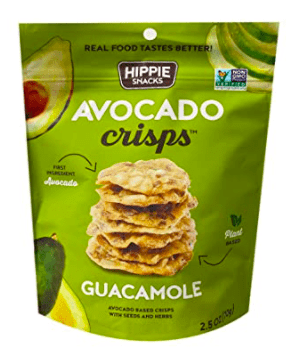 These avocado crisps come in two flavors, sea salt or guacamole. Per 30 gram serving of the sea salt keto crackers there are 8 total carbs and 2 fiber (6 net carbs). These crisps are almost chip like and taste great with guacamole or salsa.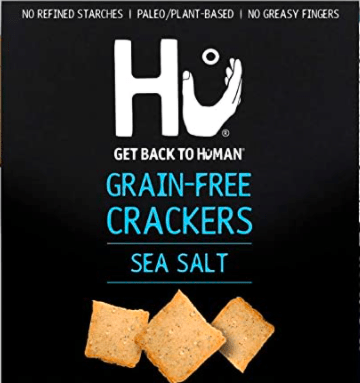 Per 30g serving size these crackers have 12 total carbs and 3 grams of fiber aka 9 net carbs. While they are a little high for keto, they make the best wheat thin style cracker with cheese. You could even dip them in some cream cheese and everything but the bagel seasoning for extra flavor.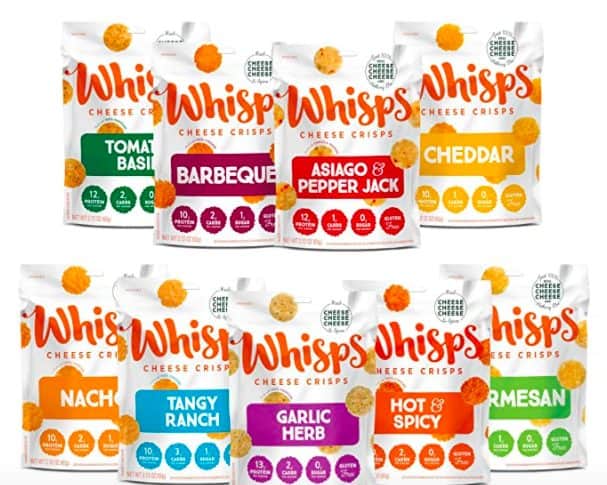 Similar to ParmCrisps these cheesy snacks make the perfect keto cracker. Whisps have a few different flavors too such as tomato basil, Asiago & Pepperjack, and BBQ. They also work great in keto recipes as a crunchy cheesy breading. Per serving there is between 1 and 2 grams of carbs.
9. Flackers (Flaxseed Crackers)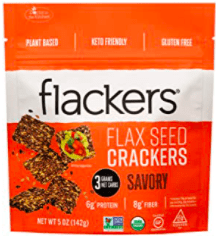 Just like the title says these are 100% flaxseed based crackers. They don't have almond flour or even many other ingredients depending on the flavor you choose. There is cinnamon and currents (6 net carbs), savory (3 net carbs), Original (1 net carb), and Rosemary (1 net carb). Flackers are crunchier than most other keto crackers and work well as sturdy dip crackers rather than just meat and cheese crackers.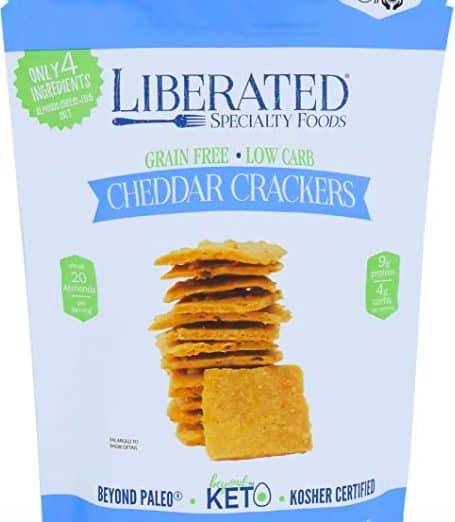 These specialty crackers come in three different flavors and have about 2 net carbs per serving. They are delicious and nutritious packed with high quality whole foods. Aka all thriller no filler!
Homemade Keto Crackers
Do you prefer to make low carb keto crackers from the comfort of your own home? All of these low carb crackers are not only easy, but also gluten free and super customizable.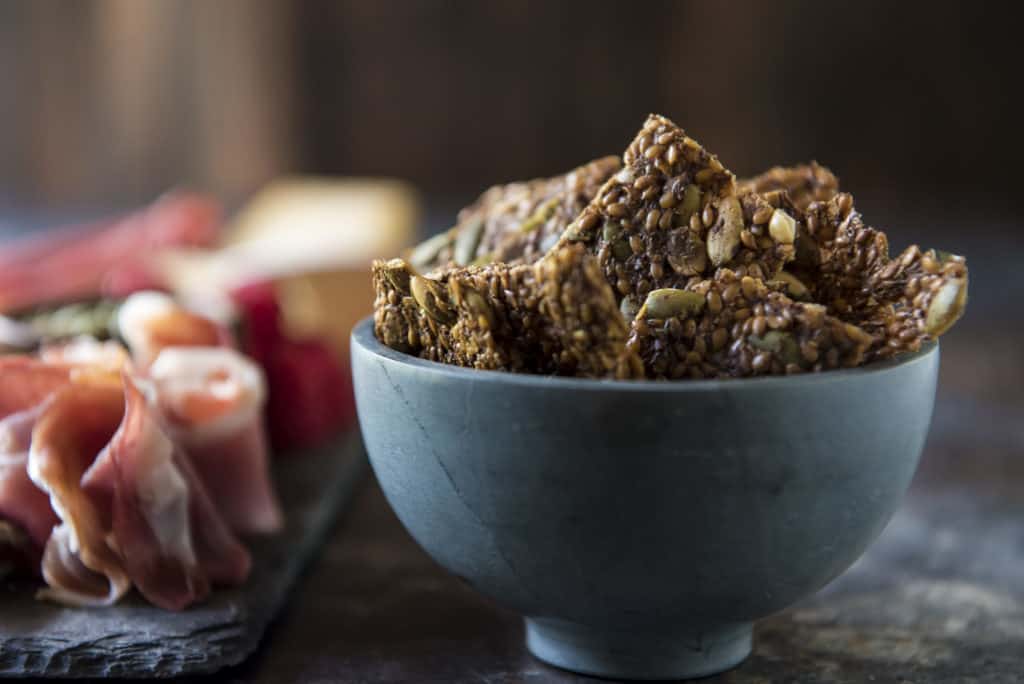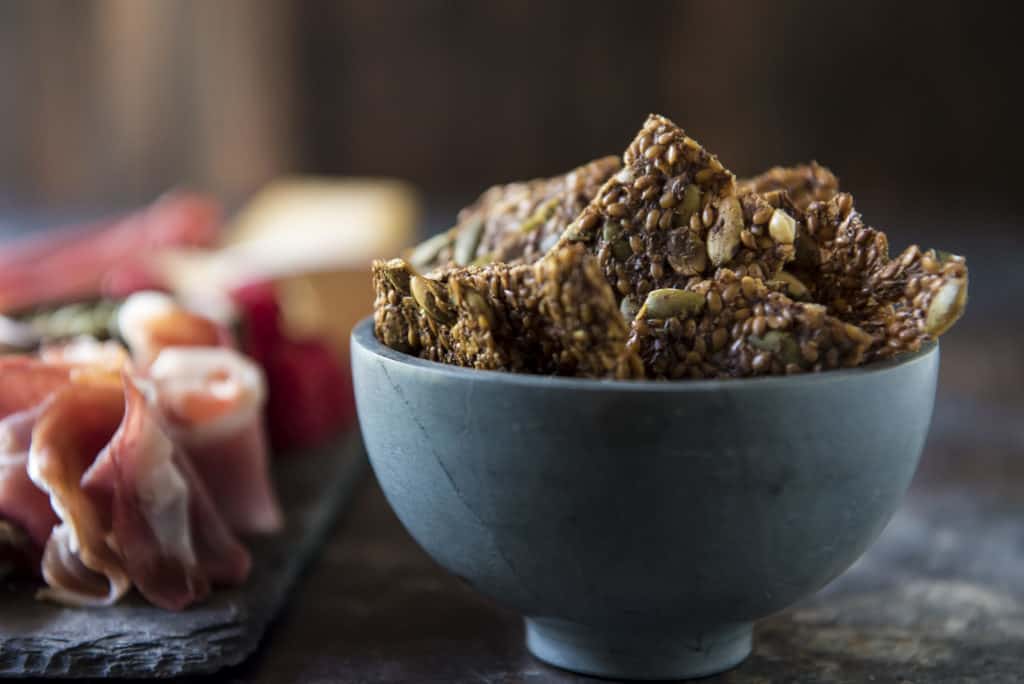 These crispy keto crackers are the perfect seed based recipe for all your future keto charcuterie boards. They have flaxseed, pumpkin seed, and even pumpkin pie spice! Try these crunchy keto crackers with some sugar free jam and brie for the perfect bite.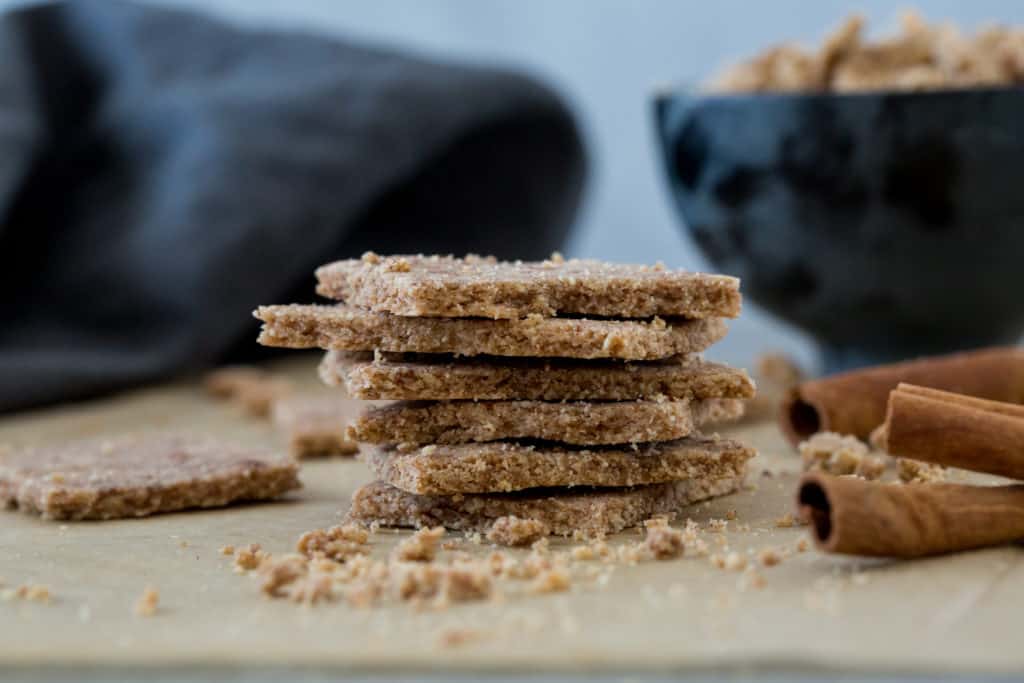 Did you think every keto crackers recipe was going to be savory? Think again! These sweet crackers are a gluten free keto treat. They have a base of almond flour and cinnamon that brings its own subtle sweetness. Pair these almond flour crackers with our sugar free marshmallow cream and some dark chocolate for the best keto s'mores. The best part? These graham crackers have just 0.6 net carbs per serving.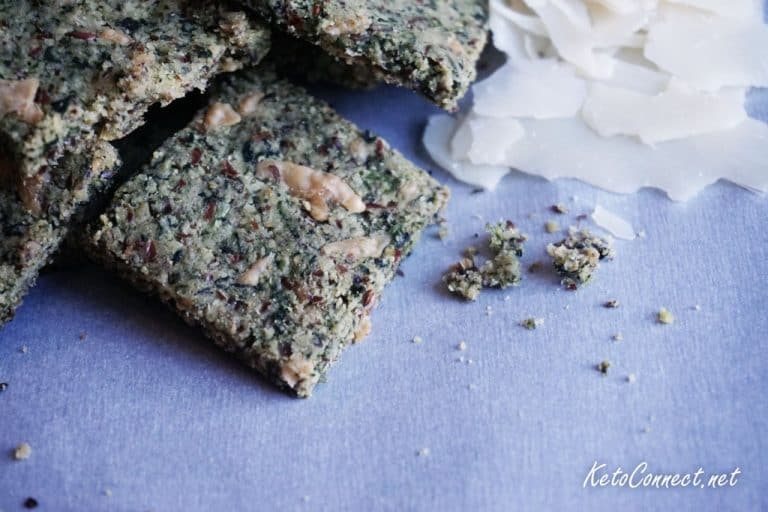 Break out a piece of parchment paper and a rolling pin because these keto crackers will blow your mind. Don't let spinach fool you, these are cheese crackers first and foremost. They use a base of both almond flour and coconut flour for the ideal cracker texture. These crackers also include flax seed meal for a great gluten free keto flour replacement. (3.2g net carbs per serving.)
4. Keto Cheddar Crackers | Cheeze- It style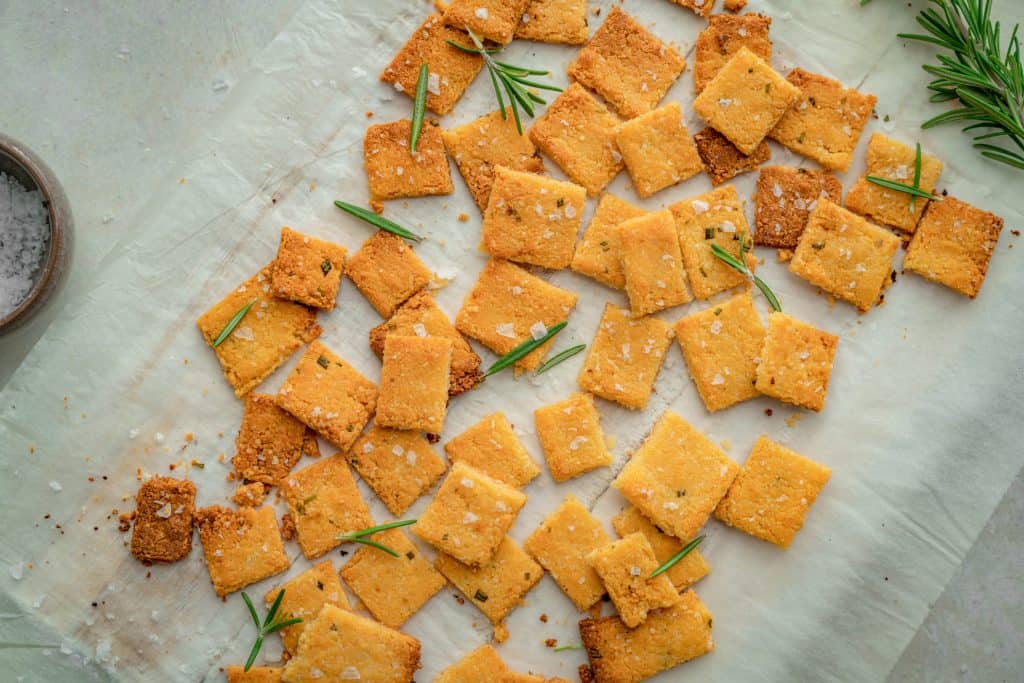 Look no further, this keto cracker recipe is listed in depth at the bottom of the post. It's keto friendly, easy to make, and takes just 30 minutes total time!
What to Pair With Crackers
Finding the "match made in heaven" for cracker combos can be tricky, but we did our best to make you a few lists of the best keto cracker pairings.
Low Carb Dips | Keto Recipes
I LOVE dips. They are probably one of my all time favorite keto foods because of how versatile they are. You can make pretty much anything into a dip as long as you have cream cheese. They taste good dipped with everything from veggies to crackers. Here are our favorite keto dip recipes:
For even more dips and appetizers check out our game day keto appetizers post. It has the 21 best keto snacks for all your parties and gatherings.
Meats
Crackers really don't need any special meats and that is what makes them so great! Some of our favorite meats to eat with crackers are:
Pepperoni- Pepperoni, a little low carb sauce, and shredded mozzarella make the perfect pizza bite.
Salami- Any cured dry sausage will work, we just love salami because it's extra salty
Proccutio- A little more expensive than other meats but worth the price. It has ribbons of fat and a silky texture that just melts in your mouth
Summer Sausage- Be careful that the sausage you pick is low carb and doesn't have any added sugar mixed in. The best way to get high quality summer sausage is by going to a local farm.
Deli Meats- These are usually our last pick on a "fancy" charcuterie board, but we know for some people it's their first! Thinly sliced turkey will never make us unhappy, so feel free to pick some up for your next board
Cheeses
There are tons of cheese options and we really could go on forever. Instead we broke down some main categories to pick your favorite types of cheeses.
Aged Cheeses- These are your drier harder cheeses that have had time for the lactose to be eaten making them easier to digest.
Soft Cheeses- Brie is an example of a soft cheese. They can be a little higher in carbs because they do have more of that lactose, but overall make great super creamy cheeses
The Classics- Think your cheddars, mozzarellas, and munsters
One thing to note is cheese flavor actually becomes more refined and powerful if it's come to room temperature, so leave it out for a few hours before serving and you'll be wow-ed at the difference in flavor.
How to Make a Keto Charcuterie Board
Now that we've covered meat and cheese options it's time to take it a step farther. The humble charcuterie board. This tasty board normally has a variety of meats and cheeses, but what all really goes into making those deliciously Instagram worthy boards? The basics to build the best keto charcuterie board are:
Meats– This is an obvious one but meats are going to be the staple of a keto charcuterie board. The type of meats is up to you, but it is normally recommend you use cured meats as they can sit out longer than deli meats.
Cheese– Again cheese choices are all up to you, but we love aged cheeses. Making a charcuterie board is all about trying new flavors so don't be afraid to step out of your comfort zone. Aged cheeses also prevent upset stomachs because most of the lactose has been eaten away making them easier to digest(1).
Crackers-Now's the time for all those delicious keto crackers to shine! Take your pick of a store bought or home made variety and enjoy.
Nuts– Nuts are a staple in our charcuterie boards. They add a saltiness and crunch that is different from crackers. We love getting fancy and buying seasoned nuts like spiced almonds, macadamia nuts and cashews.
Olives– Olives are by no means a necessity as we know they aren't always everyones favorite, however we love the fattiness of them and choose to include them in our boards. There are so many types of olives out there like green, black, and stuffed with a hundred things!
Jams and Jellies– A good preserve always makes it on a charcuterie board because it adds a light sweetness that pairs with your meat and cheeses. We recommend picking a sugar free jam and using that in place of something like a fig preserve which has too much sugar.
Foliage– Just as it sounds, this is greenery to make the board look good. It doesn't necessarily add flavor, but it sure does look pretty! Add some berries and herbs to the board to look extra fancy.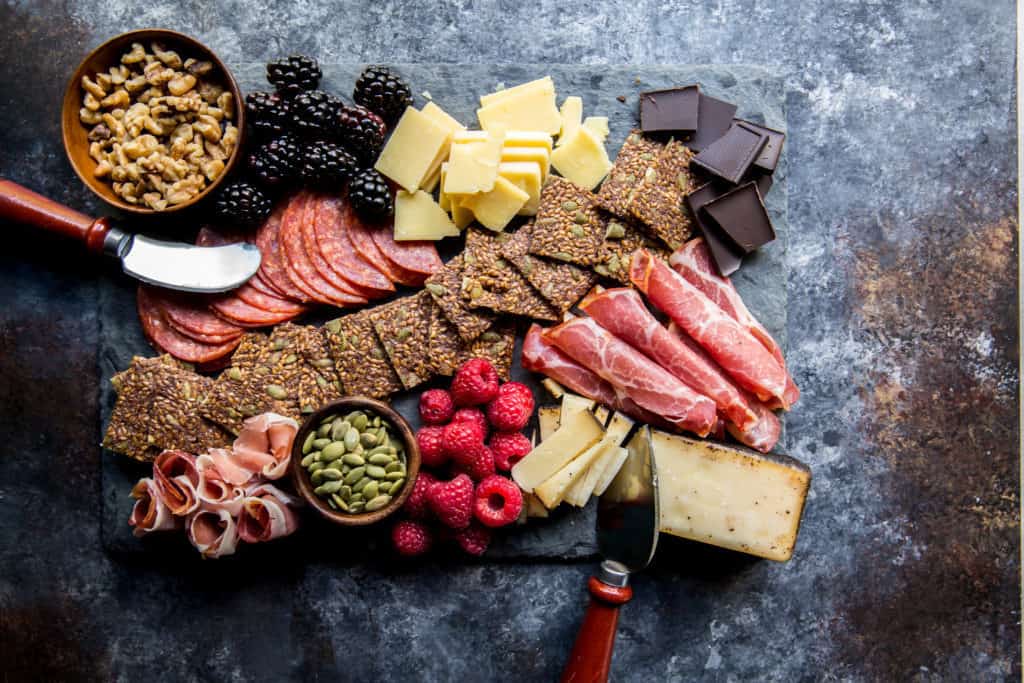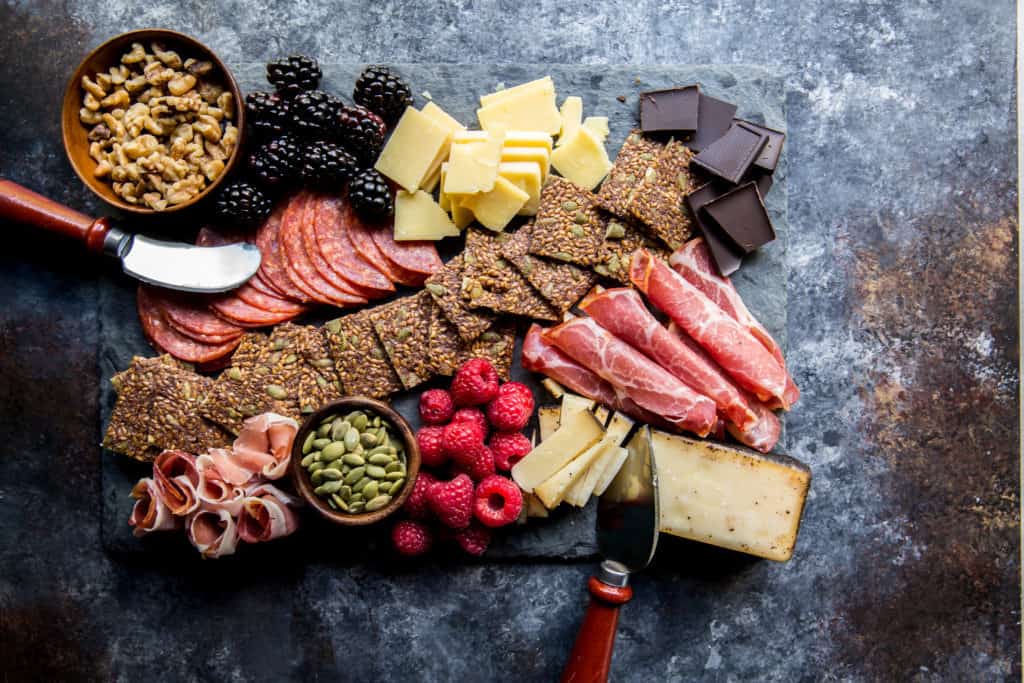 Our Ideal Board- How we Make Ours
Meat– Cured Salami, Cured Pepperoni, Local Summer Sausage
Cheese– Aged Manchego, Sharp Cheddar, Brie Wheel
Crackers– 1 Ingredient Flaxseed Crackers
Nuts– Almonds roasted in olive oil and rosemary+ salt and pepper macadamia nuts
Olives– Manzanilla Green Olives + Kalamata or other type of black olive
Jams and Preserves- Sugar Free Jam like blueberry or apricot
That's what we use in our boards, but feel free to change it up to put in your favorite ingredients. You can also deck out your board with herbs and fruit for a more gourmet look.
How to Make Keto Cheddar Crackers
Do you love Cheez- It crackers and want to know how to make keto crackers that taste just as good? This is just be the keto recipe for you. They're made with almond flour (you can use almond meal) and each serving is packed with cheesy flavor. Finally a cheese cracker dough that is keto friendly made without refined carbs and gluten.
Equipment
For this recipe you will need a food processor to blend together the cheese cracker dough. You will also need parchment paper as well as a baking sheet. We recommend a large baking sheet to ensure all the keto crackers fit and bake evenly. Finally you will need a rolling pin to go along with the parchment paper.
Ingredients
These low carb crackers use almond flour as the main flour base. The almond flour will bind together the cheese so you are left with crunchy and crispy cheese crackers that don't crumble. We can't have cheese crackers without the cheese so make sure to have cheddar and parmesan cheese. We added a pinch of salt and garlic powder but the seasonings you choose are optional. Finally you can add herbs or additional spices of choice. We love rosemary or thyme, but you can go non traditional with everything bagel seasoning instead.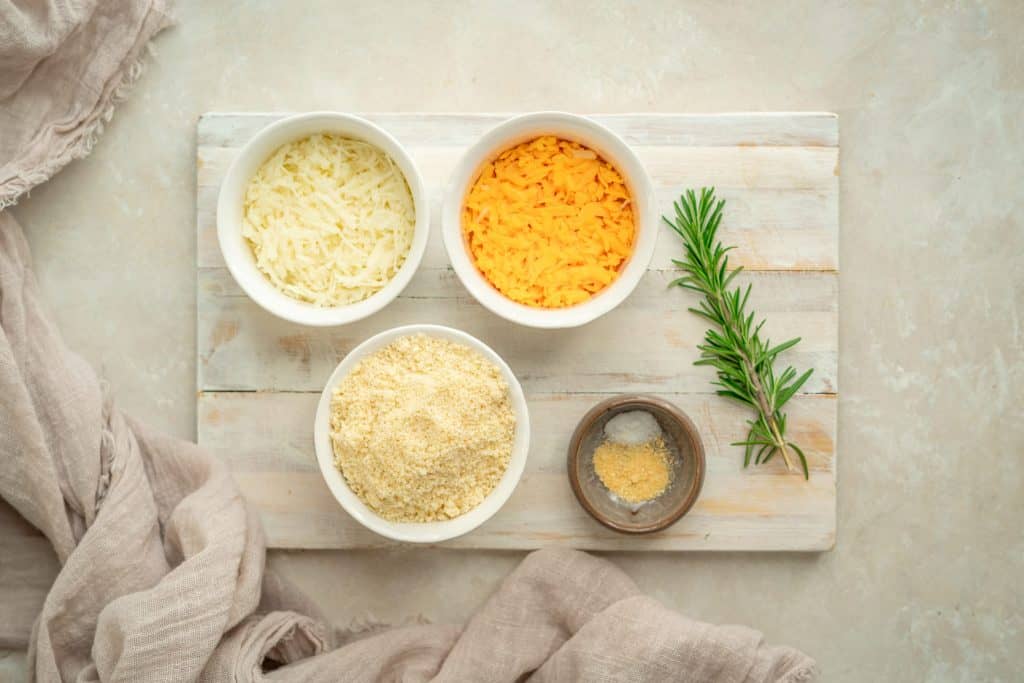 Making Cheese Crackers
Now it's time to make our cracker recipe. Begin by preheating the oven to 180C/350F. Then line a large baking sheet with a piece of parchment paper.
In a food processor combine the almond flour, cheddar, parmesan, salt, and garlic powder. You will want to pulse and then blend well until a dough forms together.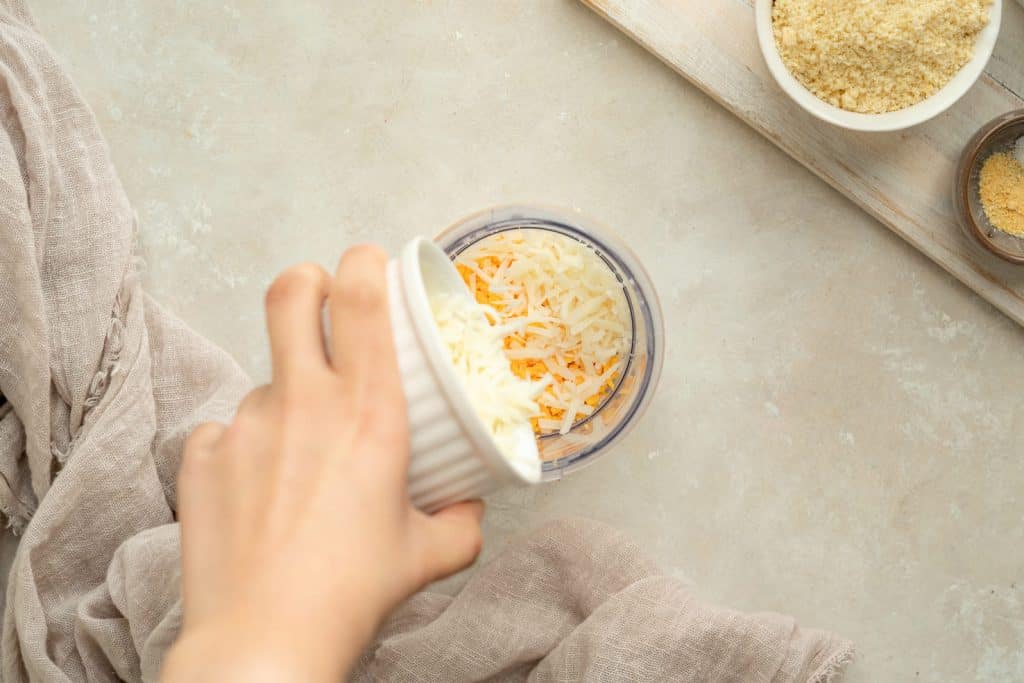 Cheese crackers can be a little crumbly from all the cheddar so don't be afraid to microwave the dough for 20-30 seconds to allow the cheese to melt. Once it has melted slightly you can return it to the blender and pulse again. The dough might stay a bit crumbly, but it should stick together if you pinch it with your fingers.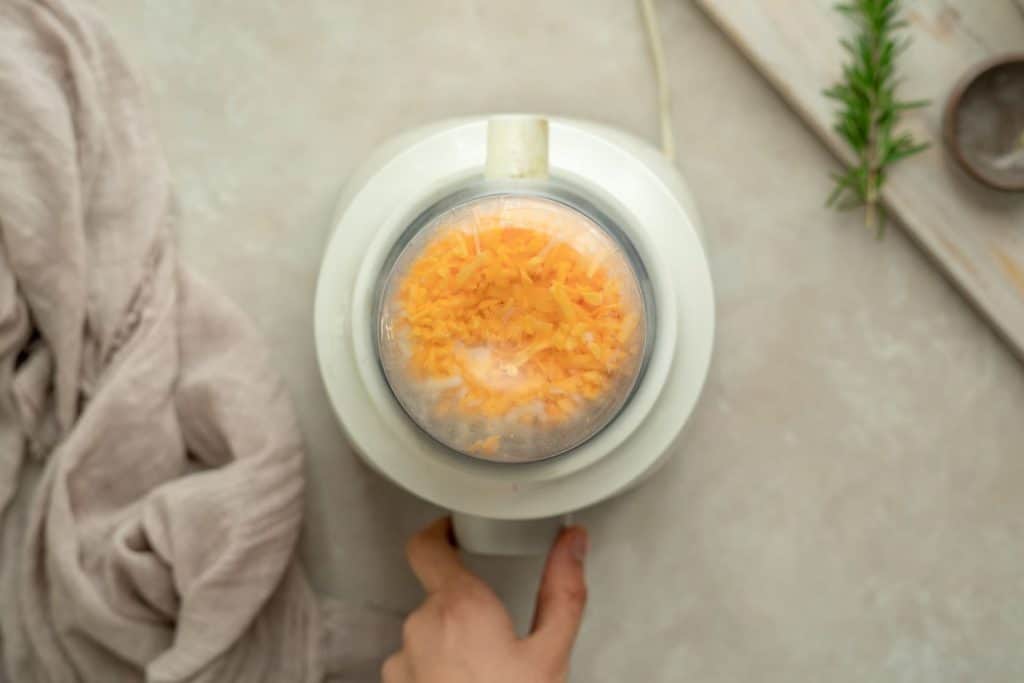 Now transfer the cheese cracker recipe to a bowl and add your desired herb(s). The herbs are optional, but highly recommend. It really just depends on if you want a more upscale cracker, or a childhood cheez-it. Mix in the herbs well with a wooden spoon.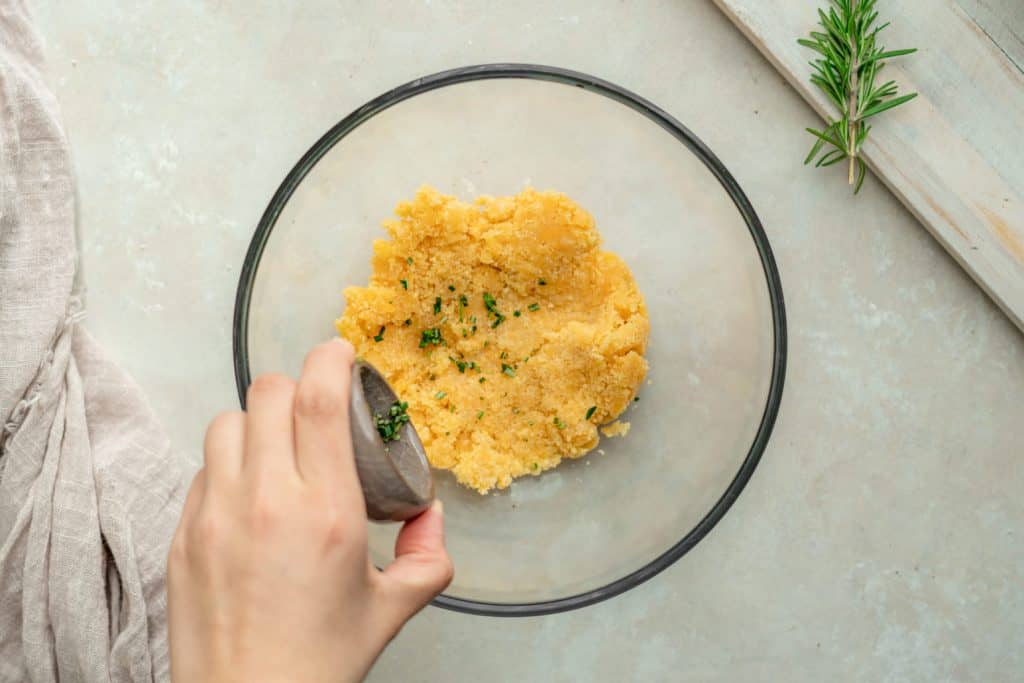 Place the dough onto a piece of parchment paper, and fold it over the dough (there should be parchment paper on top and on the bottom of your dough). If you skip the double layering your cheese cracker dough will stick to the rolling pin. Roll out the dough ¼ inch thick. Too thick and the crackers will be chewy, but too thin and they might break.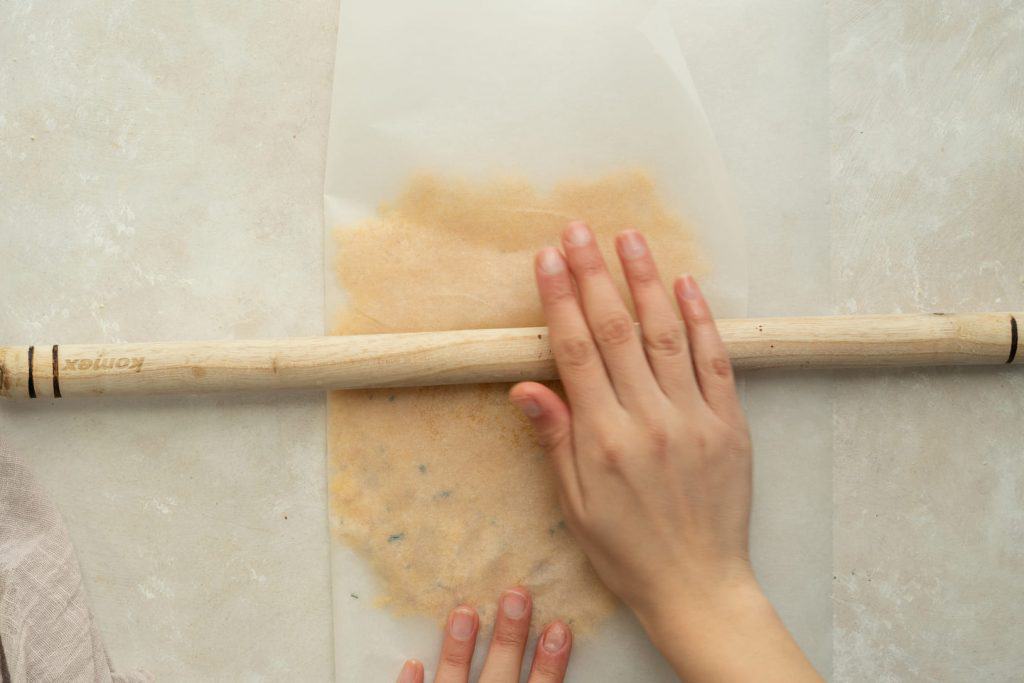 When the dough is rolled out you can use a pizza cutter to cut the cheese crackers into even squares.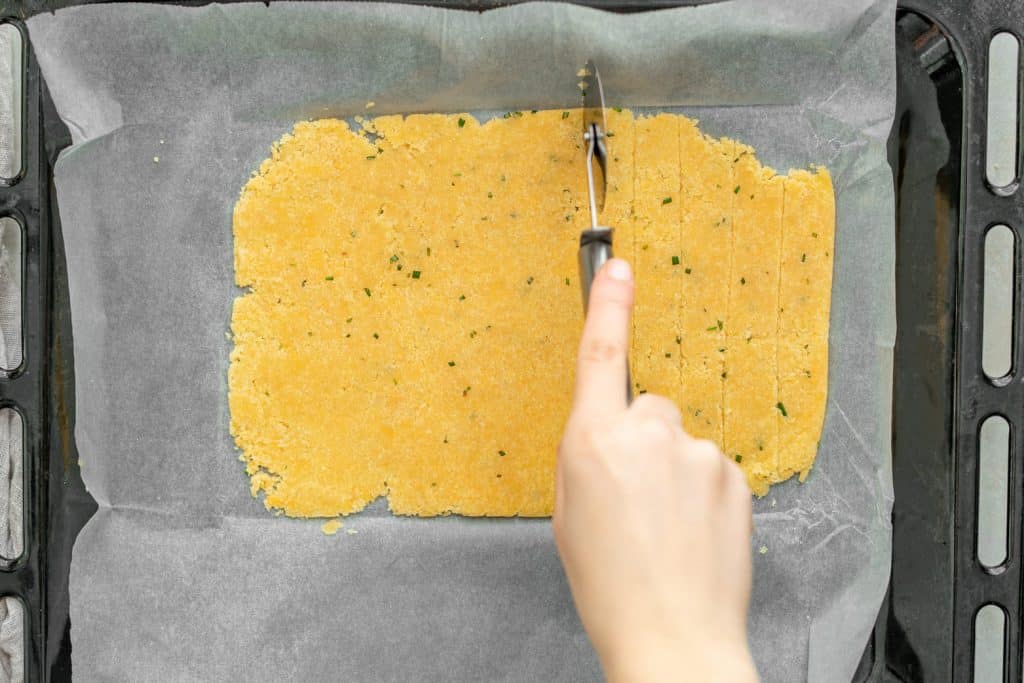 Once all the squares are evenly cut sprinkle flakey salt on top.
Bake your cracker recipe for 10-12 minutes or until the cheese is golden on the edges. Remove from the oven and allow your crackers to cool completely. If they aren't fully cooled they won't be crispy enough. The cracker recipe can be stored in an airtight container at room temp for about a week.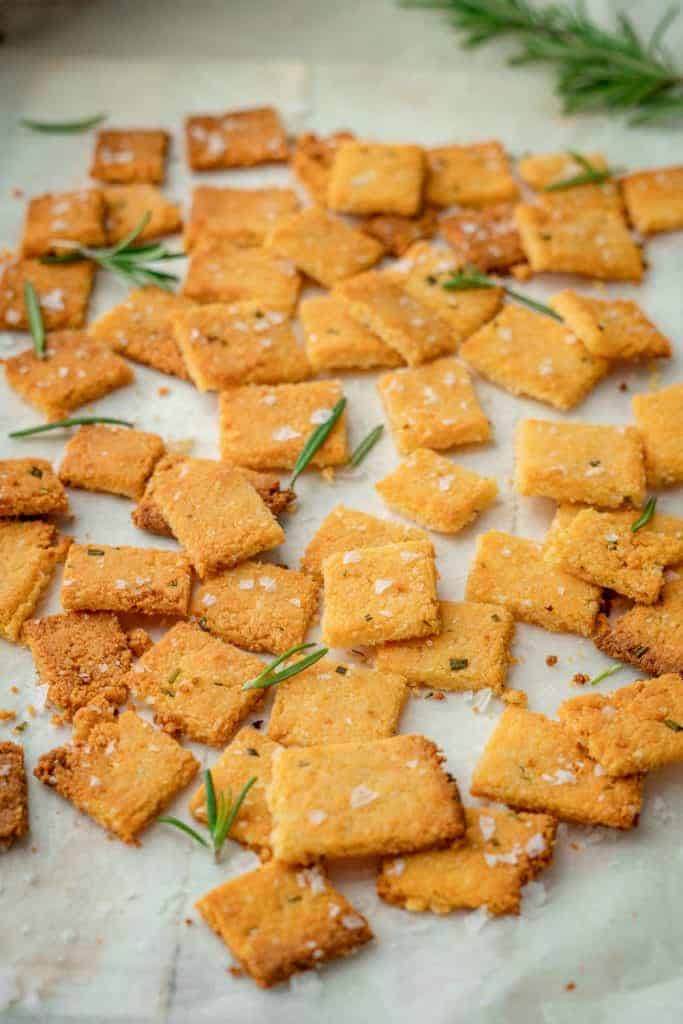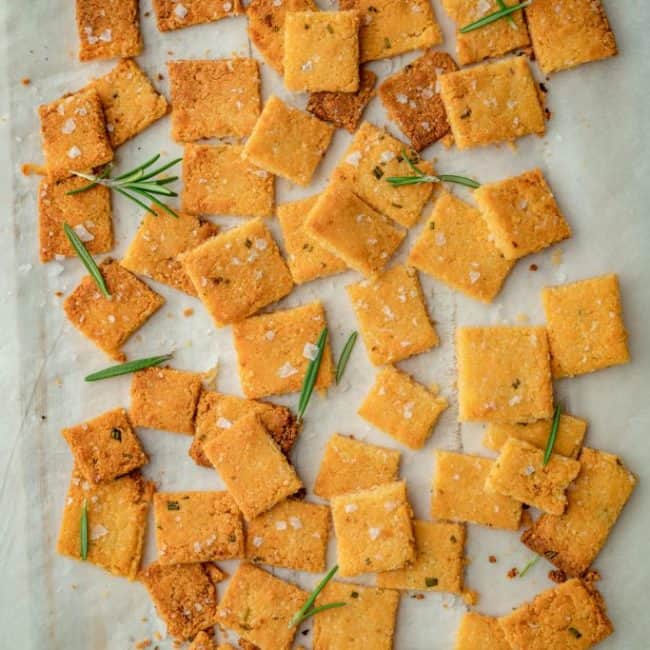 Keto Crackers – 2 Ingredients
If you love store bought cheese crackers you're sure to love this recipe. It's cheesy and salty without the gluten and carbs
Servings 6 Servings
Calories per serving 179kcal
Prep Time: 10 minutes
Cook Time: 12 minutes
Instructions:
Preheat the oven to 180C/350F. Line a large baking sheet with parchment paper.

Add the almond flour, cheddar, parmesan, salt, and garlic powder (if using) , to a food processor and blend well, until it forms a dough. If the dough is too crumbly or isn't coming together, microwave the mixture for 20-30 seconds to allow the cheese to melt, then return it back to the blender and blend. The dough might stay a bit crumbly, but it must stick together if you pinch it with your fingers.

Transfer the dough to a bowl, add your desired herb(s) if using, and knead well with a spatula or wooden spoon.

Place the dough onto a piece of parchment paper, and fold it over the dough. Use a rolling pin to roll out the dough into about ¼ inch thick.

Cut the dough into even squares with a pizza cutter and then sprinkle with flakey salt on top.

Bake for 10-12 minutes, or until golden around the edges.

Remove from the oven and allow to cool completely.

Store crackers in an airtight container at room temperature.
Notes
Net Carbs: 2 Note: Make sure to let the crackers cool completely or you may find them to be soft rather than crunchy. 
Nutrition Facts
Keto Crackers – 2 Ingredients
Amount Per Serving
Calories 179 Calories from Fat 135
% Daily Value*
Fat 15g23%
Saturated Fat 4g20%
Cholesterol 18mg6%
Sodium 203mg8%
Potassium 19mg1%
Carbohydrates 4g1%
Fiber 2g8%
Sugar 1g1%
Protein 9g18%
Vitamin A 174IU3%
Vitamin C 1mg1%
Calcium 191mg19%
Iron 1mg6%
* Percent Daily Values are based on a 2000 calorie diet.
Written By