I don't know a single person who doesn't love ice cream. I also don't know a single person who doesn't love easy and convenient recipes. We've combined both to make this Keto Mason Jar Ice Cream! We recreated my favorite ice cream flavor, butter pecan, into an easy to make, no equipment needed recipe. Could it get any better?!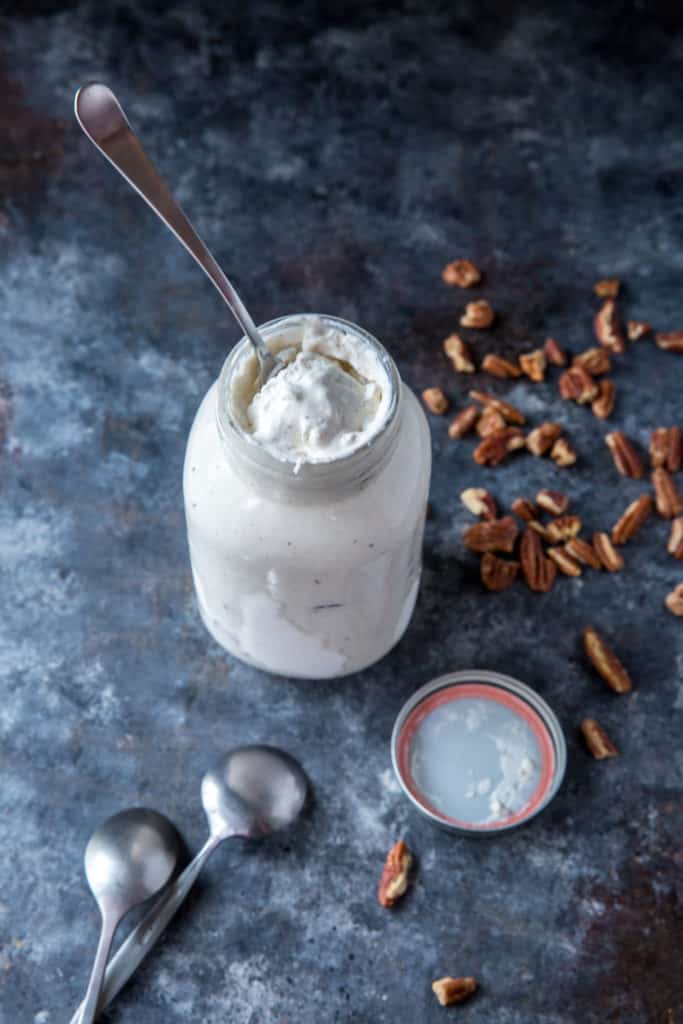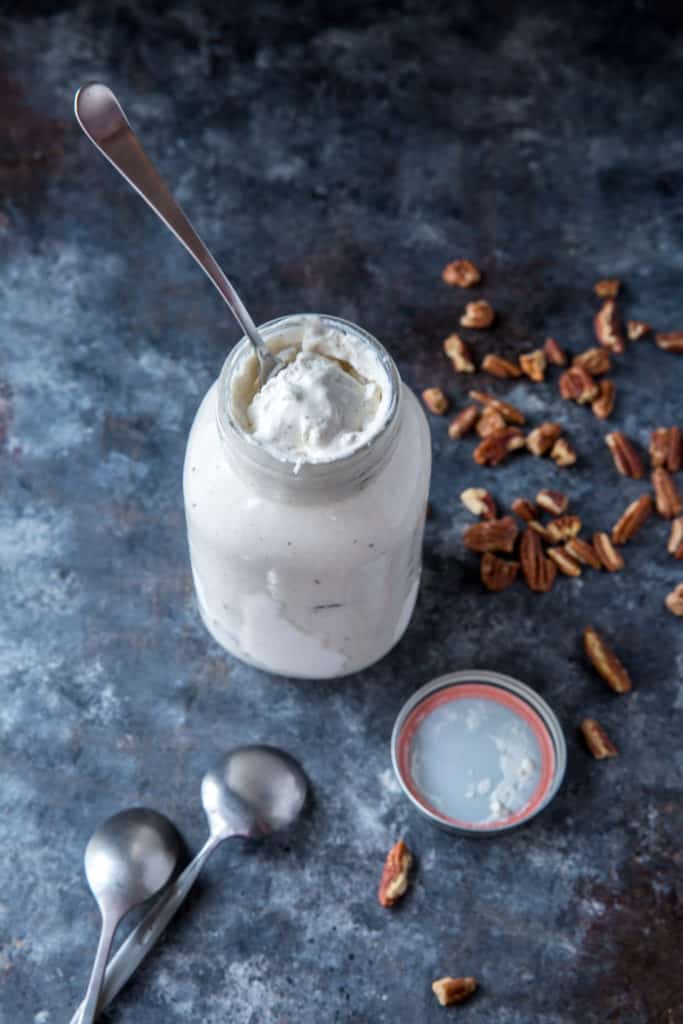 Carbs in Heavy Whipping Cream
People often get confused about how many carbs are really in heavy whipping cream. Some labels will round down and list 0g of carbs, others will say 1. The truth is that there are about 9 grams of carbs per cup of heavy cream, or about 1/2 a gram of carbs per tablespoon. Regardless of what the nutrition label says on the one you are using, you now know how many carbs are actually in heavy cream.
We love using heavy cream in our recipes because it has a high fat to protein ratio while still keeping the overall recipe low in carbs. If you're looking for more low carb recipes that are made with heavy cream check out some of our favorites:
Delicious Heavy Cream Desserts
Try any one of these keto recipes for a delicious high fat option to round out your night.
Can I Freeze Ice Cream in Mason Jars?
Yes! This keto ice cream recipe can be frozen in mason jars without any issues. Whenever freezing anything (not just low carb recipes) in mason jars, make sure to leave a little room on top. Liquids like heavy cream expand when frozen so you'll want to account for a little extra room. If you struggle with portion control try making single serve mason jar ice cream pots to avoid overeating. Plus these work great for storing other keto treats and snacks on the go.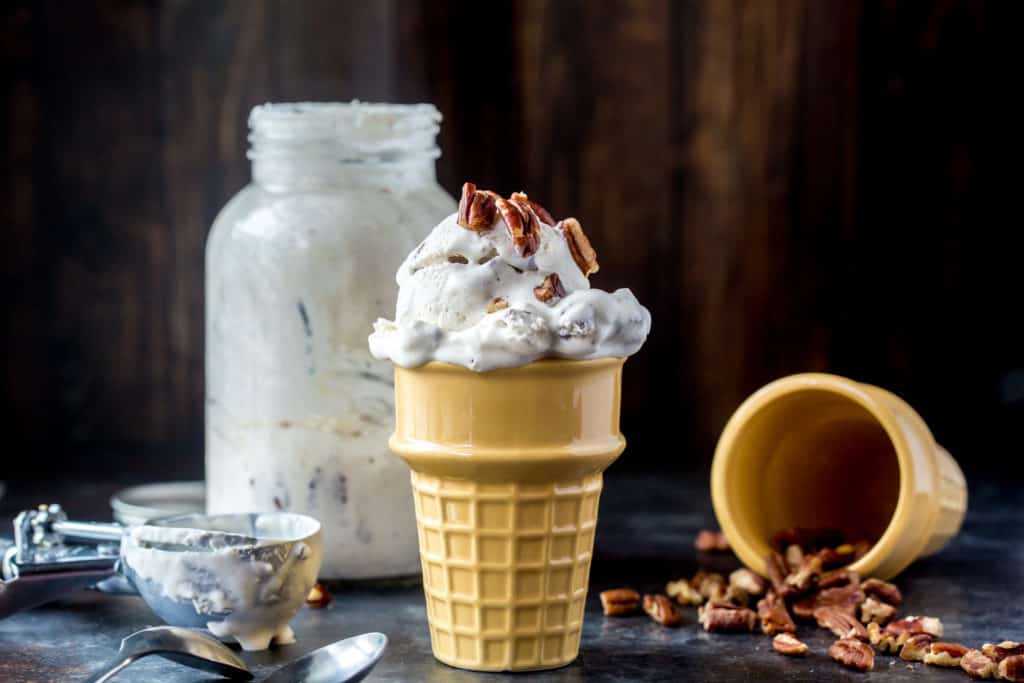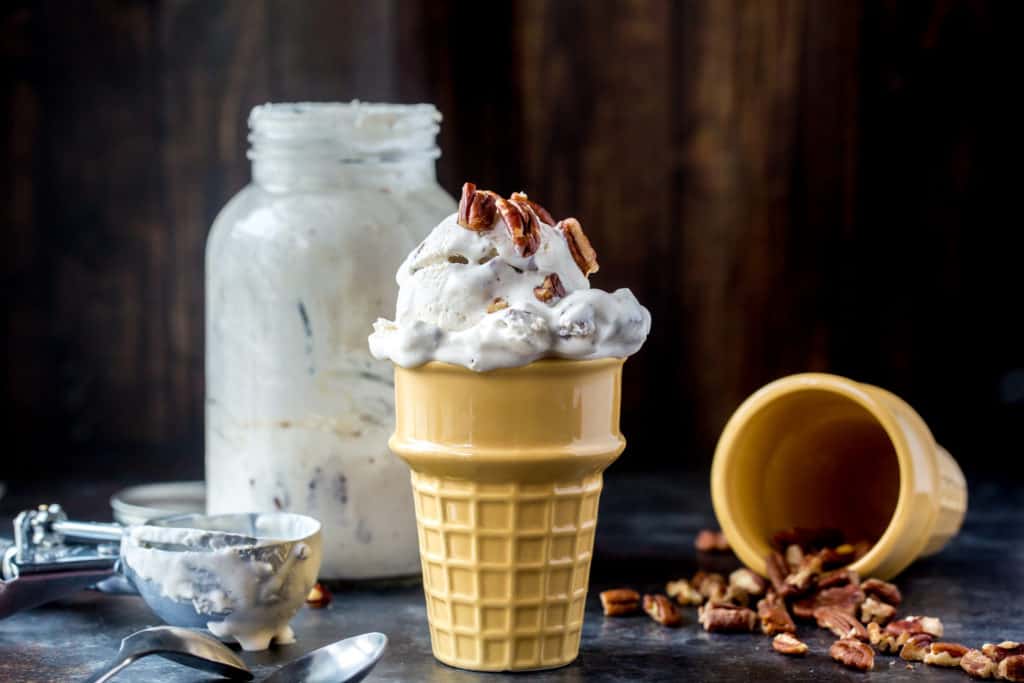 Changing Up The Flavors
We based this keto mason jar ice cream off my favorite flavor butter pecan. If butter pecan ice cream doesn't sound appealing right now, no need to worry! There are tons of different ways you can customize the ice cream to fit flavors you enjoy. If you're into making meal plans, make the base for this keto mason jar ice cream and add different toppings so you'll have the perfect macros for you every time.
What to Know Before Changing the Recipe
This mason jar ice cream recipe has times based off of the butter pecan version. However, If you change the ingredients the chill time may be a little shorter, or a little longer to cool.
The base of this mason jar ice cream should not change, but there are three ingredients you will need to leave out when changing the overall flavor. The 1/4c butter, imitation butter flavor, and pecans should be removed from this recipe before adapting it.
The macros WILL change. If you change the recipe the macros will change because you have to remove fat from butter and pecans which have a large bulk of the calories. Know that if you add or take anything away the macros will need to be recalculated for your specific case to be accurate.
The Best Keto Mason Jar Ice Cream Add-ons and Flavors
Obviously the best flavor will be the one you love most, but we thought it's best to give you some ideas! These are some of the most popular flavors, as well as our favorites, AND some that allow you to get extra creative in the kitchen.
Brownie Batter Blast- Take this ice cream base and add in 2 tbsp of unsweetened cocoa powder to the recipe before shaking. While the ice cream is freezing, bake and cool our extra fudgy keto brownies. Chop the brownies into pieces after cooling and mix into, or place on top of your keto ice cream. Voila you have mason jar chocolate ice cream with tons of brownie bits!
Peanut Butter Chocolate Ice Cream- Mix 2 tbsp of unsweetened cocoa powder into the ice cream base before shaking. Once the mixture has thickened drizzle in peanut butter or mixed up PB2 powder. You can lightly shake again, or just swirl it in with a spoon to get nice peanut butter ribbons. To make it extra tasty, you can even drop on a few keto chocolate chips like these chocolate chips from Lily's.
Strawberry Cheesecake Keto Ice Cream- Bake a half recipe of our keto strawberry shortcake pie crust (you can just lay it flat on a cookie sheet to bake). Once baked, set aside and allow to fully cool. Add 3 tbsp of softened cream cheese and 1/4 c of chopped strawberries (preferably frozen) into the ice cream before shaking. Now shake up everything well to combine and double the cream in size. Freeze the strawberry ice cream and then serve with crumbled up crust pieces.
How to Make Keto Mason Jar Ice Cream
A decadent treat low in net carbs, high in fat, and perfect for keto. Plus this low carb/ keto recipe is the perfect vanilla ice cream base to spice up however you want. Love plain vanilla ice cream? You've got it. Want to make keto brownie batter ice cream? All yours! This recipe is a great base open to whatever upgrades you desire.
Ingredients
To make an easy keto butter pecan ice cream you only need 6 main ingredients. We start with a base of 2 cups heavy cream. This will give the ice cream body and make it a super high fat dessert. You can't make a mason jar ice cream keto without a high fat base. For sweetness we use erythritol and stevia for a nice blend. Next this wouldn't be butter pecan without the butter and pecans! We recommend raw chopped pecans (that we will toast later) for the best overall flavor. Finally this recipe calls for vanilla extract and imitation butter flavoring. The butter flavor is optional, but to make this butter pecan ice cream we recommend it. Vanilla extract on the other hand is non negotiable in our opinion. Vanilla extract really brings out all the flavors in this keto mason jar ice cream for a well rounded dessert.
You "Cone" do it! Making Easy Keto Ice Cream
Don't worry this keto mason jar ice cream is super easy to make and the prep time will be done before you know it. Begin by melting the butter in a small skillet. Next you will want to toast your chopped pecans in a pan or in the oven for 5-6 minutes. Make sure both the butter and pecans have cooled before adding them into the next mixture.
Combine all keto ice cream ingredients into your mason jar. With the cream in a mason jar shake vigorously for 3-5 minutes (make sure the lid is on all the way!). Once the cream has doubled in size, freeze for 3 hours, or up to 24 hours. Now serve!
Note: We find ice cream maker free ice cream to be best at 3 hours. It is at its creamiest point but not rock hard. If you want to freeze your keto mason jar ice cream for significantly longer or overnight, be sure to let it sit out for 5-7 minutes before serving.
Storage
The next time you make this recipe, and we know there will be a next time. Make a double batch in two mason jars! With only 3.5 hours total time, it will definitely be in your favor to make extra. Simply freeze any leftovers in the mason jar and pull it out 10-15 minutes before you plan on having some.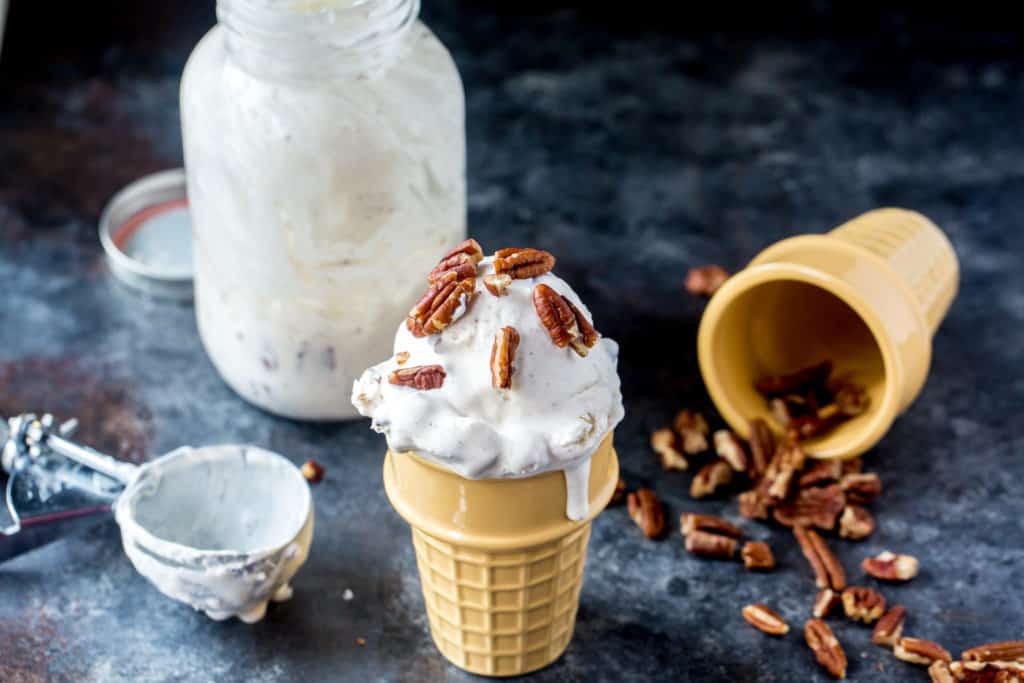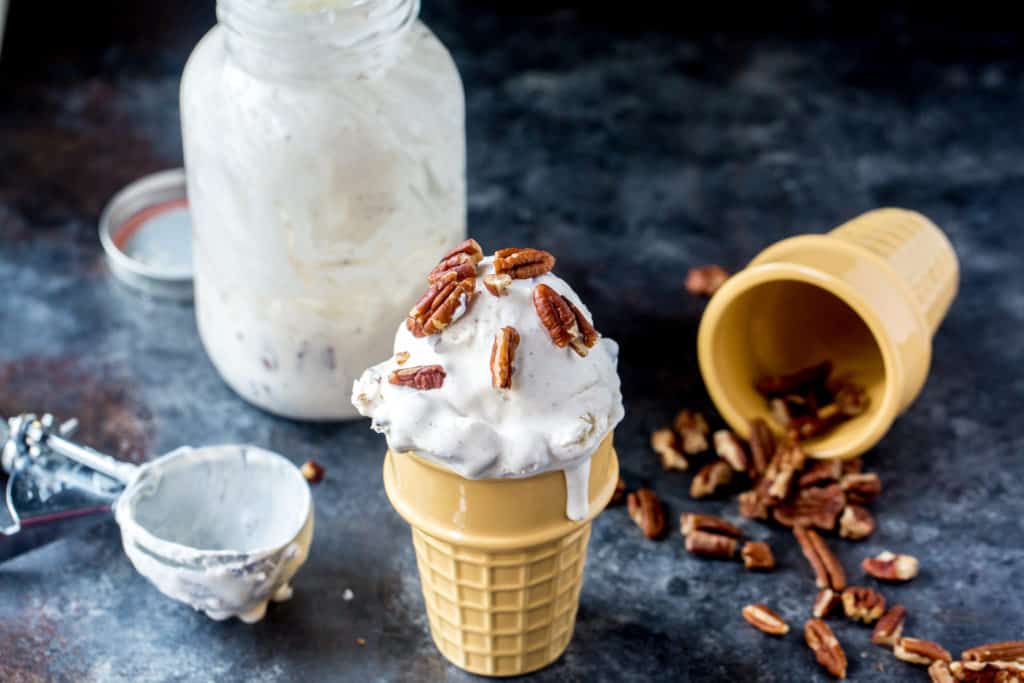 Keto Ice Cream Rocks! (No Literally)
For those that wonder "why is keto ice cream so hard?" we've got answers. Low carb/ keto ice creams use erythritol and other artificial sweeteners. Normally artificial sweeteners freeze VERY hard. So if you're expecting super creamy soft serve, keto ice cream just isn't that.
Softening Keto Ice Cream
There are a few ways you can go about softening keto ice cream. Trust us when we say though, some methods are much better than others.
The famous "patience is a virtue". This is the best way to soften keto ice cream by far. Simply pulling it out and waiting 10-15 minutes is the best way to give it that creamy factor without risking the formation of ice crystals later.
The hot spoon trick. Place a metal spoon into sup hot/ boiling water and wait 2-3 minutes. Once the spoon is very hot scoop some of the ice cream out. You may need to repeat the spoon heating method.
The microwave. This is by far my least favorite method because if you are reheating the whole container you will, without a doubt, create ice crystals on the remaining ice cream. NOTE: DO NOT HEAT IN THE MASON JAR. While some mason jars are temperature resistant you do not want to risk it. Going from super cold to hot is dangerous with glass. You should only use this method if you created the ice cream and then scooped it into a cardboard pint container before it had fully frozen.
Our Favorite Keto Friendly Ice Cream Brands
A lot of the time we are simply looking for a quick and convenient dessert to grab and take to the couch! We get it. We are the same way. However, sometimes the price of low carb ice creams in store can be very off putting. Plus when you actually look into them, the macros aren't exactly what you're looking for (aka a high carb count).
Our keto mason jar ice cream is a fraction of the cost when compared to store bought varieties. Plus the flavor can be tailored to your preference. If you are feeling like "big ball'in" as the kids say, some of our favorite low carb ice cream brands are So Delicious (butter pecan or mint chip), Enlightened ice cream popsicles, and Halo Top (mainly the original flavors – vanilla, strawberry and chocolate)! Give those a try and let us know how they compare to our homemade version.
Be sure to check out our keto ice cream bars recipe!
Other Popular Desserts
Now that you have some ice cream, you'll need something to pair with it. Whether you like your low carb ice cream in a mason jar with cake, or with pie, we've got you covered. Ice cream in a mason jar is super versatile and perfect to put with all your favorite keto recipes!
Keto recipes, especially dessert recipes can be difficult to perfect on your own. Thats why we took all the work out for you and created the best dessert possible. Try some of these delectable treats and let us know what you think!
Easy Mason Jar Ice Cream!
The best part about this recipe: it takes ten minutes to put together and it's homemade. The worst part about this recipe: you have to wait three hours for it to set in the freezer before you can dig in. If we weigh out the good vs the bad, we sure have a winner with this mason jar ice cream recipe. Plus this recipe is 100% ice cream maker free! Don't forget to tag us on Instagram when you make this for the whole family.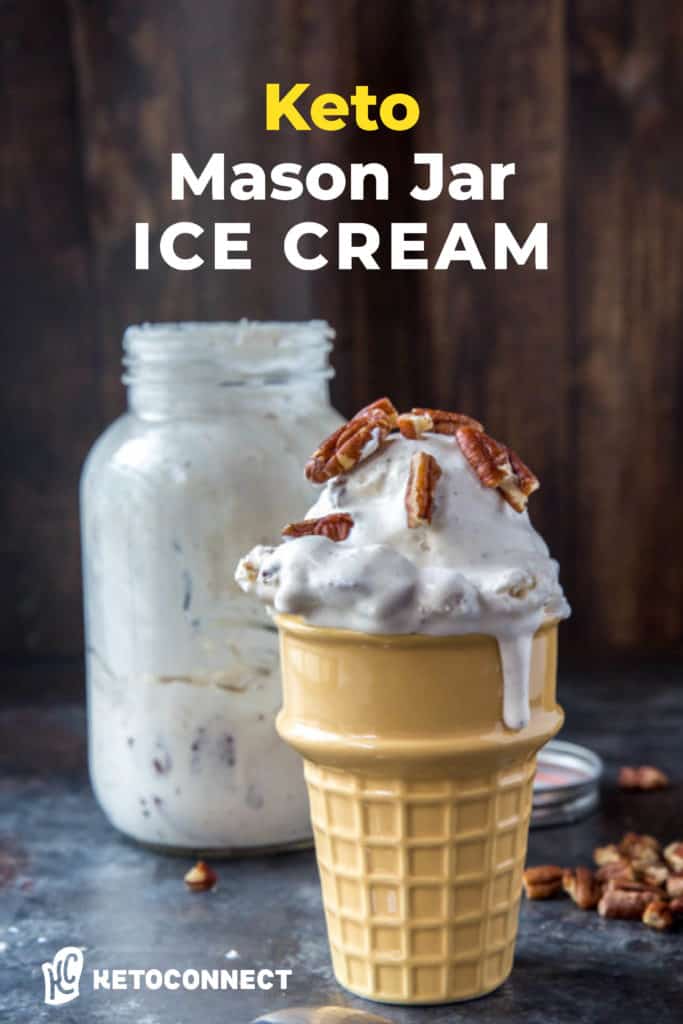 Recipe can be quickly added to MyFitnessPal – Search "KetoConnect – Mason Jar Ice Cream"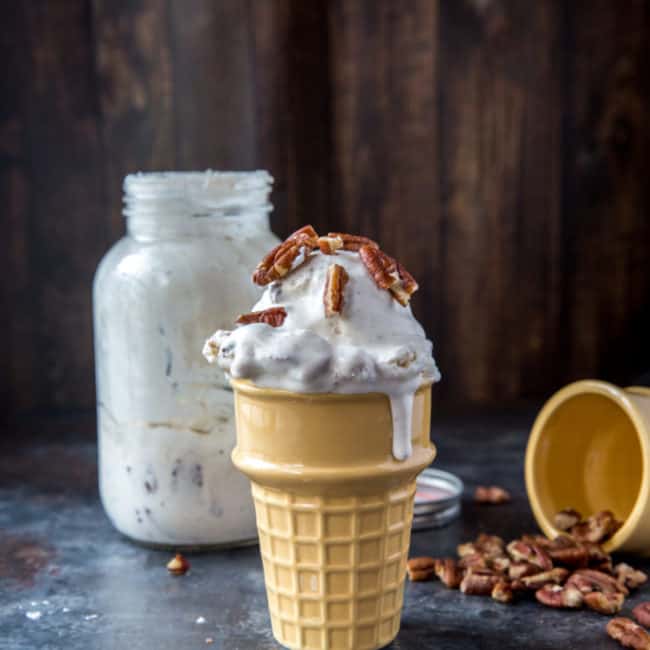 Mason Jar ice Cream
Keto ice cream made at home in a mason jar using cream and pecans.
Total Time 3 hours 11 minutes
Servings 8 Servings
Calories per serving 371kcal
Prep Time: 5 minutes
Freeze Time: 3 hours
Cook Time: 6 minutes
Instructions:
In a small skillet, melt butter. Toast pecans until lightly browned, 5-6 minutes, then remove from heat and cool completely.

Combine all ingredients in a wide mouth 24 ounce-sized mason jar. Secure the lid and shake vigorously for 3-5 minutes. The liquid in side should double in volume, filling the mason jar.

Freeze for 3 hours up to 24 hours.

<b>Note:</b> at the three hour mark we found the ice cream to be perfect consistency. If you are freezing for significantly longer/over night be sure to let it sit out for 5-7 minutes prior to enjoying.
Notes
Net Carbs: 3g per serving
Serving Size: 1/8th recipe **This recipe is high in fat (basically an ice cream fat bomb) so feel free to balance it out by cutting out some of the pecans or making a different flavor using your favorite protein powder!
Nutrition Facts
Mason Jar ice Cream
Amount Per Serving
Calories 371 Calories from Fat 351
% Daily Value*
Fat 39g60%
Carbohydrates 4g1%
Fiber 1g4%
Protein 2g4%
* Percent Daily Values are based on a 2000 calorie diet.
Written By