Keto Mason Jar Ice Cream Recipe (Video)
I don't know a single person who doesn't love ice cream. I also don't know a single person who doesn't love easy and convenient recipes. We've combined both with this Keto Mason Jar Ice Cream! We recreated my favorite ice cream flavor, butter pecan, into a easy to make, no equipment needed recipe. Does it get any better?!
Our Favorite Keto Friendly Ice Cream Brands
A lot of the time we are simply looking for a quick and convenient dessert to grab and take to the couch! We get it. We are the same way. However, sometimes the price of low carb ice creams in store can be very off putting and the macros aren't exactly what you're looking for. Our keto mason jar ice cream costs a fraction of the cost of store bought and the flavor can be tailored to your preference!If you are feeling a little spendy, however, some of our favorite low carb ice cream brands are So Delicious (butter pecan or mint chip), Enlightened ice cream popsicles, and Halo Top (mainly the original flavors – vanilla, strawberry and chocolate)! Give those a try and let us know how they compare to our homemade version.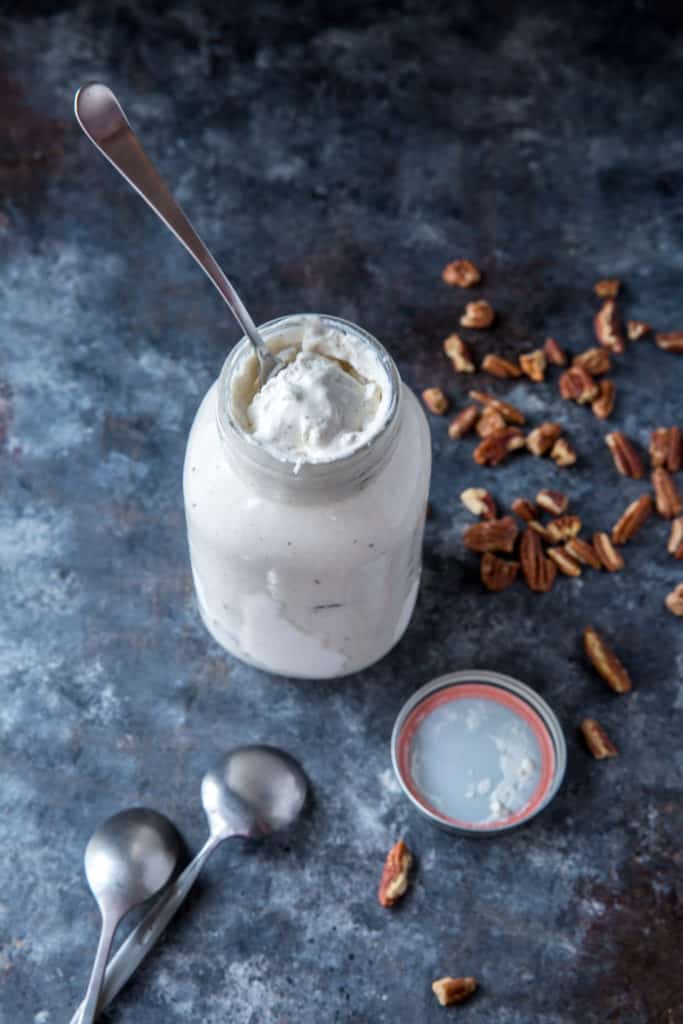 Carbs in Heavy Whipping Cream
You may be thinking, "this recipe goes hard on the heavy cream," and that is totally understandable, but it sure beats the part skim milk they use in Halo Top. We want real full fat recipes and smaller portions in my opinion.
People often get confused about how many carbs are really in heavy whipping cream. Some labels will round down and list 0g of carbs. The truth is there is about 9g of carbs per cup of heavy cream, or about 1/2g of carbs per tablespoon. Regardless of what the nutrition label says on the one you are using, that is how many carbs are actually in heavy cream.
Some other great recipes we have with heavy cream are the Low Carb Chocolate Gelato, Easy No Bake Cheesecakes, and one of my favorites, Easy Chocolate Truffles!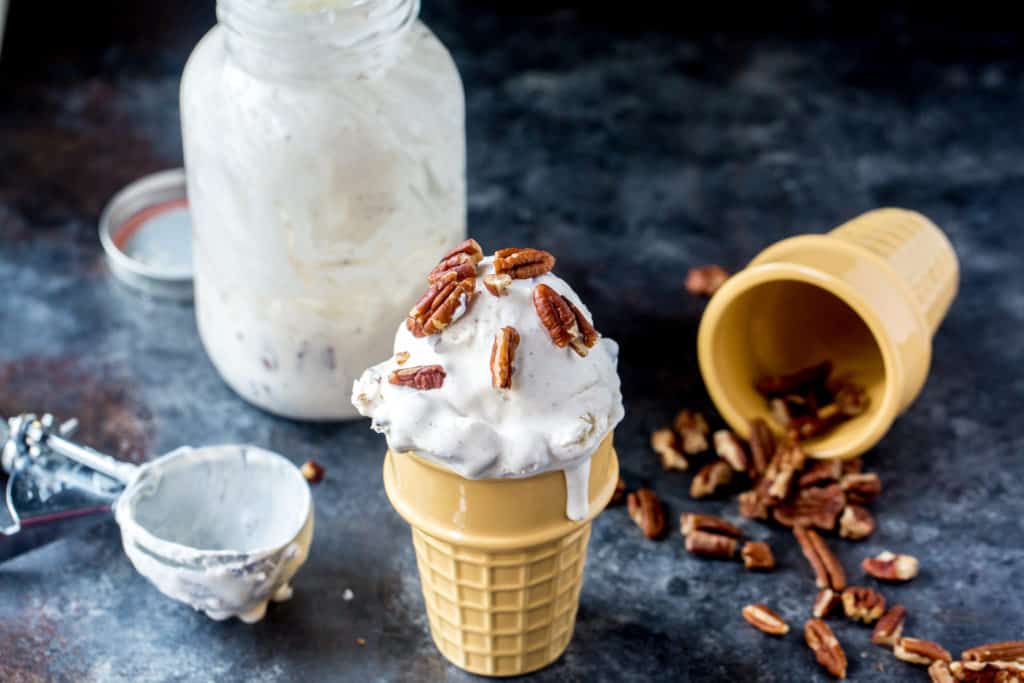 Easy Mason Jar Ice Cream!
The best part about this recipe: it takes ten minutes to put together and it's homemade. The worst part about this recipe: you have to wait three for it to set in the freezer before you can dig in. I would say weighing the good vs the bad we have a sure winner with mason jar ice cream recipe.Don't forget to tag us on Instagram when you make this for the whole family!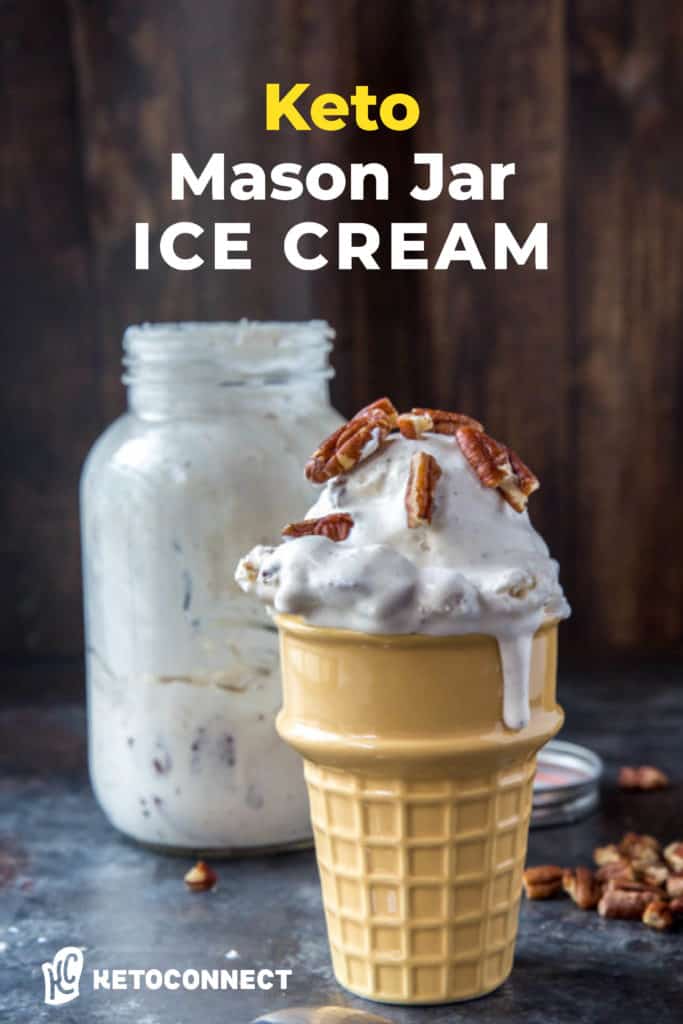 Recipe can be quickly added to MyFitnessPal – Search "KetoConnect – Mason Jar Ice Cream"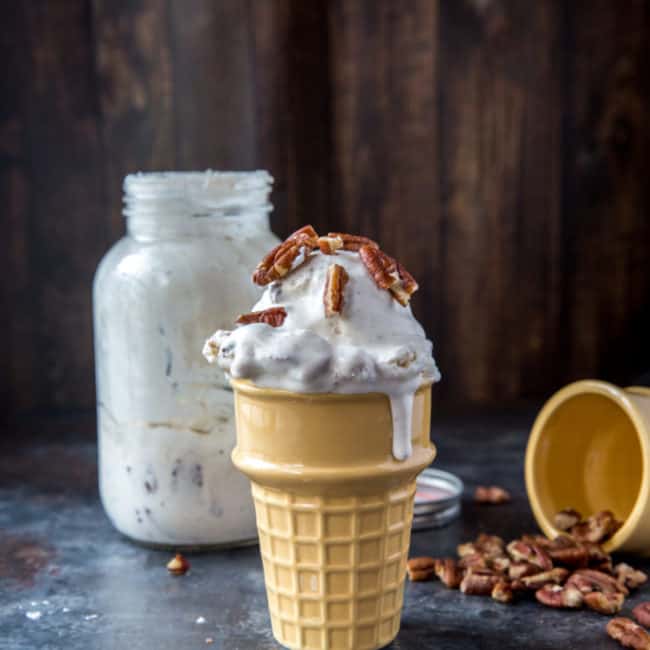 Mason Jar ice Cream
Keto ice cream made at home in a mason jar using cream and pecans.
Total Time 3 hours 11 minutes
Servings 8 Servings
Calories per serving 371kcal
Prep: 5 minutes
Freeze Time: 3 hours
Cook: 6 minutes
Instructions:
In a small skillet, melt butter. Toast pecans until lightly browned, 5-6 minutes, then remove from heat and cool completely.

Combine all ingredients in a wide mouth 24 ounce-sized mason jar. Secure the lid and shake vigorously for 3-5 minutes. The liquid in side should double in volume, filling the mason jar.

Freeze for 3 hours up to 24 hours.

<b>Note:</b> at the three hour mark we found the ice cream to be perfect consistency. If you are freezing for significantly longer/over night be sure to let it sit out for 5-7 minutes prior to enjoying.
Notes
Net Carbs: 3g per serving
Serving Size: 1/8th recipe **This recipe is high in fat (basically an ice cream fat bomb) so feel free to balance it out by cutting out some of the pecans or making a different flavor using your favorite protein powder!
Nutrition Facts
Mason Jar ice Cream
Amount Per Serving
Calories 371 Calories from Fat 351
% Daily Value*
Fat 39g60%
Carbohydrates 4g1%
Fiber 1g4%
Protein 2g4%
* Percent Daily Values are based on a 2000 calorie diet.