These Keto Peanut Butter Cookies made with only 3 ingredients, are going to become your new go to recipe. They are a little sweet, a little salty, and super peanut-buttery. Made with only 3 ingredients that every keto dieter has on hand, these keto peanut butter cookies can be made any night of the week!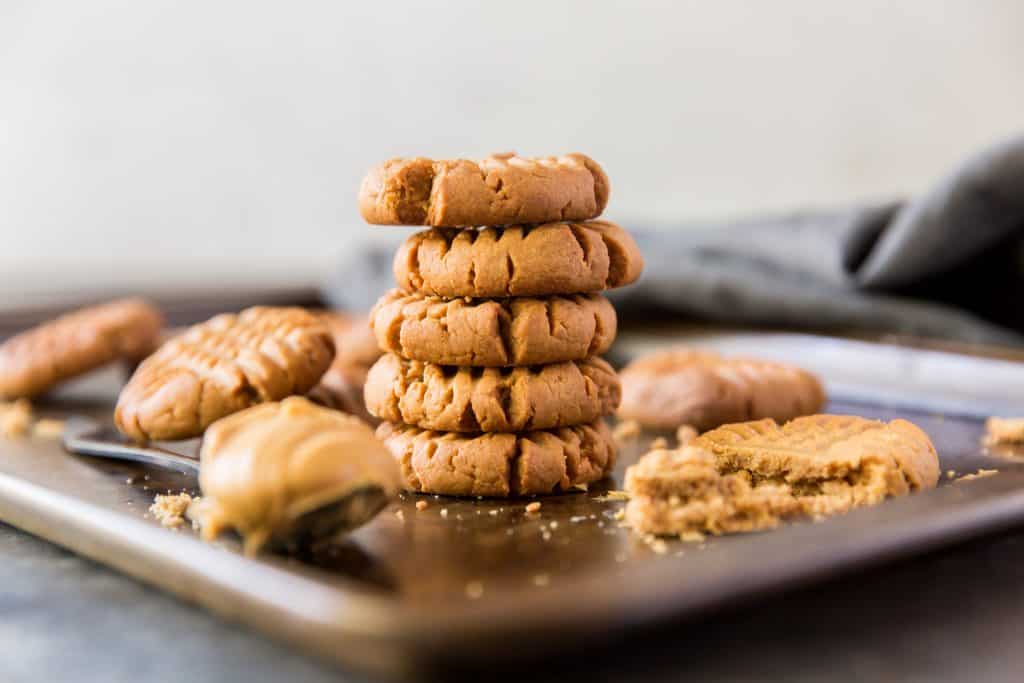 Does Gluten Free Mean Keto?
For those that are new to the peanut butter cookie realm there is a few things you should know. While most 3 ingredient peanut butter cookies are gluten free, they certainly are not sugar free! Standard three ingredient peanut butter cookies will use a 1/2 cup of sugar to make just 12 cookies. That's 100 grams of carbs total, or 8 grams of pure sugar per cookie. Low carb peanut butter cookies use sugar free sweeteners like erythritol to sub all the carbs that come from sugar in most peanut butter cookies. Just because a recipe you find is gluten free, that does not make it keto. Sugar is one of the biggest enemies on a keto diet, so do yourself a favor and just stick to these 100% keto approved low carb peanut butter cookies.
Picking Peanut Butter
There are tons of peanut butters on the market ranging from Skippy and Jif to Justins and Crazy Richards. The peanut butter you pick is super important for a keto diet and overall health. You want to make sure you're buying natural peanut butter. Keep in mind not all natural peanut butters are created equal. We're going to breakdown what to look for in peanut butters, as well as if you can even eat peanuts on a keto diet.
Is Peanut Butter Keto?
Natural peanut butter is normally made of just peanuts, or peanuts and salt. Despite what some people say, naturally made peanut butter does fit in a keto diet. Peanuts are technically legumes and not nuts, meaning they are grown underground and are higher in omegas 6's. This is normally why keto dieters avoid them. High levels of omega 6's in the body can cause excess inflammation. However a little bit of peanut butter from time to time is 100% okay on keto.
Peanut butter is a great source of fat and protein, all while being low in carbs if you choose a sugar free variety. The most important part is that you buy straight peanut butter and not any added sugars or oils in it. A good rule of thumb is if a peanut butter says "no stir", it's not keto. To make a peanut butter no stir you need to add: bad oils like palm or vegetable oils, refined white sugar, and extra emulsifiers. These are bad carbs and ingredients that will cause inflammation and more harm than good.
What Brand of Peanut Butter is Keto?
Now that you know natural unsweetened peanut butter CAN fit in a keto diet, let's talk the best peanut butter brands on the market. Our favorite keto peanut butter is Crazy Richards or Kirkland Signature Organic Peanut Butter. They both have only one or two ingredients: peanuts and salt. Crazy Richards peanut butter can be purchased at Walmart and is only 4 net carbs per two tablespoons. Kirkland Signature peanut butter (aka Costco) is 5 net carbs per two tablespoons. The great thing about Kirkland Signature is that the price is amazing for the amount you get. They also have organic peanut butter which is important because peanuts are legumes that can absorb pesticides through the ground as they grow.
Peanut butter CAN be keto and these keto peanut butter cookies take your favorite treat to a whole new level.
How Many Carbs are in Peanut Butter Cookies?
This recipe makes 12-15 cookies (usually about 13 medium sized cookies).
Per Serving, 1 cookie: Calories 132, 11 grams of fat, 6 grams of protein, 3 net carbs.
These keto peanut butter cookies have a total of 4 carbs and 1 fiber (3net), which makes these the perfect keto treat for anytime of day. The number of carbs will be very dependent on what peanut butter you choose though, so shop wisely.
What Sweetener to Use
The sugar free sweetener you use really depends on preference. The most important things for this recipe is that your sweetener is sugar free and in powdered form. I'll breakdown some of most common sweeteners so you can decide which one works best for you.
Erythritol
Erythritol is a common keto cookie ingredient. More often than not you will see a cookie recipe with erythritol because it is one of the most affordable keto sweeteners for a low net carb count. If you are looking for the most affordable option out of the three, this is it.
Monk Fruit
Monk fruit is a highly concentrated plant based sweetener like stevia. It is a bit more expensive, but well worth the cost. It has a slight vanilla flavor which is lovely in a dessert recipe. The only issue is that monk fruit being a liquid originally has to be combined with something else cheaper to become a powder. This can cause a blood sugar spike depending on what you purchase it with.
Allulose
You can purchase allulose most commonly off of amazon. Most brands only sell it granular though so you will need to pulse it a few times in a coffee grinder. It is reasonably priced, but still a rare sweetener that makes it more expensive per pound than erythritol.
Making Powdered Sweetener
If you only have granular sweetener that's okay. When using granular sweetener you'll want to pulse it in a coffee grinder a few times to get that powdery consistency.
In Summary
Any of these keto sweeteners will work, it really just comes down to price and preference. Erythritol, while cheaper than the other two, works just fine in this keto peanut butter cookies recipe for someone on a budget. If you are looking to try something new, allulose and monk fruit are great fancy ingredients to try out.
How to Make Keto Peanut Butter Cookies
If you've been looking for a super easy recipe to make peanut butter cookies keto, try making this peanut butter cookies recipe. They are some of these easiest cookies you'll ever make, with such a short total time you'll be eating cookies in minutes. Keto peanut butter cookies have a prep time of 5 minutes, cook time of 15 minutes, and a total time of only 20 minutes. That means it's only 20 minutes before you can demolish some delicious goodies!
Tools:
Baking Sheets– Like any cookie recipe you will need a baking sheet. For this cookie recipe we'll often prepare and line a cookie sheet or two so that we can make tons of cookies at once and freeze them.
Parchment Paper– We always have parchment paper on hand for easy cleanup. Plus if you're anything like us, parchment paper can be a pain to fit in your baking sheets. That's why we linked an option for pre-cut papers!
Ingredients:
Since these keto peanut butter cookies only have 3 ingredients we really like to stress quality. The simpler a recipe, the more you need to focus on tasty ingredients. Each ingredient will have its own place to shine.
1 cup Peanut Butter (sugar free)- This is the main ingredient because you can't make some keto peanut butter cookies without peanut butter! If you aren't sure what peanut butter is keto approved checkout the information above. The runnier your peanut butter the better for this recipe.
1 large Egg- We love pasture raised eggs because they have a super golden yolk and quality fat content. The egg will also help to bind the keto peanut butter cookies so they are still slightly fluffy inside. We recommend a room temperature egg so that the peanut butter doesn't go stiff.
1/3 cup Confectioner Swerve or ½ cup powdered monk fruit/allulose– This cookie recipe is gluten free and flourless. Instead of using something like coconut flour, the only real bulking agent is this peanut butter sweetener. You will use the powdered sweetener to bring that delicious peanut butter cookie together, so the cookie dough is not too runny. If you like it less sweet try 1/4 cup instead. Want them sweeter? Use a 1/2 cup.
Note: Natural peanut butters are very runny and will work well for this recipe. If you choose to use a peanut butter that's on the thicker side, you may want to melt it in the microwave for 15-20 seconds first.
*Optional*
1 Tbsp Almond flour– Almond Flour will make a bit of a denser cookie, but is not required. These keto peanut butter cookies are just as good gluten free and flour free!
1 tsp vanilla extract– Vanilla Extract is a great way to add a bit of extra flavor. Plus vanilla extract brings out the nutty-ness of peanut butter.
Flakey Salt- A sprinkle of flakey salt on top of the cookies before baking adds a lovely touch! Just make sure if your peanut butter already has salt that you don't add too much on top.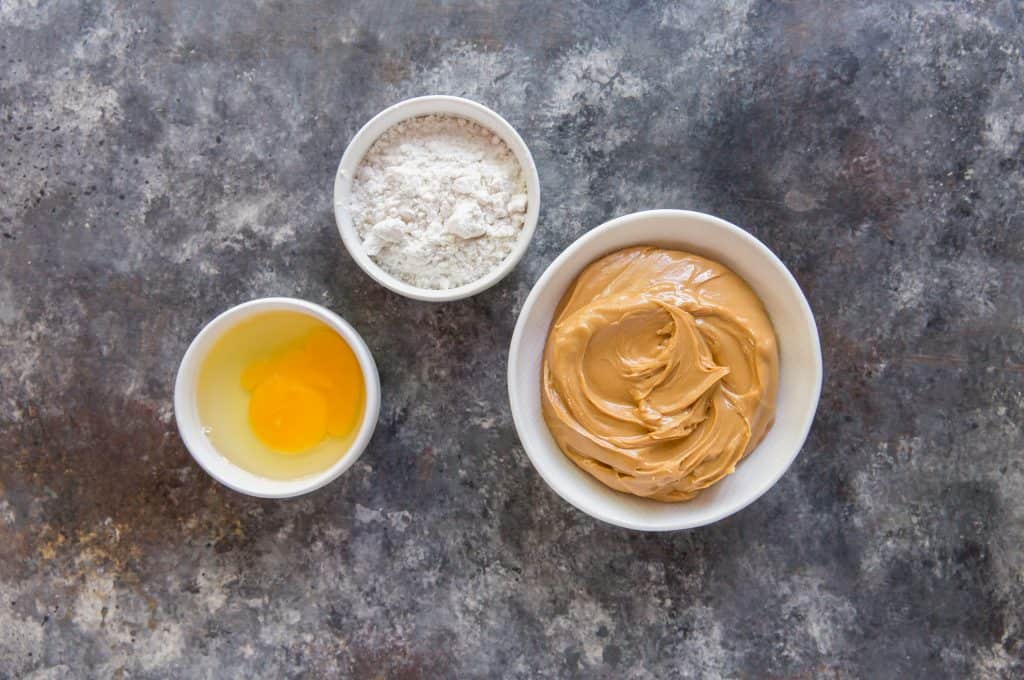 Instructions:
1. Preheat oven to 350 F and line a baking sheet with parchment paper.
2. In a medium mixing bowl combine the peanut butter and room temperature egg. Once you have a smooth batter mix in the sugar free monk fruit or erythritol sweetener making sure there are no clumps. – If your egg is not room temperature you can place it in a mixing bowl with warm water for 2-3 minutes first. If you want vanilla or almond flour add that in now too.
3. Scoop heaping one tablespoon-sized pieces of dough into 12-15 balls (To make it easier try a cookie scoop! . Place the balls 2 inches apart on the parchment paper lined baking sheet. Then flatten the cookie dough in a criss-cross pattern with a fork. – Now would be the time to add a sprinkle of salt if you'd like.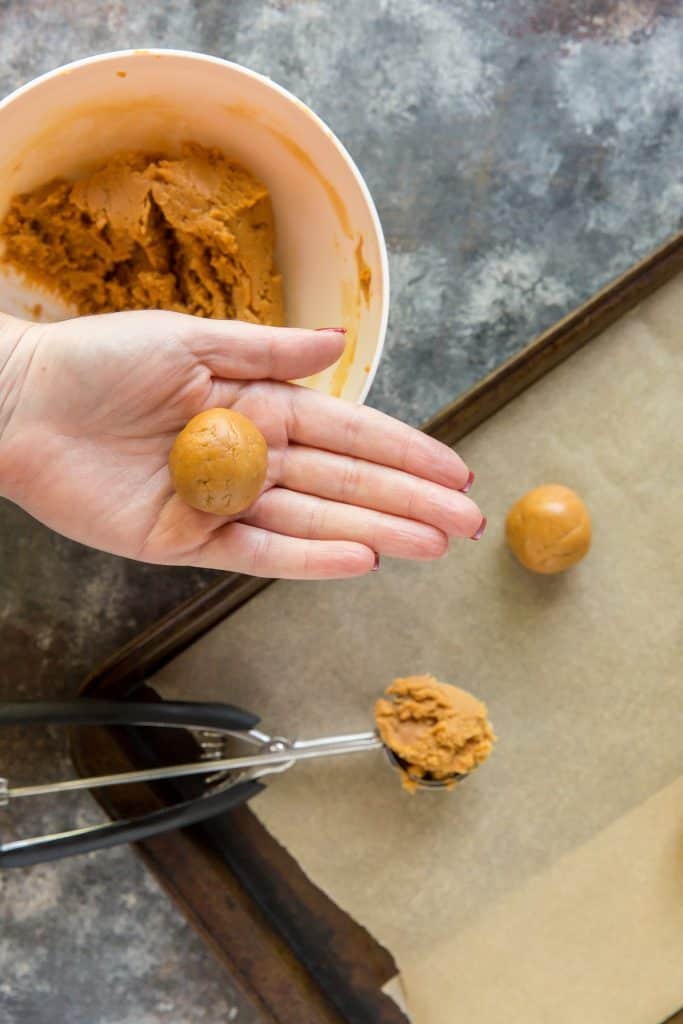 4. Place the cookie sheet into the oven and bake for 12-15 minutes until edges of cookies are golden brown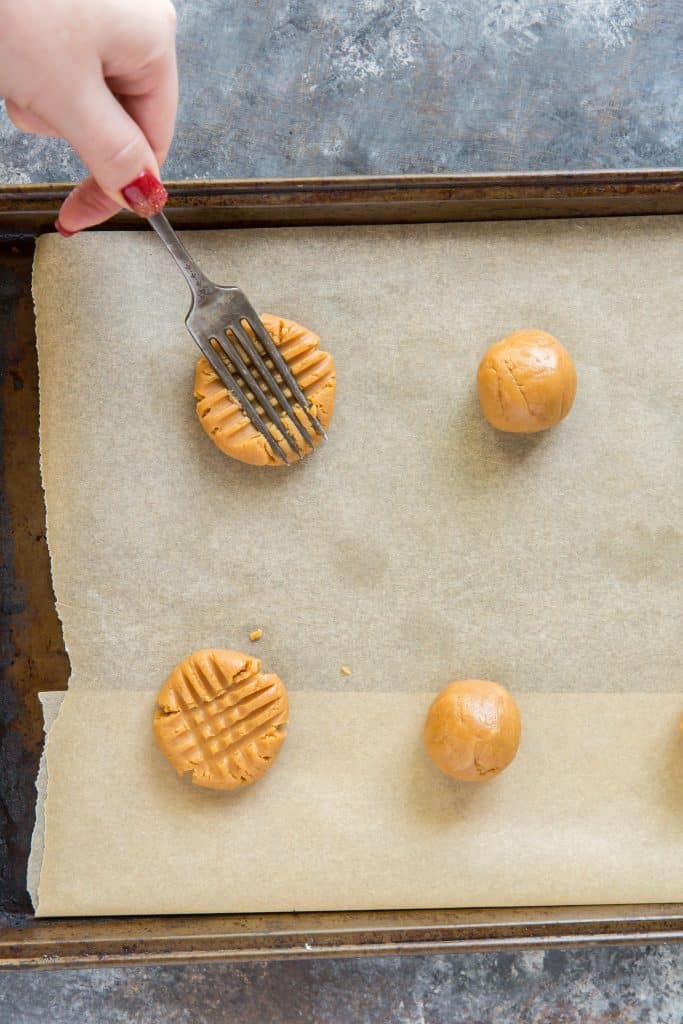 5. Let cool completely before eating.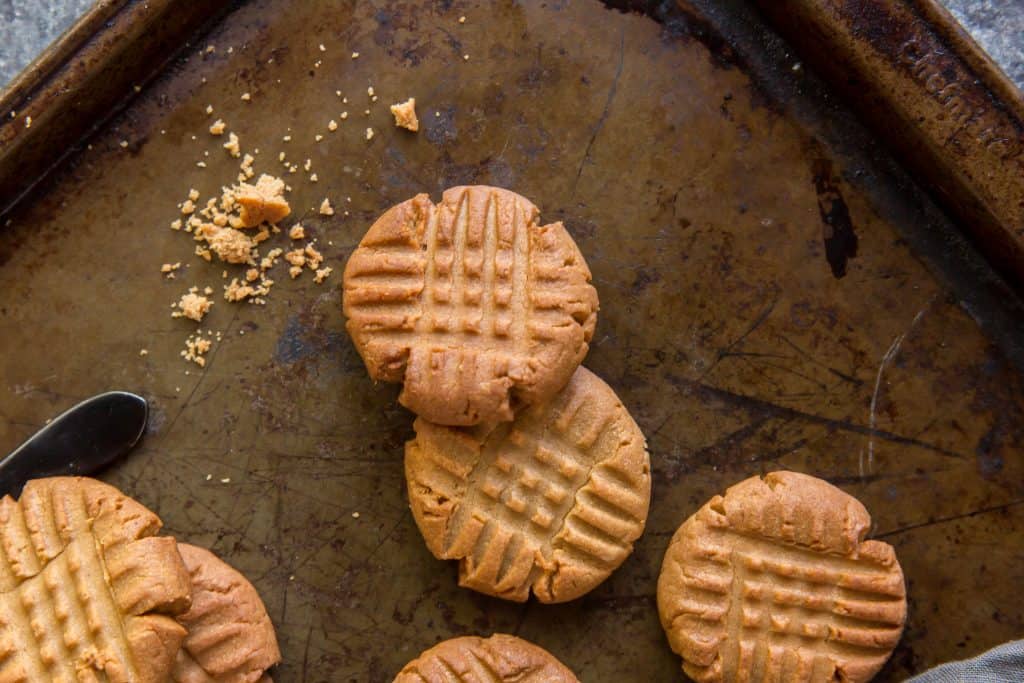 Storage:
If you're a keto peanut butter cookies fanatic you'll definitely want to make a double batch. There are a couple different methods for storing low carb peanut butter cookies:
Room Temperature: If you want to keep your low carb cookies on the counter you're welcome to do so. However we recommend keeping them in an airtight container at room temperature for no longer than 7-10 days.
Freezer: These keto cookies freeze very well so go ahead and make a big batch. Place them into an airtight zip lock bag in your freezer for up to 4 months
Defrosting: To defrost low carb peanut butter cookies, simply pull out a few and put them in the fridge overnight. Alternatively you can leave them on the counter to defrost if you plan on eating them that evening.
Quick Keto Peanut Butter Cookies
These are some of the fastest and easiest keto peanut butter cookies you'll ever make. This recipe has a total time of only 20 minutes! Most low carb cookies take a total time of 30-40 minutes. These on the other hand, only take seconds to mix together the dough and toss into the oven. Most of the total time isn't hands on either since they spend 15 minutes is in the oven.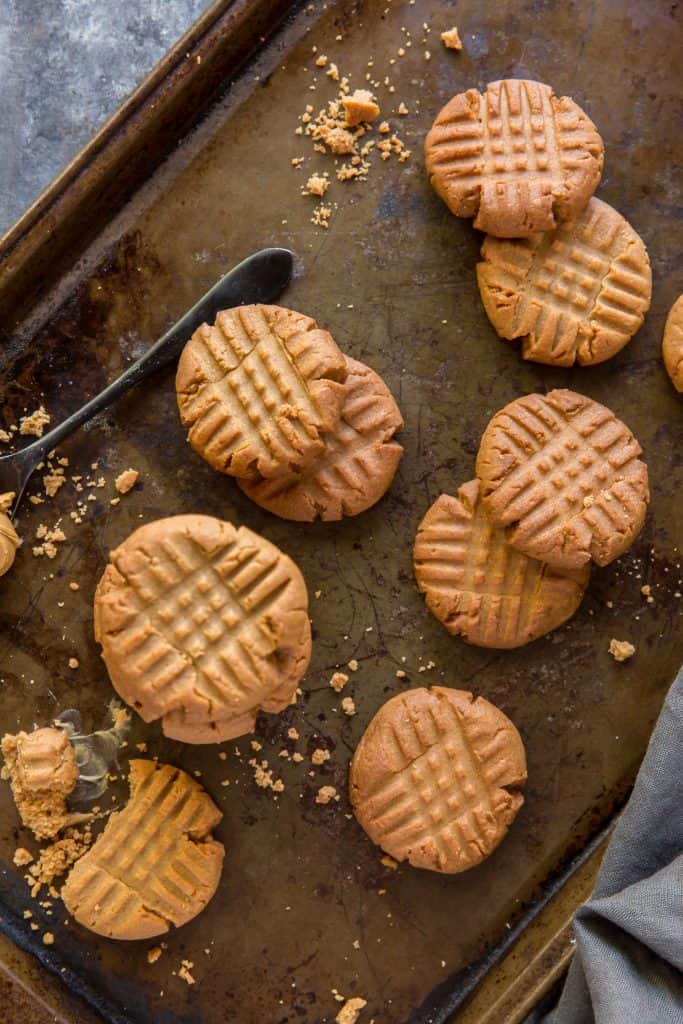 Making a Chocolate Dip
Interested in spicing up these cookies a little more? All the time you save on the recipe can be put towards creating a delicious half chocolate dip.
Making The Chocolate
To create a chocolate dip you really only need 1-3 ingredients depending on your preferences
Ingredients:
1 Cup Keto Friendly Chocolate Chips– There are many different brands of keto chocolate chips. We love the Lily's chocolate chips which can be found in many stores or online.
Coconut Oil– This will help to thin the chocolate as well as help it harden better after dipping.
1-2 Tablespoons of swerve confectioners sweetener- If you choose to use dark chocolate like 100% bakers chocolate you may want to add 2 tablespoons of swerve confectioners sweetener. This will help to cut some of the bitterness from dark chocolate.
Dipping The Cookies
Melt the chocolate and coconut oil in a microwave safe bowl for 30 second intervals.
Stir the chocolate chips and coconut oil together. In the same bowl, mix swerve confectioners sweetener with the chocolate. Make sure there are no clumps.
Dip the keto peanut butter cookies , covering half the cookie with chocolate
Place the dipped cookie onto a parchment paper lined cookie sheet. Repeat with remaining cookies.
Refrigerate until the chocolate has hardened.
More Peanut Butter Keto Recipes
If these keto peanut butter cookies weren't enough, we have tons more recipes on our blog for you to check out.
Easy Cookie Recipes
These cookies are super simple and don't take longer than 10 minutes to prep. If you want more fast recipes like these keto peanut butter cookies check out some of our favorites:
Easy Air fryer Cookie– It may not be a keto peanut butter cookie, but it's one of the best cookies you'll try. Plus thanks to the air fryer this cookies total time is only 12 minutes
Easy Keto No Bake Cookies– A keto peanut butter cookies base with tons of mix-ins and chocolate. If you want fast cookies these no bake cookies have a total time of 50 minutes, however it's only 15 minutes hands on!
Easy Keto Gingerbread Cookies – Can you imagine holiday cookies without gingerbread ones? Especially if they are super fast and easy. Check out this recipe if you love using warm spices in baking.
3 Ingredient Keto Peanut Butter Cookies
These keto peanut butter cookies are sure to become part of your dessert rotation. They are quick to make, have few ingredients, and freeze perfectly. If you aren't sure what fast dessert to make tonight, keep in mind these keto cookies and give them a try!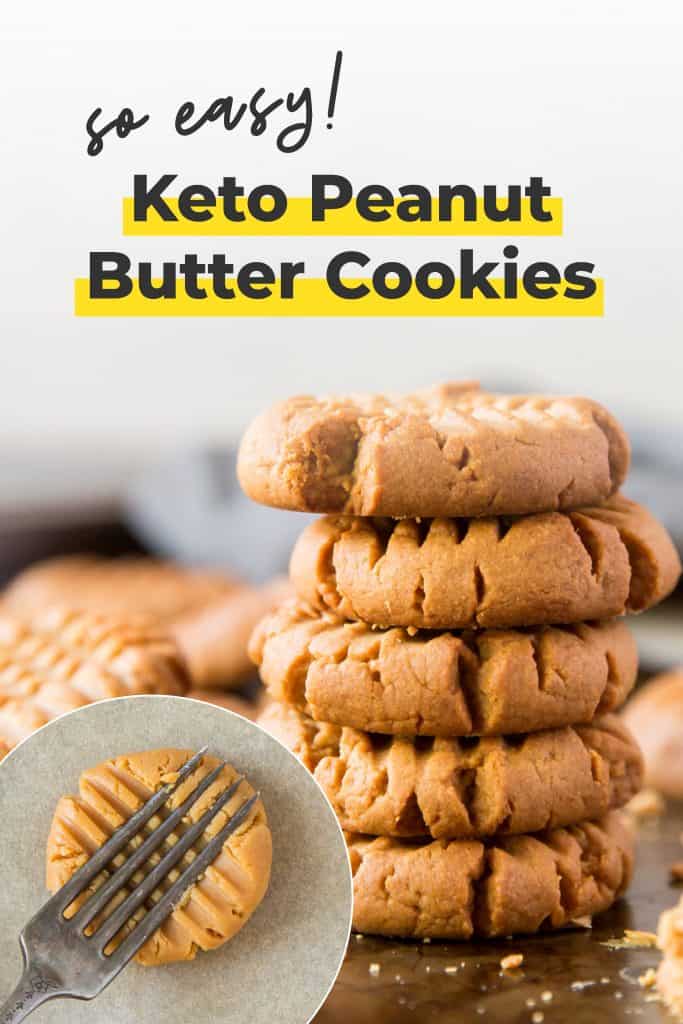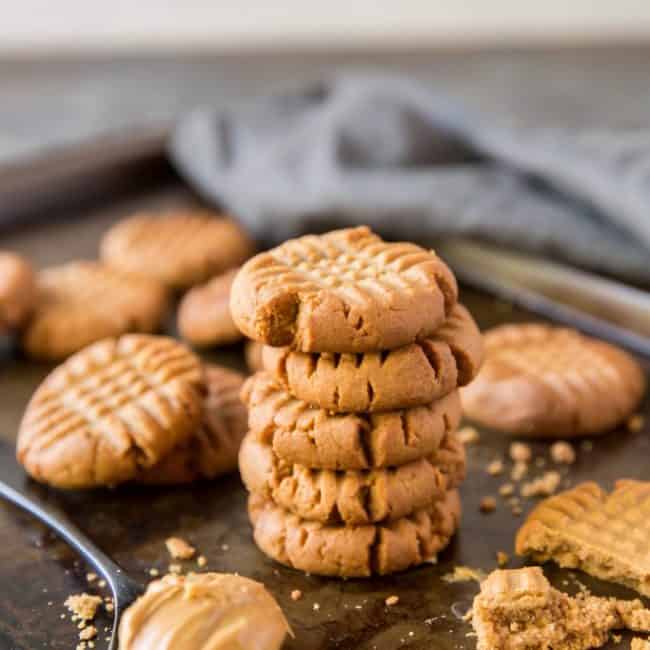 3 Ingredient Keto Peanut Butter Cookies
These keto peanut butter cookies are quick and delicious. With only 3 mandatory ingredients you can mix- in whatever extras you'd like!
Total Time 17 minutes
Servings 12 Cookies
Calories per serving 132kcal
Prep Time: 5 minutes
Cook Time: 12 minutes
Instructions:
Preheat oven to 350F

In a medium bowl combine all ingredients until thoroughly mixed

Scoop heaping one tablespoon-sized piece of dough into 12-15 balls. Place 2 inches apart on lined cookie sheets and flatten in a criss-cross with a fork

Bake for 12-15 minutes until edges of cookies are golden brown

Let cool completely before eating.
Notes
Nutrition is for JUST the base recipe no almond flour or vanilla. Net Carbs: 3g
Serving Size: 1 Cookie
Nutrition Facts
3 Ingredient Keto Peanut Butter Cookies
Amount Per Serving
Calories 132 Calories from Fat 99
% Daily Value*
Fat 11g17%
Saturated Fat 2g10%
Cholesterol 16mg5%
Sodium 105mg4%
Potassium 145mg4%
Carbohydrates 4g1%
Fiber 1g4%
Sugar 2g2%
Protein 6g12%
Vitamin A 23IU0%
Calcium 12mg1%
Iron 1mg6%
* Percent Daily Values are based on a 2000 calorie diet.
Written By