This keto chocolate frosty recipe is literally a copycat of the Wendy's frosty! The good thing is that our 3 ingredient keto frosty recipe does not use any artificial ingredients and is low in net carbs, which makes it a perfect keto dessert. Read on to find out how to satisfy your sweet tooth with our favorite dessert.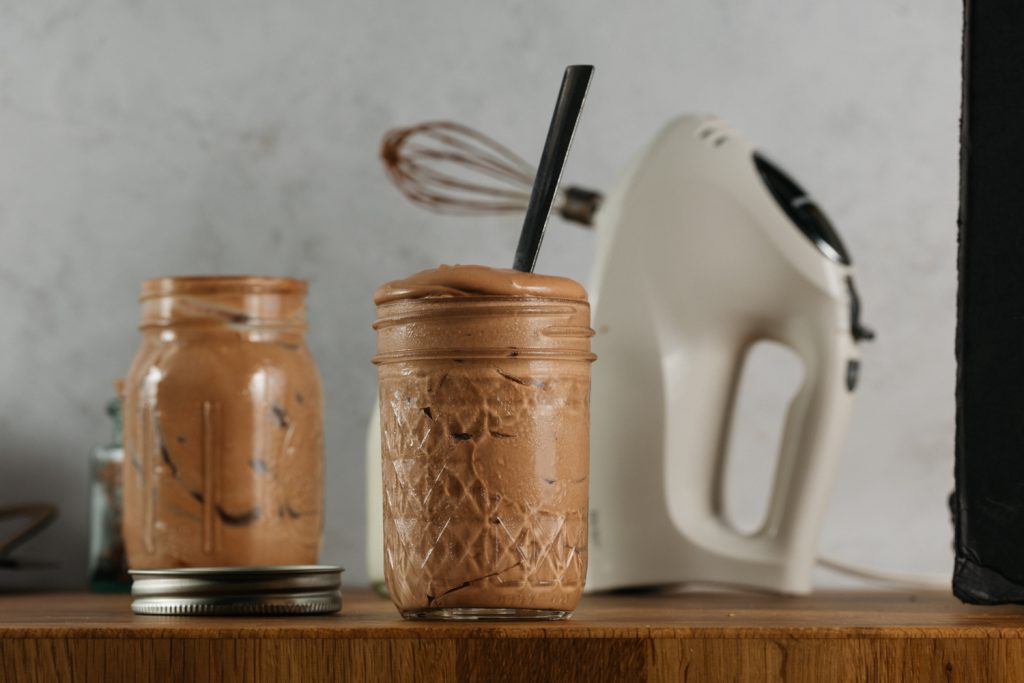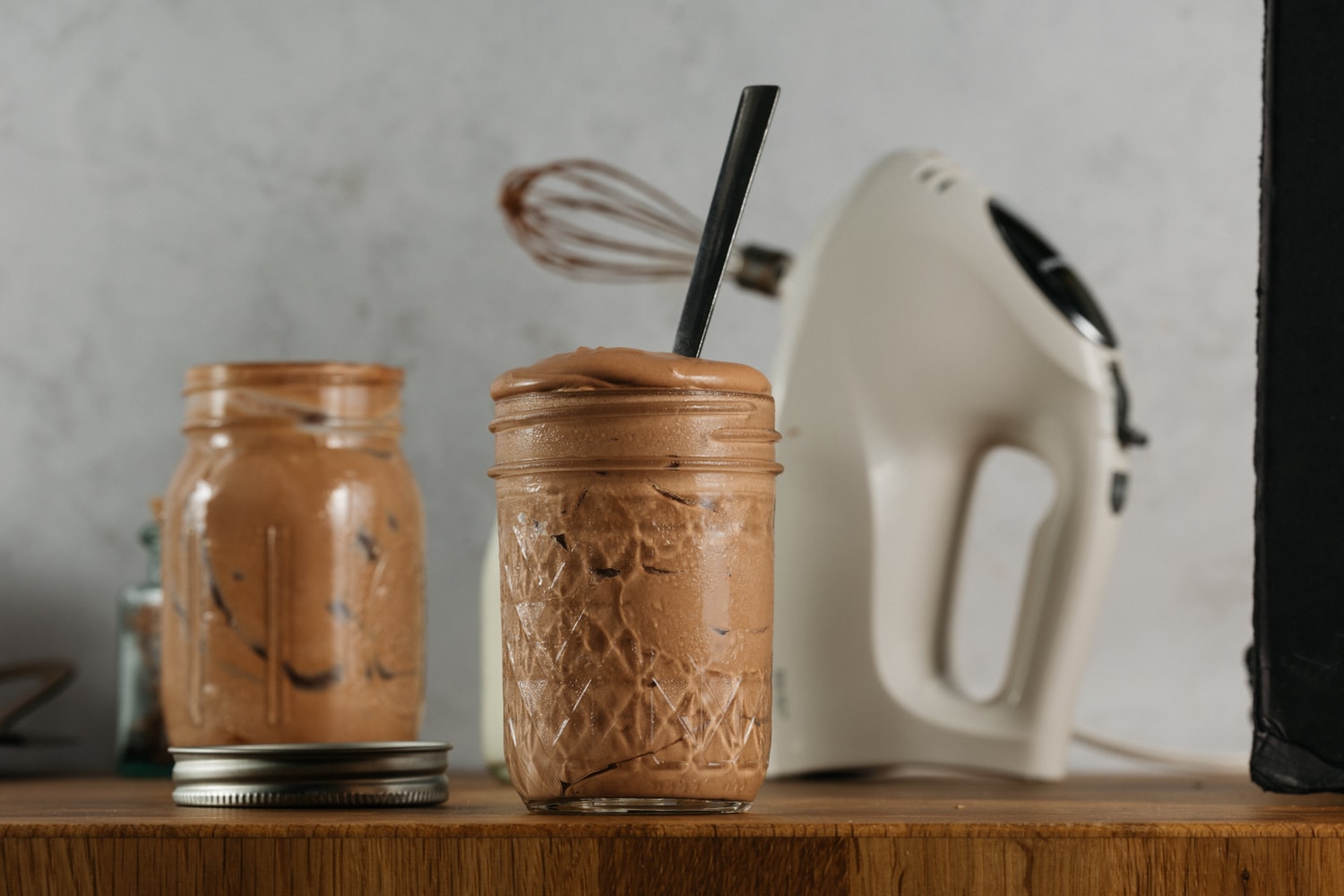 Is a Frosty the Same Thing as Soft Serve Ice Cream?
Technically they're not the same thing, but honestly, I always throw all of them into the "frozen treat" bucket. The main difference between a traditional frosty and a soft serve is the texture and butterfat or milk fat content.
While a soft serve consistency resembles fluffy, less dense ice cream, a frosty is even softer than that. Perhaps think of it as a thicker milkshake that you can't drink through a straw and you have to eat it with a spoon.
Keto Chocolate Frosty Recipe Tips
I'm sure you've read that saturated fat is bad for you, right? Well, on keto we eat lots of it (heavy cream in this recipe, too) and this myth has been debunked gals and pals!
Stanford Medicine's research from 2019 suggests that a high percentage of saturated fat in low carb diets doesn't raise cholesterol levels! How is that for a new fun fact?
Most of the people I hang out with don't even mention any fake news about keto anymore, but if you've got those in your circle, I'd definitely accidentally slip that info in a convo.
This keto chocolate frosty recipe has both good nutrition and an awesome taste. Read on to find out which ingredients you need to make a copycat Wendy's frosty in no time.
Make this easy keto recipe with only 3 ingredients!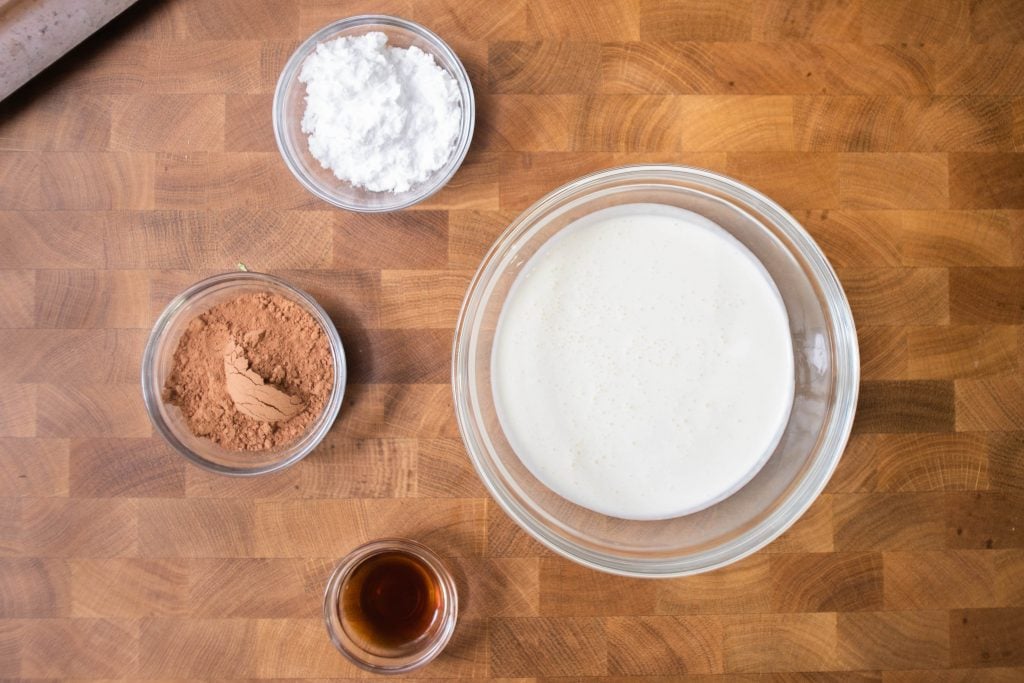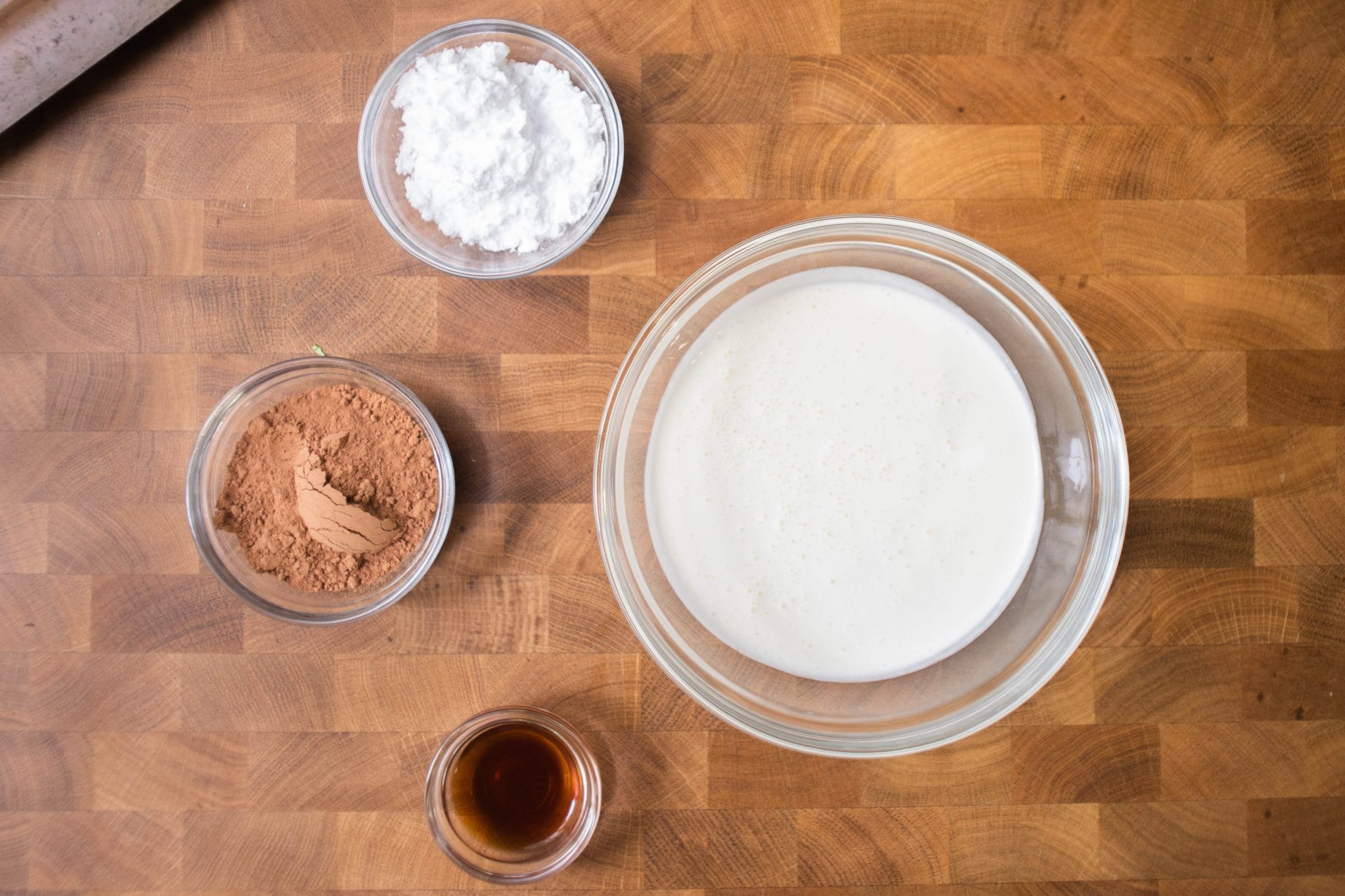 What's awesome about this keto friendly chocolate frosty recipe is that you only need THREE ingredients. It's a great treat for those who don't like dozens of complicated steps.
Heavy cream
We use heavy cream in this recipe for a creamy, rich flavor. It's high in fat and low in net carbs, which makes it a perfect ingredient for a keto chocolate frosty.
Cocoa powder
This ingredient will give your low carb chocolate frosty all the flavor. Make sure you get unsweetened cocoa powder since most brands mix it with regular sugar to make it even sweeter.
Erythritol (powdered)
For this recipe, we used powdered erythritol to make sure both the consistency and texture will be smooth. You can also use powdered monk fruit sweetener instead.
If you don't have powdered erythritol at home, simply take regular erythritol and run it through a food processor until it turns to powder.
Step By Step Keto Frosty Guide
This keto chocolate frosty not only tastes great, but is also high in fats and low in net carbs! Prep time will only take you a few minutes so you can make this recipe even when you're on the go.
Step 1: Mix all ingredients
In a large bowl combine heavy cream, unsweetened cocoa powder and powdered sweetener. If you'd like to, you can also add vanilla extract in this step or a tablespoon of nut butter to get more protein in your body.
Step 2: Use a hand mixer
Take out your hand mixer or if you don't have one, use a stand mixer with the right tool to beat the heavy whipping cream until stiff peaks form. Make sure not to overdo it, otherwise you'll end up with butter instead of whipped cream.
Step 3: Freeze
Take a spoon and place your keto frosty mixture in a glass. Put it in the freezer for about 45 minutes until it starts to form ice crystals and it's barely frozen, but not frozen enough to be hard as a rock.
Step 4: Almost done
Remove from the freezer and stir until its consistency resembles a keto chocolate frosty. I promise you, it's one of the most delicious, amazing recipes I've ever had!
Step 5: Enjoy!
I like to eat my keto chocolate frosty on its own but Megha loves it with coconut flakes on top for a little bit of texture.
Feel free to add your own toppings here such as crushed up keto friendly chocolate, unsweetened peanut butter powder for extra protein or freeze dried low carb fruit.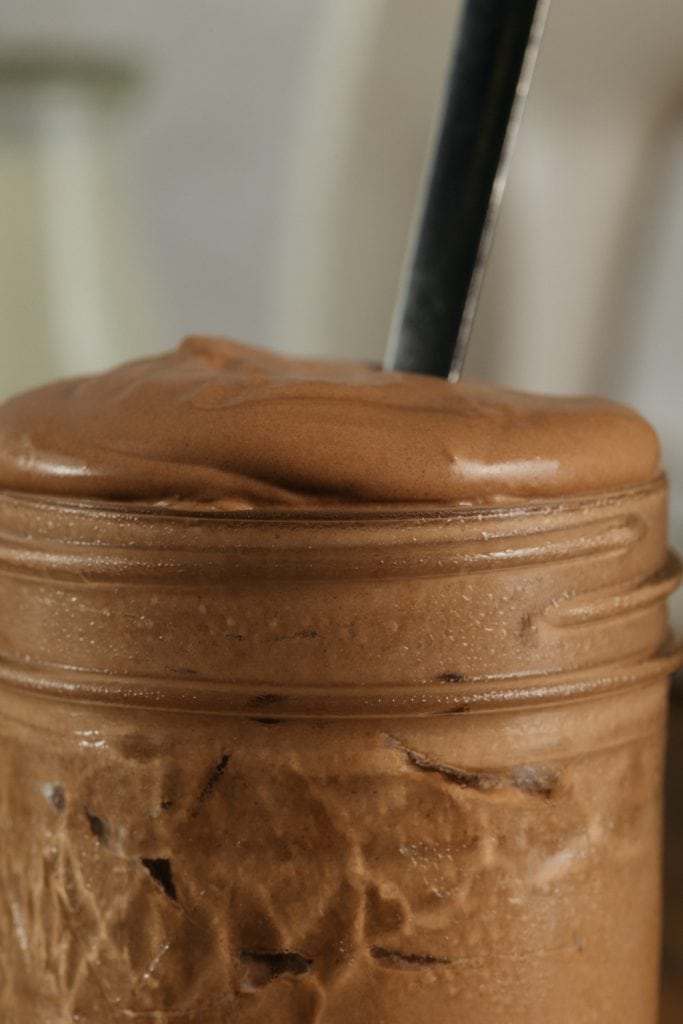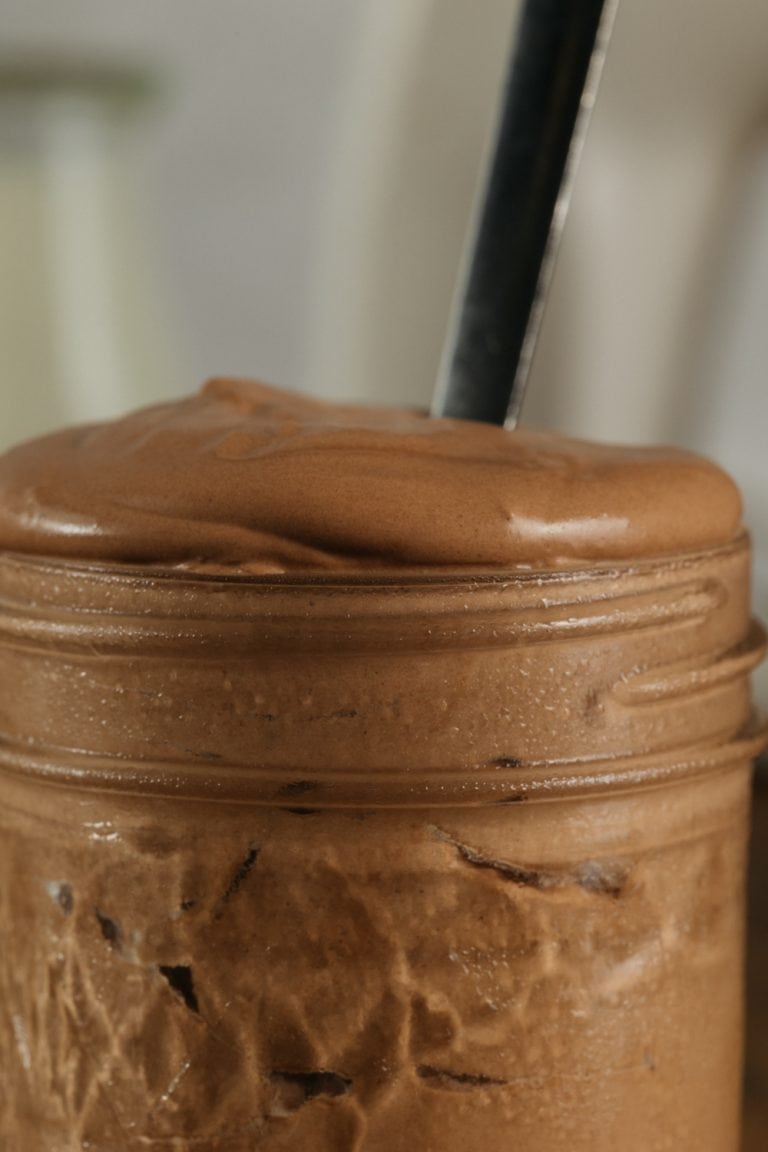 More Easy Keto Ice Cream Recipes
If you're looking for more low carb, keto diet friendly frozen treat recipes, check out these:
Chocolate Keto Ice Cream – this recipe is not a chocolate frosty, here you'll get full blown low carb ice cream that tastes delicious and smooth. At less than 5g of net carbs, it's perfect for whenever you want a sweet keto treat.
Keto Mason Jar Ice Cream – what we love about this low carb recipe is that prep time takes only a few minutes! With a hint of vanilla thanks to the vanilla extract inside, you'll get a yummy treat without all the sugar.
Keto Strawberry Smoothie – wasn't this supposed to be a list of low carb, keto friendly frozen treats? Yes, but did you know you can turn this smoothie into a frosty as well? Simply throw it in the freezer for about 30-45 minutes and enjoy!
Make sure to check out our list of the best keto ice cream!
FAQs
Interested in adding more ingredients to your recipe? Or maybe you want to find out if you can make it without dairy? In this section you'll find answers to the most common questions about this recipe:
Can I add vanilla extract or almond butter?
You sure can! Don't overdo it because adding ingredients might change the texture and overall consistency of the mixture, but definitely add more sugar free ingredients to make it just the way you like it.
Grab a spoon of sugar free peanut butter, almond butter or even add a few drops of vanilla extract. Want to make it even smoother? Drop a dollop or two of cream cheese after you already whipped the cream.
Like I've mentioned before in the post, Megha's favorite version of this keto frosty recipe is with coconut flakes and sometimes shaved low carb chocolate. Call me basic, but I love eating it just as it is and it's delicious.
Can I make this keto frosty dairy free?
Yes, but not by using unsweetened almond milk or coconut milk instead of heavy whipping cream. You can't beat nut milk into whipped cream, which is what we need for this recipe.
In order to make this recipe dairy free you'd have to use crushed ice as a base and then add a nut milk of your choice and probably some nut butter to replace the consistency. Again, this is just my theoretical idea and I haven't tried it myself. If you do, as always, let me know in the comments!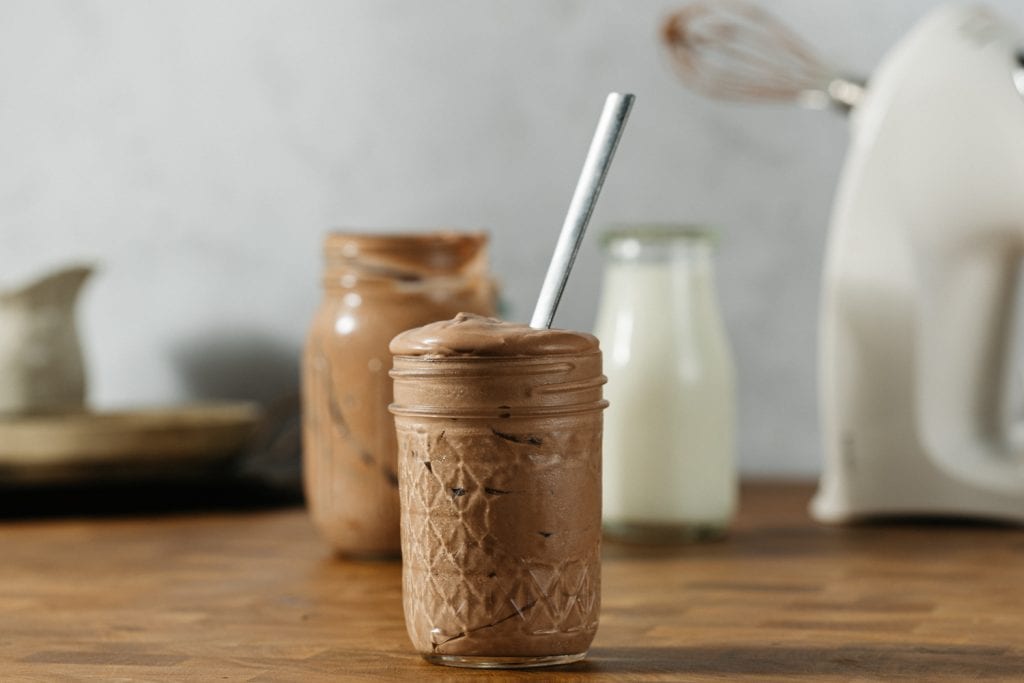 Can I use liquid stevia instead of erythritol?
Yes you can! However, remember to pace yourself when it comes to stevia since it's really easy to add too much of it.
We're only using 3 tablespoons of powdered erythritol here so adding a different kind of low carb, keto sweetener will be just fine. I'm not sure how much of the stevia you would need in this recipe, my guess is half a teaspoon or even less.
Have you tried this recipe?
Let us know in the comments! If you are still deciding, let me just remind you that you can mix up this recipe in less than 5 minutes and then throw it in the freezer – that's all!
Drop a comment below if you made this recipe and added your own twist to it with additional ingredients or different flavor combinations. We'd love to know what you came up with and how it went!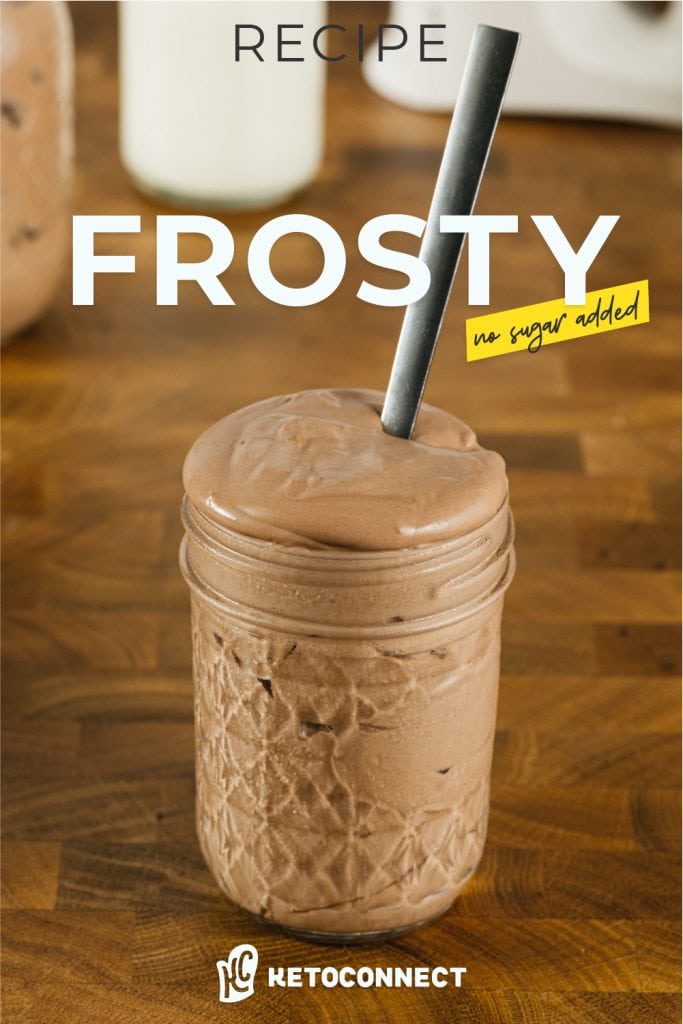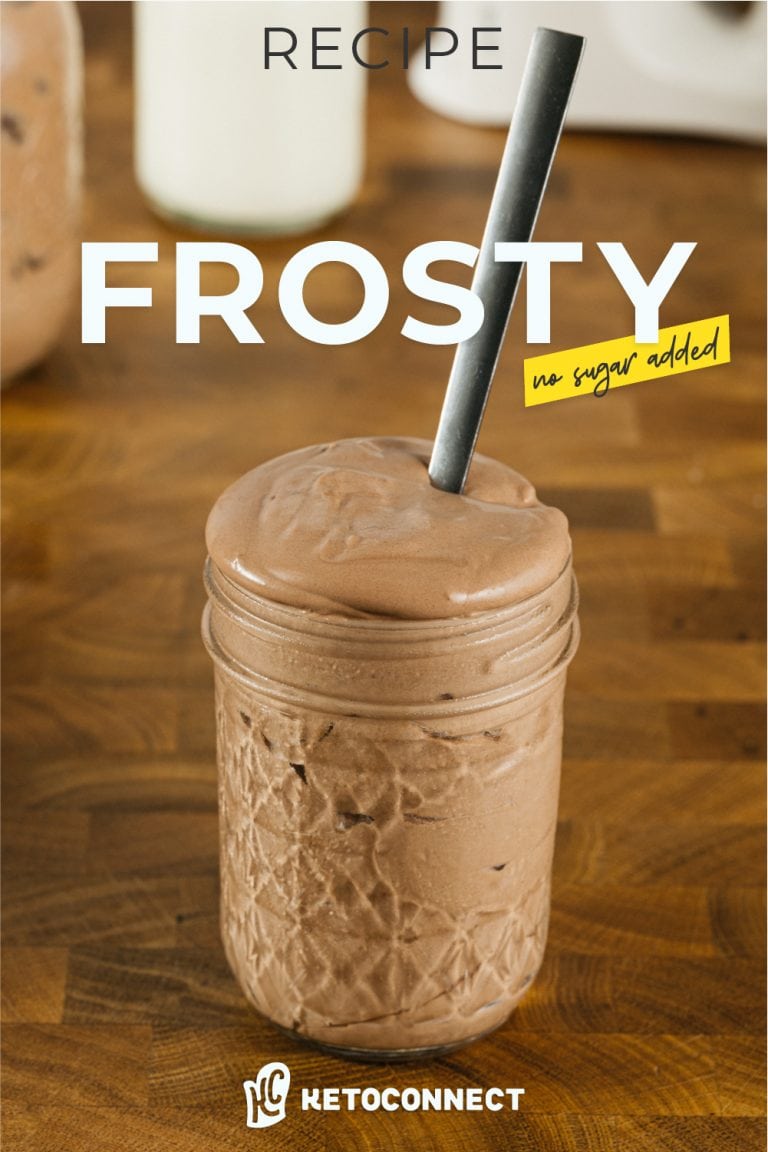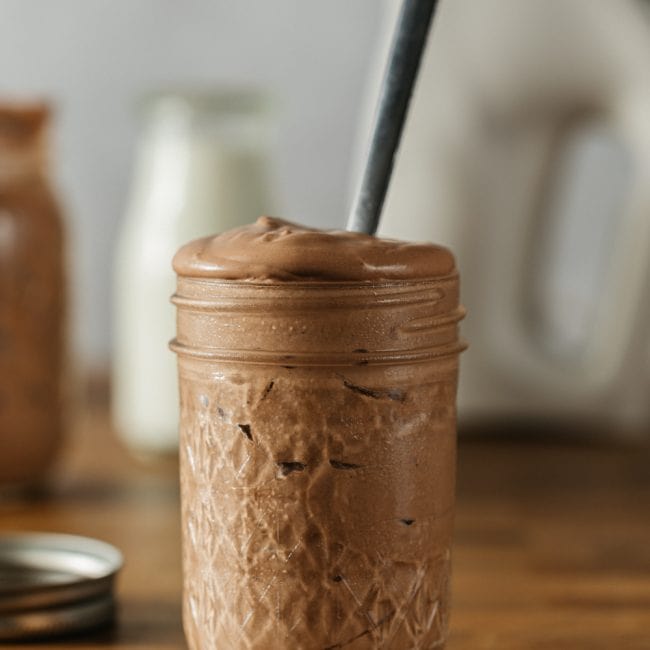 Keto Frosty Recipe
Try this 3 ingredient keto frosty recipe that is low in net carbs!
Total Time 55 minutes
Servings 3 servings
Calories per serving 281kcal
Prep Time: 10 minutes
Cook Time: 45 minutes
What You Need:
Mixing Bowl

Hand mixer

Glass Jar
Ingredients:
1 cup Heavy Cream
3 tbsp Cocoa Powder
3 tbsp Powdered Erythritol
Instructions:
In a bowl combine the heavy cream, cocoa powder, and sweetener.

Using a hand mixer, beat the cream until stiff peaks form.

Spoon into a glass and place into the freezer for 45 minutes.

Remove from the freezer and stir until a frosty consistency forms.

Enjoy immediately!
Nutrition Facts
Keto Frosty Recipe
Amount Per Serving
Calories 281 Calories from Fat 261
% Daily Value*
Fat 29g45%
Saturated Fat 19g95%
Polyunsaturated Fat 1g
Monounsaturated Fat 7g
Cholesterol 90mg30%
Sodium 22mg1%
Potassium 151mg4%
Carbohydrates 5g2%
Fiber 2g8%
Sugar 2g2%
Protein 3g6%
Vitamin A 1166IU23%
Vitamin C 1mg1%
Calcium 59mg6%
Iron 1mg6%
* Percent Daily Values are based on a 2000 calorie diet.
Written By