This keto ice cream recipe is the perfect treat to enjoy on a hot summer day. It's rich, creamy, and super refreshing. Plus it's a no churn keto ice cream that doesn't require any fancy gadgets.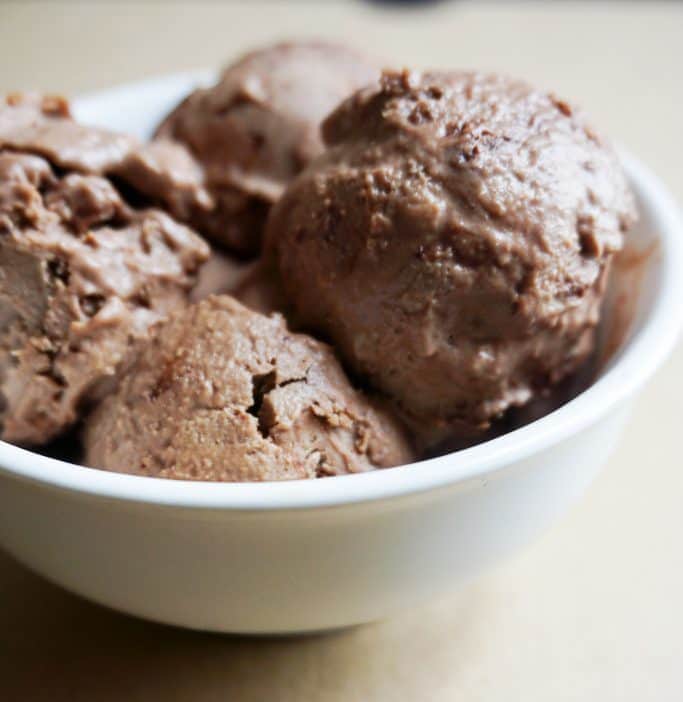 We were due for a low carb ice cream recipe when we created this heavenly chocolate mix. If you've never had custard based ice cream, you're in for a real treat – the texture is creamier and fattier, while the taste is richer. Believe me when I say you won't be able to stop eating it.
To make it as easy as possible I've created a recipe video below showing you the exact steps to making this incredible low carb ice cream!
Is Ice Cream Keto?
Sadly one of the worlds favorite treats is not keto. Ice cream is typically made with cream, egg yolks, and sugar. While it is nearly perfect for keto, the sugar is what hinders it from being a healthy low carb choice.
A typical ice cream can have anywhere from 15-32 grams of sugar a serving and even the fro-yo style "healthy" options can have just as much!
It's best to make your own healthy low carb vanilla ice cream and spice it up how you like, rather than buying regular not so diet friendly ice cream.
Can you Have Ice Cream on a Keto Diet?
While homemade is the best option, and regular ice cream isn't on the table there is one option we haven't quite explored. That's store-bought keto ice cream varieties.
There are brands out there that have begun experimenting with ingredients to make freezer friendly low carb ice creams.
If you want to pick up a fancy flavor of keto ice cream it's best to try something like:
If you are in the market for ice cream try something from each of these brands and we promise you won't be disappointed!
Our Sugar Free Keto Ice Cream
To make keto ice cream you are going to need some kind of low carb/ keto friendly sweetener to keep it sugar free.
The benefit to using keto friendly sweeteners is that unlike sugar, these store bought keto sweeteners will not spike your blood sugar. A typical serving of ice cream can have up to 29 grams of sugar, talk about a blood sugar spike and crash!
There are a few different options for sweeteners out there, but we went with the tried and true powdered sweetener with a 1:1 ratio to sugar. We found powdered sweeteners to work best because they will mix into the keto ice cream without becoming grainy or crystalized.
Other sweetener options for the keto condensed milk include:
Powdered Erythritol-This is one of the original keto friendly sweeteners that is used in a lot of ice cream recipes and ice cream keto options you'll see in stores. It's pretty affordable, but is also a little less sweet compared to sugar so you will need more to make a traditional ice cream's level of sweetness.
Powdered Swerve– Another 1:1 sweetener option for sugar, but unlike the Lakanto brand Swerve does not use monk fruit in their blend.
There are other liquid sweetener options that you could add into the heavy cream like stevia or monk fruit, but we find they can end up a little bitter. It's best to sweeten your creamy keto soft serve with a regular powdered sweetener.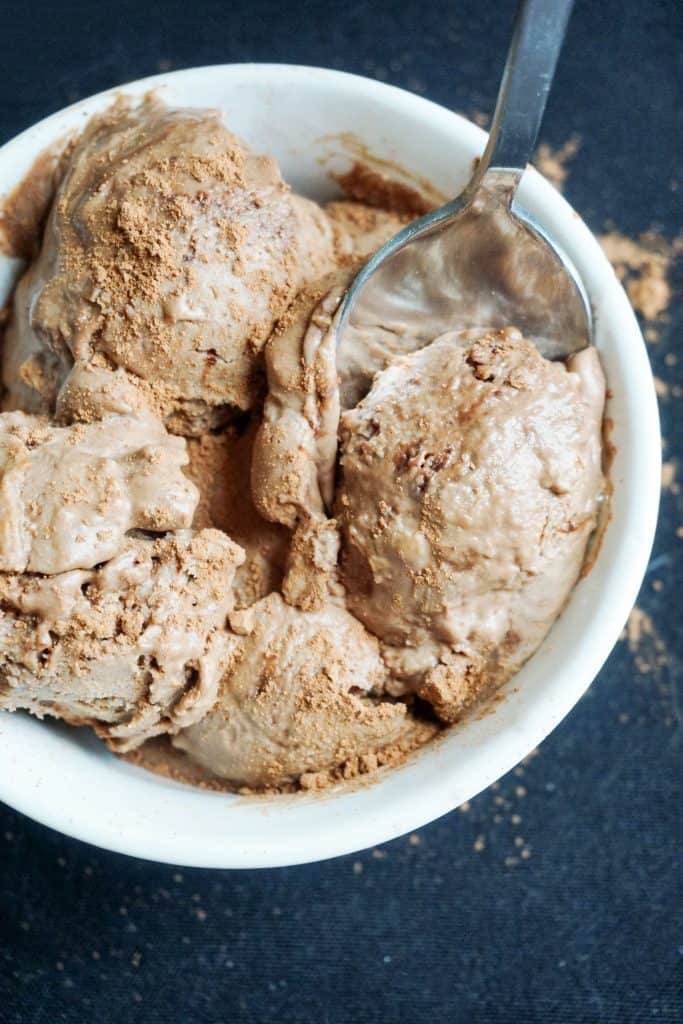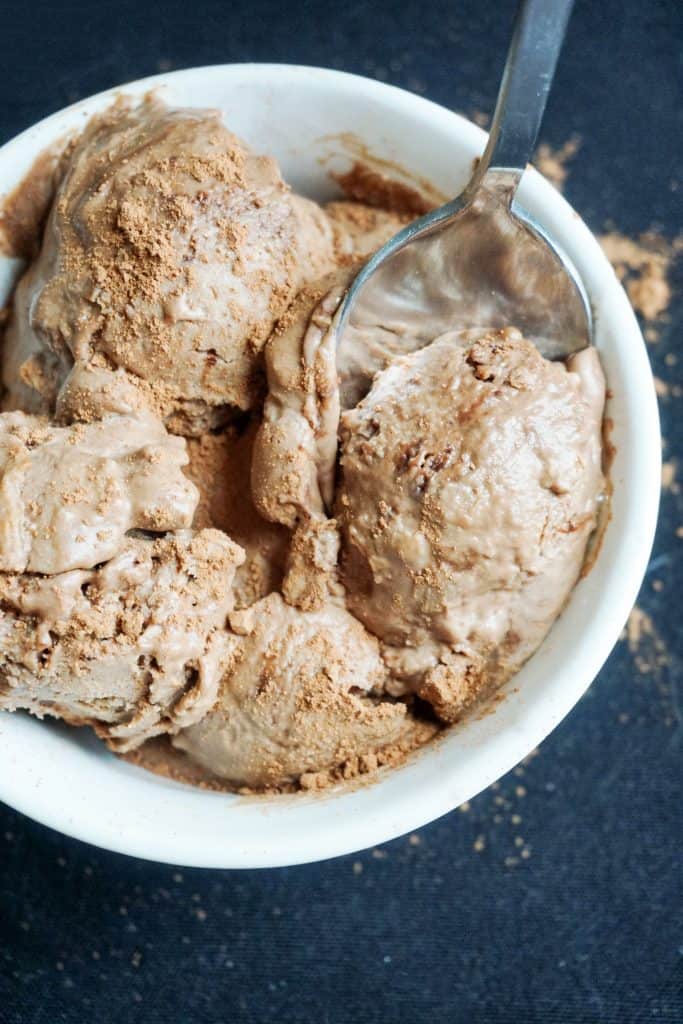 An Ice Cream Maker Free Recipe!
The huge upside to this recipe is that you don't need an ice cream maker. First of all, we don't have one in our household and second, we don't want to invest in one when you can make ice cream on the stove!
There are a couple simple steps to ensuring you come away with ice cream. First, boiling the cream and sugar to create a condensed milk. Second, combining the "condensed milk" and yolks thoroughly to form a custard.
Finally, whisking the two until you get some froth. Once in the freezer we highly suggest giving it a mix every hour or so until you've hit your desired consistency (about 4 hours for us!).
Can I Make This Keto Ice Cream Recipe Faster in My Ice Cream Maker?
While we chose to make this recipe ice cream maker free, you can still use an ice cream maker if you want to enjoy your sweet treat right away.
The only downside is that the custard will be hot off the stove, so you will have to allow it to fully cool before you can put it into your ice cream maker.
Once the ice cream recipe has cooled pour it into your ice cream maker and mix like normal. It should churn in 20-35 minutes.
Even though we didn't use an ice cream maker to make this recipe, if you are in the market for one, the best selling, most affordable and highly reviewed ice cream maker we found is this Cuisinart.
Can I Make Keto Chocolate Ice Cream Dairy Free?
A commonly asked question is whether or not the ice cream mixture can be made dairy free with coconut milk instead of heavy whipping cream. Coconut milk and coconut cream both make great easy keto ice cream recipes, but they shouldn't just be subbed in for a heavy cream based version.
Coconut milk has more water which can crystalize when frozen and make a rock solid ice cream recipe that isn't smooth and creamy, rather hard and icy.
The only real possibility would be using coconut cream which is just the fat from canned coconut milk. It's thick, viscous, and high fat meaning it will make the ice cream nice and creamy while still being low in net carbs.
The nutrition facts will also change as heavy whipping cream is virtually carb free unlike canned coconut cream and coconut milk which has higher amounts of net carbs in each serving.
You should be able to follow this recipe the same way, just sub coconut cream for the heavy cream. If the mixture isn't thickening properly you may need to also add a pinch of xanthan gum while cooking.
How Many Carbs are in Keto Ice Cream?
Like most recipes the nutrition facts really depend on how you customize it. Our gluten free chocolate ice cream per serving has 231 calories, 22.5 grams of fat, 1.75 grams of protein, 5.5 grams of carbs, and 4.75 net carbs.
If you made the ice cream double chocolate, chocolate chip; the calories and fat macros would go up. However, just following the base recipe given with cocoa powder those are the macros you're looking at.
Can I Eat Keto Ice Cream Everyday?
The great part about making homemade keto ice cream is that you can make a big batch, save a ton of money versus store bought pints, and yes, eat ice cream every day!
You can eat keto ice cream everyday because it is low in sugar to prevent blood sugar spikes and high in fat to keep you full and satiated for hours.
While we don't recommend pounding low carb ice cream as the sweetener can upset your stomach, this recipe is still a great option for that late night craving to prevent breaking your diet.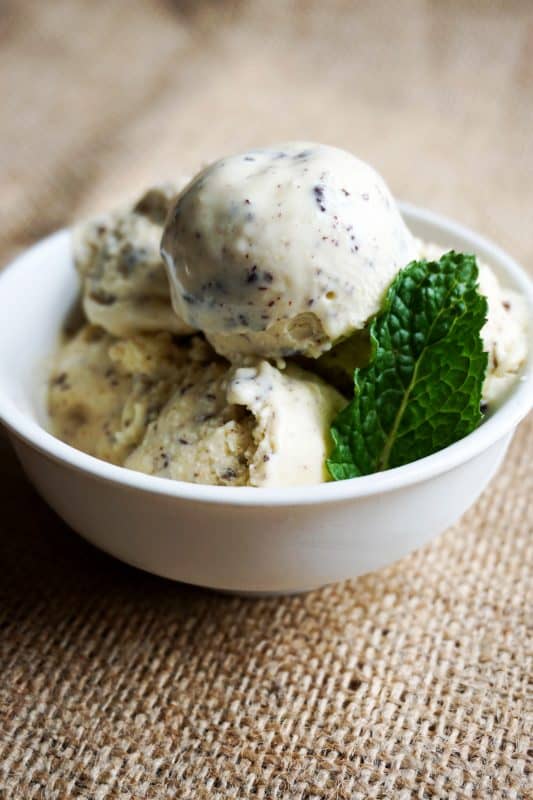 Picking an Ice Cream Flavor
Although we made several different flavors our first go around, we decided to first share chocolate with you to keep it simple.
All you really need is some unsweetened cocoa powder to create this flavor. Most people also love chocolate as a reliable flavor to go to in times of need.
Chocolate isn't the only flavor you could make though. Keto vanilla ice cream is always good, or any other traditional flavor mixed into this sugar free ice cream base. Some of our favorite ice cream flavor ideas are:
Mint Chocolate Chip– This soft and scoopable creamy ice cream is a great low carb keto dessert idea. Simply add a few drops of peppermint extract and some chocolate chips and chunks to the cooled custard before freezing.
Butter Pecan– If you are making sugar free ice cream without an ice cream machine it never hurts to have a little extra fat to help with scooping. Add a few tablespoons of melted butter and chopped pecans for a tasty butter pecan ice cream.
Chocolate Peanut Butter– This is an easy adjustment to the recipe that's currently here. Make the chocolate ice cream base like normal without an ice cream machine and then swirl in lots of peanut butter ribbons.
Strawberry– We have to make a keto Neapolitan mix now! Try mixing in some strawberries blended with heavy cream to give you a super yummy strawberry ice cream base. You can also chop in extra bits of strawberry for a change in texture.
This is the benefit to making homemade ice cream and keto friendly ice cream, you can customize the vanilla ice cream base however you like to make your perfect blend.
How to Make This Keto Ice Cream Recipe
Summer is here and soon ice cream season will be a memory of the past, so let's get churning (or more accurately not churning).
Ingredients
To make our gluten free keto vanilla ice cream base you will need heavy cream, keto friendly sweetener, cocoa powder, vanilla extract, and egg yolks.
The vanilla extract is essential to any good ice cream, not just basic keto vanilla ice cream. You can also use vanilla beans if you are just making vanilla ice cream instead of chocolate, but they are expensive so don't think they are 100% necessary to make good keto ice cream.
The egg yolks in this recipe are meant to thicken up the custard and condensed milk. Egg whites are great in baked goods, but for this recipe all we want is rich fatty yolks to make a soft and scoopable keto ice cream.
Making Homemade Ice Cream
To make this low carb ice cream begin by heating the cream and sweetener on medium heat. Let it sit until boiling and then reduce heat to a simmer.
Once simmering use a whisk to beat in the cocoa powder and break apart any chunks.
In another bowl combine your eggs (preferably room temperature) and vanilla extract. Continue stirring the cream mixture while simmering until it has thickened.
When the keto condensed milk mixture has thickened remove it from the heat and allow to cool for five minutes.
After cooling slowly pour the condensed milk into the eggs and stir quickly to prevent any curdling. When you finish mixing there should be a slight froth on top.
Place the mixture into the freezer and allow to freeze for 4-6 hours, stirring every hour.
NOTE: If you've made ice cream before you know that if the ice cream freezes rock solid after hours in the freezer you will have to allow it to defrost a bit before serving. Our perfect time in the freezer was about 4 hours.
Storing Keto Ice Cream
So you made this recipe and somehow there is still a little bit left. No need to fear, thankfully ice cream is a freezer food and stores great for a long time. If you're going to store it in the same container you froze it in make sure to cover the top with plastic wrap.
The plastic wrap should just touch the top of the ice cream to cover it all and prevent ice crystals from forming. Freeze again and then allow to soften for 10-15 minutes when you're ready to enjoy.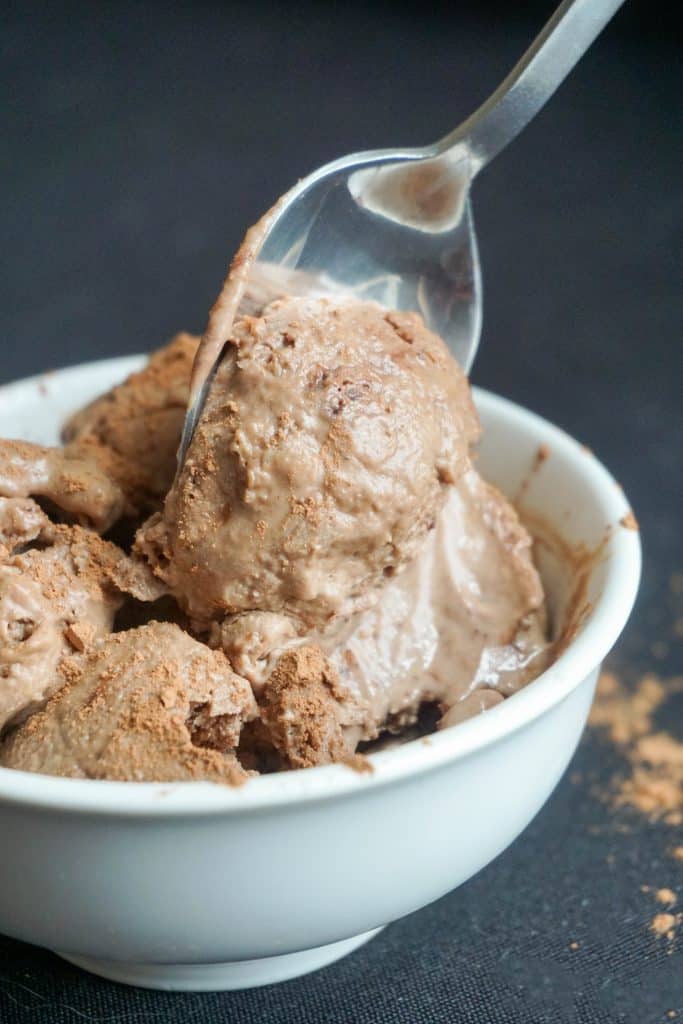 More Sweet Keto Treats
If the ice cream got you excited for more keto desserts ahead, look no further than our desserts section. All of our treats are sugar free, keto friendly, gluten free, and low carb so you can enjoy everything guilt free.
Some of our favorite keto dessert recipes are:
Mason Jar Ice Cream– Yet another quick ice cream recipe that requires NO ICE CREAM MAKER! We went with a smooth butter pecan, but feel free to change up the recipe and switch out the mix-ins.
Keto No Bake Cheesecake– Cheesecake is a delicacy that isn't enjoyed nearly enough. We wanted to change that with our super easy keto no bake cheesecake. It requires no oven and no fancy water baths.
Chewy Chocolate Chip Cookies– Can I interest you in a warm and gooey chocolate chip cookie topped with a scoop of this homemade keto ice cream?
Our blog is full of dessert recipes for every occasion. There are treats for fast and easy week night desserts, and more complex dishes for dinner parties and get togethers. No matter what the reason, we have the perfect treat just waiting to be prepared.
The Best Keto Ice Cream Recipe
There's nothing better than no churn keto ice cream that requires just a little bit of time to make something so delicious!
If you're looking to step this dessert up a notch, maybe because it's your birthday or you just feel like you owe it to yourself, you should make our favorite Keto Mug Cakes to top with keto vanilla ice cream or keto chocolate ice cream!
You could also use our keto no bake cookies to make low carb ice cream sandwiches! If you miss what ice cream tastes like and don't want to pay $6 for a sugar free vanilla pint, you should make our low carb ice cream bars and keto frosty today!
Recipe can be quickly added to MyFitnessPal – Search "KetoConnect – Low Carb Chocolate Ice Cream"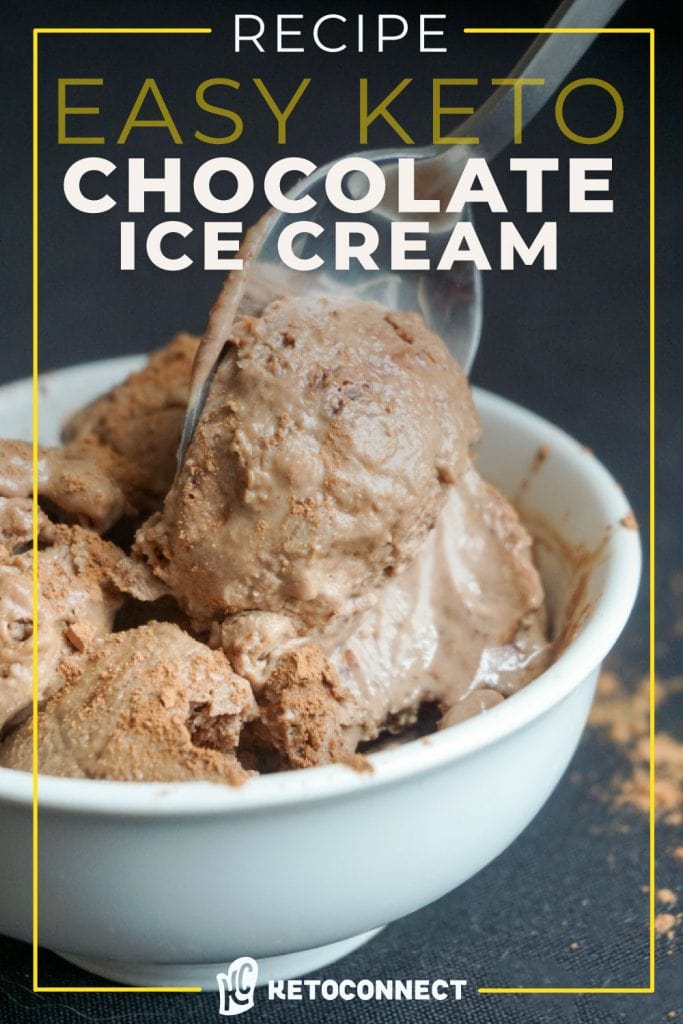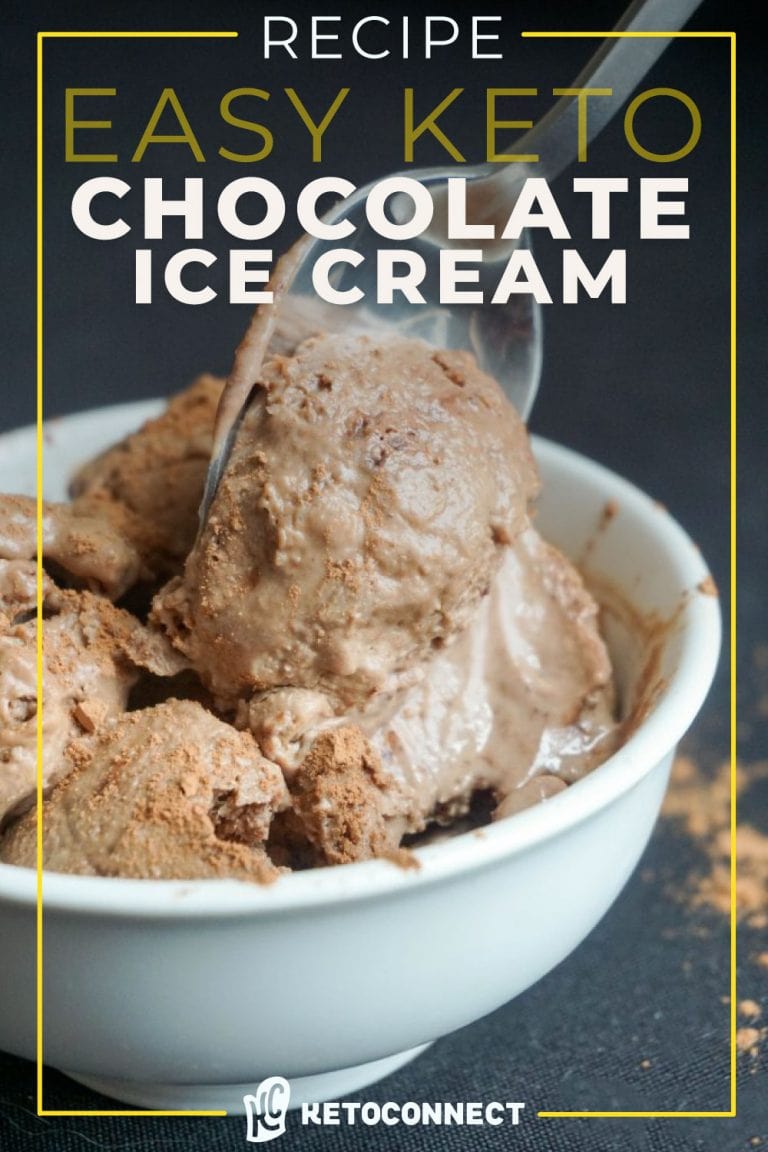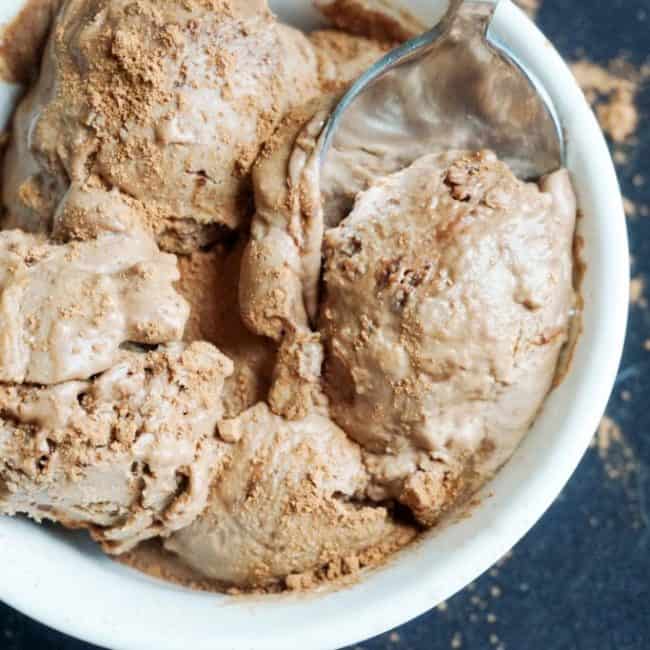 Keto Chocolate Ice Cream Recipe – No Ice Cream Maker!
A homemade keto ice cream using only five ingredients!
Total Time 4 hours 15 minutes
Servings 4 servings
Calories per serving 231kcal
Instructions:
Combine the heavy whipping cream and swerve confectioner into a medium-high heat sauce pan. Bring to a boil and reduce to simmer.

Once simmering add in the coco powder and combine well. Try to get a many chunks out as possible.

In a separate bowl combine 2 egg yolks and vanilla extract. Set aside.

Continue to stir as cream, sugar and coco powder mixture starts to thicken. Once thick (as shown in video) remove from heat. Allow to cool for 5 minutes.

Once cooled slowly add the cream mixture to the yolks as you whisk with a fork or hand mixer.

Once it is all throughly combined whisk until you get a slight froth at the top.

Place into freezer for 4-6 hours, checking on it and stirring it every 1 hour. Ours was set and ready to eat at 4 hours.

TIP: If you freeze it over night you will want to let it sit out for a bit for it to be scoop-able. Enjoy!
Nutrition Facts
Keto Chocolate Ice Cream Recipe – No Ice Cream Maker!
Amount Per Serving
Calories 231 Calories from Fat 203
% Daily Value*
Fat 22.5g35%
Carbohydrates 5.5g2%
Fiber 0.75g3%
Protein 1.75g4%
* Percent Daily Values are based on a 2000 calorie diet.
Written By