Craving something sweet, but not sure what you can eat? If you're in the mood for low carb ice cream, these keto ice cream bars are something you definitely need to try!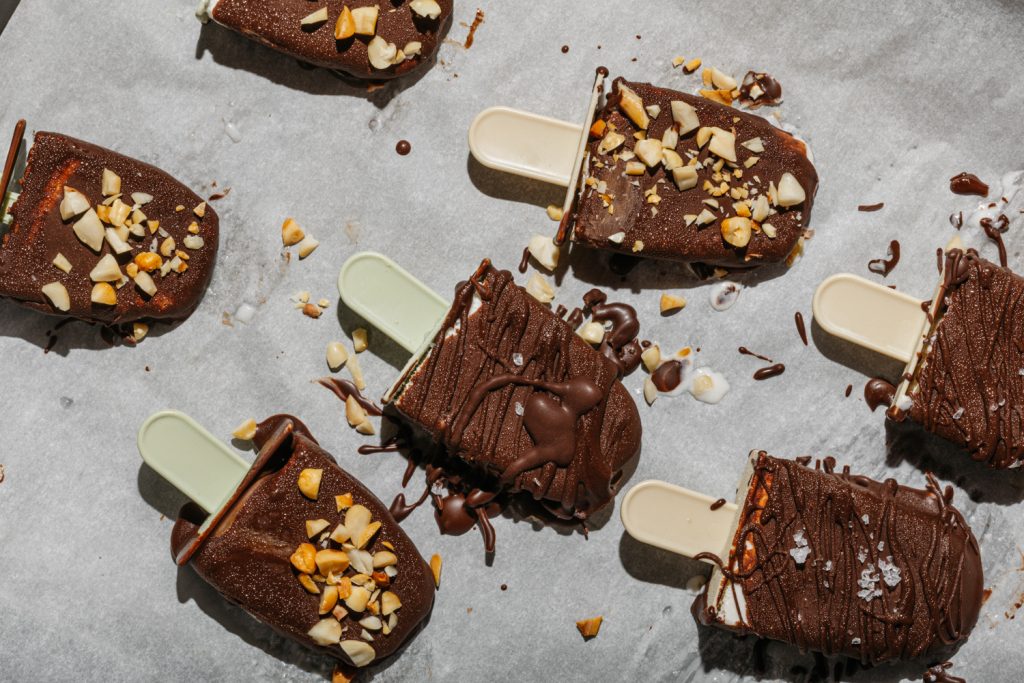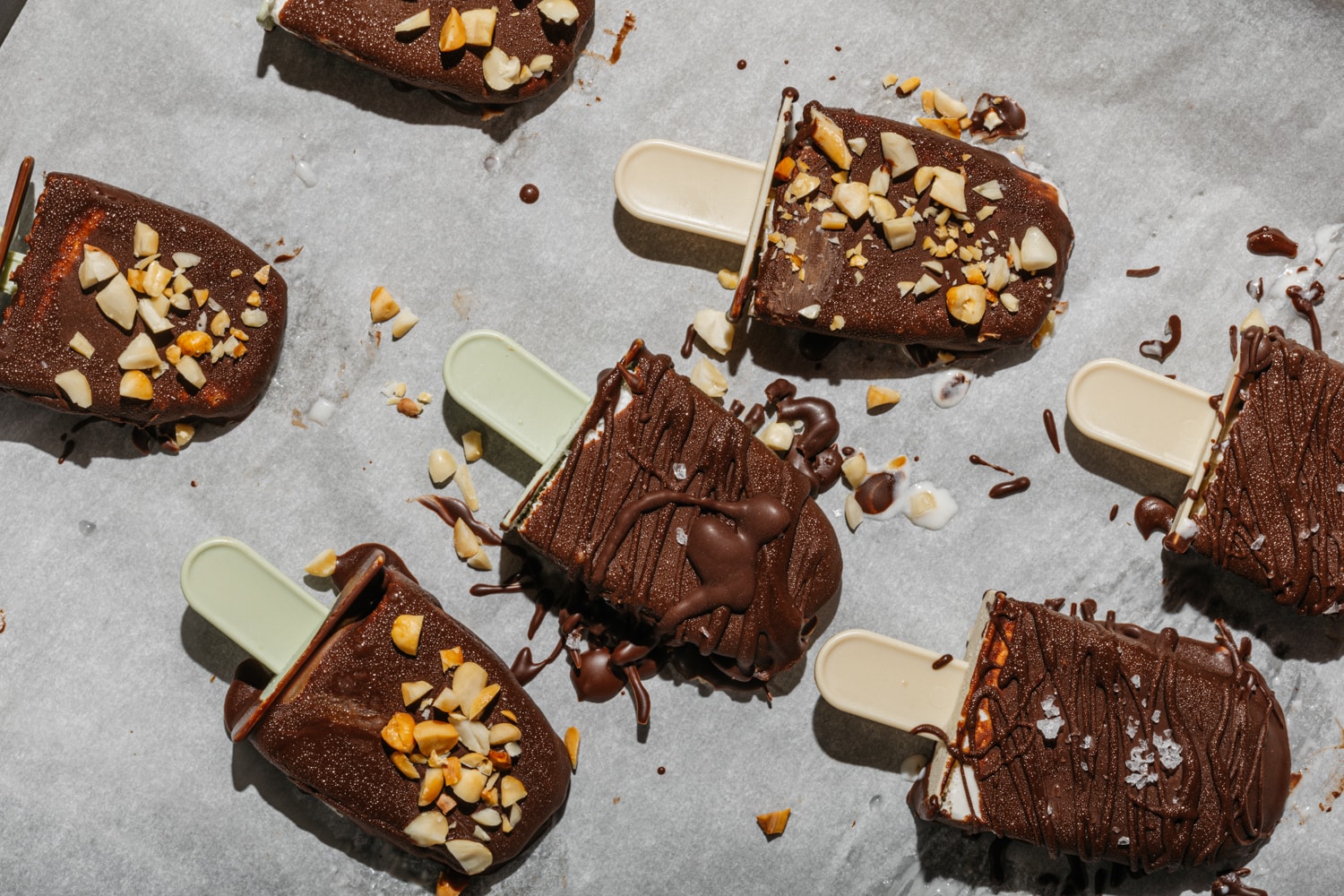 Just when you thought keto diet wasn't the easiest to manage, we're here to prove you wrong. This recipe is easy to make, low in net carbs and an overall wonderful choice if you're looking for tasty desserts without any sugar.
While we kept it simple with a regular chocolate coating, you can customize them in any way you want by adding different toppings such as crushed nuts, coconut flakes or freeze dried berries. There are also plenty of low carb friendly flavor drops you can add to the chocolate and literally make it into anything you want! Chocolate mint, anyone?
What are Keto Ice Cream Bars Made of?
All you need is 6 ingredients to make these keto ice creams! Low carb ice cream doesn't need to be difficult to make, and this is why we kept the ingredient list to a minimum. Everything is keto diet approved, so you don't have to worry about net carbs and added sugar.
While other keto ice creams may require special equipment, this recipe doesn't need an ice cream maker! All you need are good popsicle molds, a big mason jar and two bowls. Oh, and a freezer. You need a freezer guys.
Ingredients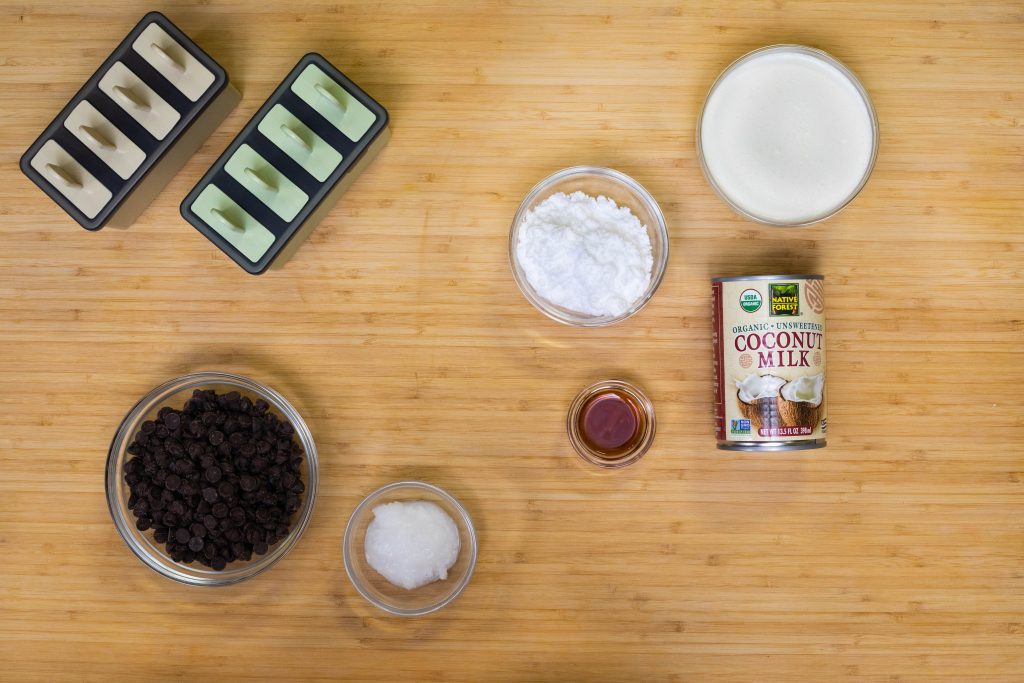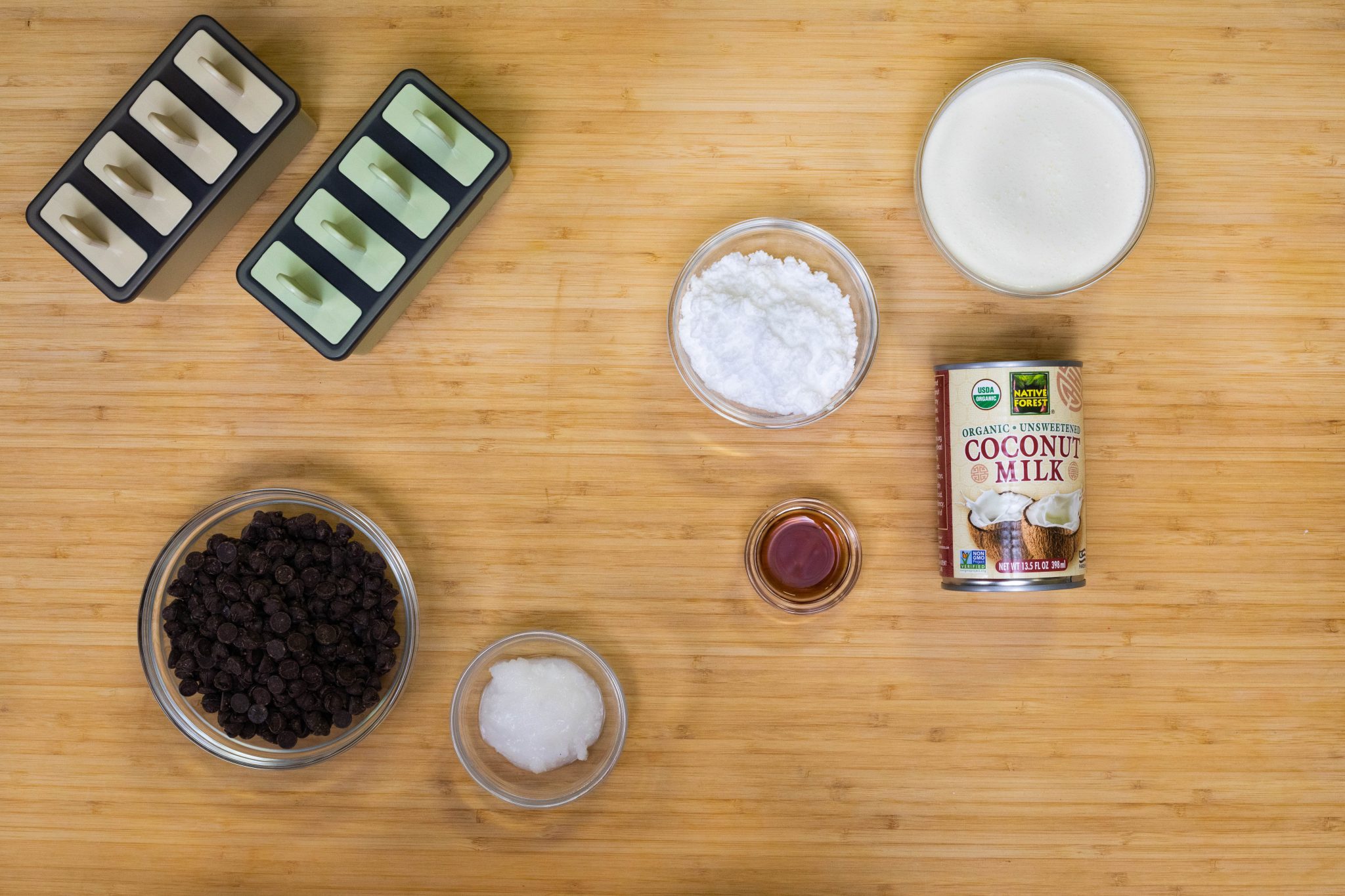 Unsweetened coconut cream – this is ingredient is not the same as canned coconut milk. Coconut cream has less water and overall, a higher fat content. In case you can't find it at your local grocery store, you might want to get two cans of coconut milk and use the solid part from the top of the can only.
Don't worry about wasting the other half though. You can use it in our diary free Keto Hot Chocolate or even use it in our delicious and filling Keto Shrimp Curry.
Powdered sweetener – make sure it's keto and low carb! There are plenty of sugar substitutes available on the market. You can find pure erythritol, or an erythritol and stevia blend (that's the one we like in particular). They're sugar alcohols too, so they're excluded from your daily net carb count.
Heavy whipping cream – this you can definitely find at your local grocery store. It's high in fat and by law it has to contain at least 36% of fat. Don't skip this ingredient! It's the main component of your ice cream base and it will make your keto ice cream bars smooth and silky inside.
Vanilla extract – to give your ice cream a little bit of flavor, we used one teaspoon of vanilla extract in the whole ice cream base. You don't really need to worry about carbs with this one since on average one tablespoon of vanilla extract is about 1.6g of net carbs. Divide that between 14 ice cream bars, and it's almost like the carbs were never there.
Chocolate chips – look for keto and low carb chips. A lot of mainstream grocery stores carry them, and you can also get them on Amazon. If they are not available, pick the ones with the highest cocoa content or the darkest one you can find.
Coconut oil – to make the ice cream chocolate coating we used a little bit of coconut oil to thin out melted chocolate. You'll find it easier to dip the ice cream and coat the whole entire bar. If you don't have coconut oil and you're literally in the middle of your recipe, you can use butter instead, but it will change the taste a tiny little bit.
How to Make Keto Ice Cream Bars?
Everybody loves ice cream bars! They're a perfect treat whenever you're craving sweets but don't want to overindulge. They're also fun to make and since they contain no regular sugar, they're also perfect for children and those who want to keep their blood sugar balanced.
Here's how to make them:
Step 1: Combine all ingredients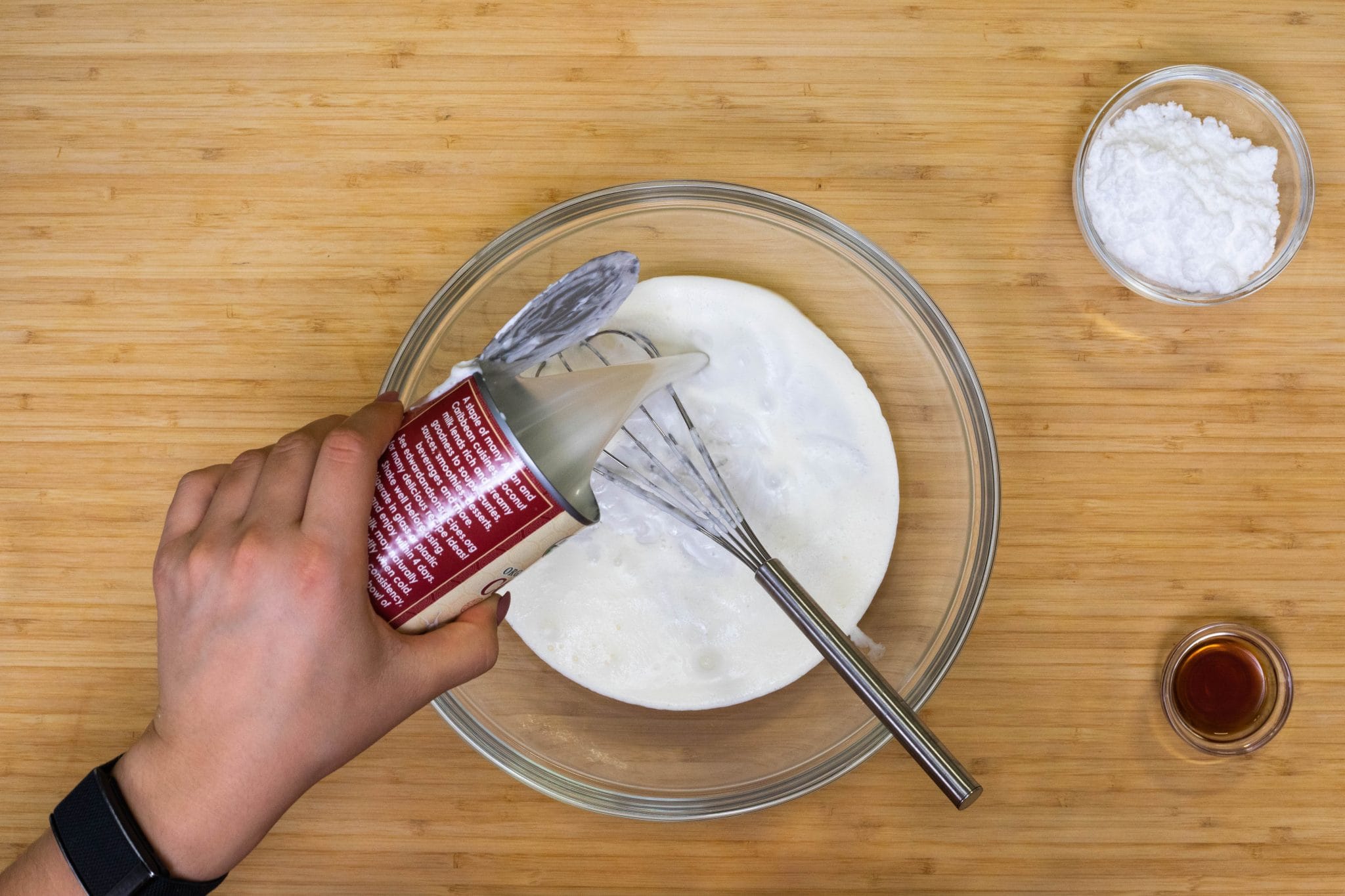 Mix unsweetened coconut cream, keto friendly sweetener, vanilla extract and heavy whipping cream in a bowl. Make sure to mix it until uniform in consistency and the sweetener has dissolved.
Tip: Use powdered sweetener to speed up this process.
Step 2: Pour into molds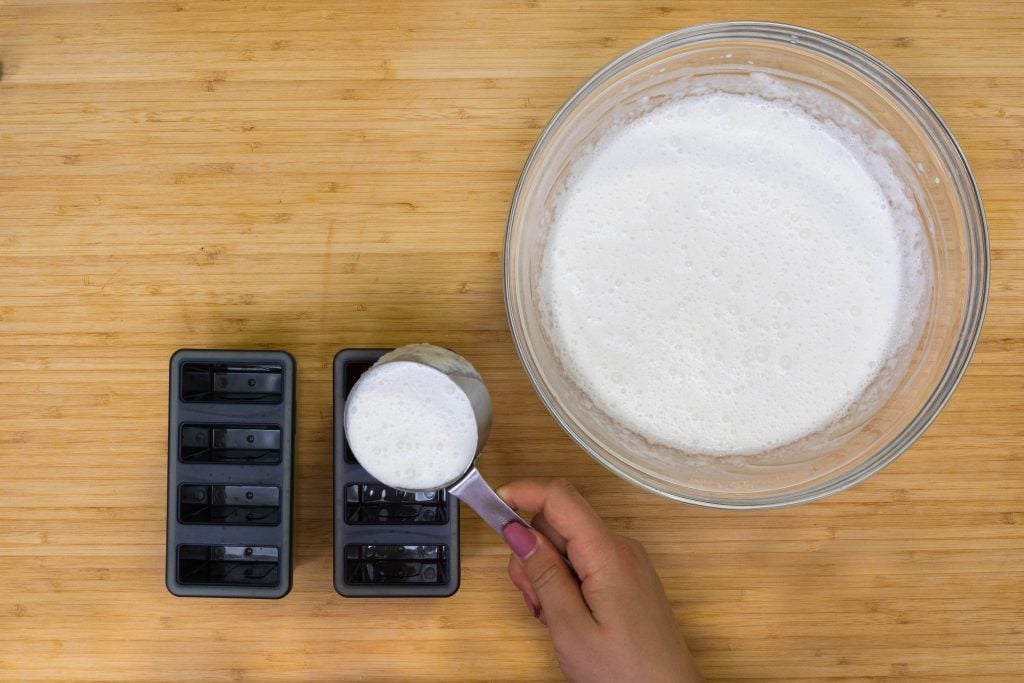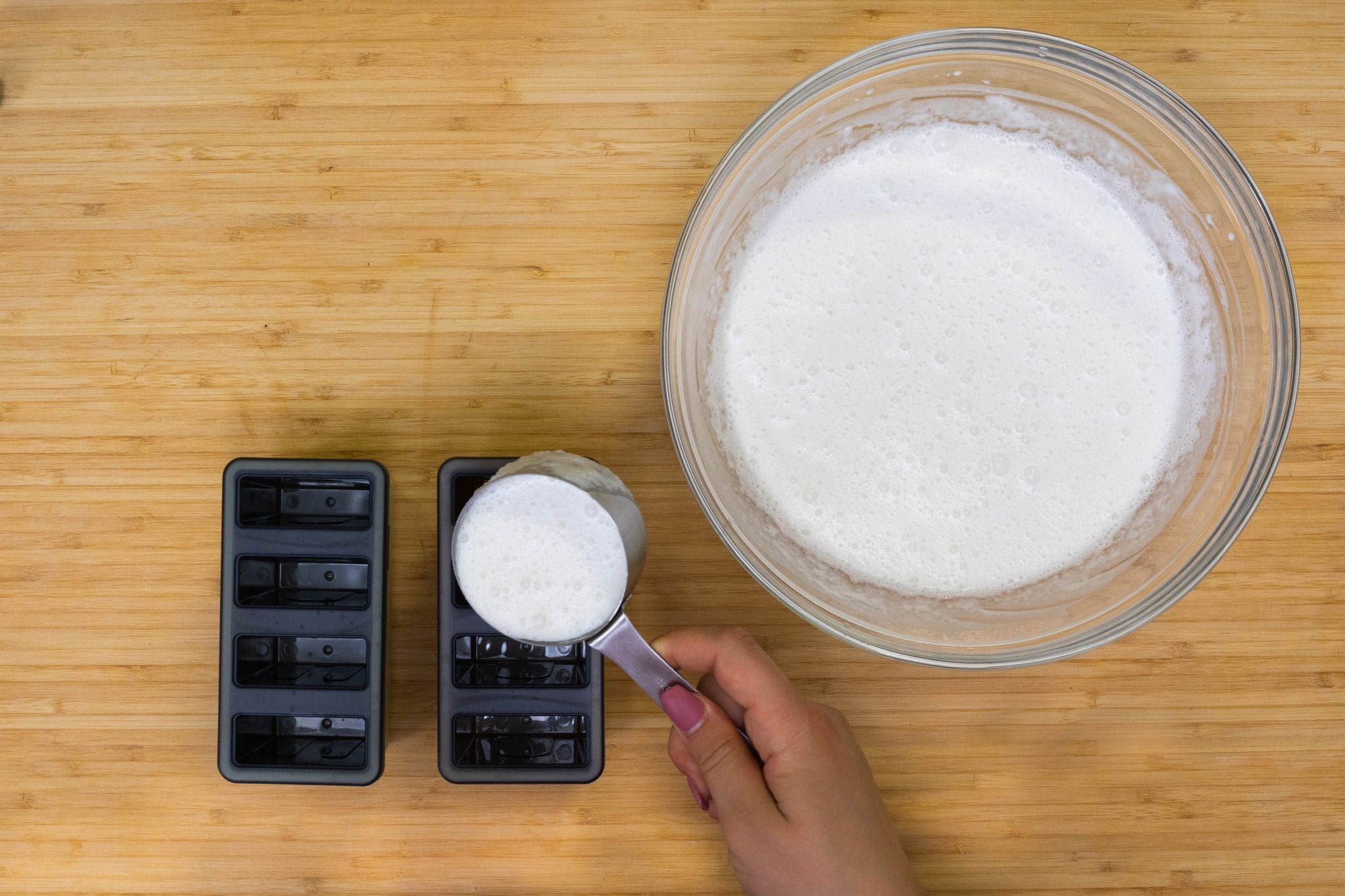 Pour the mixture carefully into popsicle molds. We've had ours for years now, but there are plenty you can get on Amazon. They come in all shapes, colors and materials such as silicone.
Step 3: Freeze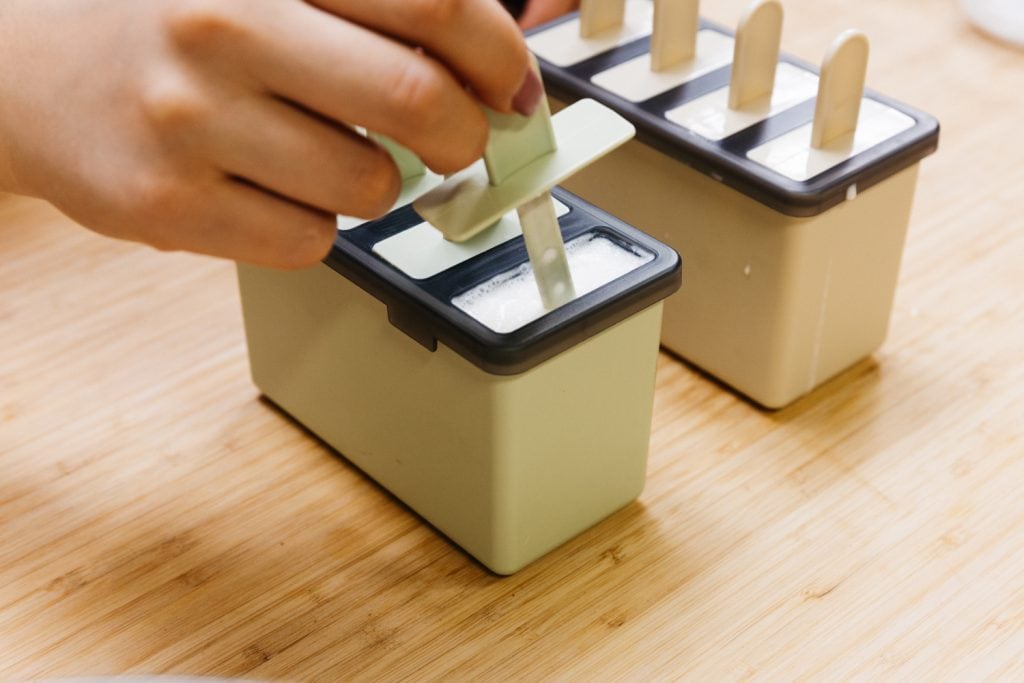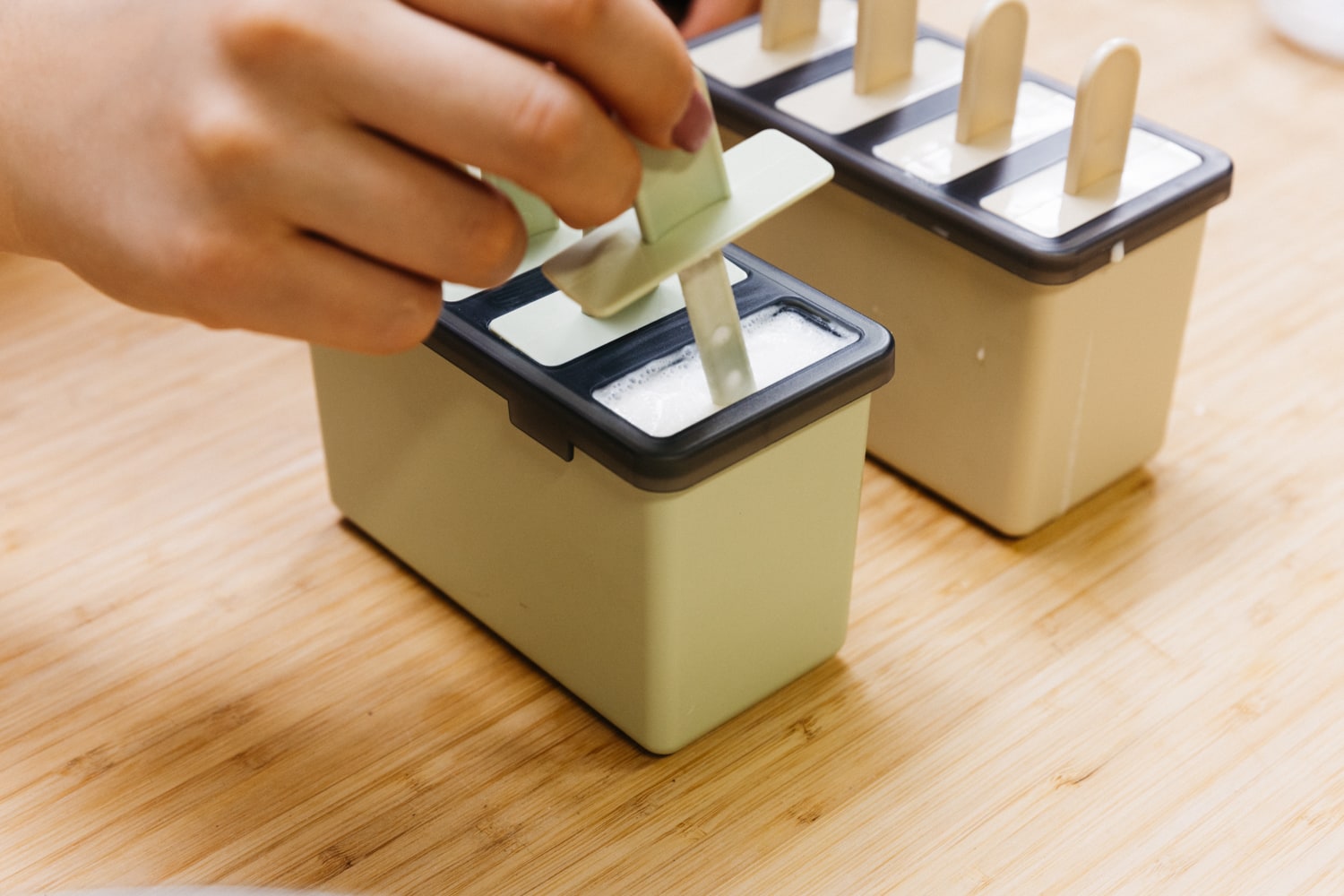 Throw them in the freezer for about 8-10 hours until solid.
Step 4: Remove from molds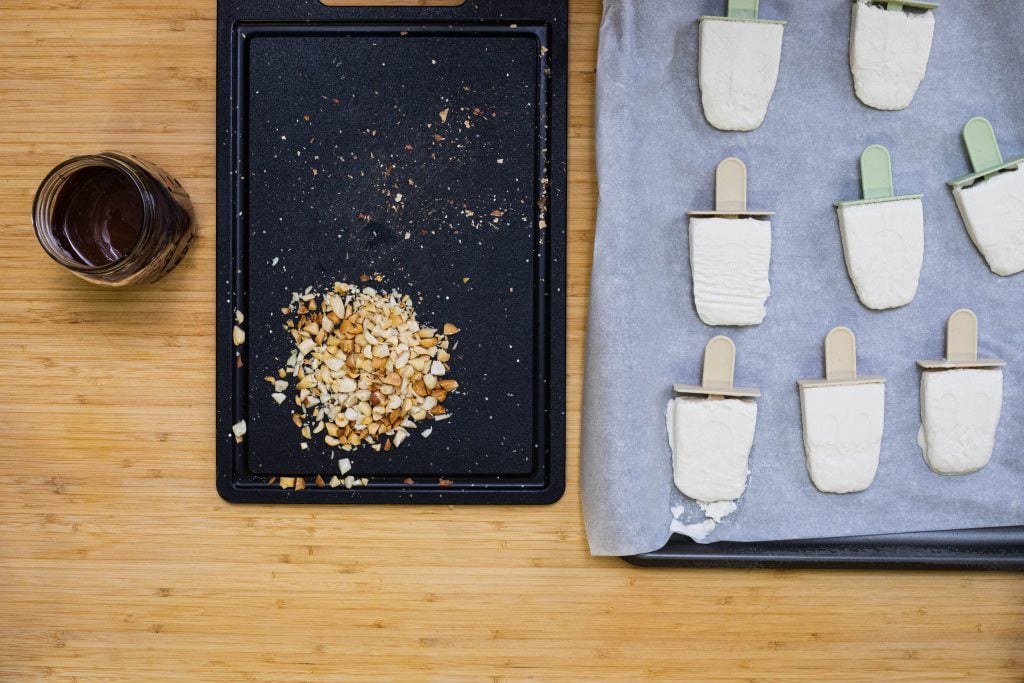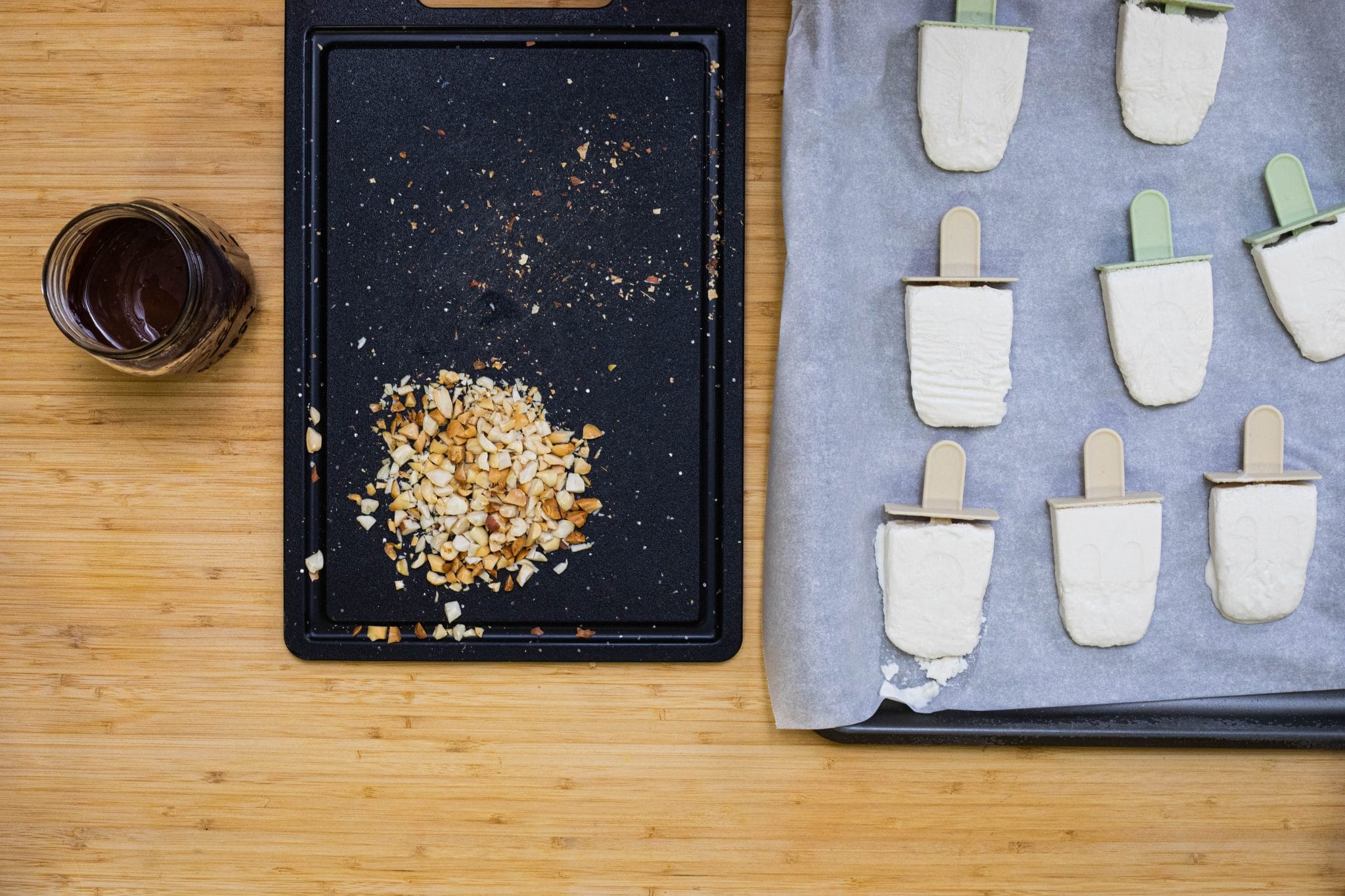 Carefully remove your keto ice cream bars from molds by submerging them into warm water for about 20-30 seconds. Then, place them on a baking sheet lined with parchment paper.
Step 5: Refreeze
Throw the baking sheet into the freezer for another 30 minutes.
Step 6: Melt chocolate chips
In the meantime, melt chocolate and coconut oil together in a microwave-safe bowl or in a bowl over a pot of water. Regardless of the method you're using, stir frequently to avoid burning.
Step 7: Transfer to a mason jar
Transfer your melted chocolate into a wide mouth mason jar or simply a glass deep enough to fully submerge ice cream bars inside. This will make your process quick and clean.
Step 8: Time for dipping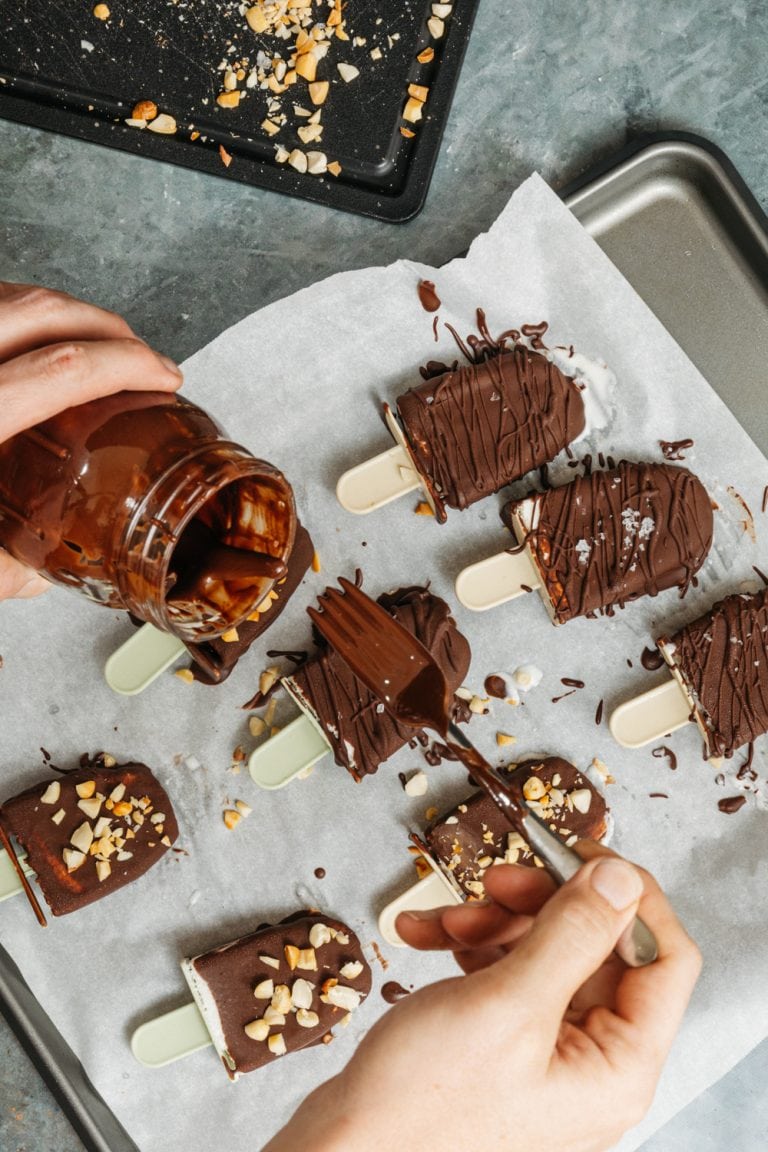 This is the most crucial and important step. You've got to be quick here! Simple dip the bars and rotate the glass in order to coat all the sides evenly. Since the chocolate needs to be a bit warm to stay in a liquid state, do this step as fast as you can so you don't melt the ice cream bars.
Step 9: Add toppings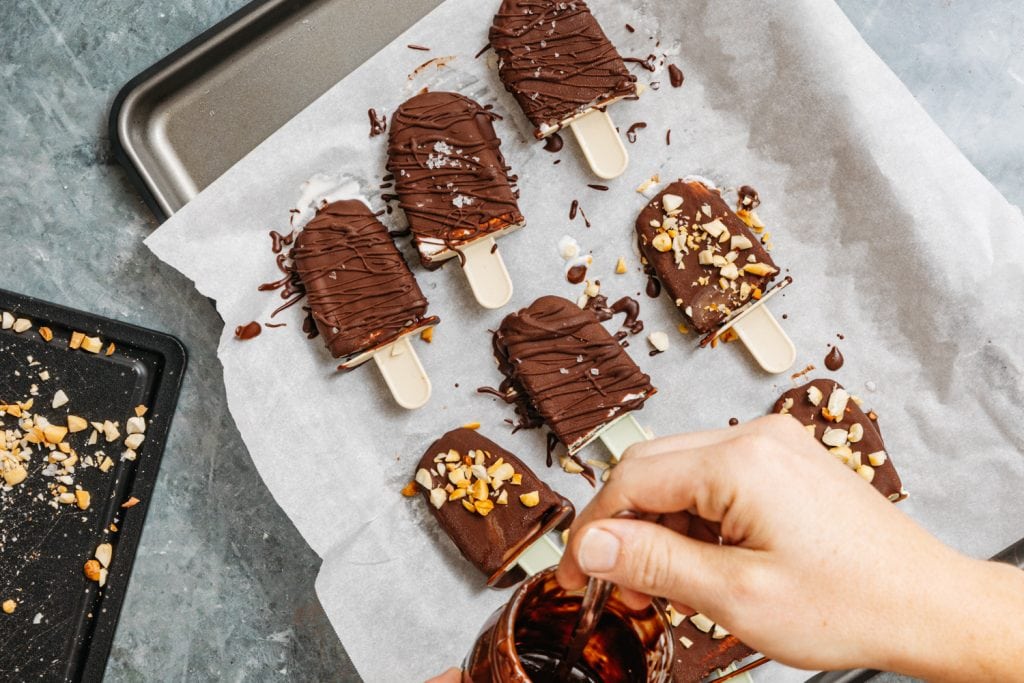 The world is your oyster here. You can use slivered almonds, macadamia nuts, pecans, coconut flakes, drizzle peanut butter on top or sprinkle with freeze dried berries. Possibilities are endless here.
Step 10: Freeze
Place them back onto a baking sheet lined with parchment paper and freeze until ready (about 30-60 minutes) and enjoy!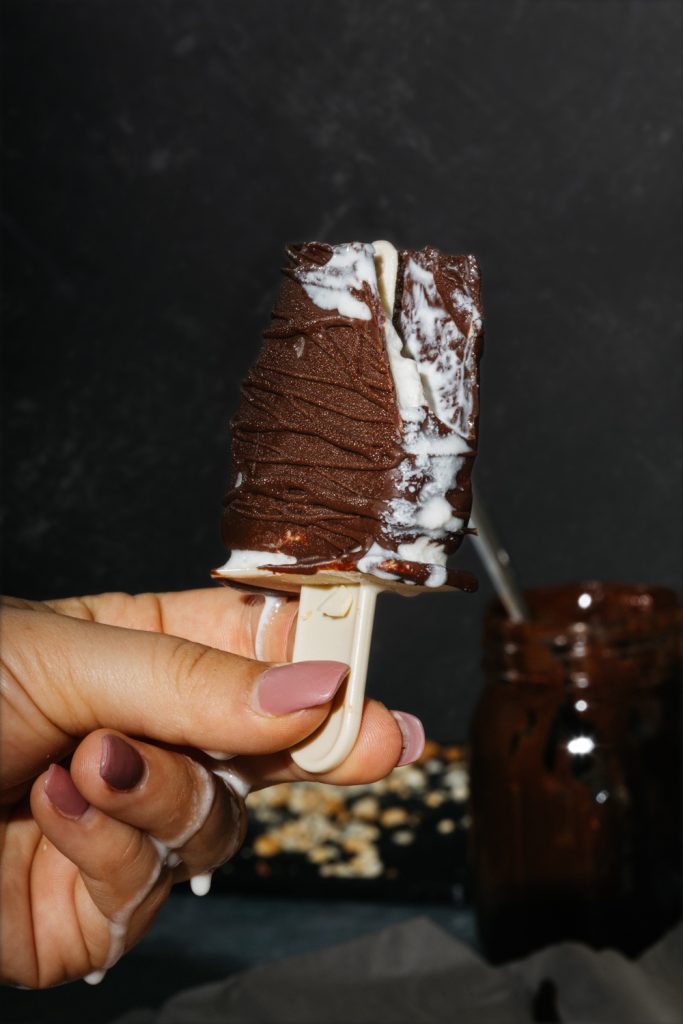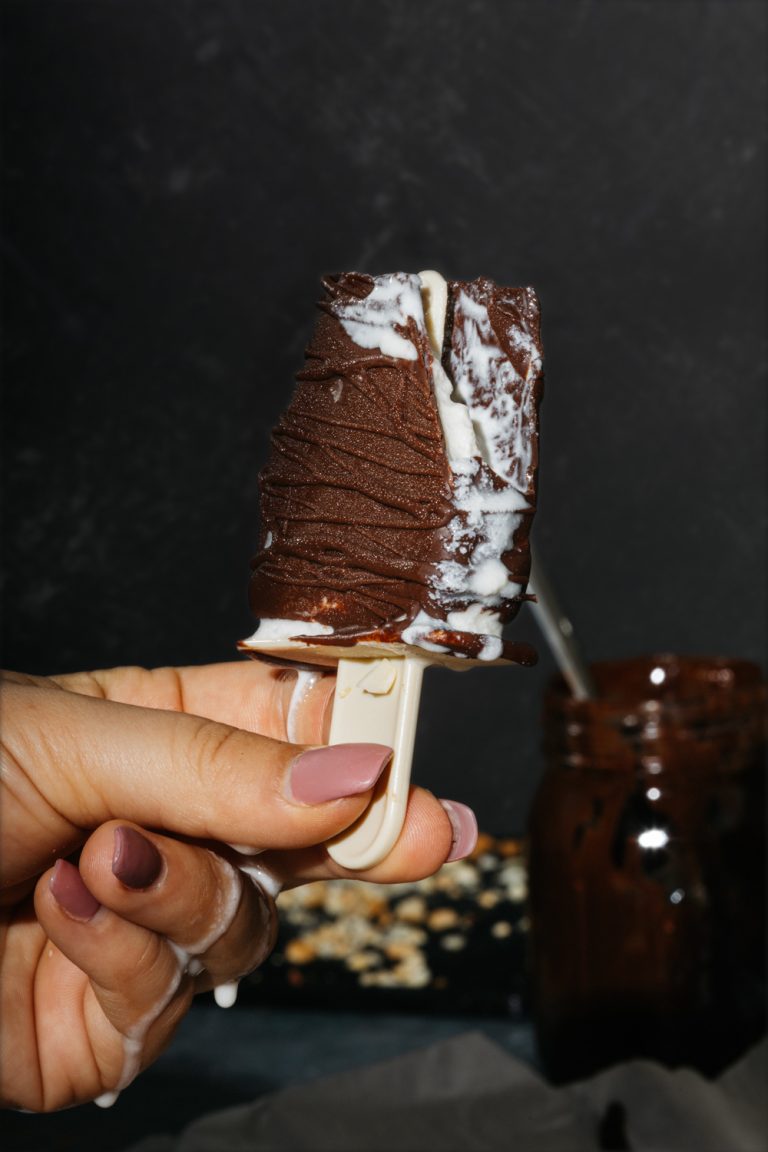 FAQs
Do keto ice cream bars taste like traditional ice cream?
It's very similar in taste. To a person who's been on the keto diet for a while, these will be sweet and taste almost like the real ice cream bars. To someone who hasn't been on keto, these might not have enough sweetness in them since they're used to eating tons of sugar and additives in their diets. It all depends.
Keto ice cream bars are definitely a great substitution for regular ice cream bars. You still get to enjoy a creamy filling inside and a chocolate coating on the outside. Also, depending on the toppings you choose you might get all kinds of different flavors going on.
For example, are you craving sea salt caramel flavor ice cream bars? Simply add a few drops of low carb caramel flavor to the chocolate mixture while it's still hot and mix well. Then, sprinkle a tiny bit of sea salt on top. And there you go, you've got yourself sea salt caramel, low carb ice cream.
Are chocolate chips low carb and keto?
There are low carb and keto chips you can find. If you can't find specific ones sweetened with erythritol or stevia, your best bet is to pick the ones that have the highest amount of cocoa in them. Generally, the darker the chocolate the less sugar and milk it has.
If you want to use white chocolate instead, it gets a bit trickier. While you'll be able to easily find dark chocolate, if you want to use the white kind your best bet is to order it on Amazon by searching for keto or low carb white chocolate. You can also always make your own out of cocoa butter!
Will keto ice cream bars kick you out of ketosis?
We assume you're not going to eat all 14 keto ice cream bars, so no. These ice cream bars are full of fats from coconut cream and heavy whipping cream. Both of these ingredients virtually have almost no carbohydrates.
The only significant carbs you can find will be in the chocolate coating and the toppings you choose, such as nuts, freeze-dried berries or coconut flakes. This is why it's important to pick the kind of chocolate that's low in carbs and sweetened with erythritol, stevia or monk fruit.
How long can I store these?
These will last you several months as long as you keep them in the freezer. For best results, pack each one individually into parchment paper and then put in a container. Instead of parchment paper you can also use paper towel. This will prevent ice cream bars from sticking to one another.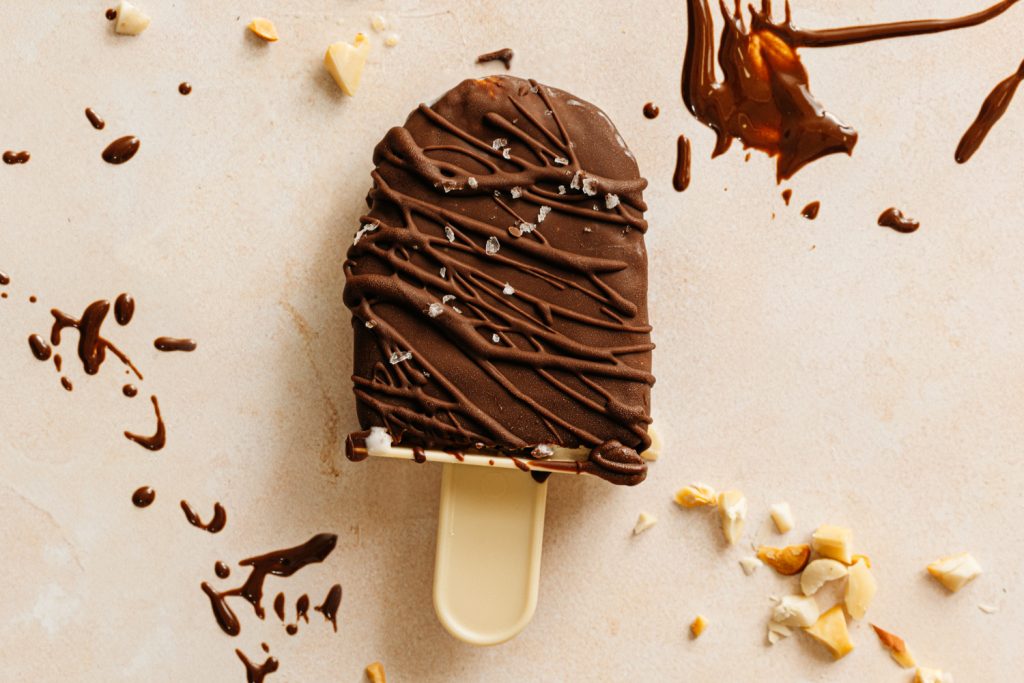 Want more keto ice cream recipes?
Do you have an ice cream craving? Whether you're more into popsicles, eating ice cream out of a mug or a huge fan of keto ice cream sandwiches, you'll definitely find something for yourself in the recipes we've listed for you here:
Enjoying Keto Ice Cream Bars?
Let us know in the comments if you made this recipe or if you have any questions about it. And definitely let us know if you used awesome keto and low carb friendly toppings in these. We'd love to hear your thoughts!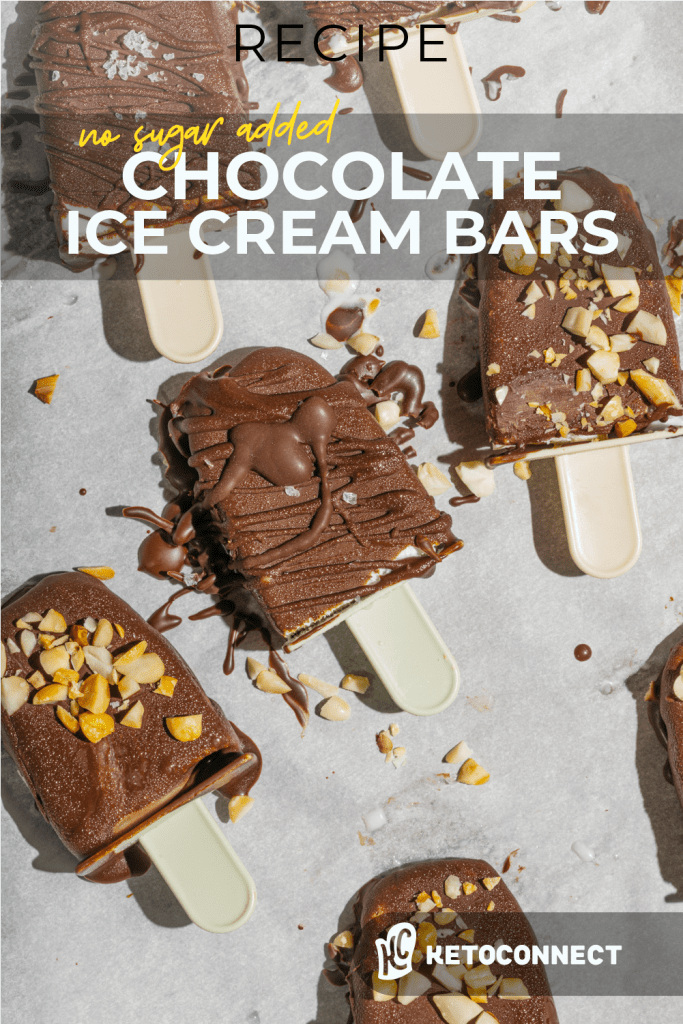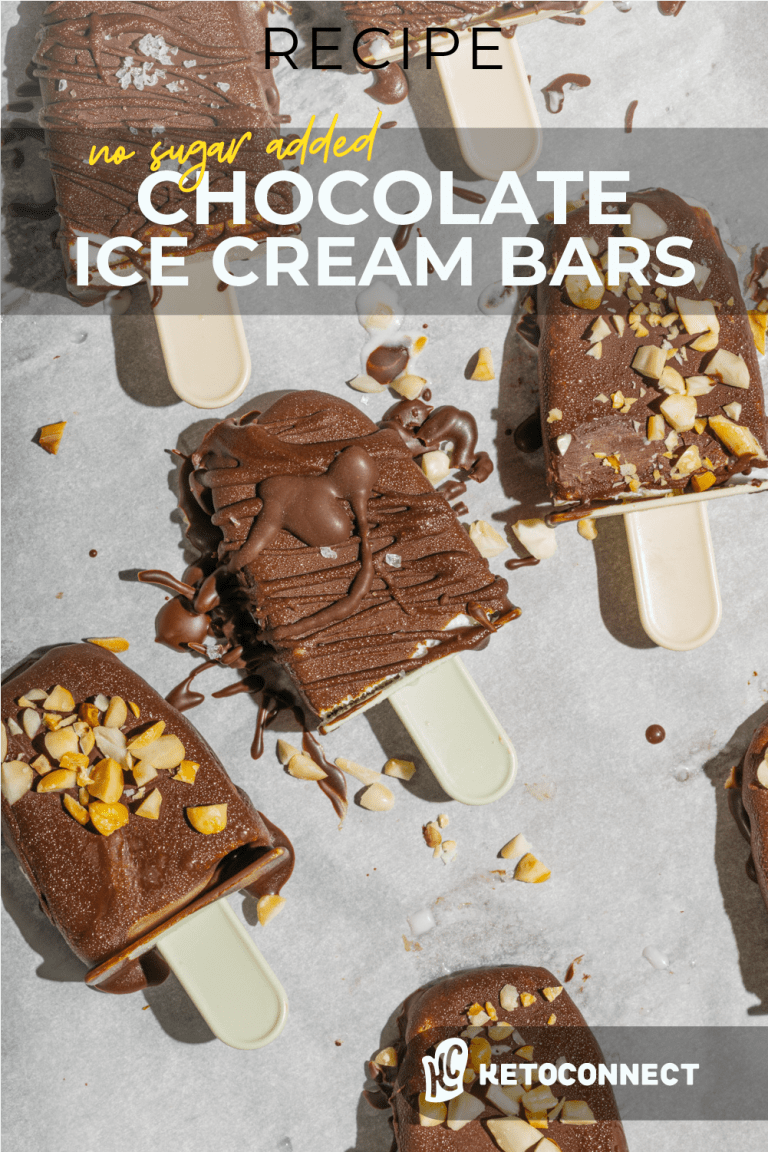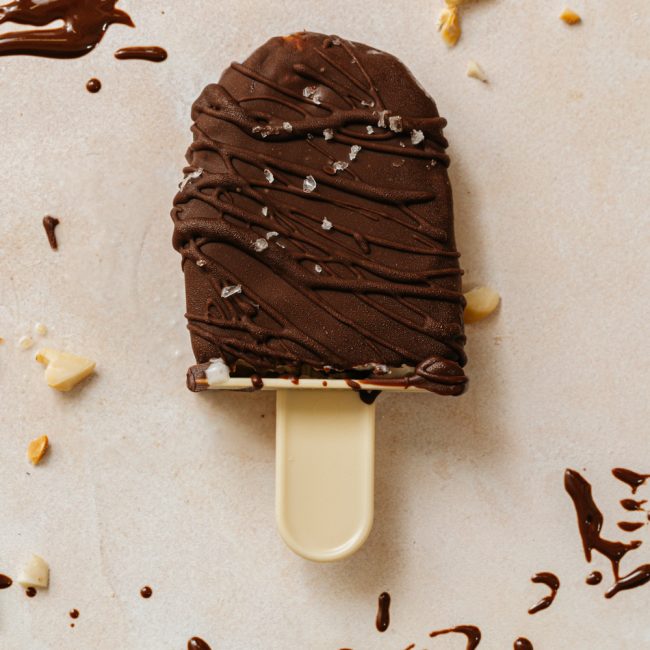 Keto Ice Cream Bars
If you're in the mood for low carb ice cream, these keto ice cream bars are something you definitely need to try!
Total Time 8 hours 15 minutes
Servings 14 servings
Calories per serving 225kcal
Prep Time: 15 minutes
Cook Time: 8 hours
What You Need:
Mixing Bowl

Popsicle Molds

Parchment paper
Instructions:
Combine the coconut cream, sweetener, vanilla, and heavy cream in a bowl. Mix well to dissolve the sweetener.

Pour the mixture into popsicle molds and freeze for 8-10 hours.

Remove the popsicles from the mold carefully using a bit of warm water to submerge the trays in. Place the removed popsicles onto a baking sheet lined with parchment paper.

Re-freeze for 30 minutes.

Melt the chocolate chips and coconut oil together in a microwave safe bowl. Heat in 30 second intervals, stirring in-between to prevent burning.

Transfer the melted chocolate into a wide mouth mason jar or glass deep enough to allow the ice cream bar to be fully coated.

Working quickly, dip the bars into the glass and rotate the glass to coat all sides of the ice cream evenly.

Place the dipped bar onto the baking sheet with parchment paper and top with any chopped nuts or toppings of choice. Repeat with all the bars.

Freeze until ready to enjoy.
Nutrition Facts
Keto Ice Cream Bars
Amount Per Serving
Calories 225 Calories from Fat 243
% Daily Value*
Fat 27g42%
Saturated Fat 20g100%
Polyunsaturated Fat 1g
Monounsaturated Fat 3g
Cholesterol 29mg10%
Sodium 8mg0%
Potassium 111mg3%
Carbohydrates 6g2%
Fiber 2g8%
Sugar 1g1%
Protein 2g4%
Vitamin A 375IU8%
Vitamin C 1mg1%
Calcium 20mg2%
Iron 2mg11%
* Percent Daily Values are based on a 2000 calorie diet.
Written By