Most of us look forward to Thanksgiving every year, and that means feasting on a huge spread! Being Keto can feel restrictive in situations like this. You'll have no trouble finding some keto friendly options for dinner and side dishes, but desserts can be a problem. This keto pecan pie is just one of the many incredible keto desserts we have for you here at ketoconnect.net.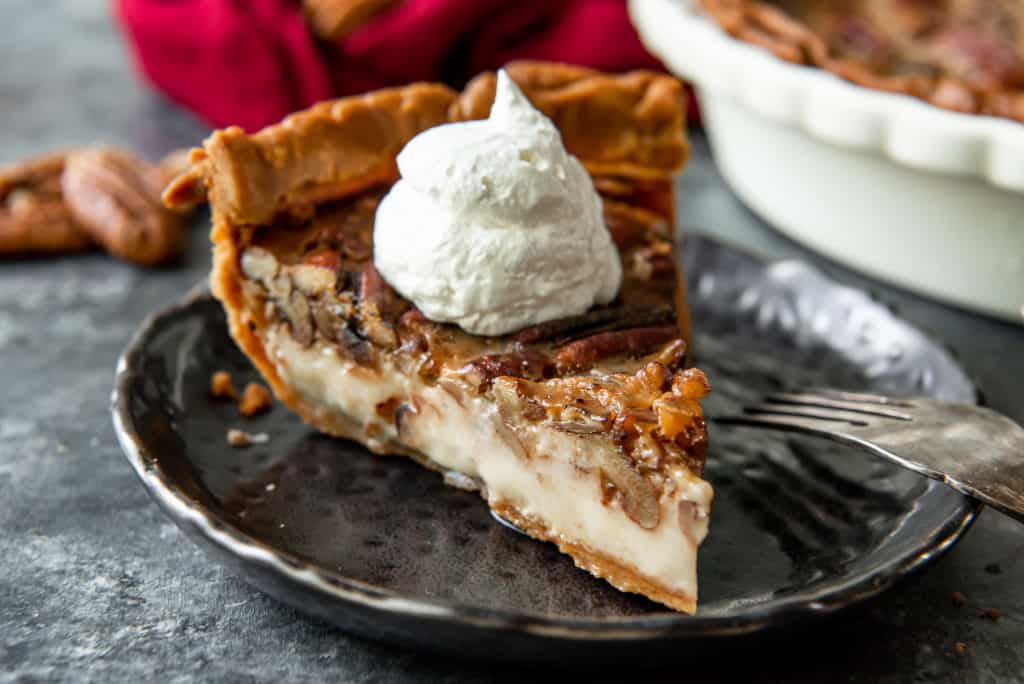 How to Make Keto Pecan Pie Two Ways
We are going to show you how to make keto pecan pie two different ways in this post. The differences are subtle, and both recipes come out tasting fantastic. The only difference is in a couple of ingredients. Before taking you into the steps for making keto pecan pie, let's talk about the different options you have.
Keto Pecan Pie Using Gelatin Powder (Option #1)
The art to making keto pecan pie is in what you use to thicken the pecan pie filling. Most recipes you will find online use sugar free maple syrup to thicken the pecan pie filling. We cover this below as option #2. While using sugar free maple syrup is tasty, it contains a host of questionable ingredients that some people like to avoid. For this reason we created this low carb keto pecan pie recipe using gelatin as a thickener.
There's a long list of health benefits to gelatin, and it is a versatile ingredient to boot. We have found this beef gelatin powder to be our favorite to bake with. Following a few simple steps to create a thick pecan pie filling without adding chemical sweeteners to your recipe.
Gelatin can also be used to make a refreshing sugar free jello that is great for the holidays.
Bloom the Gelatin
For a quick picture and step by step guide to blooming you can check out this article. However, you can also follow my simple steps below!
Add the gelatin powder to water.
Set it aside to "bloom" for 3-5 minutes. You will notice it has thickened and changed consistency (as shown in the video above).
Dissolve the powder by microwaving for 7-10 seconds. It will become translucent and return to liquid form.
Blooming the gelatin will activate it and aid in the thickening process. This is an essential step because without it your filling will not turn out right.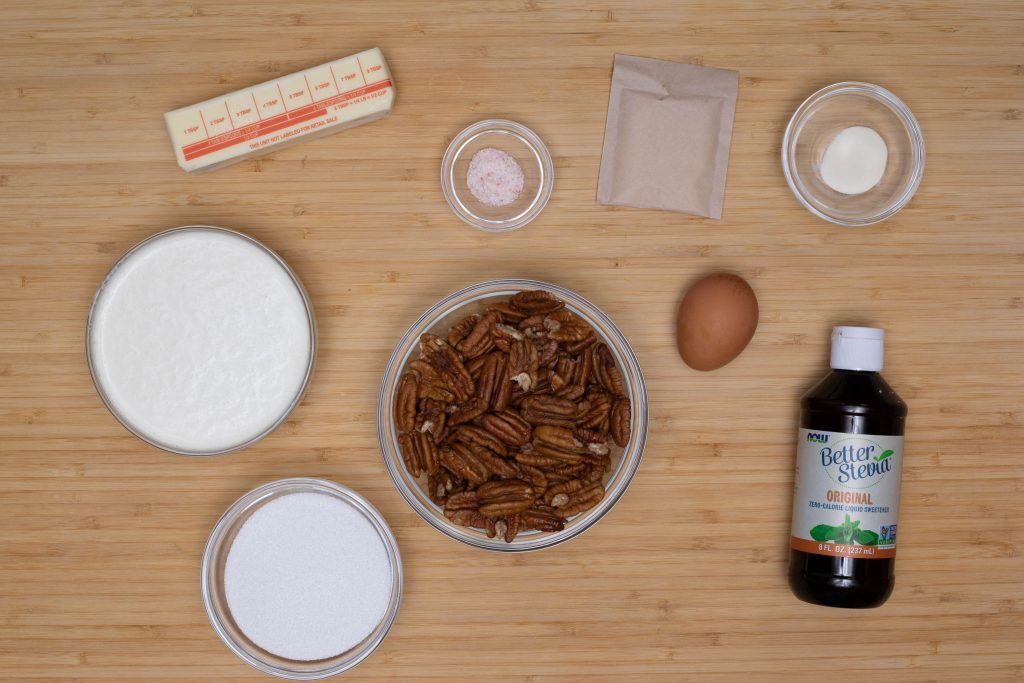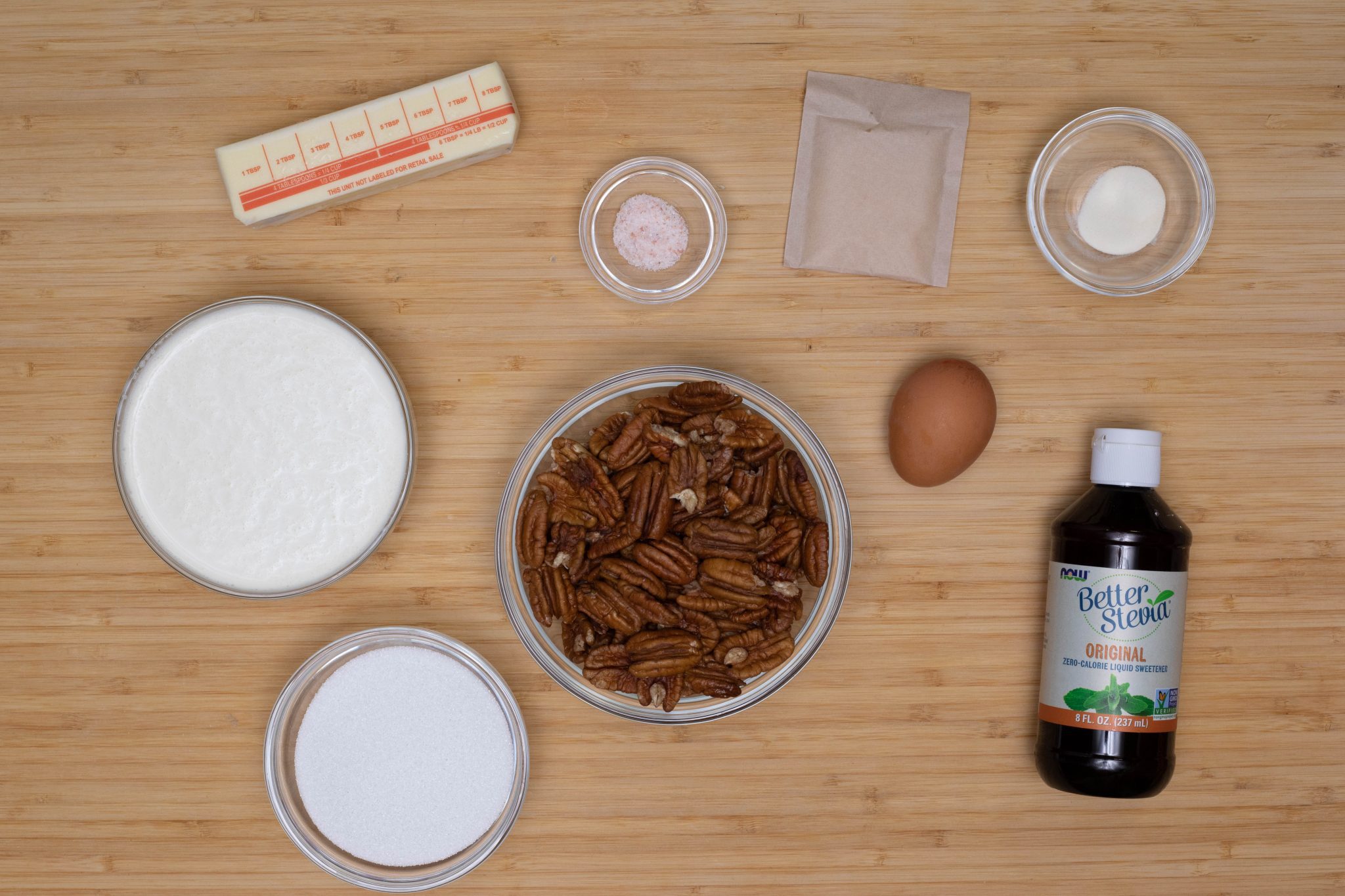 Add Gelatin to the Pecan Pie Filling Mixture
This mixture is made by simmering butter and erythritol over low heat on the stove. Erythritol is one of the low cab sweeteners we use in most of our recipes. Some other options for a sugar free pecan pie recipe are monk fruit sweetener, swerve brown sugar, or bocha sweet.
Next we will add in the heavy cream to make a classic caramel sauce. Let this simmer for a good 15-20 minutes before adding in the bloomed gelatin.
Once you have this mixture melted down together you can add in the bloomed gelatin.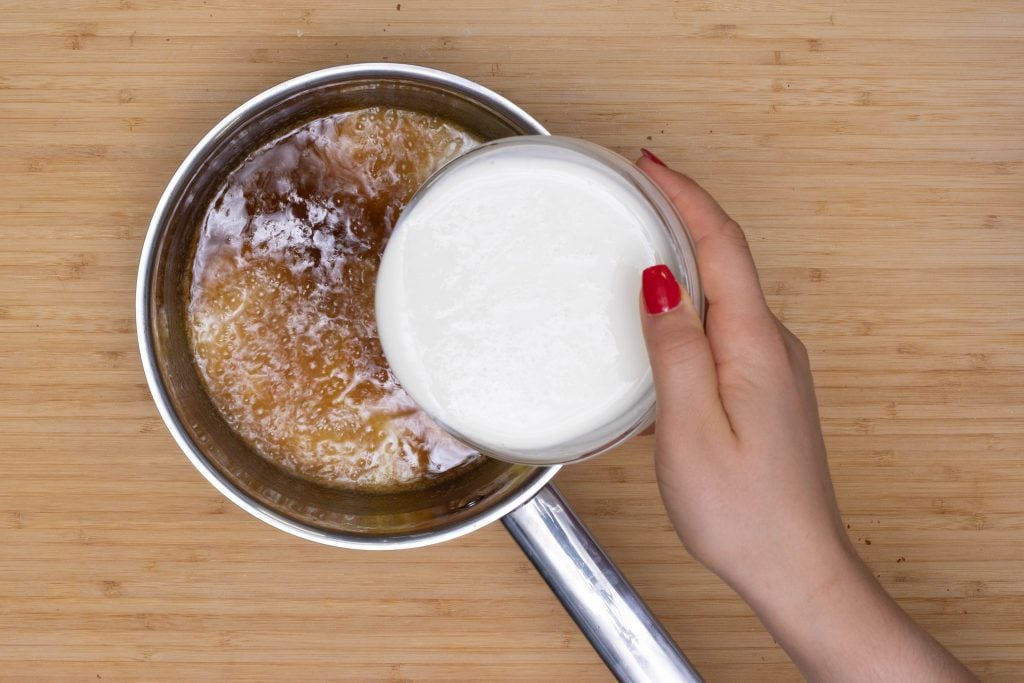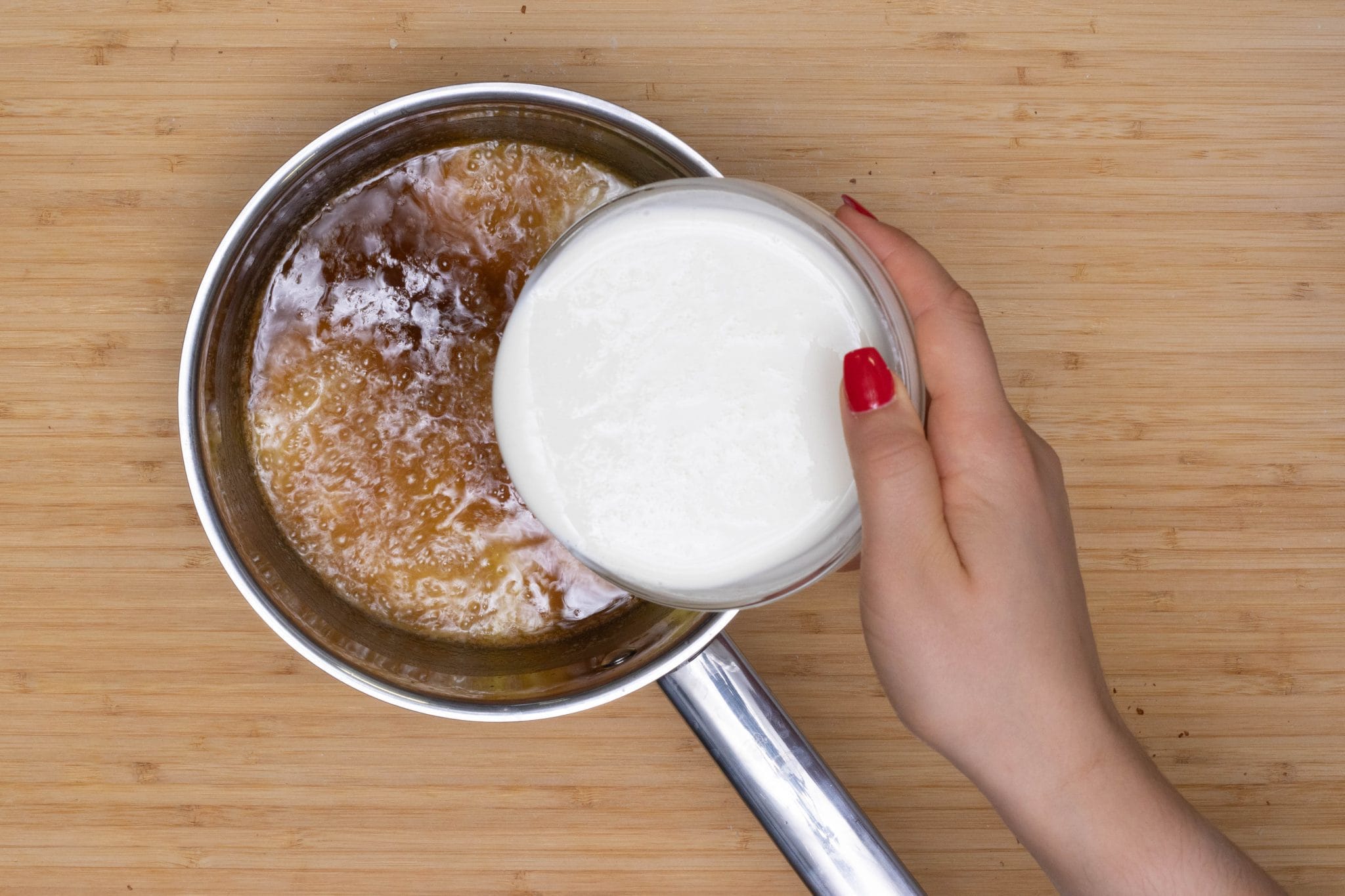 Temper in the Egg
Adding the egg to the filling is simple, just be sure you don't cook it. Do this by slowly adding some of the caramel filling mixture into a bowl with the whisked egg. Once that is mixed together you can add the egg into the pot with the rest of the filling. This is done to slowly raise the temperature of the egg so you don't end up with scrambled eggs.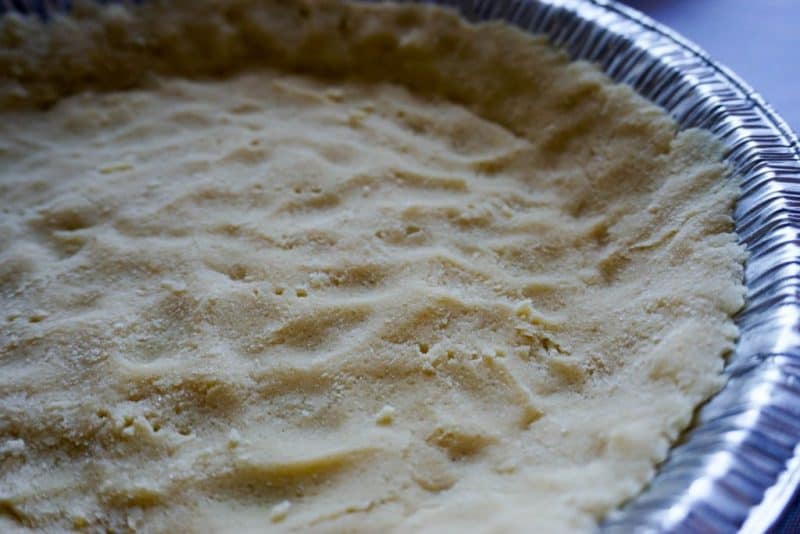 Place Pecan Halves in the Baked Pie Crust
We haven't discussed the pie crust recipe yet, but we'll get to that in a minute. Place the pecan halves into the baked pie crust in a neat and evenly distributed fashion. Pour the filling mixture over the pecan halves layer. If you can resist eating the entire pie before you even bake it, you're doing a good job 🙂
Bake the Pie, But Beware of Burning the Crust!
Keto pie crusts tend to burn very easily. This is something you will need to keep an eye on as your pie bakes. If you notice the edges of your pie crust getting too browned prior to the filling being cooked, you can add a layer of tin foil around the edge to protect the crust. This can happen with almond flour and coconut flour pie crusts.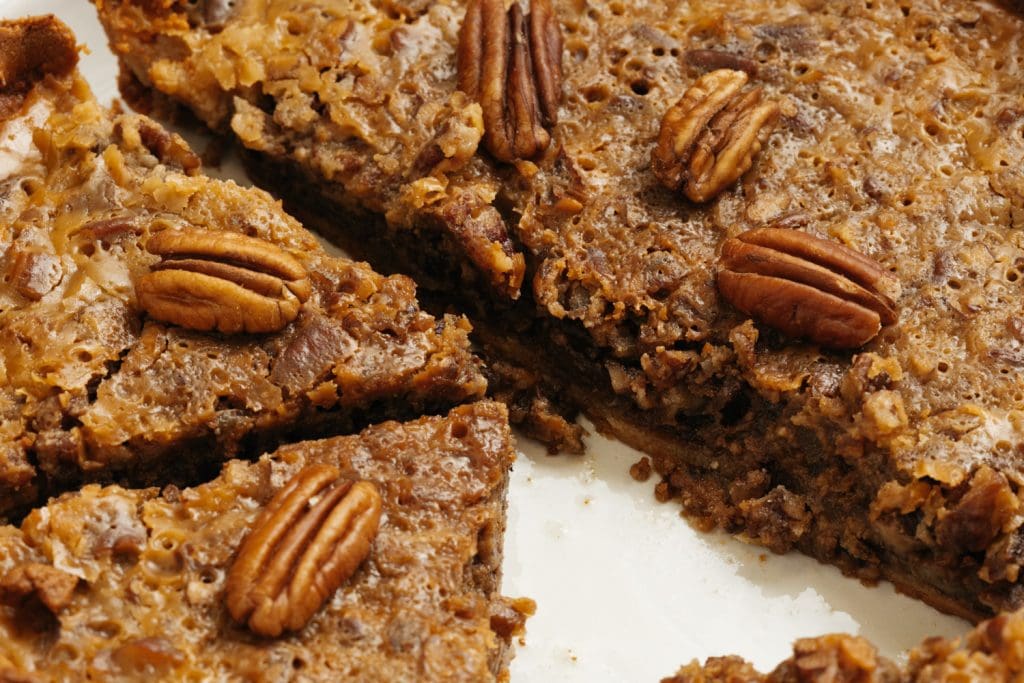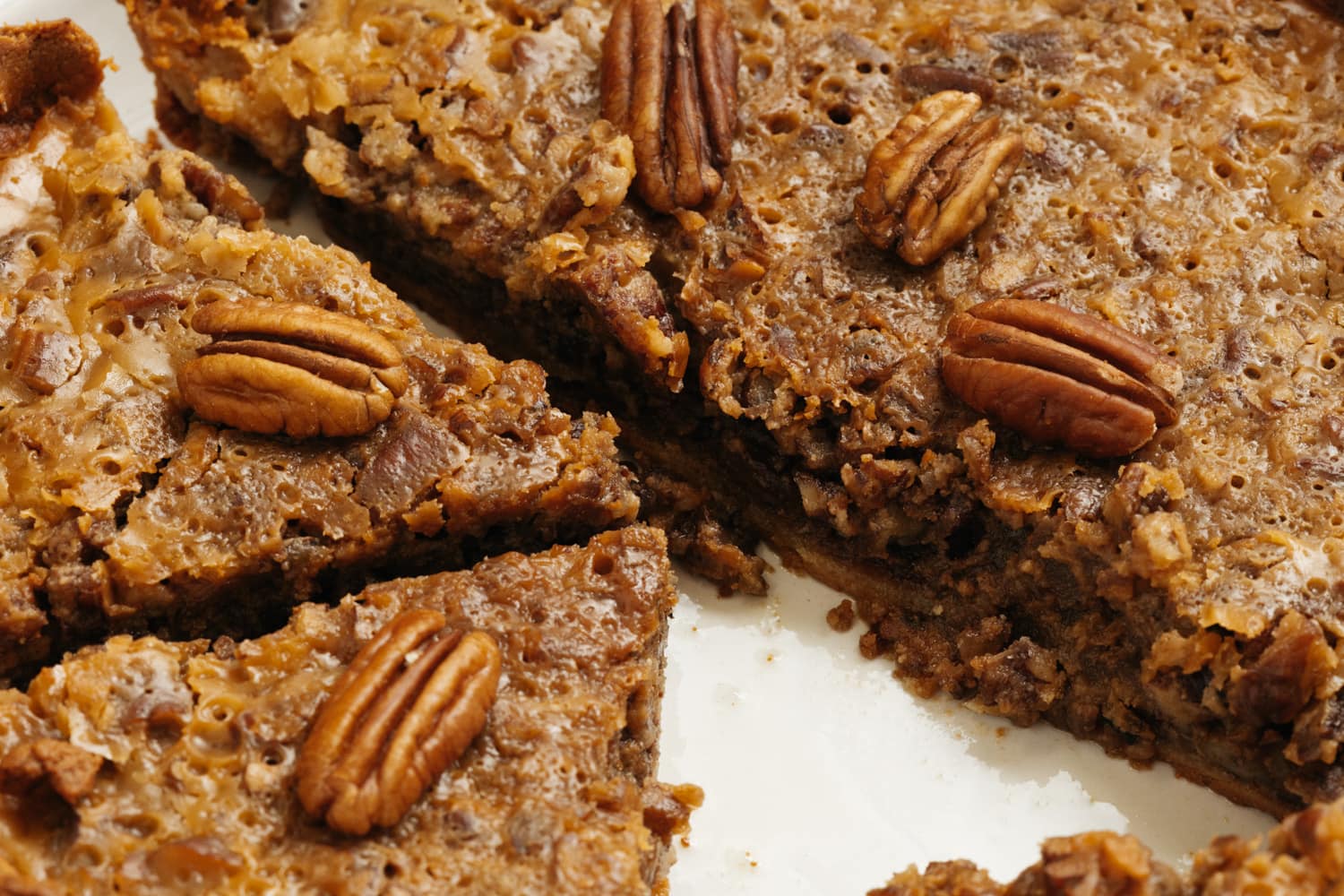 Tips for Making Sugar Free Pecan Pie
Don't Overheat The Pie Filling
When dealing with high fat sauces, it's important to know that they are prone to separate. When overheated the filling may curdle or split. This can be even more of a problem when using low carb keto sweeteners. Just remember, the rules are a little different with keto friendly recipes.
Cut the Keto Pecan Pie Properly
To get a nice clean cut, don't use a bread knife or any sort of back and forth motion. Use a standard chef knife and firmly press into the pie in a single motion. After slicing, use a pie server to get the piece out without issue. This is best done when the pie has cooled slightly, if not completely. Using a pie plate for service can add a nice touch. A Pie plate should be smaller than a traditional dinner plate.
What About Whipped Cream?
Whipped cream is an essential condiment every November. Instead of buying the spray cans packed full of sugar, make whipped cream at home from heavy whipping cream. You'll be surprised to find out that it actually tastes way better than the store bought stuff.
Sugar Free Pecan Pie Using Maple Syrup (Option #2)
Using sugar free maple syrup instead of gelatin for the pecan pie filling is another option. It's an easy to make recipe that cuts down on a few of the steps of the first option. The big thing here is finding a maple syrup that isn't too terrible when it comes to the ingredients. I'll link a couple of the better options for you here:
All of the above options are gluten free and sugar free. Lakanto brand is our favorite because it uses monk fruit sweetener in the recipe instead of an artificial sweetener. Monk fruit sweetener is keto approved and one of our favorites.
Typically pecan pie uses a super thick corn syrup to make the filling. We all know how bad corn syrup is for us at this point, so it makes sense to want to find a keto friendly replacement recipe. Replacing the thickness of the corn syrup is the major pain point of this keto pecan pie recipe.
Maple extract is an ingredient you could consider adding if you enjoy a strong maple flavor in you sugar free pecan pie. There are also a number of zero carb brown sugar replacement that add a maple flavor. The keto diet has became very popular in the last few years which means the options are nearly endless at the grocery story for low carb ingredients.
The Best Keto Pie Crust Recipe
We have a very easy keto pie crust recipe that we use for just about every pie we make. Whether it's pecan pie, chocolate pie, coconut cream pie, or keto pumpkin pie, this pie crust recipe is the one you want.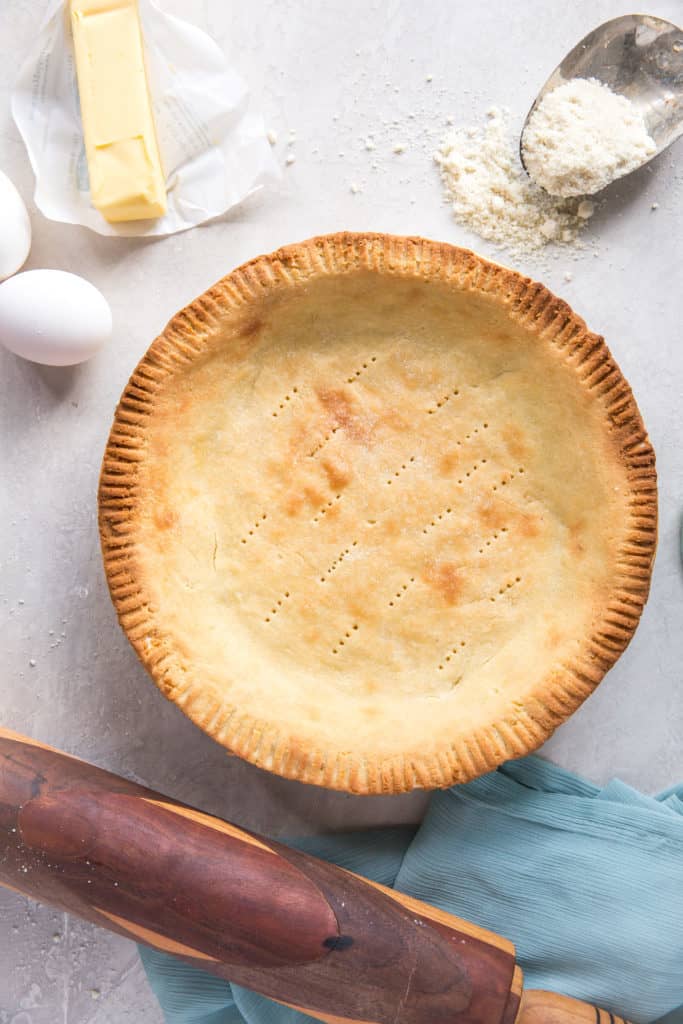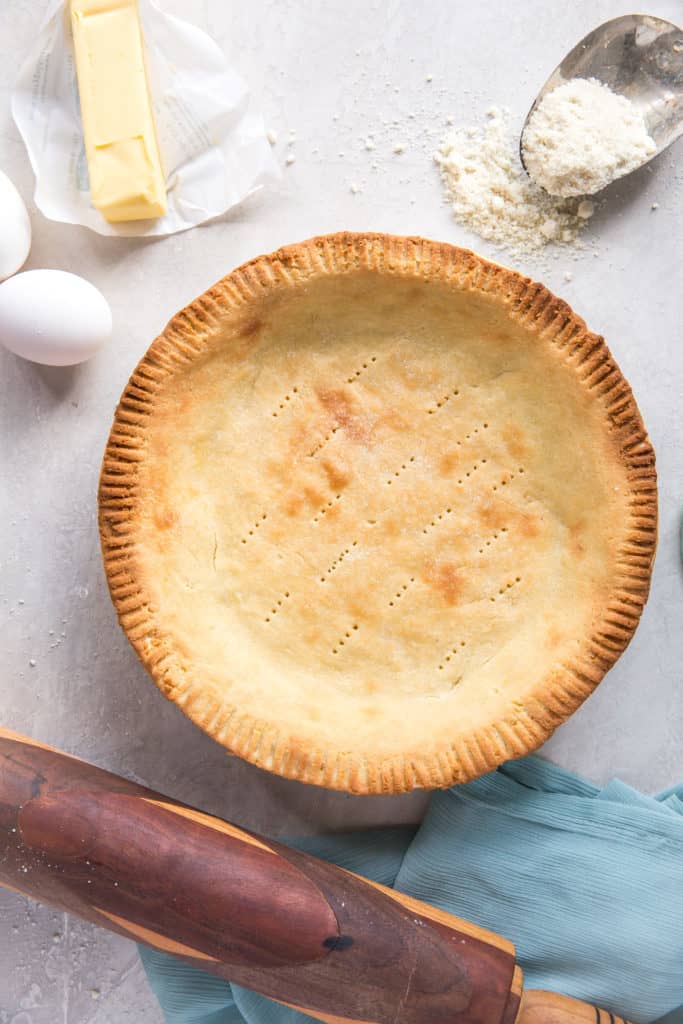 This is an almond flour and coconut flour pie crust recipe. This is the secret to getting the crust the desired crispiness. Almond flour pie crust recipes are good, but they result in a very crispy crust, which is that what you want in a holiday pie recipe.
This easy to make keto low carb pie crust can be made ahead of time. Just pop it in the freezer and it will be good to go as soon as you need it. We make a big batch of these every November in preparation for the holidays.
There is nothing like an easy to make keto pecan pie recipe when you already have the crust made ahead of time!
Form it into the pie pan after it's been chilled in the fridge for at least 30 minutes. This will ensure that it doesn't get too soft and sticky from the heat of your hands.
Poke holes in the crust with a fork prior to baking. This will prevent a bubble from forming under the crust and popping or cracking.
Bake and cool crust before adding the filling. You don't want an uncooked pie crust when you serve it to your friends and family!
When baking for the second time with the filling cover the edges with tin foil or a pie shield to make sure the edges don't burn!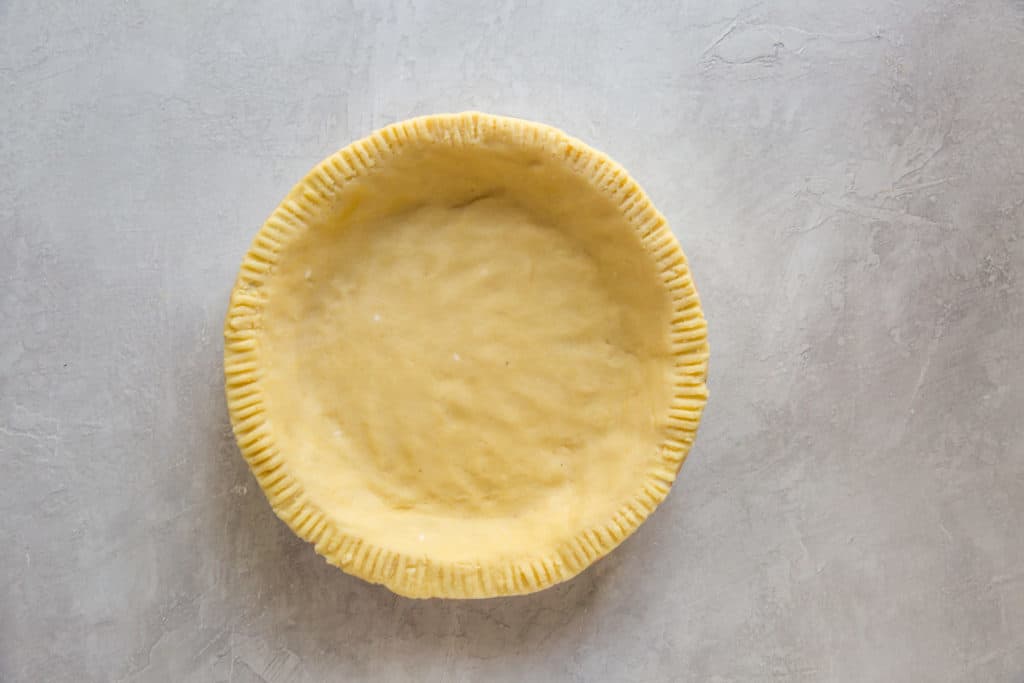 Is this Pecan Pie Sugar Free?
Of course! All of our recipes are made with no added sugar. While there will be a few grams of sugar per slice due to the naturally ocurring sugars in nuts, there is absolutely no added sugar in this sugar free pecan pie.
Is this a Gluten Free Pecan Pie?
Yep! We never use any gluten containing ingredients in our recipes. This keto pecan pie uses an almond flour and coconut flour crust which means there is no gluten in sight! A ketogenic diet is almost always gluten free, so there shouldn't be much concern when choosing any of the recipes on our site.
Best Way to Make Pecan Pie Ahead of Time
Pecan pie is a good candidate for making in advance, so you have more time to prepare the rest of your holiday recipes. The best way to go about this is to just make the recipe exactly as described and store it in the refrigerator. Pecan pie is one of those recipes, whether it's keto or traditional, that actually tastes better a day or two later. You can warm the keto pecan pie in the oven for a few minutes before serving, or you can let it rise to room temperature for 3-4 hours before the party.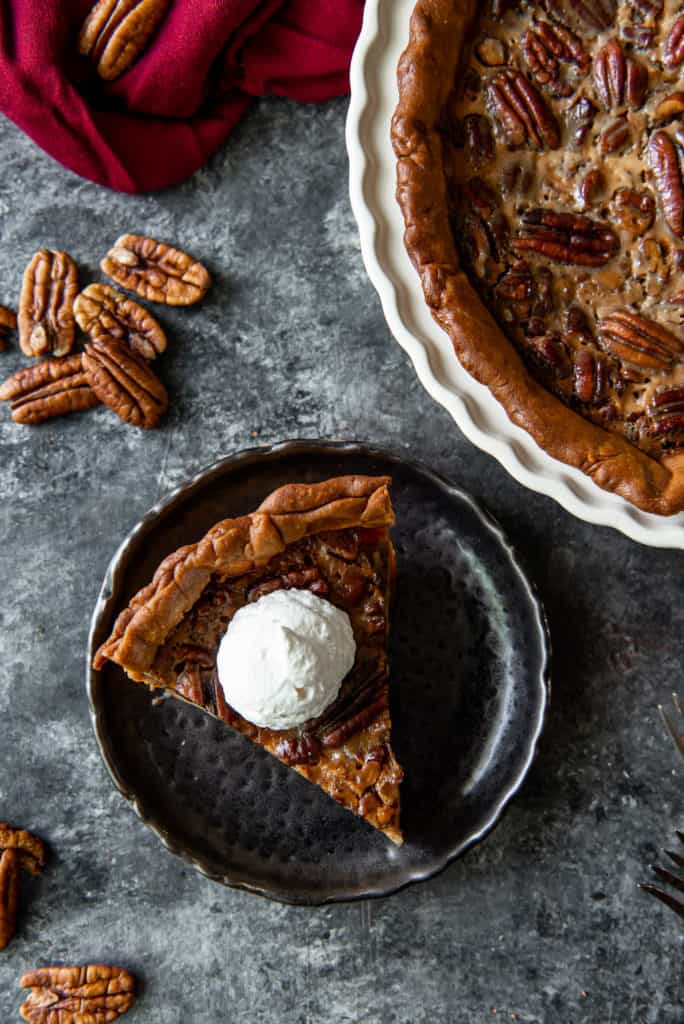 Can You Freeze Keto Pecan Pie
Yep! While it wouldn't be my recommendation, pecan pie is definitely one of those desserts you can freeze for a month or two. Just make sure you eat it all before New Years, or you won't be sticking to your resolution this year.
More Keto Pie Recipes
When it's time to hit up the dessert table we are forced to sit on the side lines and watch, and honestly, I'm tired of not being able to have my pie and eat it too! So, make a variety of low carb desserts that you and your family can enjoy together. We would recommend our:
Once you've mastered the almond flour pie crust recipe it's only natural to want to make tons more keto pie recipes. Each recipe above promises to be gluten free, sugar free and extra tasty. When November rolls around pecan pie is just the beginning of fun low carb recipes.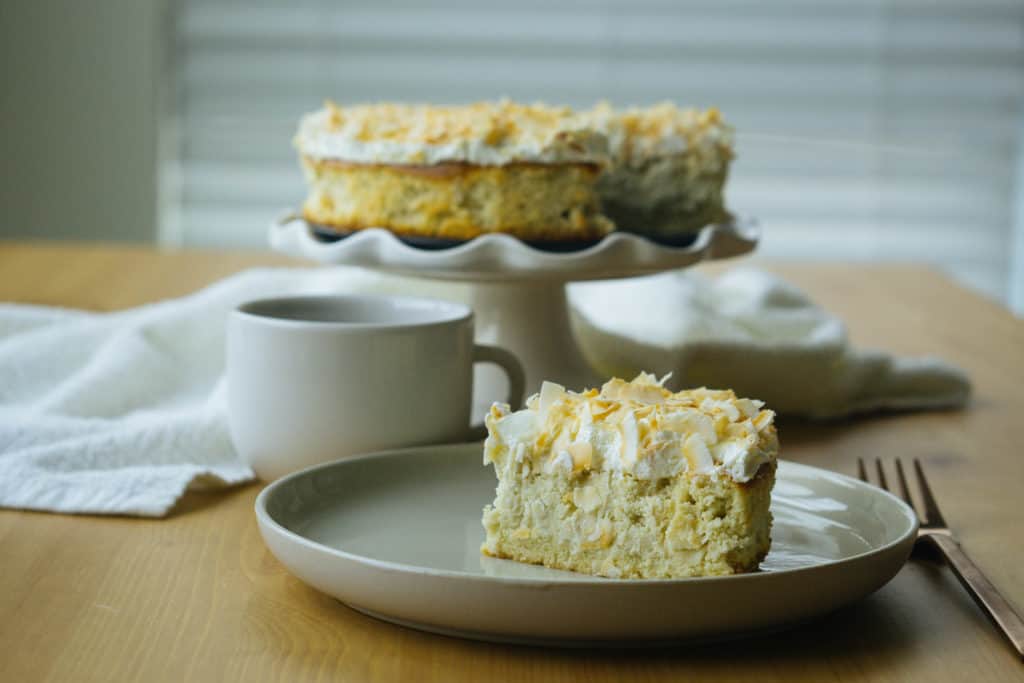 More Thanksgiving Desserts!
Our food blog has all the desserts you could want this holiday season and we've even put together a post with all our holiday recipe favorites! If you want my personal opinion though I would definitely serve the second version of our pecan pie, some pumpkin pie cheesecake bites, chocolate fudge brownies, keto pumpkin bars and keto carrot coffee cake to enjoy with your after dinner decaf!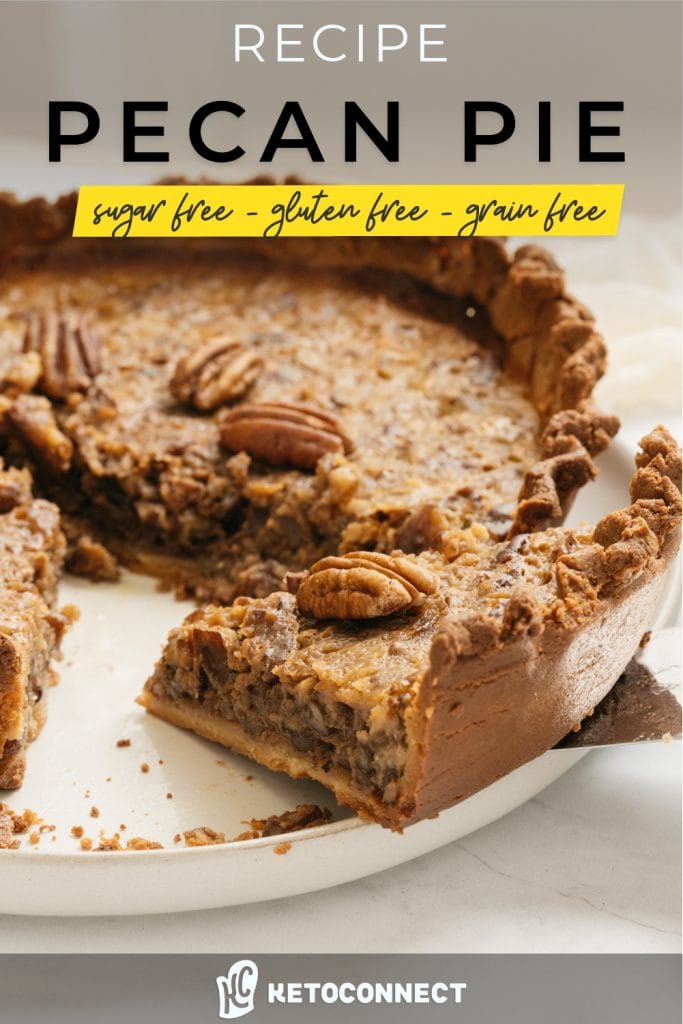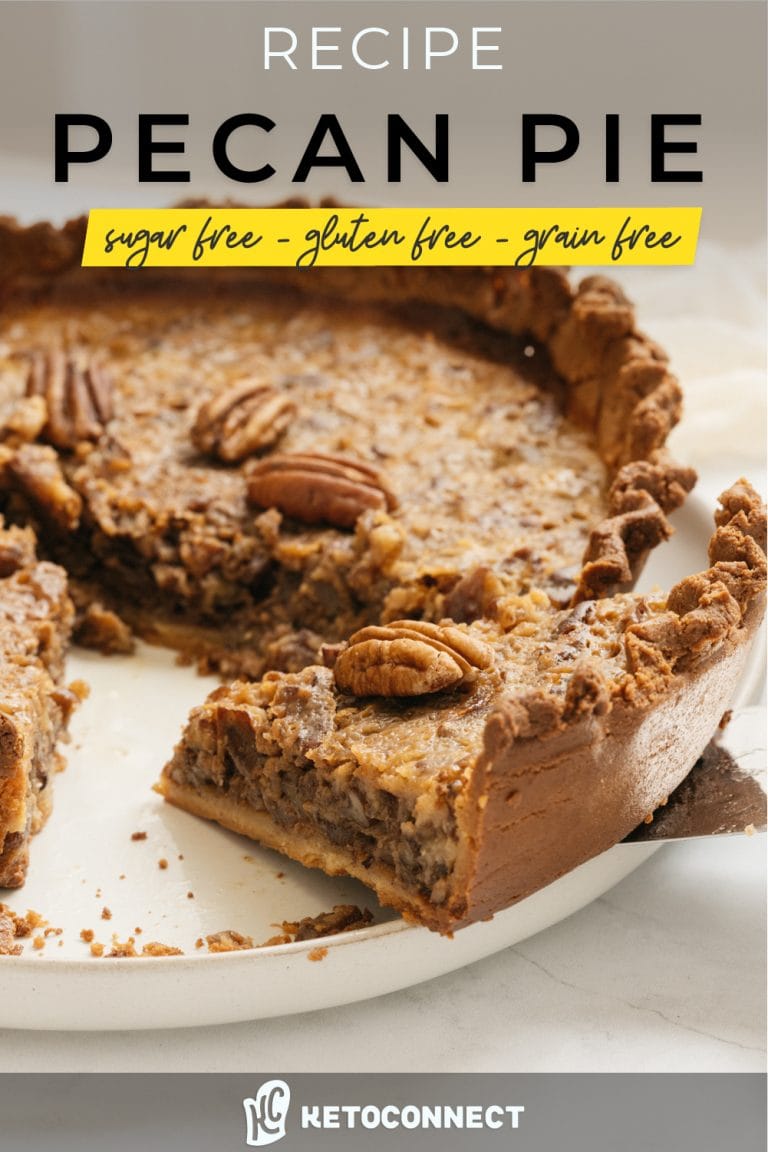 That will give your holiday gathering the most variety to satisfy all your family and friends desires this November!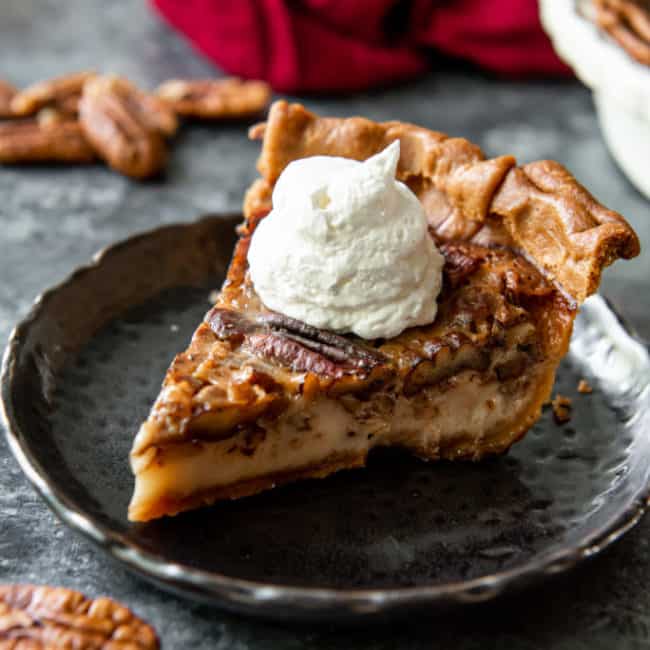 Low Carb Pecan Pie (Using Gelatin)
Traditional pecan pie made keto with a coconut flour crust and sweetened with sugar-free maple syrup.
Servings 10 slices
Calories per serving 505kcal
Prep Time: 1 hour
Cook Time: 1 hour
Instructions:
Preheat the oven to 350 degrees F. Bake pie crust for 8-10 minutes and allow to cool.

Melt butter and erythritol in a large saucepan over medium-low heat. Cook 6-8 minutes, stirring frequently, until golden brown.

Slowly add 1 ½ cups cream and bring to a simmer for 15-20 minutes, until thickened and the color of caramel.

Remove pan from heat and stir in vanilla extract and stevia. Set aside to cool. Meanwhile, bloom gelatin in remaining cold cream for 5 minutes.


Gently whisk egg in a clean bowl. Drizzle ¼ cup of caramel sauce in slowly, constantly whisking to temper the egg. Gradually whisk in remaining caramel sauce, then bloomed gelatin.

Layer the bottom of the cooled crust with chopped pecans. Pour the wet ingredients mixture over top of the pecans and crust covering all the pecans.

Cover the crust edges with foil or a pie guard so it doesn't burn. Bake for 45-55 minutes until filling is set.

Allow to cool for 20 minutes prior to serving. Best stored on the counter up to three days or in the fridge up to ten.
Nutrition Facts
Low Carb Pecan Pie (Using Gelatin)
Amount Per Serving
Calories 505 Calories from Fat 459
% Daily Value*
Fat 51g78%
Carbohydrates 7g2%
Fiber 3g12%
Protein 7g14%
* Percent Daily Values are based on a 2000 calorie diet.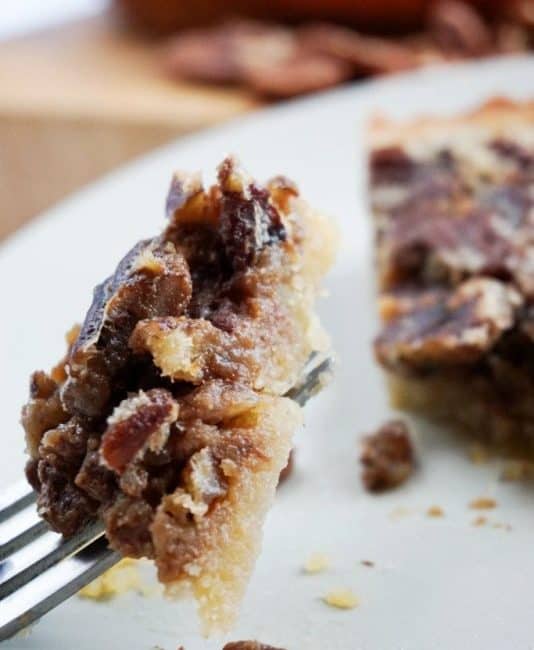 Low Carb Pecan Pie (Using Sugar Free Maple Syrup)
Keep this low carb pecan pie recipe on hand for your next holiday meal!
Total Time 3 hours 30 minutes
Servings 10 slices
Calories per serving 259.2kcal
Prep Time: 25 minutes
Cook Time: 1 hour 5 minutes
Instructions:
Preheat the oven to 350 degrees F. Bake pie crust for 8-10 minutes and allow to cool.

Add all the ingredients, except the pecans, into a mixing bowl and combine well.

Layer the bottom of the cooled crust with the 1 1/2 cups of roughly chopped pecans.

Pour the wet ingredients mixture over top of the pecans and crust covering all the pecans.

Place pie into a 350 degree oven for 50 minutes.

Once you pull the pie out of the oven let it set for a couple hours before slicing into it!

Serve at room temperature or reheat after it is fully set and enjoy!
Nutrition Facts
Low Carb Pecan Pie (Using Sugar Free Maple Syrup)
Amount Per Serving
Calories 259.2 Calories from Fat 225
% Daily Value*
Fat 25g38%
Carbohydrates 9.3g3%
Fiber 4.9g20%
Protein 4.65g9%
* Percent Daily Values are based on a 2000 calorie diet.
Written By