Most of us, if not all, look forward to Thanksgiving every year. And by thanksgiving I really just mean Low Carb Pecan Pie! Sure, we have a lot to be thankful for, but I think you know that I'm referring specifically to the Thanksgiving feast! Being Keto on Thanksgiving isn't that bad for the most part – you can indulge in multiple servings of turkey and take some extra skin! You can even pile on veggies, such as green beans and creamed spinach. But, what about dessert?!
Keto Desserts!
When it's time to hit up the dessert table we are forced to sit on the side lines and watch, and honestly, I'm tired of not being able to have my pie and eat it too! So, after a couple test runs and a lot of eaten pie I created the perfect Low Carb Pecan Pie, and it tastes like the real deal!
Low Carb Pecan Pie Recipe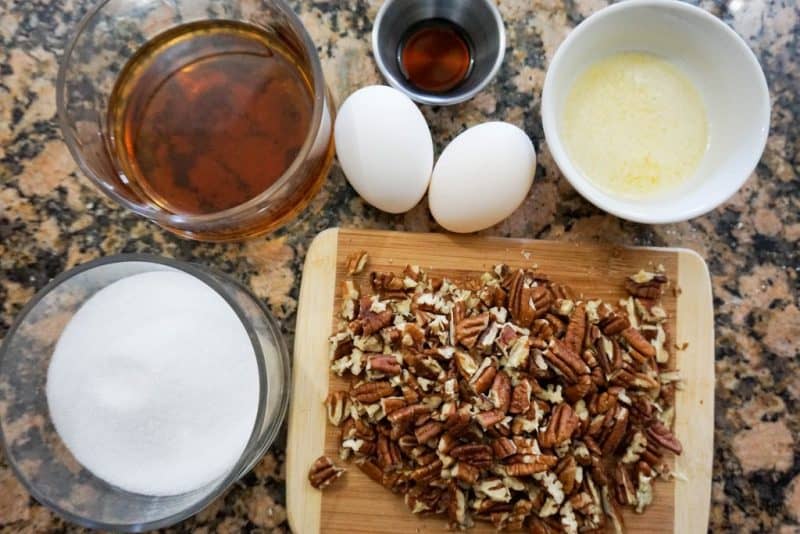 The best part about this pie is that it's good enough for non-ketoers, so if you're on the keto diet this year and also the one cooking the Thanksgiving meal or bringing a dessert you can bring this pie and no one will know any different! You'll actually be doing them a favor and saving them some carbs they can put towards bread rolls and sweet potatoes (but sadly you can't).
Pies, Pies, Pies
Although I've given you the only recipe you need to know to make the perfect Low Carb Pecan Pie I think it's important you understand my process and pain, pie by pie. The pain being from all the pie Matthew and I had to eat because I didn't want to waste any food!
Pie One:
Pie one's crust was far from stable, and I opted to go with almond flour which was a mistake. It was flaky and crumbly so when I tried to pull out a piece half of the crust was left in the pan and the other half fell off the bottom of the pie onto the counter. Now, you must know that my FAVORITE part of any pie is the crust so I wasn't having any of this! I had to perfect my low carb pie crust recipe!
Pie Two:
Pie two had a great crust! It was made the same exact way as the first except I used coconut flour instead of almond. It stayed attached to the bottom of the pie and was light in texture and sweet in taste! But, my pie low carb pecan pie filling ratio was off. The filling had an eggy consistency and wasn't sweet enough. Sounds worse than it tasted, but I definitely don't want to serve eggy pecan pie on Thanksgiving.
Pie Three:
Pie three was a winner. I had my low carb pecan pie crust down so the filling was my only worry. I changed up the ratios – less egg, more syrup, more erythritol. The thing about pies is that you never know if you have a winner until its out of the oven and sets. Matt pulled the pie out for me and immediately stated "too much butter" and I exclaimed "I can't eat another pie!" Luckily, before starting on a fourth we let it cool and boy, was he wrong! The pie was gorgeous from the crust to the filing, to the overall texture and consistency!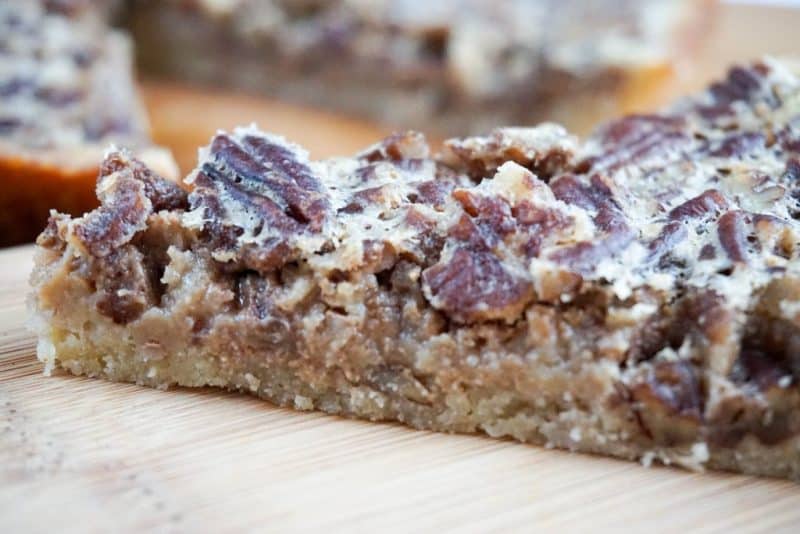 Although we still had to eat this keto pecan pie and my pants were on the verge of bursting I was more than happy to eat it. We had just made a Low Carb Pecan Pie which meant I was going to be at the dessert table this year! That's a huge win in my books and a couple extra pounds on the scale ? We've got more keto dessert options to steal the show during the holidays. Try our pumpkin pie cheesecake! Or if you're not a whole cheesecake type of person, try them in cupcake form.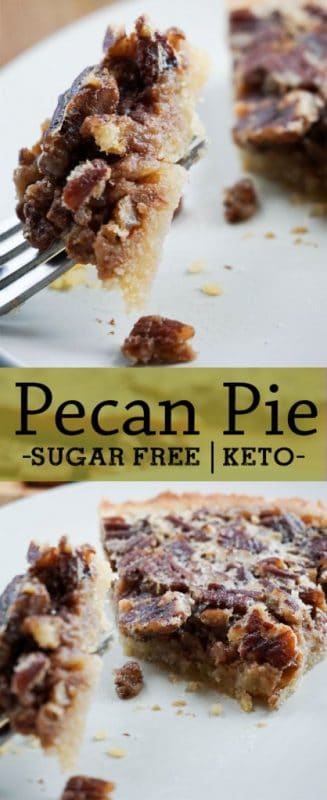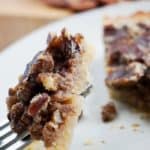 Low Carb Pecan Pie
Cook Time:
1
hour
5
minutes
Total Time:
3
hours
30
minutes
Print Recipe
Instructions
Crust
Combine dry ingredients in a bowl and set aside.

Combine wet ingredients in a bowl, combine well and slowly start to add the dry ingredients until fully combined.

All the ingredients should form a soft dough.

Grease your pie pan and using your hands press the dough into the bottom and up the sides of the pan.

After bottom and sides are covered bake in a 350 degree over for 12 minutes. Keep an eye on it to make sure the edges don't burn!

Pull out of the oven and let cool fully (you can also let in cool over night in the fridge!)
Filling
Add all the ingredients, except the pecans, into a mixing bowl and combine well.

Layer the bottom of the cooled crust with the 1 1/2 cups of roughly chopped pecans.

Pour the wet ingredients mixture over top of the pecans and crust covering all the pecans.

Place pie into a 350 degree oven for 50 minutes.

Once you pull the pie out of the oven let it set for a couple hours before slicing into it!

Serve room temperature or reheat after it is fully set and enjoy!
Nutrition
Calories:
259.2
kcal
|
Carbohydrates:
9.3
g
|
Protein:
4.65
g
|
Fat:
25
g
|
Fiber:
4.9
g