Most, if not all of us, look forward to Thanksgiving every year, and that means feasting is on the menu! Being Keto on Thanksgiving isn't that bad for the most part – you can indulge in multiple servings of turkey and take some extra skin. You can even pile on veggies, such as green beans and creamed spinach. But, what about dessert? Well, we've got the perfect keto pecan pie in two versions for you to give a try this year.
Note: The video below shows the making of version 2!
Keto Desserts
When it's time to hit up the dessert table we are forced to sit on the side lines and watch, and honestly, I'm tired of not being able to have my pie and eat it too! So, make a variety of low carb desserts that you and your family can enjoy together. We would recommend our:
If those don't cut it, check out our desserts section on our food blog for more!
Making The Crust
If you didn't know already, we have the perfect keto pie crusts that you can find on our food blog. One for savory pies and one for sweet! There are a couple key steps to making the perfect crust.
Form it into the pie pan after it's been chilled in the fridge for at least 30 minutes. This will ensure that it doesn't get too soft and sticky from the heat of your hands.
Poke holes in the crust with a fork prior to baking. This will prevent a bubble from forming under the crust and popping or cracking.
Bake and cool crust before adding the filling. You don't want an uncooked pie crust when you serve it to your friends and family!
When baking for the second time with the filling cover the edges with tin foil or a pie shield to make sure the edges don't burn!
You're on your way to the perfect pie this holiday season.
Pie One
We celebrated our very first keto thanksgiving in 2016, which is when pie one was created. We weren't as experienced in the kitchen or with ingredients so used sugar free maple syrup for the base of this filling. Of course, it comes out delicious and will be a hit with your non keto friends and family this year, but we've come a long way in three years.
Although widely available and technically a keto product some of the ingredients used to make it are unsavory. Most use ingredients such as, sorbitol, acesulfame potassium and sucralose to sweeten it. Those are artificial sweeteners we like to personally stay away from because, although they are zero calorie, it isn't really known how harmless they are on your metabolism.
Pie Two
For pie two we opted to stay away from any sugar free syrup, which made this low carb pecan pie a bit of a challenge. We needed to figure out how to create a thick delicious filling without using a syrup. The secret ingredient pie number two turned out to be gelatin, and blooming is key. When you bloom gelatin is ensures that any mixture it is added to it disperses entirely as opposed to clumping up. We've made mistake a couple times ourselves. Don't skip out on the blooming! I'll show you exactly how to do it below.
Blooming
For a quick picture and step by step guide to blooming you can check out this article. However, you can also follow my simple steps below!
Add the gelatin powder to water.
Set it aside to "bloom" for 3-5 minutes. You will notice it has thickened and changed consistency (as shown in the video above).
Dissolve the powder by microwaving for 7-10 seconds. It will become translucent and return to liquid form.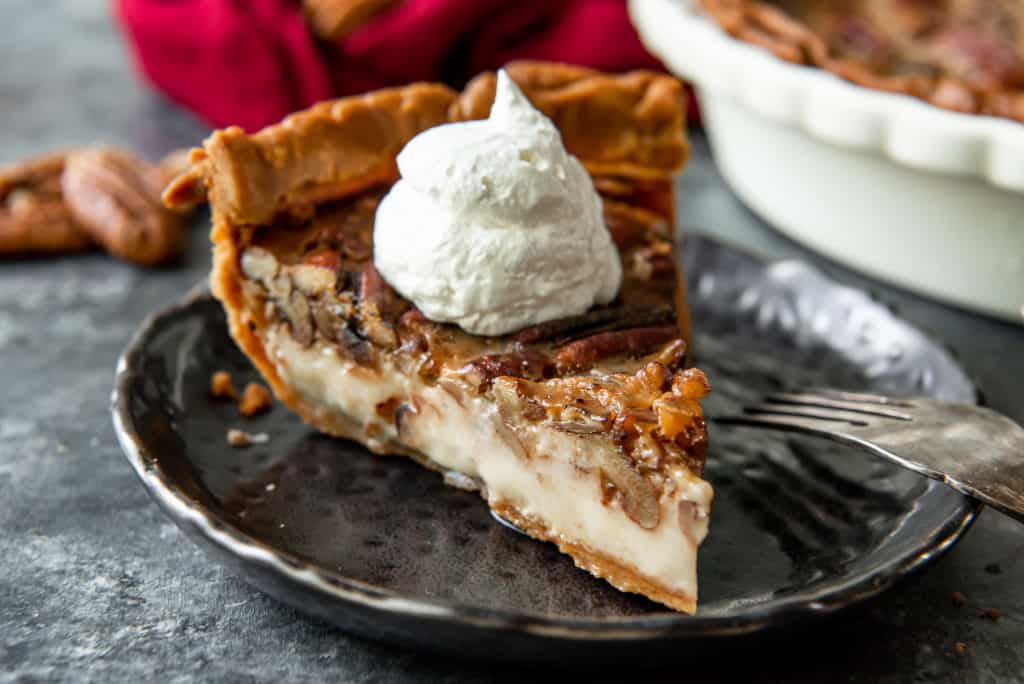 More Thanksgiving Desserts!
Our food blog has all the desserts you could want this holiday season and we've even put together a post with all our holiday recipe favorites! If you want my personal opinion though I would definitely serve the second version of our pecan pie, some pumpkin pie cheesecake bites, chocolate fudge brownies, walnut spiced cookies and keto carrot coffee cake to enjoy with your after dinner decaf!
That will give your holiday gathering the most variety to satisfy all your family and friends desires this holiday season!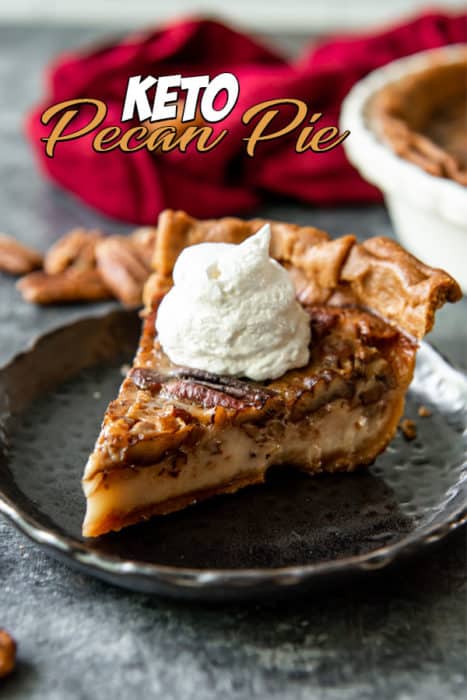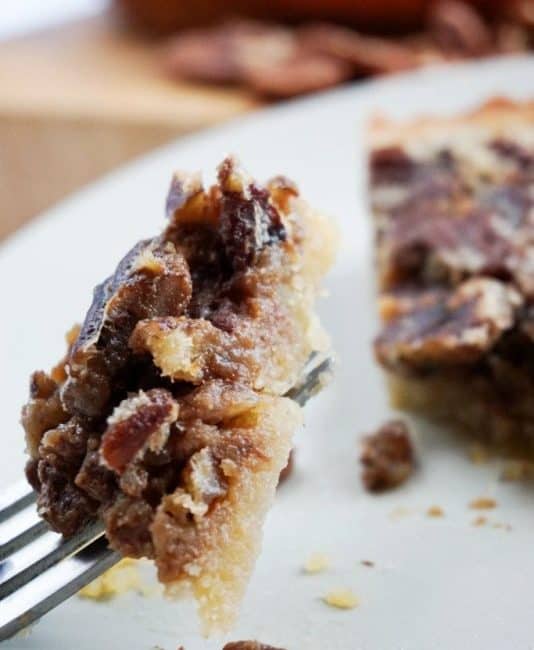 Low Carb Pecan Pie (version 1)
Total Time 3 hours 30 minutes
Servings 10 slices
Calories per serving 259.2kcal
Prep: 25 minutes
Cook: 1 hour 5 minutes
Instructions:
Crust
Combine dry ingredients in a bowl and set aside.

Combine wet ingredients in a bowl, combine well and slowly start to add the dry ingredients until fully combined.

All the ingredients should form a soft dough.

Grease your pie pan and using your hands press the dough into the bottom and up the sides of the pan.

After bottom and sides are covered bake in a 350 degree over for 12 minutes. Keep an eye on it to make sure the edges don't burn!

Pull out of the oven and let cool fully (you can also let in cool over night in the fridge!)
Filling
Add all the ingredients, except the pecans, into a mixing bowl and combine well.

Layer the bottom of the cooled crust with the 1 1/2 cups of roughly chopped pecans.

Pour the wet ingredients mixture over top of the pecans and crust covering all the pecans.

Place pie into a 350 degree oven for 50 minutes.

Once you pull the pie out of the oven let it set for a couple hours before slicing into it!

Serve room temperature or reheat after it is fully set and enjoy!
Nutrition Facts
Low Carb Pecan Pie (version 1)
Amount Per Serving
Calories 259.2 Calories from Fat 225
% Daily Value*
Fat 25g38%
Carbohydrates 9.3g3%
Fiber 4.9g20%
Protein 4.65g9%
* Percent Daily Values are based on a 2000 calorie diet.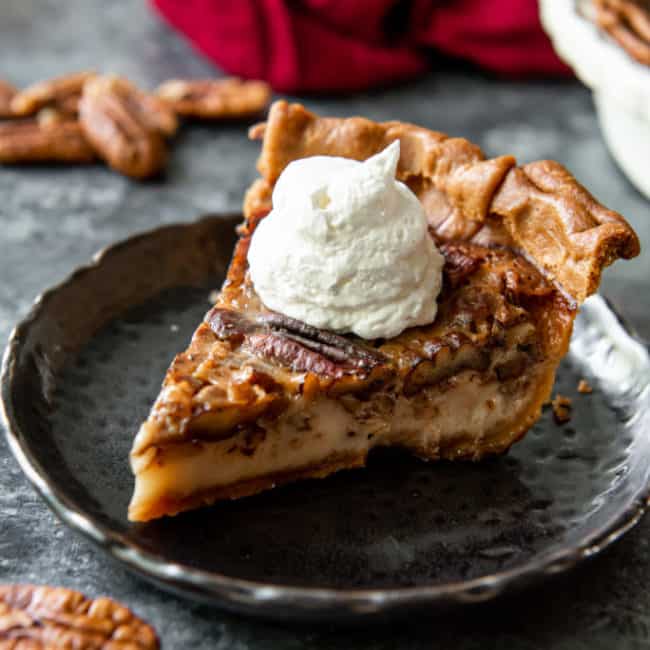 Low Carb Pecan Pie (version 2)
Traditional pecan pie made keto with a coconut flour crust and sweetened with sugar-free maple syrup.
Servings 10 slices
Calories per serving 505kcal
Prep: 1 hour
Cook: 1 hour
Instructions:
Preheat the oven to 350 degrees F. Bake pie crust for 8-10 minutes and allow to cool.

Melt butter and erythritol in a large saucepan over medium-low heat. Cook 6-8 minutes, stirring frequently, until golden brown.

Slowly add 1 ½ cups cream and bring to a simmer for 15-20 minutes, until thickened and the color of caramel.

Remove pan from heat and stir in vanilla extract and stevia. Set aside to cool. Meanwhile, bloom gelatin in remaining cold cream for 5 minutes.


Gently whisk egg in a clean bowl. Drizzle ¼ cup of caramel sauce in slowly, constantly whisking to temper the egg. Gradually whisk in remaining caramel sauce, then bloomed gelatin.

Layer the bottom of the cooled crust with chopped pecans. Pour the wet ingredients mixture over top of the pecans and crust covering all the pecans.

Cover the crust edges with foil or a pie guard so it doesn't burn. Bake for 45-55 minutes until filling is set.

Allow to cool for 20 minutes prior to serving. Best stored on the counter up to three days or in the fridge up to ten.
Nutrition Facts
Low Carb Pecan Pie (version 2)
Amount Per Serving
Calories 505 Calories from Fat 459
% Daily Value*
Fat 51g78%
Carbohydrates 7g2%
Fiber 3g12%
Protein 7g14%
* Percent Daily Values are based on a 2000 calorie diet.