If you're on the hunt for the perfect no bake keto cheesecake recipe then you've come to the right place. This recipe is as simple as mixing and chilling. Follow these steps and watch out recipe video below and there will be no way mess up this straightforward keto no bake cheesecake recipe: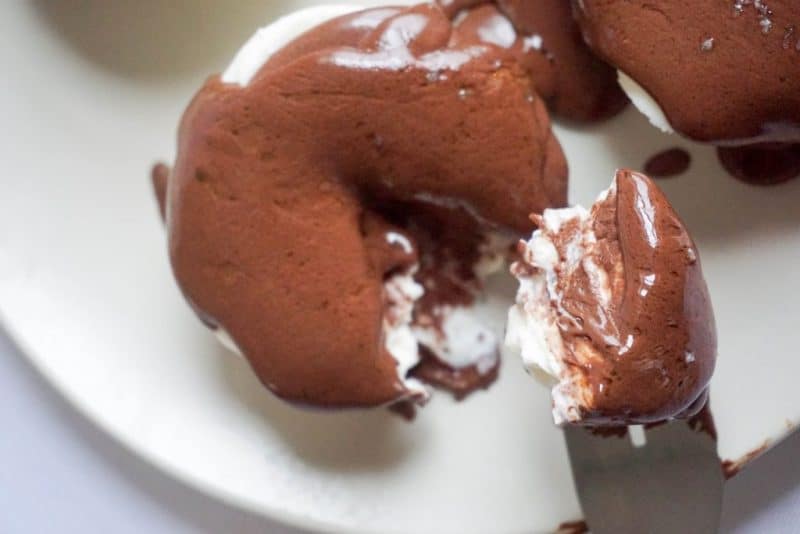 How To Make No Bake Keto Cheesecake
For this recipe we are not going crust-less, although we have two other recipes that use the same filling recipe with different types of crusts. Give those recipes a try if you want a chocolate crust or a cashew crust for your no bake cheesecakes.
Use Powdered Sweetener
With no bake keto recipes it is important to use powdered erythritol or your low carb sweetener of choice, otherwise the dessert will come out with a gritty texture. If you don't have a powdered sweetener at home then simply use a coffee grinder to powder the granular sweetener. If you are looking for a substitute for eryhtritol then check out our low carb sweetener conversion chart for ideas.
FREE PRINTABLE: Keto Food List
Join 150,000 others to get a FREE keto food list and new recipes every week!
Silicone Molds Prevent Sticking
It is awfully hard to remove these keto cheesecakes from a standard metal muffin mold. You're better off using a silicone muffin mold, or even just using some cupcake liners for easy removal. If you plan on making more keto desserts in the future then it's worth it to invest in a set of silicone cookware because keto desserts are notoriously sticky and crumbly.
Use Sour Cream for Authentic Cheesecake Flavor
We've tried this recipe with and without sour cream and there is no comparison. Sour cream adds that tangy flavor that all good cheesecakes have. Even if you're not a fan of sour cream on its own, it's must-have for this low carb cheesecake.
Have Ingredients at Room Temperature
The best way to get a nice homogeneous mixture is to ensure all the ingredients are at room temperature. If one ingredient is straight out of the fridge while the rest are warm you're going to be left with a clumpy cheesecake… and no one likes clumpy cheesecake.
Store in the Fridge
Storing these in the fridge makes for the perfect after dinner keto snack. These no bake keto cheesecakes are dense and filling, which leaves you completely satisfied after you're done with them.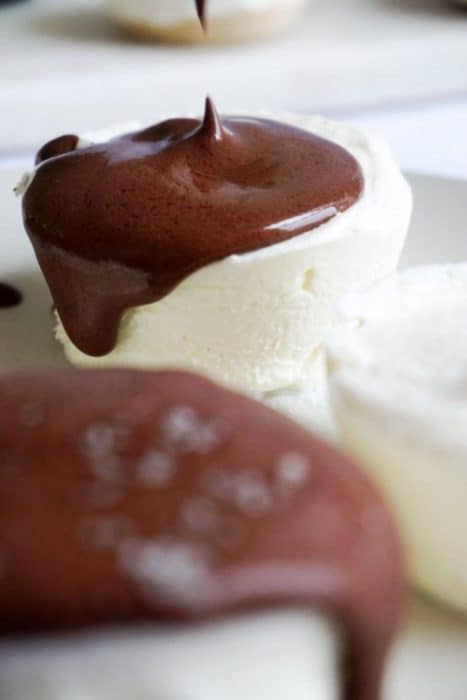 More No Bake Keto Recipes
The best part about no bake recipes is the fact that you don't have to bake them. You can basically start eating immediately. Heck, we wouldn't blame you if you started eating before you finished the recipe. If you are looking for more keto friendly no bake recipes then try these Keto No Bake Cookies or our world famous Keto Cookie Dough Fat Bombs! We're always looking for new ideas so leave us a comment below if you have suggestions for new recipes we can create.


Recipe can be quickly added to MyFitnessPal – Search "KetoConnect – Easy No Bake Cheesecake"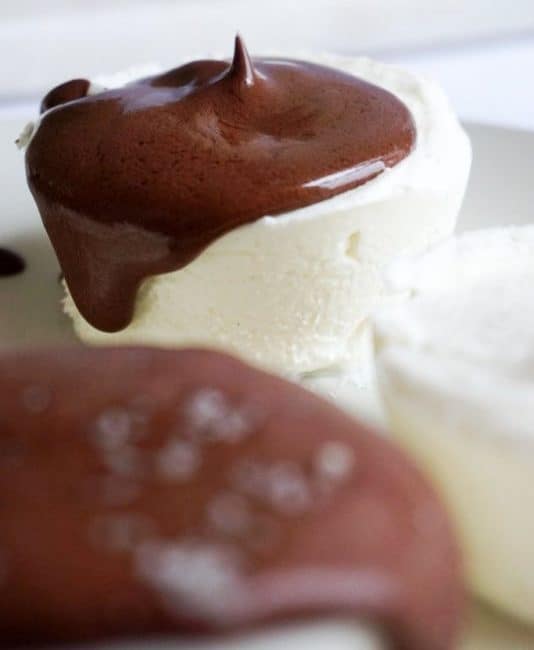 Easy No Bake Cheesecake
Easy no bake keto cheesecakes that you can make in minutes and store in the fridge to have all week!
Total Time 2 hours
Servings 4 cheescakes
Calories per serving 323.75kcal
Prep Time: 15 minutes
Cooling Time: 1 hour 45 minutes
Cook Time: 0 minutes
Instructions:
Filling
Using a hand mixer cream together cream cheese, sour cream, heavy whipping cream and erythritol.

Dollop filling into cupcake molds/tin and place in the fridge for 2-3 hours or freezer for 1-2 hours.
Ganache
Add heavy cream to bakers chocolate and melt together in the microwave. Gently mix until the chocolate is completely melted (this may take 1-2 minutes)

Add splash of water and mix until you get a thick liquid consistency.

Pour over top frozen cheesecakes and enjoy!
Nutrition Facts
Easy No Bake Cheesecake
Amount Per Serving
Calories 323.75 Calories from Fat 261
% Daily Value*
Fat 29g45%
Carbohydrates 5.25g2%
Fiber 3g12%
Protein 4.25g9%
* Percent Daily Values are based on a 2000 calorie diet.