If you love anything chocolate and easy to make you are going to love this super easy keto chocolate mug cake recipe! You can whip it up in under 2 minutes any night of the week and without even touching the oven. This is perfect especially for the summer time when using the oven makes your house hotter. Why crank the AC and spend extra money baking something when you can make this keto chocolate mug cake!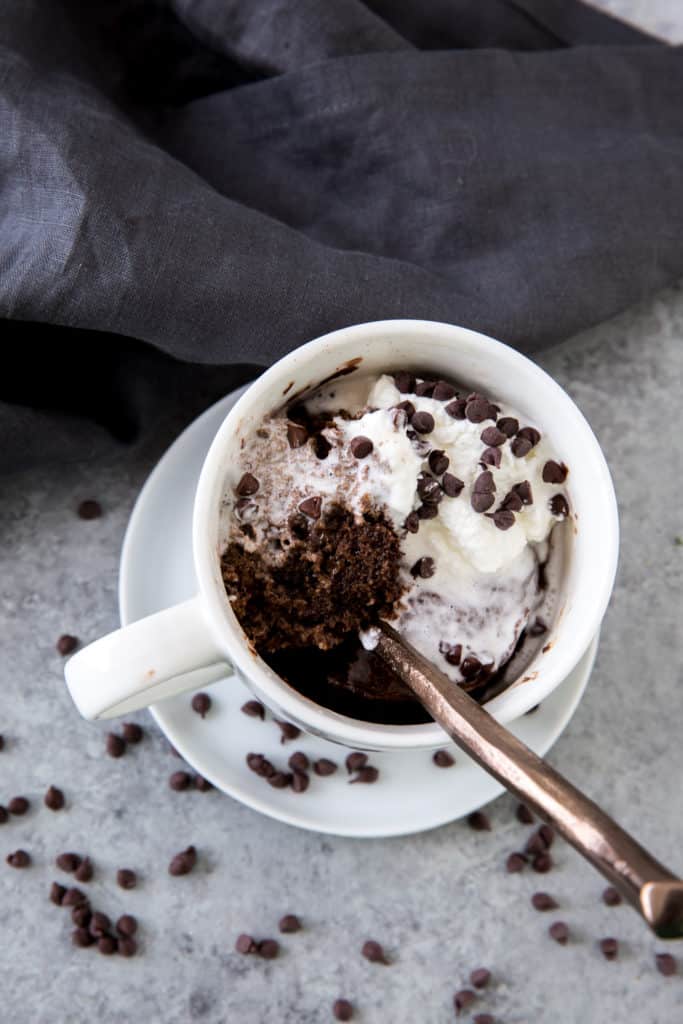 Need More Mug Cakes In Your Life?
You could go as far to say that mug cakes are our specialty, and we make them almost every night. They take no time at all and you can adjust the macros and flavors to fit your needs! Some great ones to try out and experiment with are:
Melt And Whisk
The perfect first step always requires you melt your fat source, such as butter, in the bottom of your mug. Once it's fully melted tilt the mug in a full circle so that the butter coats the sides about 1/2 inch up the mug. This helps prevent any stick-age so you when you flip it out onto a plate it's all intact!
Whisking may seem like the easy part, but often it's the one that leaves you with a dry mug cake. We always use a fork because whipping out the whisk would mean more dirty dishes, and no one wants that.
Using your fork whisk as vigorously as possible without shattering the mug until you are left with no clumps and all the powder has been mixed in (check the bottom – there is always some hiding!). And, that's it. Now, you just heat and eat. Yummmmm!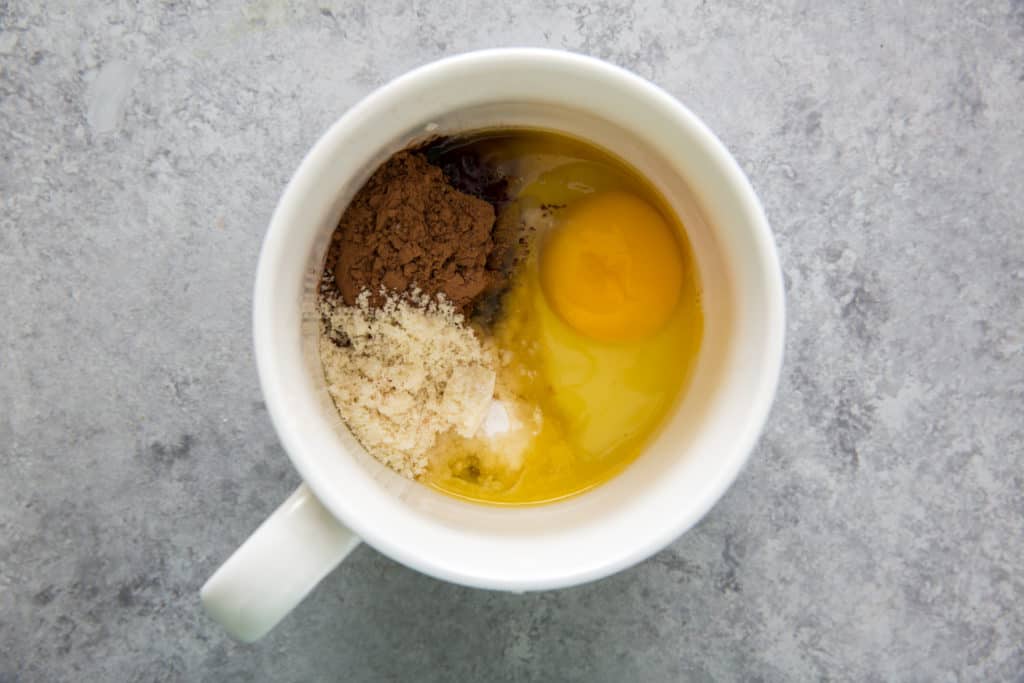 Don't Over Cook!
I've made this mistake time and time again. Watching your mug cake in the microwave is crucial not to overcook it. The more cooked it is the drier it will turn out, and i personally like it slightly under cooked so it has a lava feel to it! I always air on the side of under cooking if possible!
For a mug cake this size 60 seconds is perfect, and 50 seconds is ideal if you want that lava feel I was talking about. If you have a finicky microwave you can just watch the mug cake as it rises and once it's about an inch above the mug you know it's done!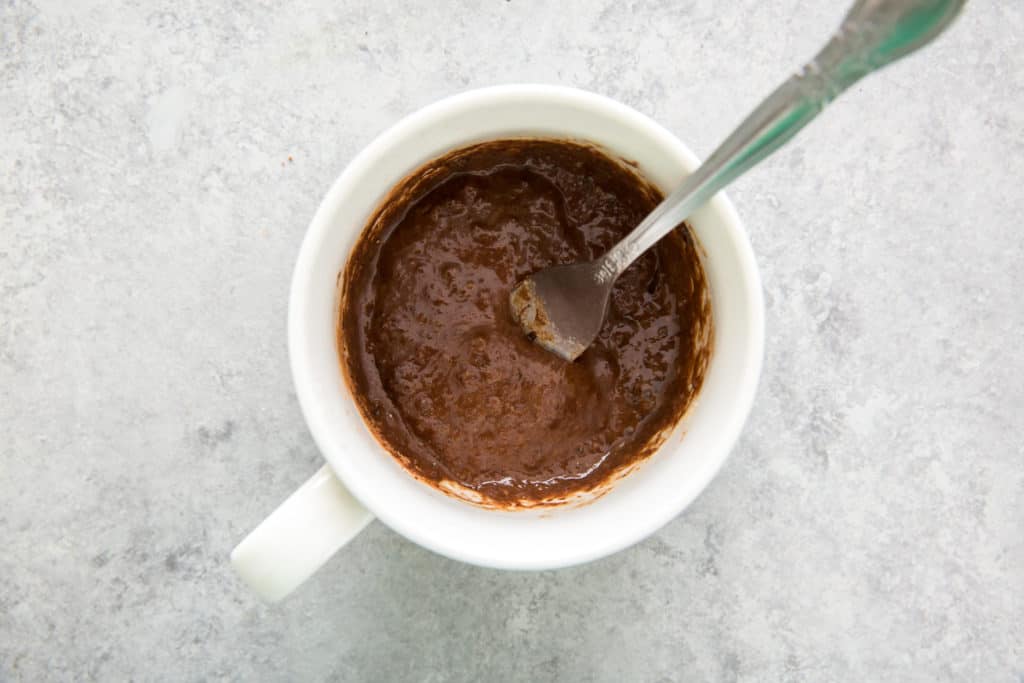 Flip Out And Top
While Matt prefers to just eat his mug cake out of the mug (less dirty dishes), I prefer to flip it out onto a plate and see the beautiful creation I've made. Plus, I can ensure that my toppings cover as much surface area of the cake as possible. Some of my favorite low carb toppings are:
low carb maple syrup (I always have this in my fridge!)
sugar free whip cream and chocolate chips
a drizzle of melted butter and nuts (you can even fold in the nuts!)
Keto Chocolate Mug Cake
I'll never turn down the offer of a mug cake, and most nights Matt offers me one! Lately, I've been having me make this one because there is something so satisfying and irresistible about dark chocolate for me. It's hits those sweet tooth cravings without making you want more.
I always recommend dark chocolate to hit that sweet spot because something like low carb ice cream, while a great option, makes it hard for me to only eat a scoop at a time. I eat the entire pint or none at all haha! Either way, with this keto chocolate mug cake you can have your cake and eat it too, and while you're at it top it with a scoop of your favorite low carb ice cream!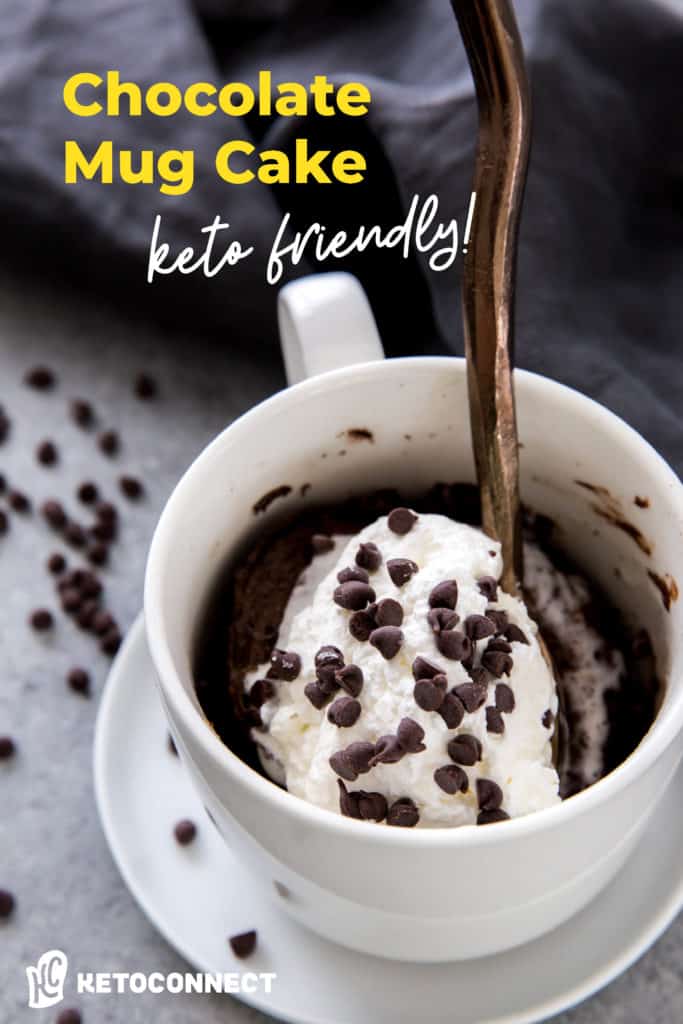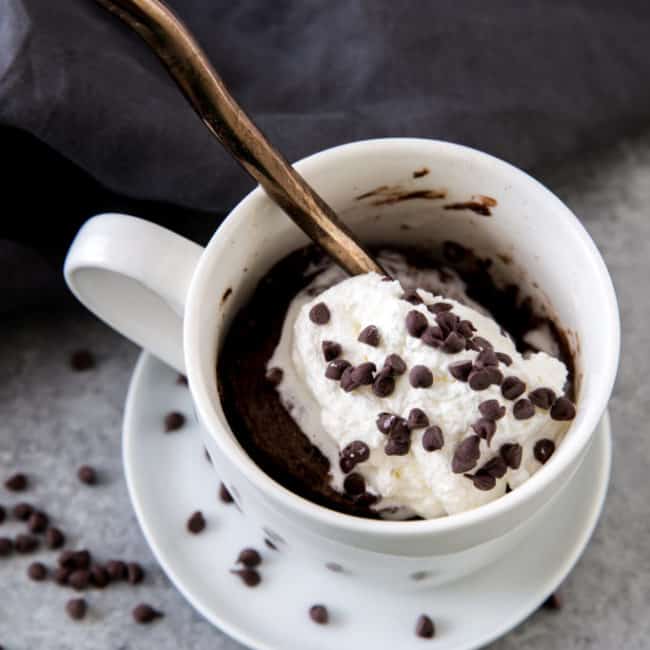 Keto Chocolate Mug Cake
This easy keto chocolate mug cake takes less than two minutes to make and will satisfy your sweet tooth cravings without all the carbs!
Servings 1 Mug Cake
Calories per serving 323kcal
Prep: 1 minute
Cook: 1 minute
Instructions:
Add the butter to a mug and microwave for 20 seconds to melt.

Add remaining ingredients in the mug and mix well using a fork until fully incorporated and there are no clumps.

Microwave on high for 60 seconds.

Optionally, top with whipped cream, powdered erythritol, keto ice cream or my personal favorite, peanut butter! Serve immediately in the mug or flip out onto a plate, and enjoy

Tip: 50 seconds will give you a slight lava center!
Notes
Net Carbs: 5g  Yields: 1 Mug Cake/Serving
Nutrition Facts
Keto Chocolate Mug Cake
Amount Per Serving
Calories 323 Calories from Fat 261
% Daily Value*
Fat 29g45%
Carbohydrates 8g3%
Fiber 3g12%
Protein 11g22%
* Percent Daily Values are based on a 2000 calorie diet.