It always seemed like oatmeal cookies were the last picked, and we don't know why. Maybe it's the stiff oats or those pesky raisins, but either way we know these Keto Oatmeal Cookies are going to be the best version of an oatmeal cookie you'll ever eat! They're grain free, gluten free, AND sugar free oatmeal cookies.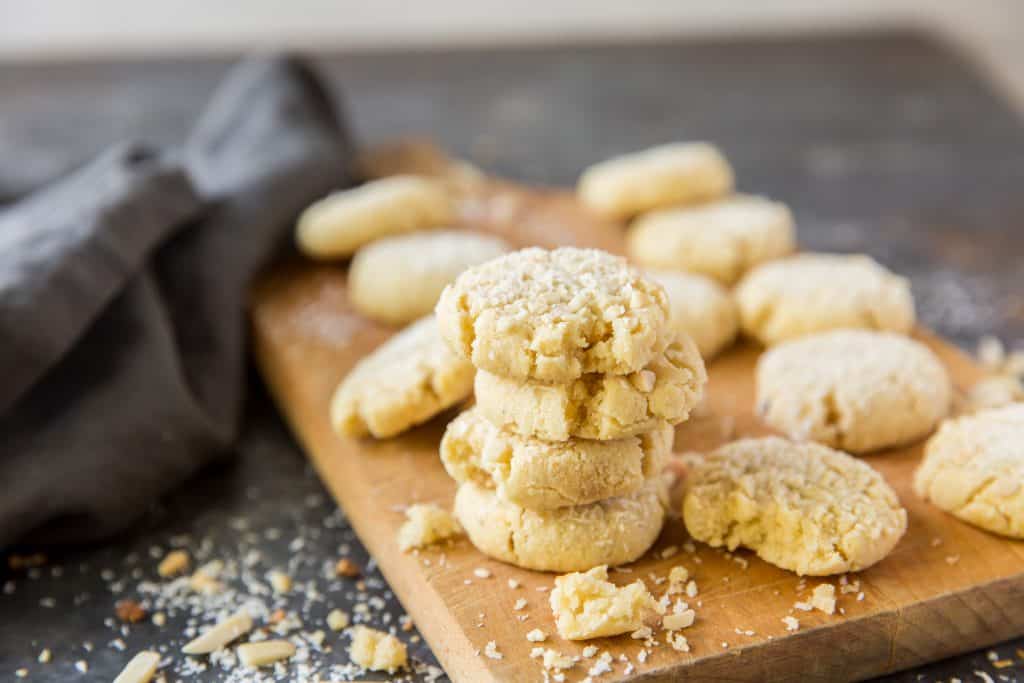 Is Oatmeal Keto?
Unfortunately oatmeal is NOT keto. Most oats are not even gluten free because they are processed in the same facility as wheat, which means bits of flour could end up on them. Per 100 grams of oats there are 389 calories, 66 carbs, 10 grams of fiber (56Net), 6.9 grams of fat, and 16.9 grams of protein. A low carb diet may have up to 60 grams of total carbs, but 56 grams of net carbs in one meal certainly won't fit on a keto diet.
How to Make Keto Oatmeal Cookies Oat-less
These low carb cookies taste like oatmeal cookies you remember growing up. However, in order to make them truly "oat-less" there will need to be a few substitutions. When coming up with these substitutions to make oatmeal cookies low carb, we knew there would be a few things to consider.
The ingredients must be gluten free- Not only is a gluten free diet better for digestion, but it is also better for inflammation and arthritis(1).
It must have that chewy texture that oats bring to an oatmeal raisin cookie.
Finally the cookie needs a bit of crunch to mimic the oats on top that get crispy in traditional oatmeal cookies.
In this recipe we decided to use two main ingredients that contain those essential textures once baked.
Coconut Flakes
Coconut flakes become very chewy when baked, because they absorb some of the liquid. This makes them a great candidate for sugar free oatmeal cookies. They will provide that chewy dense texture inside, without all the carbs.
Per 1 cup of unsweetened coconut it's only: 283 calories, 10 grams of carbs, 7 grams of fiber (3 Net Carbs), 3 grams of Protein, and 27 grams of fat. These sugar free oatmeal cookies will only use 1/2 a cup for the whole recipe.
Sliced Almonds
This keto oatmeal cookies recipe uses both almond flour and slivered/ sliced almonds. Almond flour makes these oatmeal cookies low carb, and slivered almonds provide a slight crunch. This delicate crunch mimics that of toasted oats.
Sliced almonds are important to make sure the crunch is delicate and thin, so it doesn't feel like biting into a whole almond. Both almonds and almond flour are rich in fiber. They have also been shown to have a plethora of extra nutrients such as vitamin E, which can help to prevent heart disease in overweight individuals (2).
These two ingredients are what work together to make the carbs per cookie 4 total, or the net carbs per cookie just 2! With such low carbs, the next time you make these cookies you'll just have to eat two…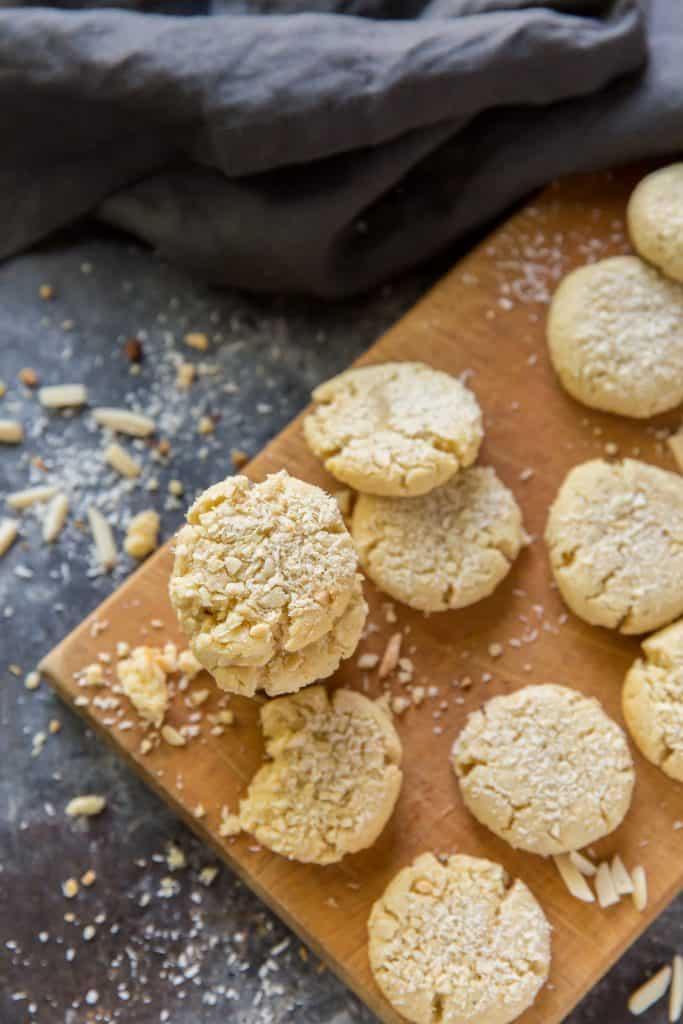 How to Make Oatmeal Cookies Without Sugar
There are a few ways to make oatmeal cookies on a low carb diet that are completely sugar free. The most important thing is that you pick a low carb sweetener. For more information on keto sweeteners check out our blog post all about the Best Sugar Substitutions on Keto.
Picking a Keto Sweetener
There are a few mainstream keto sweeteners that we use in keto cookie recipes.
Depending on the sweetener you use you may need to add a little more or a little less to get the right sweetness ratios. Check out our sweeteners guide to find the perfect ratio for you.
Don't be afraid to add a little extra sweetener too if you find you like a sweeter oatmeal cookie. We enjoy mixing some stevia and some brown sugar substitute in these cookies for a sweet and chewy cookie recipe.
Are Raisins Keto?
Raisins are the dried form of grapes. Grapes are one of the highest sugar fruits and should be avoided on a keto diet for their high carb count. If you love oatmeal raisin cookies you can add a tablespoon that you've chopped up into the batter, but it's so few raisins that the flavor and texture really won't come through.
If you are a raisin fanatic fear not, we have a few more mix-in options that you can try to curb those cravings. We even have one dried fruit option so there is still a chewy fruit texture inside the recipe.
The Best Keto Oatmeal Cookie Mix-ins
Oatmeal raisin cookies are usually popular due to the chewy dried fruit texture and sweetness. However raisins as discussed are not low carb/ keto friendly. If you love an oatmeal cookie with additional mix-ins though, we've got you covered. Some of our favorite add-ins are:
Sugar Free Chocolate Chips– Lily's makes stevia and erythritol sweetened chocolate chips that are both nutritious and delicious. There are many low carb/ keto sugar free chocolate chips on the market now, but Lily's will always be our tried and true favorite.
Sugar Free Dried Cranberries– These are a great low carb replacement for raisins if you love the traditional oatmeal raisin cookie. They are definitely bitter alone, but mixed into these cookies the bitterness is well balanced.
Now you know some additional mix-ins that are low in net carbs and still satisfy that oatmeal raisin cookie flavor. Sugar free oatmeal cookies need sugar free/ low carb ingredients to make the best possible treat.
Coconut Oil vs. Butter
We get asked a lot if butter can be subbed for coconut oil. The answer is yes, coconut oil can be used in place of butter. However coconut oil does have a different flavor profile and may lose some of the authenticity of this recipe. The other thing to note is that coconut oil has a lower melting point so it may make the low carb cookies spread out more. If you use coconut oil make sure to refrigerate the dough ahead of time before baking, that way the coconut oil has more time to set.
If you want a recipe that is dairy free and butter free try our:
Keto No Bake Cookies– This recipe has a nut butter and chocolate base filled to the brim with mix-ins. Simply swap the butter for 1/4 cup of coconut oil and the recipe is 100% dairy free and vegan
Keto Coconut Cake– Again just swap the butter for coconut oil and you have the perfect fluffy keto coconut cake.
Fudgy Keto Brownies– This extra easy brownie recipe is super chocolaty while still being sugar free. Substitute coconut oil for the butter and these brownies can easily be made dairy free. If you're feeling adventurous you can even add a swirl of peanut butter on top for a sweet and salty treat!
Dairy free foodies rejoice! Trust us, there is always the perfect recipe just waiting for you on our blog.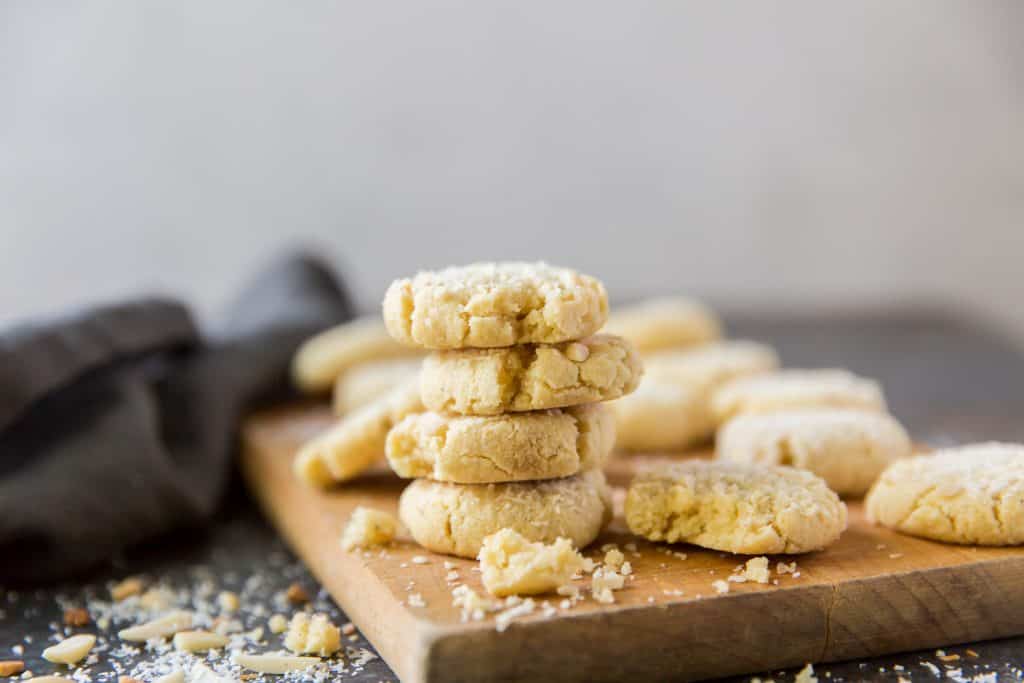 Thick and Chewy Low Carb Oatmeal Cookies
There are two types of oatmeal cookie lovers. Those who like the thick and chewy oatmeal cookies, and those who prefer a thin and crispy oatmeal cookie. This almond flour oatmeal cookie recipe focuses more towards those who like a slightly fluffy and thick cookie. This is because the butter and egg is room temperature so it doesn't spread as much. Plus the coconut flour helps to give our sugar free oatmeal cookies more structure. If you would rather have a thin and crispy cookie, check out the steps below.
Creating a Crispy Cookie
There are a few ways you can alter the recipe to make the cookies thinner and crispier. I wouldn't mess around too much with the ingredients. In this case it is better to mess around with the temperatures of them.
Ingredient Temperature
The first step to creating a thin cookie is having the butter melted rather than room temperature. This means the cookie will spread a bit more because the butter has already passed its melting point. The egg should follow a similar process. Make sure the egg is room temperature and NOT at all cold for more of a cookie spread.
Flatten Your Cookies
We love thick oatmeal cookies, but if you want a thinner cookie you may need to spread the dough a bit before hand.That just means before tossing the cookies into the oven, try pressing down on them a bit with two fingers to help them spread.
The Browner the Better
Browned almond flour cookies mean crispier low carb oatmeal cookies. The longer you leave them in the oven (without burning them of course), the crispier they'll be. Another tip is to turn off the oven with the cookies still inside and the oven door propped open. The hot air will continue to dry out the cookies as they cool.
How to Make Sugar Free Oatmeal Cookies
Perfecting a low carb and gluten free recipe doesn't have to be difficult. A few basic keto ingredients and this cookie recipe is off and running.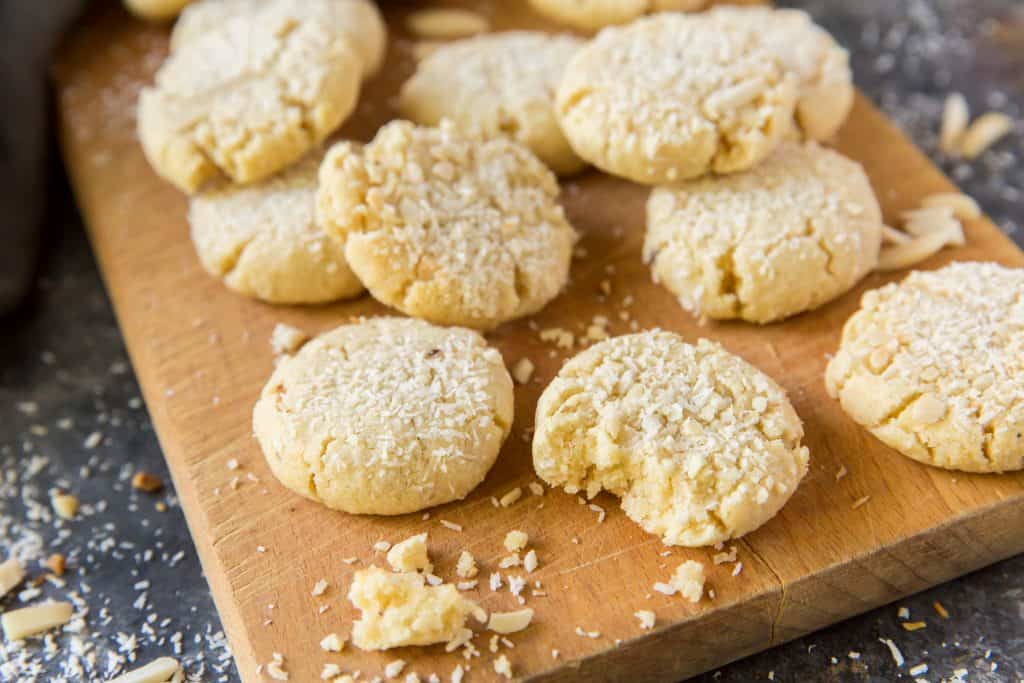 Ingredients
Let's talk ingredients for these low carb oatmeal cookies. We started with a base of almond flour and coconut flour. Coconut flour will bind the recipe which is mainly almonds and almond flour as the bulking agent. We love almond flour baking because we find it makes a nutty cookie recipe that has extra depth in flavor. Finally you'll just need your "oatmeal", aka slivered almonds and shredded coconut. The last dry ingredients you need are: sugar free sweetener, baking powder, and salt.
For the wet ingredients you'll need vanilla extract, liquid stevia, an egg (at room temperature), and butter (at room temperature). Don't skip the vanilla extract in this recipe as it really brings out the flavor in this cookie dough.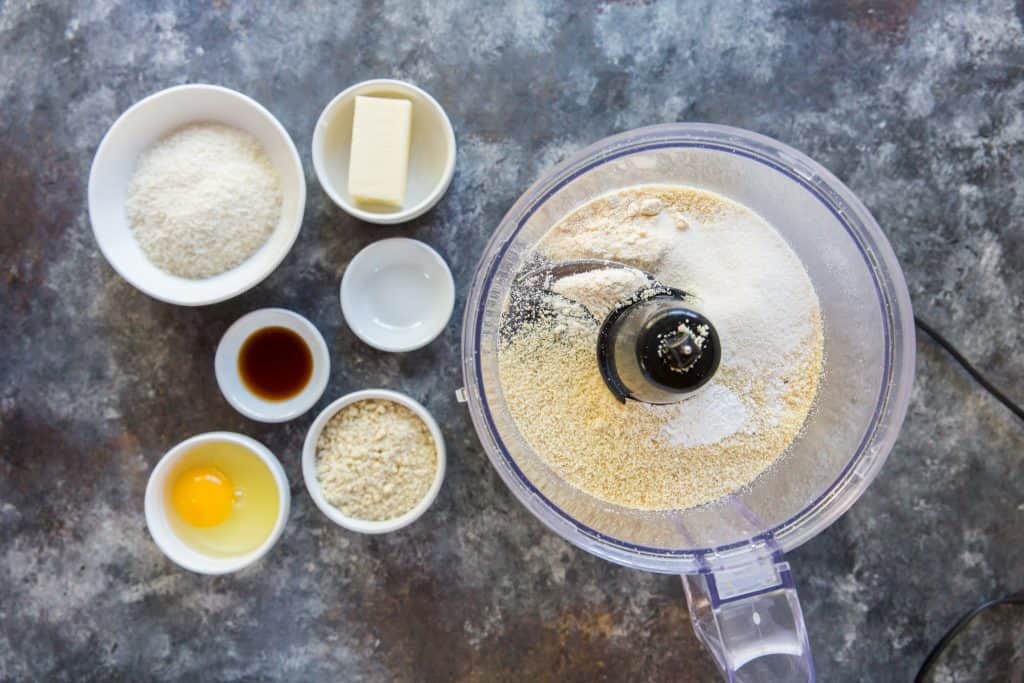 Making the Dough
You'll need a food processor to make this dough. Start by pulsing the slivered almonds and shredded coconut until the pieces are about a third the size they were originally. Remove the coconut and almond flakes, placing them aside in a separate bowl. Now add to the food processor almond flour, coconut flour, erythritol, baking powder, and salt. Pulse a few times, just until the ingredients have had a chance to mix.
Once the dry ingredients are mixed, begin adding in the wet ingredients. Pour in the vanilla, stevia, and egg, pulsing until combined. Next chop in chunks of butter and pulse again until just combined.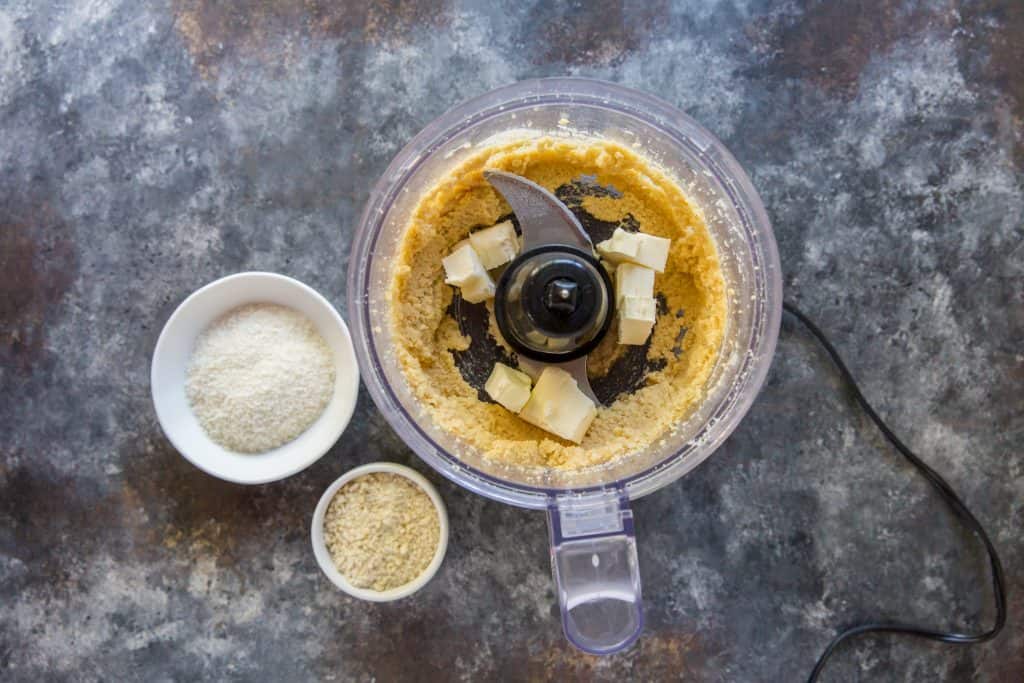 Now mix back in the coconut and almonds, reserving some to top of cookies as decoration. You can pulse it a few times until combined. This is also the time to add any desired mix-ins. If you want some chocolate chips, nuts, or an oatmeal "raisin" style cookie, now's your chance! (see notes above for how to make low carb oatmeal "raisin" cookies.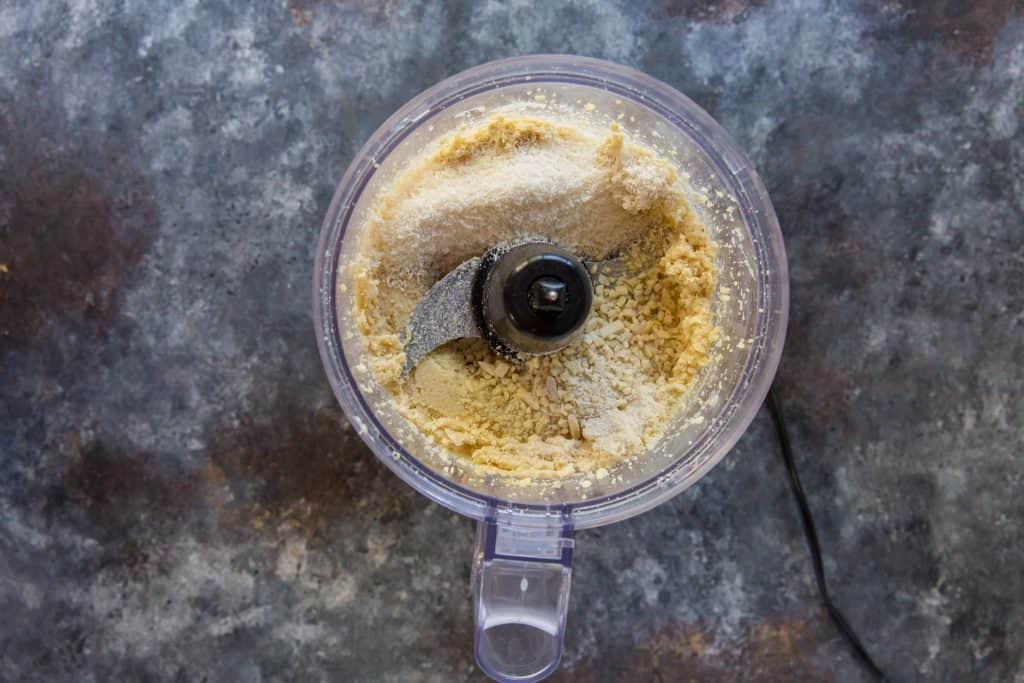 Once everything is mixed, preheat the oven to 375F. Line 2 baking sheets with parchment paper or silicone liners. We prefer parchment paper because it's easy to clean up.
When the oven is fully preheated, scoop tablespoon-sized pieces of cookie dough to create 12 even balls. We love using a cookie scoop because it makes them perfectly equal every time! Now place the cookie dough balls on the parchment paper lined cookie sheets. Make sure to flatten the balls a little bit with the palm of your hand.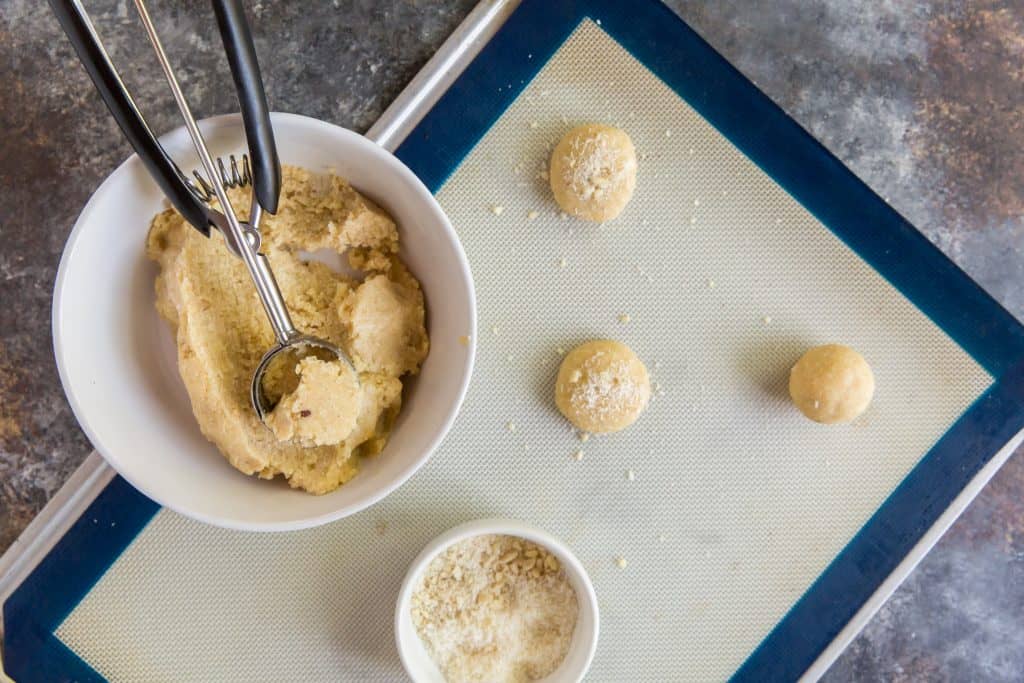 Bake for 8-10 minutes until golden brown. You can flatten the cookies more with the bottom of a glass once they come out of the oven. This will allow them to have a wider base, but also be put back in the oven as thin cookies to become more crispy.
Storage
If you've made cookies keto before, you know they can be a little finicky in the storage department. We like to store our cookies and dessert recipes in the fridge. Use an airtight container and they should last about 2 weeks sealed in the fridge.
Making Cookies Ahead of Time
We all have those days where we just want cookies NOW. Prepare for those days and make a big batch of this recipe. You'll want to prepare the dough per the recipe instructions, and then freeze it. There are a few things to keep in mind when making cookie dough ahead of time:
Make sure everything has been added to the dough. While almond and coconut toppings are beautiful, freezing some on top may not be the best option. Sometimes pieces won't always freeze and you'll end up loosing a lot of toppings in a zip lock bag.
Portion the dough. It is always better to portion the dough balls first. If they are not portioned first, there will just be one large and difficult to cut log. Something certainly not ideal for "quick" cookies.
Freeze the dough first. This means placing the portioned cookie dough balls on to a baking sheet and freezing it BEFORE stacking all the frozen balls into a zip lock bag.
There will be a longer cook time. These dough balls are coming from frozen, so make sure to keep them in the oven for an extra few minutes. This ensures they have fully cooked in the center.
If freezing the cookie dough is something you want to do, remember these helpful tips to ensure your cookie dough freezes and bakes well every time.
More Keto Cookies
If making cookies keto is your jam, try one of our other delicious cookie recipes:
Keto Peanut Butter Cookies– A super easy keto peanut butter cookie made with just 3 ingredients! Plus the prep time is only 5 minutes so you can be eating cookies in no time.
Keto Nutter Butters– These are a copycat version of traditional nutter butters. Delicious peanut butter cookies on the outside of a homemade peanut butter filling. A recipe sure to be made again and again.
Keto Walnut Snowball Cookies– If you've tried this recipe before you know snowball cookies are good anytime of the year! This gluten free keto treat is easy to make, tastes delicious, and is perfect for staying on track during the holiday season. Aka the best sugar free keto powerhouse.
We love a good dessert recipe, and these are some of the most delicious keto cookies you'll ever try!
Keto Oatmeal Cookies
These keto cookies taste just like traditional oatmeal cookies. If you wanted to make oatmeal cookies keto this year, this is sure to be the best recipe to do it. It is keto friendly, and per cookie it's only 2 net carbs.
If you've tried this recipe before, the next time you make these cookies play around with oatmeal chocolate chip cookies, oatmeal "raisin" cookies, or even just extra nutty pecan oatmeal cookies. No matter which you choose, we're sure you'll love it. Maybe even more than the original…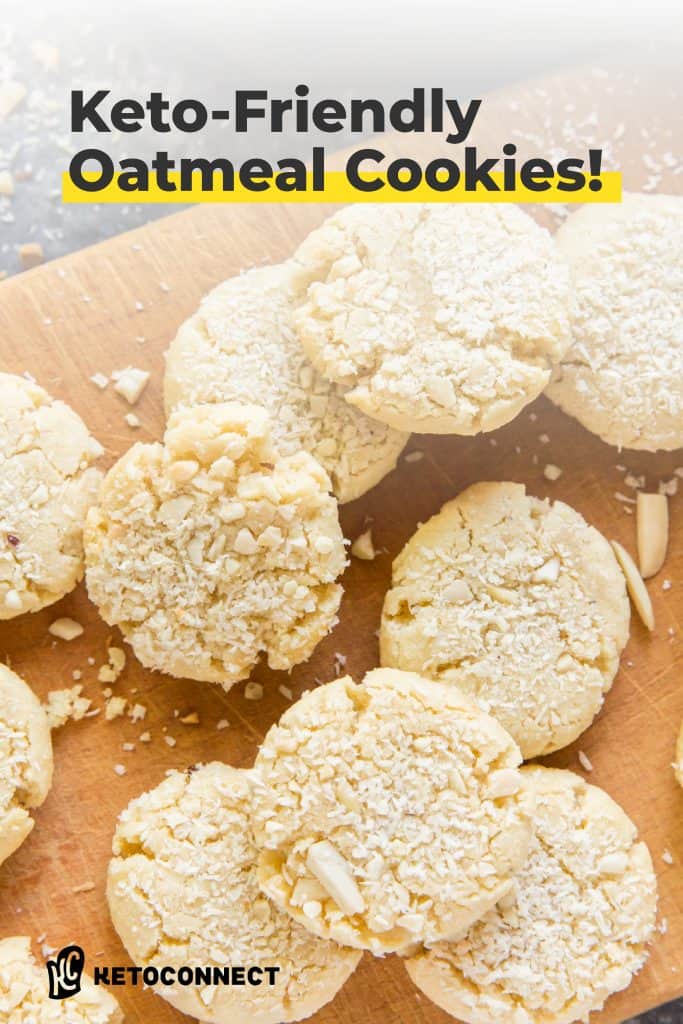 Keto Oatmeal Cookies Recipe
Chewy and fluffy "oatmeal" cookies. These keto cookies are perfect for satisfying that oatmeal cookie craving.
Total Time 2 hours 30 minutes
Servings 12 Cookies
Calories per serving 130kcal
Prep Time: 20 minutes
Resting Time: 2 hours
Cook Time: 10 minutes
Instructions:
In a food processor add slivered almonds (and coconut flakes if using). Pulse until almonds are about ⅓ of the original size. Transfer to a bowl and set aside.

Add almond flour, coconut flour, erythritol, baking powder and salt to the processor bowl. Pulse until combined. 

Once mixed, add the vanilla, stevia, and egg, pulsing until combined. Add chunks of butter and pulse until just combined.

Reserve 2 tablespoons of the coconut/almond mixture. Add the rest of the coconut and almonds to the dough and mix until combined.

Preheat oven to 375F. Line a baking sheet with parchment or silicone liners.

Use a cookie scooper to form 12 balls on the lined baking sheet.

Flatten balls a little bit with the palm of your hand, they will spread slightly when baked. Then sprinkle the remaining 2 tbsp of coconut and almonds on top of the cookies. Lightly press in the topping.

Bake for 8-10 minutes until golden brown. You can flatten the cookies more with the bottom of a glass once they come out of the oven if desired.
Nutrition Facts
Keto Oatmeal Cookies Recipe
Amount Per Serving
Calories 130 Calories from Fat 108
% Daily Value*
Fat 12g18%
Saturated Fat 5g25%
Cholesterol 24mg8%
Sodium 90mg4%
Potassium 79mg2%
Carbohydrates 4g1%
Fiber 2g8%
Sugar 1g1%
Protein 3g6%
Vitamin A 137IU3%
Calcium 38mg4%
Iron 1mg6%
* Percent Daily Values are based on a 2000 calorie diet.
Written By