If this is your first time hearing about Bulletproof keto coffee, then you're in for a real treat. Our keto coffee is creamy, sweet, and robust making it the perfect mid day pick me up.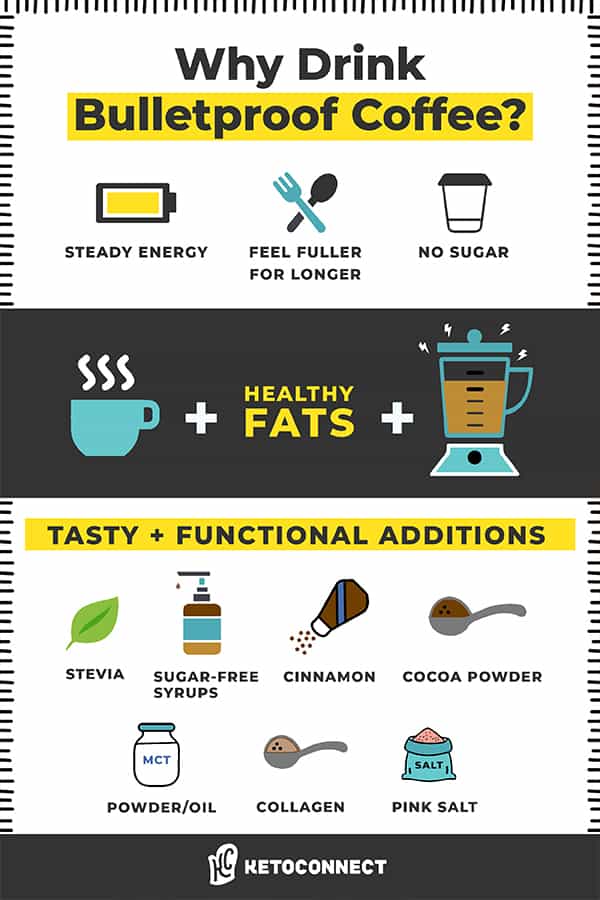 There's not a recipe on our entire blog that Megha and I make more often than this one. Some people call it keto coffee, fatty coffee, butter coffee etc. You get the picture! We're going to show you four of our favorite ways to make this recipe.
Before we get into the specifics, we have to give credit to the creator of this dynamic concoction Dave Asprey. He's created a whole brand around this stuff and his site is worth checking out for more info. If you prefer to be a visual learner, you can check out the video below of me making a cup keto coffee.
What is Bulletproof Coffee?
So what is Bulletproof coffee? In its purist form, it is a combination of fat, (usually butter, coconut oil OR MCT oil) and coffee. In recent years, it has devolved into basically any kind of coffee with lots of fat blended in. The new most common sources are fats like:
Heavy cream- This makes a super smooth coffee as well as gives you a more traditional latte keto coffee feel.
Ghee- Ghee is clarified butter which often makes it easier to digest for those with dairy intolerances. If you like butter, but it doesn't like you; try some ghee!
Coconut milk- Coconut milk is another high fat diary free option perfect for people who are lactose intolerant. Sometimes we even use it just for the naturally sweet tropical flavor when we don't want to add stevia.
The original, and in my opinion, the best version of Bulletproof coffee is two parts butter to one part MCT oil. I find it unnecessary to get too concerned over the intricate details of where your MCT oil is sourced from, and whether the cow that produced your butter was milked within the last three days. Just get your butter and some MCT oil and start blending, we promise it will be delicious.
Why Drink Bulletproof Coffee?
By now you're probably wondering why we're putting all of these crazy things in our coffee. There's a number of reasons actually!
The biggest reason is energy- Not only are you benefiting from the caffeine in the coffee but you're also getting an energy burst from the MCT oil(1). MCT oil is the fastest absorbed oil you can get your hands on, which makes it the perfect addition to coffee(2). Plus by pairing caffeine with fat like coconut oil or mct oil you slow down the rate at which caffeine processes. Thus preventing more sustained energy rather than a rapid spike.
Reason number two is that you'll feel full for a long time!-Now that you are super energized and not hungry, think of all you'll be able to accomplish! With Bulletproof coffee, I find my most productive time of the day to be about an hour after I have my cup.
It tastes good!- Starting a new keto diet can be daunting and you might feel deprived from your regular Starbucks order. A creamy keto coffee like this is a great way to start your day. You've gotten in your healthy fats and grass fed butter, all while getting in a barista style drink that's low in net carbs.
We do know just how difficult it can be going from milk and sugar to coffee with butter. However, once you know your favorite fats whether that be grass fed butter, mct oil, or coconut oil you will be abl to make your perfect cup of coffee every morning. If you do need your Starbucks though, checkout our keto coffee guide on our Keto Starbucks post.
Keto Coffee For Weight Loss
Our keto coffee recipes can be great for weight loss. The healthy fats keep you full and satiated longer, while the caffeine helps to give you an overall boost to attack the day. Plus drinking a beverage can be easier for some people who struggle to stop eating once they have started.
High amounts of fats like heavy cream, coconut oil, and mct oil can also help with blood sugar management. They keep blood sugar stable when paired with a keto diet to ensure there are no quick rises or dips in energy. If you find you need a pick me up snack around 3pm everyday, it might be time to make keto coffee instead.
Common Keto Coffee Mistakes for Weight Loss
Have you tried making delicious keto coffee recipes and found it's hindering your weight loss? Grass fed butter or ghee can make great additions to up the healthy fats in your diet, but should still be managed to ensure weight loss. Some of the biggest mistakes we see when people make their keto coffee recipe is:
Not Watching Calories– The most common mistake we see when people start making keto coffee recipes is not keeping their calories in check.
Adding too Much Dairy– While we all know heavy cream and butter is delicious, it may not always be the best thing to consume in large amounts. If you find yourself using more than a few tablespoons in your cup of keto coffee it might be time to switch up your routine. Dairy can be high in calories, as well as cause inflammation which hinders weight loss.
It's Too Delicious– Yes, sadly being too delicious is a danger to weight loss. If something is super tasty you are more likely to overeat/ drink a certain food or beverage. To manage net carbs and overall calories you probably shouldn't be drinking 6-7 tablespoons of coffee with butter or ghee everyday. While grass fed butter or ghee is rich in healthy fats, they do still contain quite a few calories.
These are a few things to look out for when you decide to start dabbling in keto coffee recipes. The big takeaway is that healthy fats are low carb and extremely good on a keto diet, but should still be managed for overall caloric needs to ensure weight loss.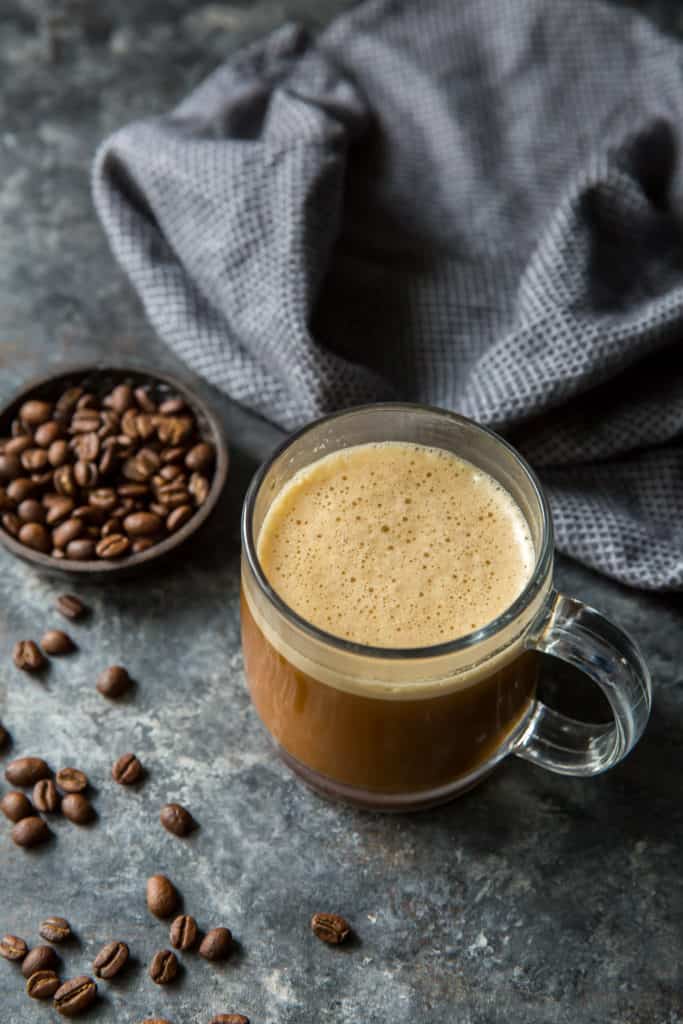 How To Make Bulletproof Coffee
Making a keto butter coffee is the easy part. To begin you simply throw everything into a blender and blend it together. I like adding all of the oils in first with the blender set on a food scale so I can make sure I'm tracking my fat intake properly. Keto coffee can be a great way to manage hunger and appetite, but too many grams of healthy fats can still put you well over your calorie goals. Another good blending option that a lot of people use is a milk frother. These are pretty cheap and do a good job of mixing your keto coffee. Nothing is worse than a poorly mixed coffee with all of the butter and oil sitting on top. So to recap making these keto coffee recipes:
Begin by adding all fats into a blender (making sure to weigh them first)
Add hot coffee overtop to begin melting the fat.
Now add any stevia or sweetener if desired
Blend, blend, blend!
Pour into a mug and serve immediately. You don't want that froth going flat!
Four Kinds of Bulletproof Coffee
We wanted to give you some ideas on how to make the best keto bulletproof coffee so you can try each method and pick your favorite. We even included our own bulletproof coffee recipe so you could see exactly what we pack into every cup of coffee we drink.
1. The Original Bulletproof Coffee Recipe
The original version of Bulletproof Coffee from the creator, Dave Asprey, is two parts butter (preferably grass-fed butter) to one part MCT oil. This is the recipe I drank for years because not only does it taste delicious, but the MCT oil was great for productivity and energy. You will need:
1-2 tbsp butter– Preferably grass-fed butter. You can use unsalted butter if preferred.
1-2 tbsp MCT Oil– The mct oil brand isn't important, we just try to balance cost and quality. Nature's Way is a great price point to start at.
Coffee– Plain old caffeinated Jo!
2. Protein Packed Bulletproof Coffee
While MCT oil is great for productivity and provides a boost in energy, it is quite processed and low in nutrients. This Protein Packed Keto Coffee recipe supplies you with equal parts protein-to-fat alongside some fat-soluble vitamins from the egg yolk.
1 tbsp ghee – Ghee is clarified butter meaning the lactose is removed. It not only makes it easier to digest, but also more keto friendly because it has even less sugar than regular grass fed butter.
1 scoop collagen peptides– Collagen adds protein as well as makes your coffee thick and creamy. It's a great option if you don't like the grainy texture that normal protein powder can have.
2 egg yolks– Egg yolks add fat-soluble vitamins that are better utilized when paired with high fat ghee in this keto coffee. Don't worry about the egg yolks being raw, they will cook in the hot coffee a bit and help to thicken it making a creamier bulletproof coffee recipe.
Coffee
3. Creamy Keto Coffee
Since Megha likes to keep things sweet, her morning cup of coffee always has a little bit of stevia or flavored MCT oil powder blended in. The MCT powder is much easier on her stomach than mct oil while still providing the best creamy keto coffee consistency.
1 tbsp ghee– Megha prefers ghee to traditional keto butter coffee because it's easier on her stomach and a little more flavorful than butter.
1 scoop MCT Oil Powder – We love Perfect Keto's mct oil powder because it's sugar free and full of healthy fats. Plus it blends into coffee really well without being high in net carbs like other protein powders.
1/2 tsp salt – Salt helps to increase sodium intake for the day which can be important to balance electrolytes on keto. It also helps to bring out the sweetness and flavor in her keto bulletproof coffee.
Liquid stevia- Liquid stevia is a naturally sugar free way to bring in sweetness to keto recipes. Depending on the brand you purchase from, some even have different and creative flavors like peppermint or toffee.
Coffee
4. Dessert Bulletproof Coffee
This recipe is for the people who miss their Starbucks mocha and chai lattes. Flavorful additions like cocoa and cinnamon take a simple bulletproof coffee to the next level. Enjoy as breakfast or even an after-dinner dessert. Just make sure you're sipping on decaf coffee or tea so you can sleep!
Coconut cream or heavy whipping cream– Heavy cream gives you a thick keto butter coffee style base, without the butter! Try coconut cream if you're dairy free but still want that nice thick keto coffee recipe.
Liquid Stevia– This is meant to be a dessert keto coffee recipe, so don't be afraid to be a little heavy handed with the stevia!
Cocoa powder or cinnamon– Add a little unsweetened cocoa powder for the mocha coffee vibes, or cinnamon for a dirty chia style keto coffee.
Coffee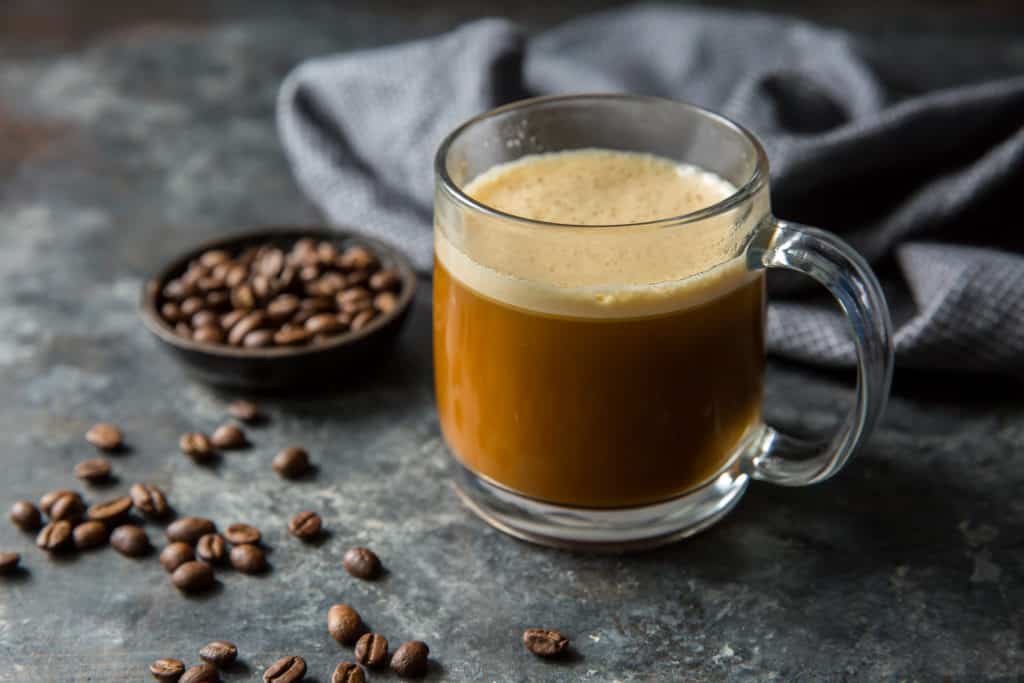 Making These Four Coffees
To make the best keto coffee you will want to add your butter first; or oil instead, depending on the fat source you chose. We love the Vitamix and use it everyday for our keto coffee, but any blender will work just as well. You should then pour hot brewed coffee overtop to let it melt the fat/ butter in coffee. You can also use an immersion blender if you don't have a regular blender. Then just blend everything together and serve hot to drink in the morning, or to break your fast!
Possible Additions
There are two schools of thought when it comes to Bulletproof coffee add-ins. You've got those who want to turn this drink into a delicious dessert-like treat, and those who want a purely functional fuel source. I tend to fall into the second camp, but let's take a look at some options here:
Tasty Additions
Functional Additions
Brain Octane: While I'm a bit skeptical of the claims of "18x more powerful than coconut oil", this stuff is probably going to have some cognitive benefits when mixed into your bulletproof coffee. Do your research and if you're convinced of it's efficacy and have the funds, try it!
All of these are optional and are things you can experiment with after mastering the basic Bulletproof coffee. Comment below and let us know what your favorite additions are so we can add them to the list! If you're looking for something to pair with your keto coffee for the perfect start to the day to break your fast, give our keto pancakes a try!
Dairy Free Keto Coffee
If you are someone who always looks for keto recipes without dairy, we have you covered. If you're on a dairy free keto diet there are a few keto coffee swaps you can make to the traditional butter/ mct oil coffee, without making your drink high in net carbs. Some dairy free keto coffee recipes can be made with:
Almond Milk– Unsweetened almond milk is perfectly keto friendly and will make a keto coffee that is lighter and smoother than using heavy cream.
MCT Oil– Mct oil or medium chain triglycerides will work as a great fat source instead of butter coffee. The oil will make keto coffee creamy, and also aide in keeping you full if you want to try intermittent fasting.
Coconut Oil– Coconut oil is another keto coffee recipe that's rich in healthy fats and can replace coffee with butter. It's is also cheaper than mct oil but still gives you some of the cognitive benefits.
Coconut Cream– Coconut cream is the thick part of canned coconut milk. It's low carb and sugar free because it doesn't contain any of the coconut water. Add it to some brewed coffee and blend with an immersion blender, or regular blender for the best mix.
Coconut Milk– Coconut milk is another lighter option to add to brewed coffee even if you didn't want to make it bulletproof. Coconut milk has a little sugar when you buy the unsweetened version (1-2g) so you probably won't even need any sweetener.
All of these dairy free options make keto coffee recipes a breeze. They blend best when added into hot coffee or freshly brewed coffee then blitzed with an immersion blender.
Keto Coffee Milk Alternatives
As you may already know milk is not keto friendly. While you may be able to drink some and still lose weight, we wouldn't recommend it. It's high in carbs and sugar from the lactose inside the milk, making it difficult to over consume carbs and calories. Fear not, we put together a list of some of the best keto ingredients that work as milk substitutes. Some of our favorite milk subs are:
Heavy Cream– This is by far the favorite in our keto diet community. It blends well with butter in coffee if you use an immersion blender or hand frother. We love adding 1 tablespoon to 2 tablespoons in our keto coffee recipe for optimal creaminess.
Half and Half– Half and half is just as it sounds, half cream half milk (aka lactose and sugar). It is about a gram higher in carbs for 1 tablespoon versus the 1 carb per 1 tablespoon of heavy cream. While it may be an extra gram of carbs, it is lower calorie so keep that in mind if you are trying to lose weight.
Almond Milk– Almond milk is the OG dairy free milk option. It works well in everything from coffee with butter to typical savory keto recipes. Just make sure whichever almond milk brand you choose, the product is sugar free and low in net carbs (It will normally just say unsweetened).
Unsweetened Coconut Milk/ Canned Coconut Milk– Both of these coconut milk options are low carb and full of healthy fats. Whenever we are doing dairy free keto we just sub heavy cream for coconut milk in our keto coffee recipes.
Cashew Milk– They've milked pretty much every nut under the sun now and cashews were not forgotten! This is probably the second creamiest nut milk after coconut so we definitely don't recommend skipping out on it. Unlike cashews, cashew milk is low carb and perfectly keto friendly for all your keto coffee recipe needs.
Homemade Keto Creamer – We have a delicious recipe for homemade keto coffee creamer that can be made ahead of time and used for your morning coffees throughout the week.
These are the top most widely known and available low carb milk options. They are rich in healthy fats and make quick and easy additions to any of your keto coffee recipes.
The Best Low Carb Recipes to Eat With Keto Coffee
Now that you know the best keto coffee recipes you can officially enjoy a delicious sweet keto bakery item. Our desserts are low carb, sugar free, and super healthy making them the perfect partner for butter coffee.
Keto Banana Bread – This keto banana bread recipe is sweet and moist. It has a fluffy cake base and a delicious banana flavor to it. You won't even miss regular banana bread after trying our low carb recipe.
Keto Chocolate Chip Cookies – These chewy chocolate chip cookies are the perfect sidekick for our keto coffee recipes. Each cookie is light and moist packed with rich chocolate chips.
Sugar Free Keto Strawberry Scones – There's no better snack than a keto coffee and scone. A traditional keto coffee recipe tastes like a latte when mixed, so this scone along with butter coffee will taste like you're right back in a cafe.
We have so many amazing and delicious low carb desserts on our website which you can find on the desserts tab. Get creative and try out new desserts to pair along with your coffee creations. Everyone needs a pick me up from time to time. So get your sweet fix and caffeination in, but keep it keto!
Keto Coffee Recipes
Each of these four keto coffee recipes are fantastic in their own way. Who knew coffee with butter or ghee could taste so good? In each cup you will be getting healthy fats and medium chain triglycerides (mct oil), as well as improve your intermittent fasting abilities and cognitive function. If you haven't tried keto coffee yet, you need to start including it in your keto diet. Make sure to try out our super easy keto iced coffee recipe. It's low in net carbs and makes the perfect morning wake up call.
Search "Ketoconnect – Bulletproof Coffee" On MyFitnessPal.com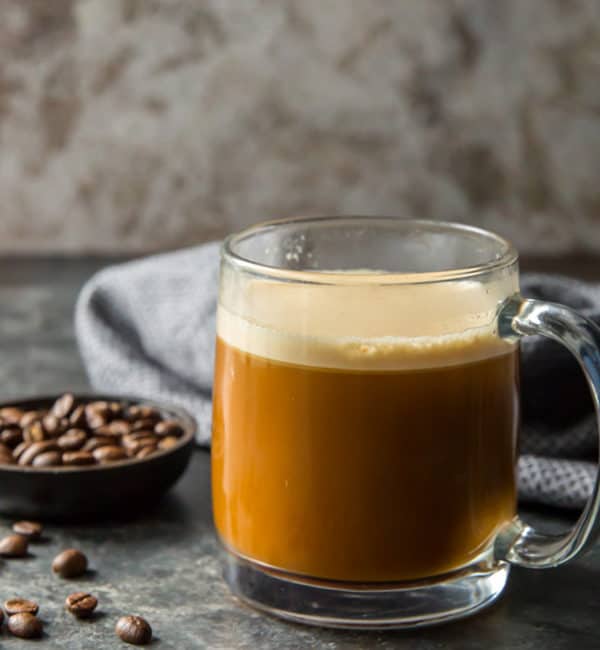 Bulletproof Coffee | Low Carb Keto Coffee Recipe
Try our version of the Bulletproof Coffee recipe to get your day off to a great start!
Total Time 5 minutes
Servings 1 12oz cup
Calories per serving 320kcal
Ingredients:
Instructions:
Brew a cup of coffee using any brewing method you'd like.

Add butter, MCT oil, and coffee to a blender. Blend on high for 30 seconds. Enjoy.
Notes
Net Carbs: 0g   Read the blog post for 4 different keto bulletproof coffee recipes.
Nutrition Facts
Bulletproof Coffee | Low Carb Keto Coffee Recipe
Amount Per Serving
Calories 320 Calories from Fat 324
% Daily Value*
Fat 36g55%
* Percent Daily Values are based on a 2000 calorie diet.
Written By