A 2007 study found that sugar is more addictive than cocaine. So you shouldn't dismiss the negative effects that sugar cravings can have on your life.
It's annoying, and if you're working, it'll kill productivity. That's why I highly recommend new keto dieters to invest in the right keto snacks. It's tasty and gets rid of cravings within seconds.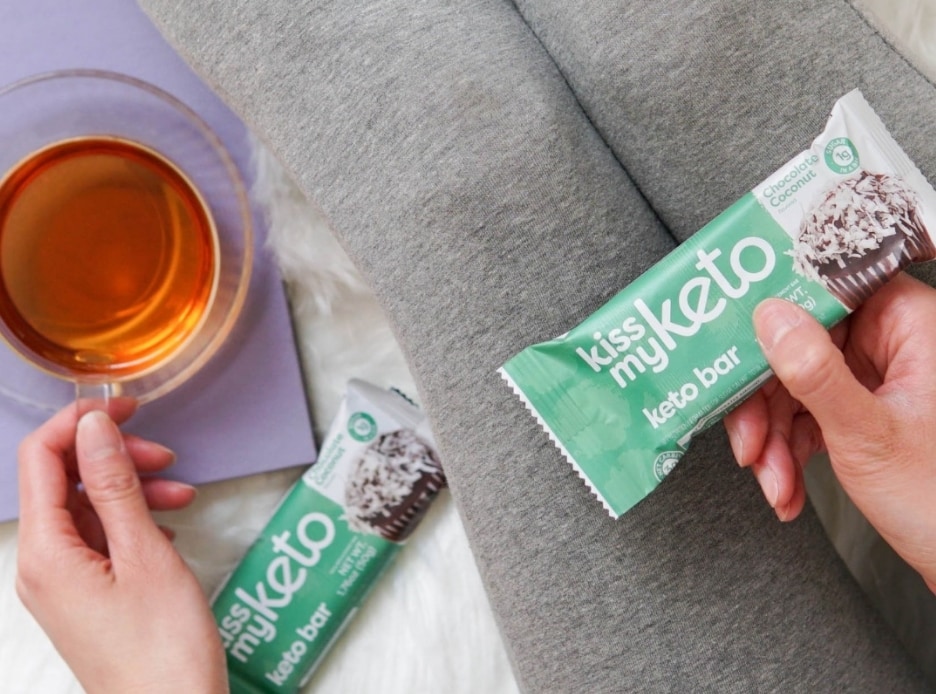 And alongside Perfect Keto and Low Carb Bread Company, Kiss My Keto review makes some of the best keto snacks and supplements.
So in this post, I'll talk about my experience with Kiss My Keto, what I like and dislike about it, and if it's worth your time and money.
Best Kiss My Keto Products
If you're just here for some quick recommendations then here you go. These are our favorite Kiss My Keto products. The ones we keep on ordering and always have in stock. For further details keep reading the rest of the post about why we like them and how we use them.
Keto Bars
Keto Cookies

I like the variety pack…but if I had to pick it would be chocolate chip.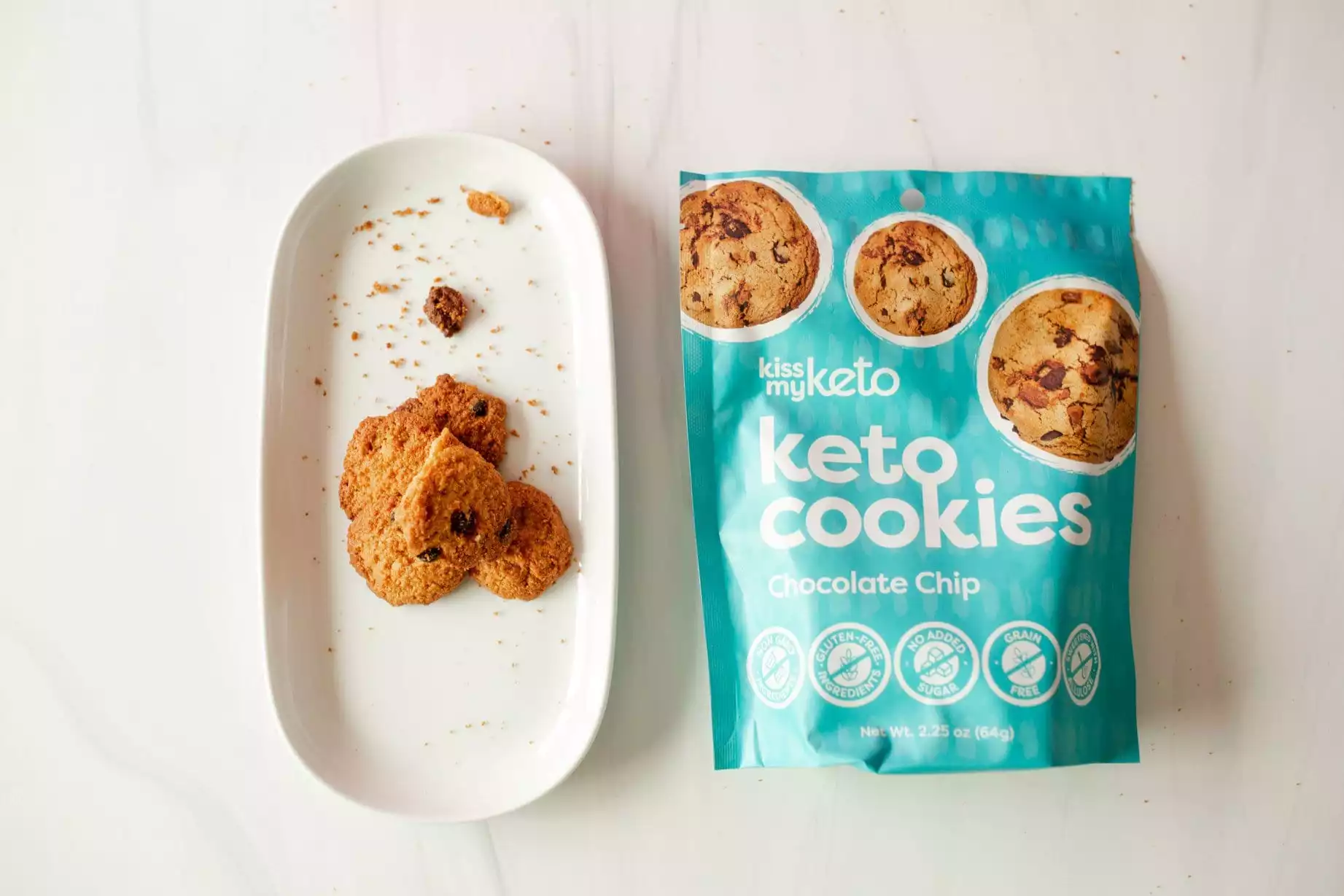 Kiss My Keto
3.8
Kiss My Keto is a one stop shop for all of you keto snacks and supplement needs. You have to be a bit more selective here, because not everything they make is great. We recommend the keto bars and keto cookies.
Pros:
Variety of keto friendly products
One stop shop
Cons:
Taste could improve on some items
Buy Now
We earn a commission if you make a purchase, at no additional cost to you.
What is Kiss My Keto and Why Should I Care?
Alex Bird founded Kiss My Keto in 2016 after realizing that it's quite challenging to cut out carbs if you've been eating bread, pasta, cookies and candy for your entire life.
When Bird first started eating a healthy keto diet, there weren't many keto products on the market. And although there are some companies making keto bread and candy, it's difficult to find in supermarkets. You'll need to order online.
Bird's goal is to create high-quality products that don't burn a hole in your wallet.
Unlike some other keto bars, Kiss My Keto avoids preservatives, artificial sweeteners, unhealthy oils and sugar.
Kiss My Keto sells different products like:
Cookies
Bread
Gummies
Keto snack bars
Chocolate cookie dough
So you can enjoy all the snacks and foods you ate before starting keto.
However, Kiss My Keto also sells high-quality supplements like MCT or medium-chain triglycerides oil that's extracted from coconut oil. This is super helpful because studies find MCT oil to boost brain power and decrease your risk of developing Alzheimer's disease.
But if you don't feel like logging in and buying snacks or supplements every time, sign up for the subscription. You'll also find Kiss My Keto snacks at your local Walmart, Kroger, Sprouts and Albertsons.
Who is Kiss My Keto For?
I'm not a big fan of eating keto products because whole foods like meat, vegetables and fish will always be superior. However, keto products empower the lives of dieters because sugar cravings do exist, and sometimes meal prep is inconvenient.
So people who can benefit from Kiss My Keto include:
Those looking to give up sugar
On-the-go dieters
Those Looking To Give Up Sugar
Sugar is one of the most addictive substances.
When trying to quit and follow a low-carb diet, many experience withdrawal symptoms like:
Headaches
Cravings
Mood changes
These symptoms are annoying, and they'll wreak havoc on your productivity. This is because making lifestyle changes like avoiding bread, candy and chocolate takes a lot of willpower.
But with Kiss My Keto, you can eat your favorite snacks, and because they use high-quality ingredients, you stay in ketosis. Feel free to eat candy, muffins, gummy bears and cookies.
On-The-Go Dieters
Today's modern lifestyle makes it difficult to follow a keto diet.
This is where Kiss My Keto can help.
If you're going to work, take a bag of gummy bears, cookies or chocolate bars with you. So if you're driving home or waiting for your children at school, feel free to snack on these bad boys and satisfy your sugar cravings.
Also, if you feel like you aren't eating enough fat, get some MCT oil powder. When making coffee in the morning, add a scoop with some cream, and you'll instantly increase your fat intake. One scoop of MCT oil powder contains:
7.5 grams of fat
9,000 mg of medium chain triglycerides
Three grams of fiber
So if you drink three cups of coffee per day with MCT oil powder, you're consuming 22.5 grams of fat without even eating anything.
These keto supplements use natural ingredients like sunflower lecithin and stevia to add flavor, making it a healthy way to start the day.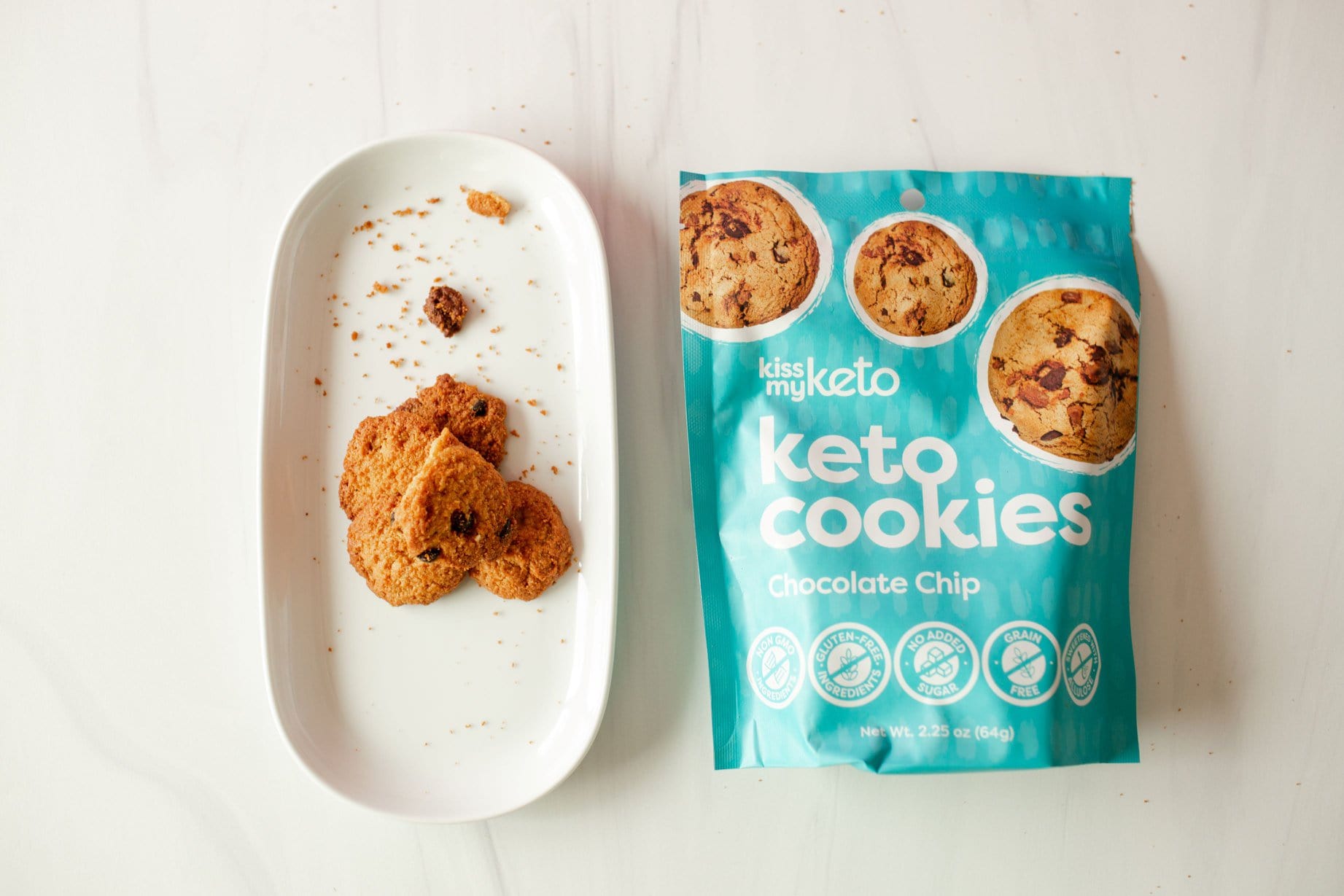 New Keto Dieters
If you're new to keto and are experiencing keto flu symptoms, then Kiss My Keto's electrolyte supplement is a must-have.
When transitioning into ketosis, your body depletes sodium and other electrolytes faster than usual. And since most people aren't eating enough salt already, your body is starved of sodium, causing symptoms like:
Fatigue
Brain fog
Headaches
When drinking a scoop of Kiss My Keto electrolytes, you're fueling your body with:
140 mg of sodium
150 mg of magnesium
64 mg of calcium
300 mg of potassium
All these essential nutrients make it the perfect drink for new keto dieters.
But Kiss My Keto also offers other products that help new dieters. The ketone strips and blood meter kit allow you to quickly check if you're in ketosis or not. The exogenous ketones also help you get into ketosis.
Now that we know who can benefit from Kiss My Keto, let's look at the products that made my life easier.
My Favorite Kiss My Keto Products
All Kiss My Keto products are super helpful for dieters. However, there are a few that stand out.
Kiss My Keto Bars
These tasty bars come in a variety of flavors like:
Chocolate peanut butter
Coconut
Cookie dough
Salted caramel
Maple doughnut
Birthday cake
So if you're craving sugar or want a quick snack to keep you going throughout the day, then Kiss My Keto Bars are perfect.
One bar weighs 50 grams and contains 230 calories. There are also 18 grams of fat, 105 mg of sodium and three grams of net carbs. In chocolate bars that use high-fructose corn syrup, you'll find over 500 calories and little to no micronutrients.
Instead, Kiss My Keto uses whole eggs, cocoa butter, MCTs, almonds and stevia extract when making these delicious chocolate bars.
Kiss My Keto Cookies
Kiss My Keto Cookies are a delicious snack that you can use to get rid of sugar cravings. It tastes just like store-bought cookies, and you don't get that almond taste that most keto cookies have.
It comes in butter and chocolate chip flavors. If you can't choose between the two, there's also a variety pack available. So you can try a little of each.
One serving contains:
170 calories
13 grams of fat
85 mg of sodium
Three grams of protein
Three grams of net carbs
You'll notice that all Kiss My Keto products contain a large amount of sodium. This is because keto dieters need more salt than those on a high-carb diet. And by eating Kiss My Keto snacks, it's super easy to increase your sodium intake.
Kiss My Keto Gummies
These gummies are sweet and come in different shapes like:
Watermelon slices
Fish friends
Tropical rings
Gummy bears
With zero grams of sugar, three net carbs and 70 calories per bag, you can eat as many gummies without triggering inflammation or being knocked out of ketosis. Kiss My Keto uses natural watermelon flavors, stevia and erythritol.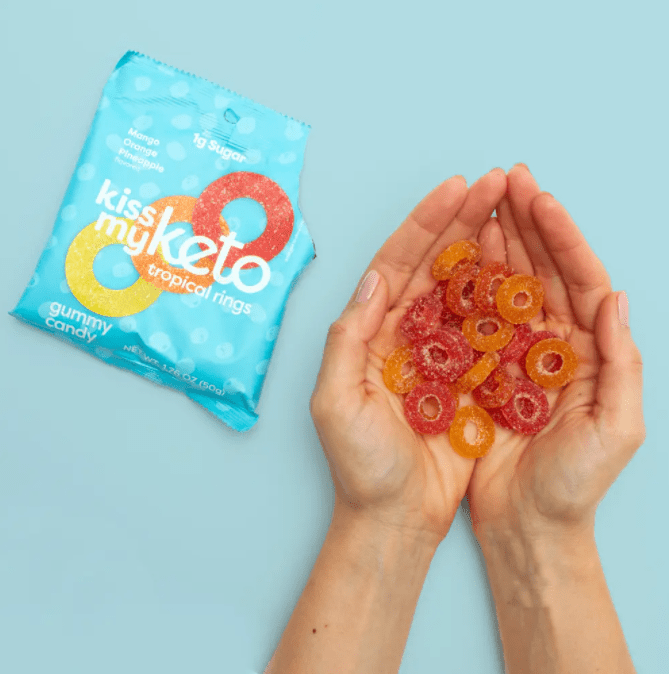 Kiss My Keto MCT Oil Powder
Since I started keto, I've added MCT oil to every cup of coffee. This keto coffee gives me an energy boost, which helps with hectic mornings.
MCTs are shorter than regular fats, giving them unique digestive properties. It goes straight to the liver where it's converted to ketones. This helps you get in and stay in ketosis.
Is The Kiss My Keto Subscription Worth It?
Kiss My Keto offers a subscription that allows you to save 10% on anything you buy. Depending on how many products you purchase, you can also save an additional 3% to 15%.
After signing up for the Kiss My Keto subscription, I can safely say that it's worth it if you buy keto products regularly. I save over 20% on MCT oil powder and they deliver it to my door every four weeks, so I can make keto coffee whenever I want.
Let's say you just started a keto diet and are struggling with cravings. You can create a subscription where you receive chocolate bars and gummy bears every four weeks. This way, you don't have to go online and order whenever you run short.
And if you don't like a specific flavor, feel free to send it back because Kiss My Keto offers a 60-day money-back guarantee.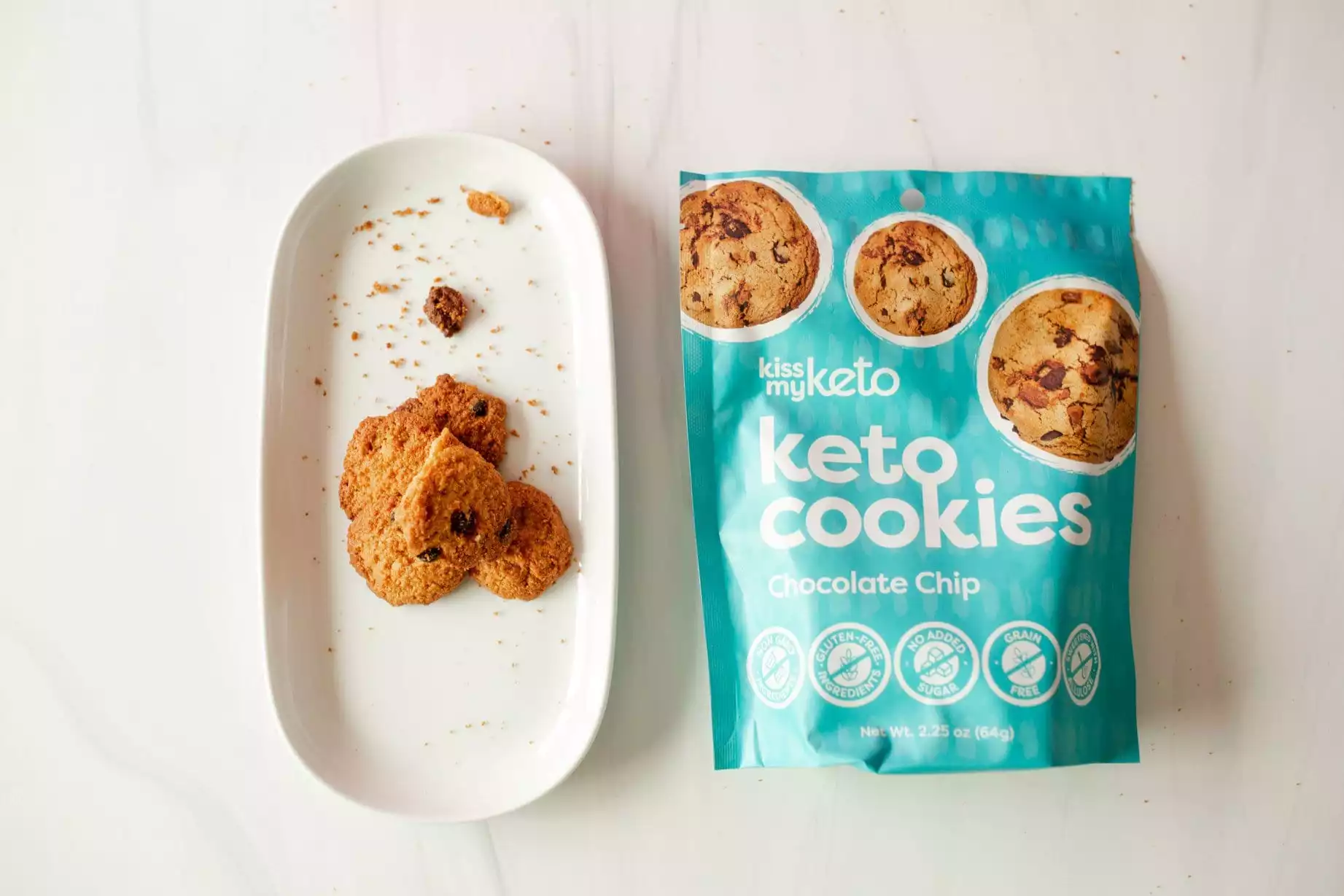 Kiss My Keto
3.8
Kiss My Keto is a one stop shop for all of you keto snacks and supplement needs. You have to be a bit more selective here, because not everything they make is great. We recommend the keto bars and keto cookies.
Pros:
Variety of keto friendly products
One stop shop
Cons:
Taste could improve on some items
Buy Now
We earn a commission if you make a purchase, at no additional cost to you.
What I Like About Kiss My Keto
The Subscription Is Customizable
Unlike other food subscriptions, which are more rigid, Kiss My Keto allows for unlimited customization.
Simply select your favorite snacks like chocolate bars, keto gummies and cookies, decide how often you want to receive them, and you won't have to order again. Kiss My Keto will deliver your favorite products to your doorstep.
It Uses Clean Ingredients
Just because something is keto-friendly doesn't make it healthy. For example, vegetable seed oil and artificial sweeteners won't kick you out of ketosis or spike blood sugar, but it triggers inflammation.
Some companies will use these cheap and artificial ingredients because they can still market their products as keto.
But Kiss My Keto is super transparent. You know everything that goes into your snacks and it's only natural ingredients.
It Makes the Keto Lifestyle Super Convenient
But the biggest reason why Kiss My Keto is so loved amongst keto dieters is because of its convenience.
If you're in traffic or experiencing sugar cravings at work, you can snack on your favorite candy, snack bars or cookies. The granola is also a quick breakfast option if you struggle with busy mornings.
Pros
You can eat candy and other snacks while being in ketosis
Kiss My Keto only uses high-quality ingredients
The subscription ensures you receive all your favorite products
It tastes just like store-bought snacks
The MCT oil helps you stay in ketosis
The high sodium content fights keto flu
Cons
The only downside is that it's difficult to find exogenous ketones because it's always out of stock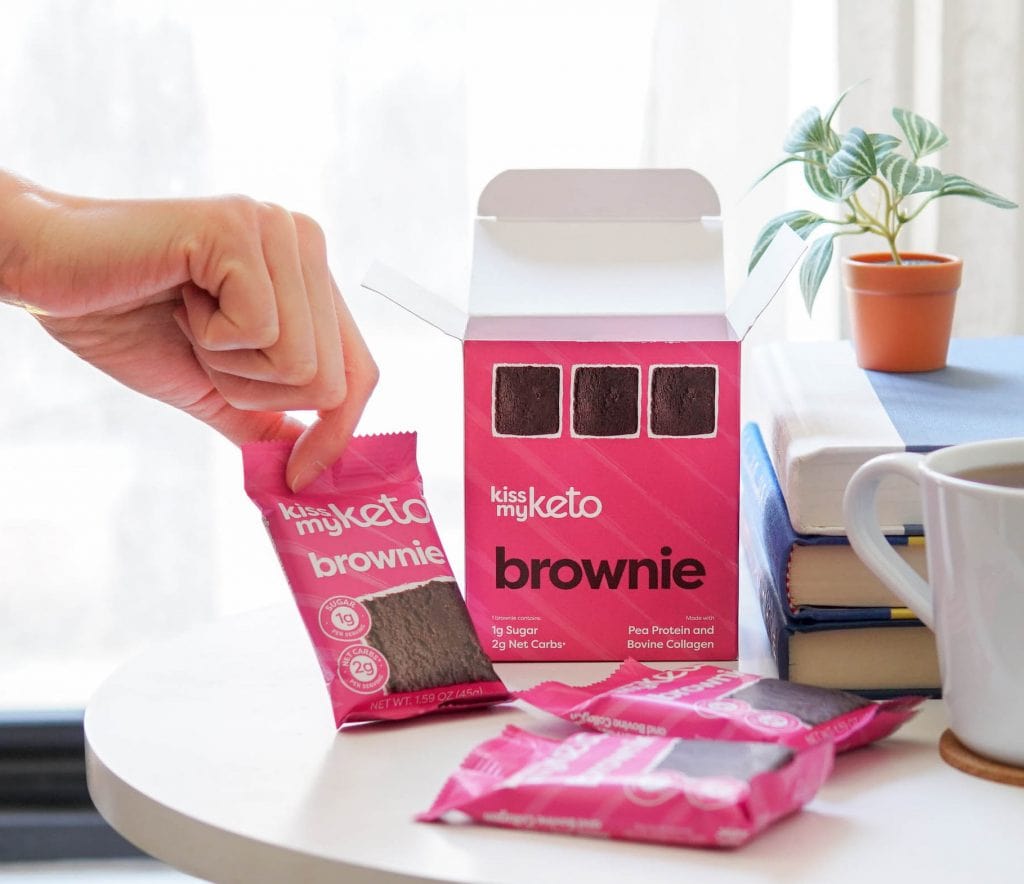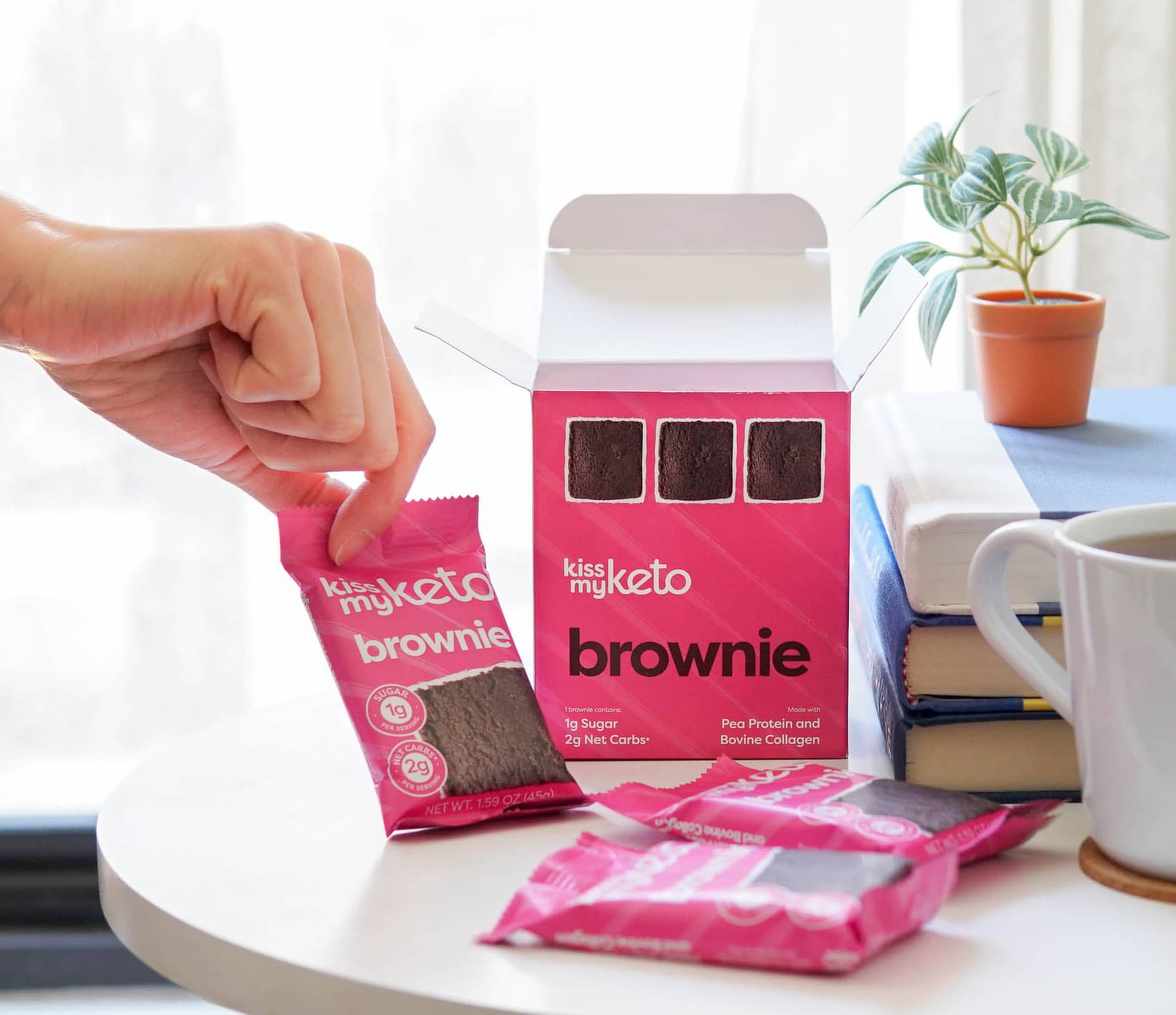 My Testing Criteria
I used the following criteria to see if Kiss My Keto is worth it:
Taste
Quality of ingredients
Variety of products available
Convenience
Kiss My Keto meets all these criteria, and they're constantly improving to better your experience.
I tried their keto chocolate, cookies and bread, and it tastes like the snacks we ate as kids. It's full of natural flavors, and unlike companies that add high-fructose corn syrup, Kiss My Keto uses natural sweeteners.
Signing up for the subscription is convenient, and you'll also find an extensive list of tasty keto snacks, supplements and even ketone test strips.
Why Trust Us?
I've been using Kiss My Keto products for the last few months, and I'm a huge fan because it helped make my keto journey easier.
For example, I use the MCT oil powder as a coffee creamer in the morning. This gives me an extra boost of energy and brainpower while increasing my fat intake. The keto cookies and gummy bears also helped with annoying sugar cravings.
Final Word on Kiss My Keto Review
Kiss My Keto uses high-quality ingredients to make tasty and convenient gummies, keto bars, MCT oil powder, bread and candy.
So if you're struggling to satisfy your sweet tooth, then Kiss My Keto is perfect. You get to eat the best candy while staying in ketosis. With the subscription, you also don't have to order more snacks when you run out. Read or full review of the best keto products for more options.
Written By