Creamy keto chia pudding makes the perfect breakfast or after dinner treat!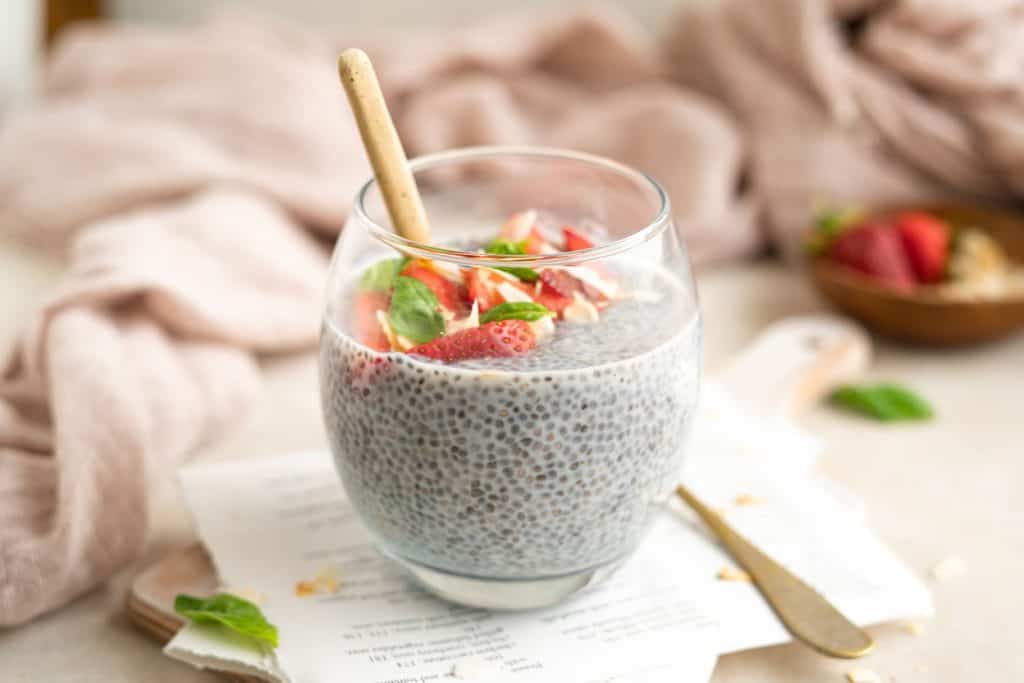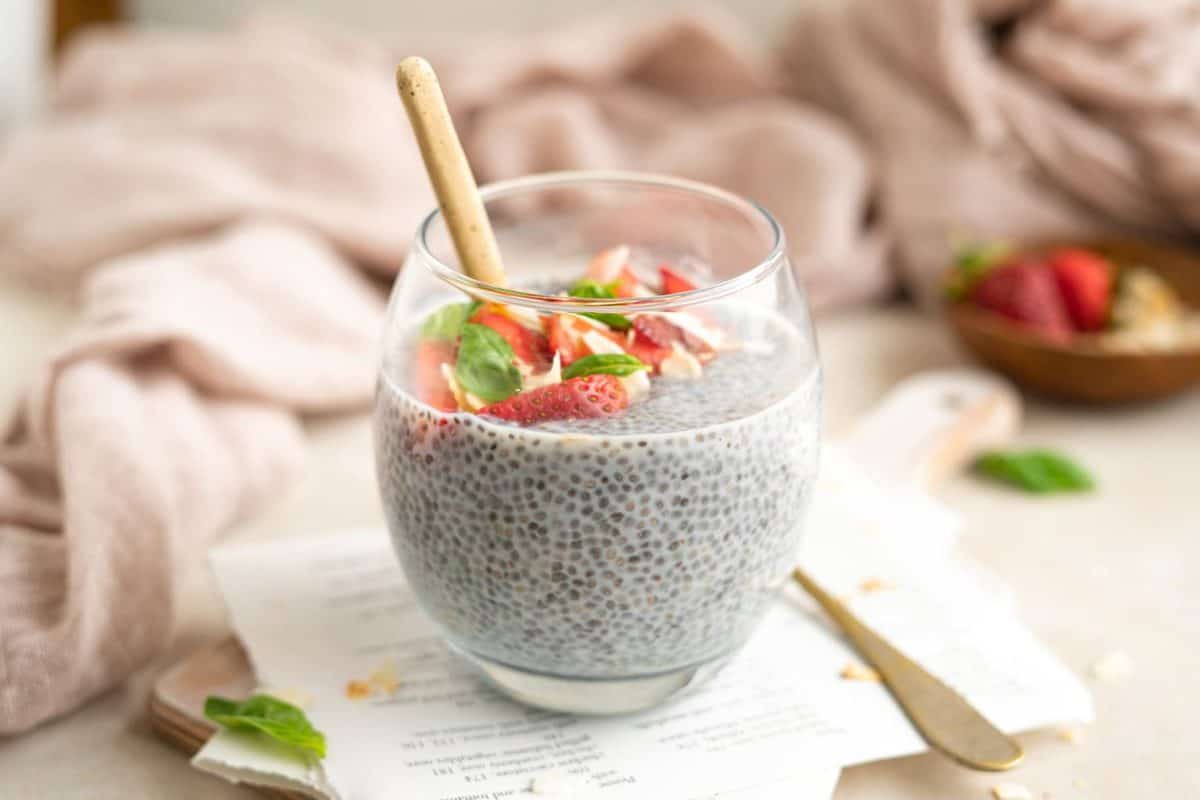 An Easy to Make 5 Minute Recipe
This low carb chia seed pudding is extremely easy to make because it only requires you to mix a few ingredients and then let it set. Max this recipe will take you five minutes to prep so you have more time to do everything else in your busy day! Overnight chia pudding will become your new go to breakfast thanks to its minimal prep time and ease to eat on the go.
Benefits to Chia Seeds
Chia seeds are an interesting little seed, and when I say little I sure do mean it! These small seeds are packed with fiber containing 10 grams in just two tablespoons (or one ounce). They are also full of nutrients such as manganese(30%), magnesium(30%), phosphorus (27%), and calcium (18%) for very few calories.
How Many Carbs are in Chia Seeds?
Another benefit to chia seeds is that because they are gluten free and high fiber, almost all of the carbs inside a seed is fiber. Fiber helps to lower the glycemic load of foods and lower the net carbs per serving of this chia pudding from 9 grams of carbs to 1.
No need to make chia pudding keto, the chia seeds already did this for you! For an even more filling and fibrous chia pudding use ground chia seeds and flax seeds.
Is Chia Pudding Good for Weight Loss?
Our chia seed pudding recipe is a great easy keto breakfast recipe for anyone trying to lose weight. It's gluten free and rich in fiber.
Fiber has been shown to aide in weight loss because it keeps you fuller for longer. This works because fiber takes much longer to digest unlike simple sugars. This can help with regularity and fullness to keep you loosing weight and feeling better.
Do I Have to Wait Overnight?
This is an overnight chia pudding recipe for a reason. Leaving it overnight makes it super thick and creamy with minimal work.
However, if you just need chia pudding and you need it now there is an option. You can use ground chia seeds, or simply blend all the ingredients in a food processor. This will break the hard outer shell of the chia seed and make it gel faster.
Blending this low carb chia pudding is also a great idea if you like the taste and fiber of chia pudding, but don't like seeds in your teeth. Honestly there's nothing worse than walking into a big meeting with a mouth full of chia seeds!
A Dairy Free Keto Chia Pudding Recipe
This keto chia pudding is low in net carbs because we use a fiber rich base and no added sugar. Sugar can sneak up on you in products you might not even think of. Products like almond milk and coconut milk can be loaded with sugar if you aren't checking before hand.
Always opt for unsweetened almond milk for this recipe or any other unsweetened nut milk of choice. It will have only 1-2 net carbs and keep you in ketosis.
While you can make this recipe with heavy cream we try to avoid it because we think it makes the chia pudding a little too thick and calorie dense. You wouldn't drink a straight cup of heavy cream so we don't recommend eating one!
We've also found that dairy can cause extra inflammation and a stall in weight loss when consumed in excess so we try to avoid it whenever possible.
Another Nut Free & Dairy Free Option
There are other options than just heavy cream and almond milk that can be used in this recipe. Almond milk is a great starter milk, but for those with a nut allergy isn't really an option. Instead try:
Coconut Milk– Canned coconut milk is a great option in place of almond milk in chia pudding. Just note that canned full fat coconut milk is a lot thicker so you will want to use just 3 Tbsp, and the rest of the 1 cup as water.
Carton Coconut Milk– This is the most similar product/ form of coconut milk to almond milk. It's low carb when purchased unsweetened and is usually by the almond milk.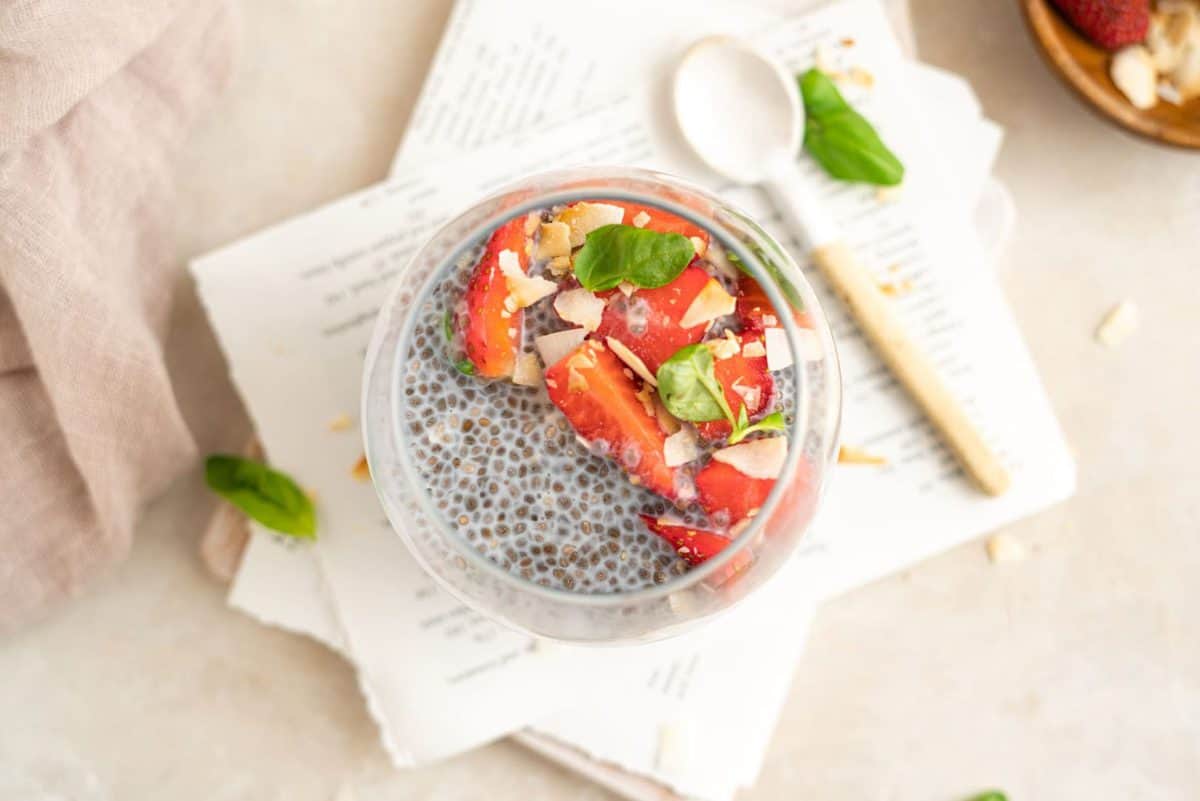 Making Chia Pudding Sugar Free
The most important thing in order to make chia pudding sugar free is that you pick a low carb sweetener.
We're going to breakdown everything you need to know about sugar free sweeteners, but if you want more information on specific keto sweeteners check out our blog post for the Best Sugar Substitutions on Keto.
Picking a Keto Sweetener
The sweetener you choose depends on what level of sweetness you're trying to achieve.
Erythritol– This is going to be one of the most affordable sugar free sweeteners that is still high quality. It is a little less sweet than sugar, but there are brands such as Swerve that make a 1:1 sugar replacement with erythritol.
Stevia– Liquid stevia is the other sugar free sweetener you will see us use most often. It provides a highly concentrated sweet drop that isn't a sugar alcohol. We recommend you use it in conjunction with erythritol in keto recipes.
Allulose– Allulose is a newer keto sweetener you'll see in keto dessert recipes. It is a little less sweet than sugar, but has no impact on the body's blood glucose which is its main selling point. It is a little more expensive than the others, but tastes just as delicious.
If you like a sweeter keto chia pudding feel free to add a little extra sweetness with stevia or erythritol.
Depending on the sweetener you use you may need to add a little more or a little less to get the right sweetness ratios. Check out our sweeteners guide to find the perfect ratio for you.
Chia Seed Pudding is Gluten Free!
All keto recipes should be gluten free as keto is a low inflammation diet. Our keto chia pudding recipe isn't any different!
We skip the gluten and added carbs by subbing oats for 100% gluten free chia seeds. They naturally thicken all on their own from the soluble fiber inside. You don't even need to add any gums or emulsifiers.
Possible Keto Chia Pudding Variations
Love chia seeds but want new and creative ways to use them? We have a few variations you can try to this recipe to make even more delicious breakfasts.
Chocolate Chia Pudding– Chocolate chia pudding is the best way to get your sweet fix in the morning but keep it low carb. Add 1-2 tablespoons of unsweetened cocoa powder to the base and an extra splash of almond milk to bring it back to the right consistency.
Peanut Butter or Almond Butter– Adding either peanut butter or almond butter into the chia seed pudding can make it extra fatty and delicious. You can also top it with almond butter instead of mixing it in if you prefer.
Vanilla Extract– Adding a touch of vanilla extract can really intensify the vanilla flavor without upping the carb count much.
Fruit– A berry filled chia pudding makes a great quick and easy treat on a keto diet. You can mash in, or top it with fresh berries to make it a light and creamy dessert.
All of these additions will alter the macros so make sure you account for the editions and ingredients you choose to add. Things like cocoa powder will actually increase the fiber content so don't be afraid to make your breakfast extra chocolate-y!
A 4 Net Carb Recipe
You read right, this low carb chia pudding recipe has just four net carbs per serving. Thanks to all the fiber in chia seeds we are able to lower the carbs from 9 to 4 with soluble fiber!
How to Make Keto Chia Pudding
Equipment
All you are going to need is a single mason jar and a whisk. You can mix this up in a Tupperware container, but we find mason jars to be an easy grab and go container.
Ingredients
To make this chia seed pudding you will need chia seeds, almond milk, and liquid stevia. Make sure your milk of choice is unsweetened to make a creamy keto friendly pudding.
You can top this recipe with any of your favorite toppings like fruit or coconut.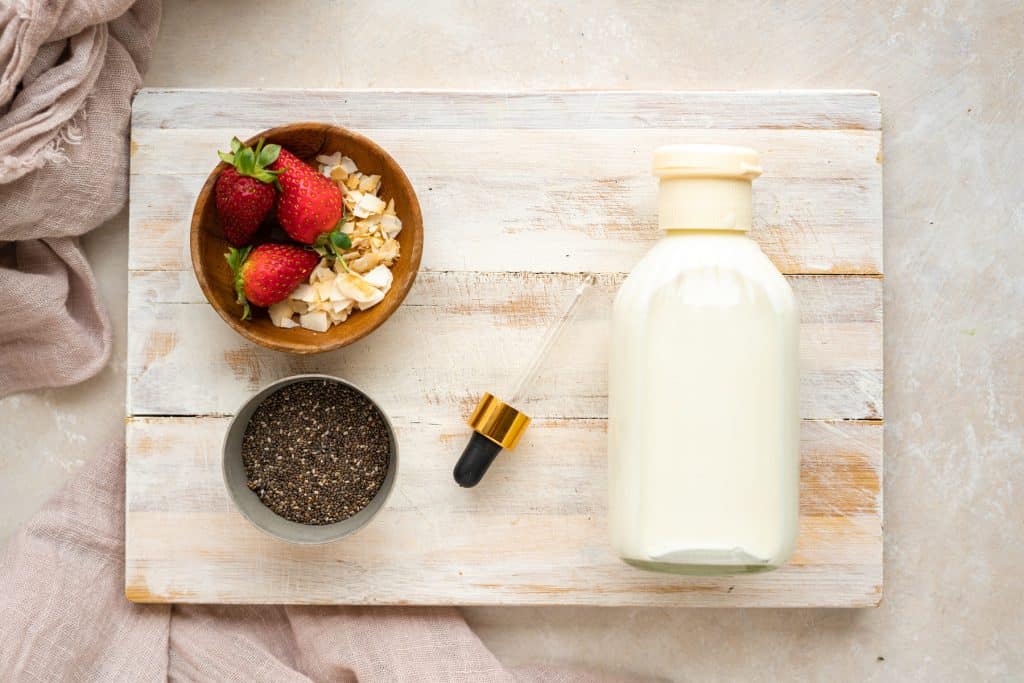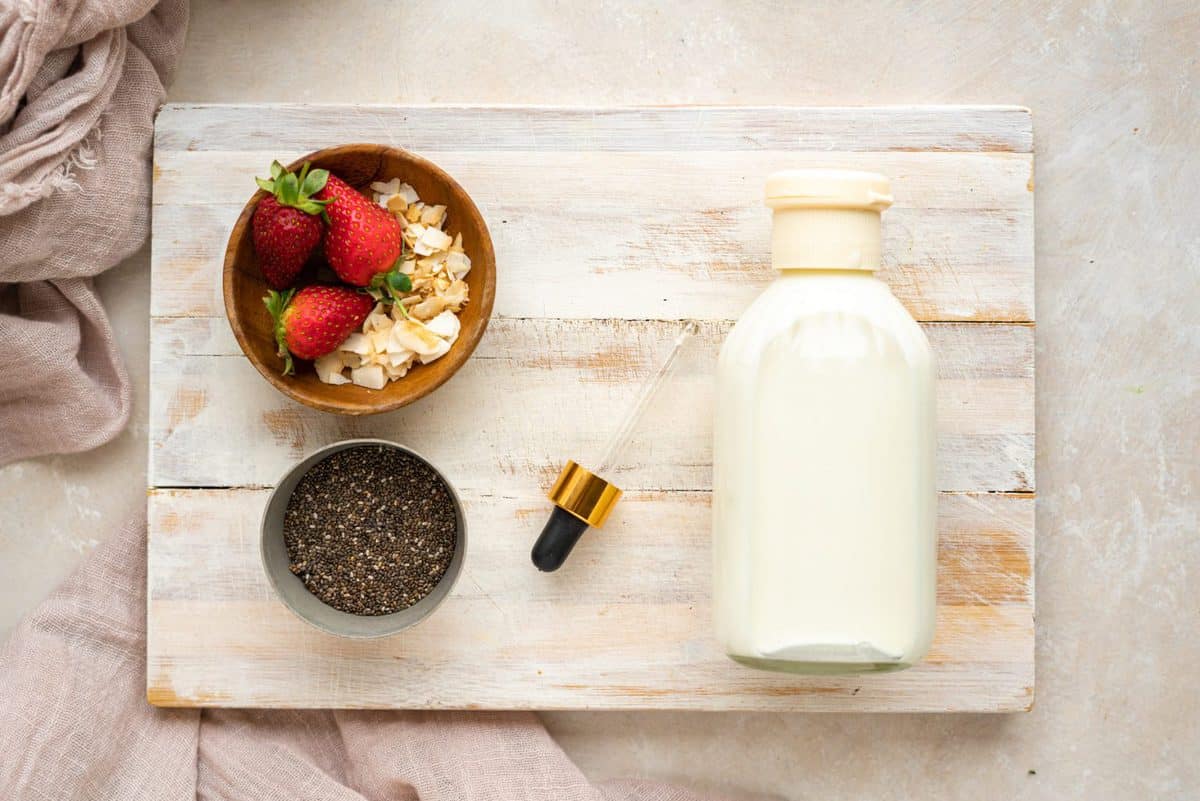 Making Keto Chia Pudding
To make chia seed pudding combine all your ingredients into a mason jar.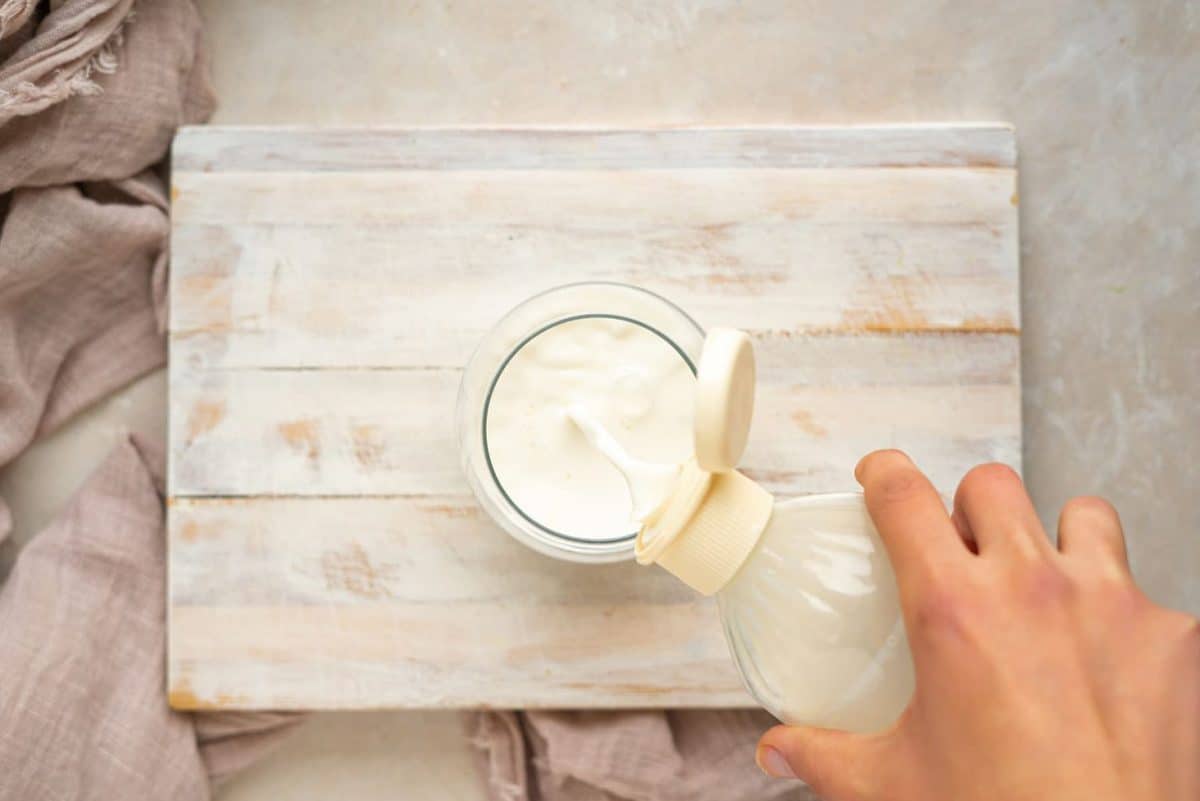 Use a whisk or fork and mix up the chia seed mixture. All chia seeds should be evenly coated with milk. Let the mixture sit overnight and then serve chilled.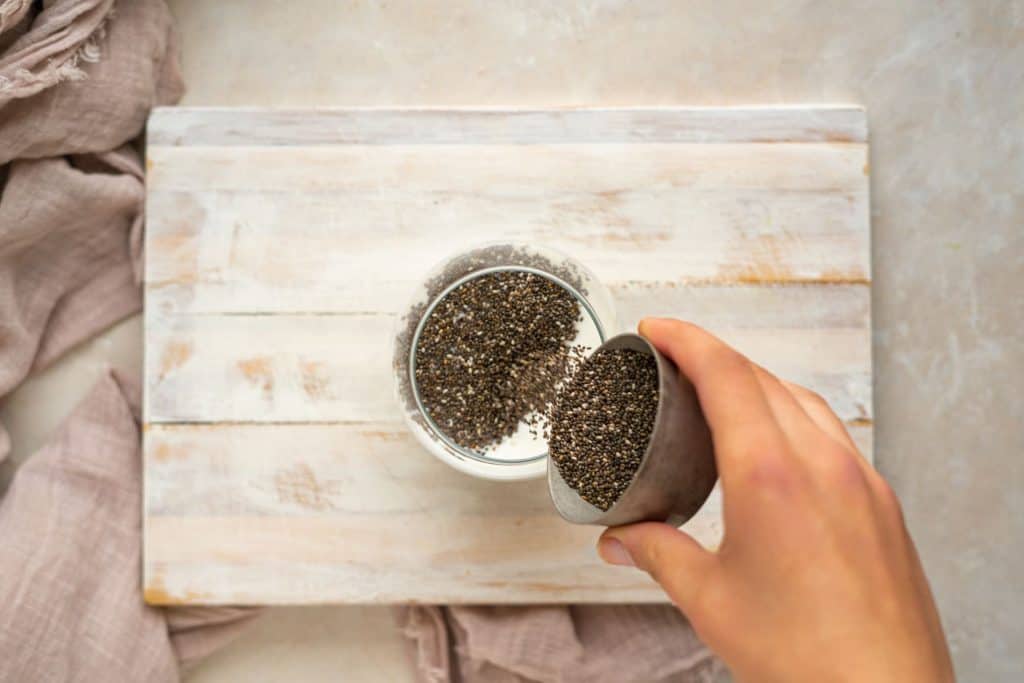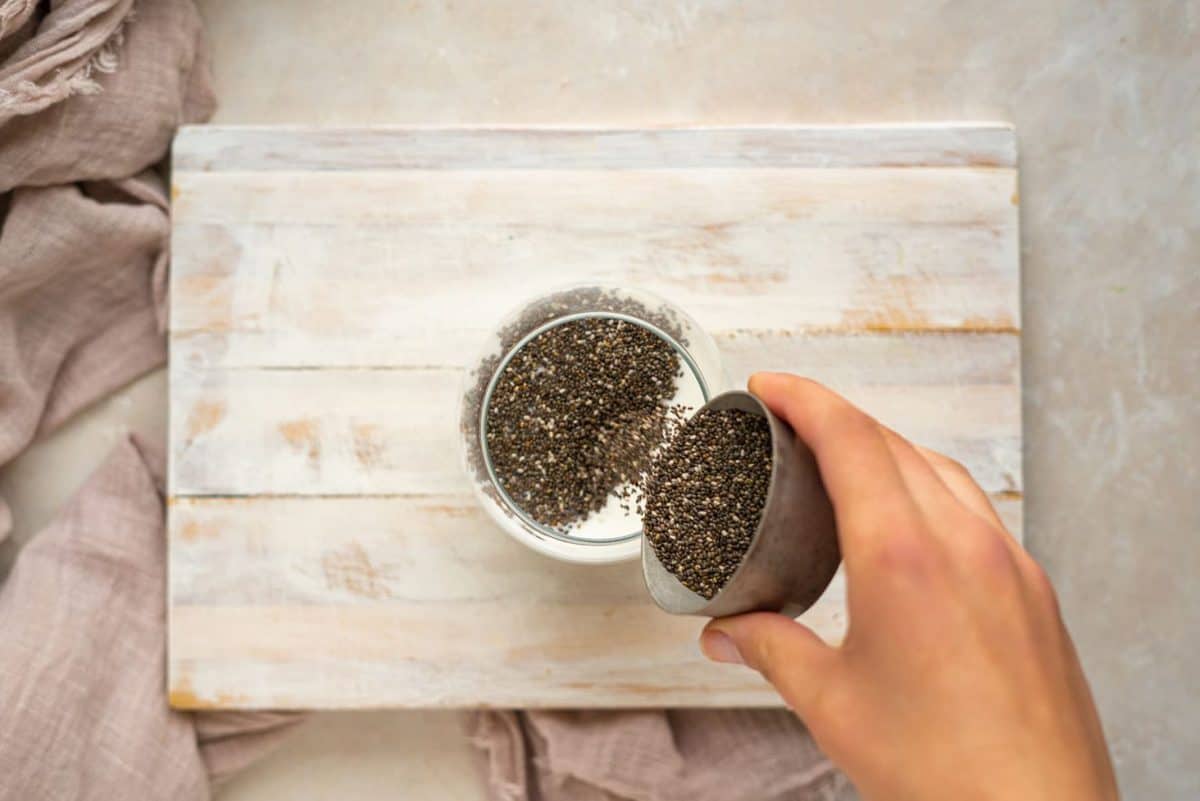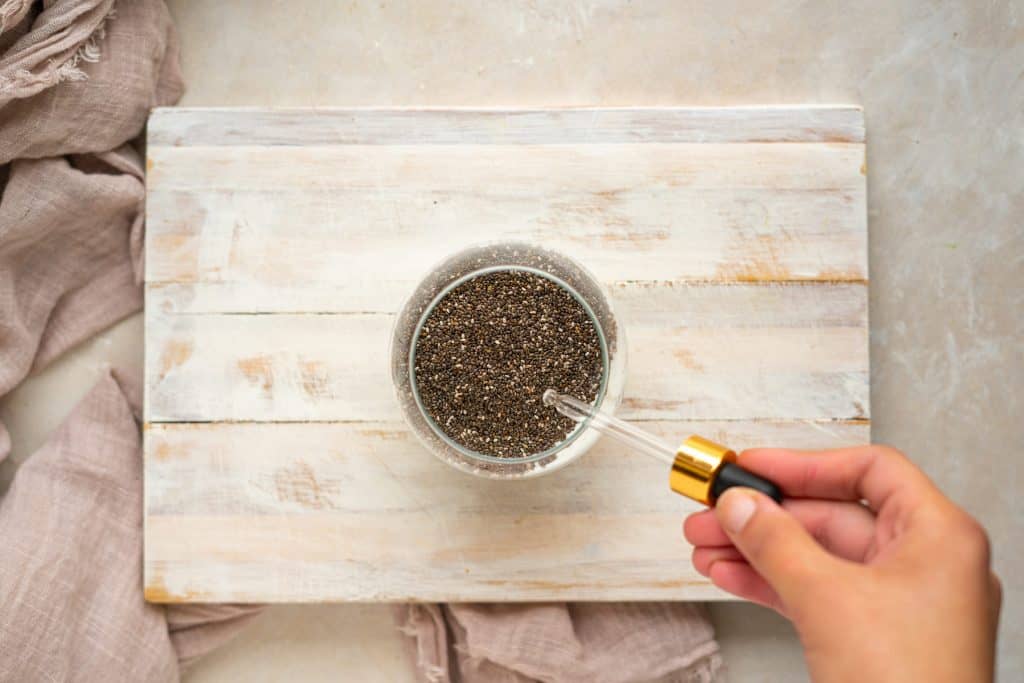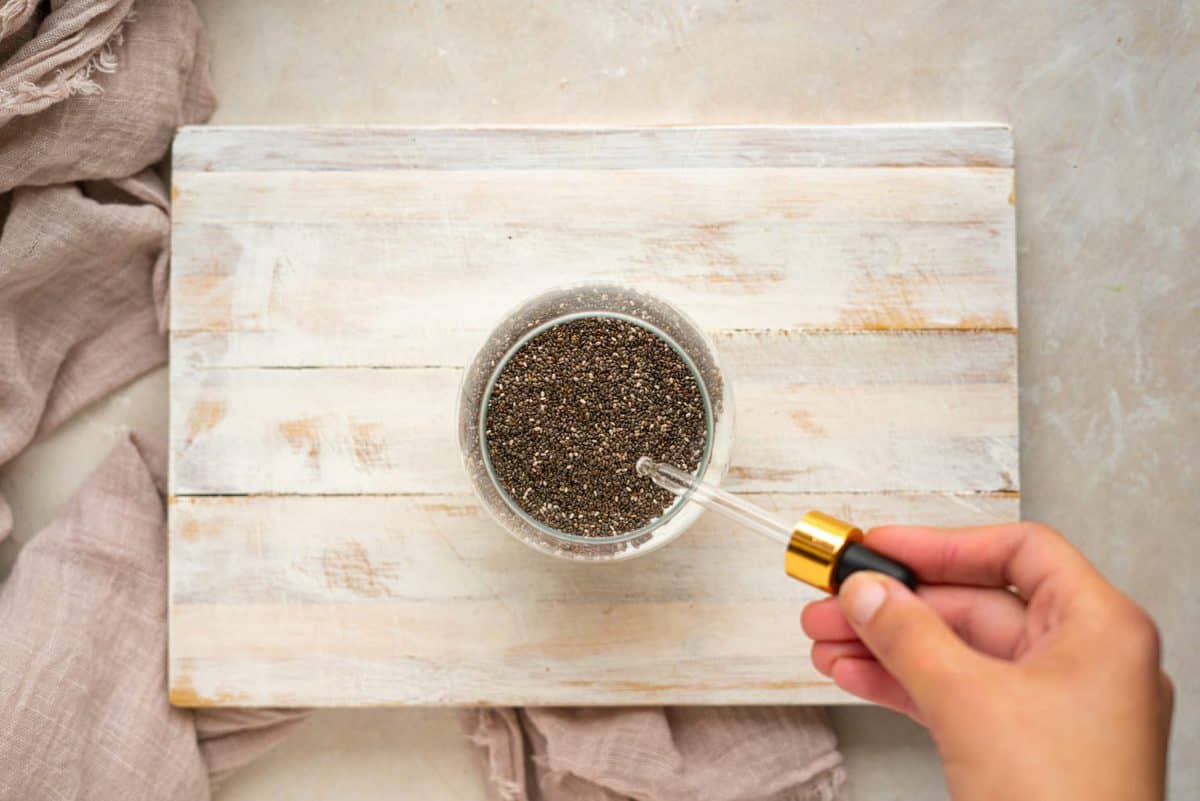 Storing Chia Pudding
We recommend storing this creamy keto chia pudding in the same mason jar it was mixed in. It makes storing easy and it will last up to a week refrigerated.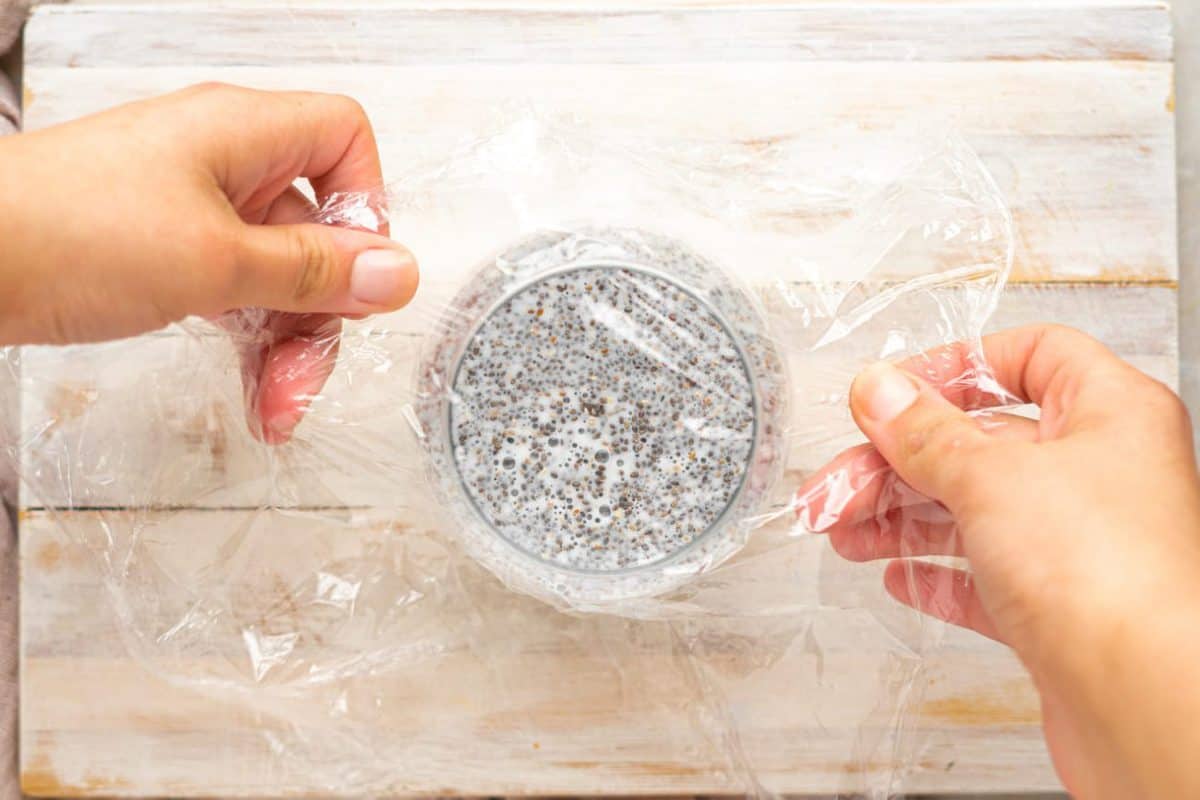 Can I Freeze Chia Seed Pudding?
While you can freeze chia seed pudding the texture may change. If you like the jelly- like texture than by all means make a big batch and freeze it. If not, skip the freezing and just make a new batch. At least a single serving size takes just 5 minutes prep time!
Tips and Tricks for Making Chia Pudding
Running into issues with chia pudding recipes? Each recipe is a little different, but we made a list of the most common errors and how to fix them:
Chia Didn't Set– Older chia seeds can tend to not set well. If this happens to you simply give the chia pudding another stir and wait about 30 minutes.
I Tried This Recipe and Didn't Like the Texture– Chia seeds can be an interesting texture for most people, not just those on a low carb diet. If you find yourself not loving the texture try this recipe blended.
I Don't Have the Time to Wait– Yet again the blender is going to be your best friend! Pulse this recipe a few times and your breakfast will be ready in seconds.
More Easy Keto Breakfasts
Love this low carb chia pudding but want even more breakfast ideas? Check out some of our favorite sweet or savory breakfasts like:
Our Easy Keto Breakfast Sandwiches – Don't miss out on a delicious low carb biscuit filled with egg, cheese, and bacon. It's both delicious, and well I guess you could say nutritious…
Sweet Keto Egg Loaf– This recipe is the perfect keto friendly French toast dupe. It's sweet and cinnamon-y without all the carbs and sugar. The best part is that it only has 1 gram of carbs per serving! Another similar recipe are these easy keto crepes.
The Best Classic Keto Waffles– Soft and fluffy waffles perfect for dousing in sugar free keto friendly syrup. Top them however you want to make your perfect stack. We love everything from peanut butter to dark chocolate chips!
For even more keto breakfast ideas check out the breakfast section of our site. It's jam packed with all your favorite breakfast foods gone keto, we even have cereal!
Chia Seed Pudding
This keto chia seed pudding is perfect anytime of the day. It's sweet, light, and even better with a little extra fruit.
If you are normally in a rush come morning time, think about taking five minutes for yourself the night before a busy day and make this for yourself. We promise you won't regret taking those extra five minutes for a tasty breakfast!
Creamy chia seed pudding makes the perfect breakfast or after dinner treat!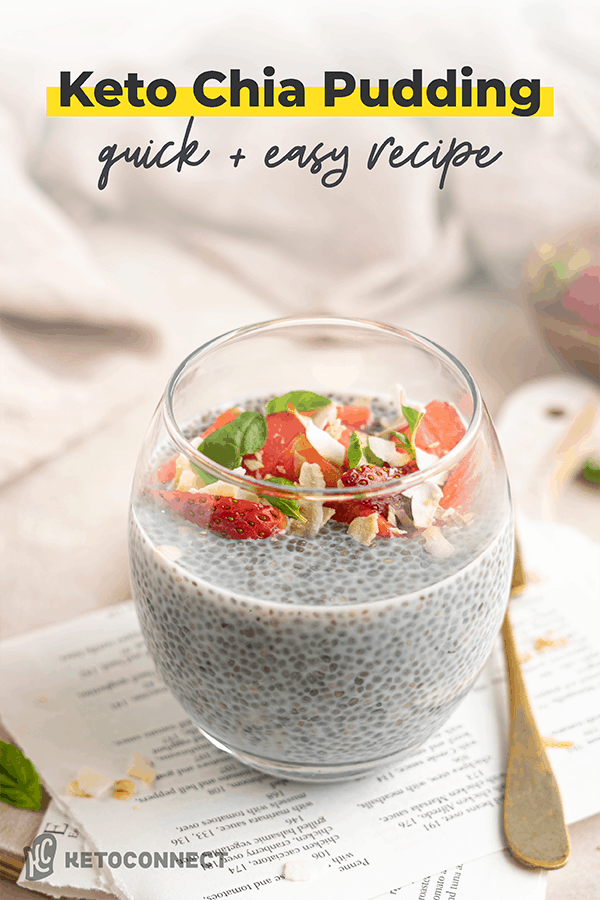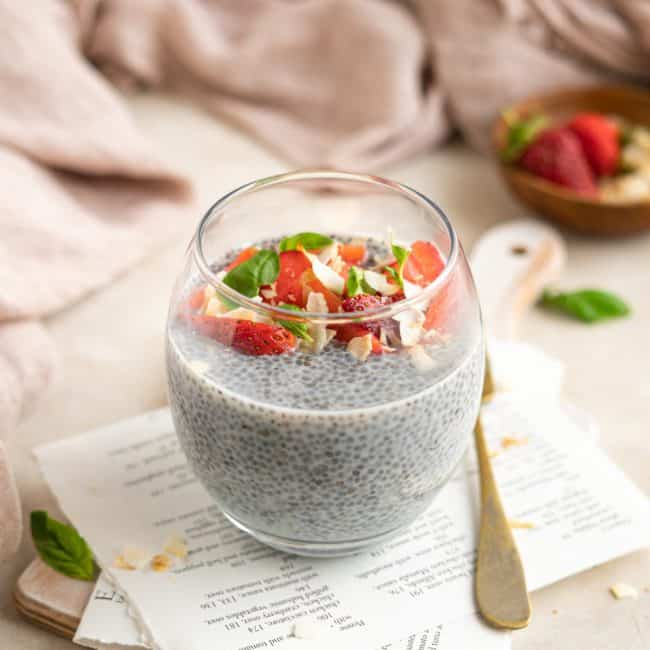 Keto Chia Pudding
Creamy overnight chia pudding makes the perfect breakfast or after dinner treat!
Total Time 5 minutes
Servings 1
Calories per serving 242kcal
Prep Time: 5 minutes
Cook Time: 0 minutes
Instructions:
In a jar or a bowl, add the chia seeds and milk. Mix well.

Cover the jar or bowl, and refrigerate overnight.

Adjust sweetener to taste, and add flavoring of choice. You can add more milk to achieve your desired consistency.

Serve with your preferred toppings. We went with strawberries and coconut flakes.
Notes
Net Carbs: 4 (strawberries and coconut not included in nutrition calculation) You can store the chia pudding (without toppings) in an airtight container in the refrigerator for up to a week. If using canned coconut milk, only use 3 Tbsp, and the rest of the 1 cup as water.
Nutrition Facts
Keto Chia Pudding
Amount Per Serving
Calories 242 Calories from Fat 144
% Daily Value*
Fat 16g25%
Saturated Fat 1g5%
Trans Fat 1g
Sodium 332mg14%
Potassium 173mg5%
Carbohydrates 19g6%
Fiber 15g60%
Sugar 1g1%
Protein 8g16%
Vitamin A 23IU0%
Vitamin C 1mg1%
Calcium 568mg57%
Iron 3mg17%
* Percent Daily Values are based on a 2000 calorie diet.
Written By