Ready for the best keto crepes you've ever had? This low carb crepe recipe is so versatile! You can make them sweet or savory, and choose from tons of different toppings. Go ahead and eat keto crepes with softened cream cheese and low carb berries, or have a little fun and spice it up with shredded cheese and ham.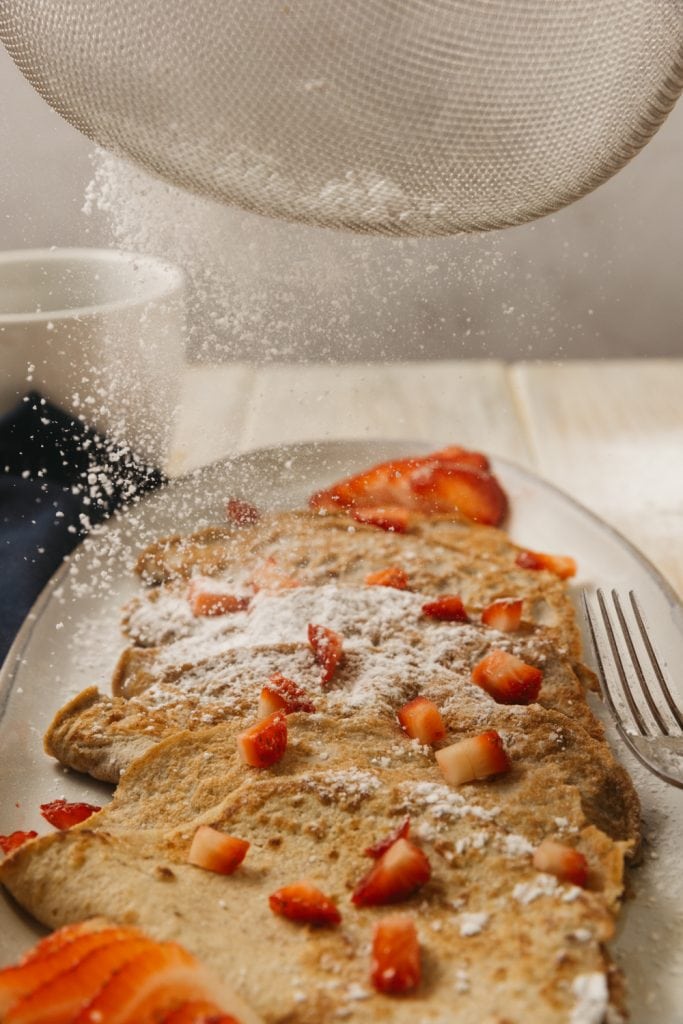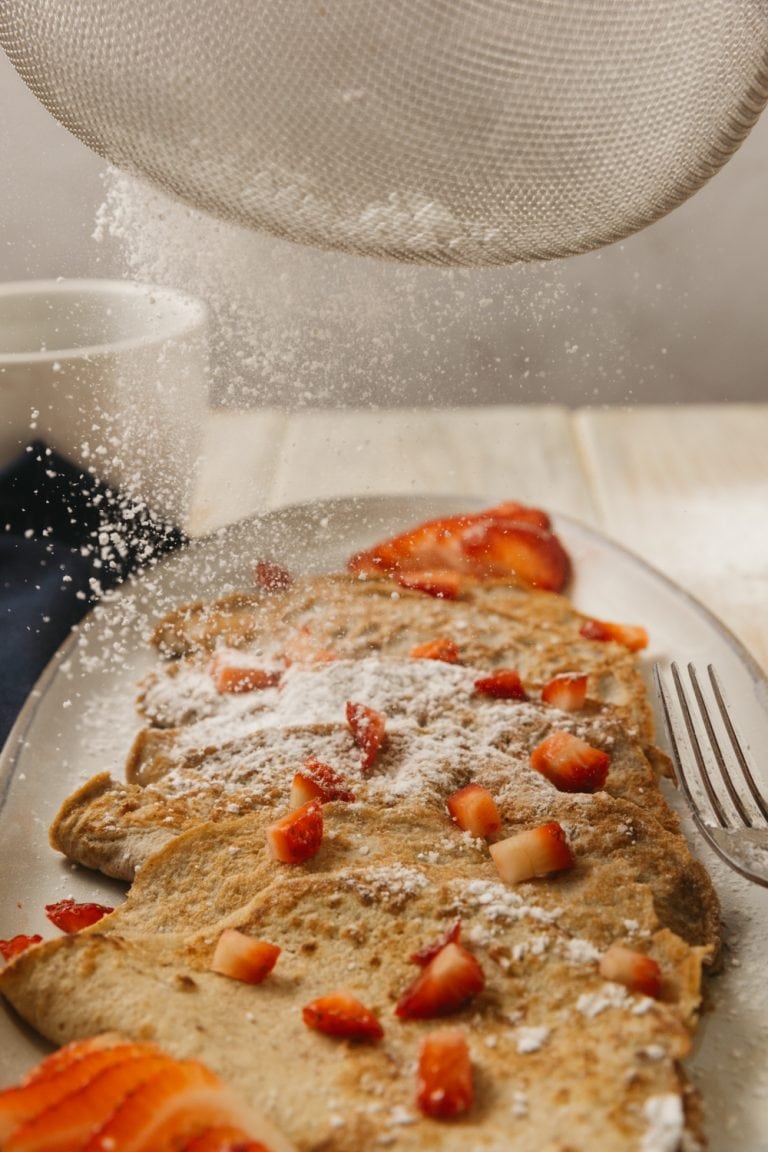 Have you ever had crepes though? Whenever I think of them, I think of buttery, golden brown edges, sweetened cream cheese filling. Or cream cheese with strawberries or strawberry jam! With some whipped cream on top. That's probably my favorite way to eat tasty keto crepes.
We chose to base this recipe on coconut flour instead of making almond flour crepes. Many of you ask us to create nut free keto recipes featuring coconut flour. I definitely find almond flour to be easier to cook with, so we definitely know where you're coming from.
No worries though, we got you!
What are crepes?
Crepes are thin, French-style pancakes made with hundreds of different fillings. They're ridiculously popular in Europe, popping up everywhere – at wedding receptions, family breakfasts and even food trucks. I love me a good ol' American pancake, but these hit my taste buds in all the right ways.
Crepes are ridiculously versatile and you can enjoy them with both sweet or savory fillings. There are different crepes recipe versions out there, but traditional crepes contain wheat flour, some kind of a liquid (either water or milk) and salt. Obviously since this is a keto crepe recipe we won't be using any of those.
Instead of using regular flour, we're going to use coconut flour as a base for the crepe batter instead. Milk won't be necessary either and we'll swap it with a nut based milk. I know low carb crepes sound a bit difficult to make and unrealistic, but bare with me here – they really taste amazing.
How to make perfect keto coconut flour crepes?
Keto and low carb crapes can be a challenge. You have to use a non stick pan, play around with the skillet over medium heat, carefully flip them over so they don't break etc. It probably sounds difficult at first, but once you get the hang of it, making keto crepes is a breeze.
If you've been on the keto diet for a while now, you're probably used to all these kinds of swaps and a somewhat re-invented way to cook your favorite things. To make you feel a bit more confident in your cooking skills, I truly believe making crepes is easier than making a lot of other healthy recipes.
Take low carb zucchini lasagna for example. For some odd reason, I can't ever get it right. But on the other hand, Megha can always get it perfect. So long story short, making a keto crepes recipe is definitely a hundred times easier for me than dealing with zucchini.
Like I've mentioned before, ingredients here (or in any low carb recipes) are a bit different, so read on to see why we used some of them and which ones you cannot swap at all:
Keto crepes ingredients
Coconut oil – it's best to have coconut oil in room temperature, preferably in a liquid state. You'll get smooth batter instead of clumpy keto crepes.
Almond milk – make sure you use unsweetened almond milk to avoid consuming too many net carbs from sugar. Drinking your net carbs is seriously the biggest keto sin one can do. You can use coconut milk as well, just make sure to adjust the batter accordingly.
Psyllium husk powder – this ingredient acts as a binding agent to glue all the keto crepe recipe ingredients together. Don't skip it.
Coconut flour – these are coconut flour keto crepes, not almond flour keto crepes. Under any circumstance, do not substitute these two or you'll end up with a mess.
Eggs – room temperature works best here. Despite the number of eggs that go into this recipe, these keto crepes don't feel "eggy" and omelet-like at all.
Vanilla extract (optional) – doesn't vanilla extract make everything taste better? I can't imagine eating sweet, thin pancakes without a hint of vanilla. Skip it if you're using savory fillings.
Keto sweetener (optional) – you can use erythritol or monk fruit sweetener here. You can add it directly into the crepe batter, but for the most part we like to make our keto crepes without it just in case we're craving savory crepes.
Step by step keto crepes guide
We tried to make this keto crepes recipe as easy as we could. I honestly think having a blender in your keto kitchen is a must. We've had ours for years now and if you don't have one, I definitely recommend getting one.
Step 1: Combining all ingredients
Combine coconut oil, unsweetened almond milk, psyllium husk, coconut flour and eggs in a blender. You can also use vanilla extract and a low carb sweetener if you want to use these keto crepes as a dessert or simply a sweet dish.
Step 2: Time to make a crepe batter
Blend on a high setting between 30 seconds and up to a minute until everything is uniformly mixed into the batter. You'll need a good blender for this, but if yours doesn't have much working power just mix it for a minute or two longer.
Step 3: Heat up your skillet
Heat a non-stick skillet on medium heat and spray very lightly with cooking spray. If you don't have a cooking oil spray, take a piece of paper towel, pour a tablespoon of oil on top of it and rub the frying pan. A regular skillet is fine, but there's nothing stopping you from getting a little fancy with a dedicated crepe pan as well.
Step 4: Pour the batter
Pour 1/4 cup of batter into the pan and move it around very quickly so that the whole bottom is coated thinly. If you've never done crepes this may take a try or two before you get it perfect, but believe me, it's easy peasy. All you need to remember is to pour a thin layer of the batter.
Step 5: Cook crepes
Cook for about 2 to 3 minutes until the keto crepes are set enough to flip them. Use a rubber spatula to do this. Flip, and cook for another minute or so.
Step 6: Top and fill with low carb, keto friendly ingredients
Top with whatever your heart desires. You can roll them up with a cottage cheese filling for extra protein and top it with strawberries, or lay ham and cheese on top to make it savory. The world is your oyster here my friend.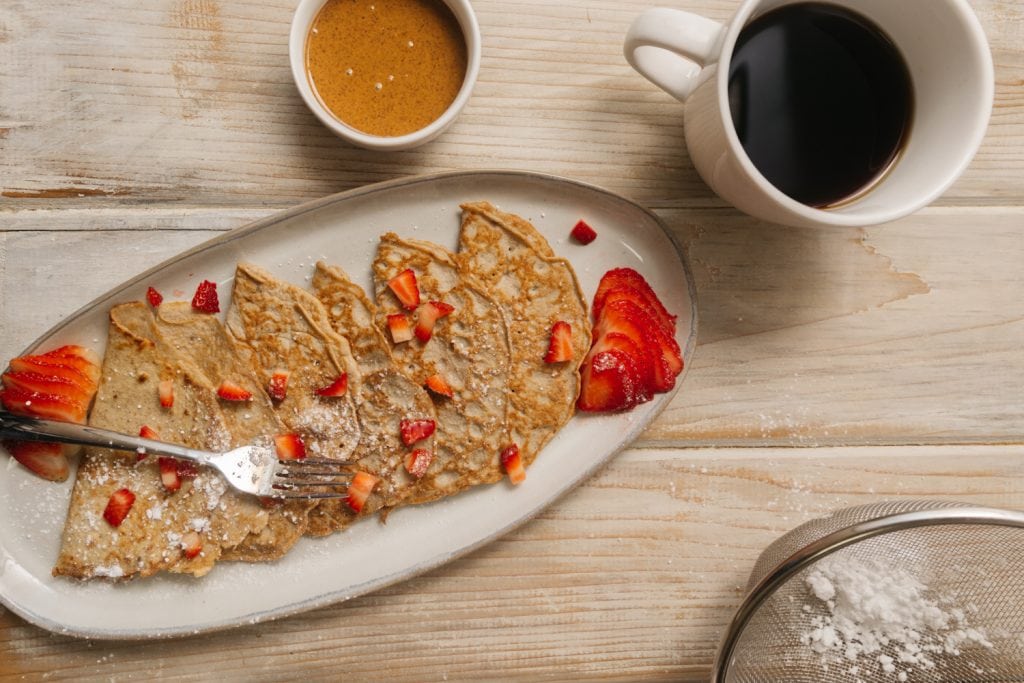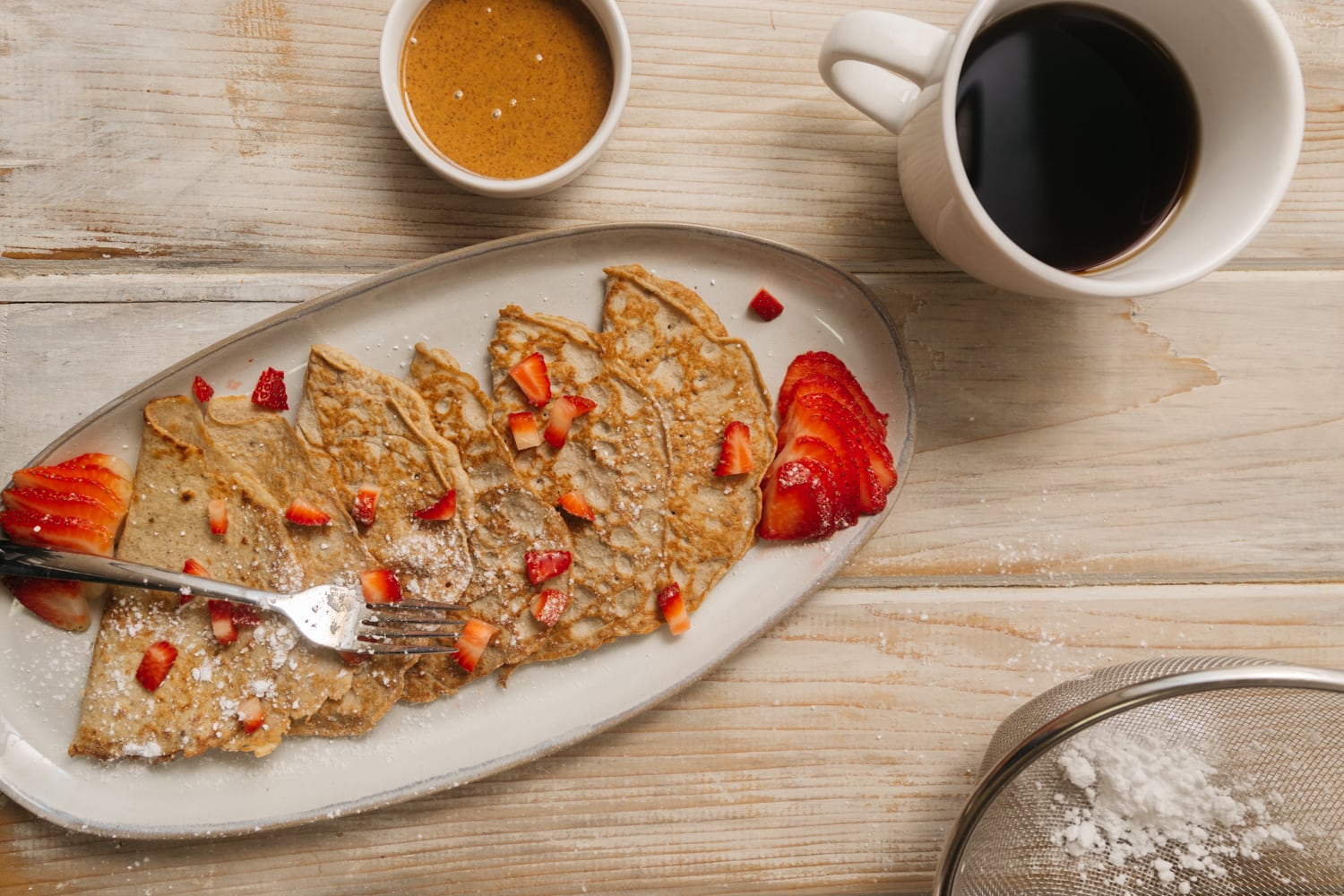 I don't have coconut flour. Can I make keto almond flour crepes instead?
You can never substitute coconut flour for almond flour in a 1:1 ratio. Unfortunately, almond flour will not work for this recipe. Here's why:
Coconut flour
Coconut flour is simply fried and very finely ground coconut meat. During the process of making coconut products, once all of the watery content is taken out, we're left with pulp. That coconut pulp is then dried and grounded into flour.
Coconut flour has a lower fat content than almond flour, which also makes it more absorbent. This is why whenever you're making low carb, keto recipes that require coconut flour it will probably call for more wet ingredients.
If there is no right amount of moisture in a recipe, it will come out dry, crumbly and most likely fall apart.
Almond flour
People tend to put different types of ground almonds into one bucket and call it "almond flour".
There is blanched almond flour, which is made with almonds that had their skins previously removed in a process called blanching. There is also unblanched almond flour, which means no almond skins were removed in the process of making this type of almond flour (also sometimes called almond meal).
There's also defatted almond flour, but we haven't seen it in a lot of recipes ourselves.
Almond flour is much more expensive per ounce than coconut flour and in a recipe, typically 3 to 4 times more almond flour is needed to make a recipe.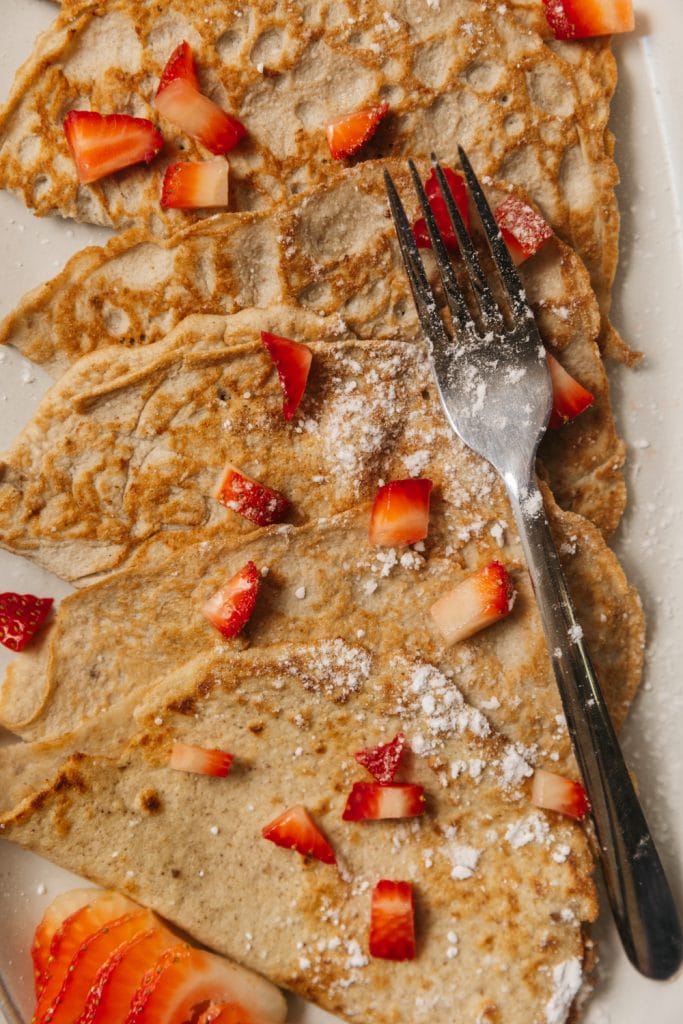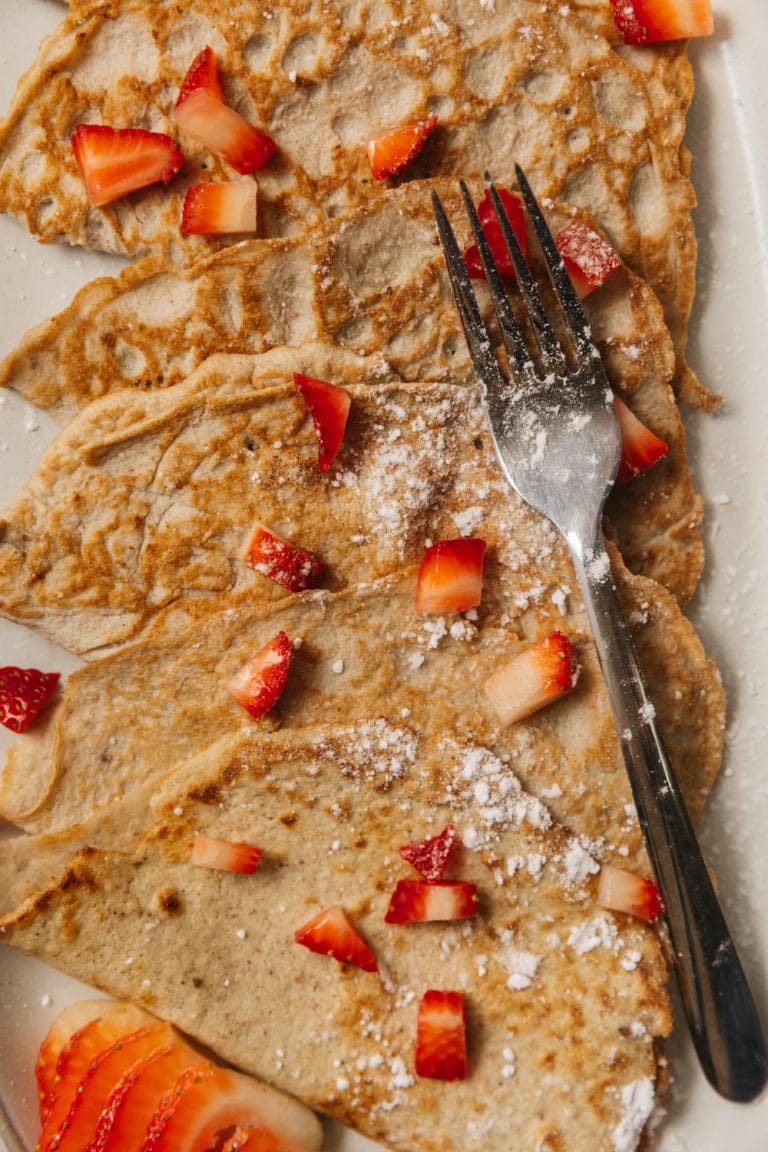 Keto crapes fillings and toppings
When it comes to cooking crepes, I usually keep all the batter unsweetened and don't add any keto friendly sweetener. Why do I do this? Something I crave sweet, low carb crepes and sometimes I want to go savory. If you sweeten all the batter and then decide to make a savory filling, I doubt that would come out tasty at all.
Here are some ideas for sweet or savory crepes. Keto, of course!
Sweet crepes ideas
While keto helped me with my sugary cravings, I can't ever say no to a sweet keto crepe filling. There are so many to choose from and they're good for breakfast or dessert, like:
Cream cheese – you can use softened cream cheese mixed with a powdered keto friendly sweetener. Or if you want more protein, you can use cottage cheese as well and add some cinnamon to give it a fall-like flair.
Whipped cream – if you're lactose intolerant you can use coconut whipped cream instead. Simply take the solid part of canned coconut milk and whip for a while. Otherwise, simply whip some cream or check out our Keto Cool Whip Recipe.
Nut butter – any kind of nut butter will work perfect with these. I dare you to make a peanut butter and jelly crepe! I haven't tried that one yet, but it just came to my mind and sounds absolutely delicious. Trying it tomorrow, ASAP.
Low carb berries – strawberries, raspberries, blueberries, blackberries… you name it. If it's keto friendly, then it's perfect as a topping for your keto crepes.
Savory crepes ideas
Keto crepe toppings and fillings don't need to be sweet! There are plenty of savory variations out there. Don't worry about using coconut flour either – my best advice is to use a little more salt or even spices like garlic powder and onion powder to kill off the taste if you don't like it.
Here are some ideas for savory keto crepes:
Ham and cheese – this one is obviously a classic, so you can't ever go wrong with that. Simply take a cooked crepe, place your favorite cheese on top of it with two or three slices of ham and then fold it in half. Place it on a non stick pan and cook until cheese is melted.
Smoked salmon, cream cheese, capers and red onion – I'm a huge fan of smoked salmon and eat it as often as I can. Salmon is high in healthy omega-3's, which help reduce the risk of heart disease, certain cancers, and overall age-related mental decline. Pair it up with antioxidant-filled capers and you've got yourself a youth bomb.
Mushrooms, spinach and cheese – awesome for those who prefer a meat-free crepes recipe. It's such a staple combo when it comes to omelettes, I'm convinced it will have the same effect on low carb crepes.
Bacon, egg and cheese – yes, you've heard it right! I can't think of breakfast cuisine without thinking about bacon, egg and cheese. Place scrambled eggs, crispy bacon and shredded cheese on a keto crepe and treat it as a breakfast burrito.
How to store keto crepes?
You can make keto crepes ahead of time, but its best you store them without the sweet or savory fillings.
Fridge: You can store cooked crepes in the fridge for 3 days. Don't roll them up, just simply lay on a plate and put paper towel in between so they don't stick.
Freezer: Yes, you can definitely make keto crepes in batches and freeze them up. Place them flat and put parchment paper in between so they retain their shape and don't stick to one another. Then, put them in a zip-lock bag and throw in the freezer.
What about keto pancakes or waffles?
Keto crepes and pancakes are similar, but we get it, they're not the same thing. If you think crepes are cool, but you find American pancakes or waffles way cooler, check out these recipes:
Keto Protein Pancakes – bulking season? Then you'll enjoy these for sure.
Blueberry Keto Pancakes – these are made with coconut flour only, which makes a great option for those of you who want something nut-free.
Keto Sheet Pan Pancakes – no need to flip pancakes here and worry about the patter. All you gotta do is pour the mixture into a baking sheet pan and wait until it's done.
Keto Pumpkin Pancakes – right in time for the fall, these contain pumpkin puree and both coconut and almond flour. I love to eat them with pecans and cream cheese filling between each layer.
Classic Keto Waffles – thick and fluffy, you can make these with sweet toppings or go nuts and do chicken and waffles.
Let us know in the comments if you are also a fan of crepes!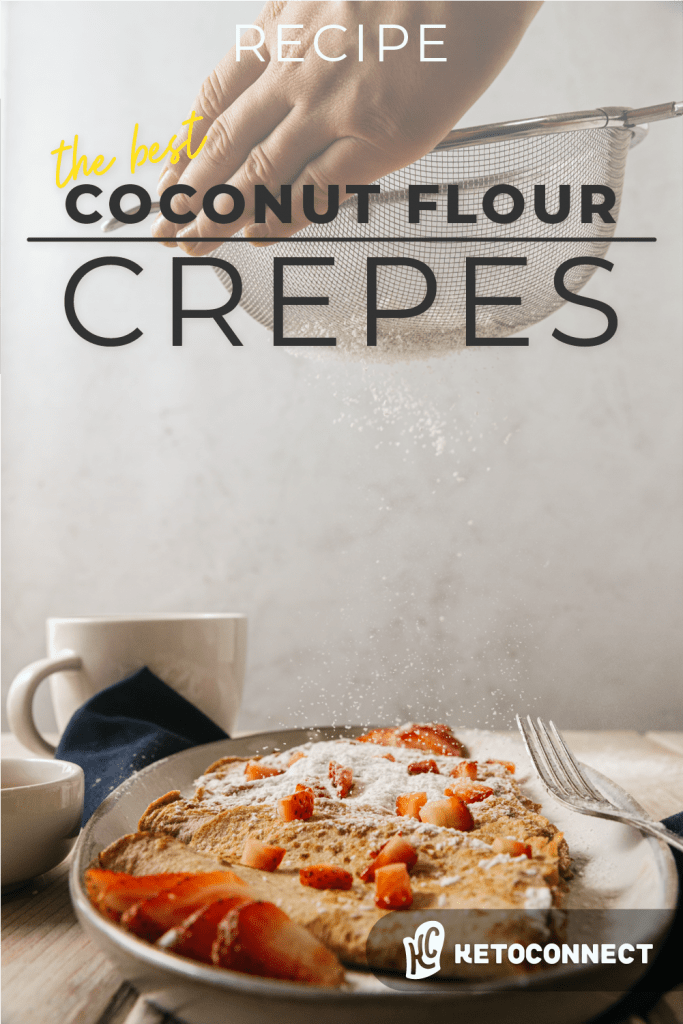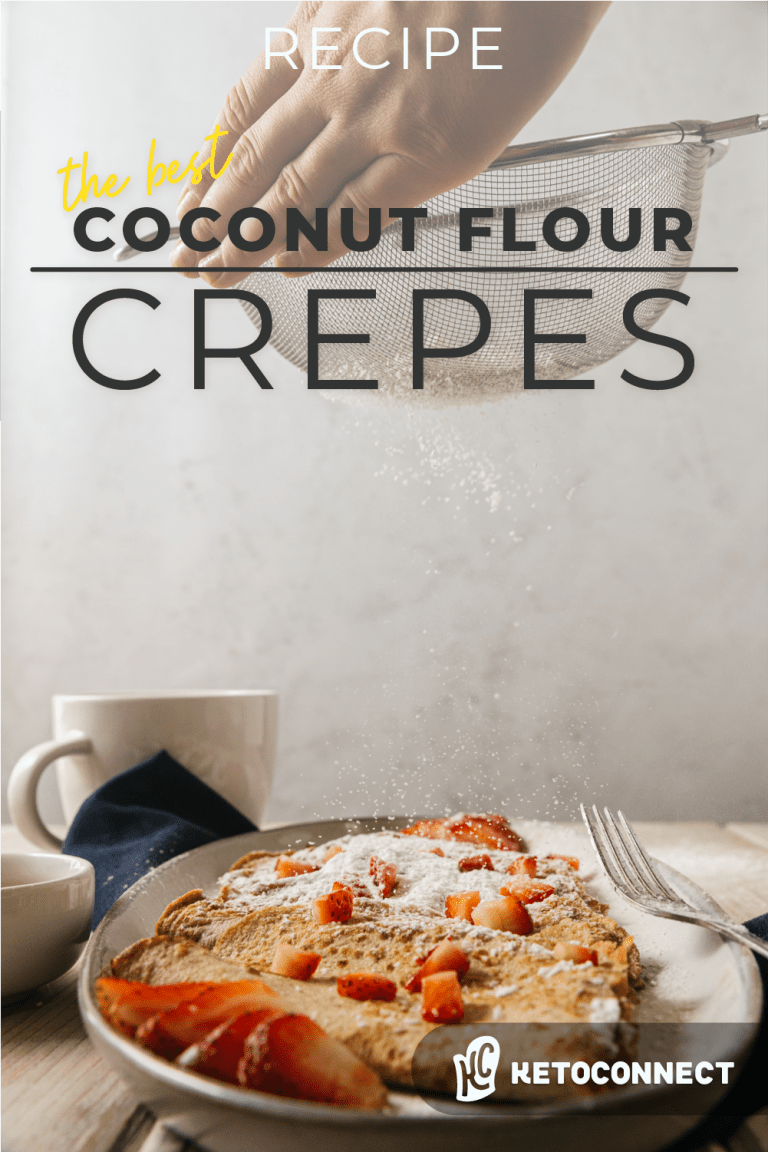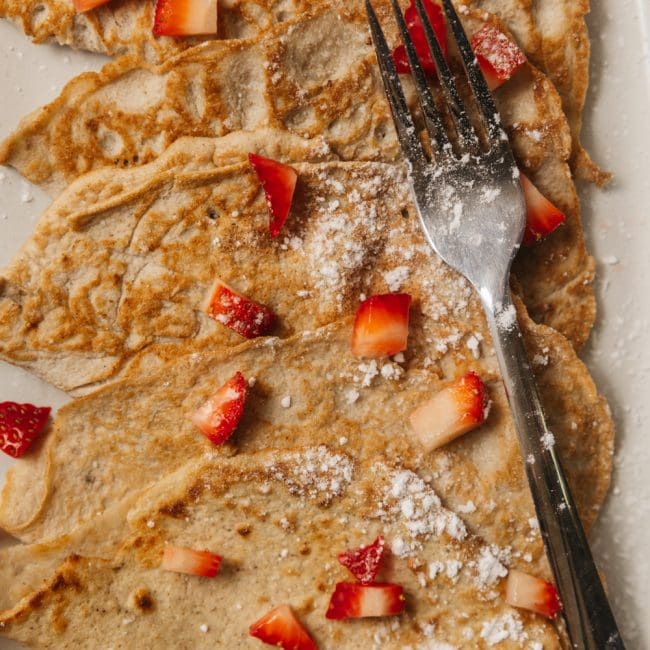 Keto Crepes Recipe | Gluten Free Crepes
Try these incredible keto crepes, made with a combination of coconut flour and almond flour.
Total Time 20 minutes
Servings 6 Servings
Calories per serving 248kcal
Prep Time: 5 minutes
Cook Time: 15 minutes
Instructions:
Combine the coconut oil, milk, psyllium husk, coconut flour, eggs, and vanilla (optional) in a blender.

Blend on high for 30 seconds to a minute until all the flours are mixed into the batter.

Heat a non-stick skillet to medium heat and spray lightly with cooking oil.

Pour a 1/4 cup of batter into the pan and quickly move around the batter until it has coated the bottom and spread thin.

Cook for 2-3 minutes, or until the base has set enough to flip. Flip and then cook an additional minute.

Top with berries and cream, or ham and cheese. These crepes can be sweet or savory.

Store in the fridge for up to 1 week.
Nutrition Facts
Keto Crepes Recipe | Gluten Free Crepes
Amount Per Serving
Calories 248 Calories from Fat 180
% Daily Value*
Fat 20g31%
Saturated Fat 7g35%
Trans Fat 1g
Polyunsaturated Fat 1g
Monounsaturated Fat 1g
Cholesterol 124mg41%
Sodium 58mg2%
Potassium 47mg1%
Carbohydrates 9g3%
Fiber 5g20%
Sugar 1g1%
Protein 10g20%
Vitamin A 180IU4%
Calcium 68mg7%
Iron 2mg11%
* Percent Daily Values are based on a 2000 calorie diet.
Written By