You may be asking yourself "What is a Chaffle"? It's a super simple recipe that you can make in under five minutes with only two ingredients. This keto chaffle recipe is sure to be a staple breakfast recipe when you're in a rush, or an easy sandwich bread you can whip up in no time.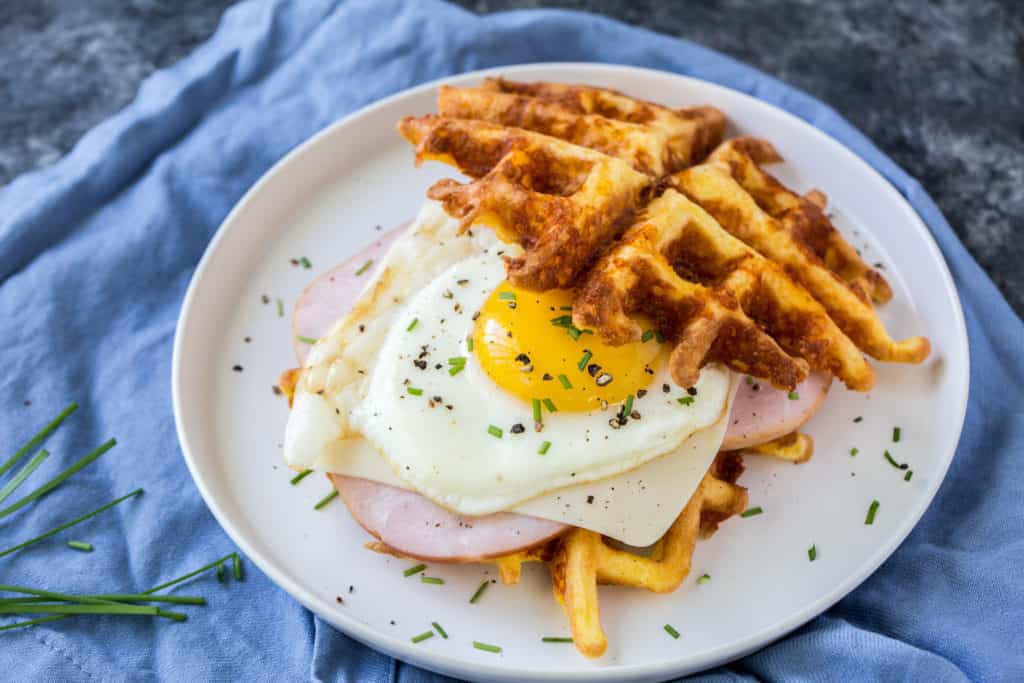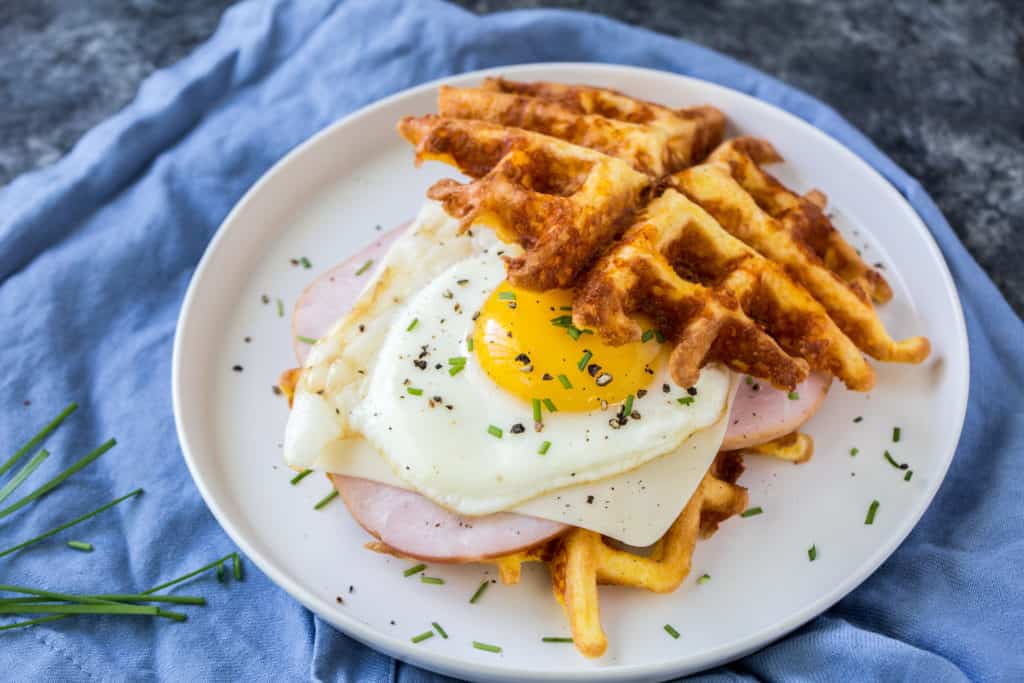 Why is it Called a Chaffle?
The word chaffle is a combination of the word "waffle" and "cheese". Since these chaffles use cheese rather than flour and sugar, they are totally keto friendly.
Here are a few ways to enjoy Chaffles.
Sandwich Bread – Replace your high carb Wonder Bread with a chaffle. Fill with layers of deli meat, cheese, lettuce, and tomato for a refreshing low-carb lunch.
Hamburger Bun – Swap out the heavy hamburger bun for a cheesy chaffle. Simply place your beef patty on top, add your favorite burger toppings like cheese, bacon, and onion, and you're good to go.
Pizza Crust – Craving pizza but don't feel like making a big mess? Whip up a simple chaffle then top with your favorite pizza toppings. Throw it in the oven under broil for a few minutes and enjoy.
What Are Chaffles Made of?
Chaffles are typically made with egg and shredded cheese like the recipe you will find below, but there are many variations for this simple recipe. Some people add almond flour or coconut flour to their batter, and you can even find sweet dessert chaffles! The waffle iron provides a quick way to cook a keto meal. Here are a few chaffle recipes to try:
Here you can find a list of the best dash waffle maker recipes you can make at home!
Tips for Making Chaffles
Since we found out about this recipe a few weeks ago we've been churning out chaffles non stop, so we have some tips to ensure that yours come out perfect every time!
1. Use the High Heat Setting on Your Waffle Maker
If you use a low-heat setting you will not get the crispy texture you're looking for. We've made our fair share of chaffles and have never burned any of them, so you really can't mess them up by using too high of a heating temperature.
2. Place Cheese on Top and Bottom
When making the keto chaffles you want to start by placing down a small handful of cheese, then pour in the egg, and follow it up with another handful of cheese. This method is preferred to simply mixing the cheese and egg together and pouring it into the waffle maker. If you mix everything together you won't get a crispy texture and the cheese will not distribute evenly.
3. Use Full-Fat Cheese
Full fat cheese not only tastes better, but it is what we prefer when shopping for a keto diet. We do our best to avoid using skim milk dairy products and these keto chaffles are no exception. We've found cheddar cheese to be our favorite.
4. Use a Mini Waffle Maker (They're Only $10)
At first I thought a mini waffle maker was a waste of money. Why would I want mini waffles when I can have big waffles? The truth is, the mini waffle maker creates the perfect size chaffles to use for a sandwich. Just make two little chaffles and fill them with your favorite sandwich fillings. May I suggest a BLT?
5. Store These Keto Chaffles in the Fridge
Make a big batch and store these chaffles in the refrigerator so you have them at the ready. Nothing quite beats that crispy cheese flavor you get from a freshly made chaffle, but they are still incredibly tasty a few days later right out of the fridge.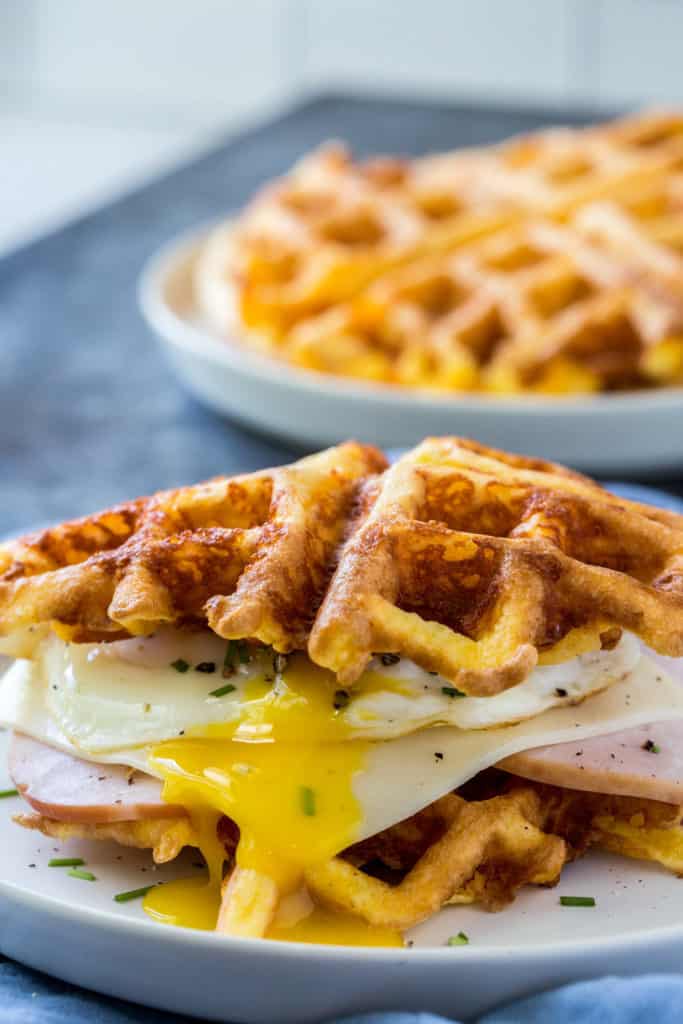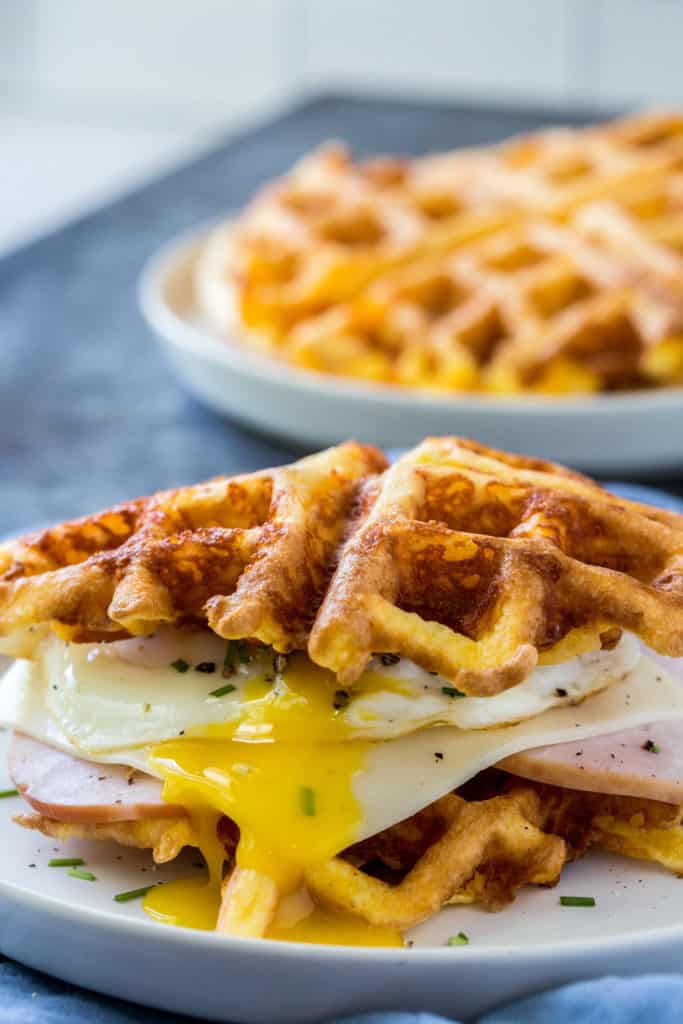 Want a Sweet Chaffle?
Here's what you'll need to turn this savory chaffle recipe into a sweet one:
For the sweet chaffle we are going to be mixing everything together before pouring into the waffle maker. This is different from the savory chaffle where we assembled everything right onto the waffle maker. Mix all of the above ingredients together in a small bowl and pour into the waffle maker.
The sweet chaffle will take longer to cook than the savory one. Let it cook until the steam stops coming off of the waffle maker. That's how you know it's done!
Are Chaffles Good for You?
This two-ingredient chaffle recipe is a great source of protein and healthy fats. Eggs are packed with so many essential nutrients and cheese is high in calcium. This high-fat, high-protein bread replacement will keep you fuller for longer, provide lasting energy, and won't spike your blood sugar. It's also a great option for people who have Celiac Disease or a gluten sensitivity.
Waffles vs. Chaffles
If you don't want to make chaffles, or you just don't like the name chaffles (it's a pretty bad name), then try our other favorite keto waffle recipe. This protein waffle recipe can be made with your protein powder of choice for a sweet treat!
If you don't need waffles, but you want something delicious in under five minutes then check out these low carb biscuits that you can whip up in just three minutes!
#ChaffleHogs
If you end up making this chaffle recipe, be sure to tag us on instagram and use #ChaffleHogs.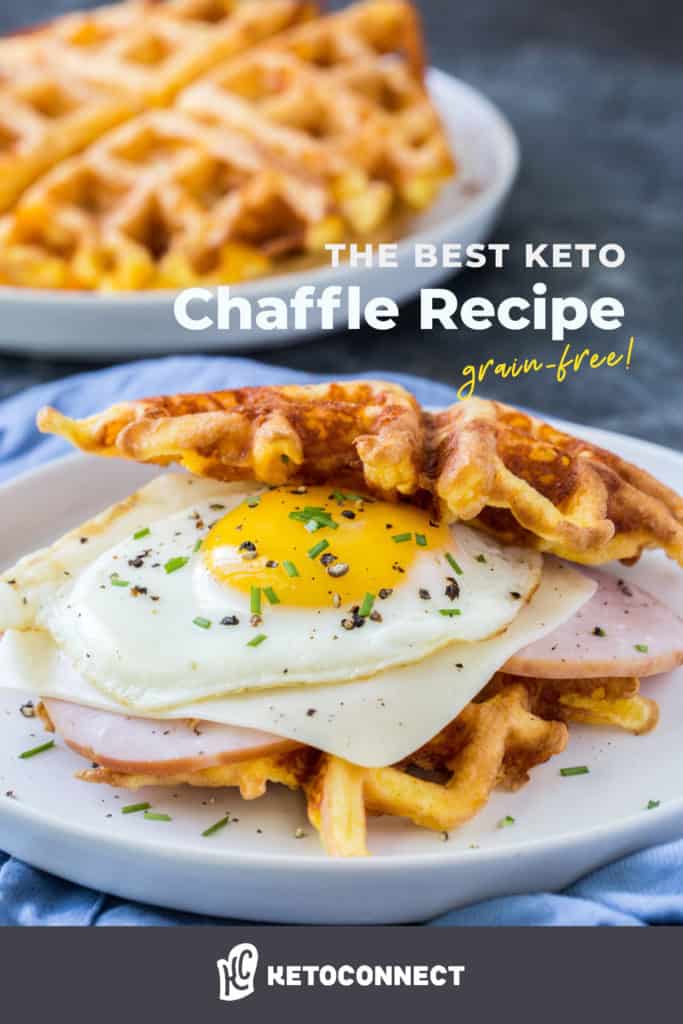 Keto Chaffles
The easiest keto bread replacement you will ever make with just two ingredients – eggs and cheese.
Servings 2
Calories per serving 195kcal
Prep Time: 5 minutes
Cook Time: 5 minutes
Ingredients:
2 large eggs
1/2 cup shredded cheddar cheese
Instructions:
Heat the waffle maker to medium high heat.

Beat eggs together in a small bowl until combined.

When the waffle maker is heated, start by adding a small handful of cheese. Next, pour in the beaten eggs, and top with an additional handful of cheese.

Close the waffle maker and allow to cook for 3-5 minutes or until steam is no longer coming off of the waffle maker.

Store in the fridge for 3-5 days.
Nutrition Facts
Keto Chaffles
Amount Per Serving
Calories 195 Calories from Fat 135
% Daily Value*
Fat 15g23%
Saturated Fat 8g40%
Cholesterol 241mg80%
Sodium 256mg11%
Potassium 106mg3%
Carbohydrates 1g0%
Sugar 1g1%
Protein 14g28%
Vitamin A 589IU12%
Calcium 235mg24%
Iron 1mg6%
* Percent Daily Values are based on a 2000 calorie diet.
Written By