So many of our favorite dessert recipes contain condensed milk. Most people know how to swap out ingredients like flour and sugar to make traditional recipes keto, but what about the condensed milk? This 100% sugar free condensed milk alternative will open up a whole new world of dessert recipes.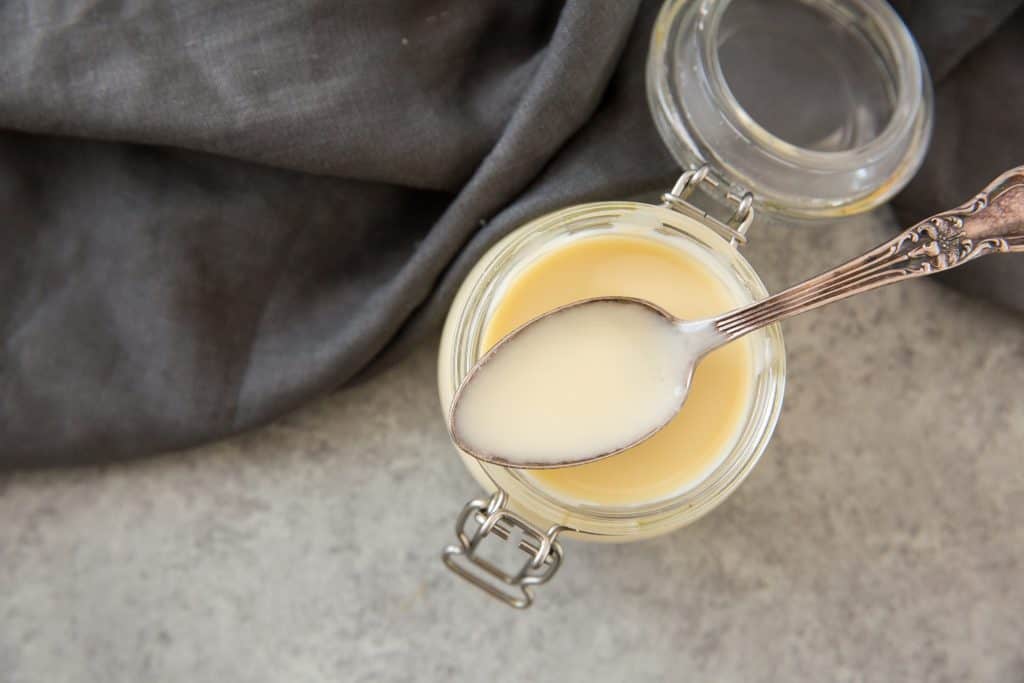 What is Condensed Milk
Condensed milk is just as it sounds, milk which has been boiled until condensed in volume. However, the biggest thing that defines condensed milk is the sugar content. Roughly half the can of condensed milk you would buy, is pure sugar. Sweetened condensed milk is cows milk which has been boiled until all the water is evaporated. Then companies add cane sugar in a 9:11 ratio of sugar to evaporated milk in order to extend the products shelf- life(1). This was started as a way to make milk shelf stable and easy to ship for nationwide distribution.
What's the Difference between Evaporated Milk and Condensed Milk?
Evaporated milk and sweetened condensed milk are extremely similar. There is 1 difference between condensed milk and evaporated milk though, and that's sugar. Evaporated milk is milk that has been boiled to reduce the volume, but then packed and stored. Condensed milk on the other hand is evaporated and then mixed with additional sugar before packaging.
Is Sweetened Condensed Milk Keto?
A traditional sweetened condensed milk recipe is not keto, or even low carb. The store bought variety isn't keto either. If you want to make sweetened condensed milk keto, follow along with our low carb recipe that uses sugar free sweeteners below.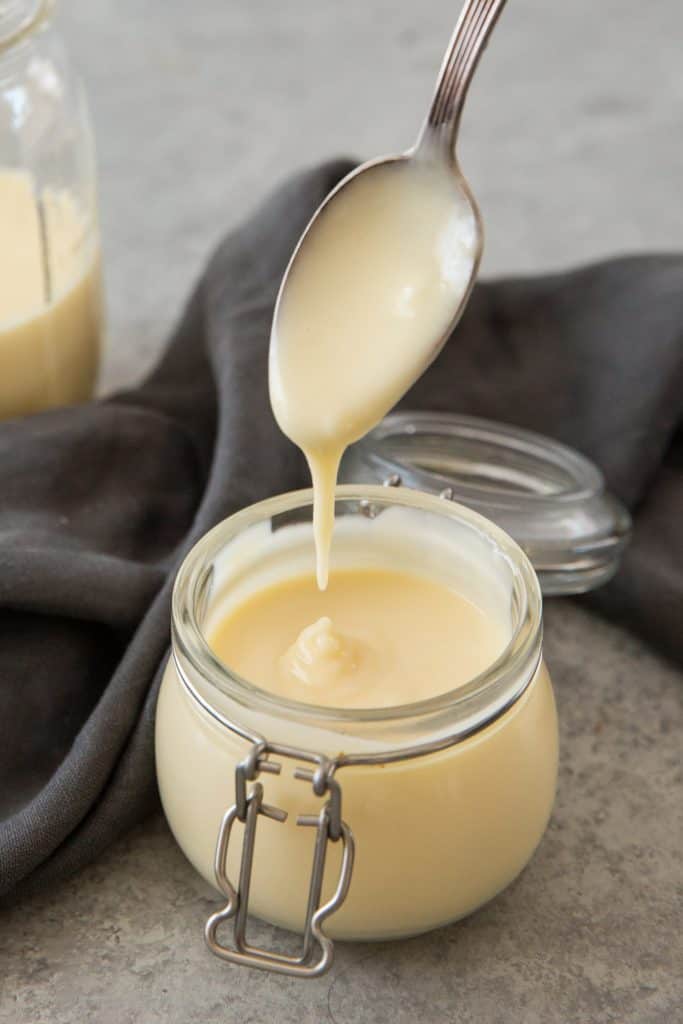 Uses for Sweetened Condensed Milk
This keto condensed milk has tons of uses in both the keto sphere and non keto world. For those who are looking to start eating sugar free, check out some of the ways you can clean up your diet with this low carb and sugar free condensed milk:
Coffee Sweetener– If you love your morning cup of joe, try using a tablespoon of this low carb condensed milk recipe as a sugar free sweetener.
Change up Sugar Based Recipes– A great way to start shifting into a low carb diet is by making low sugar swaps. Use this condensed milk in place of regular condensed milk in non keto recipes. Plus if the recipe calls for sugar, you can substitute that for a low sugar option like erythritol for a totally sugar free treat.
Dulce De Leche -Sub this sugar free condensed milk for a typical dulce de leche condensed milk recipe and voila keto dulce de leche!
There are tons of ways you can use sweetened condensed milk. From making it a sweetener to using it as a sugar substitution option, this keto condensed milk is sure to save your low carb diet from the high sugar alternative.
Using This Sugar Free Sweetened Condensed Milk in Recipes
For those wondering, yes, this recipe is the perfect substitution for its high sugar counterpart. Traditional condensed milk (15oz) has about 20 tablespoons per can. Our sugar free condensed milk recipe has about 32. That means if a recipe calls for a can of condensed milk, you will need to remove 12 tablespoons (3/4C) from our completed recipe to have them balance out.
This recipe is 100% interchangeable with its sugary counterpart, you just need to make sure you check ratios before subbing our full recipe for a can of the traditional version.
Dairy Free Sweetened Condensed Milk
I'm sure many people want to know if they can make sugar free and dairy free condensed milk too. While we do use heavy cream in this recipe, a dairy free option certainly is available. To make it taste like the real thing you'll want to use heavy whipping cream. However if you like a coco-nutty flavor, coconut milk will be your secret ingredient. To make dairy free keto condensed milk, simply sub the heavy cream for equal amounts of CANNED coconut milk, and the butter for coconut oil.
Why Canned Coconut Milk?
Full fat canned coconut milk is vital to this dairy free recipe. Just like you wouldn't use fat free milk to make regular condensed milk, you don't want to use a fat free alternative milk. Fat is what's left after the water has had a chance to evaporate away, and it will be what creates a super smooth and thick keto condensed milk.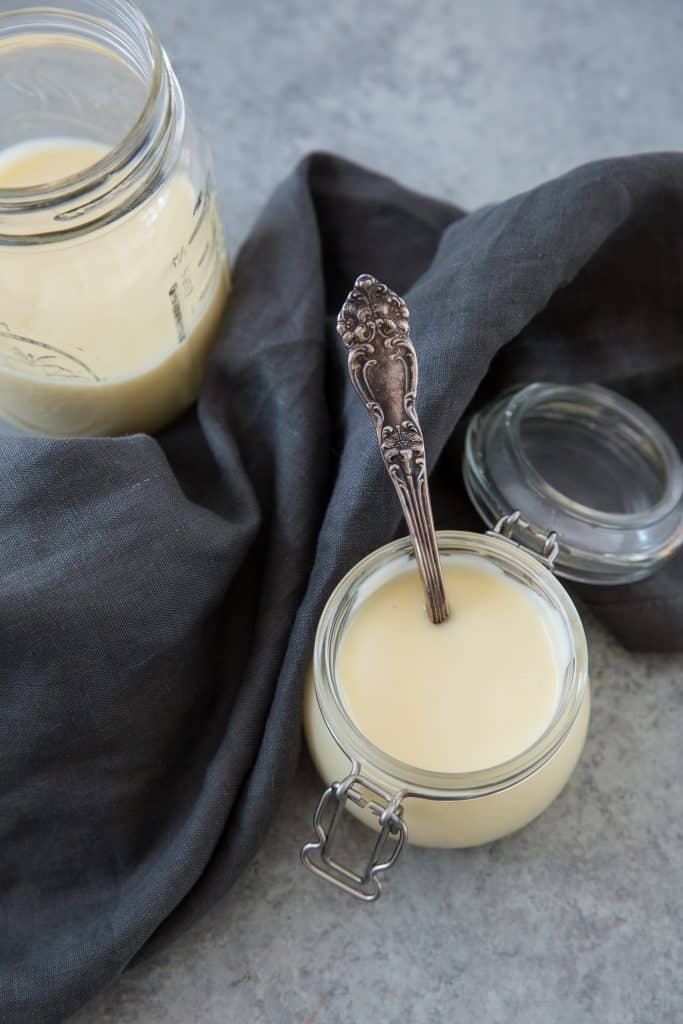 How to Make Keto Condensed Milk
This low carb sugar free milk recipe is super easy and quick to make. Plus it's so versatile you can use it in tons of other keto recipes. To make keto condensed milk you will only need three ingredients and a saucepan!
Equipment
The equipment for keto friendly condensed milk is minimal. You will need a saucepan, as well as a few jars to store your finished product. We love these mini mason jars because you can fill a few up for the fridge and toss a few with the condensed milk into the freezer for later use.
Keep reading to find out how to freeze and store your condensed milk.
Ingredients
This recipe only uses three ingredients to make the best sugar free keto condensed milk. The first thing we will need is heavy whipping cream. Heavy whipping cream is the base for this recipe and is used in place of regular milk to make it more keto friendly. On the bright side, to make keto condensed milk it only takes 25 minutes versus the normal 2 hours for regular condensed milk. This is all thanks to the heavy cream being so high in fat. To make the dairy free version you will just need canned coconut milk that still has the coconut cream.
The next thing we are going to need is butter. Our preferred butter is always grass-fed like the Kerrygold variety. Something to note though is that grass-fed butter usually has a much brighter yellow hue. This can change the color of your keto condensed milk a bit from the traditional white shade. We think superior nutrition is more important than the color, but if you need it white for a specific recipe go ahead and use a whiter store brand butter.
One optional ingredient we didn't mention is vanilla extract. This really depends on the flavor profile you want, but you are welcome to add a tsp of vanilla to the recipe if you'd like. Finally, to make a milk "sweetened condensed", you'll need sweetener. We used erythritol, a keto friendly sweetener that's 0 net carbs. You can use other brands like Lakanto that mixes erythritol and monk fruit, just make sure you check your ratios to get the right amounts. You can view our sweeteners guide to find the best keto friendly sweetener for you.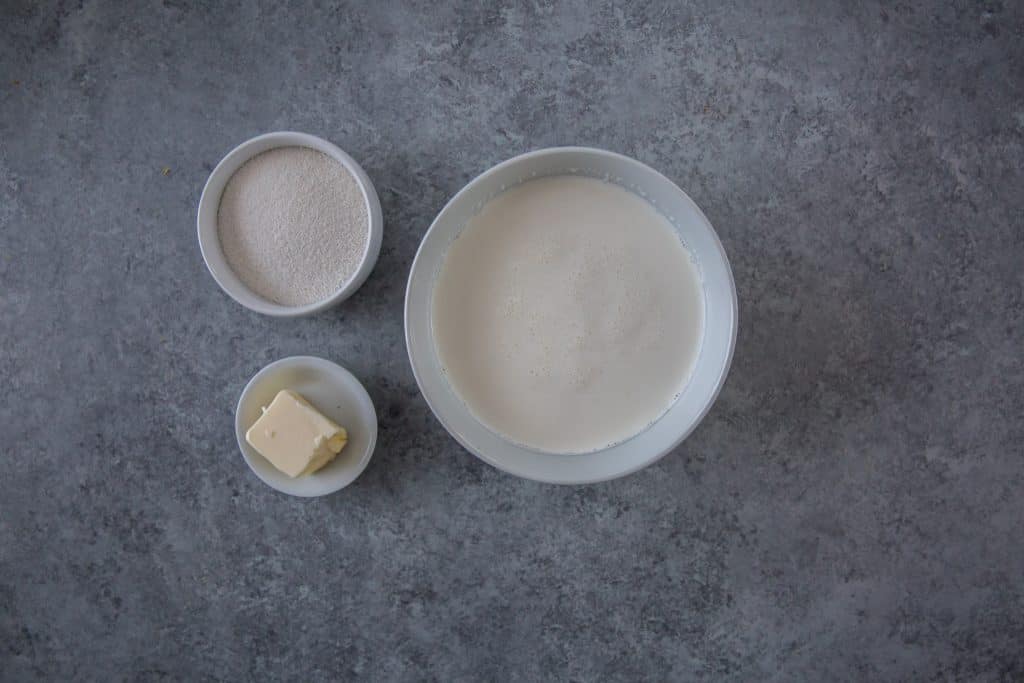 Making Sugar Free Sweetened Condensed Milk
To begin making this condensed milk recipe sugar free, combine the heavy cream, butter, and erythritol together in a saucepan or shallow skillet on medium heat.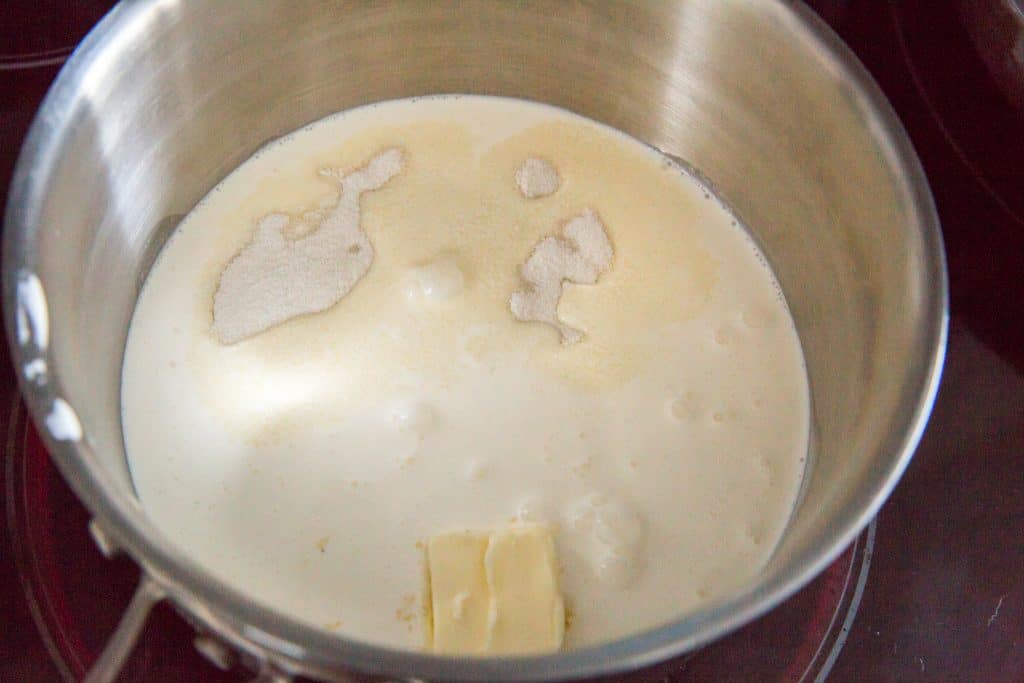 From medium heat increase the temperature slightly in order to bring the mixture to a boil. Once boiling reduce the temperature and then let it simmer for 15-20 minutes. Make sure to stir it frequently or the milk solids may burn. You want the mixture to be thick and reduced by half the volume. A good test is to stick a spoon in and see if the thickened mix coats the back of it.
Once it has reduced, you can remove it from the heat. Let it cool a bit before pouring into glass jars or containers to go in the fridge. It should continue to thicken a bit more as it cools and comes to room temperature.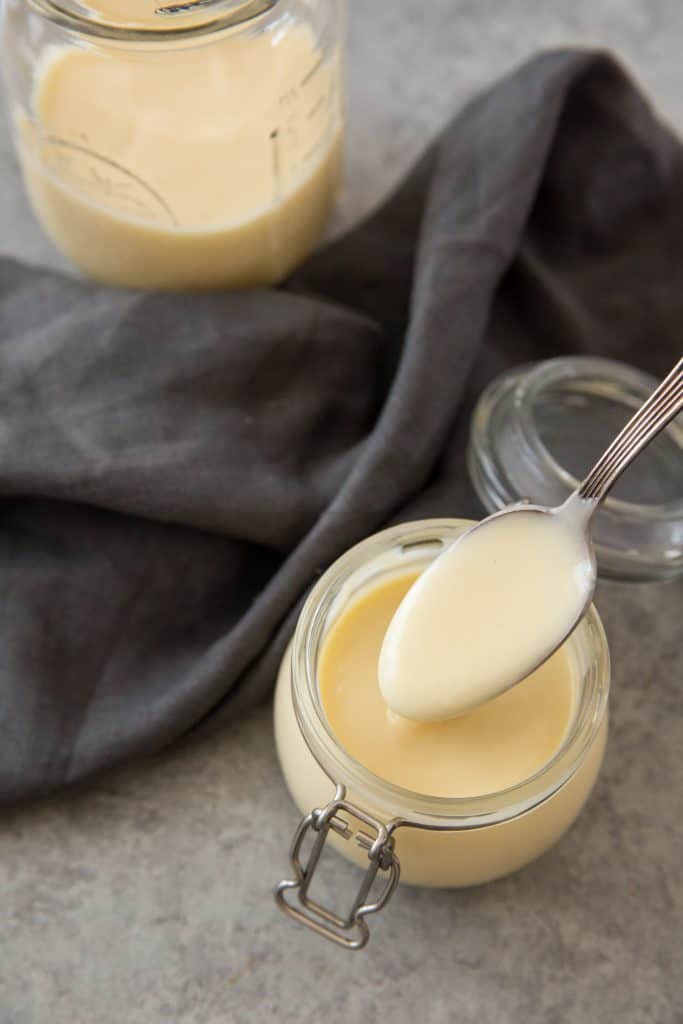 FAQ's for This Condensed Milk Recipe
As with any recipe there is a little room for error. While we try to make it as simple as possible, we know there may still be questions. That is why we created a list of common questions to see if we can't help you while you're cooking. If you do still have a question though, feel free to leave it in the comments below!
Storing Keto Sweetened Condensed Milk- To store this recipe you can put the remaining condensed milk in a glass airtight container, or in mason jars.
How long does Keto Condensed Milk Last?- The great thing about making keto condensed milk sugar free, is that you get all the flavor without the insulin spike. Make a batch of this recipe to have on hand and store it in mason jars inside of the fridge and freezer. It will last about 2 weeks in the fridge, and three in the freezer.
My Condensed Milk has Crystalized?- Crystallization can happen from time to time with these keto recipes. When you make condensed milk sugar free you need to use a low carb sweetener like erythritol. When using erythritol you may find that it recrystallized after sitting in the fridge. This is normal so don't worry. If you are baking with it, there is really no need to worry. The sweetener will re-dissolve with heat.
Why is My Sugar Free Sweetened Condensed Milk so Runny?- There are a few things that can cause runny sweetened condensed milk. We listed a few of the most common culprits below:
Not waiting for the milk to come to room temperature can make this recipe runny.
You didn't boil the heavy cream long enough- try boiling it a little longer or until it coats the back of a spoon.
Sometimes depending on the country the heavy cream you buy can be thinner or diluted with water. If this is the case and it's taking longer to boil you can try adding in a pinch of xanthan gum. Xanthan gum is a thickener that will help to increase the viscosity of this keto condensed milk recipe without excess carbs.
My Condensed Milk is TOO Thick!- While this usually isn't an issue it can happen from time to time. First taste it, does it taste burnt? Sometimes when not stirred regularly the sweetener will burn and cause a bitter chunky milk to form.
If it isn't burned you must have just pulled it out from the fridge. This is totally normal for it to thicken too much after being in the fridge. Simply leave it out for 30-40 minutes for it to come to room temp and there shouldn't be an issue.
More Keto Desserts
Looking for more delicious recipes to create while on keto? Check out some of our favorite low carb dessert recipes below!
These are just a few of many tasty keto dessert recipes on our blog. For even more, check out the desserts tab on our site.
Sugar Free Keto Condensed Milk
Keto condensed milk is the perfect low net carb recipe for all your baking needs. You can use it to make keto dessert recipes like key lime pie and dulce de leche. Plus sugar free condensed milk sweetened with erythritol means no blood sugar spike and upset stomach later. Try making this low carb recipe and use it in your future baking.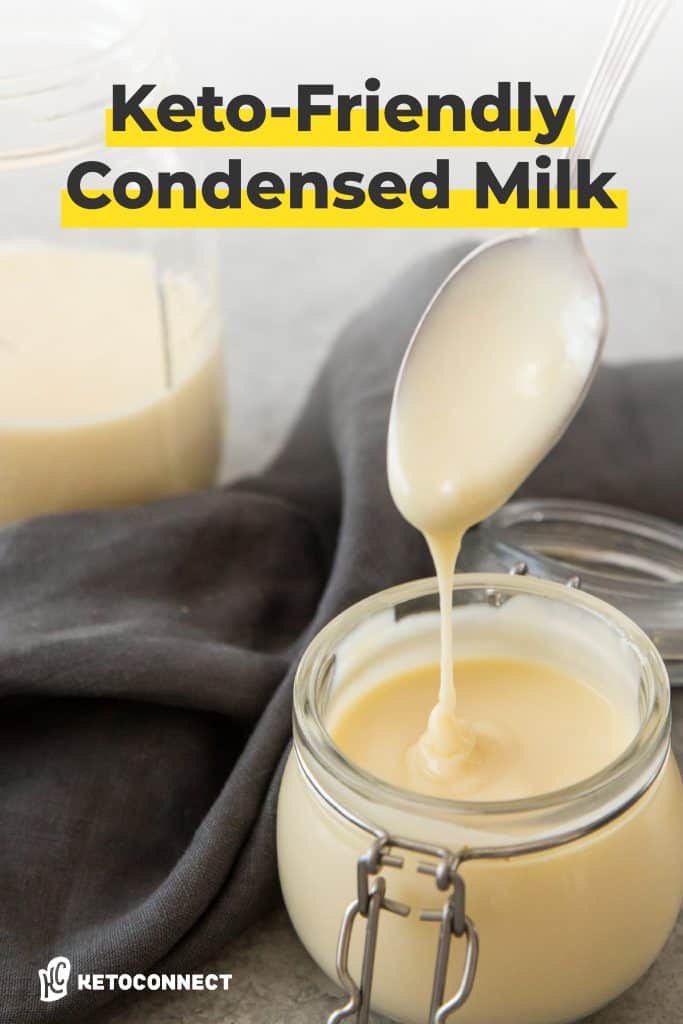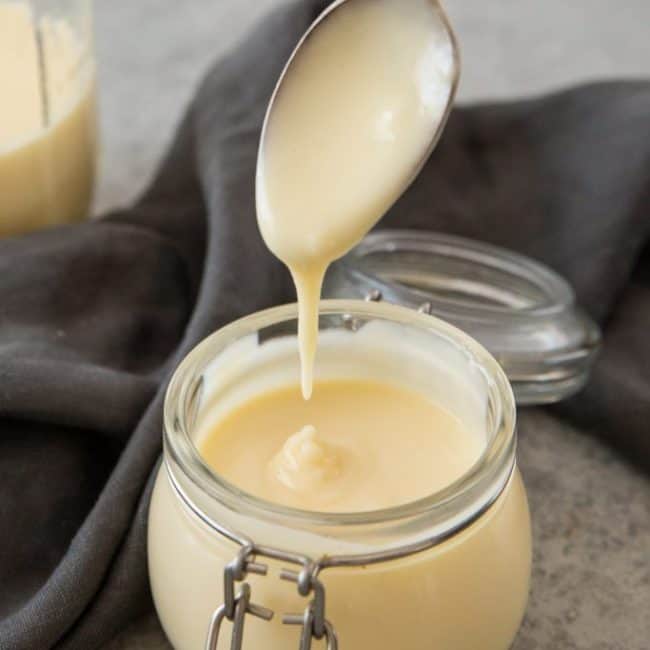 Condensed Milk
This keto condensed milk recipe is easy to make on the stove top and swaps out sugar for a low carb alternative.
Servings 16 servings
Calories per serving 115kcal
Prep Time: 5 minutes
Cook Time: 20 minutes
Instructions:
Place all the ingredients in a saucepan or shallow skillet over medium heat.

Bring to a boil, and then reduce heat and simmer for 15-20 minutes, until thickened and reduced by nearly half, stirring frequently to prevent burning.

Once reduced, remove from heat and allow to cool slightly prior to using or transferring to a jar to be placed in the fridge.

Best stored in an air tight container for up to 2 weeks.
Notes
Net Carbs: 1g per serving
Yields: 16 servings (roughly 2 tbsps)
Nutrition Facts
Condensed Milk
Amount Per Serving
Calories 115 Calories from Fat 108
% Daily Value*
Fat 12g18%
Saturated Fat 8g40%
Cholesterol 45mg15%
Sodium 24mg1%
Potassium 22mg1%
Carbohydrates 1g0%
Sugar 1g1%
Protein 1g2%
Vitamin A 482IU10%
Vitamin C 1mg1%
Calcium 19mg2%
* Percent Daily Values are based on a 2000 calorie diet.