I remember when we started keto I could honestly only dream of anything keto on grocery store shelves. And here I am, writing down my best keto pancake mix list! I'm excited to share it with you and I hope you'll find something you'd like to try and keep in your pantry.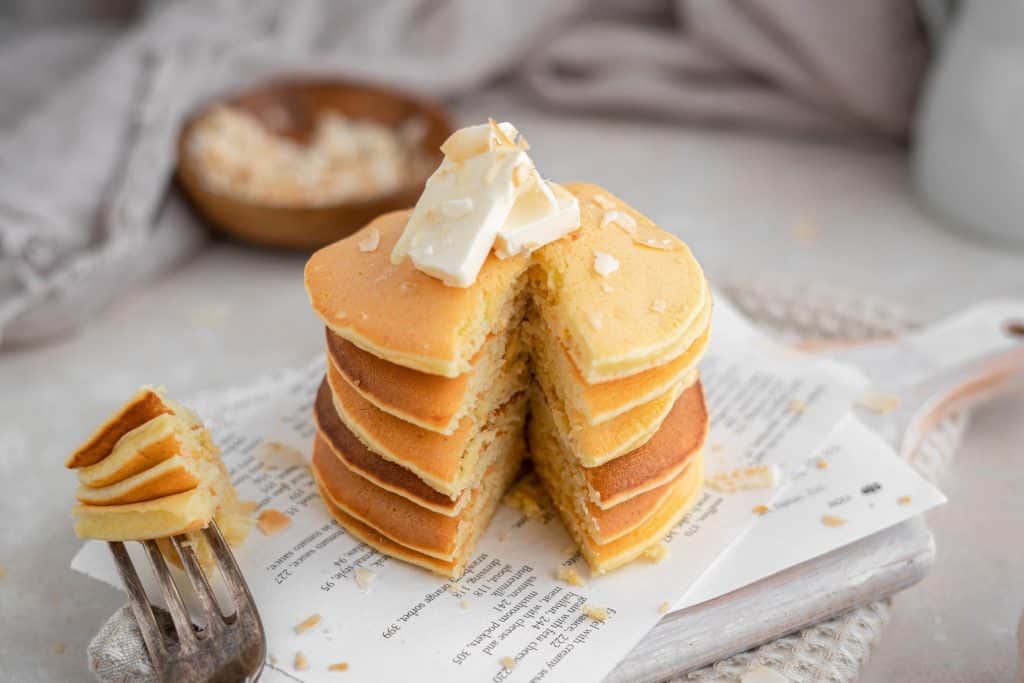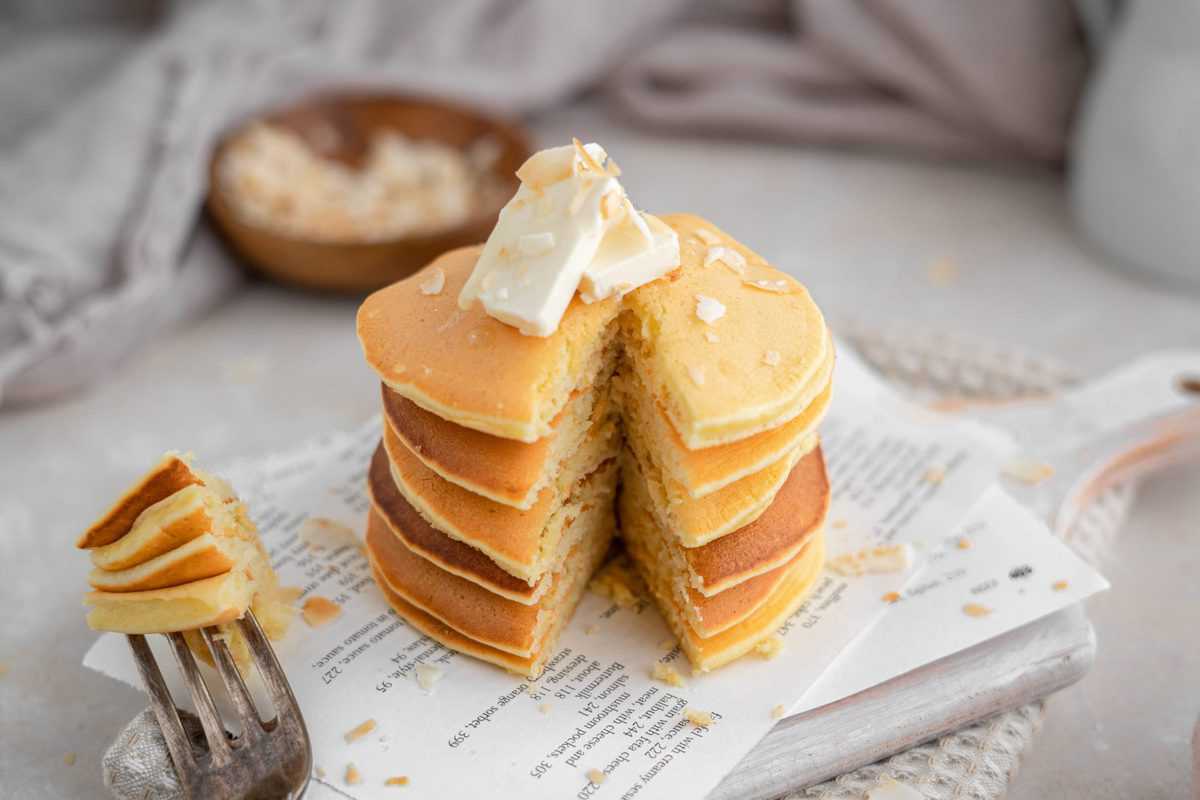 Which Pancake Mix is Lowest in Carbs?
The Keto Factory Pancake Bread Mix is only 1g of net carbs per serving and contains very, very clean ingredients. They do not taste like traditional pancakes, rather it's a substitute that fits all the keto diet restrictions perfectly.
If you don't really care for the cleanest keto ingredients but still want to fit into low carb diet macros, you can try the Carbquick Baking Mix. I'd say this is one of the best keto pancake mixes when it comes to tasting as close as the real thing.
That's the common thing with keto. The better and cleaner the ingredients, the less it will taste like the original.
It also depends how strict you are on keto and whether you're on it just to lose weight or for medical reasons where you can't really risk eating things like gluten.
Do All Keto Pancakes Contain Almond Flour?
Nope. Some of these contain wheat flour in very small amounts so it's still keto friendly in terms of net carbs per serving, but not necessarily okay with those who are on a strict keto diet.
All gluten free pancakes contain either almond or coconut flour, so if you want to avoid it then look for something that's not gluten free. Most of the time they're made with ingredients that are keto friendly in only small amounts.
Our Top 9 Keto Pancake Mixes
I used to live off of pancakes as a kid and I can't imagine letting a low carb diet keep me away from eating them once in a while. Here is a brief list of all the keto pancake mixes available on the market:
Birch Benders Keto Pancake & Waffle Mix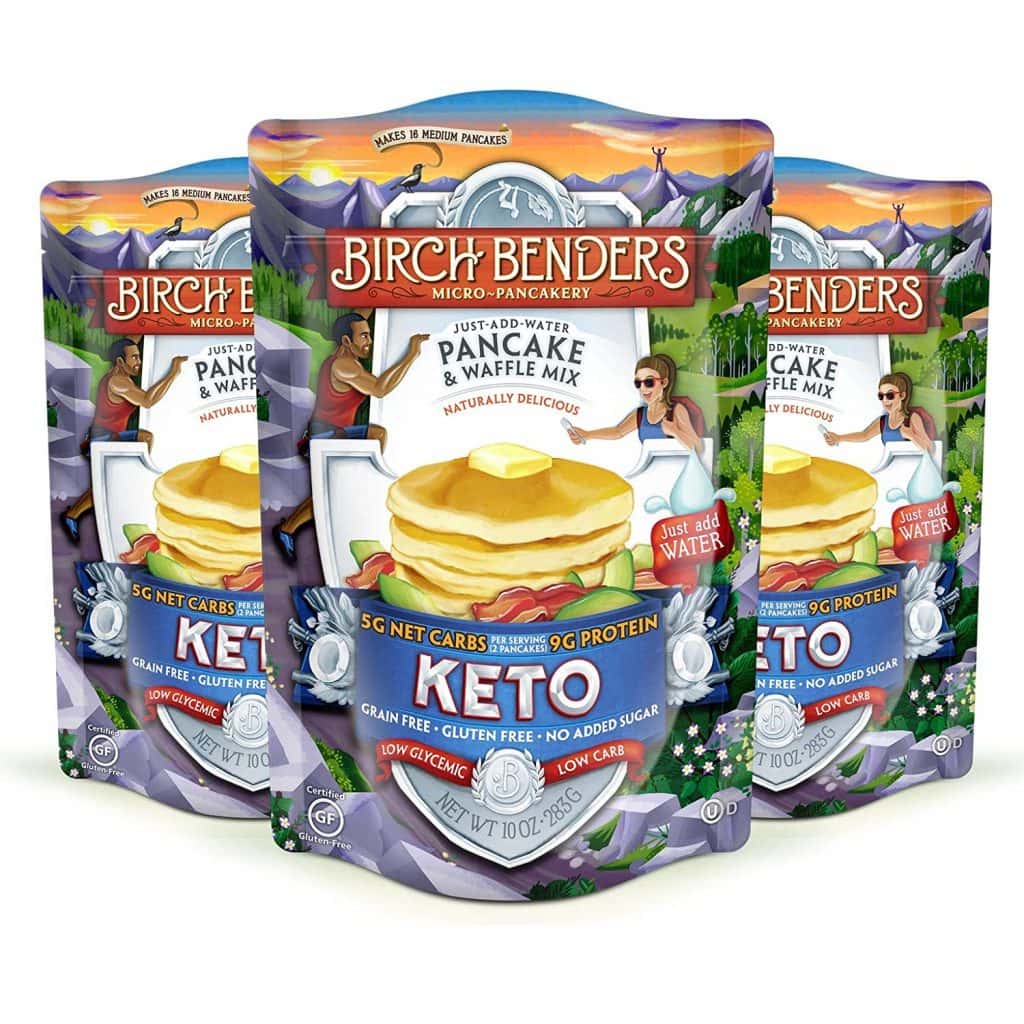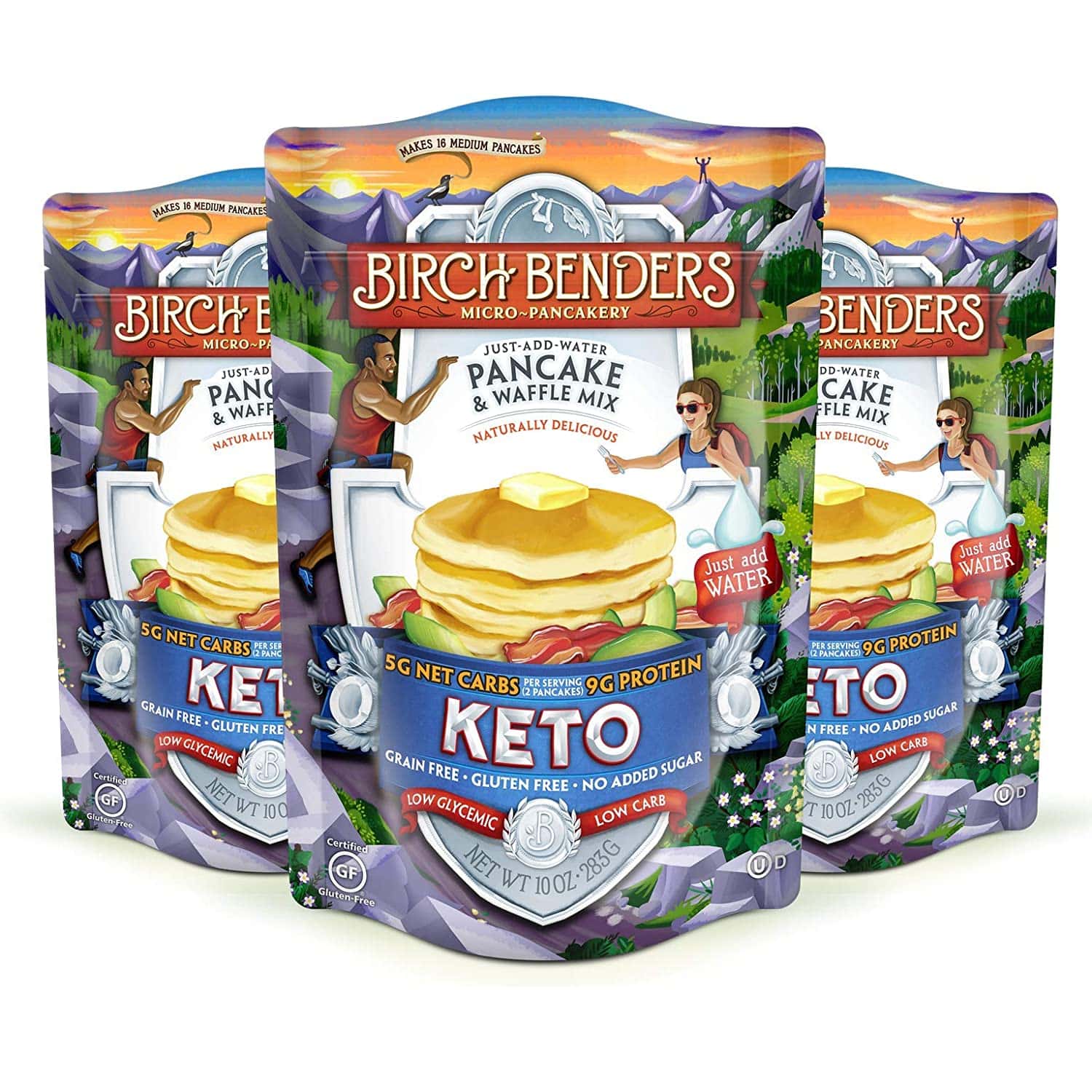 This keto pancake mix is gluten free, grain free and has no added sugar. What I like about it the most is that it's rather easy to make, quite customizable too since you can add things like cinnamon and chocolate chips inside without changing the taste entirely.
All you need to do is add water to the low carb pancake mix. Make sure you cook them on low heat if you're using the stovetop, it's easy to burn them quickly. Also, they're a tad bit gritty, but I didn't really think of it as an issue to be honest.
Nutrition info (2 pancakes, 35g): 160 kcal; 11g fat; 9g protein; 10g total carbs; 5g net carbs
Lakanto Keto Pancake & Baking Mix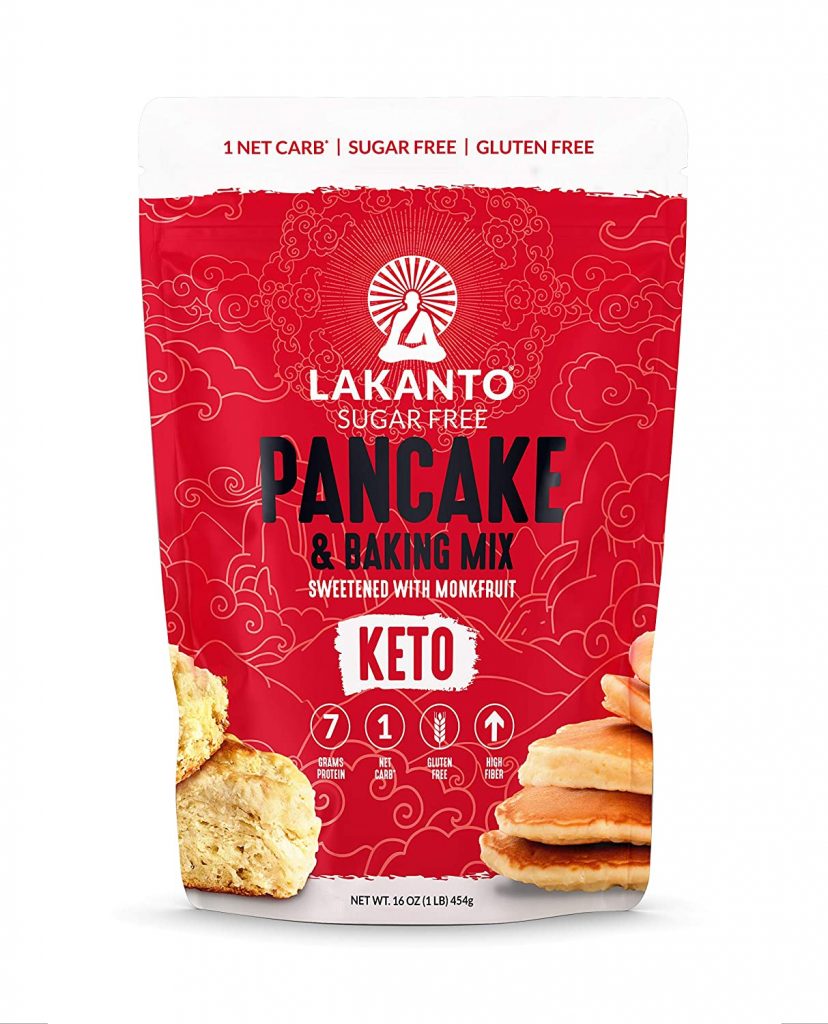 Lakanto is quite popular for its monk fruit sweetener and that's what their pancake mix is sweetened with as well (plus erythritol). While these contain baking powder already, you'll need to add eggs, coconut oil and water to the keto friendly pancake mix.
If you're counting total carbs these won't fit your macros probably since they're really high in fiber.
This pancake batter is also not for complete keto purists since it contains small amounts of tapioca starch, but if you're counting net carbs you're good to go with these.
Tastewise, they're pretty awesome. And, they're gluten free!
Nutrition info (1/3 cup, 35g): 80 kcal; 4.5g fat; 7g protein; 20g total carbs; 8g net carbs
Carbquick Baking Mix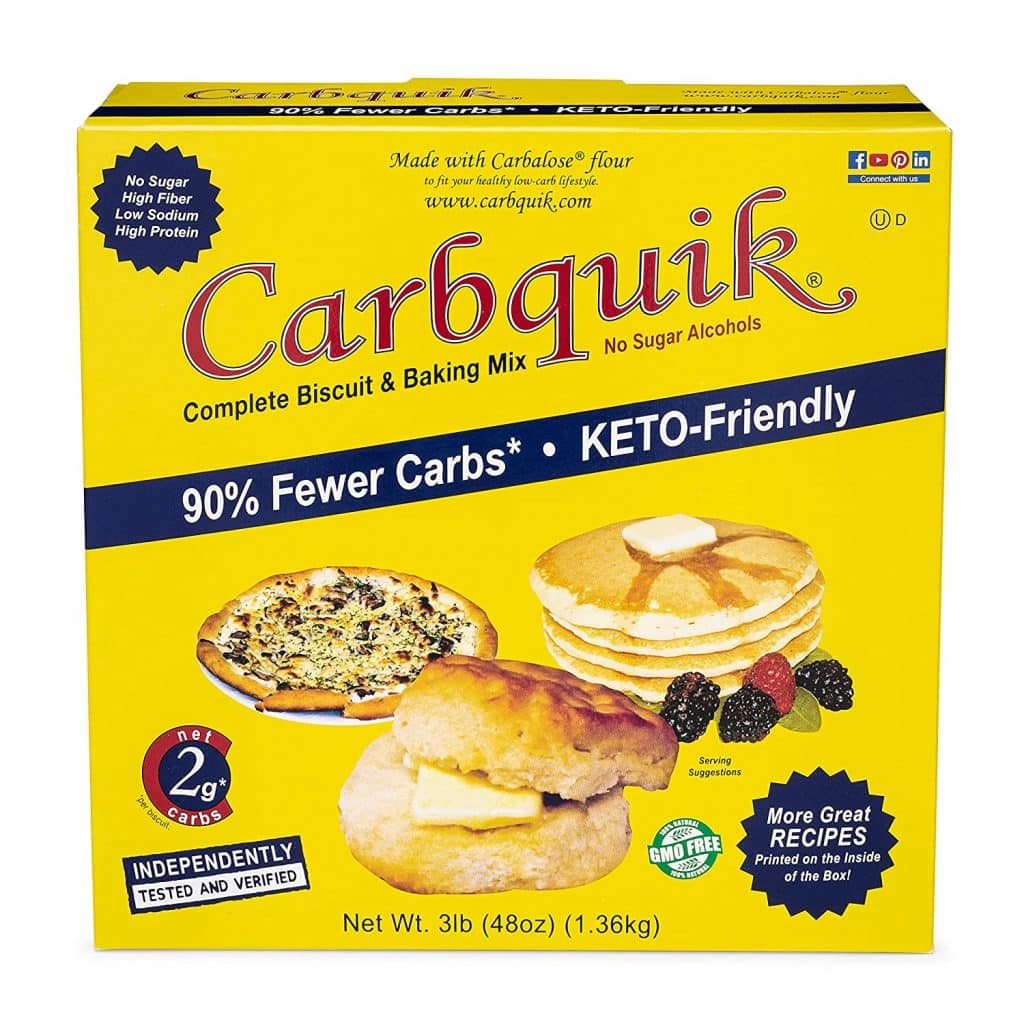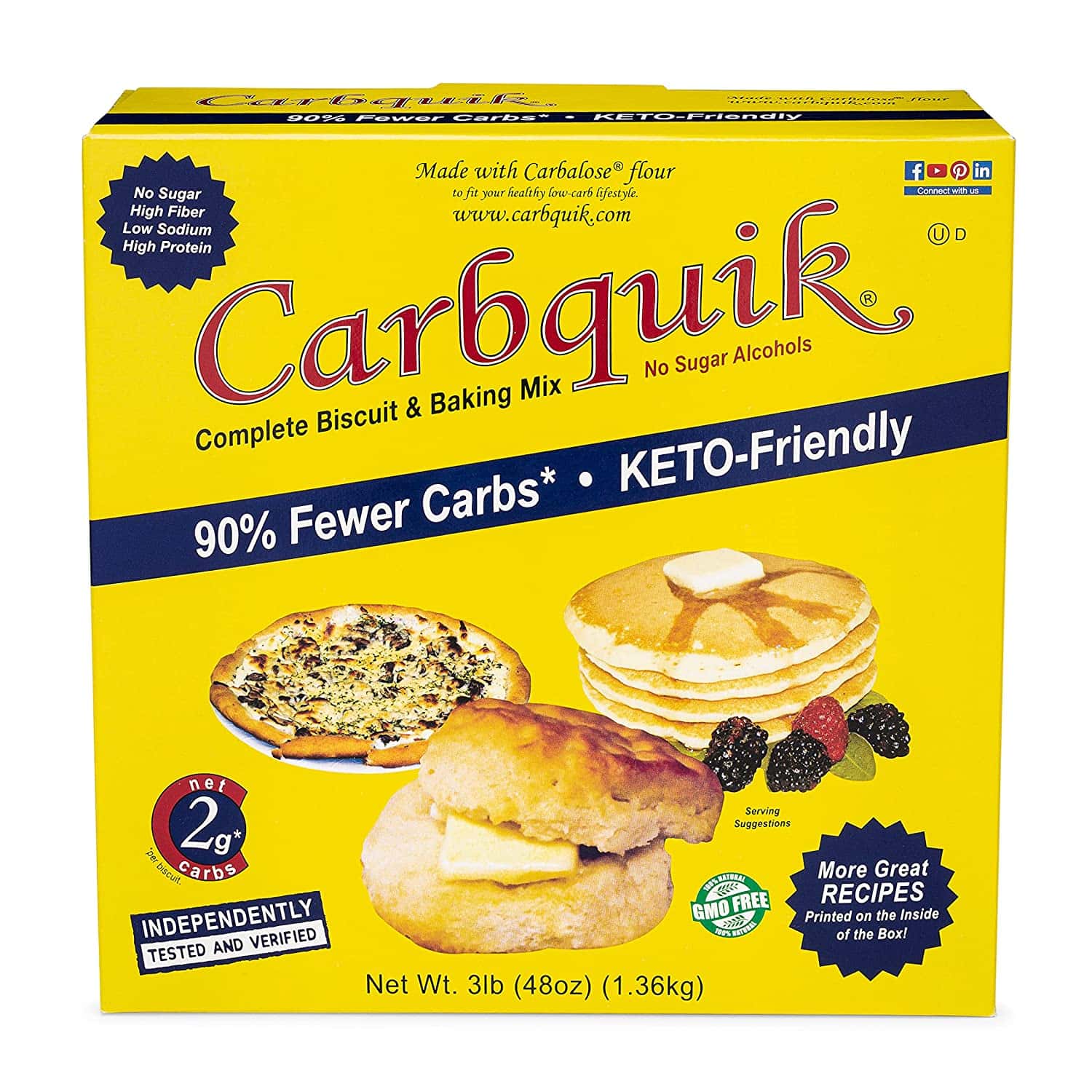 This baking mix is good for just about anything – pancakes, keto waffles, biscuits, pizza – you name it. They're really high in fiber (14g per serving) so net carbs are quite low, but I'm not a huge fan of their ingredients. Enriched wheat, emulsifiers, buttermilk powder etc.
I guess when it comes to ready made low carb goods you can't nail both.
You either get amazing ingredients and good but not great taste, or kind of "okay" ingredients with amazing taste. These definitely fit the second definition.
Nutrition info (1/3 cup, 32g): 90 kcal; 6g fat; 6g protein; 16g total carbs; 2g net carbs
Good Dee's Low Carb Baking Mix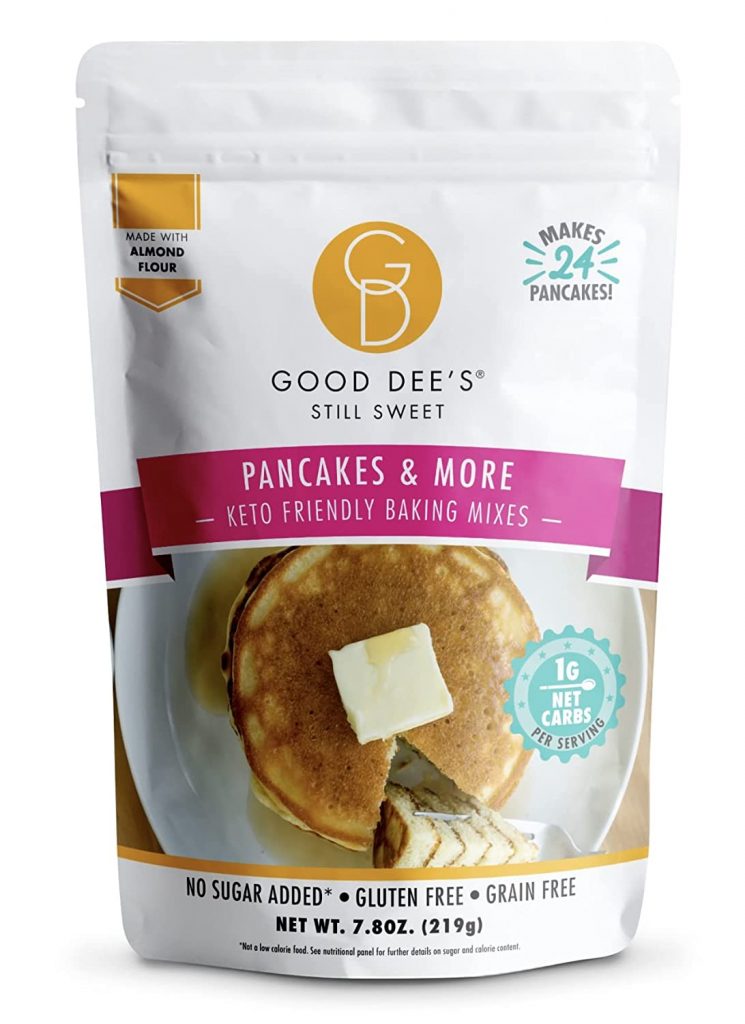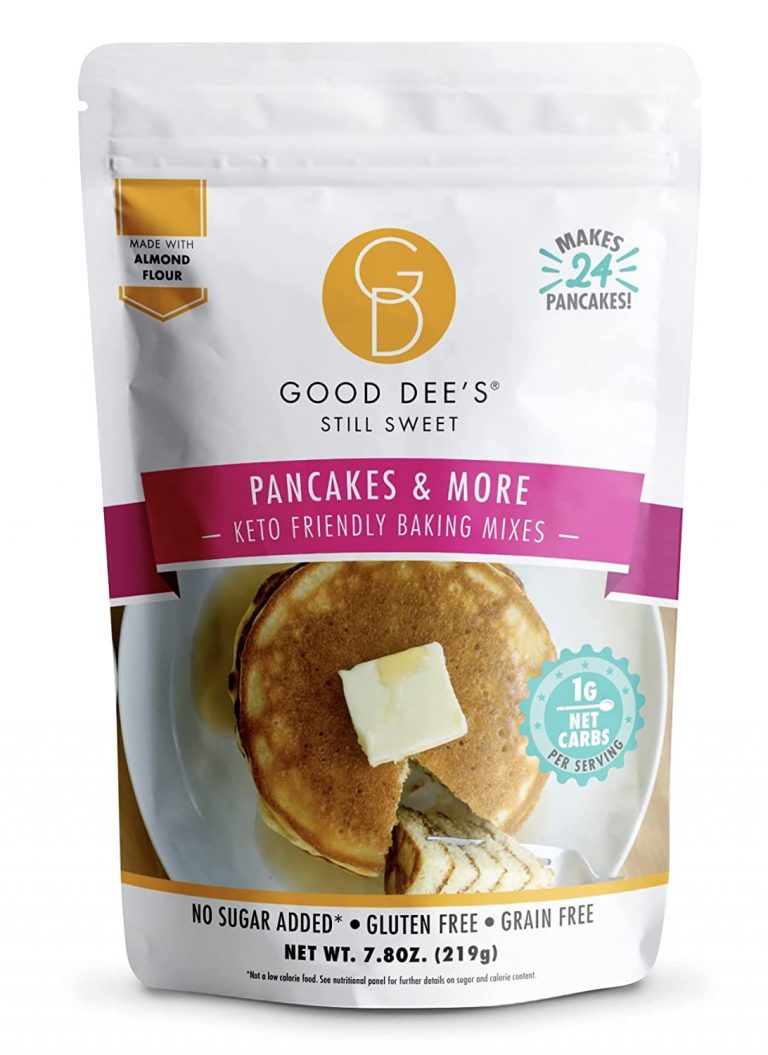 Here's another gluten free keto pancake mix sweetened with erythritol and stevia. In order to make these, you'll need to add eggs, oil and cream.
These cook up like real pancakes and have a nice ingredient list, aside from the tapioca starch.
We ate them with low carb, keto maple syrup and they were absolutely delicious. But remember, their serving size is half of most of the brands so just double the nutrition info to compare their nutrition information with other pancake mixes.
Nutrition info (1/12 mix, 18g): 90 kcal; 8g fat; 3g protein; 5g total carbs; 3g net carbs
King Arthur Carb-Conscious Pancake Mix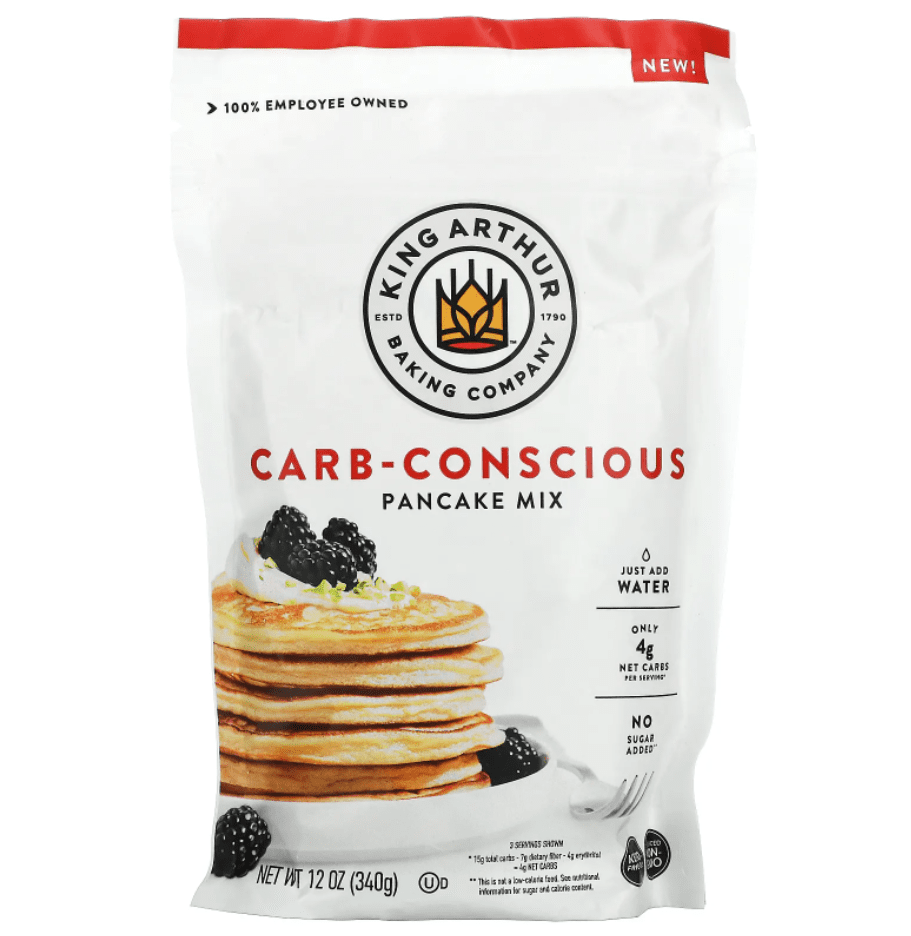 This is by far the best keto pancakes mix when it comes to taste. If you don't mind that they're not gluten free and don't have entirely "clean keto" ingredients, these are really delicious pancakes.
All you need to do is add water here, no extra ingredients needed. You can add chocolate chips to the batter and some sugar free syrup for a nice, sweet breakfast treat.
Nutrition info (2 pancakes, 35g): 120 kcal; 4.5g fat; 13g protein; 15g total carbs; 8g net carbs
Orgain Keto Friendly Protein Pancake & Waffle Mix
Another IIFYM ingredient list, but nonetheless low carb and keto if you count all the macros. These are gluten free and plant based, made with almond flour, oat flour and pea protein.
All you've gotta do is add water and some melted butter or coconut oil to the batter.
I thought they were good, but Megha said they're a little gummier in texture and more grainy than other keto friendly pancakes we've tried. They do resemble regular pancakes though.
Nutrition info (1/3 mix, 35g): 130 kcal; 7g fat; 10g protein; 14g total carbs; 10g net carbs
Keto & Co Pancake & Waffle Mix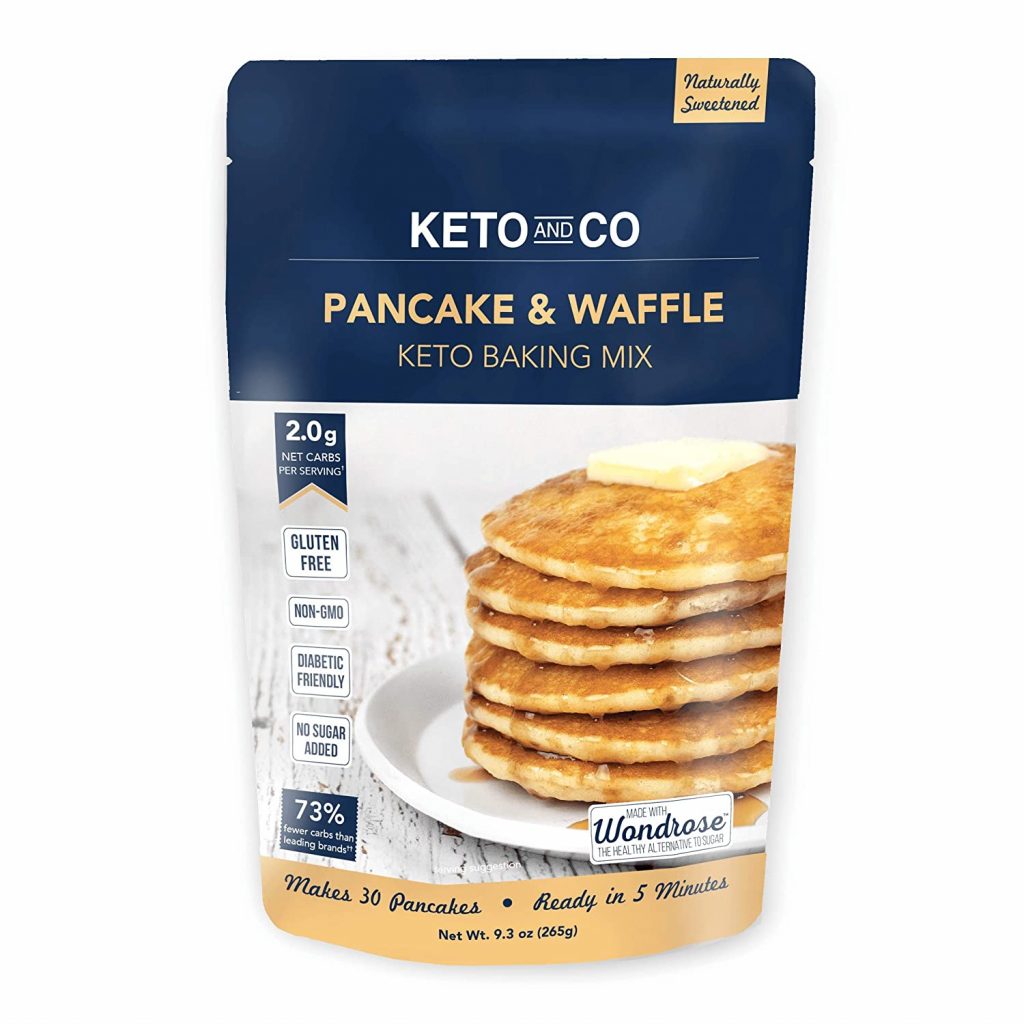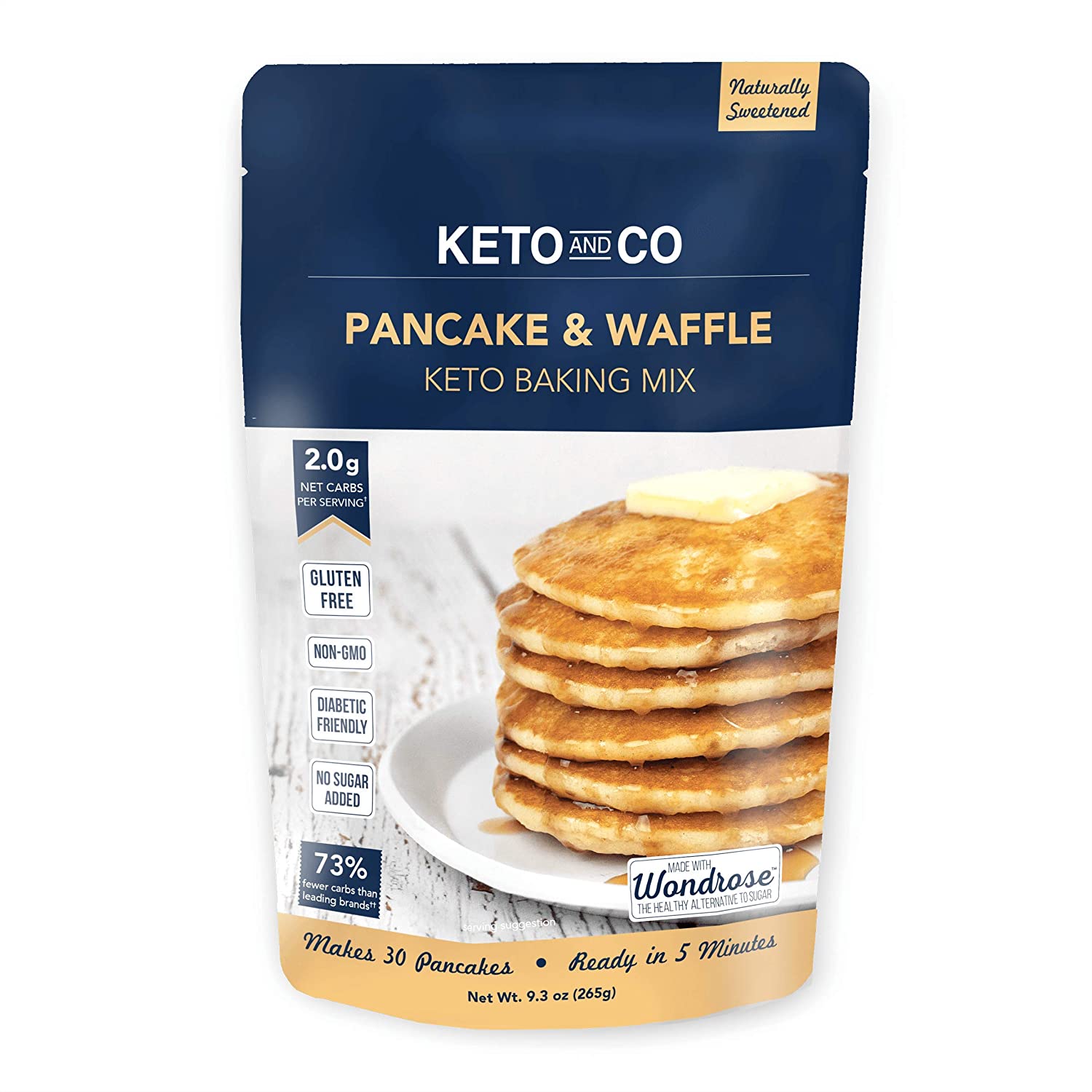 Ready for fluffy pancakes? That's exactly what these are. To make these, you need to add eggs and water (or almond milk) and you've got yourself a low carb, keto friendly breakfast in less than 15 minutes.
Tastewise, I like this mix a lot. It holds up better than any other keto pancake mixes I've tried, but is still a bit gritty in texture. However, their ingredient list is wonderful with one of the most keto friendly ingredients I've seen.
Nutrition info (2 pancakes, 17g): 50 kcal; 3g fat; 3g protein; 8g total carbs; 2g net carbs
Swerve Pancake & Waffle Mix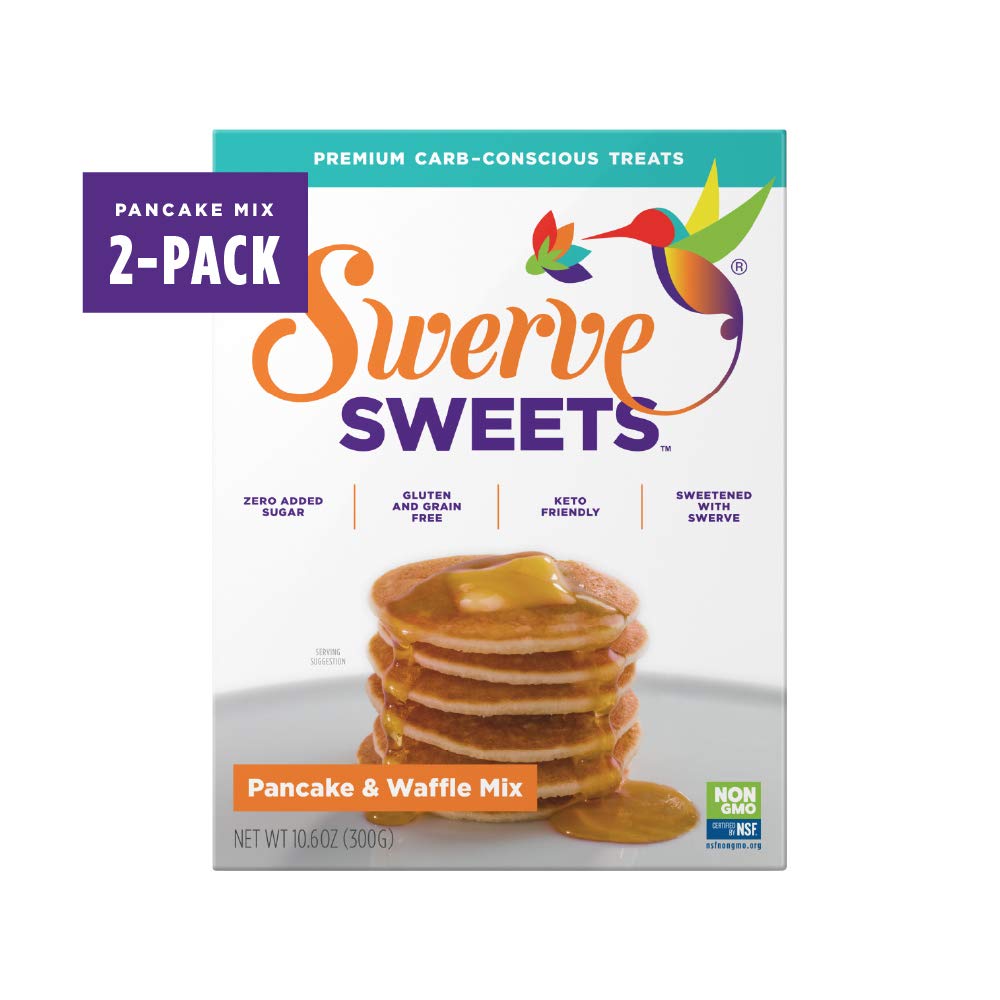 Aside from tapioca starch, the ingredients in this pancake mix are amazing! Organic coco flour, almond flour, sea salt, erythritol – if you're into clean keto, these delicious pancakes will be your favorite for sure.
Again, the cleaner the ingredients it seems like the taste is different than regular pancakes. They're one of the best keto friendly pancake mixes I've seen and tried, but a bit grainy and you can taste the nut flour.
Nutrition info (2 pancakes, 30g): 120 kcal; 7g fat; 3g protein; 17g total carbs; 11g net carbs
Keto Factory Pancake Bread Mix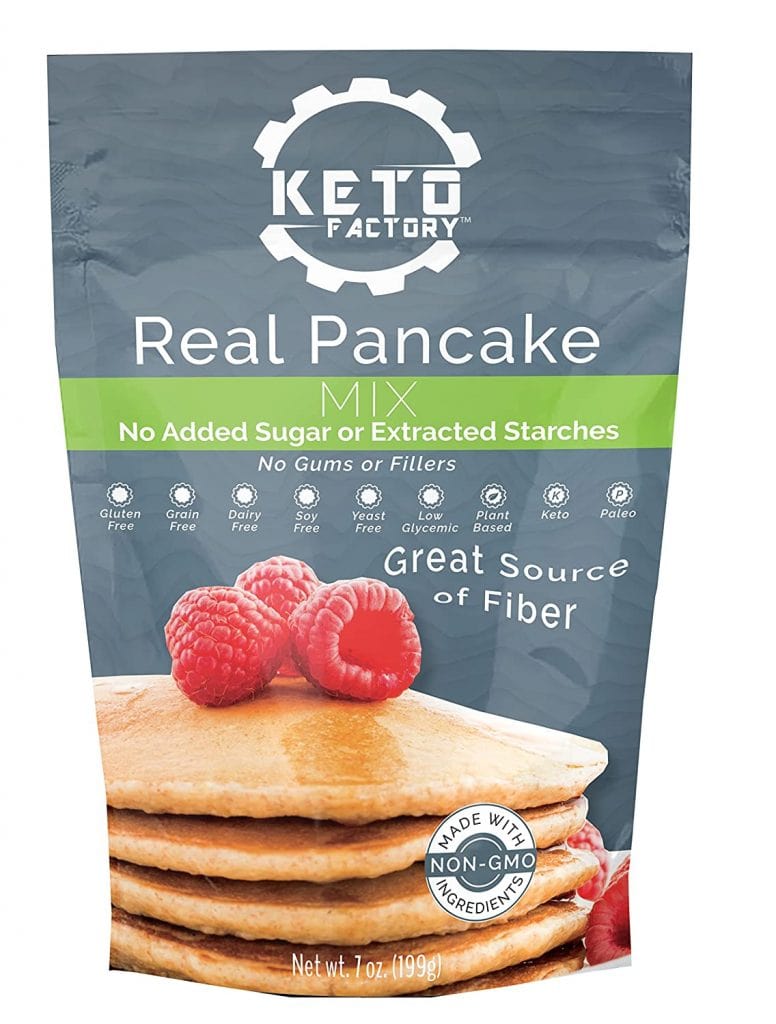 Grab eggs and milk (we've added unsweetened almond milk), mix until smooth and you're minutes away from fluffy pancakes. These are gluten free, dairy free, sugar free and only have 1g of net carbs per serving.
One thing though, they taste very keto. If you were craving traditional pancakes, these are not it. If you have different food intolerances and don't want a blood sugar spike, these are a great option.
Nutrition info (1 pancake, 14g): 60 kcal; 3.5g fat; 3g protein; 6g total carbs; 1g net carbs
More Low Carb Pancakes Recipes
If you want to whip up a pancake recipe at home, we've got a nice list for you with all kinds of different pancakes and waffles you'll absolutely love. Check these out:
Keto Protein Pancakes – did someone say fluffy? These don't contain any almond or coconut flour. Instead, we've used vanilla protein powder and unsweetened almond milk to make these.
All you need is 10 minutes of your time and you'll get grain free pancakes in no time.
Keto Sheet Pan Pancakes – I admit I might have fallen victim to the "sheet pan everything" trend, but who didn't? Less mess, less cleaning up!
These are perfect if you want to make a bigger breakfast without standing in the kitchen for an hour.
Keto Classic Waffles – thick, fluffy and not eggy at all. For me they're perfect with a tablespoon of softened butter and sugar free syrup.
You can make these in less than 15 minutes with all the keto friendly ingredients you probably already have in your pantry.
Keto Protein Waffles – if you've got allergies, these are completely grain free. This recipe is a universal pancake and waffle mix actually, you can use it for both.
All you need is a waffle maker and 15 minutes of your time.
Keto Pumpkin Pancakes – good all year round, not only during the fall! Yep, these contain pumpkin puree and pumpkin spice so you're getting all the cozy feels possible.
I love eating them with softened cream cheese, but they're perfect on their own as well.
Keto Pork Rind Pancakes – I know at first glance these sound gross, but hear me out – these are not sweet pancakes!
If you've never had savory waffles or pancakes, you're missing out and I highly recommend you try it out. Sprinkle with a bit of chives and you'll be in heaven.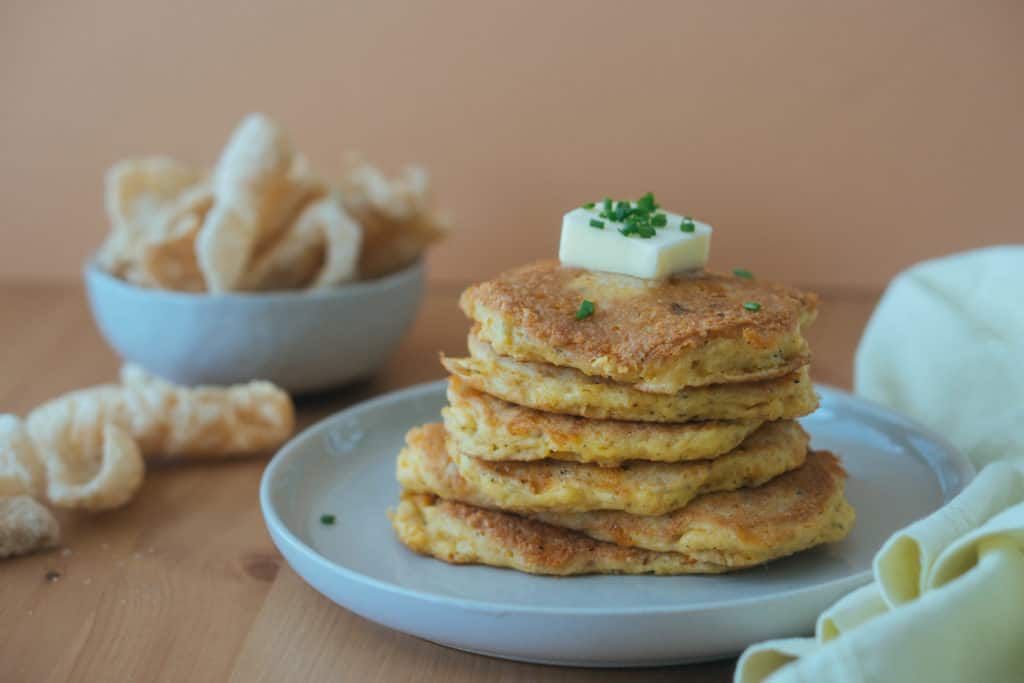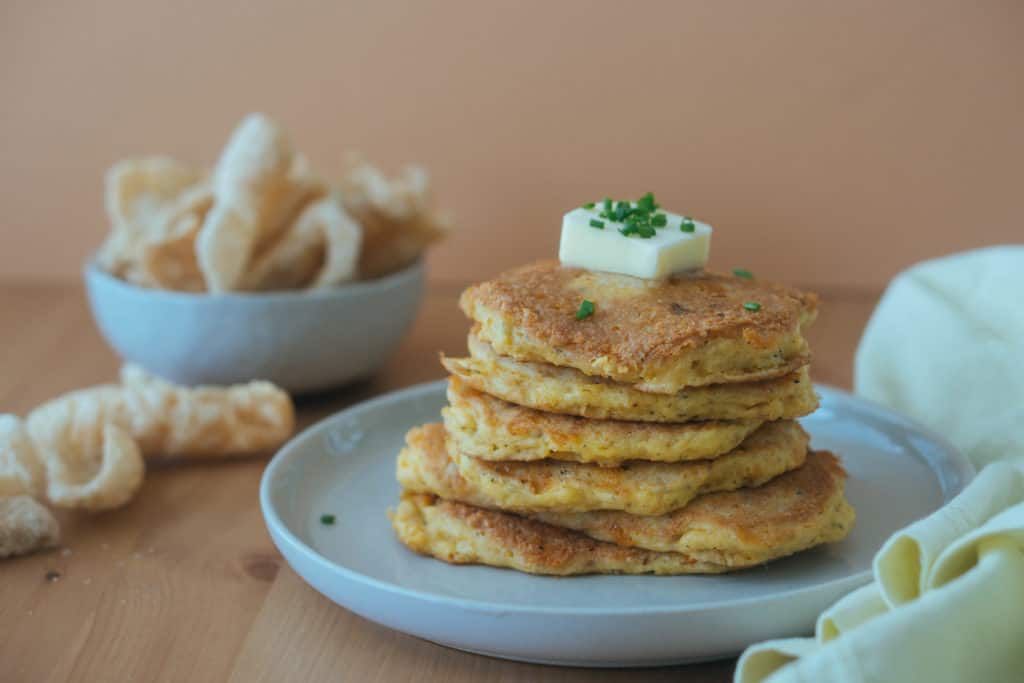 Have You Ever Had Keto Pancakes?
Let us know in the comments! I'd love to know what kind of textures you prefer and which pancake and waffle mix brands you like the most? Can't wait to see your responses!
Written By