When thinking about comfort food, pasta tends to come up quite a lot. Pasta recipes have been shared all over the world for years and years, but hasn't been truly healthy until now. This gluten free, low glycemic pasta recipe will become your new favorite dinner.
What is Pasta Made With?
There are a variety of different pastas on the market now from traditional pasta to chickpea noodles. So how would you even make keto pasta? We'll get to making the pasta below, but for now let's talk about traditional pasta and how it's made in order to compare our delicious Keto Pasta
Basic Pasta Ingredients
Traditional: To make pasta you only need a few ingredients. The base is normally flour (white bleached flour or 00 flour), eggs, olive oil, and salt. The issue is that the main ingredient flour is not gluten free and certainly not low carb. That means regular pasta will definitely not work on a keto diet.
Keto: Low carb noodles actually have the SAME amount of ingredients! Except, keto pasta is much higher quality. We use eggs, shredded mozzarella cheese, water and gelatin.
How Regular Pasta is Made
Traditional: Pasta is a time consuming process that takes about an hour hands on to make, if you're skilled… For newbie pasta makers creating a dough and rolling it out can be quite the task. To make pasta you must start by creating a mound of flour with a center well, and then adding in the egg and olive oil to the inside. You will then have to knead the dough for 10 minutes and then let it rest for 30 minutes, or in the refrigerator for a day. Finally you will have to roll out the pasta and cut it into whatever shape you want. Regular pasta dough often calls for a pasta attachment as well in order to roll and cut out the noodles.
Thankfully our keto pasta recipe is much simpler! We use a pizza cutter to avoid any complicated or expensive equipment and found it still made for a delicious dough. The difference between the two is that ours is easier, less expensive, and shorter in prep time! Keep reading to see how we make it.
Keto Pasta Alternatives
This recipe is one of the best keto/ low carb pasta recipes out there. These low carb noodles only have 4 ingredients and freeze well so you can make a big batch and eat them whenever you want. If you aren't in love with making your own pasta noodles there are some pre-made store bought keto alternatives. Some low carb options include:
Shirataki noodles- We used these low carb/ keto pasta noodles for our favorite Pasta Alfredo recipe with sausage. They are a low calorie, low carb pasta alternative, the only thing to look out for is cooking. You want to make sure the noodles have been rinsed and then dropped in boiling water. Once boiled, you need to dry them by cooking in a waterless pot. Then you'll want to make a sauce and coat the noodles. They are a little more work than just boiling and serving so that's something to consider.
Edamame or Soybean Noodle Pastas- These are closer to a traditional noodle, but have a bit higher carb count. Per serving you look at about 20 carbs 13 fiber (7 net). It is still a great low carb pasta option, it just may not work for those counting total carbs.
Zoodles- Zucchini noodles took the keto world by storm. They are a low carb pasta that also has natural fiber and quite a bit of volume per calorie
These are just a few of the current pasta alternatives that we would consume on keto, but there are a ton of other options. There are ones packed with fiber, but have gluten. And others that use gums like xanthan gum and guar gum to get their texture. The low carb pasta you choose all depends on your preferences. This pasta recipe is one of the cleanest keto recipes you'll find, however we totally know the feeling of just wanting something store bought sometimes!
How to Make Keto Pasta
Making low carb pasta seems scary because of all the steps, however it's actually much easier than you would think!
Equipment
This recipe will require a few tools, most of which are probably things you have on hand already making them very affordable. To make keto pasta you will need a microwave safe bowl and parchment paper. We love parchment paper that is 100% non stick , but regular paper will work just fine too. You will also need a rolling pin to spread the pasta thin, and a pizza cutter to make strips.
Ingredients
To begin you only need 4 simple ingredients! The best keto recipes include an egg, and so does this one. We love to use a pasture raised egg because it has a much brighter yolk and more depth in flavor. You will also need shredded mozzarella cheese and gelatin.
Gelatin is what will give you a solid noodle that won't just melt into a puddle of cheese when hot sauce is put on top. It can also be used to make sugar free jello.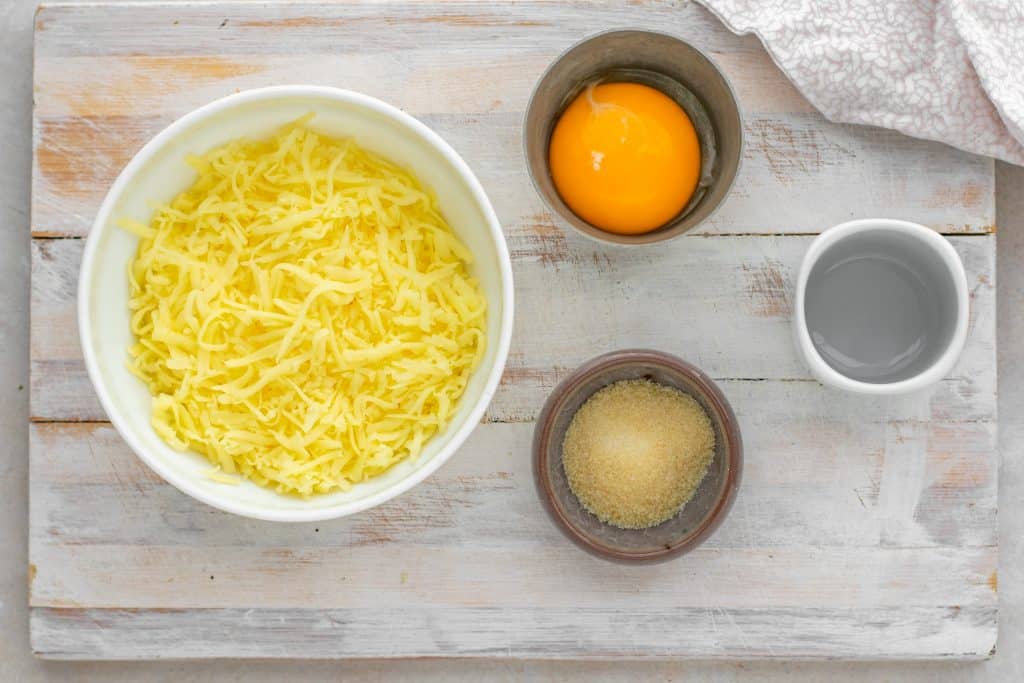 Making Keto Pasta
This 4 ingredient keto pasta only takes 20 minutes prep time and is 100% gluten free. To begin making this pasta you'll want to take out a microwave safe bowl. In the bowl combine the gelatin and water. You have to whisk them together so it can gel up and become thick.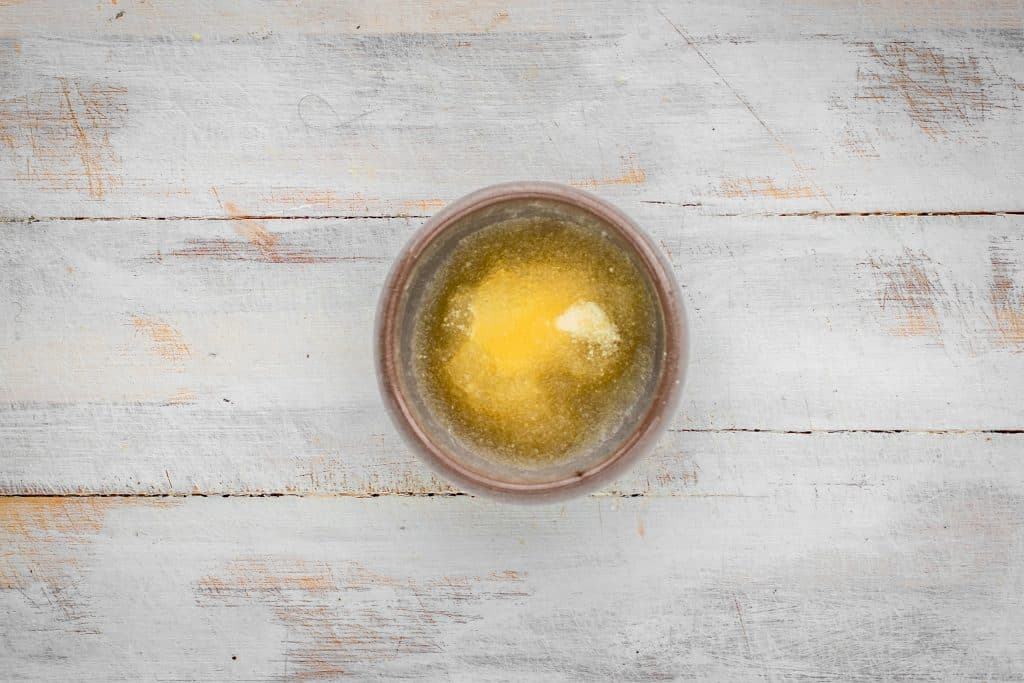 Then in another microwave safe bowl melt the cheese for 20-30 seconds until it is all melted. Make sure there are no full pieces of cheese inside and then quickly mix in the egg. You want to mix the egg in quickly so it does not cook.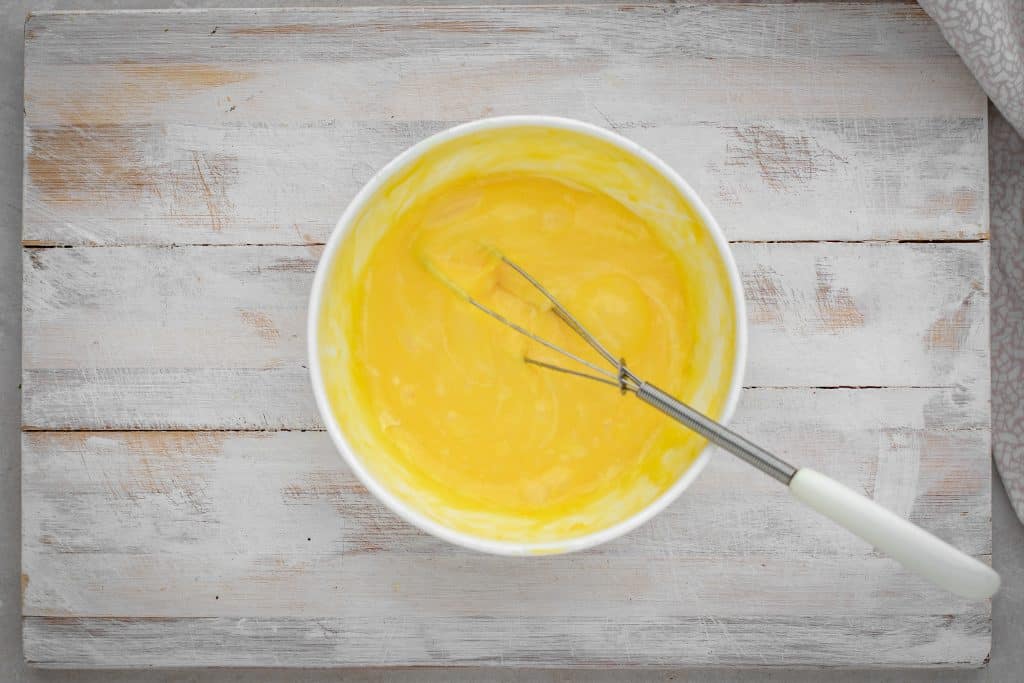 Once the cheese mixture is fully combined microwave the bowl with gelatin in 10 second intervals until all the granules have dissolved. Finally add the gelatin mixture to the cheese and whisk quickly again until it is fully mixed and homogenous. It should begin to look like a soft dough now. If the cheese mixture did start to cool and ball up before you can mix in the gelatin, go ahead and microwave the cheese and egg mix for 10 seconds before you add the gelatin.
Now transfer the dough onto a piece of parchment paper, it should be greased to prevent the cheese from sticking.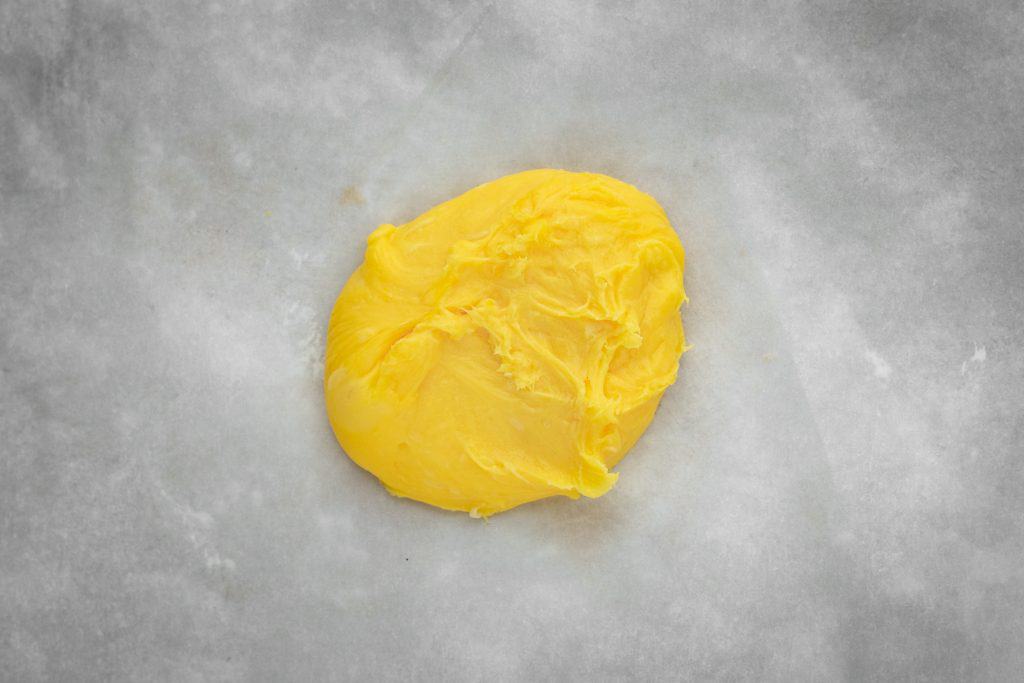 Fold over the parchment paper so it covers all the dough and you can begin spreading it out with a rolling pin. Gently roll out this dough into a 2mm thick dough. You can make it thicker or thinner depending on the type of pasta you want to make.
We just find that thinner keto pasta noodles tend to break. Once rolled place the gluten free keto pasta dough into the fridge for 10 minutes.Using a pizza cutter, cut the dough into your favorite pasta width. We love making gluten free fettuccine with these low carb keto pasta noodles.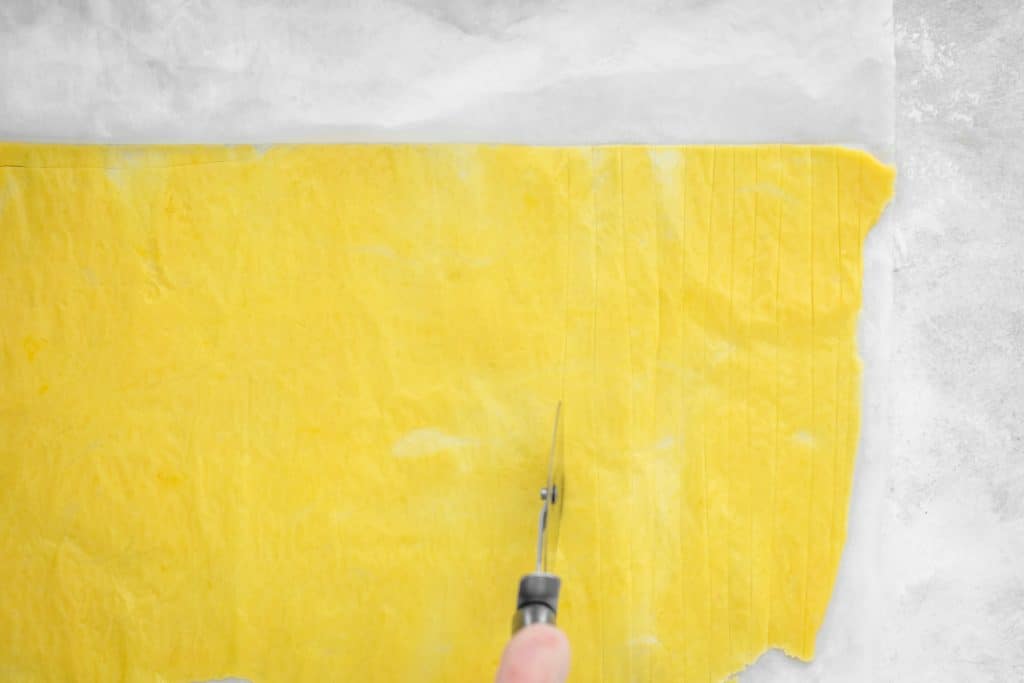 Place the cut dough back into the fridge to set for at least another 30 minutes. This recipe is free from binders so you will need to give the gelatin time to set and activate.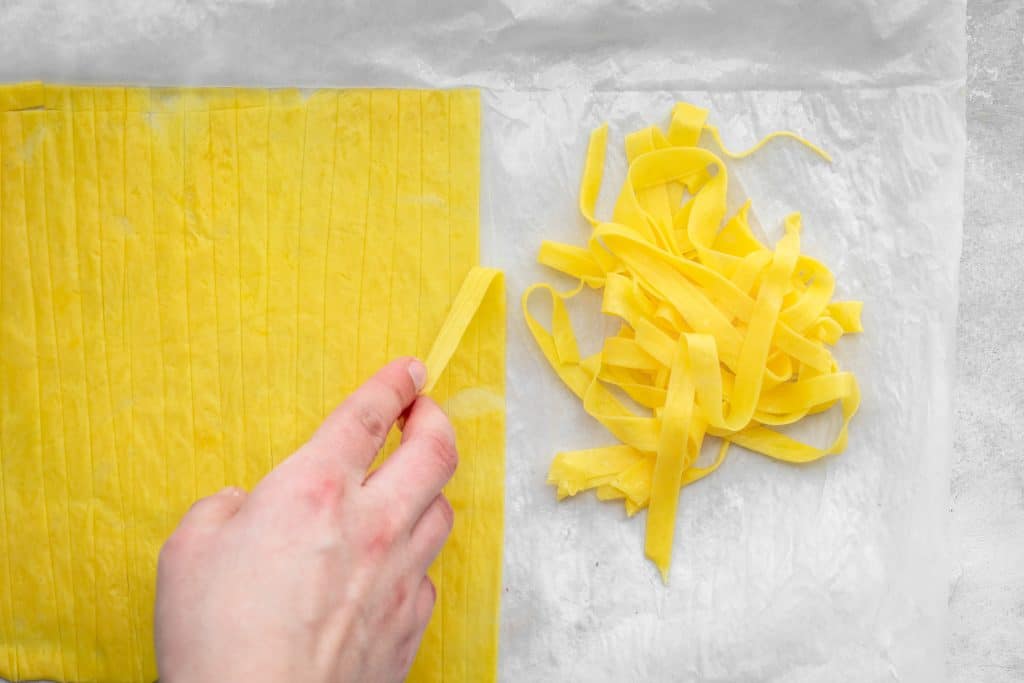 To serve simply toss it in your favorite hot pasta sauce of choice. This keto pasta will immediately heat up and come to temperature with the sauce.
Common Keto Pasta Mistakes
These are a few common mistakes we hear about when making low carb noodles. While it's normal to have some difficulty the first time you make pasta, there are certainly recipe notes of what you should avoid doing to make the best pasta dishes possible.
Don't Boil Keto Pasta
While most pasta calls for boiling water, keto pasta is a little different. If you drop these noodles into boiling water they will melt and become one big cheesy blob. There is no flour like coconut flour to bind and hold these together. Even then it's debatable if this much cheese would stay stable at those temperatures. It's best to simply toss the noodles into hot or warm sauce and let them come up to temperature naturally.
Skipping and Subbing Gelatin
Gelatin plays a vital role in low carb pasta. Some keto recipes may call for xanthan gum, but our keto pasta recipe does not. Xanthan gum will thicken the dough, however it will not give it structure. Structure in keto pasta noodles is super important, because without it your noodles will just melt into a clump of cheese. Our gluten free keto noodles also don't have a binder base of flour (or even coconut flour), making gelatin even more important.
Not Combining an Ingredient Well
It can be intimidating to mix ingredients fast enough that the cheese does not harden. As stated above this recipe has no binder of almond or coconut flour to cut through and help incorporate ingredients. If the cheese begins to harden simply microwave it for 10 seconds to soften it without cooking the egg too much. You want a uniform batter so don't be afraid to reheat it a little to prevent unmixed clumps of gelatin in the dough
Burning the Cheese
This is the exact opposite of the last note. This usually happens the first time you are melting the cheese to begin the recipe. If you microwave the cheese too long, it will without a doubt burn. Burnt cheese will not mix well with the other ingredients. Remember to stay within 20-30 seconds for intervals on the microwave with 30 seconds being your max at one time to prevent burning.
Summary
Not boiling this low carb pasta, making sure to use gelatin, mixing in all the ingredients, and avoiding burning the cheese are all important steps in making keto pasta. Without following these tips you may find the recipe doesn't work out as well as you would have hoped! Make sure to remember these tips the next time you make this recipe!
Picking a Sauce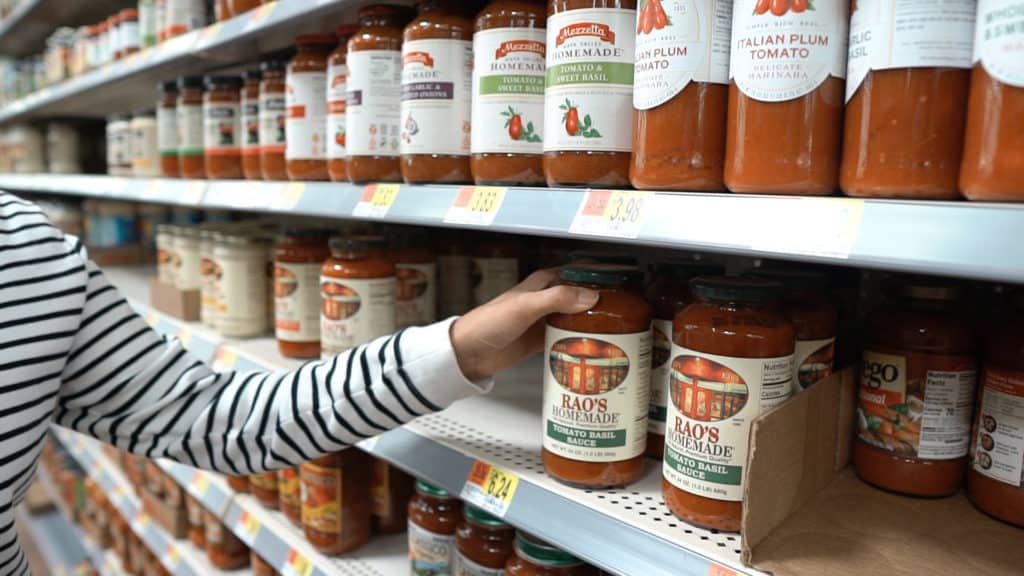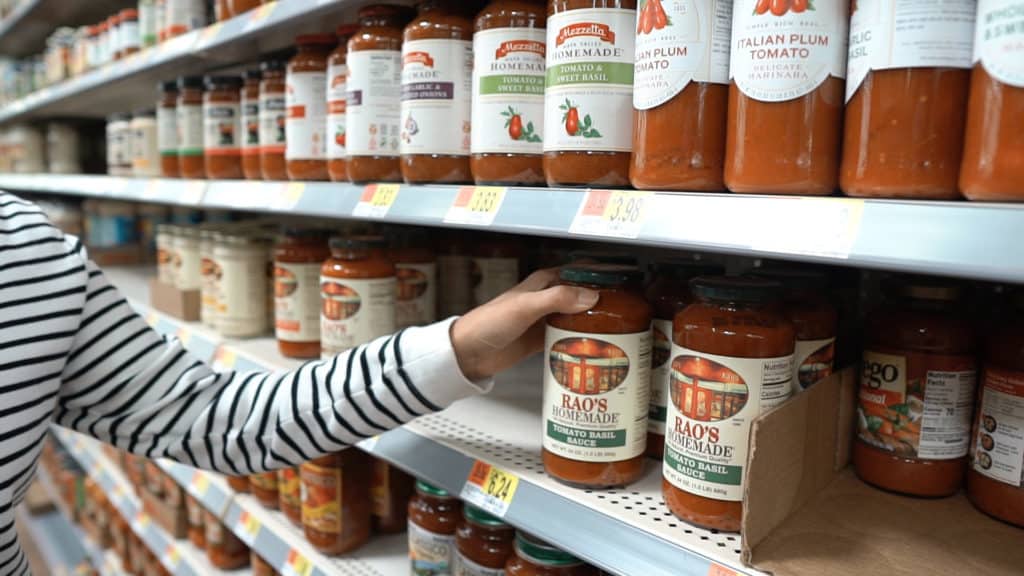 It can be a challenge to find the perfect keto sauce. There plenty of options for different types of sauces, but only a few that are truly keto. Some of our favorite sauces are:
Homemade
Homemade keto spaghetti sauce is always going to be your best bet, but not everyone has the time to whip up our delicious recipe. If you have a few extra minutes to spare we would highly recommend you take a shot at making some homemade sauce!
Marinara
This is the classic spaghetti sauce for your spaghetti and meatball dinner. There are store bought options as well as fresh variations. When making recipes for marinara sauce brands will often sneak in sugar which ups the carb count. To make keto pasta you need a low sugar sauce with as few ingredients as possible. Your options:
Homemade: This is usually the most flavorful and fresh tasting. You will want to find a good traditional recipe and check that it's low carb and low sugar.
Pesto
Pesto is a highly underrated pasta topping. There are tons of pesto recipes online to make this high fat topping. The best versions:
Our Homemade Pesto Recipe!: This recipe goes with our pesto chicken, but you can just toss it together and serve it all overtop these tasty noodles. Low carb pasta needs a good high fat topping for a keto diet and this pesto brings it. Quality walnuts and olive oil plus fresh herbs to really round out the flavor.
Alfredo
A creamy sauce that pairs great with any noodles, but especially our keto pasta noodles! We love having an alfredo sauce with chicken or sausage to make a high fat meal that will keep you full for hours.
We have two different alfredo recipes, both of which will knock your socks off! The first is our blackened shrimp fettuccine alfredo. And the second is our low carb alfredo noodles with sausage.
From the Store: There are very few quality alfredo sauces you can purchase. Most have bad oils and low quality dairy products. The only one that we would really consider is the Raos brand but it is a bit more expensive than most other store brand variations.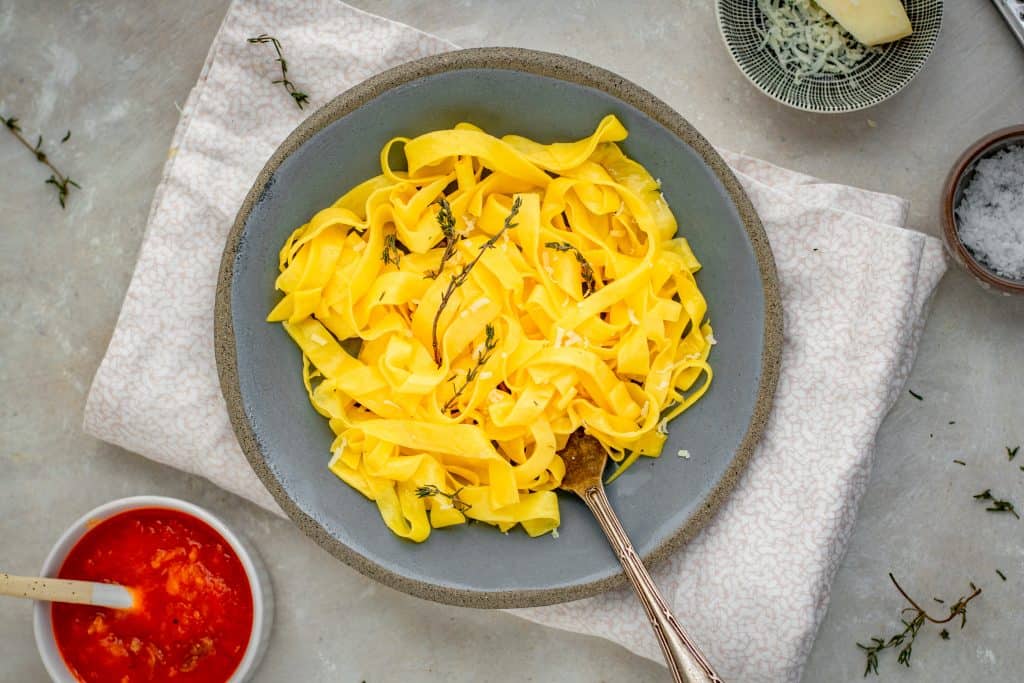 More Italian Keto Recipes
Want more delicious Italian keto recipes? Check out some of our favorites below:
Cast Iron Keto Lasagna– This cast iron lasagna is super easy, super cheesy, and super delicious! It's another refined carb free keto recipe that's perfect to whip up as comfort food.
Easy Caprese Chicken– Caprese chicken is the perfect recipe to serve on top of this low carb pasta for the whole family to enjoy. This recipe is great for someone on a keto diet trying to watch total carbs while still having a refreshing brightly flavored Italian dish. Plus it's egg free for those sensitive to egg whites or egg yolks.
Keto Tiramisu– Another traditional Italian recipe gone keto! It's sugar free and one of our favorite Italian dessert recipes.
These are just a few of our favorite recipes, but there are tons more on our blog. We have recipes with varying cook time and flavors so you can find the recipes that are best for you!
Keto Pasta
The pasta-bilities are endless with this tasty ketogenic noodles recipe. Whether you want to cook plain noodles topped with butter and parmesan, or extra fancy homemade pesto noodles this will be the base recipe for you. With minimal cook time and 30g fat this recipe will become a staple weeknight dish on your keto diet.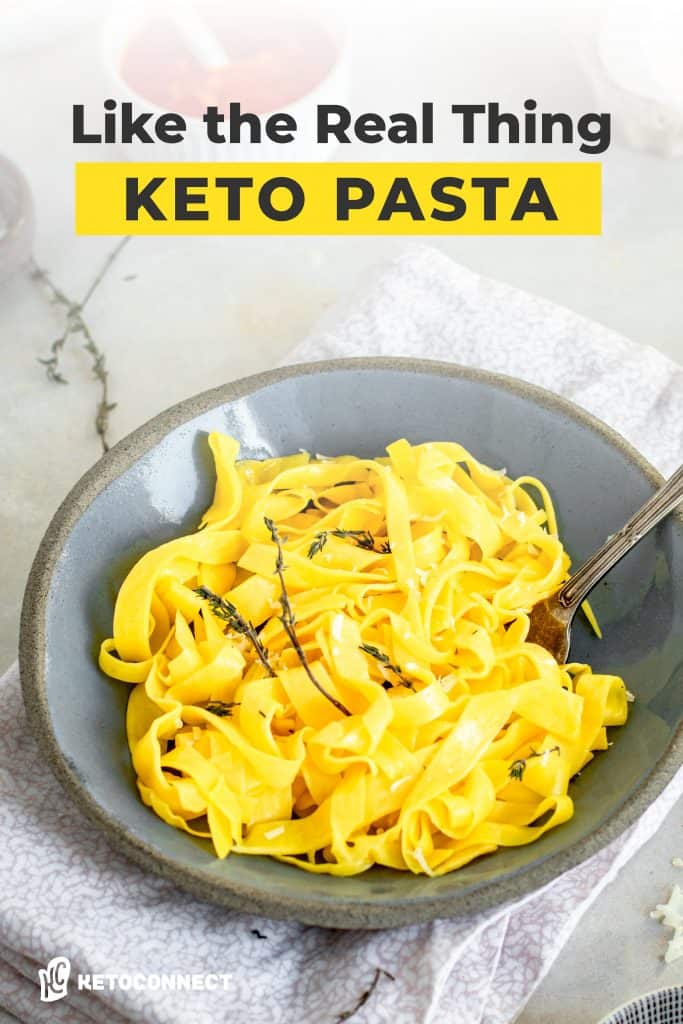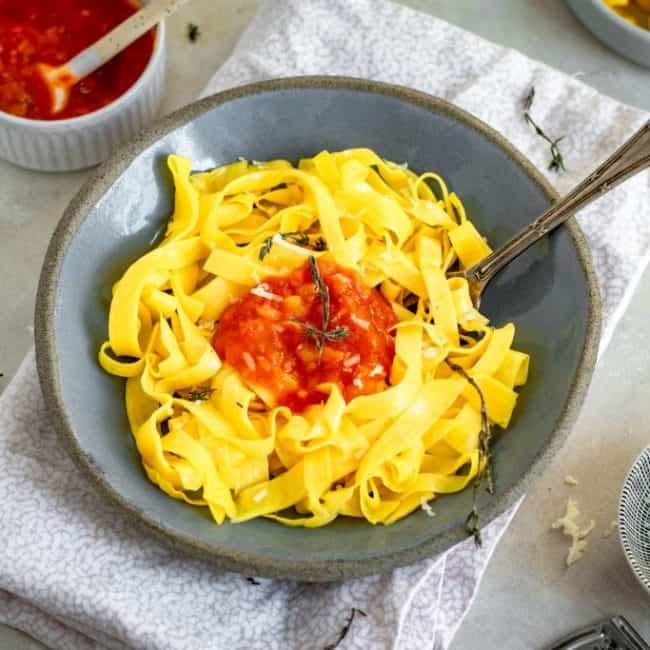 Keto Pasta Recipe – 3 Ingredients
This 4 ingredient keto pasta is sure to be a hit with your family. Even the Italians in the house will be shocked at how good these keto noodles are.
Total Time 52 minutes
Servings 1 Serving
Calories per serving 391kcal
Prep Time: 10 minutes
Resting Time: 40 minutes
Cook Time: 2 minutes
What You Need:
Rolling Pin

Baking Paper/ Parchment Paper
Ingredients:
1 Cup Shredded mozzarella cheese (112g)
1 Large Egg Yolk (18g)
2 tsp Gelatin Powder (6g)
1 tbsp Water (15ml)
Instructions:
In a small bowl add the gelatin powder and water. Whisk then let it sit to absorb. It will be very thick. 

Using a microwave safe bowl, add the cheese, and microwave for 20-30 seconds until all the cheese is melted. Whisk the melted cheese to make sure that there are no solid cheese pieces, then quickly add in the egg yolk and whisk until the mixture is homogenous. Careful not to cook the egg yolk.

Next microwave the bowl with the gelatin in 10 seconds interval until all the gelatin granules are dissolved, usually 20 seconds total.

Once the gelatin mixture is ready, pour it over the cheese mixture and whisk quickly until it's properly combined. The mixture will start looking like a soft dough. (If the cheese mixture has cooled, microwave it for 10 seconds before you add the gelatin.)

Transfer the cheese mixture onto one side of a greased sheet of baking paper. Fold it over, and gently start pressing over the baking paper to spread the dough evenly. 

Using a rolling pin, gently roll out the dough between the baking paper sheets into a 1/4 inch thick dough. Place in the fridge to set for 30 minutes.

Take the rolled out dough out of the fridge. Using a pizza cutter, cut the dough into noodles of your desired width. You could do fettuccini , linguini, spaghetti, etc..

To serve, toss it in your hot/warm sauce of choice, the pasta will immediately heat up and come up to the temperature of the sauce.*
Notes
* Gelatin is an important component in this recipe. It gives structure to the pasta, and makes it more al dente. If you skip the gelatin, you will end up with a soft and easily meltable pasta. * If you don't want to use the pasta within 1-2 days, you can freeze it. Once you're ready to use it, you can let it thaw ahead of time in the fridge. * Do not boil the pasta, it will get mushy and start melting. To reheat it, you can place it in hot water for 5-10 seconds and drain it right away. Net Carbs: 3g per serving
Yields: 1 servings 
Nutrition Facts
Keto Pasta Recipe – 3 Ingredients
Amount Per Serving
Calories 391 Calories from Fat 270
% Daily Value*
Fat 30g46%
Saturated Fat 16g80%
Cholesterol 273mg91%
Sodium 711mg30%
Potassium 85mg2%
Carbohydrates 3g1%
Sugar 1g1%
Protein 28g56%
Vitamin A 1002IU20%
Calcium 588mg59%
Iron 1mg6%
* Percent Daily Values are based on a 2000 calorie diet.