Learn how to make the most flavorful, crispy and cheesy keto pizza crust with fathead dough. When people start a ketogenic diet or a low carb diet, the first thing they look for is a replacement for some of their favorite foods. Pizza is a lot of peoples favorite food, and for good reason. Follow along and make keto pizza by using this recipe and the video that is included.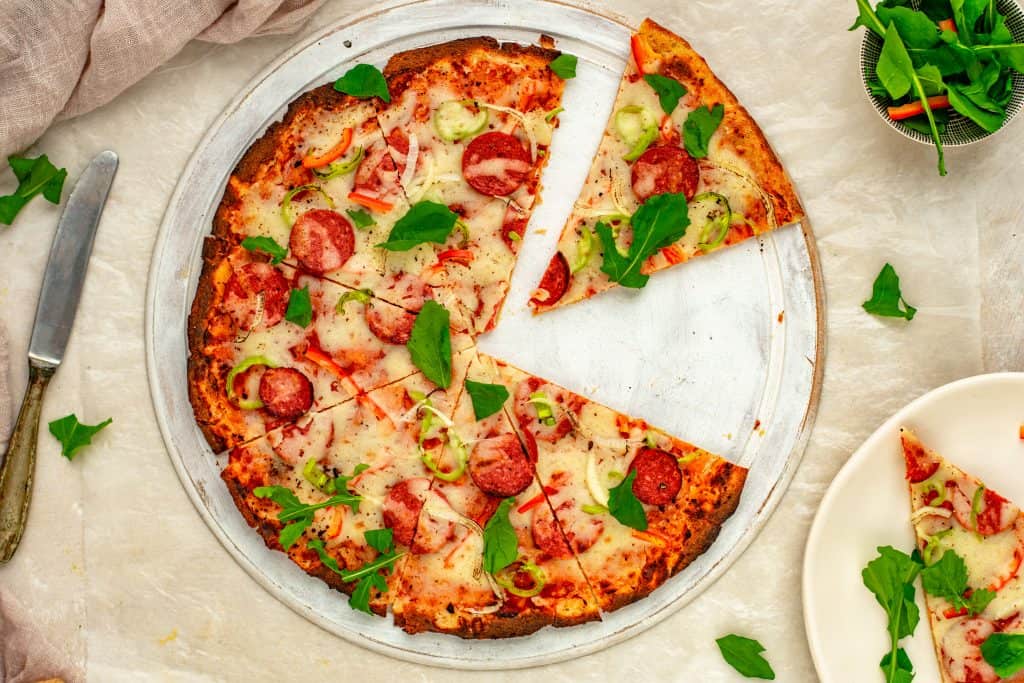 Easy Keto Pizza in 20 Minutes or Less!
When finding a low carb replacement for pizza it is important to remember that speed matters. One of the reasons pizza is a favorite for so many people is because you can order one up and be eating it in 30 minutes. When coming up with this recipe it was important for us to keep in mind this factor. This easy keto pizza will be ready for you faster than you could have ordered delivery pizza.
Is Pizza Keto?
Not surprisingly, pizza is one of the worst foods you can possibly eat when it comes to your health. Not only is it full of carbs which make it not keto friendly, but it also contains tons of unhealthy fats from low quality dairy. This classic combination of fats and carbs is what makes our favorite foods taste so good. We're going to replace the doughy high carb crust with a little something we call fathead dough!
How To Make a Fathead Pizza Crust
Before we begin you might be asking, "what is a fathead pizza crust"? It is a replacement for the typical high carb pizza crust that uses a few simple low carb ingredients. Fathead pizza dough is used in many keto recipes to replace high carb doughs. It is a versatile ingredient that you might want to get to know if you plan on sticking to a keto diet for a while.
Keto Fathead Pizza Dough Ingredients
Mozzarella Cheese
Cream Cheese
Almond Flour
Egg
Baking Powder
Herbs and Spices (optional)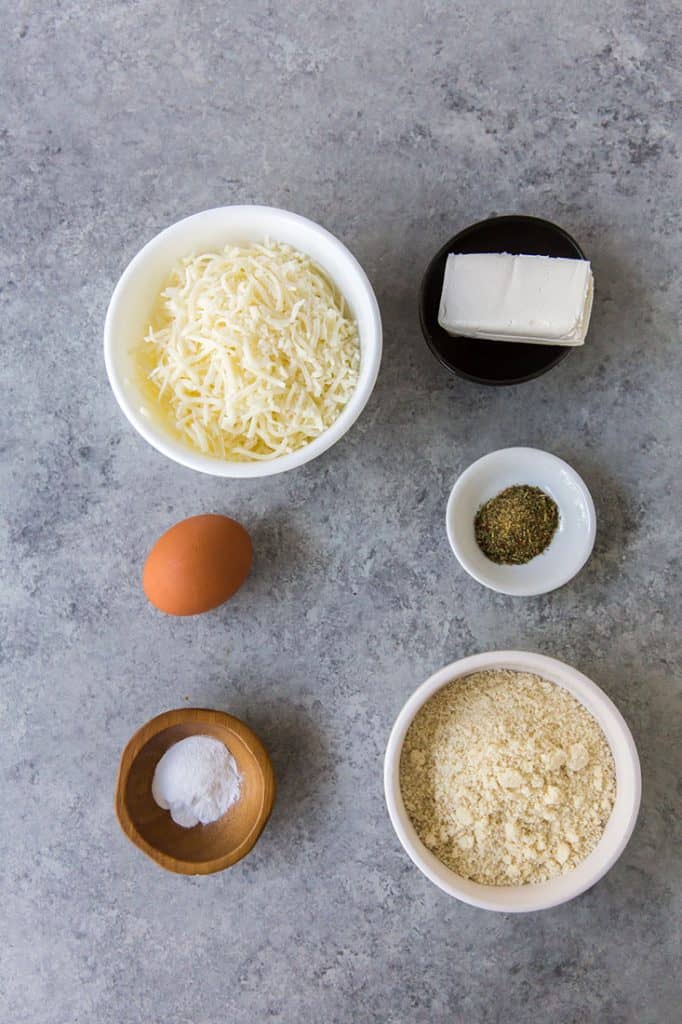 Make Fathead Dough in the Microwave
You can make a fathead pizza a number of ways, but the easiest is going to be by using a microwave to get the dough to come together. If you do not have a microwave the next best alternative is to use a double boiler to slowly bring the ingredients up to temperature. Either method will work, the microwave is just a much quicker option.
You'll start by melting the cream cheese and shredded mozzarella cheese together in the microwave. I like to set the microwave to medium heat and melt the cheese for about 90 seconds, but you can also melt it on high heat in 15 second bursts. Once it's a little melty you will stir the cream cheese in until it is fully incorporated. If it will not incorporate you may need to heat it some more and resume mixing until it is fully mixed.
Once that is done we can add the rest of the ingredients. Add the egg, almond flour, baking powder and herbs and spices. Mix until everything is completely incorporated. The mixture will be sticky to the touch.
Note: If the mixture is too hot when the egg is added it will become cooked and will ruin the dough.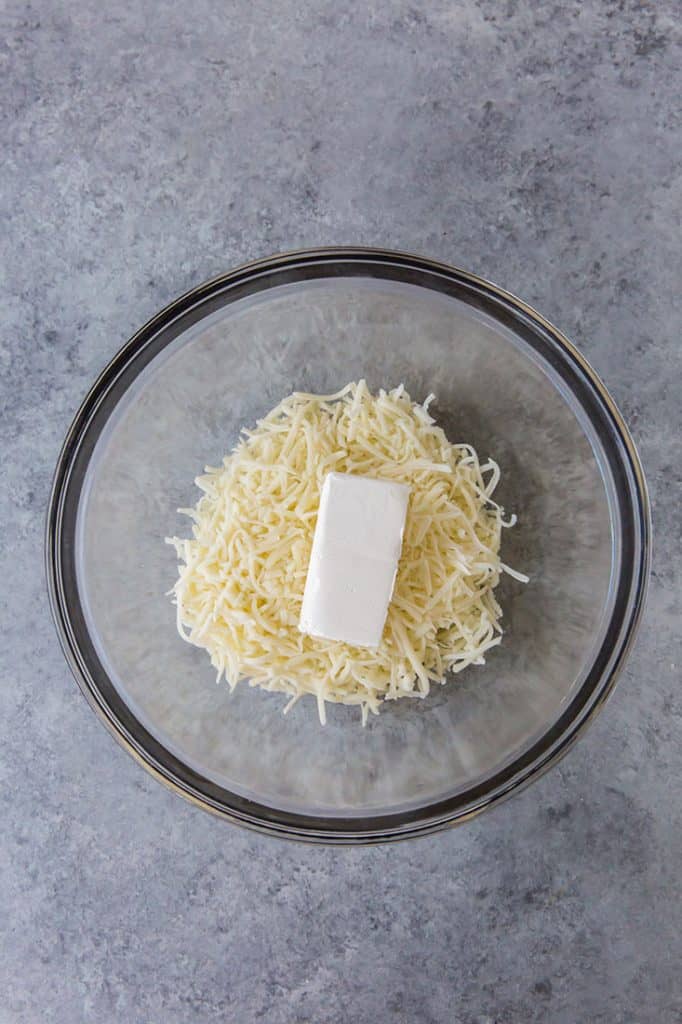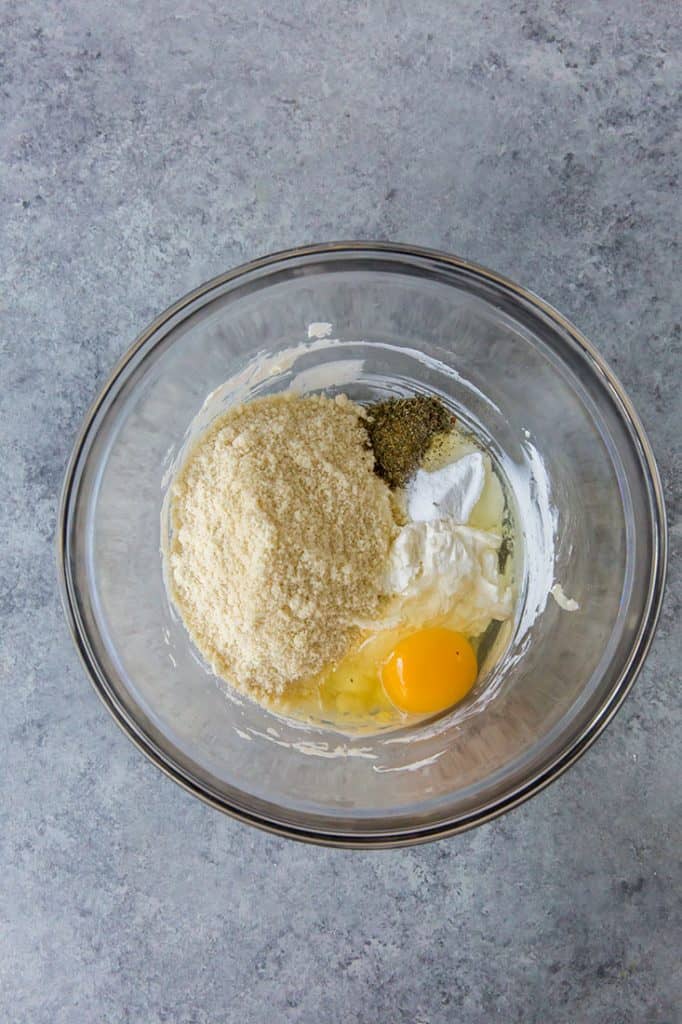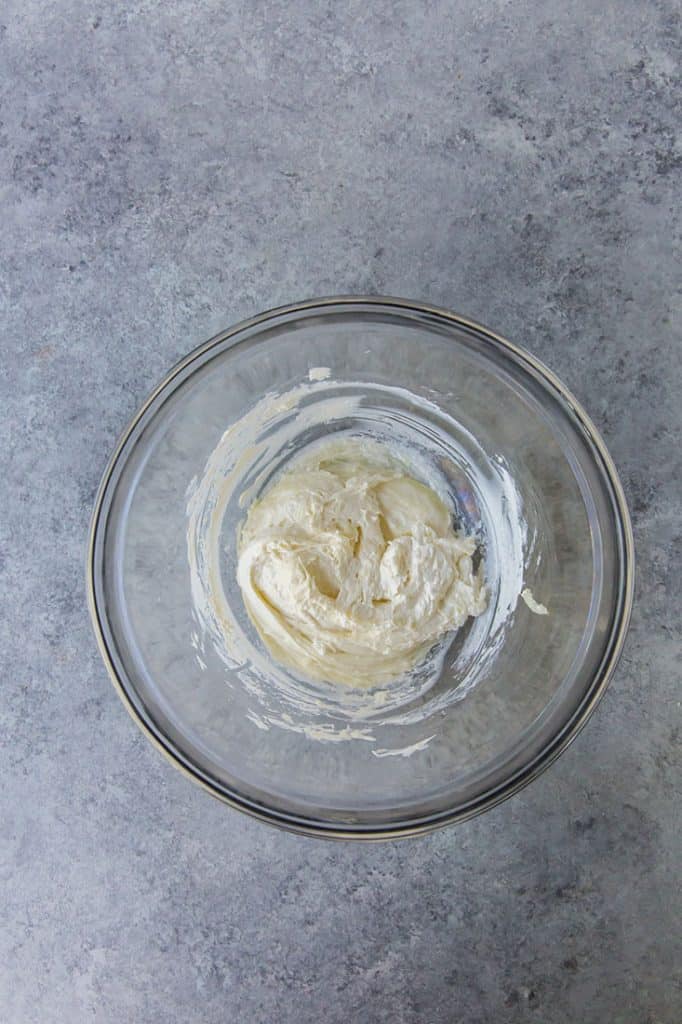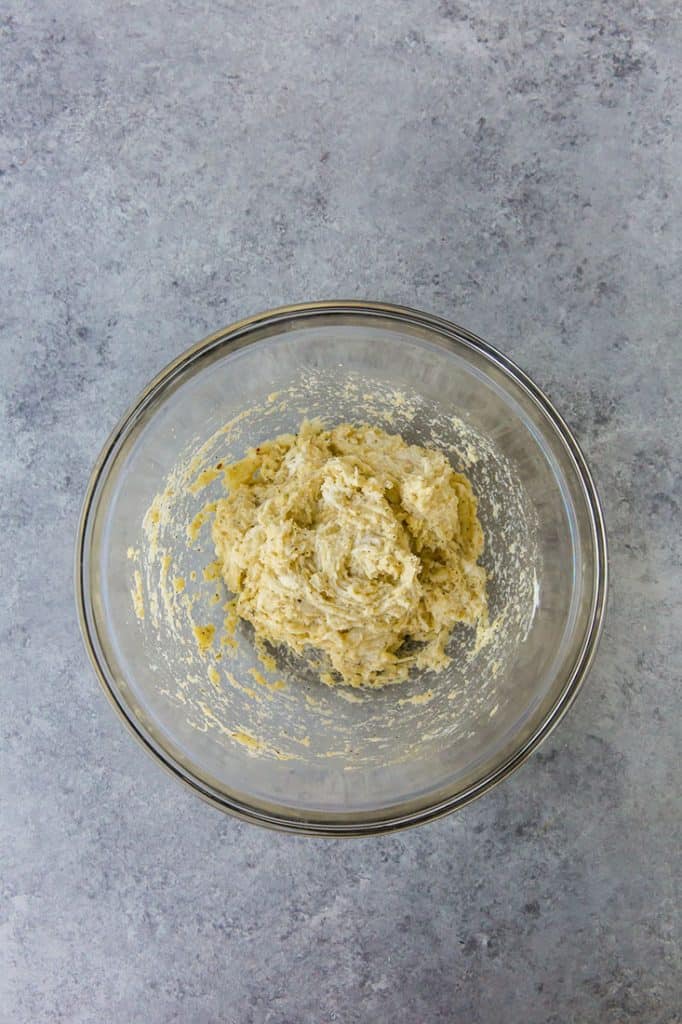 Roll Out the Pizza Crust
Since the dough is sticky you will need to use parchment paper to properly roll it out. I like to use two sheets of parchment paper that I grease with a light amount of non stick spray. This ensures the dough does not stick.
You can roll the crust to your desired thickness, but I recommend going relatively thin. The thinner you make your crust the crispier it will be. Leave a little bit more thickness towards the edges. This will allow the fathead pizza to be baked twice without burning the exterior crust that is not covered by toppings.
This is a large recipe so you have the option of make one family sized keto pizza or a handful of personal pizzas. We like making individual size keto pizza so each person can add their own toppings!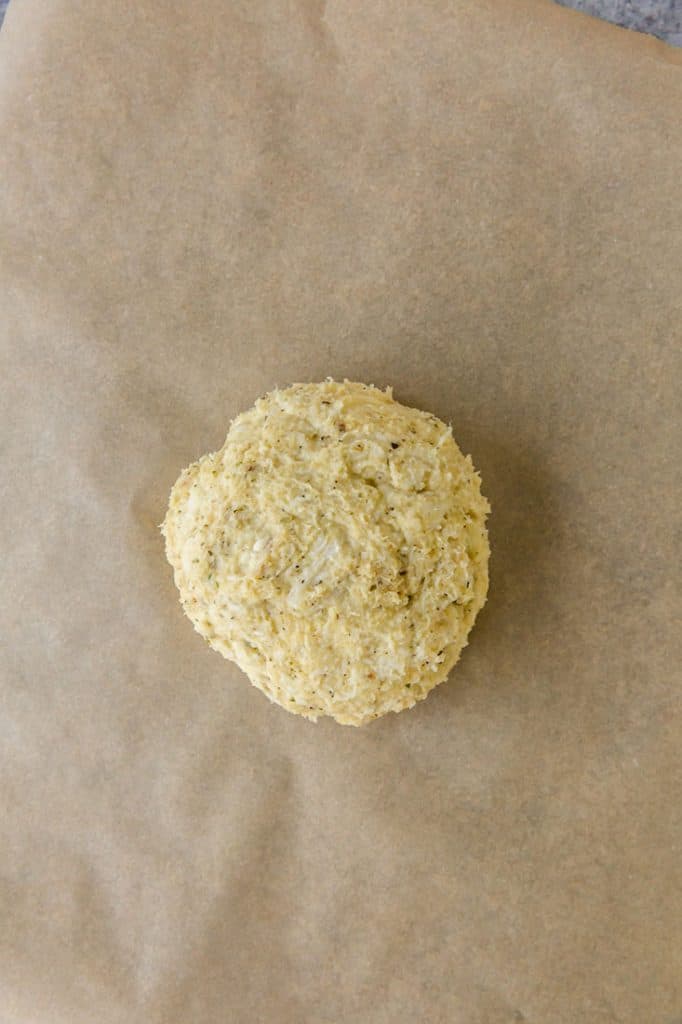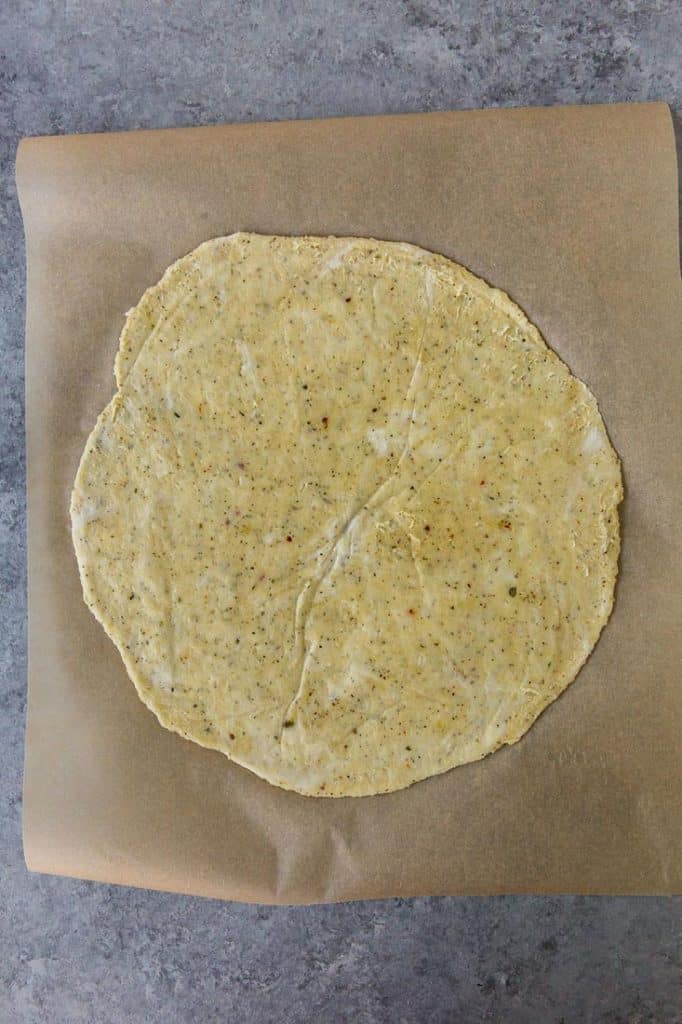 The Best Keto Pizza is Baked Twice
A fathead pizza crust needs to be baked twice for the best results. The first time the crust is baked on its own, without toppings. This is similar to what you would do with a pie crust. Then, when the crust is nicely browned in some areas (after about 10 minutes) add the toppings and bake until they are warm and melted (about 4-8 more minutes).
The reason we bake a low carb pizza twice is because the crust takes a much longer time to bake than the toppings do. The center of the crust will not cook properly if you don't give it some time the oven without toppings.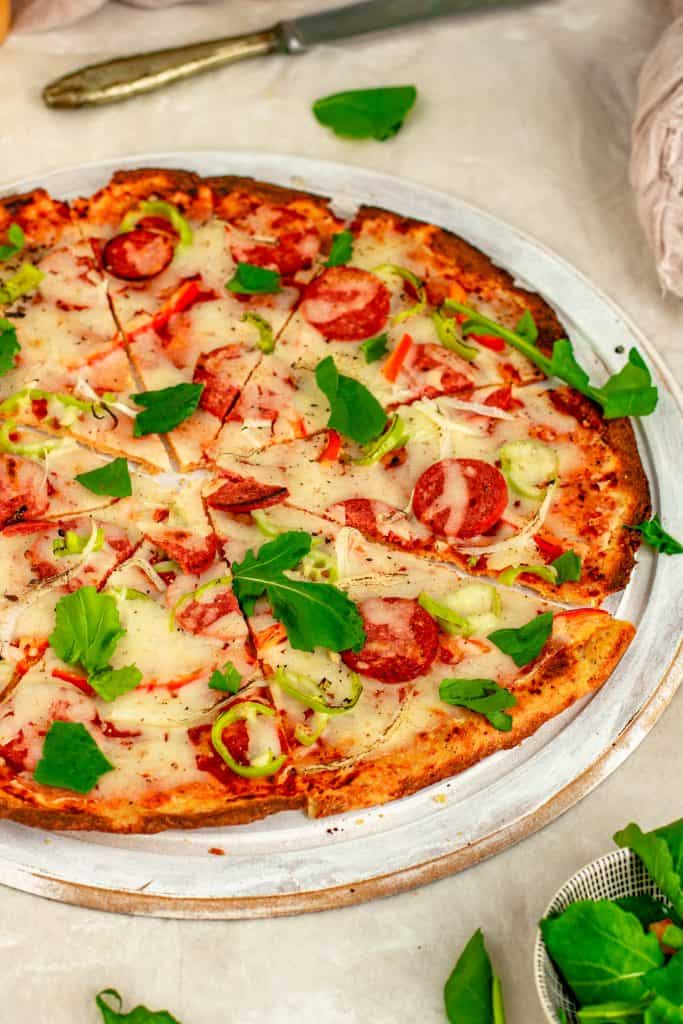 Keto Pizza Toppings
When it comes to keto pizza toppings there are only a few traditional items you may want to avoid. Just about all of the classic toppings are keto friendly. First let's talk about sauces, because that is a keto element to a great tasting low carb pizza.
Keto Pizza Sauce Options
No Sugar Added Sauces
Pizza sauce is going to have some sugar in it, but you'll want to look for a variety that doesn't add any refined sugar to their recipe. Tomatoes have naturally occurring sugar in them, so 3-4 grams of carbs per 1/4 cup serving of tomato sauce is to be expected. Some of the sweeter marinara sauces will add lots of sugar and can contain 15+ grams of sugar per serving.
Note: If you love sweet sauce, you can add a keto friendly calorie sweetener to one of the tomato sauce options above!
Pesto Sauce
This is our preferred option because it only takes a small amount of a really good pesto sauce to put your low carb pizza crust over the top. Additionally, pesto's can be a great way to add healthy fats to your keto meals. Just be on the lookout for low quality vegetable and seed oils in these. You might have to pay a bit more, but you'll be able to find olive oil based pesto sauces at most grocery stores.
Note: Pesto's come in many shapes and sizes. I personally find a basil pesto to be the best for a pizza topping if you're going for a traditional Italian flavored pizza.
You can also use an alfredo sauce for the base of your pizza, but it can be difficult to find one that does not use processed vegetable oils.
Low Carb Pizza Toppings
The only topping you really need to stay away from when topping your keto pizza crust is Pineapple. Other than pineapple just about every other pizza topping can be included on a ketogenic diet.
Pepperoni
Bacon
Salami
Chicken
Sausage
Onion
Bell Pepper
Jalapeno Pepper
Mushrooms
Olives
Cheese
Anchovies
Some of these toppings may need to be cooked first, since the toppings are only on a fathead pizza for a few minutes while it's in the oven. I would saute mushrooms, onions, and bell peppers prior to putting them on my fathead pizza crust.
Keto Pizza With Coconut Flour
Some people are on a nut free keto diet, and some just like reducing the amount of nuts in their diet. If you fit either of these categories, then a potential substitution you could make is using coconut flour in place of the almond flour in this fathead pizza recipe.
The preferred way to make this low carb pizza is to use almond flour. It tastes better, it is easier to work with, and it results in a crispier crust. Using coconut flour will make the crust a bit more bread-like. The keto pizza crust will also taste faintly of coconut, which some people dislike.
Fathead pizza recipe with almond flour:
3/4 cup almond flour
1 1/2 cup mozzarella
2 tbsp cream cheese
1 egg
Fathead pizza recipe with coconut flour:
1/3 cup coconut flour
1 1/2 cup mozzarella cheese
2 tbsp cream cheese
2 eggs
As you can see, you will need significantly less coconut flour than you would almond flour. This is because coconut flour is much more absorbent than almond flour. This can also present some problems if you add too much coconut flour because the dough will become very tough. It's best to slowly add the coconut flour to the keto pizza crust to be sure that you don't overdo it.
Tricks for Making The Perfect Keto Pizza Crust
Dealing with Sticky Fathead Dough
This is a common problem when making keto recipes that utilize fathead dough. Luckily there is an easy fix! Here are a few steps you can take if you keep running into this problem when preparing your pizza.
Chill The Dough: Pop it in the fridge for 10-20 minutes to make it easier to work with. Don't let it get fully chilled, but bringing it down a little below room temperature will make the dough easier to roll into a pizza crust.
Oil Your Hands: If you're really having problems working with the dough just add some olive oil to your hands and the dough will no longer stick. This might sound crazy but believe me, it really works!
Use Parchment Paper: This will make it much easier to roll out the dough into the shape of a pizza crust. Sometimes the dough is so sticky it will even stick to the parchment paper. Just lightly oil the paper if this is the case for you.
In most cases this issue will be solved by placing the dough in the fridge for 15 minutes and then using oiled paper to roll out the dough. Try that first before you move on to more drastic methods.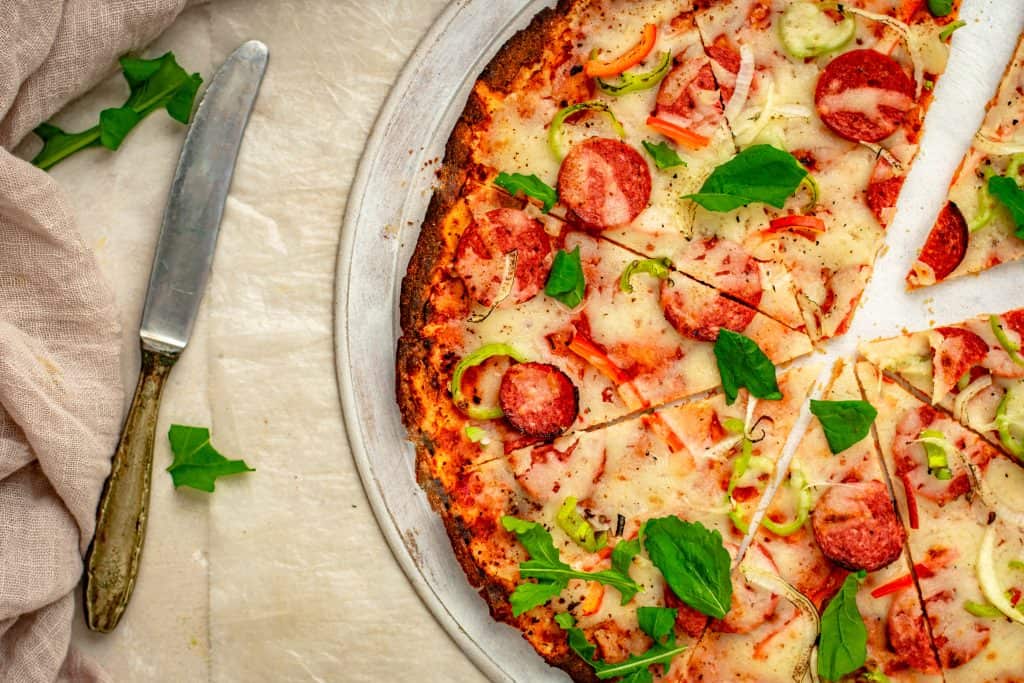 Master Your Oven Time and Temperature
The step that separates the amateurs from the pros when it comes to fathead pizza crust is perfecting your oven time and temperature. You need to get to know your oven and figure out if it runs hot, cold, or just right.
The crust needs to be baked the first time at a relatively high temperature to achieve a good crisp. Go for 400 degrees Fahrenheit for about 10 minutes. Keep an eye on it and pull it out when it starts to brown. The crust will not get much more browned or crisped when you bake it the 2nd time with the toppings on it, so don't be afraid to leave it in as long as it takes to become crispy.
Use a Pizza Stone or Cast Iron Pan
You can use a pizza stone or cast iron pan to cook your pizza. These store heat and help to make the crust crispier. When using these tools you want to place them in the oven while it is preheating. This will bring them up to temperature. Then you will place your pizza crust recipe onto an already heated pan, instead of a baking sheet that is at room temperature and will take several minutes to get up to temperature.
This is a nice bonus, but it is not necessary to making a great pizza.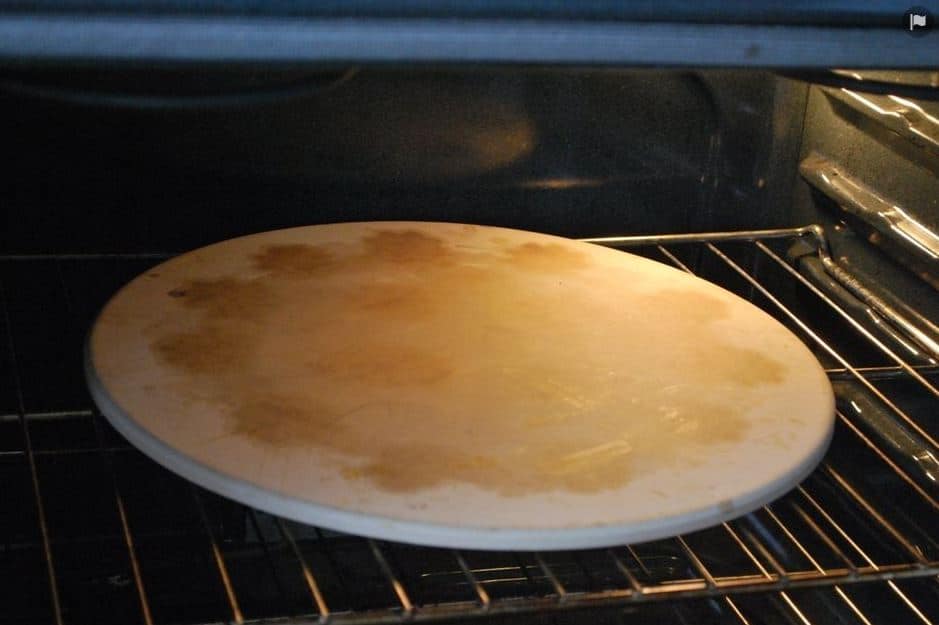 How Many Carbs are in Keto Pizza?
It's going to depend on the type of sauce and toppings you use for your pizza, but the pizza crust recipe is just 2 grams of net carbs per slice! If you opt for the coconut flour version of this recipe the net carbs come in at around the same 2 grams per slice. While 2 grams of net carbs is awfully low for a slice of pizza, we also have a ZERO CARB Chicken Crust Pizza recipe that you can give a try. We actually like the chicken crust pizza better than this one!
We make it super easy for you by inputting most of our recipes into MyFitness Pal. If you want to learn more about tracking macros for a keto diet, and how to calculate your keto macros then read some of our other posts.
Can You Make Keto Pizza Dough Ahead of Time?
Yes, this is a great recipe to make ahead of time. There are a few different ways to go about this, but the best way is to do the initial 10 minute bake and then store the par-baked crusts.
Make the ball of dough and store in the fridge wrapped in plastic wrap. This is a good option if you plan on making your keto pizza in the next day or two. If you want to store if longer than that then use the next storage method.
Bake the crust and then store in the fridge or freezer. This is best method for making ahead of time. Make a big batch of this low carb dough recipe, then roll it into pizza rounds and bake for 10 minutes. Stop just before the step where you would typically add your toppings and finish the pizza in the oven. Wrap in plastic wrap and store in the fridge for up to a week, and in the freezer for a month.
It's nice to have these crusts prepped and ready to go for nights when you get extra busy and don't have time to cook a fresh meal. We always have a couple of crusts ready to go for easy keto pizza any night of the week.
Can You Buy Keto Pizza in the Store?
You might be surprised to find out that you actually can find some low carb options in the grocery store. There are a couple of different options but the one that you will see most often is Realgood Foods Pizzas. They have two different options that are low carb and totally keto friendly.
There is also a fast casual restaurant chain called Blaze Pizza that has started selling a low carb pizza option! The crust is made mostly of cauliflower and cheese. We have a full blog post and video reviewing the blaze keto pizza that you can check out. It's actually pretty good and definitely worth a try if there is one in your area. We love seeing new keto options like this becoming available.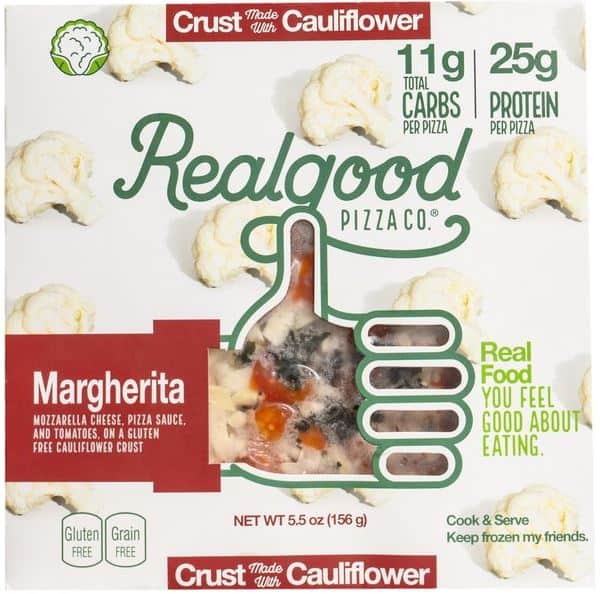 More Low Carb Pizza Recipes
We have a bunch of other pizza recipes that you will want to try as part of your keto diet. While this one is among the most popular, many people write us saying they love different recipes of ours, so you never know which one will be your favorite until you try it.
Zero Carb Chicken Crust Pizza – This is a fan favorite because it is the lowest carb pizza you will ever find. We love the fact that there is minimal cheese in the crust so you can top the pizza with extra cheese.
Deep Dish Pizza – If you're a Chicago style pizza fan then this one is for you. We use a cast iron skillet to really pack in as many toppings as we can. Make in as a personal pizza or a large on for the whole family.
We also have a handful of other great keto recipes that use this fathead recipe as a base. If you want to make a big batch of it and try a few of these recipes then be our guest.
Thanks so much for giving our recipes a try. If you like anything you try here, be sure to save it, bookmark it, and share it with your friends. Help us on our mission to spread healthy alternatives to people that desperately need them!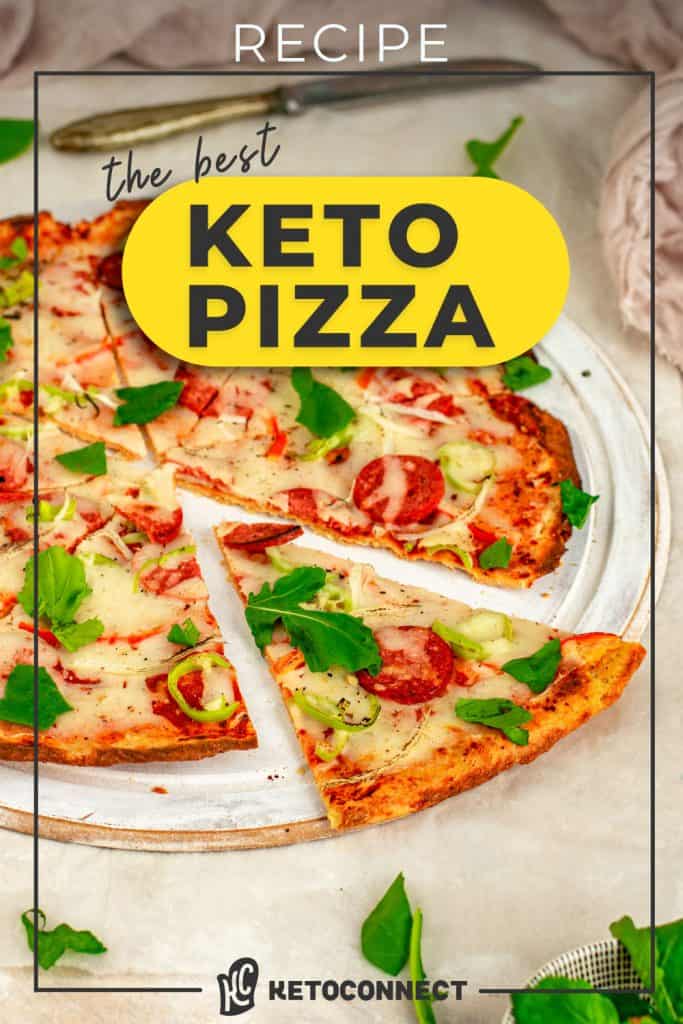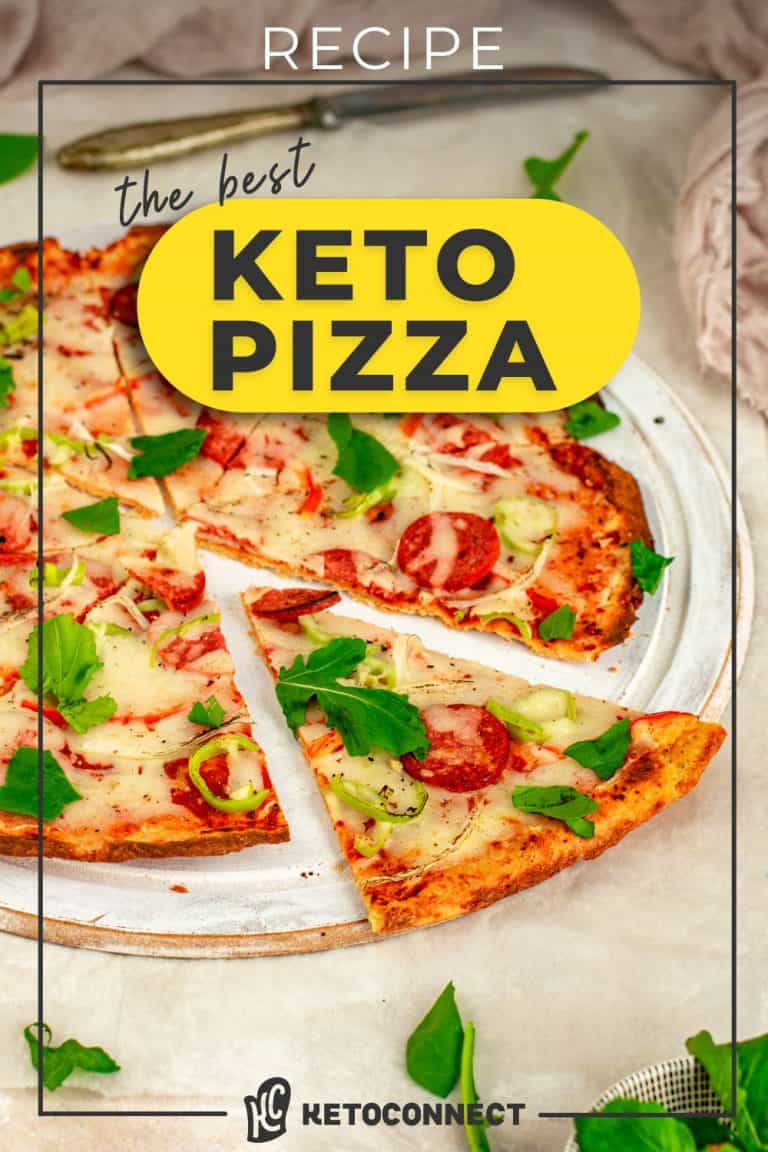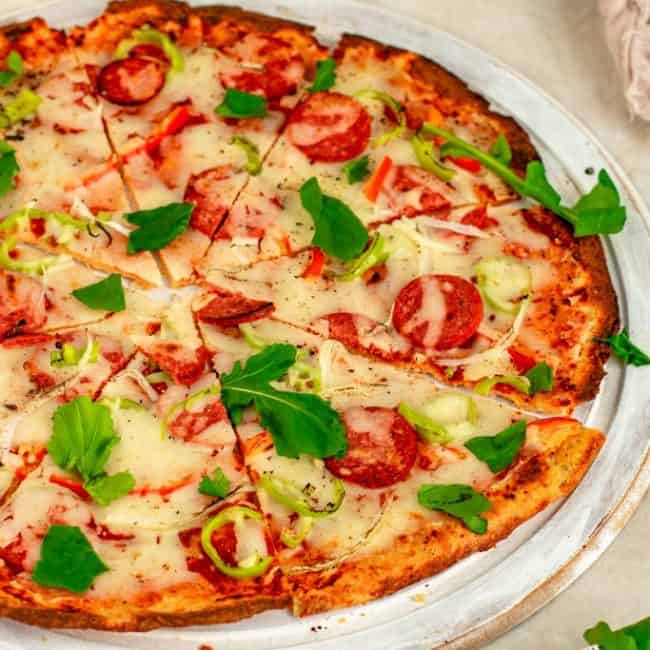 Fathead Keto Pizza Recipe
This is many people first keto recipe they make and it is one they keep coming back to. Keto pizza using a fathead crust is a recipe you'll want to master!
Total Time 20 minutes
Servings 1 Pizza
Calories per serving 1244kcal
Prep Time: 5 minutes
Cook Time: 15 minutes
Instructions:
Fathead Crust
Preheat oven to 425 degrees.

Combine mozzarella cheese and cream cheese in a bowl and microwave for 30 seconds. Take out of microwave and mix. Microwave for another 30 seconds and mix again.

Add almond flour, baking powder, egg, and any herbs and spices to the melted mixture. Mix all the ingredients together with a fork until they combine and begin to cool. Then knead by hand and form into a pizza crust on a nonstick pan. (We like to place parchment paper over the crust and roll with a rolling pin. It can be tough to shape by hand.)

Bake for 10-12 minutes at 425 degrees. Remove from the oven, add desired toppings and bake for an additional 5-7 minutes.
Notes
Net Carbs: 2g per slice
Nutrition Facts
Fathead Keto Pizza Recipe
Amount Per Serving
Calories 1244 Calories from Fat 927
% Daily Value*
Fat 103g158%
Carbohydrates 24g8%
Fiber 8g32%
Protein 64g128%
* Percent Daily Values are based on a 2000 calorie diet.
Written By