One of the first things you learn on keto is that sauces are loaded with sugar, and ketchup is no exception. In fact, just a few tablespoons on your bunless burger is enough to throw off your carb limit for the entire day! That's where our amazingly easy and delicious Keto Ketchup recipe comes in. Not only is it simple to make, but it's super tasty without any of the usual weird ingredients found in the bottled stuff.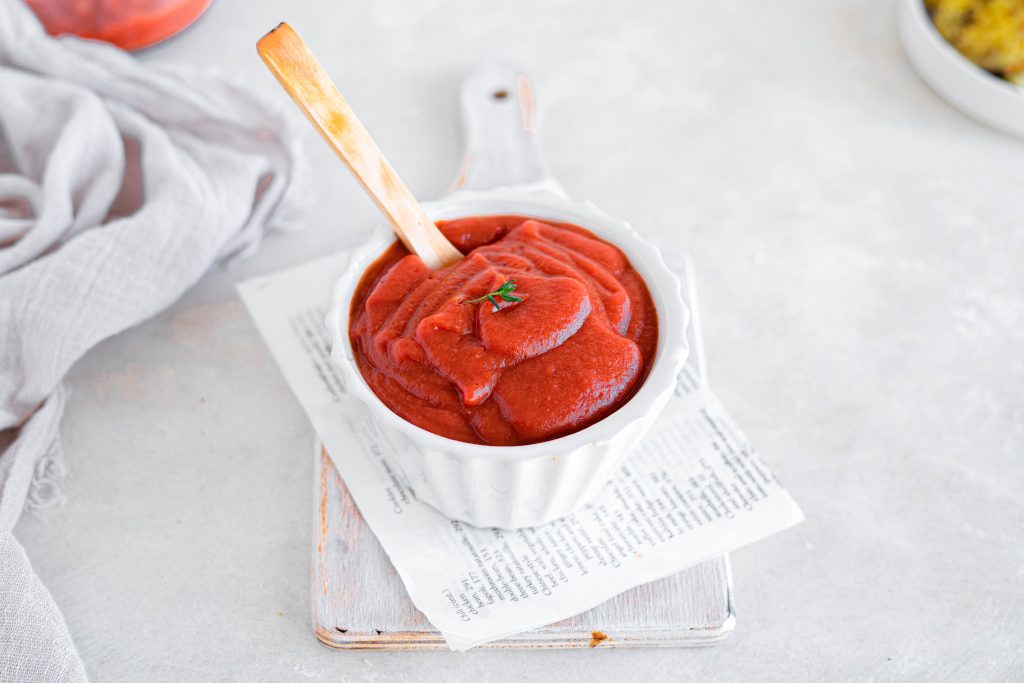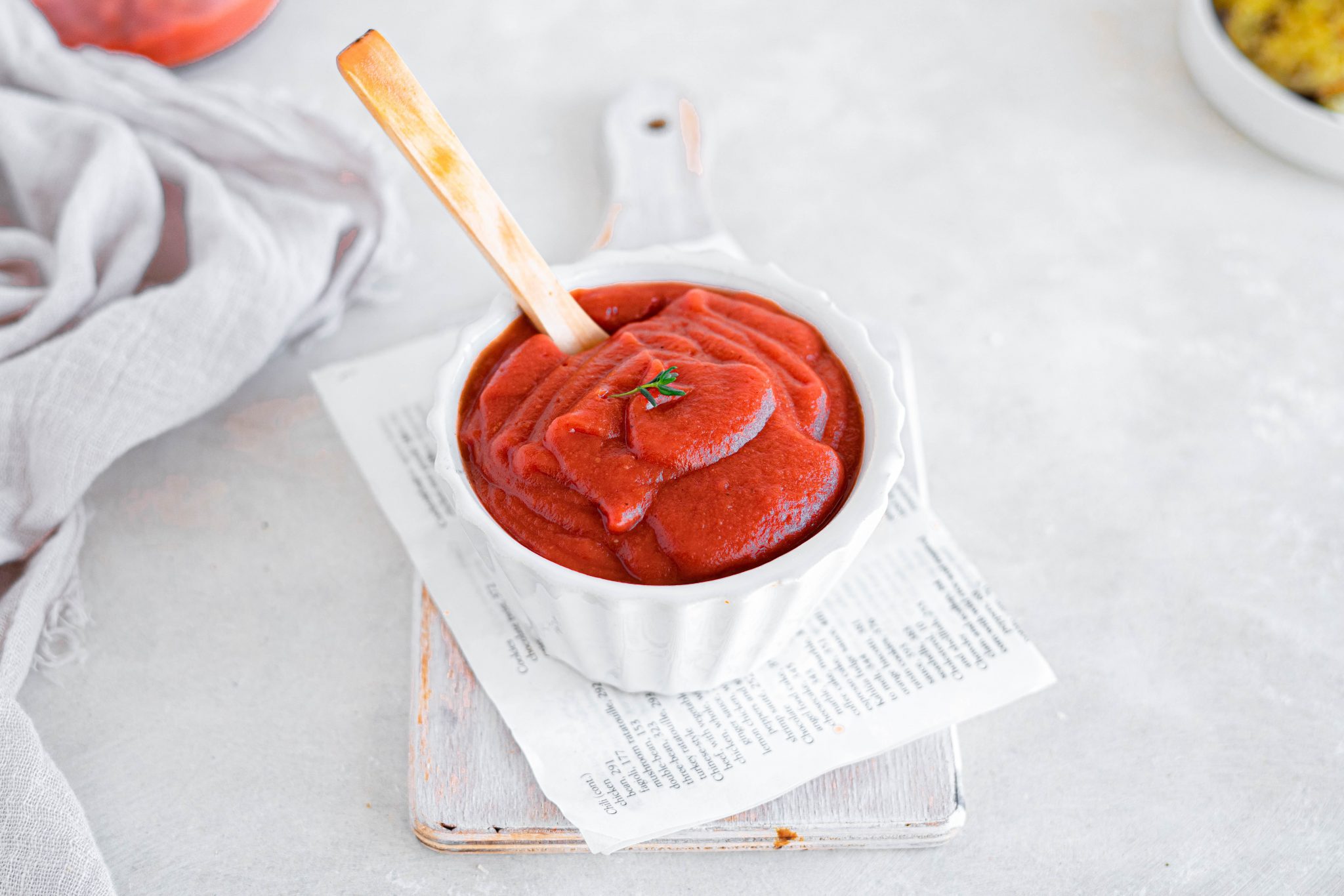 The Tastiest Homemade Sugar-Free Ketchup Recipe
There's more to making your own Keto Ketchup than blending up a bunch of tomatoes and calling it a day. This low-carb sugar-free ketchup recipe takes the guesswork out of making gluten-free ketchup that's just as delicious as your beloved Heinz.
We've brought together the perfect combination of low-carb ingredients to create that ideal fusion of sweet, acidic and umami flavors. And unlike some other kitchen staples, it's a super quick and low-effort recipe that you'll find yourself making again and again.
What's Wrong With Regular Sugar-Free Ketchup?
Your standard Heinz ketchup contains 4 grams of net carbs per tablespoon from high fructose corn syrup, which is far from suitable for keto. But swapping to one of their lower-sugar options may not be the healthier choice.
Heinz offers two options that contain less sugar than their original recipe: Ketchup Sweetened Only with Honey and Ketchup with No Sugar Added.
The ketchup that's sweetened with honey may contain 25% less sugar, but it still contains plenty of sugar – about 3 grams per tablespoon. That's only one gram less than the regular recipe! Not to mention that most keto people avoid straight-up sugars like honey.
Their Ketchup with No Sugar Added has only 1 gram of net carbs per tablespoon, but it's sweetened with sucralose. Many people avoid artificial sweeteners like sucralose due to health concerns. A 2017 study on mice suggested that sucralose may lead to inflammation and dysbiosis in the gut.
Some people also report digestive issues after consuming sucralose, so this is one to avoid if you have a sensitive stomach.
We recommend making your own using a safer, low-carb powdered low-carb sweetener like monk fruit sweetener or erythritol. Take a look at our comprehensive overview of the Best Sugar Substitutes for Keto to learn about the best and worst options, including sucralose.
Aren't Tomatoes Too High-Carb for Keto?
Some people avoid tomatoes and tomato paste because they're "too high in carbs" for keto. We love cooking with tomato – just check out our keto pizza recipe – so we want to bust the keto tomato myth once and for all.
100 grams of tomatoes contains only 2.7 grams of net carbs. That's even fewer net carbs than cauliflower, the most beloved keto vegetable in the world!
Not to mention tomatoes are brimming with health benefits, from a high concentration of Vitamin C to containing the heart-protective antioxidant lycopene.
When it comes down to tomatoes and keto, it's all about the dose. So long as you keep your intake in check, tomatoes shouldn't cause you to blow your carb budget.
Admittedly, recipes that use canned or crushed tomatoes can be higher carb, since that's a lot of tomatoes (and carbs). This recipe uses tomato paste – a very concentrated form of tomato. This is then diluted thanks to the other ingredients, such as water and vinegar, leaving very few carbs in a single serving.
Keep in mind that using canned tomatoes will create a watery sauce. We use tomato paste to create a thick sauce that won't have any trouble sticking to your keto chips!
3 Reasons to Make Your Own Keto Low-Carb Ketchup
Not yet sold on trying out a low-carb ketchup recipe? Here are three very good reasons that may just change your mind.
Ketchup Without Sugar
Unlike many premade options, our recipe doesn't contain any sugar, artificial sweeteners, preservatives, thickeners or other additives that many people avoid due to health concerns.
A 2014 study revealed that added sugars accounted for 14% of our average daily energy intake, with the majority of that sugar coming from store-bought foods! The best way to avoid added sugar? Ditch the bottled stuff and make your own.
It's Way More Affordable
Yes, there are ketchup brands, such as Primal Kitchen, that are keto-friendly and don't contain any nasty ingredients. The downside? They're not cheap, and can also be hard to find in your local grocery store.
Buying premade keto-friendly ketchup can add up, depending on how aggressive your ketchup addiction might be. That's why one of the best things you can do for your low-carb diet – and wallet! – is learn to make your own.
Homemade Just Tastes Better
Okay, we might be biased with this one. But many people report regular ketchup as being way too sweet after adopting a sugar-free keto diet. Our homemade ketchup no sugar recipe has the perfect amount of sweetness from keto sweeteners, without being overpowering.
What You'll Need to Make Keto Ketchup
You should already have all the basic tools needed to make this low-carb sugar-free ketchup recipe. These are:
A small or medium saucepan with a lid
A whisk
A blender If you don't have a regular jug blender, you can substitute an immersion blender ("stick mix").
Here's another pro tip: if you can't find powdered monk fruit, simply make your own by blending granulated sweetener into a fine powder!
How to Make Low-Carb Keto Ketchup
With just a few simple ingredients, you can make your very own Keto Ketchup in less time than it takes to run down to the store and buy a bottle.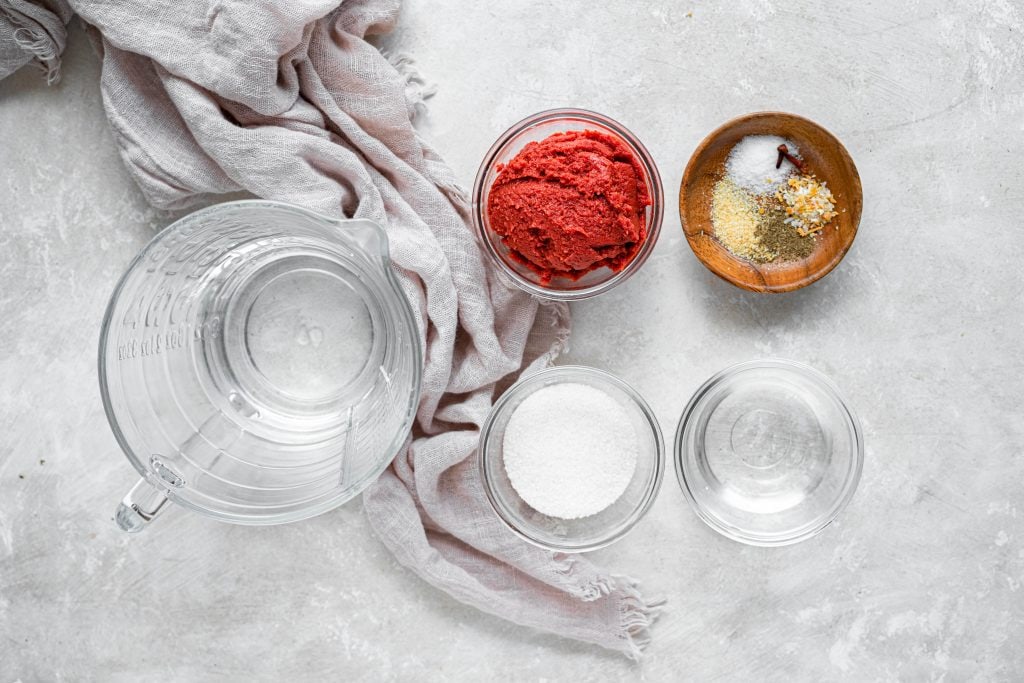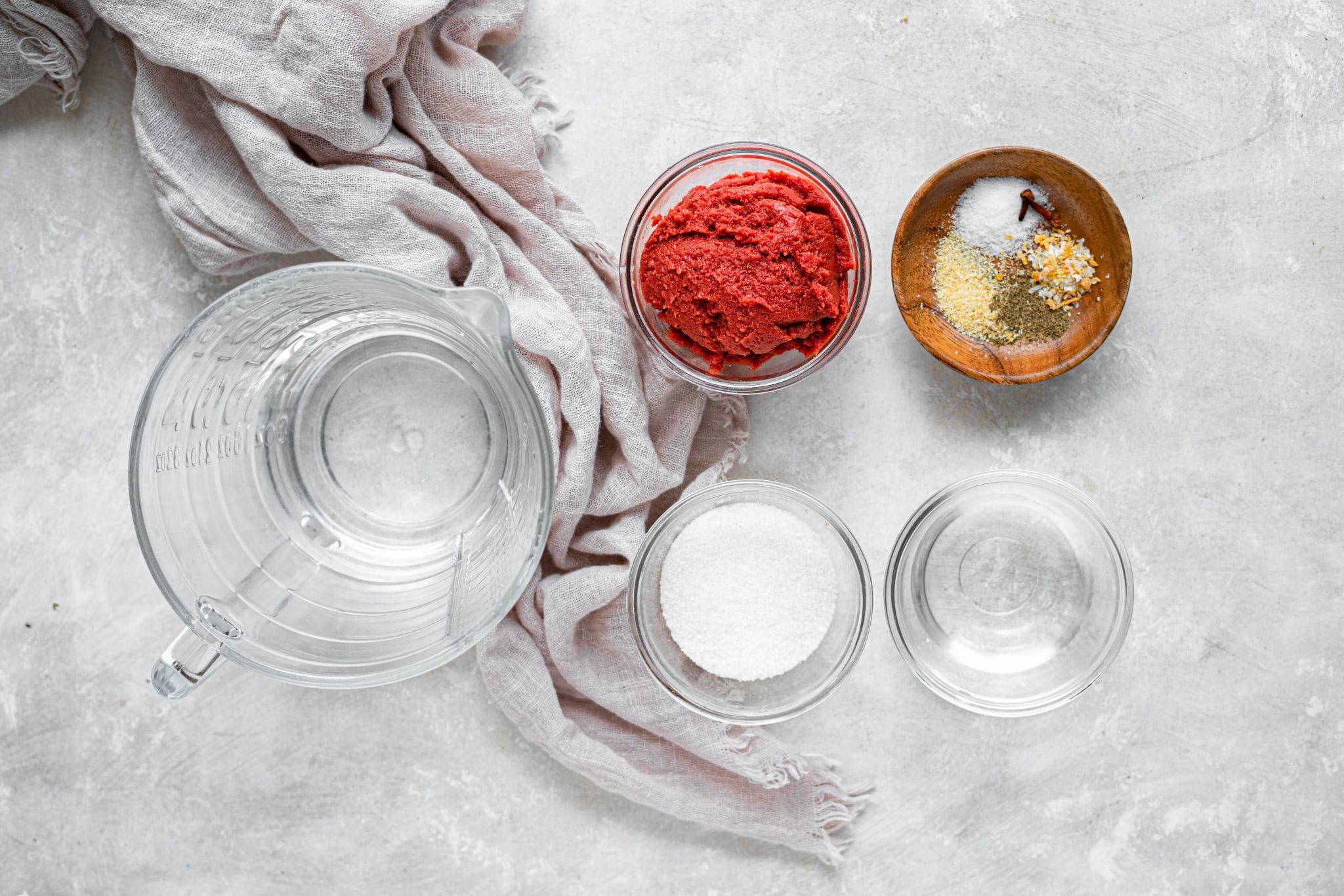 Add all ingredients to a saucepan and whisk to combine until thoroughly mixed through.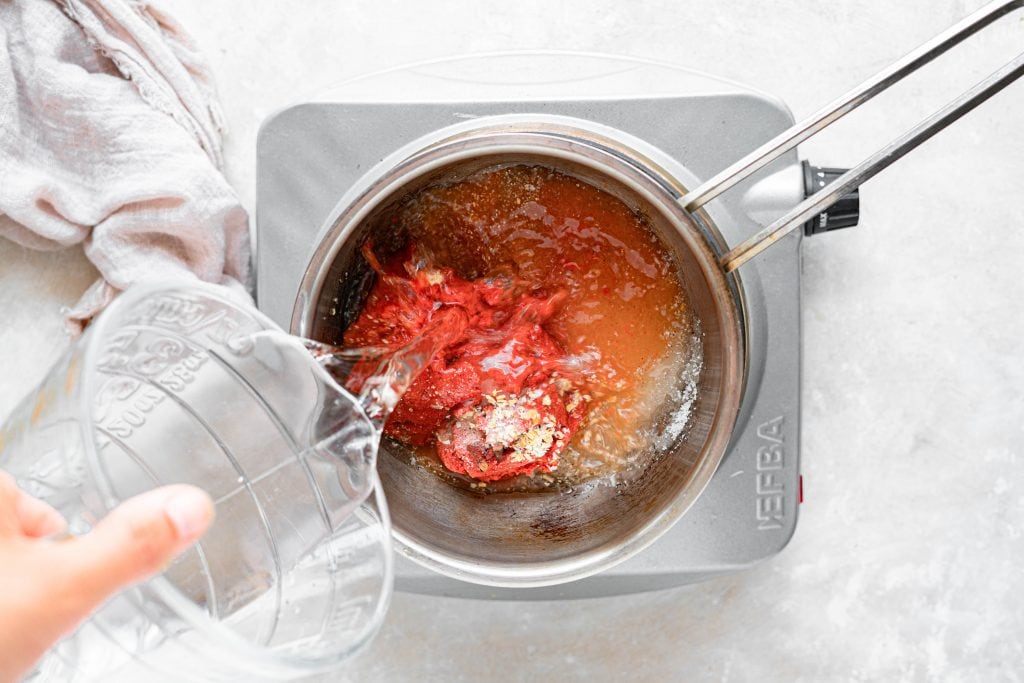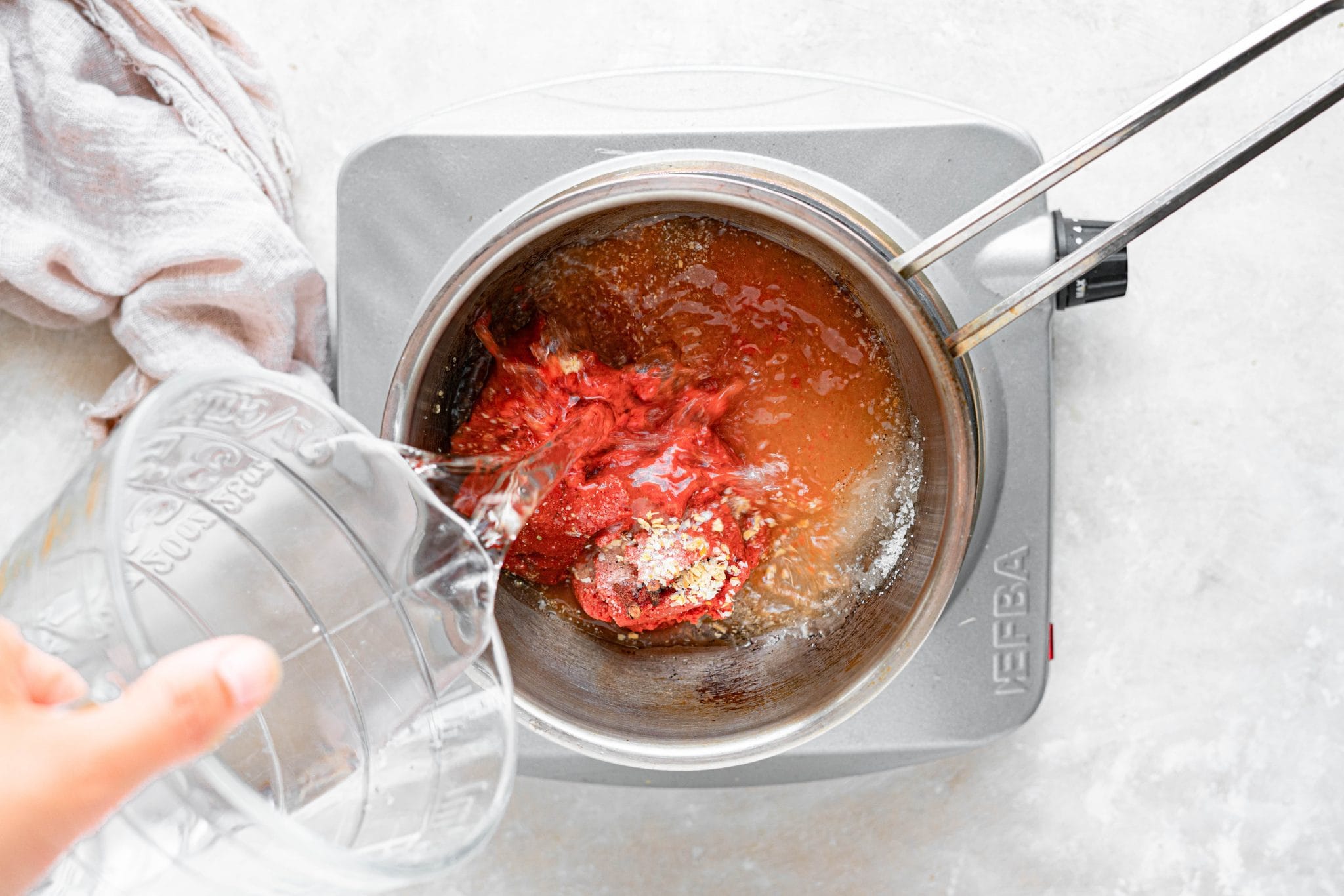 Cover the saucepan with a lid.
Place your saucepan over medium heat and cook until the mixture begins to simmer.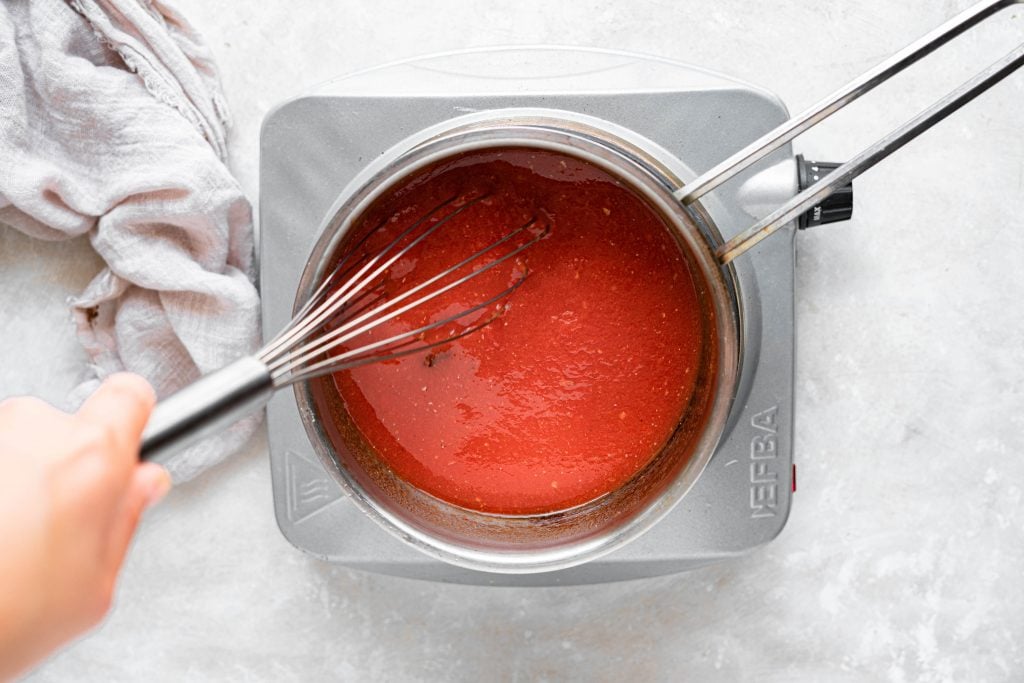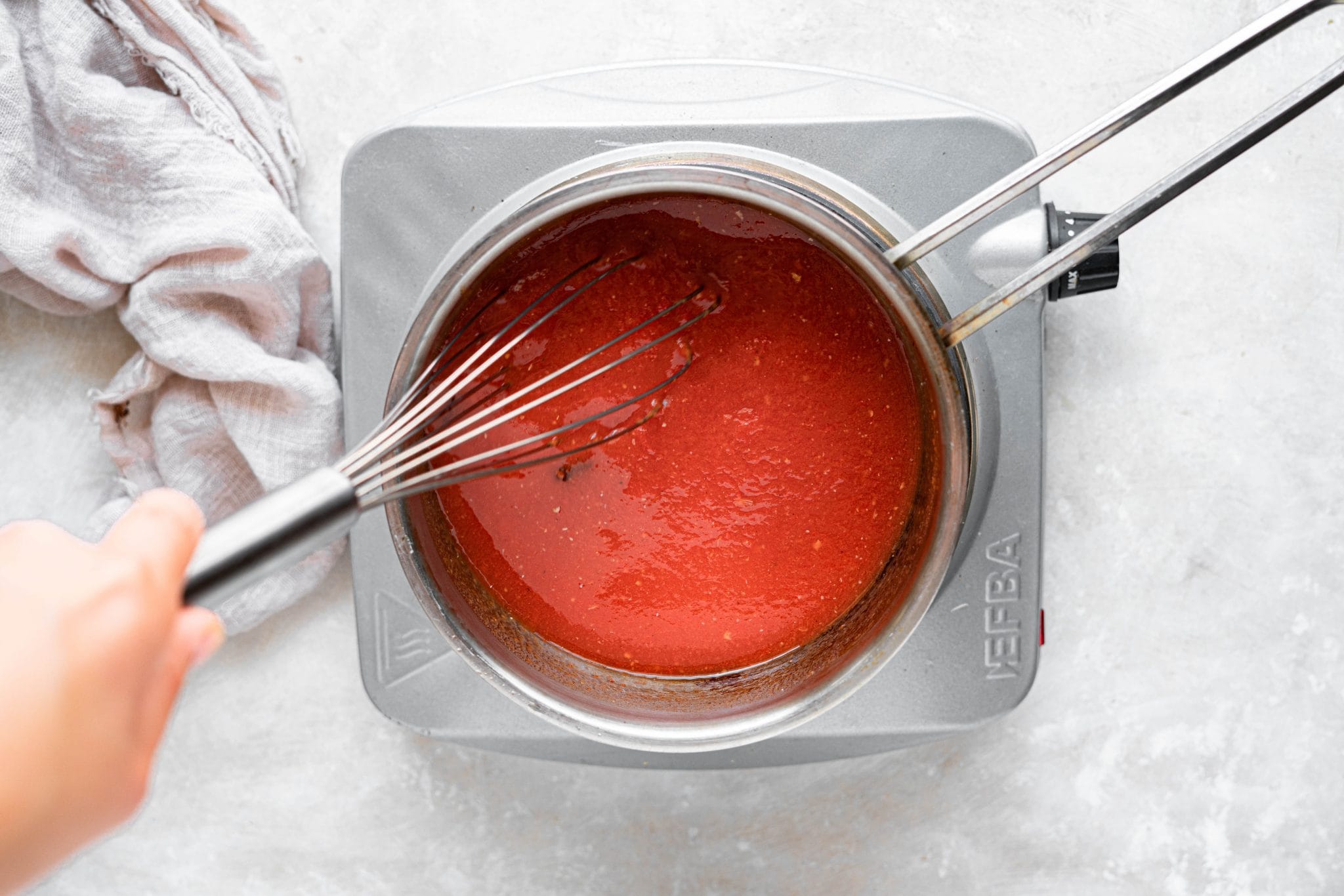 Reduce the heat to low and allow the sauce to simmer and reduce. This should take around 20 minutes.
Once your sauce has reduced, remove the saucepan from the heat.
Remove the cloves and allow the mixture to cool slightly.
Pour the cooled mixture into a blender and blend for 30 seconds, or until you have a silky, smooth texture.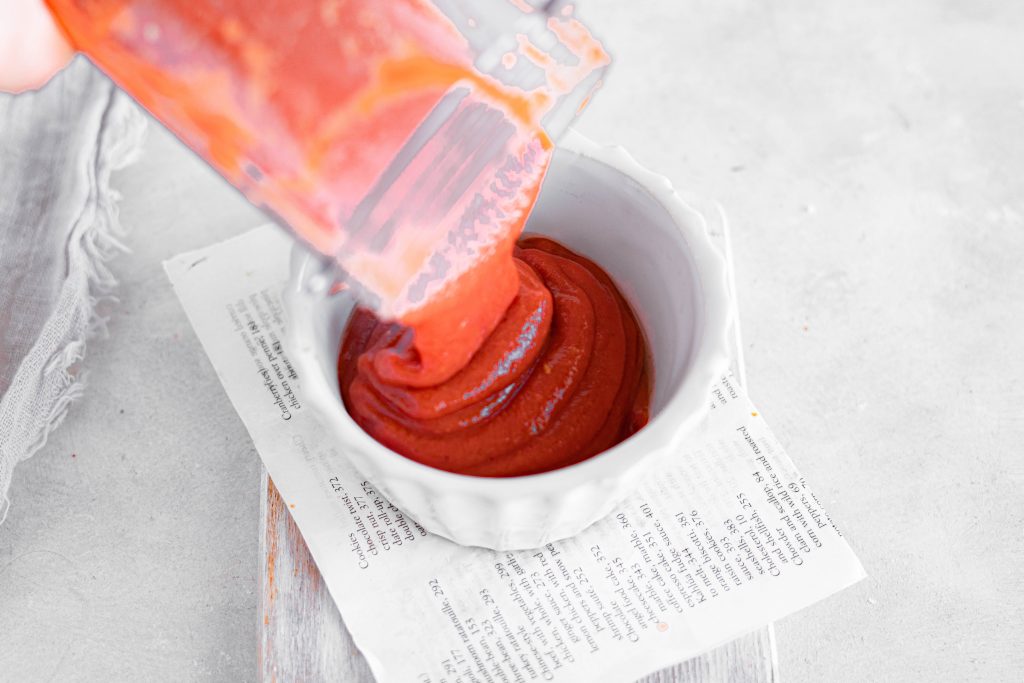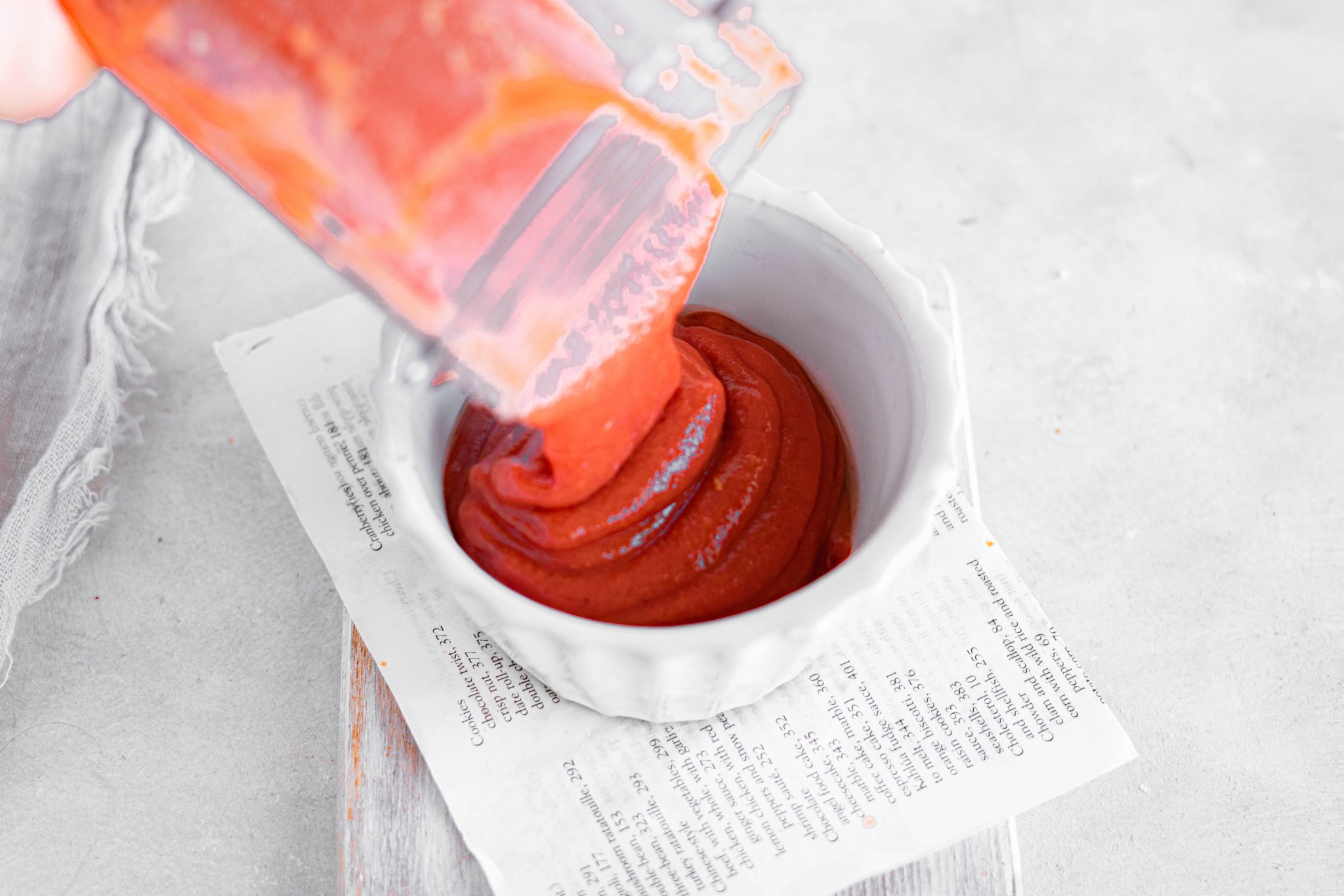 Store your mixture in a jar or bottle and keep in the fridge.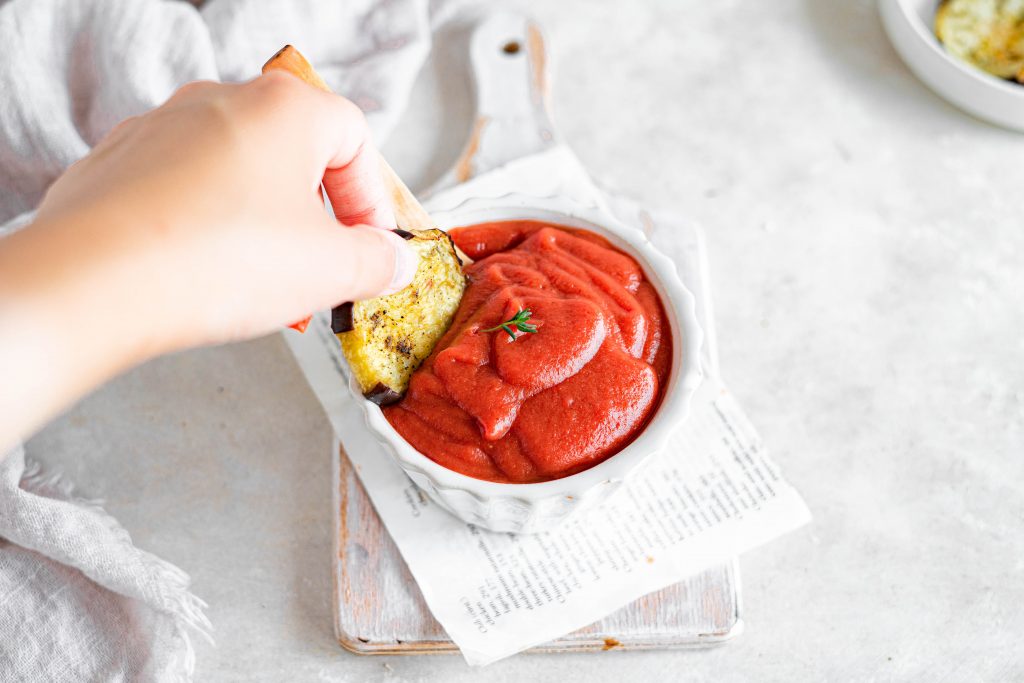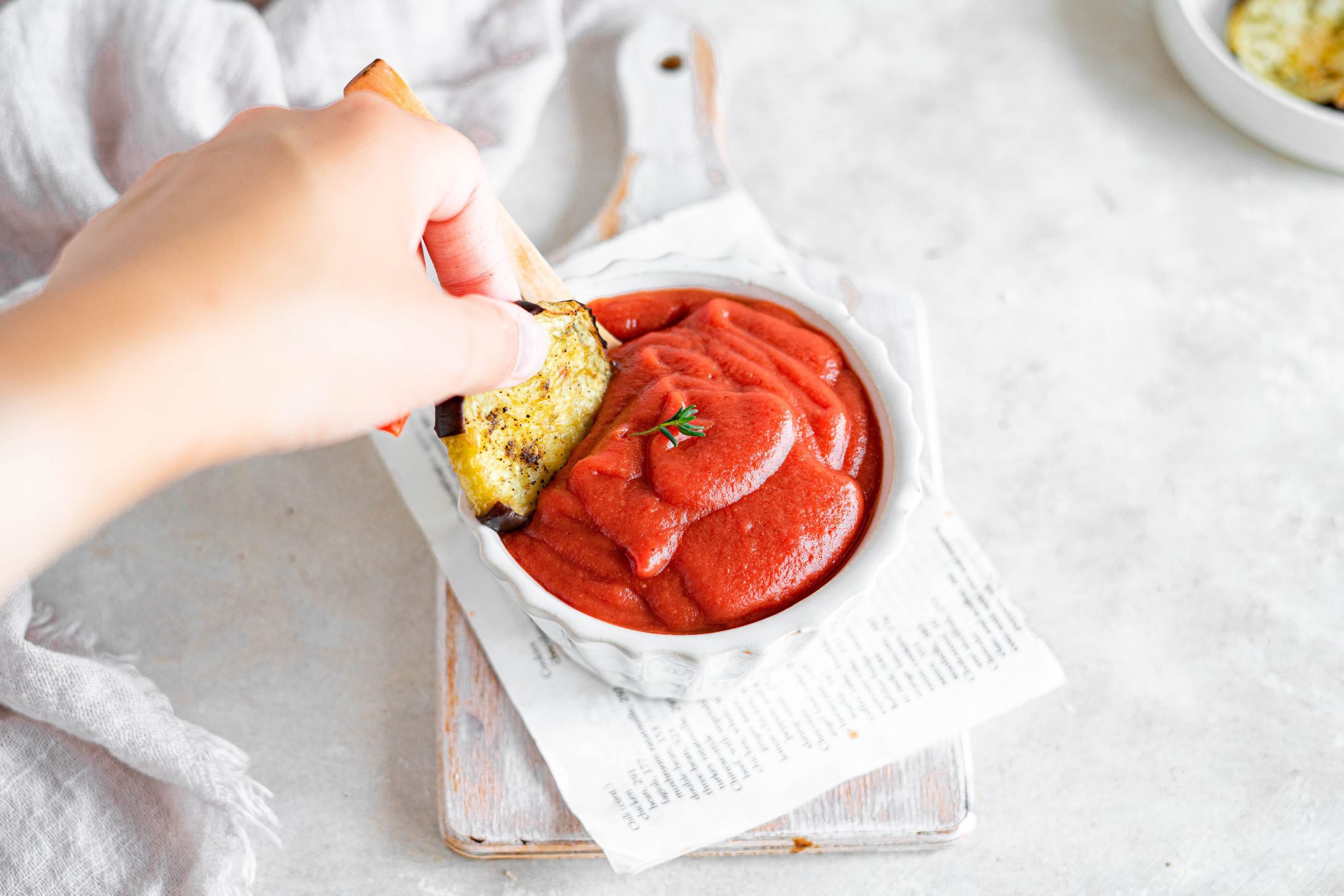 How to Store Your Keto Low-Carb Ketchup
Once your Keto Ketchup has cooled, you can store it in the fridge for up to a week.
Not sure you'll be able to go through it that fast? Simply freeze what you won't use – this recipe should be fine in the freezer for around two months.
Better yet, make an extra-large batch and simply defrost a bottle or jar each week!
It's a great idea to keep any empty ketchup bottles you have lying around to store your homemade Keto Ketchup. Jars work great, too, but a squeeze bottle will make it a lot easier to pour out.
Serving Suggestions
Chances are, you don't need us to tell you what to put ketchup on! But we can suggest a few keto recipes that go great with this sugar-free ketchup recipe.
Check out these easy-to-make recipes:
You could also grill eggplant slices for a veggie-packed, low-carb snack! Make sure to check out our comprehensive guide to Keto Chips for more low-carb options and keto recipes.
More Recipes Like This
Take it from us: making your own keto staples from scratch is kind of addictive! Not to mention the amount of sugar you can easily cut out of your kitchen (and diet!) by sticking to simple, low-carb recipes.
If you enjoy this homemade sugar-free ketchup recipe, check out these other sugar-free sauce recipes from us:
Have you made any of our sauce recipes, like this ketchup from scratch? Make sure to post your results and tag us on social media!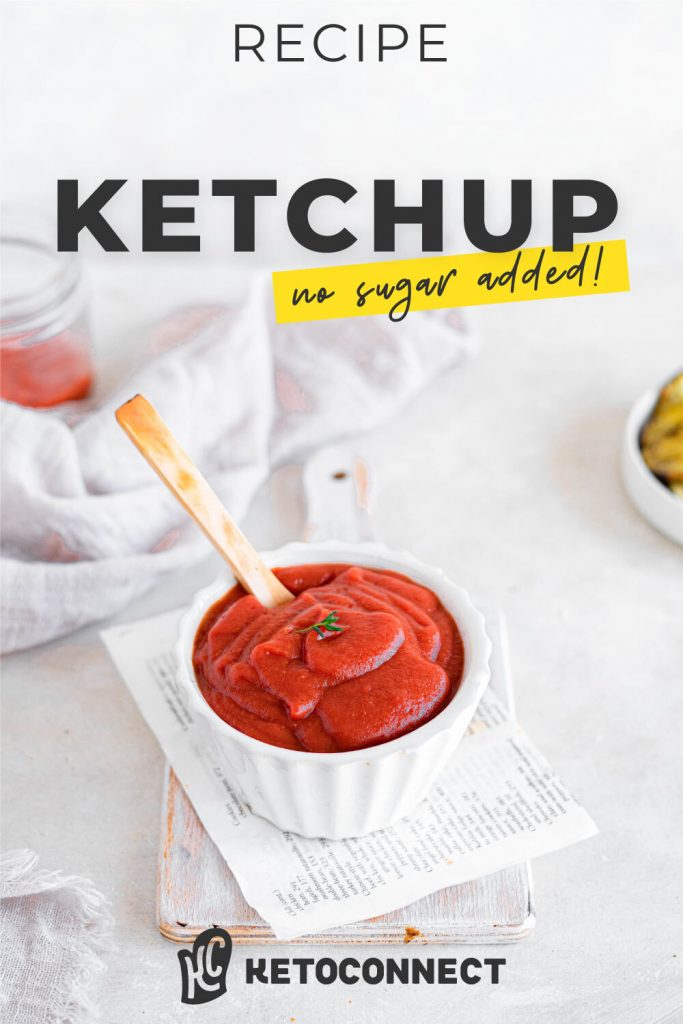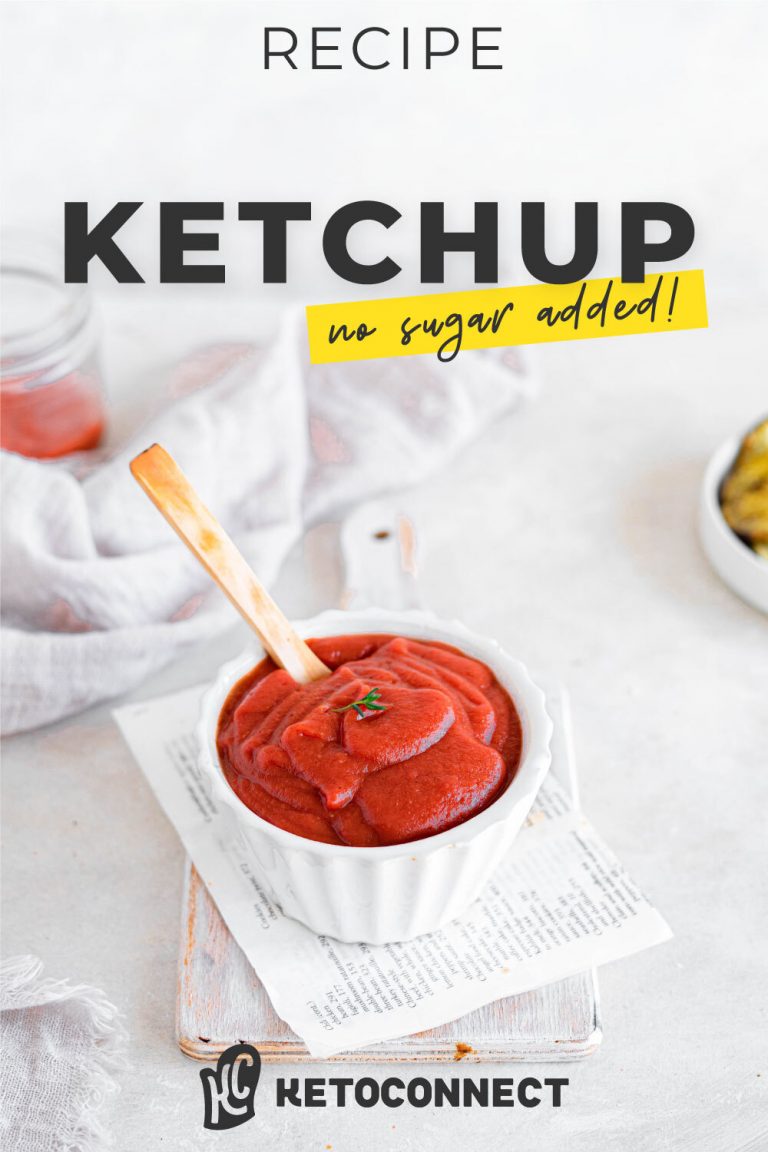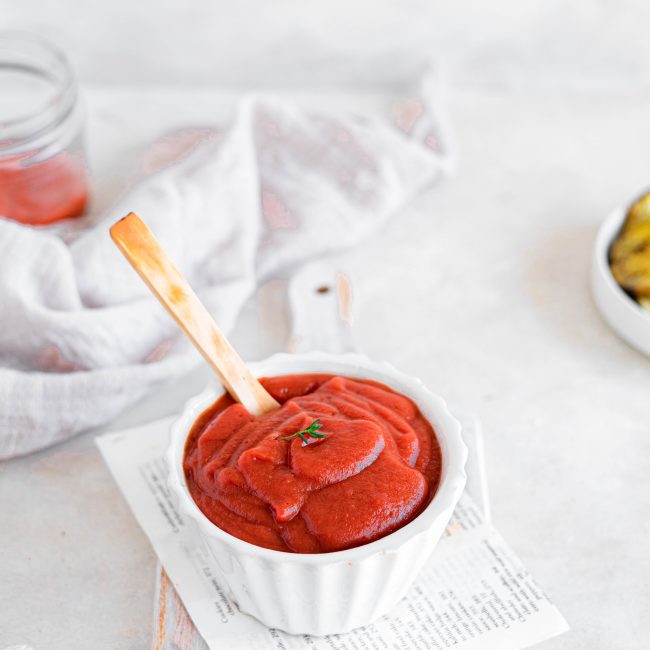 Sugar Free Keto Ketchup Recipe
An easy keto ketchup recipe made with ingredients you already have in your kitchen. This ketchup doesn't lack sweetness due to the addition of some zero calorie sugar replacements.
Total Time 25 minutes
Servings 8 servings
Calories per serving 16kcal
Prep Time: 5 minutes
Cook Time: 20 minutes
Instructions:
In a saucepan, whisk all the ingredients together. Cover with a lid.

Place the saucepan over medium heat and bring the mixture to a simmer. Drop the heat to low and let it reduce for 20 minutes.

Turn off the heat, and remove the cloves.

Blend the ketchup for 30 seconds to get a silky-smooth texture, transfer to a jar.

Store the ketchup in the fridge for up to a week.
Notes
2g net carbs per serving. cloves are optional but add a nice flavor.
Nutrition Facts
Sugar Free Keto Ketchup Recipe
Amount Per Serving (1 serving)
Calories 16 Calories from Fat 9
% Daily Value*
Fat 1g2%
Saturated Fat 1g5%
Trans Fat 1g
Polyunsaturated Fat 1g
Monounsaturated Fat 1g
Sodium 405mg17%
Potassium 155mg4%
Carbohydrates 3g1%
Fiber 1g4%
Sugar 2g2%
Protein 1g2%
Vitamin A 217IU4%
Vitamin C 3mg4%
Calcium 9mg1%
Iron 1mg6%
* Percent Daily Values are based on a 2000 calorie diet.
Written By