There's nothing like a fresh, juicy, crispy piece of fried chicken. Whether it's your mom's secret recipe; or from your favorite fast food joint, there's no denying fried chicken is the holy grail of deep fried foods. Check out this delicious spiced keto fried chicken recipe with a homemade low carb breading and marinade.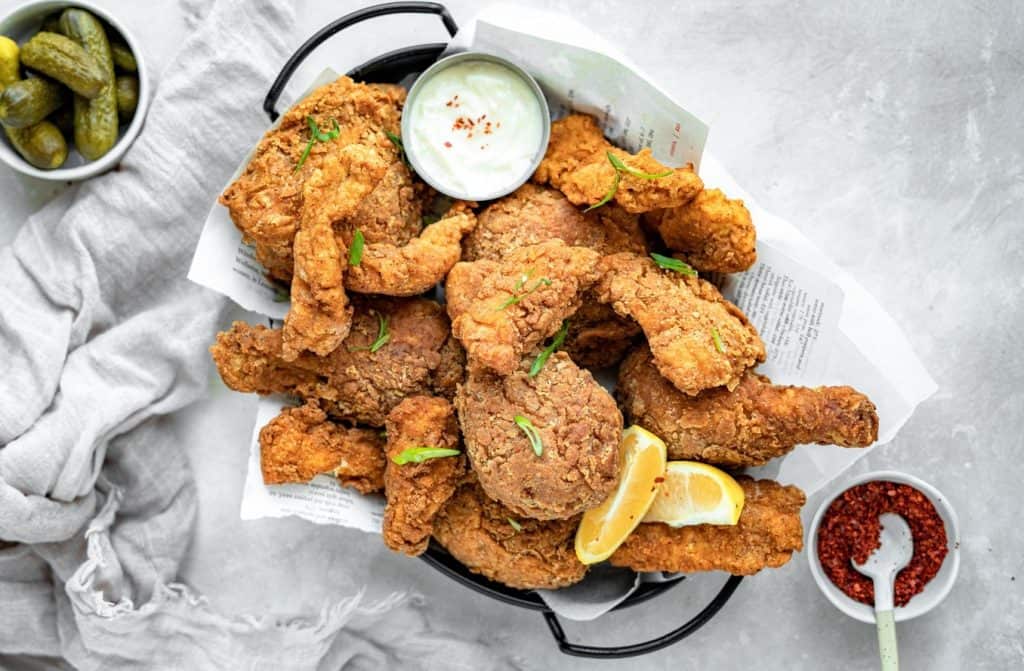 Is Fried Chicken Keto?
Traditional fried chicken recipes are packed with spices and meat, but even air fryer cooked fried chicken isn't keto. This is because regular recipes use breaded chicken made with wheat flour. While regular southern fried chicken may be easy to make, it certainly isn't keto. Per one small drumstick you are looking at a whopping 5.3 grams of net carbs! That's more than an entire serving of our low carb fried chicken recipe.
How to Make Spicy Low Carb Fried Chicken
To me the best keto fried chicken recipe is one with a kick! This recipe contains a little paprika, but that adds more of a smokiness than anything. If you want a true spicy low carb breading add a little cayenne to the breading spices and a few dashes of low carb hot sauce to the marinade. Each piece of chicken will have its own spicy low carb kick!
Oil Options for Frying
If you've pulled out all your ingredients and are ready to get to cooking, the final step is deciding which type of oil to use. The best quality oil would be something like beef tallow which has a high smoke point and tastes delicious in most low carb keto recipes. A main issue with using beef tallow is that it can get expensive if used to fill an entire pot. Instead try low omega 6 oils like:
Coconut Oil– We often buy large buckets of coconut oil for keto friendly deep fryer recipes. This one is refined so it won't give a coco-nutty taste to your chicken. We also recommend refined coconut oil for recipes because it has a higher smoke point than it's unrefined counterpart.
Olive Oil– Olive oil is a great option for this recipe because it is relatively cheap, yet has a smoke point of around 400 degrees. This recipe will only have you going up to 300 degrees so it won't even be a concern(1).
Avocado Oil– Another great option is avocado oil. Similar to olive oil it has a high smoke point of 520 degrees (2).
Oils low in omega 6's will prevent inflammation and irritation in the body. The next time you decide to make a delicious deep fried recipe or this keto fried chicken, make sure to use one of these high quality keto oils.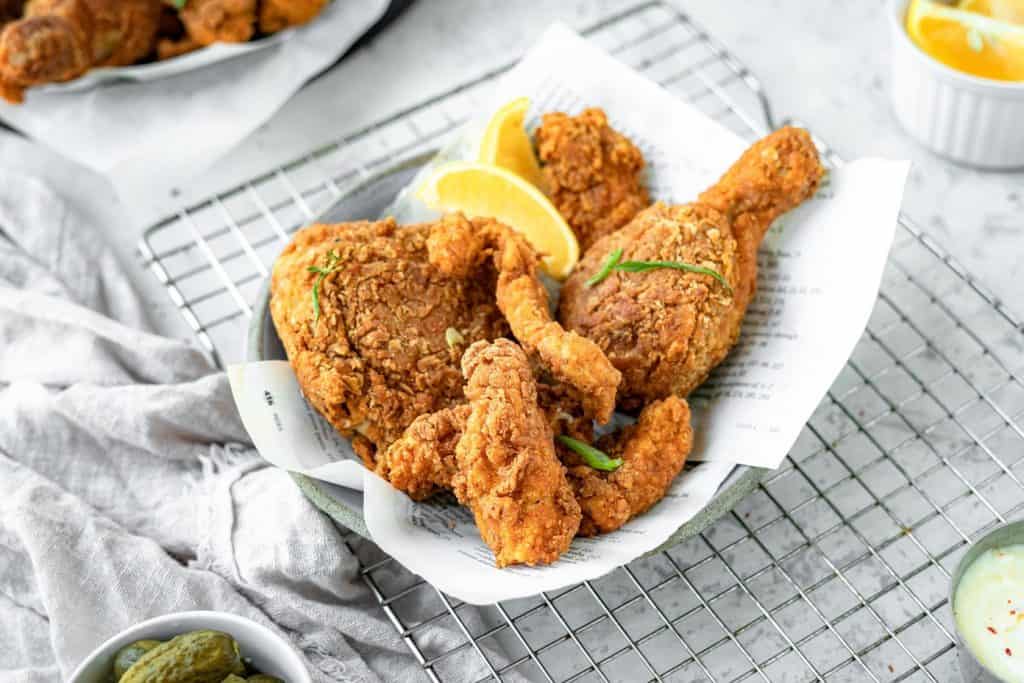 How to Make Keto Fried Chicken
If you've seen the photos of our recipe you're probably already drooling, I know I am! If you've been wondering how to make regular fried chicken low carb this is your recipe. So let's get started and make crispy keto fried chicken.
Ingredients
To make fried chicken begin by mixing up the spices for our marinade and low carb breading. Combine Paprika, garlic powder, black pepper, Pink Himalayan Salt, Mustard Powder, ground ginger, and ground cinnamon. Definitely don't skip on the cinnamon and ground ginger because they add a ton of extra spice and flavor to these chicken pieces.
For the keto friendly gluten free breading you'll need half of the prepared spice mix, unflavored protein powder and a few tablespoons of the marinade liquid. Adding in a bit of the marinade will add flavor, but also create little crispy chunks outside of your fried chicken for an extra authentic texture.
Finally we'll make the marinade (which will work as our "egg wash"), and the longer your chicken can marinate the better. You will need the other half of your spices, heavy Cream, unsweetened almond milk, white vinegar, and 2 large eggs.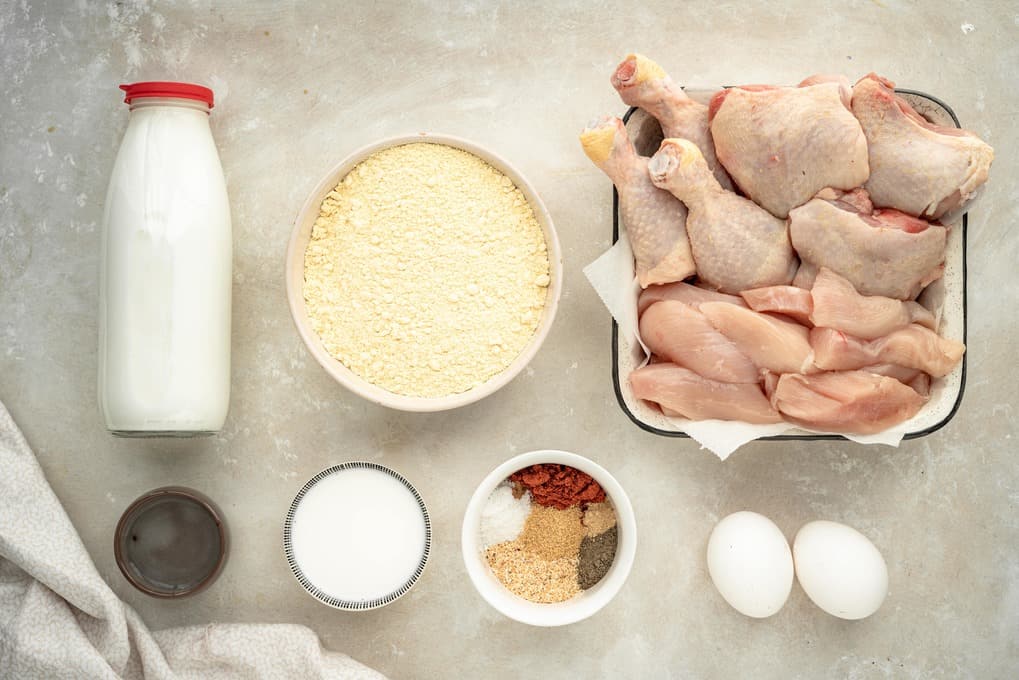 Making This Keto Fried Chicken Recipe
To make this recipe begin by mixing up all of your keto spices (black pepper, salt, paprika, ect.) for a breading without all the carbs.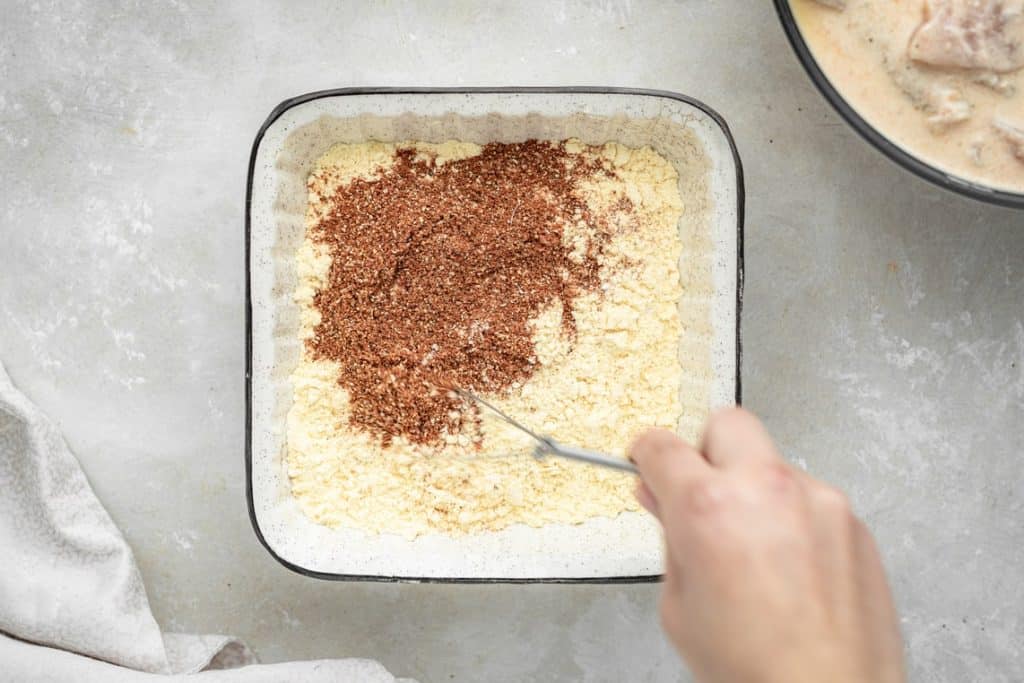 In a separate large bowl combine the almond milk, heavy cream, vinegar, eggs, and half the spice mix. Use a whisk and mix well until everything is fully combined.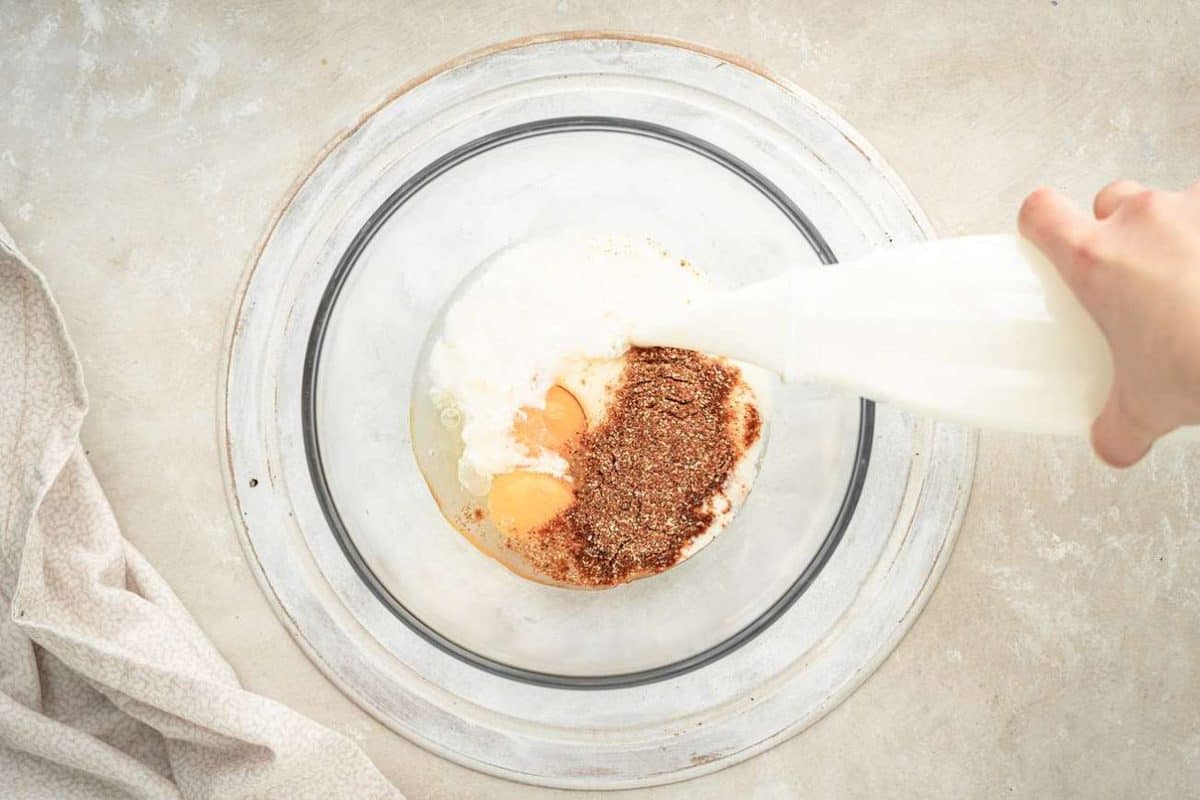 Next place your chicken thighs and other pieces of chicken into the marinade. Cover the bowl with plastic wrap and place it into the fridge so that the chicken has time to marinate. Let the chicken marinate for 4-12 hours. The longer the pieces of chicken sit, the more the flavor can penetrate.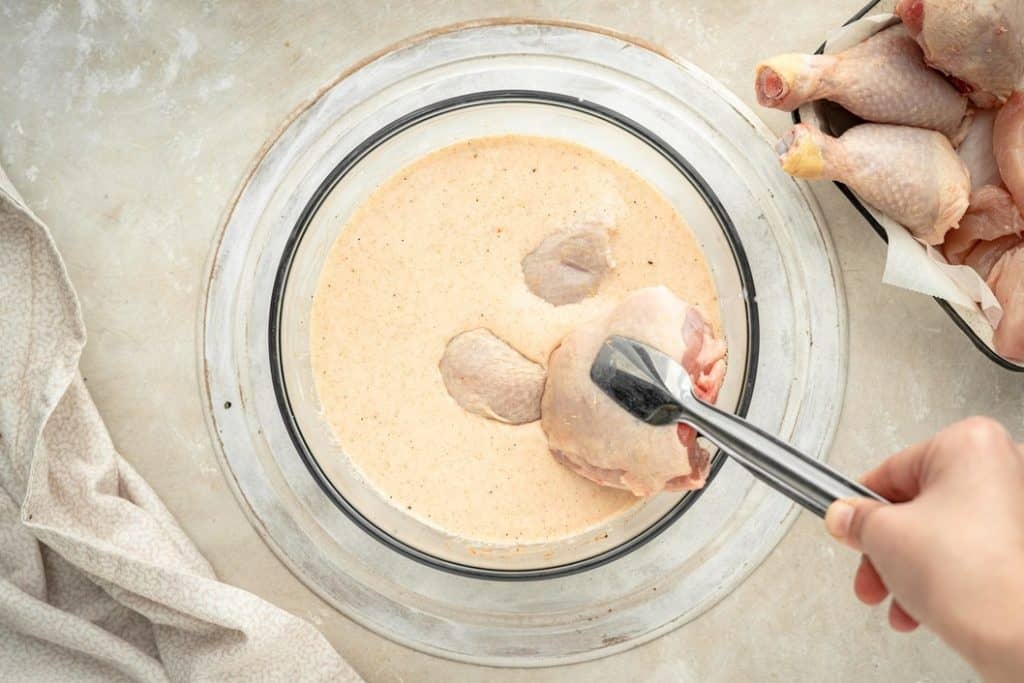 Now we can start cooking! Preheat your oil in a deep fryer, dutch oven, or deep pot that's good for deep frying. The oil needs to be deep enough to fully cover the chicken, and stay at around 300 degrees the whole time. Use a food thermometer to ensure the oil doesn't get too hot or too cold.
While the oil heats, mix the protein powder with your remaining spice mix. Add in 1-2 tbsp of the marinade liquid to your dry mix and stir using a fork to create small lumps. Lumps of breading crisp up well on the chicken thighs for extra texture.
Dip each piece one at a time into the breading from the marinade. Make sure the chicken is fully coated and then set aside on a plate or parchment paper lined pan. Repeat with the remaining chicken and dip each piece to create the gluten free keto breading on our southern fried chicken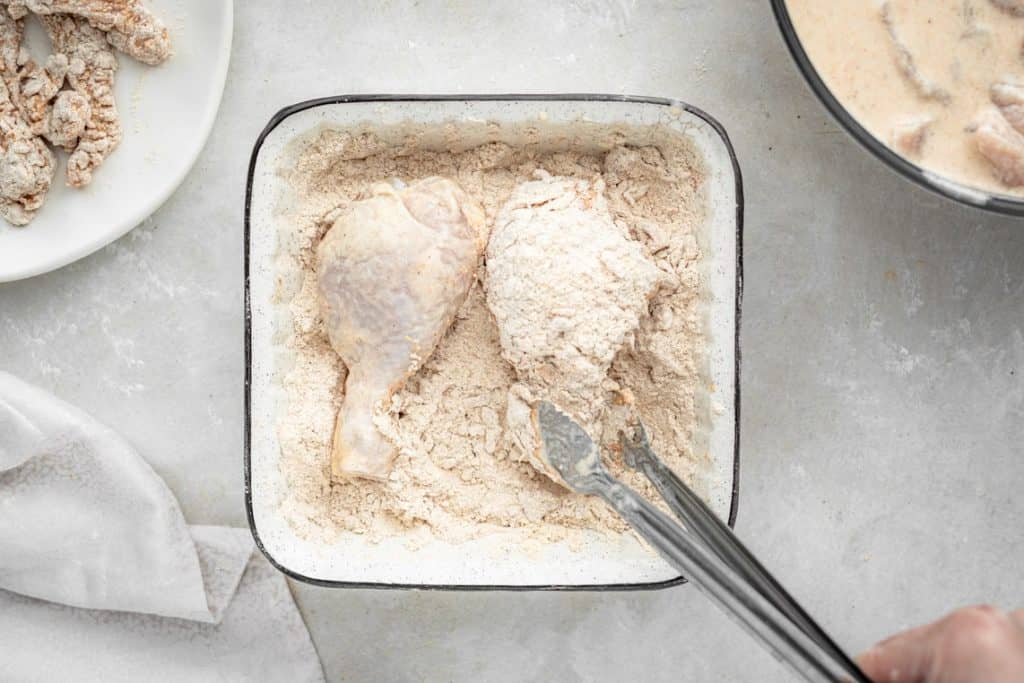 Once all the chicken is coated check the temperature of your oil. To begin frying it should be about 300 degrees. Each piece of chicken should be crispy, but if the piece of chicken is placed into lukewarm oil it will become soggy. Cook time will vary depending on the piece of chicken, chicken breast will cook much faster than chicken thighs or any bone in dark meat. Place the breaded chicken into the oil and fry it in batches based on the cooking times listed.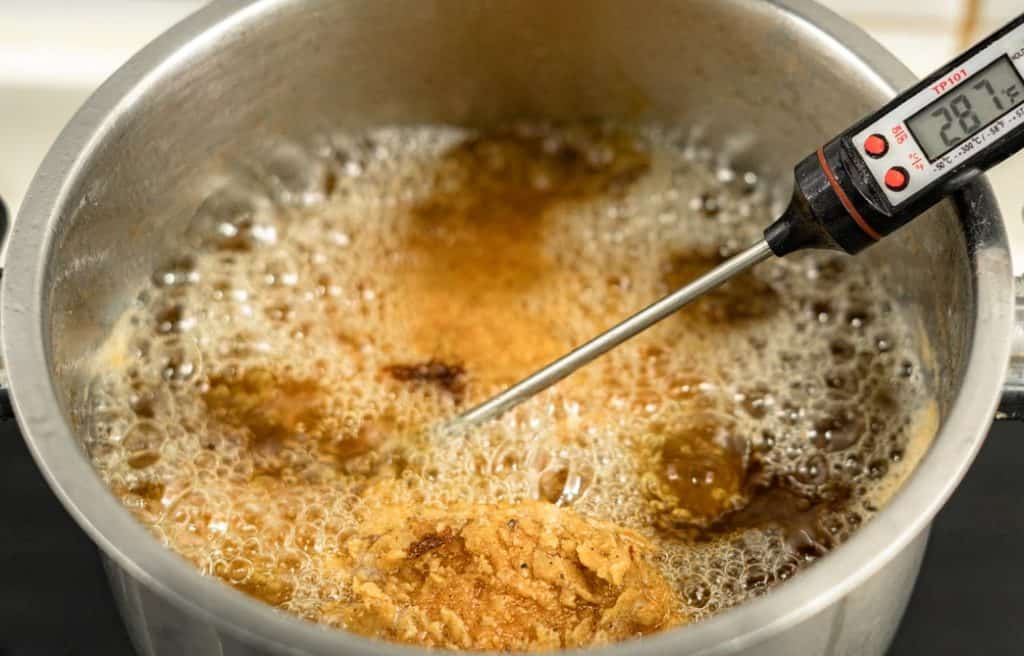 Cooking Times
Chicken breast strips will take from 8-10 minutes. Chicken drumsticks will take between 15-18 minutes, and chicken thighs around 17-20 minutes. You can measure the internal temperature of the chicken, it should be at least 165 F. Once cooked, remove the chicken from the oil and place on a dish with paper towels. You'll want to drain the oil on paper towels to make sure your keto fried chicken isn't soggy.
Storing and Reheating Fried Chicken
This chicken stores well in an airtight container for up to 5 days. For oven reheating place the cooked chicken on to an aluminum lined baking sheet. Bake the keto fried chicken at 375 degrees for 10-15 minutes or until crispy and warm throughout.
Now's the time to whip out your air fryer. The best way to reheat fried chicken is to pop it in the air fryer at 375 degrees for 5-6 minutes, or until the chicken is crispy and heated through.
Can I Cook Chicken in the Air Fryer?
This is easily the best keto fried chicken recipe, but we do say fried for a reason! Putting the chicken in a deep fryer makes a crispy and juicy chicken breast that you won't always get from an air fryer. Occasionally the air fryer will cook the outside too quickly or dry out the inner meat. So while you CAN use the air fryer there are a few things to note:
Stay on top of your air fryer– Make sure the outside isn't too brown or the inside overcooked. Use a meat thermometer throughout cooking to ensure an even cook
Don't cook on the highest heat– While it can be tempting to crank your air fryer to 400, resist the urge. Too high of a heat will burn the gluten free breading before it can cook the chicken.
Spray the basket– There's nothing more disappointing than having half your air fryer covered in delicious breading. Spray the bottom with cooking spray to prevent any sticking
To cook this keto fried chicken recipe in the air fryer, set your temperature to 350F and allow to cook for 8-18 minutes depending on the cut and thickness. Chicken breast and light meat will cook faster than the dark meat. So the next time you want to make this low carb keto fried chicken recipe try out the air fryer variation, just make sure to watch it!
Battering Keto Fried Chicken
If you are someone who likes a thinner more tempura style batter you can batter this recipe instead of bread. To do this make the wet ingredients and then just add the dry right into in. Make sure to thin the batter with extra almond milk or heavy cream because it will become a thick dough if extra moisture isn't added.
This batter works great for both fish and keto "chips" as well as a thinner crispy battered chicken.
What to Serve With Low Carb Fried Chicken
Our keto fried chicken recipe is the perfect keto friendly substitution for southern fried chicken. It's crispy, juicy, and free from mediocre keto breadings like pork rinds, almond flour, and coconut flour. Some super easy to make sides are our:
Low Carb Cornbread– We made this tonight and every time it's gone I wish we made more! This authentic southern cornbread really takes the cake! It's made with both almond flour and coconut flour for the perfect bread like texture.
Instant Pot Mashed Cauliflower Potatoes– These super creamy cauliflower potatoes are easy to make and have just 5 minutes prep time. Whip them up with a little butter, parmesan cheese, and salt and pepper for the best flavorful potatoes.
Easy Air Fryer Biscuits– This recipe is easily one of our favorite pairings for our keto fried chicken. These biscuits are fluffy, buttery, and have just 10 minutes cook time.
For even more keto recipes check out the sides on our website. If you're feeling extra fancy and want desserts, try our sugar free low carb recipes.
Tips for the Best Fried Chicken
If you are looking to make the best fried chicken recipe look no further. This keto fried chicken may look tricky, but once you master the basics you'll be off running!
Choosing the Chicken
To make fried chicken keto you'll first need to decide what chicken to use. If you've never made any type of fried chicken recipe we recommend starting with dark meat. That is your thighs and drumsticks, which are usually even cheaper than chicken breasts! They are easier to cook without drying out the meat, because unlike chicken breasts dark meat has more fat to lock in the juices.
Breading Properly
Gluten free keto recipes can be difficult to bread when using ingredients like almond flour which is dry and a larger grain. Thankfully this is an easy keto recipe that uses protein powder instead of almond flour or pork rinds. A key in breading anything is making sure you use a wet hand and a dry hand. Why do this? Using a wet and a dry hand will prevent all the protein powder from mixing with the marinade and sticking to your fingers; a super clumpy mess!
To prevent this go from left to right, marinade with the left hand into breading with the right hand. Another trick if you don't want to get your hands dirty is using tongs. These may get a little clumpy and need a cleaning from time to time, but overall do a good job at limiting the mess.
Bread all at Once
It may seem faster to bread some and then immediately drop them into the oil and bread another batch. However, we always recommend giving hot oil your FULL attention. Going back and forth can result in the keto fried chicken burning, or the oil getting too hot and lighting on fire. You are best off using a baking sheet lined with parchment paper to place each breaded piece of chicken on while you wait.
Pick the Perfect Pot
The pot you use to fry the keto fried chicken is very important. If it's too shallow it can't cover the meat. Too deep and it will take a ton of oil to fry up the chicken. Your best bet is using a stainless steel dutch oven, a deep fryer, or a large pot. Just make sure if your pot is small you don't put too much keto fried chicken in at once for a more even cook.
Work in Batches
Working in batches is key for crispy keto fried chicken. This recipe can get very soggy if too many pieces of chicken go in at once and bring down the oil temp. They will also be unable to evenly cook on all sides if there are too many pieces inside. The best way to prevent soggy chicken is only cooking 3-4 pieces of chicken at a time.
Master the Fryer
This keto recipe will require you to master frying and using a deep fryer if you so choose. Don't worry about the chicken being perfect because you can always pop it into the oven for an extra crispy outside if mistakes were made. Just relax, have fun, and learn how to adjust your oil temp based on the thermometer for the best final product.
Don't Chicken Out!
I know frying can seem scary because of the hot oil, but it is well worth the effort for such a delicious end product!
More Keto-fied Fast Food
Have you already tried this recipe and are coming back for more? We know how good this keto fried chicken is, but you have to try even more of our delicious fast food copycats for the full experience. Some of our favorites are:
Homemade Burger King Chicken Fries– Breaded with pork rinds, garlic powder, and other spices these chicken fries are sure to give Burger King a run for their money!
Keto Egg Bites– These delectable bites are even better than the ones at Starbucks! Top them with a little parmesan cheese and you'll have quite the flavorful bite.
Homemade Gyros– Are you a Mediterranean food junkie? These homemade gyros are unbeatable and packed with tons of keto friendly flavor. We use fresh garlic (or garlic powder) and salt and pepper for a basic, yet uber flavorful meat.
Keto Fried Chicken
This keto fried chicken is sure to knock your socks off! It's super juicy and packed with flavor, plus the best part is it's 100% free of flours and pork rinds. If making keto fried chicken has been on your bucket list, now's the time to make it. This recipe is a real treat so we're sure you'll be coming back for more!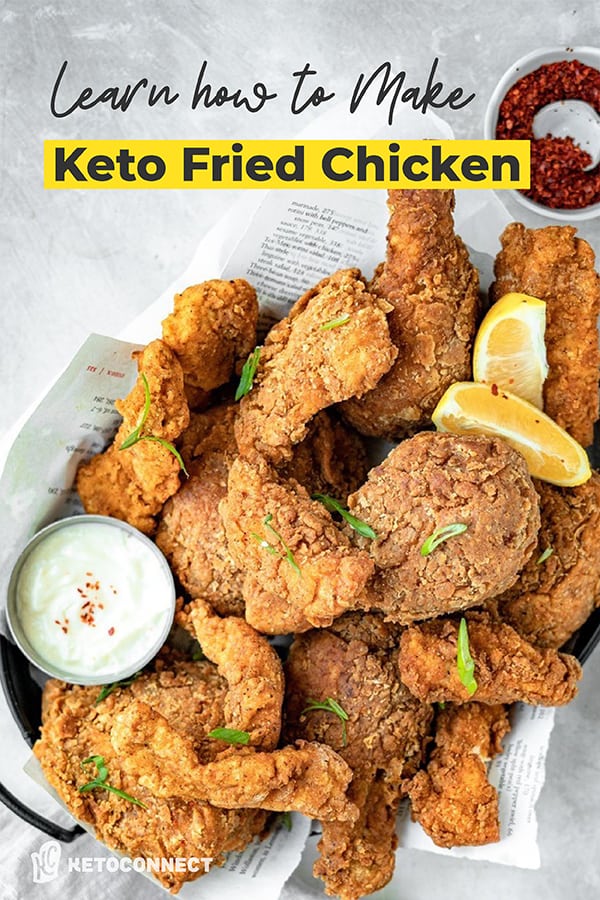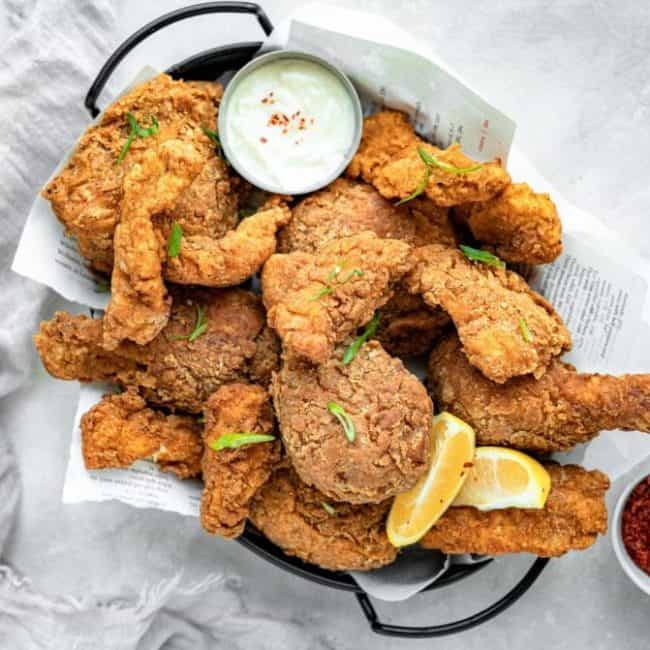 Keto Fried Chicken
This fried chicken is crispy, crunchy, and packed with spices. It will take your favorite fast food to a whole other level!
Servings 3
Calories per serving 169kcal
Prep Time: 10 minutes
Marinate time: 4 hours
Cook Time: 15 minutes
Instructions:
Making the Spice Mix and Marinade
In a small bowl mix together all the spices together, set aside.

Then, using a large bowl, add in the almond milk, heavy cream, vinegar, eggs, and half of the spice mix. Whisk well until combined.

Now add the chicken pieces into the marinade. Cover the bowl and place it into the fridge. Allow to marinade for 4-12 hours. The longer the better.
Cooking the Chicken
When you're ready to begin cooking, preheat 2-3 cups of any high smoking point oil in a frying pot, or Dutch oven on medium heat. The oil should be deep enough to cover the chicken. You can also use a deep fryer. You must maintain an oil temperature of around 300 F. Use a food thermometer.

Meanwhile, in a flat tray, mix the protein powder with the remaining spice mix. Add 1-2 tbsp of the marinade liquid and mix using a fork to create small lumps. These lumps will create more crispy edges when fried.

Working with 2-3 pieces at a time, remove the chicken pieces from the marinade using tongs, and place in the coating mix, turn around to make sure they are completely covered with the protein powder mix.

Check the temperature of the oil, and start frying when the temperature is about 300 F. Once you add the chicken, the temperature will drop to around 280 F. Maintain the temperature between 275-300 F. Anything more will cook the coating before cooking the meat on the inside.
Cooking Times
Chicken strips will take from 8-10 minutes. Chicken drumsticks will take between 15-18 minutes, and thighs around 17-20 minutes. You can measure the internal temperature of the chicken, it should be at least 165 F. Once cooked, remove from the oil and place on a dish with paper towels.
Notes
Some protein powders cook faster than others. If you find the coating of the chicken to be darkening too fast, you can finish cooking the chicken in the oven.
If Darkening too Fast:
Remove the chicken from the oil asap, and place in a tray and cover well with aluminum foil, and bake in the oven at 350 F for 20 minutes, then remove the foil and let it crisp up for 5 minutes or so.
Cooking time varies according to chicken cut and size, boneless generally cooks faster than whole cuts. 
Net Carbs: 4
Nutrition Facts
Keto Fried Chicken
Amount Per Serving
Calories 169 Calories from Fat 117
% Daily Value*
Fat 13g20%
Saturated Fat 6g30%
Trans Fat 1g
Cholesterol 153mg51%
Sodium 2603mg108%
Potassium 177mg5%
Carbohydrates 6g2%
Fiber 2g8%
Sugar 1g1%
Protein 7g14%
Vitamin A 1630IU33%
Vitamin C 1mg1%
Calcium 250mg25%
Iron 2mg11%
* Percent Daily Values are based on a 2000 calorie diet.
Written By