There's something about Italian food that's just so comforting. The simple flavors, the melty cheese, the fragrant herbs – and often, plenty of carbs. That's why we created the perfect Keto Chicken Parmesan recipe that's sure to satisfy those cravings. It's filling, delicious and most importantly, great for a low-carb and even gluten-free diet!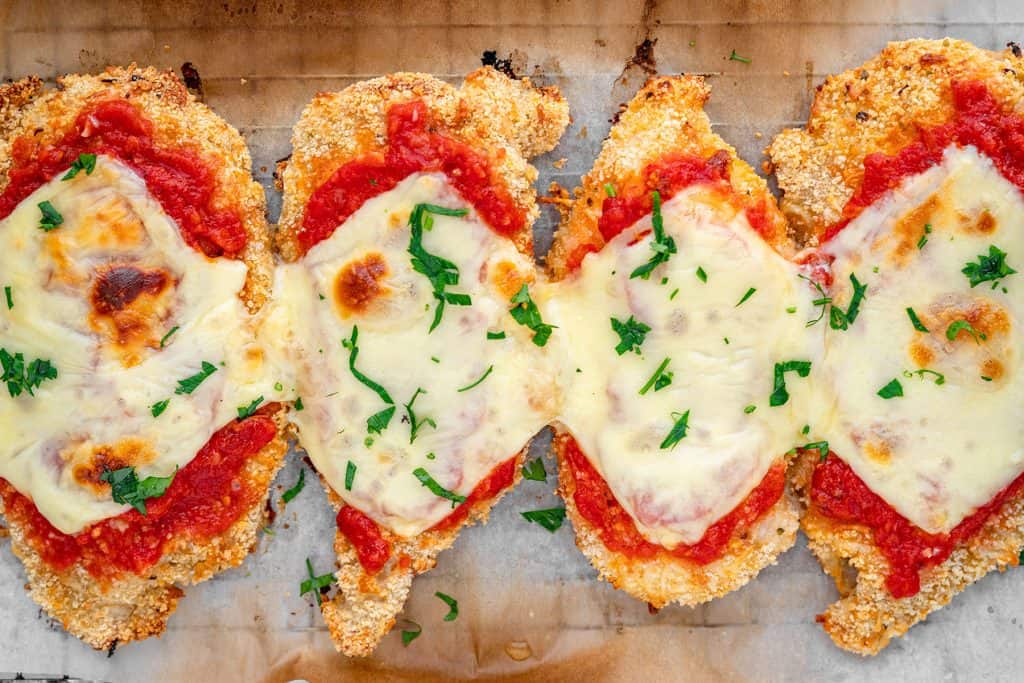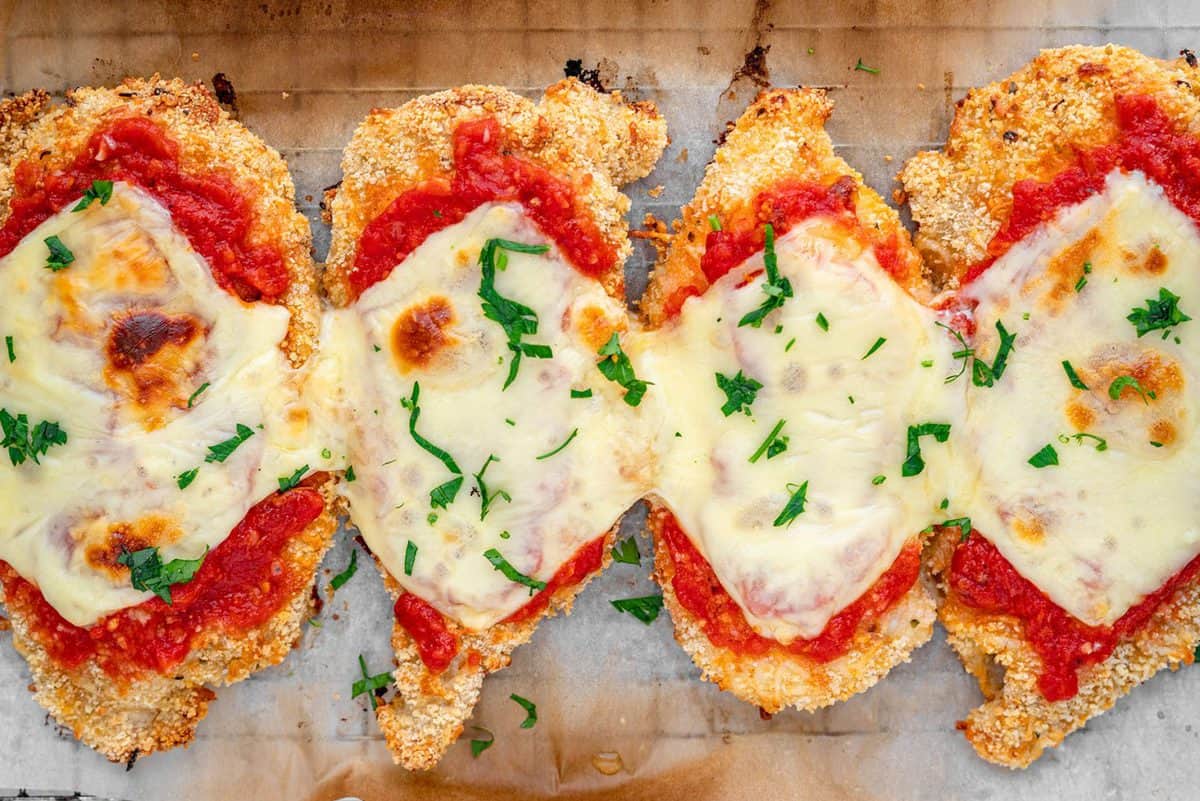 Is Chicken Parmesan Low Carb?
Chicken Parmesan (also called Chicken Parmigiana or simply, Chicken Parm) is an Italian chicken recipe that's usually made with breadcrumbs. The crispy breaded chicken makes for a crunchy surprise beneath a thick blanket of tomato sauce and delicious melted cheese.
Of course, that's not quite so easy to replicate when you take the bread crumbs out of the equation. After all, the breadcrumbs in traditional Chicken Parmesan recipes are high in carbs and as such, not suitable for a keto diet. But that doesn't mean Keto Chicken Parmesan recipes are off the menu.
The good news is, we've made Chicken Parmesan keto with some simple ingredient swaps.
What Makes This Keto Chicken Parmesan Recipe Low Carb?
This easy Keto Chicken Parmesan recipe is great for a low-carb diet. It uses a gluten-free almond flour "crumbing" mixed with parmesan cheese, which is a bit "breadier" than pork rinds. This high-fat substitute is low in net carbs and makes the whole recipe taste extra cheesy – just like the original!
If you're into crumbed chicken dishes, be sure to check out these Easy Homemade Chicken Fries, which use crushed pork rinds as keto-friendly breading. Pork rinds are also super high in protein.
Worried about the carbs in the marinara sauce? While tomato sauce often contains a higher amount of carbs than most keto-approved vegetables, we recommend using a low-carb keto tomato sauce for this recipe, such as Raos.
Why We Love Low Carb Chicken Parmesan
You know those beloved recipes that you keep returning to time and time again? This Keto Chicken Parmesan is one of them.
In fact, we think this gluten-free Chicken Parm would be perfect for the whole family. They might not even be able to tell it's low-carb. Who knows – it could be someone's gateway into keto!
Besides how delicious and versatile it is, this Keto Chicken Parmesan recipe is also incredibly easy to make. It uses simple, store-bought ingredients like eggs, chicken breasts and basic Italian herbs and spices you're sure to already have in your pantry.
This recipe doesn't have any complicated steps, either. All it takes is a short amount of prep time, then around 35 minutes in the oven.
How to Make Keto Chicken Parmesan
Once you learn how to make this Keto Chicken Parmesan recipe you'll want to test out your low-carb keto breading skills by recreating all your favorite crumbed dishes! Why? Because you'll discover just how easy it is to infuse unique flavors into your crumbing mixture, or using different crumbling options like pork rinds – perfect for a keto diet!
Better yet, you can even level up this Chicken Parm by getting creative with the ingredients and flavors you choose.
Cheese
This Keto Chicken Parmesan recipe uses two different kinds of cheese: parmesan and mozzarella. The grated parmesan cheese adds a tangy bite, while the shredded mozzarella cheese creates a stretchy topping that finishes off the dish.
Like any cheesy chicken recipe, you can go as basic or as fancy as you like here. Keeping it budget-friendly? Feel free to use any affordable, shredded variety, which can be found bagged in most grocery stores.
Feeling adventurous? Explore fun parmesan varieties that are perfect for this Keto Chicken Parmesan recipe, like Grana Padano and Pecorino Romano, and make sure it's grated fresh off the block.
As for the mozzarella, opt for an ultra-creamy Fior di Latte, or see if you can find the more exotic buffalo mozzarella. And yes, it's made from real buffalo milk!
Seasonings
Traditional Italian recipes use just a select few spices and herbs to keep the flavors simple, and we've tried to do the same with this Keto Chicken Parmesan recipe. We chose oregano, chili flakes and of course, onion and garlic powder.
Feel free to add in your own Italian herbs such as basil, thyme and rosemary. Or if you like things a little spicier, add even more chili flakes!
What to Serve With Keto Chicken Parmesan
Not only is Keto Chicken Parmesan the ultimate comfort food, it's perfect to enjoy in any weather. Let this protein-packed recipe warm you on a cold winter night, either on its own or with a side of steamed vegetables.
If you're extra hungry, you could always pair your Keto Chicken Parmesan with some similarly Mediterannean-inspired Zucchini Fries, some Keto Cauliflower Breadsticks, or even our favorite Keto Garlic Bread.
Want to keep things fresh? Serve with a fresh side salad perfect for summer, like this Keto Broccoli Salad.
Tips for the Best Keto Chicken Parmesan
This recipe is simple to master, but we still have a couple of tips we can share on making it even better.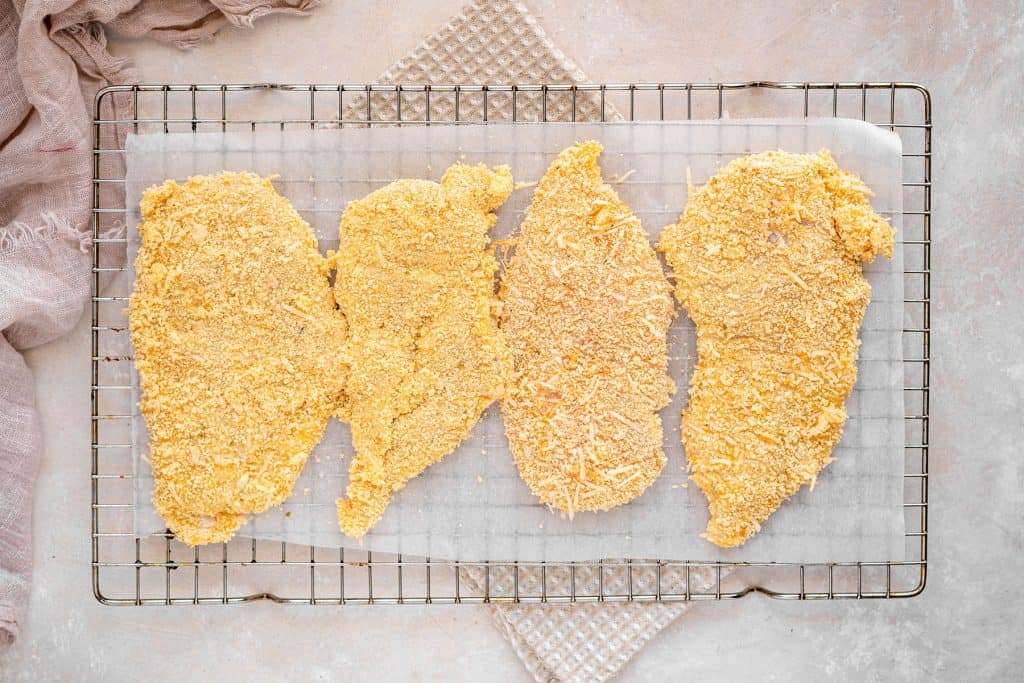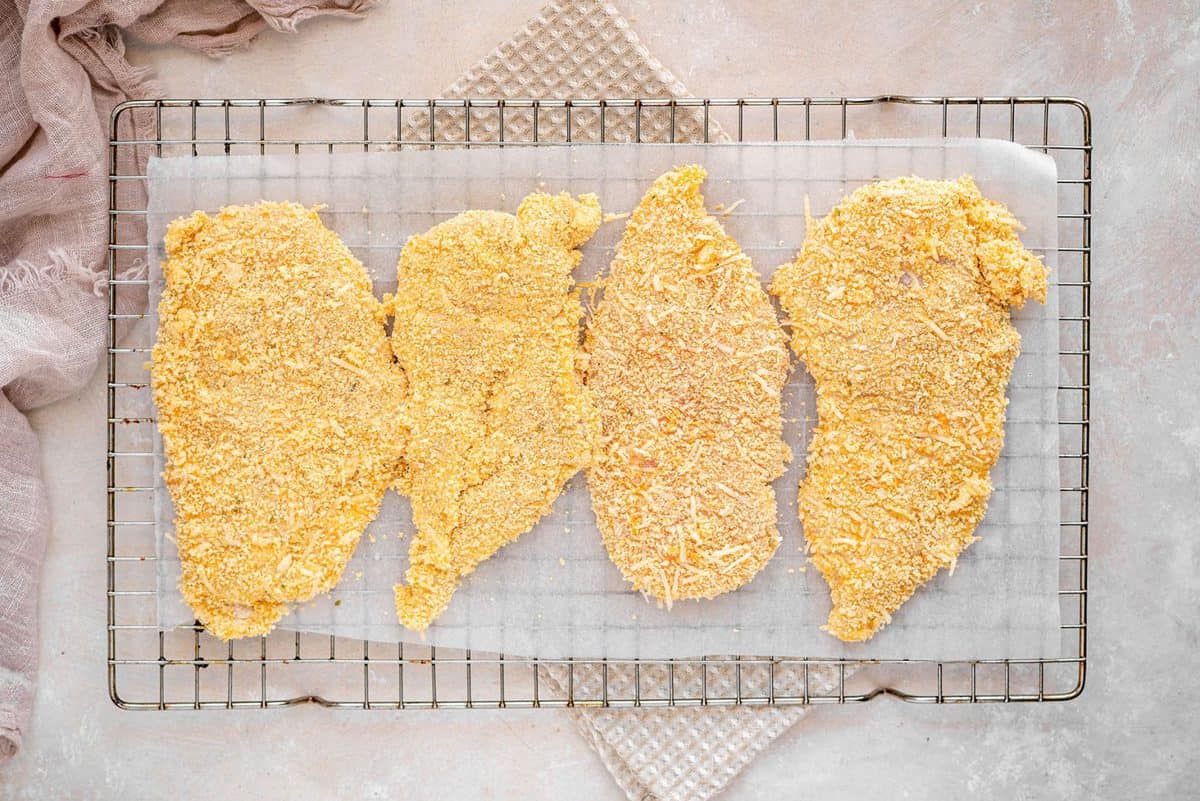 Chicken Thighs or Chicken Breasts?
You might be surprised to see a keto chicken recipe using lean meat (chicken breasts). Isn't keto all about that higher fat content?
While it might seem "more keto" to use a high-fat cut like chicken thigh, Chicken Parmesan traditionally uses chicken breast. If you want to feel like you're making the real deal, go with this option.
Don't worry – this Keto Chicken Parmesan recipe is still high-fat thanks to the cheese. If you want to increase the fat content even more, feel free to use chicken thighs.
Preventing Dry Chicken Breast
There's nothing worse than dry Keto Chicken Parmesan! To make sure you don't make this common mistake, really douse the chicken in the marinara sauce so it stays moist.
Watch Out For Sneaky Carbs
Even a low-carb keto recipe can contain unexpected carbs. The culprit? Store-bought, shredded mozzarella cheese. This is often coated in a gluten-free starch to prevent the shredded bits from sticking together. Always double-check the nutritional information and ingredients list just to be safe before you make this Parmesan Chicken recipe.
How to Make Keto Chicken Parmesan
It's time to satisfy those Italian food cravings with a Parmesan Chicken recipe! Preheat the oven and let's get cooking.
Start off by preheating your oven to 400 F. You'll want to make sure the oven is nice and hot so your cooking time isn't thrown off. Line a baking pan with parchment paper so your breading doesn't stick.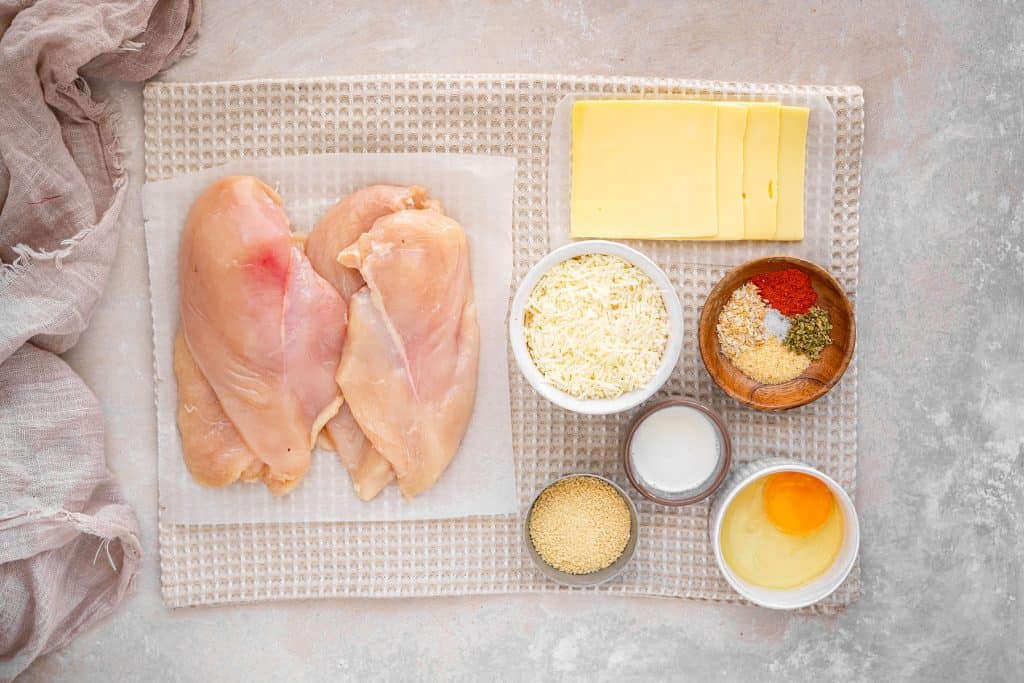 Now it's time to make your breading mixture. Set out two large bowls. In the first shallow bowl, whisk the egg and heavy cream together.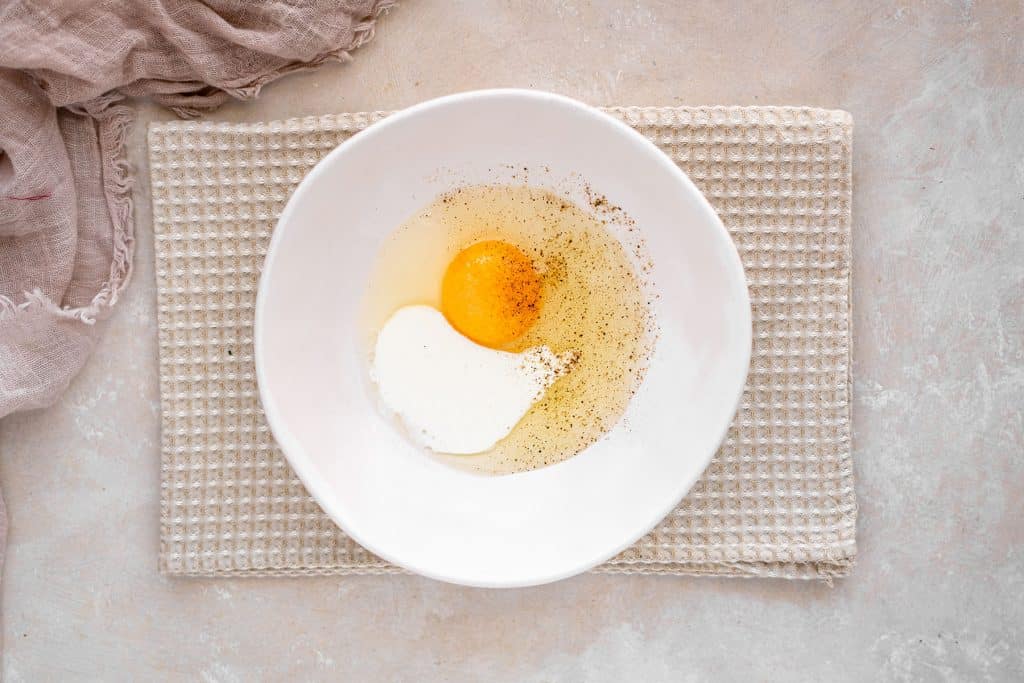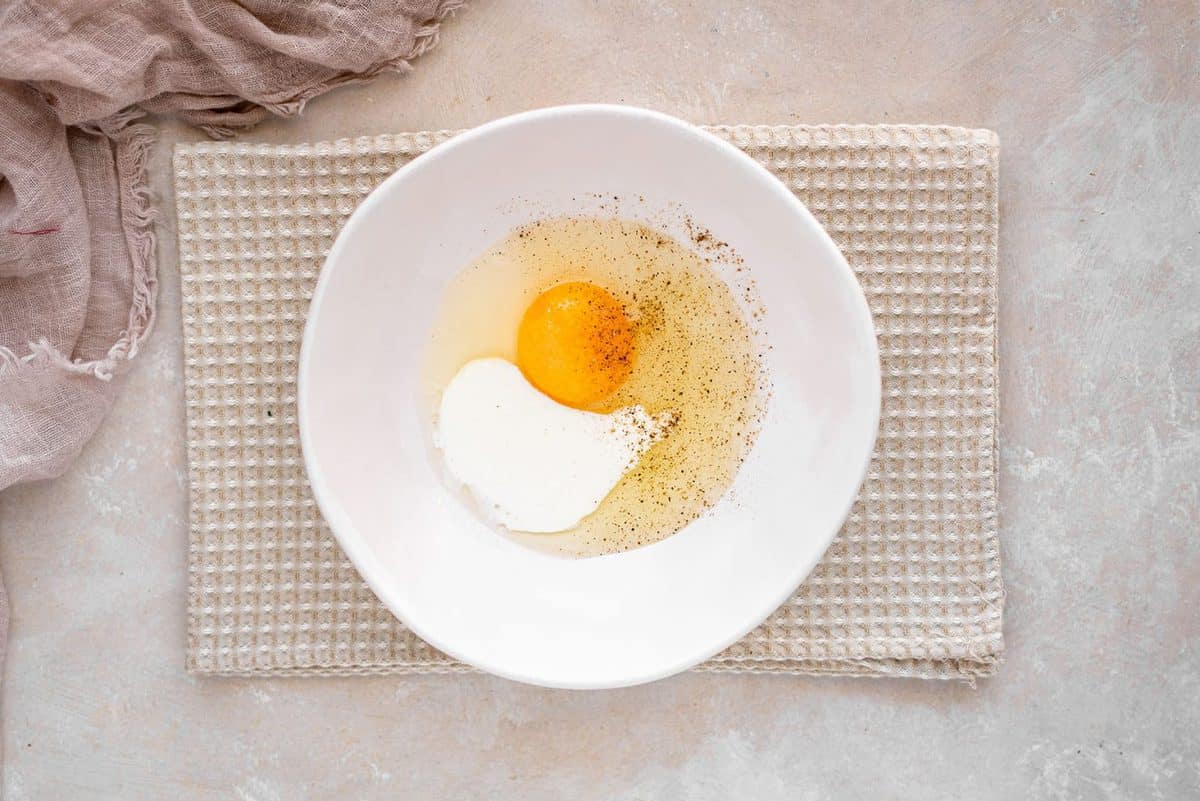 In your second bowl, mix together the grated parmesan cheese, almond flour and seasoning. Make sure it's mixed well so the flavor of the seasoning is evenly distributed.
Pat down each piece of chicken breast with a paper towel to remove any moisture. Working with one chicken breast at a time, dip first into the egg mixture, making sure to flip it over so it's completely covered.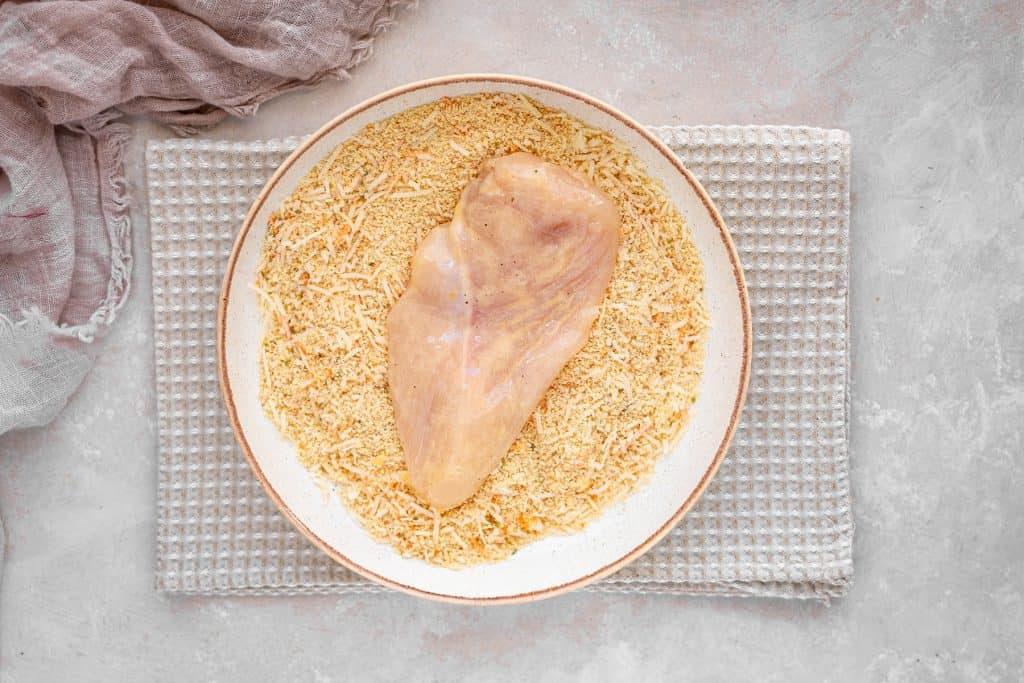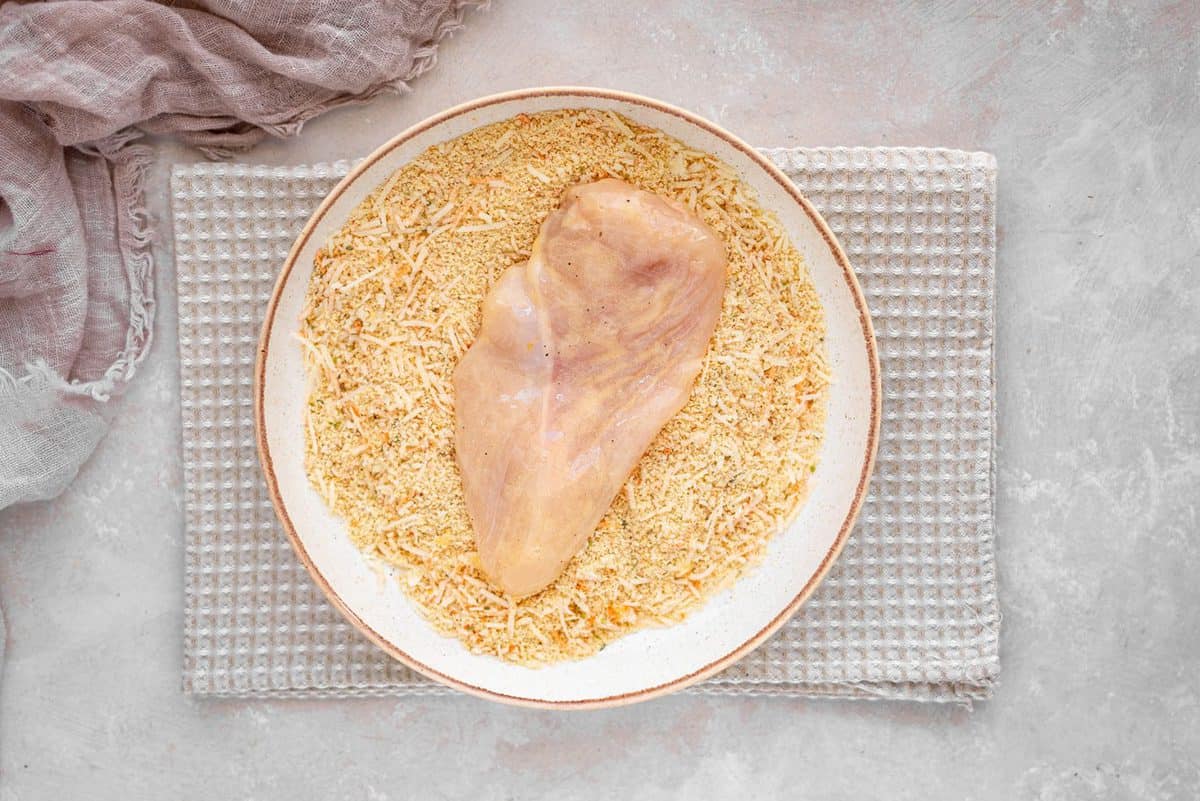 Transfer the chicken to the breading bowl, coating thoroughly to make sure the parmesan cheese mixture gets in all the folds.
Lay the breaded chicken breasts onto the baking pan and bake for 20 minutes.
Once the 20 minutes are up, spread each piece of parmesan-crusted chicken with three tablespoons of marinara sauce and sprinkle the mozzarella on top.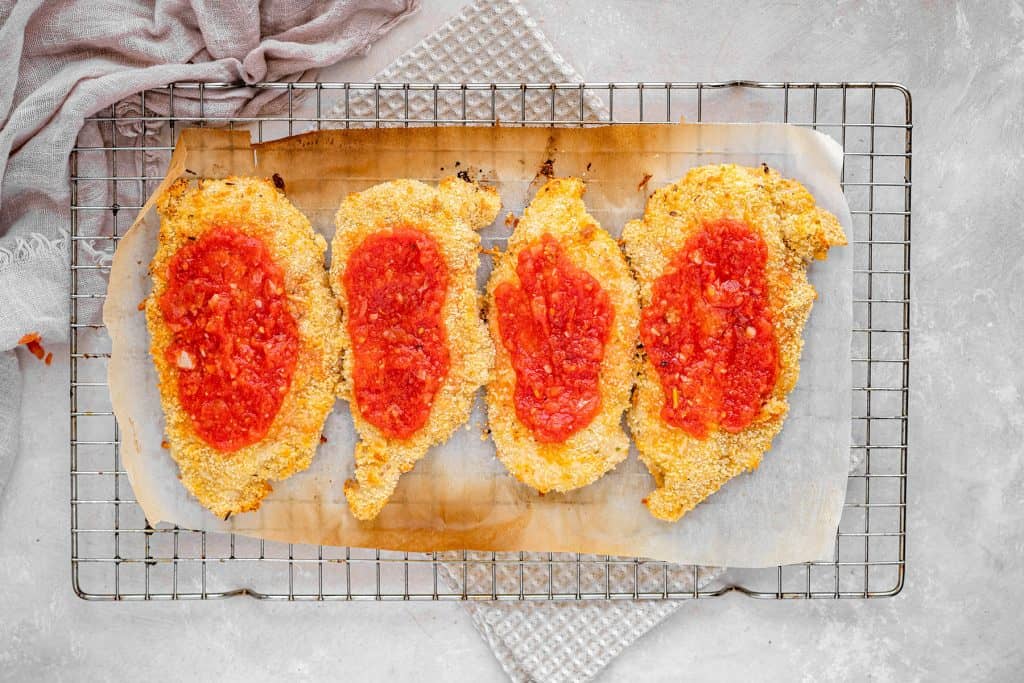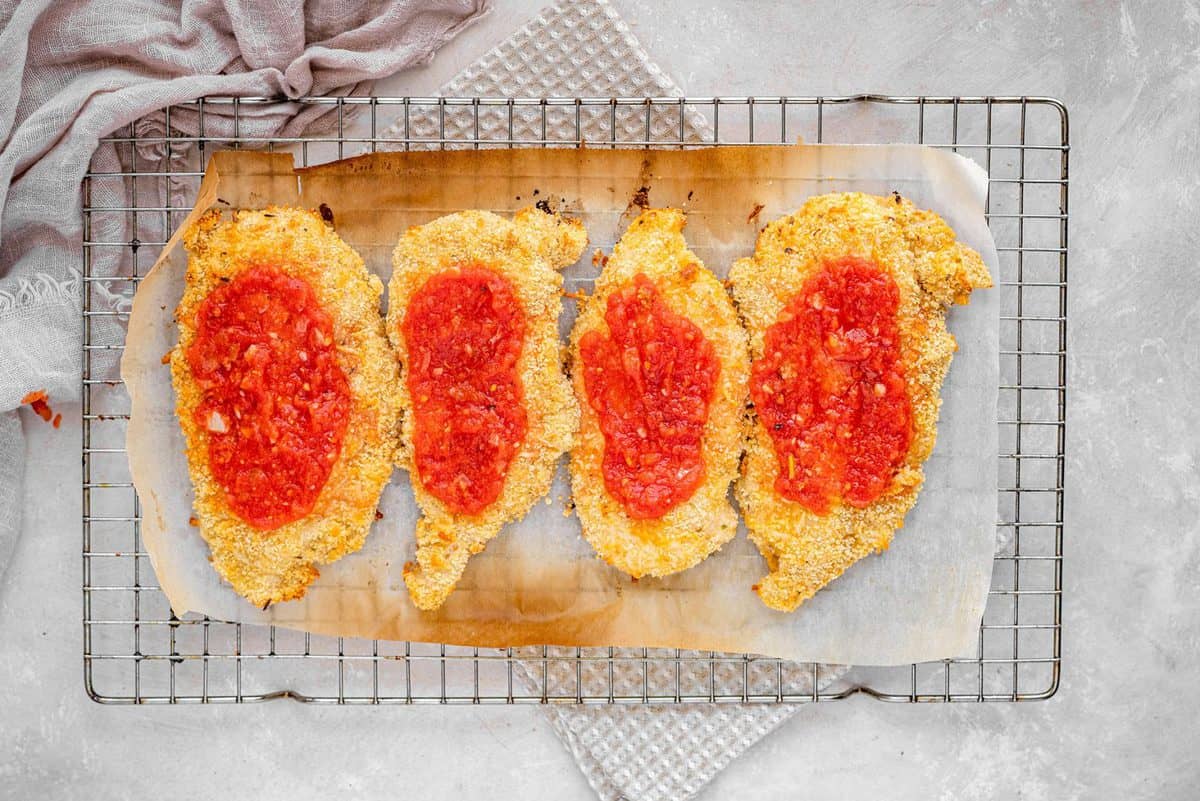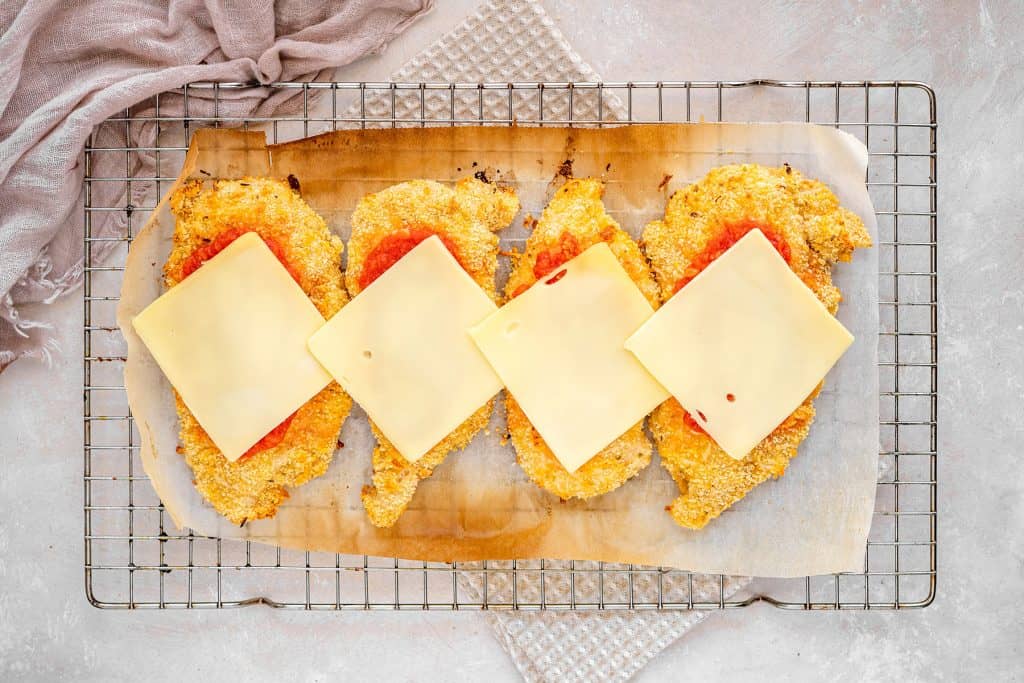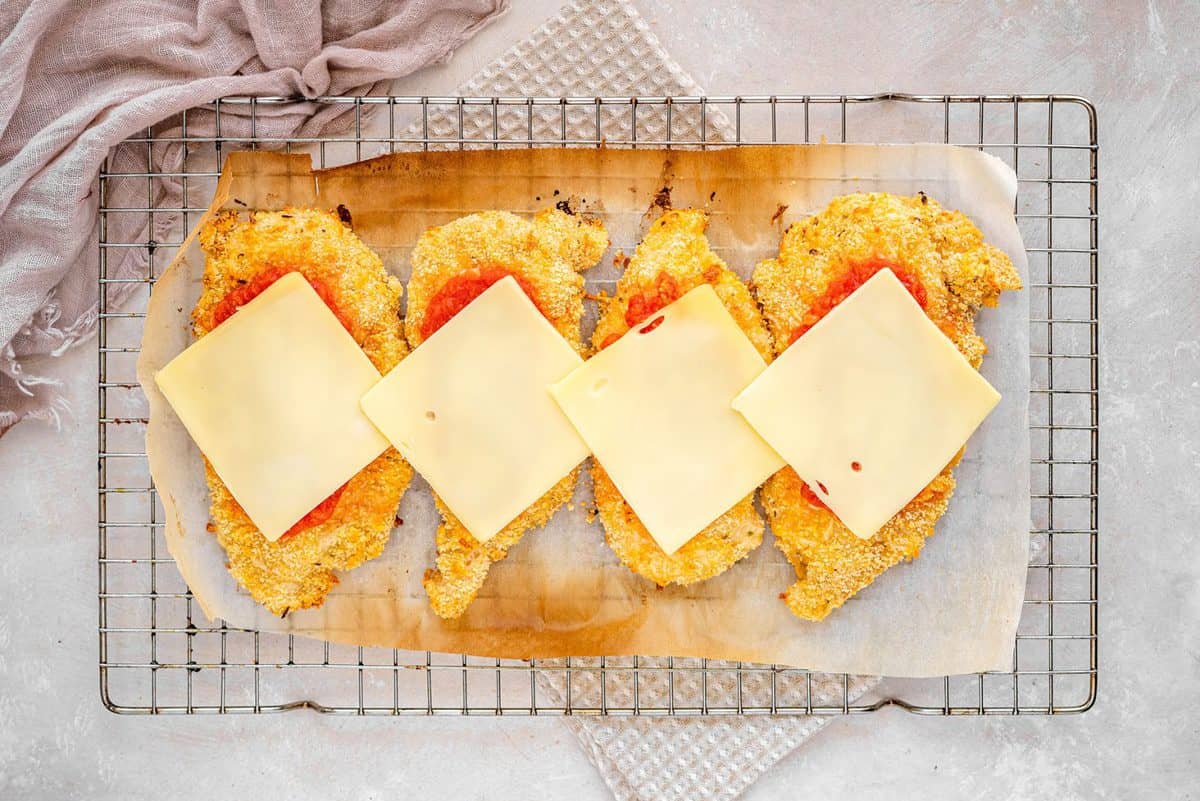 Return to the oven and bake for another 10-15 minutes. You'll know when they're done because the cheese will be melted and slightly golden.
Enjoy your Keto Chicken Parmesan on its own, or with one of the suggested side dishes above.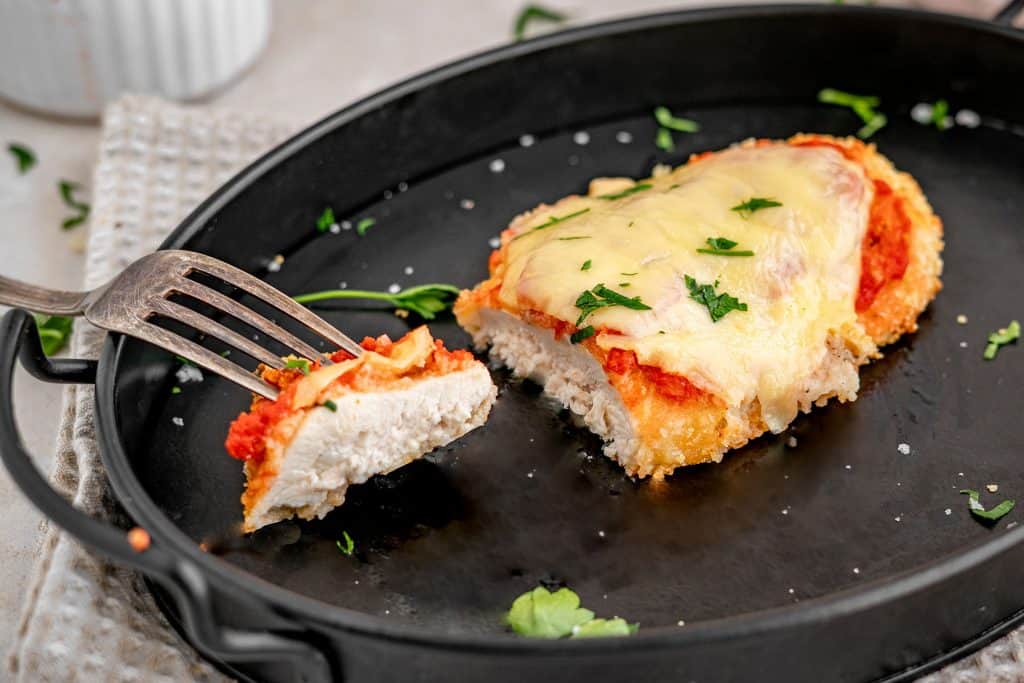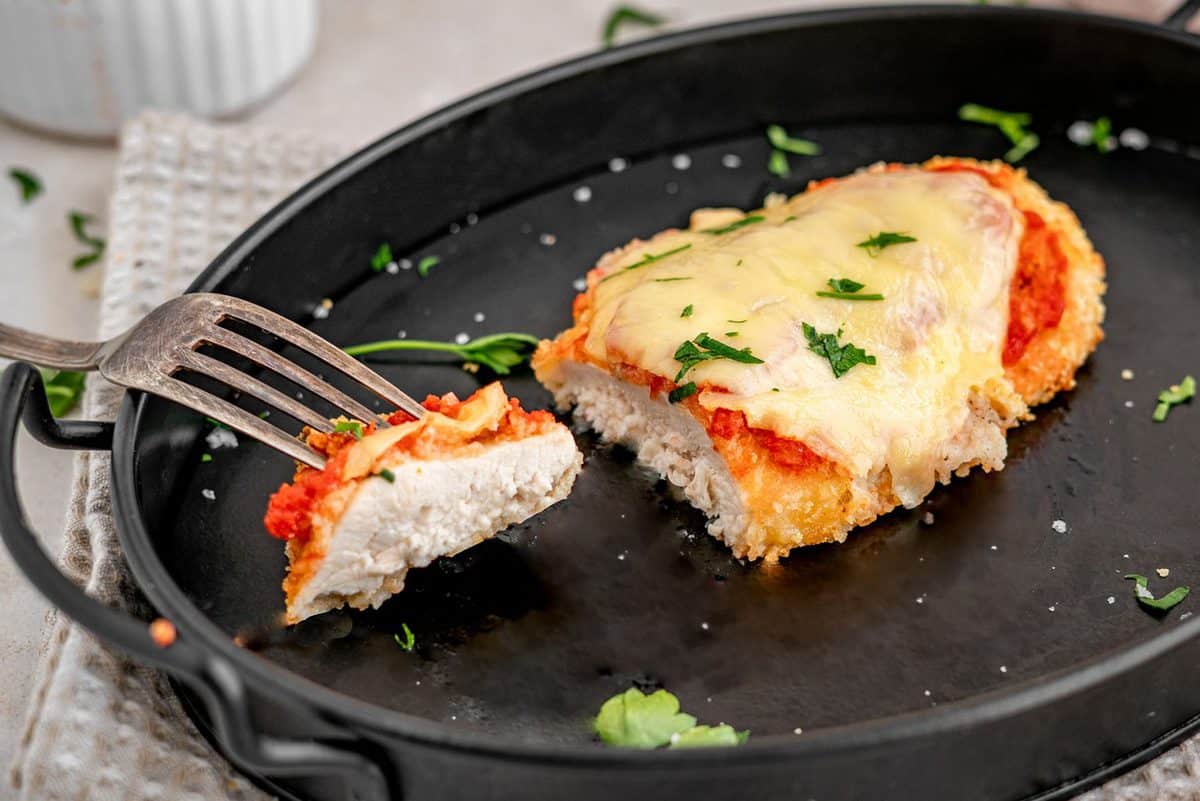 More Low Carb Keto Italian Recipes
We'll never get tired of recreating Italian recipes, keto-style. They're easy to throw together with what you probably already have in the kitchen, and they're unbelievably delicious. Check out some of our other Italian keto recipes that are perfect for dinner any night of the week.
Low Carb Fettuccine Alfredo. Keto pasta is possible and delicious with this classic twist on one of the best Italian dishes of all time. It's made even more irresistible with the addition of heavy cream and cream cheese, which create an extra-thick sauce.
Cast Iron Keto Lasagna. Layer upon layer of white sauce, juicy ground beef and three different kinds of cheese. Trust us – this is one of those keto recipes that are even better reheated the next day.
Low Carb Eggplant Manicotti. Another recipe that's absolutely oozing with cheese! This one swaps out high-carb pasta for low-carb eggplant. It's great both as a main or as a side (and is one of our favorite keto recipes!).
Delicious, Low Carb Keto Chicken Parmesan
This Keto Chicken Parmesan recipe is big on flavor so you'll definitely want to come back for more. We don't think you'll have any issues making those four servings of chicken parm last, though – this recipe is super high in protein, which means it's also incredibly filling.
It's easy enough to reheat the next day, so you can store any leftovers in the fridge for yet another incredible dinner.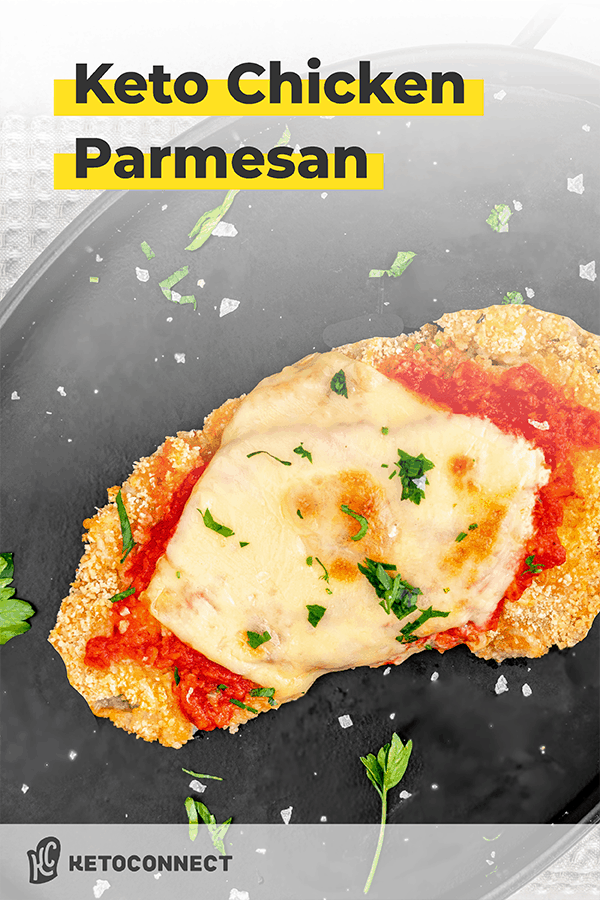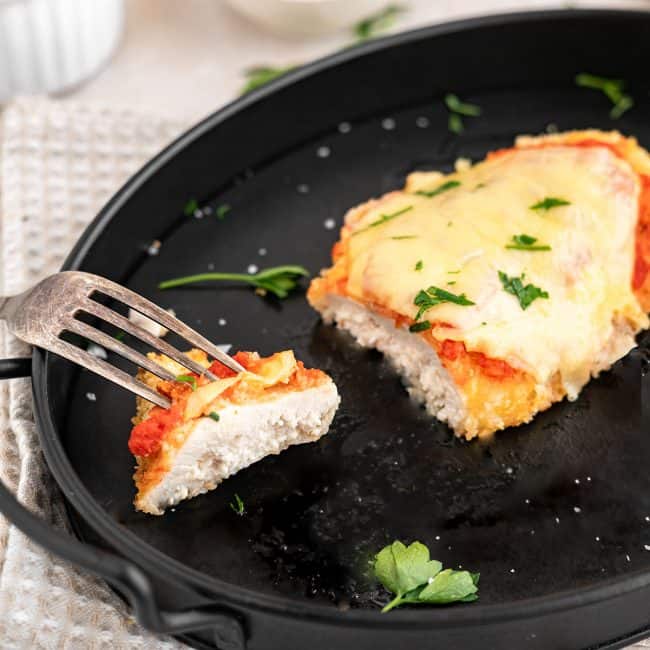 Keto Chicken Parmesan
Make this keto friendly chicken parmesan recipe in under 30 minutes. This is a rich and flavorful recipe that the whole family will love.
Total Time 35 minutes
Servings 4 servings
Calories per serving 397kcal
Prep Time: 10 minutes
Cook Time: 25 minutes
Instructions:
Preheat the oven to 400 F. Line a baking pan or rack with parchment paper.

In a large bowl, whisk the egg and heavy cream together.

In another bowl, mix together the parmesan cheese, almond flour, and seasoning.

Working with one chicken breast at a time, dip it in the egg mixture, flip it to cover both sides with the egg mixture, then transfer it to the parmesan mixture.

Cover the chicken completely with the parmesan mixture, getting it in the folds.

Transfer the coated breast onto the baking pan or rack. Repeat with the remaining 3 chicken breasts.

Bake for 20 minutes, then take out of the oven.

Spread 3 tbsp of marinara on each piece, and add the cheese on top.

Bake for another 10-15 minutes until the cheese has melted and is a bit golden.

Enjoy on its own or with a side of steamed vegetables.
Notes
5g net carbs per serving
Nutrition Facts
Keto Chicken Parmesan
Amount Per Serving
Calories 397 Calories from Fat 207
% Daily Value*
Fat 23g35%
Saturated Fat 10g50%
Trans Fat 1g
Cholesterol 166mg55%
Sodium 1120mg47%
Potassium 650mg19%
Carbohydrates 7g2%
Fiber 2g8%
Sugar 3g3%
Protein 41g82%
Vitamin A 825IU17%
Vitamin C 5mg6%
Calcium 377mg38%
Iron 2mg11%
* Percent Daily Values are based on a 2000 calorie diet.
Written By