Our keto chocolate chip muffins make the perfect mid-day snack, or light breakfast to start the morning. They're dense and full of rich chocolate chips to make a sugar free treat that's unmatched in the battle of keto baked goods.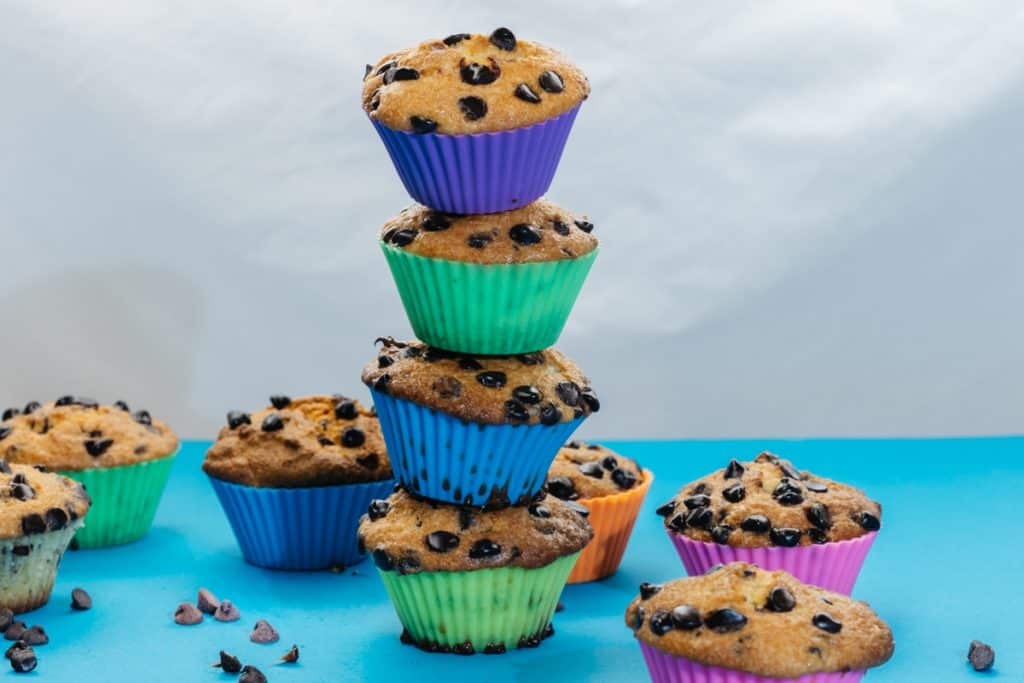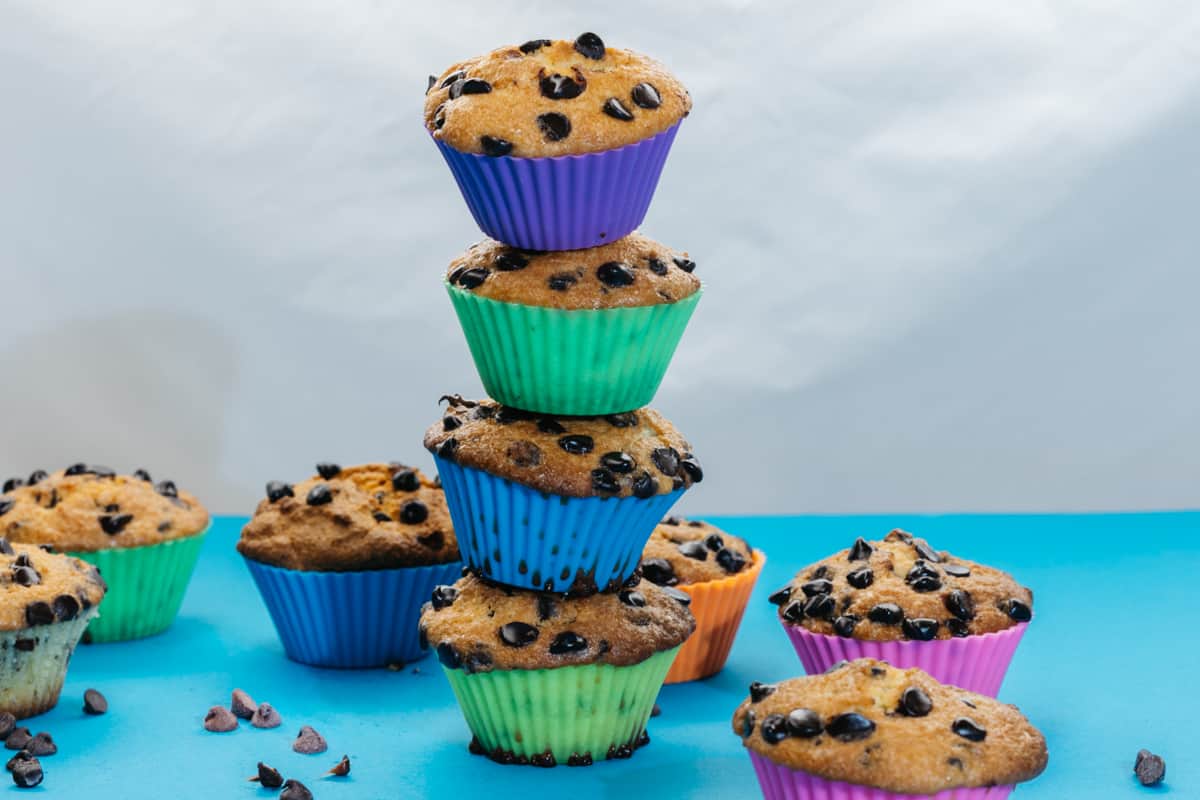 Are Chocolate Chip Muffins Healthy?
For some reason muffins have gotten a health halo, when in reality they are just unfrosted cake. Granted they have less sugar right on top, they oftentimes have extra sugar mixed in to make them sweet enough.
Muffins are also made with a lot of flour, butter, and sugar meaning you're combining fat and sugar one of the most addicting combos that lead to overeating and weight gain.
Plus, for many people the flour alone can cause inflammation and cramping. It's best to avoid traditional muffins at all costs. Each chocolate chip muffin has about 370 calories 49 grams of carbs, 2 grams of fiber, 30 grams of sugar (7.5 teaspoons in one muffin!), 18 grams of fat, and just 5 grams of protein.
Talk about a sugar bomb!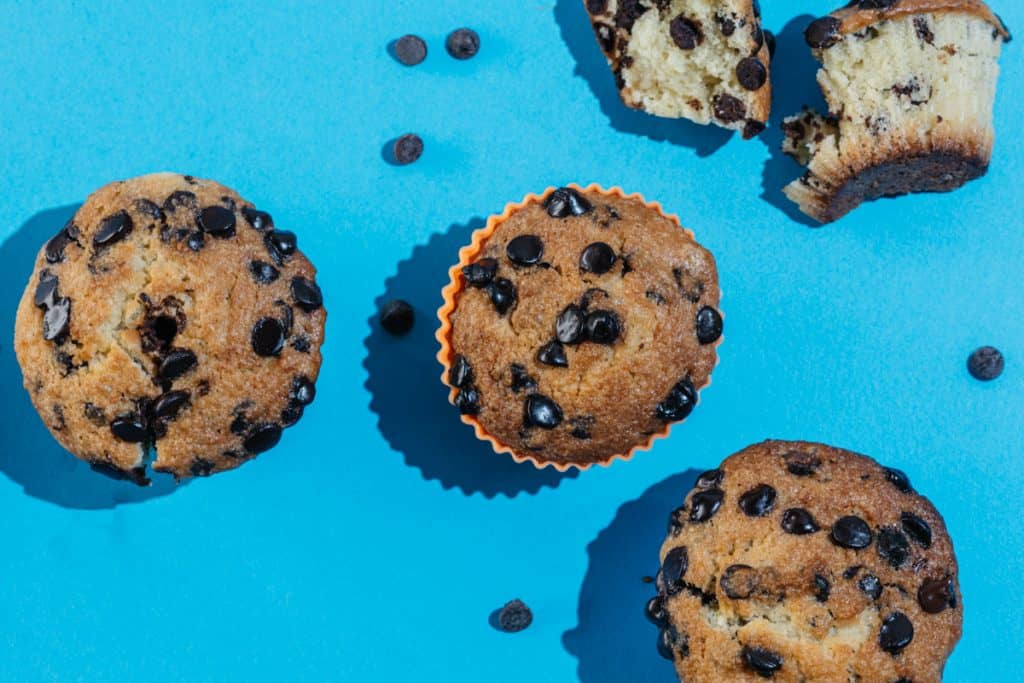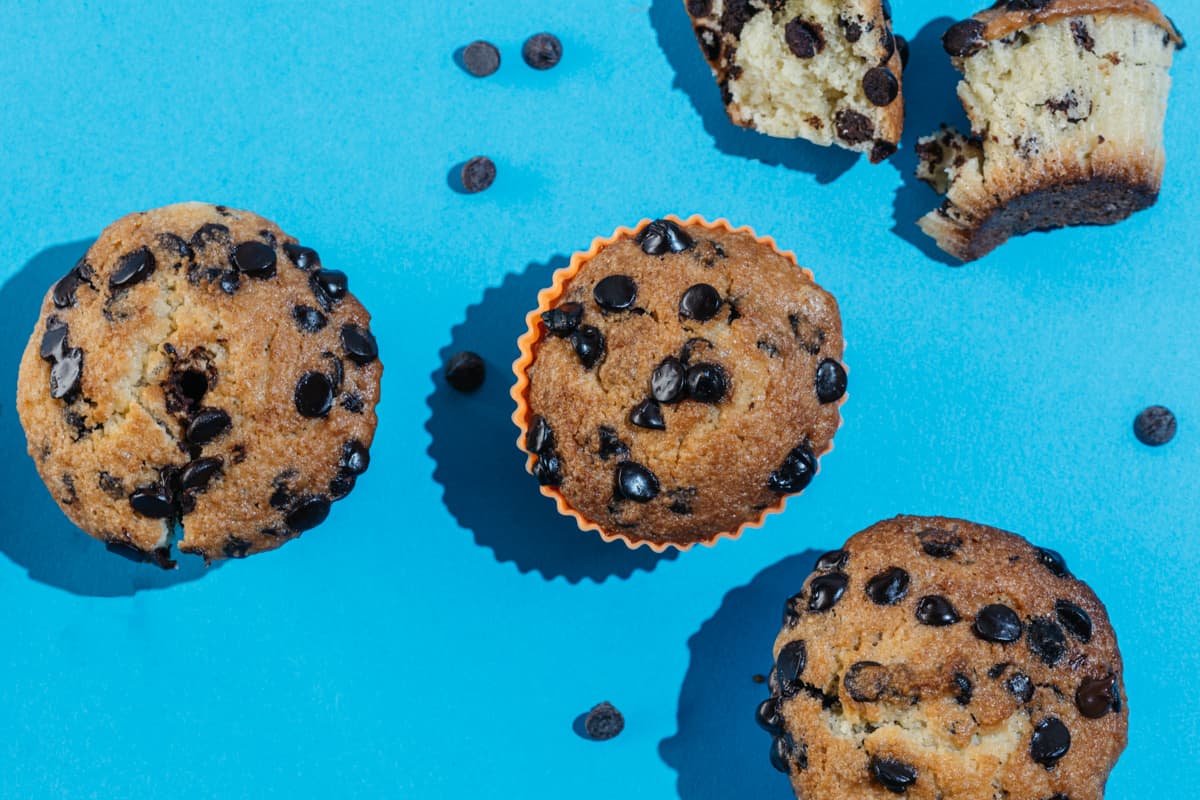 Sugar Free Low Carb Chocolate Chip Muffins
Thankfully our keto chocolate chip muffins are added sugar free, and yes, that's all the way down to the chocolate chips!
Per low carb chocolate chip muffin there are just 4 net carbs and 1 gram of sugar. No need to worry about an insulin spike and then crash with this keto chocolate chip muffin recipe.
So, how were we able to make sugar free muffins? We used a keto friendly sweetener blend that tastes just like sugar, but isn't going to spike your blood sugar.
A similar sweetener blend was used in the dark chocolate chips to ensure the recipe is fully keto.
Keto Sweetener Options
We chose to use the Lakanto sugar free powdered sweetener. Their powdered sweetener is a blend of erythritol and monk fruit so you can enjoy it guilt free.
Some other sweetener options are:
Erythritol– Erythritol is a keto sweetener that has not yet been mixed with other concentrated sweeteners. This means it will be less sweet than sugar so you may need more of it in this recipe.
Swerve– Swerve is another company that makes their own keto sugar equivalent with erythritol.
Allulose– Allulose is a rare ketogenic sweetener that can be found in some keto chocolate chip companies and products.
These are just a few of the many keto sweeteners out there. Pick the one that is the most cost effective and enjoyable to you.
Each will work you just may need to slightly adjust the sweetener to almond flour ratio in these keto chocolate chip muffins so they have more sweetener if you don't use a 1:1 product.
Keto Chocolate Chips
As for chocolate chips there are more and more companies coming out everyday with keto friendly chips. If you want to use the same brand we did you will want to get the low carb keto chocolate chips from Lily's.
Lily's chocolate chips are our favorite because they are made with good quality ingredients and use a blend of stevia and erythritol as the sweetener.
Some other good brands to make these low carb muffins with are:
Choc Zero– If you want to make keto chocolate chip muffins you're going to want low carb chips. Choc Zero is low carb and low sugar to be both keto and diabetic friendly.
ChocoXO– These are a great option if you want a keto low carb chocolate chip option, but can't do a lot of sugar alcohols. These are made with 1 gram of cane sugar a serving which isn't technically keto, but a lot of people find it easier to digest.
Lakanto Chocolate Chips– Lakanto sugar free chocolate chips are sweetened with monk fruit and erythritol to make the perfect keto muffin.
Gluten free and sugar free chocolate chips are great to have on the keto diet as a little sweet snack, or for making keto recipes. Buy a couple bags, we promise they'll be gone before you know it!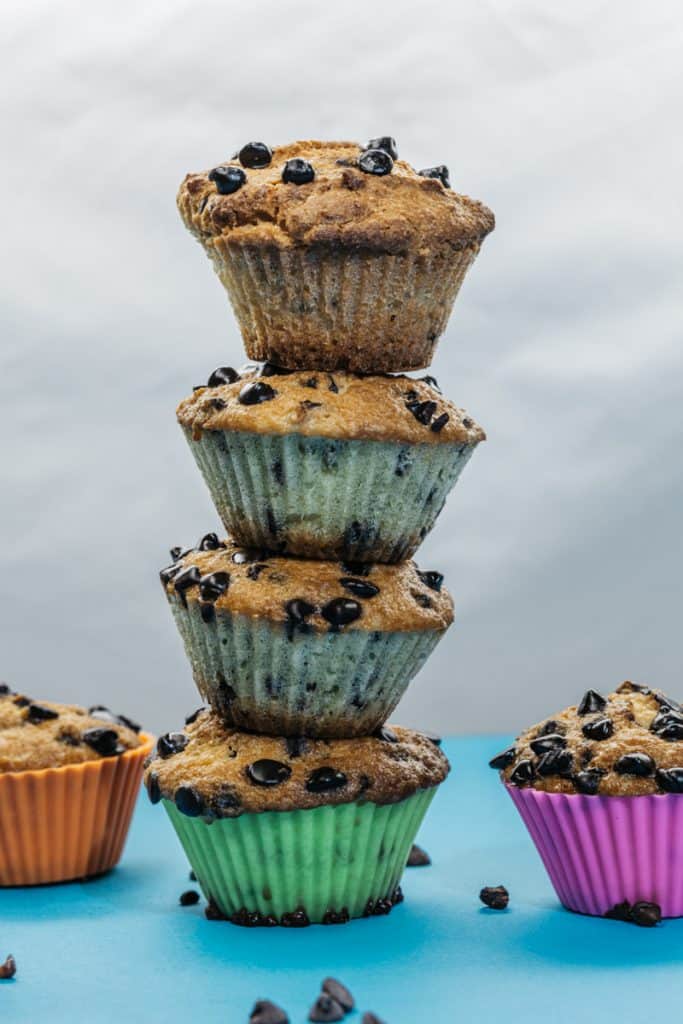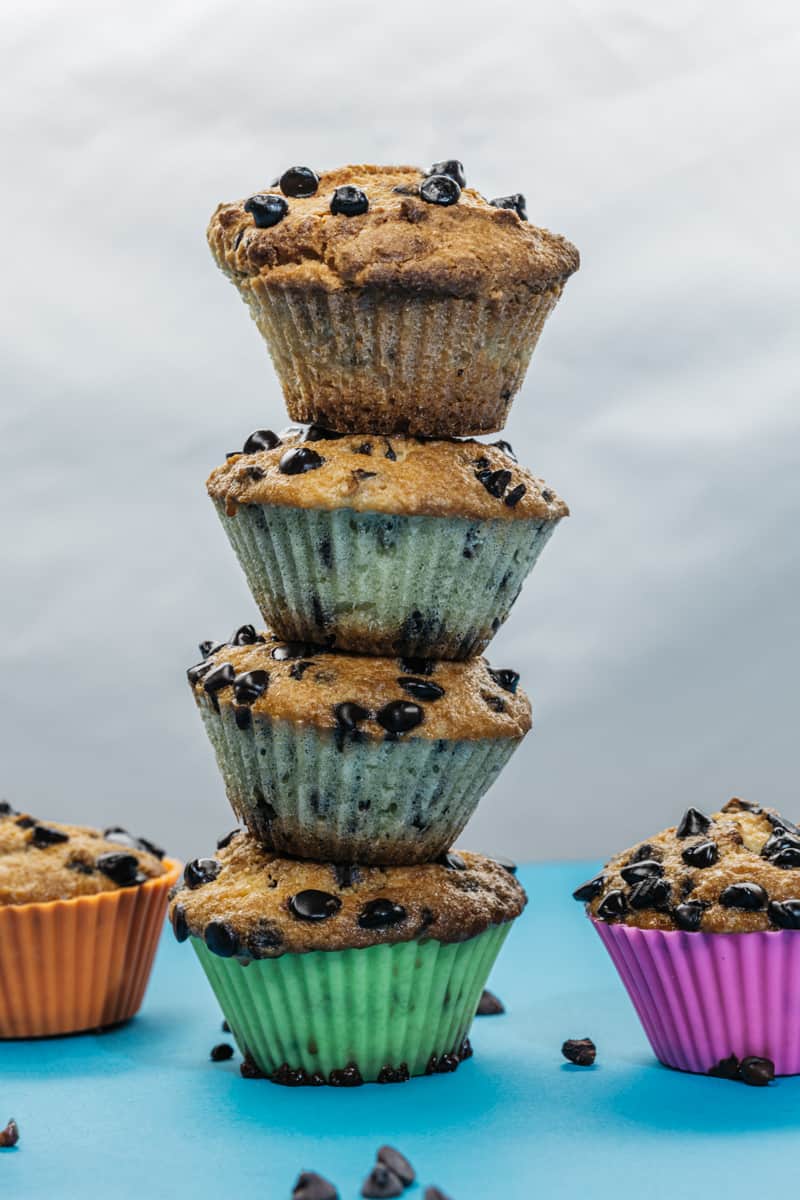 Can I Make Dairy Free Chocolate Chip Muffins?
These keto muffins are made with almond flour which keeps them gluten free, but there is butter in the recipe that stops it from being dairy free.
You have two options to make this dairy free. First you can use clarified butter (ghee) which has the lactose strained and allows you to enjoy the buttery taste without as much stomach distress.
Secondly you can use coconut oil. This has less flavor than the ghee so some people might prefer it, but it does have a slight coconut-ty sweetness.
Either of these substitutions will work for the butter, it just depends on the flavor profile you want in your chocolate chip muffin recipe.
How to Make Keto Chocolate Chip Muffins
Now that you know all about this sugar free recipe it's time to make our almond flour low carb chocolate chip muffins.
Ingredients
To make chocolate chip muffins keto you will need butter, vanilla extract, salt, keto friendly sweetener, blanched almond flour (not almond meal), eggs, baking powder, and chocolate chips.
Almond Flour vs. Coconut Flour
Our low carb keto chocolate chip muffins recipe is made with almond flour, not coconut flour. Coconut flour behaves very differently and requires a lot less to make the same recipe that almond flour would.
If you only have coconut flour try our Lemon Poppyseed Muffin recipe as these chocolate chip muffins should not be substituted for another flour.
Making Keto Chocolate Chip Muffins
To make these keto muffins preheat the oven to 375 degrees and line a muffin tin with muffin cups, or set up a silicone muffin tray on a cookie sheet.
Next melt the butter and mix in the sweetener, vanilla extract, and salt. Make sure the butter is mixed well so it starts to whip.
Now add in the almond flour, eggs, and baking powder. To make the best keto chocolate chip muffins possible, be sure to mix until there are no clumps.
Fold in the chocolate chips and then distribute the batter evenly among your 12 muffin spots. The almond flour muffins should make 12 medium sized muffins or 8-10 jumbo muffins.
Allow the muffins to fully cool before removing from the pan.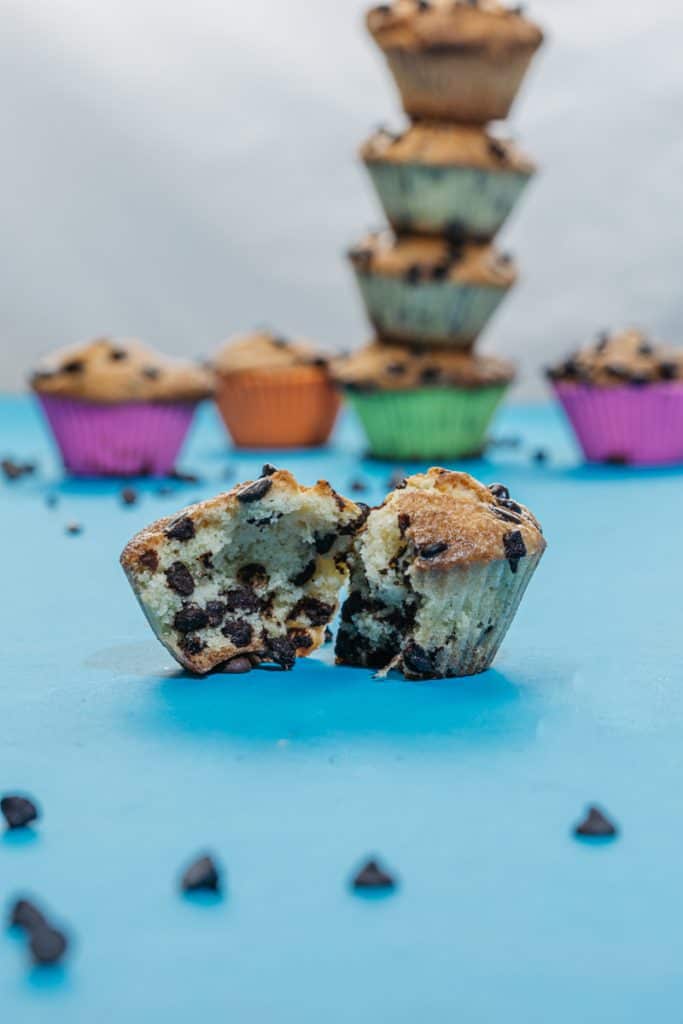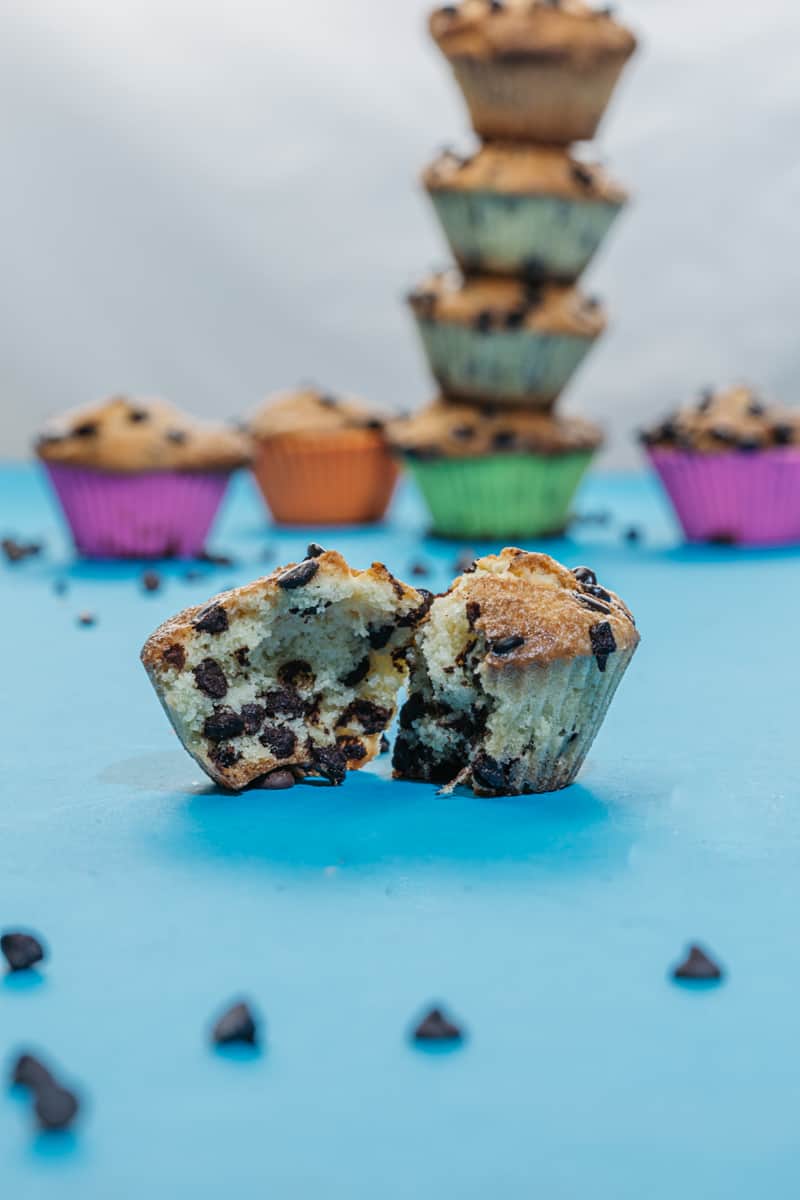 How to Store Keto Chocolate Chip Muffins
Like most keto recipes these muffins store really well. We've left these on the counter for about a week and they were fine. If you do have the space though we always recommend the fridge just to make sure they last as long as possible.
You can also freeze this recipe if you bag up the muffins in a freezer safe zip top bag. They should last about 3 months in the freezer.
More Keto Muffin Recipes
If you want to make more muffins low carb, try a few of these delicious keto bakery style recipes:
If you say you don't like muffin recipes you are 100% a liar. Everyone needs at least two staple muffin recipes to bring to get togethers and breakfasts. Every recipe you learn after that is just a perk!
Keto Chocolate Chip Muffins
Chocolate chip muffins will always make the perfect mid- day snack or pick- me up treat. If you love making a variety of different types of muffins you can even make this recipe base and sub the chocolate chips out for nuts or berries.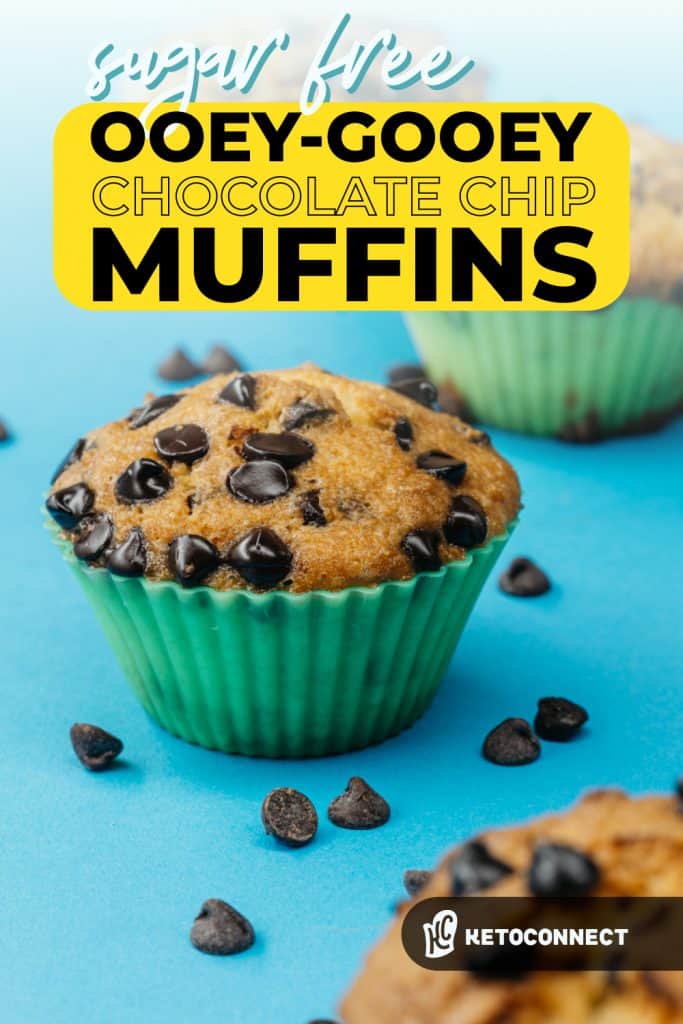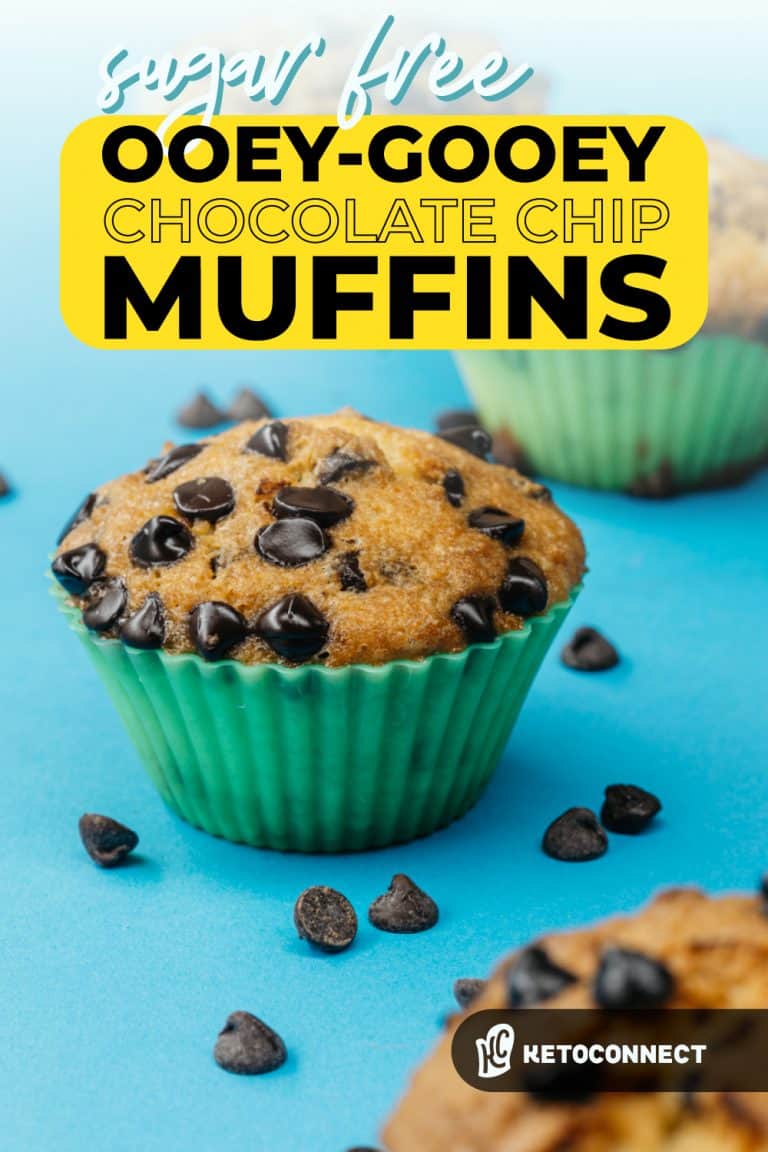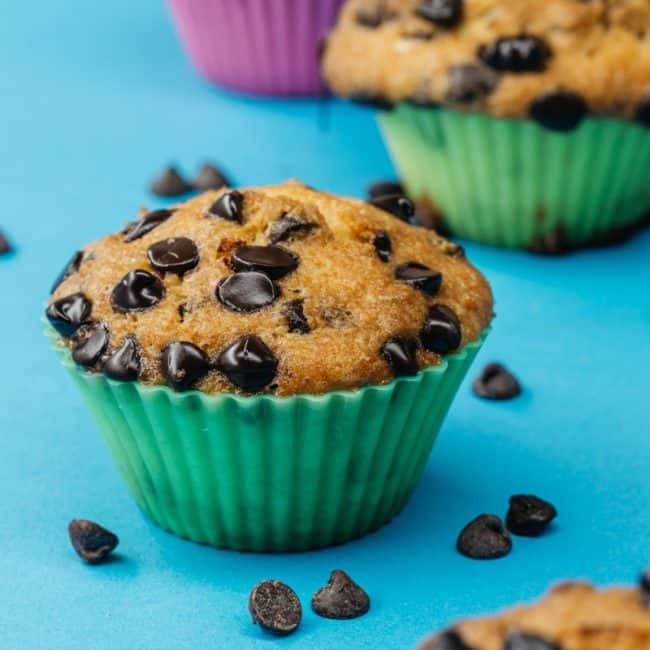 Keto Chocolate Chip Muffins Recipe
Dense chocolate chip muffins loaded to the brim with rich dark chocolate sugar free chips.
Total Time 45 minutes
Servings 12
Calories per serving 309kcal
Prep Time: 10 minutes
Cook Time: 35 minutes
Instructions:
Preheat the oven to 375°F

Melt the butter in a large bowl.

Add the vanilla, salt, and sweetener then mix. The sweetener should start to dissolve and make a creamed butter consistency.

Now add the almond flour, baking powder, and eggs. Mix again well to break apart any clumps.

Stir in the chocolate chips. Optionally leave out some chocolate chips for topping the muffins before baking.

Fill a silicone muffin pan with the batter distributing it evenly between 12 muffins.

Bake for 30-40 minutes, or until the top is golden and a toothpick comes out clean.
Nutrition Facts
Keto Chocolate Chip Muffins Recipe
Amount Per Serving
Calories 309 Calories from Fat 234
% Daily Value*
Fat 26g40%
Saturated Fat 6g30%
Trans Fat 1g
Polyunsaturated Fat 1g
Monounsaturated Fat 3g
Cholesterol 82mg27%
Sodium 188mg8%
Potassium 52mg1%
Carbohydrates 6g2%
Fiber 2g8%
Sugar 1g1%
Protein 8g16%
Vitamin A 325IU7%
Calcium 62mg6%
Iron 1mg6%
* Percent Daily Values are based on a 2000 calorie diet.
Written By