Orange chicken is sweet, tangy, and juicy making it the perfect flavor bomb dish for any night of the week.
Asian recipes are a staple in our household. We are always making a few basic "must have recipes" including our Cauliflower Fried Rice. That was until we discovered this Low Carb Orange Chicken! The meat is hearty and tender, while the sauce is sweet and tart – the perfect complement.
If you are a sucker for anything Asian or citrus like us, then you are going to love this recipe. It may require a little extra work for you, but trust us, this keto orange chicken is well worth the effort.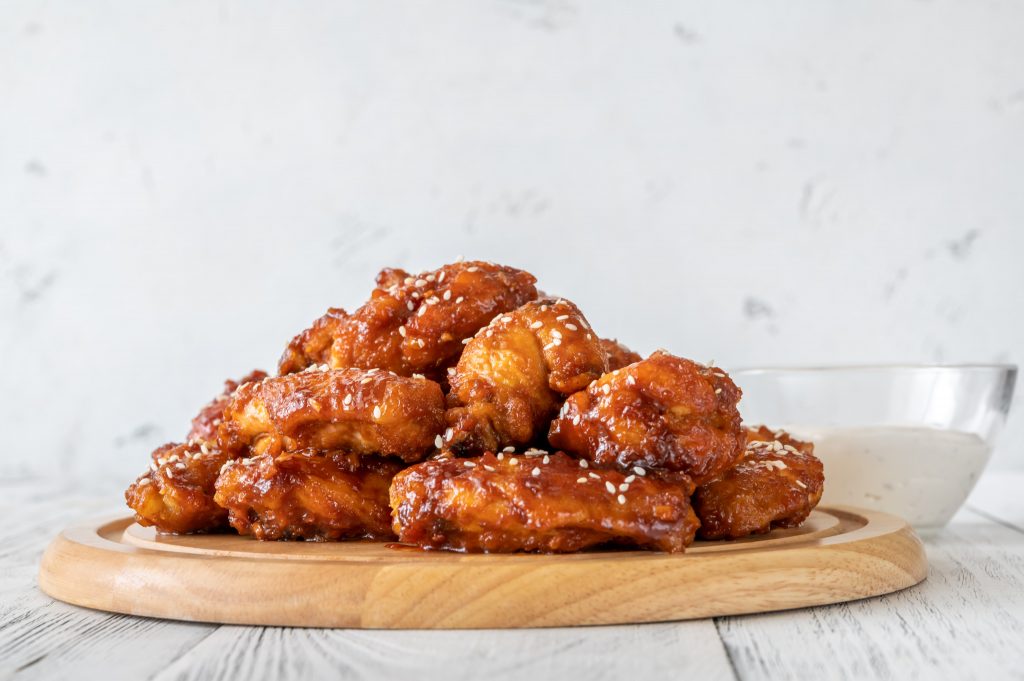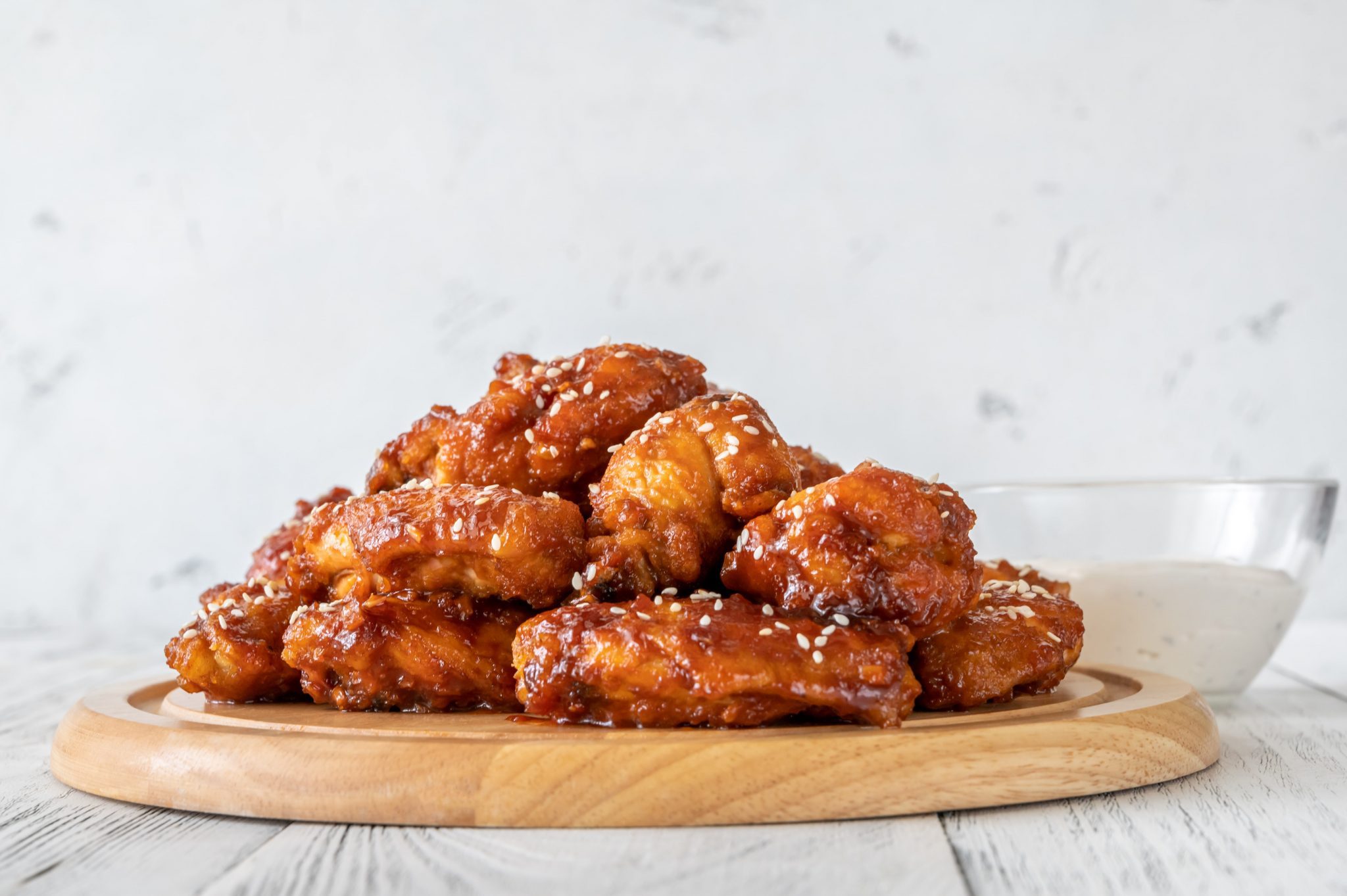 Can You Eat Orange Chicken on Keto?
Normal orange chicken is not keto friendly. Takeout orange chicken is breaded and coated in a sweet orange sauce that traditionally contains a lot of sugar. Each serving of takeout orange chicken can have 19 grams of sugar in just five ounces of food.
That is why our keto orange chicken is made with a gluten and carb free breading, as well as a sugar free orange sauce.
Are Oranges Keto?
Even though oranges are a fruit and loaded with vitamin C, they are not 100% keto approved. Depending on the portion you have, you can still enjoy a little orange and stay in ketosis. However, the amount of juice should be limited to prevent consuming too much sugar.
Our keto orange chicken recipe uses the juice of half an orange which is about 4.5 grams of carbs and 3.5 grams of sugar. Split between 6 servings, there are only 0.75 grams of carbs coming from the orange in each portion.
Sugar Free Orange Chicken
This keto orange chicken recipe is special because not only is it gluten free, but it's also added sugar free. Most of the time when you go to an Asian restaurant their orange chicken pieces are coated in orange juice and a ton of extra added refined sugar.
Per serving of normal orange chicken, there are 51 grams of carbs and 19 grams of sugar. No matter how many vegetables you try to eat alongside it you're still not going to be able to offset all that sugar.
Thankfully to make our keto orange chicken recipe we use a low carb sugar substitute that is zero net carbs a serving. It still gives this orange chicken recipe the sweetness your expect, it just leaves out the blood sugar spike.
Gluten Free Keto Orange Chicken
Flour and gluten aren't allowed on a keto diet, which is why we had to create the ultimate keto low carb breading. We decided to use coconut flour and crushed pork rinds to make a crispy and light low carb breading.
This recipe doesn't call for soy sauce, but if you are munching on some keto sushi while cooking you'll want to check that you use gluten free soy sauce too. You can also just use coconut aminos if you don't want to worry about checking before making keto recipes.
Healthy Orange Chicken Breading Options
If you don't have or like coconut flour breading you can always use an unflavored whey protein powder. It makes for light and crispy fried chicken and pairs great with the keto orange sauce.
If you don't have a good protein powder you can use finely milled almond flour as an option too. Just know it may not stick as well.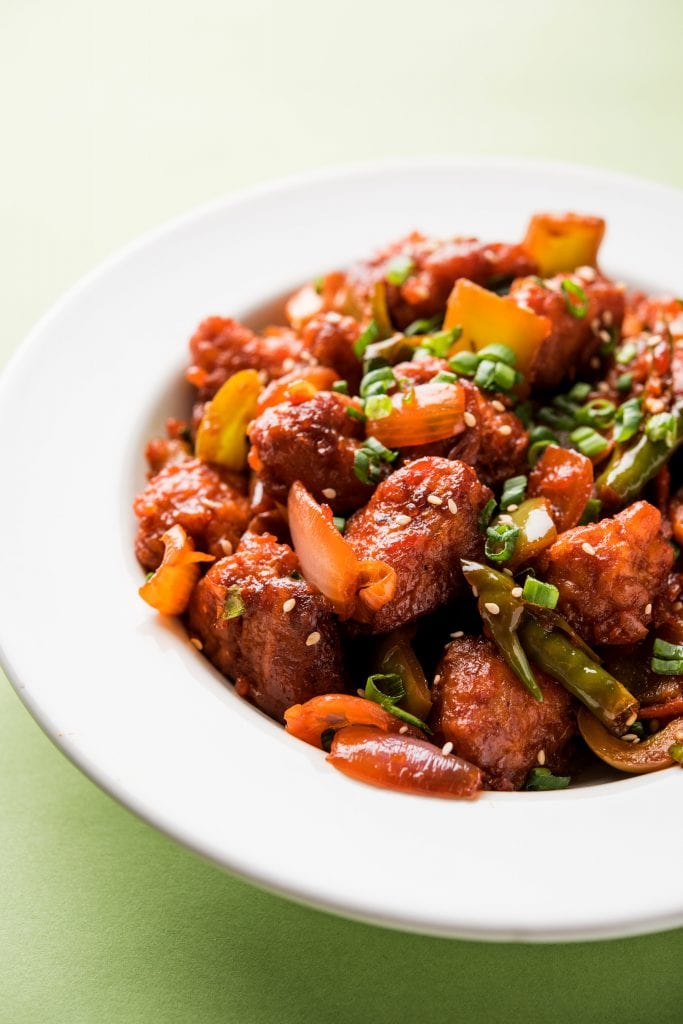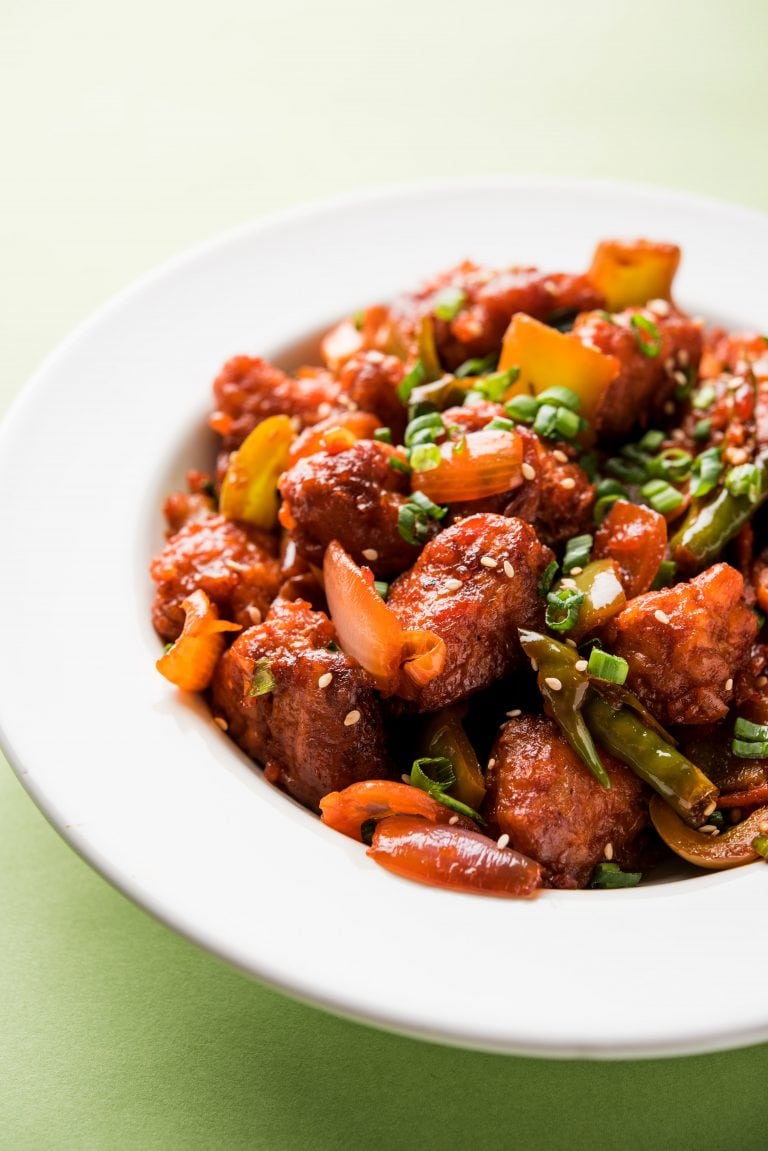 Chicken Breasts vs Thighs
When making breaded chicken you will have to decide whether you want chicken thighs or chicken breast. Personally we like chicken breast more than boneless chicken thighs in this recipe, but it is all up to you.
Chicken thighs will still taste amazing with the gluten free fresh orange juice sauce and green onions, it will just have a little more fat and calories.
How to Make The Perfect Keto Orange Chicken
We know there's no such thing as perfection, but this recipe sure does come close. It's almond flour free so our nut conscious friends can enjoy it, and even diabetic friendly so everyone can enjoy this meal stress free.
Ingredients
To make this keto orange chicken you will need chicken breasts cubed into chicken pieces. We chose to use chicken breasts because it stays juicy and is a bit more traditional to the recipe. However, you can always use a chicken thigh cubed up if you don't like how lean chicken breast is.
You will also need pork rinds, coconut flour, mct oil powder, black pepper, salt, and coconut for frying and breading the chicken.
To make the orange sauce you will want an orange, garlic, ginger (fresh is preferred but ground ginger will work), coconut oil (can use avocado oil), and a low carb sugar substitute.
We only use half of the orange juice and lots of orange zest to give this recipe a good flavor without the added sugar.
Making Keto Orange Chicken
To make the chicken portion begin by processing the pork rinds, coconut flour, mct oil powder, and salt + pepper in a blender. Once it's a fine powder place it into a shallow bowl.
Pat the chicken breasts dry and slice them into small 1/2 inch pieces. Sprinkle with salt and set them aside.
Add a couple of tablespoons of oil into a skillet for frying. Toss a handful of chicken pieces into the pork rind mixture and then place them into the oil once the breading has stuck.
Cook in batches, frying 2-3 minutes a side. They should be a golden brown and 165 degrees. Remove the cooked chicken from the skillet and place onto a paper towel lined place to soak up the grease.
To make the sauce heat up the coconut oil and erythritol until melted in a saucepan. Now's the time to prepare your orange zest, we did a full oranges worth, some ginger, and garlic cloves.
When the sweetener has dissolved in the oil, reduce the heat and add in your keto orange zest mixture. Squeeze in half an oranges worth of orange juice and stir well. Let the mixture come to a simmer while you're cooking the remaining batches of chicken.
The sauce should thicken up into a glaze. Once thickened you can remove it from the stove and combine it with the cooked chicken pieces. We love to top our keto orange chicken with sliced green onions and sesame seeds.
How to Serve Orange Chicken
Our keto orange chicken sauce is unbeatable and sure to wow any dinner guests you may invite. It's packed with fresh squeezed orange juice, fresh/ ground ginger, and orange peel for the ultimate citrus flavor.
This means the orange flavor will be strong with minimal sugar alcohols so you can load it onto keto side dishes like cauliflower rice, lettuce, or steamed and buttered vegetables.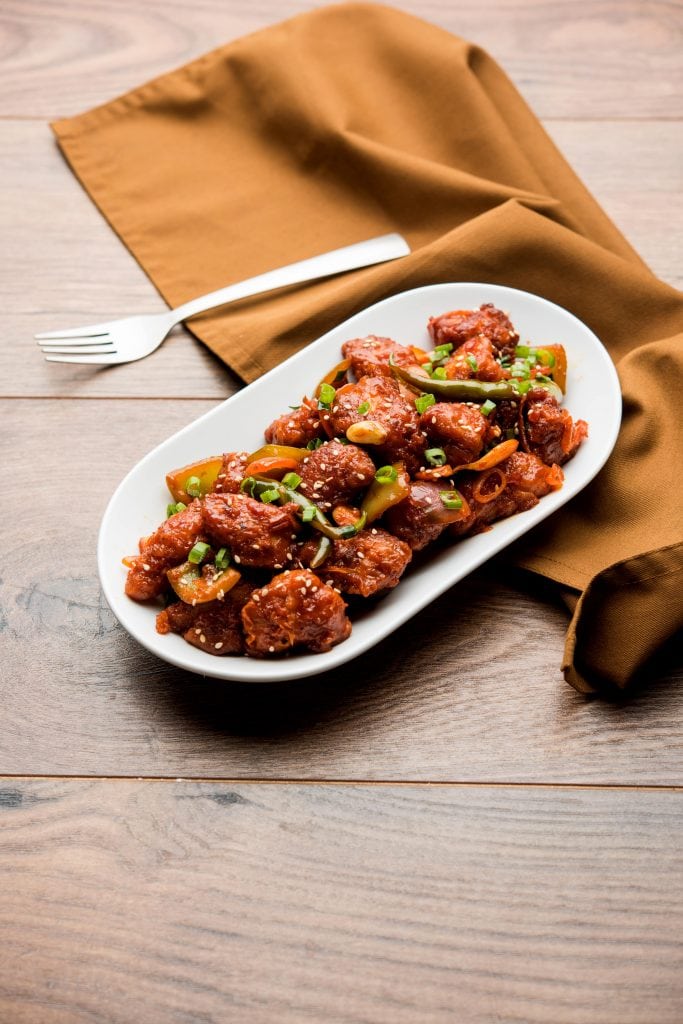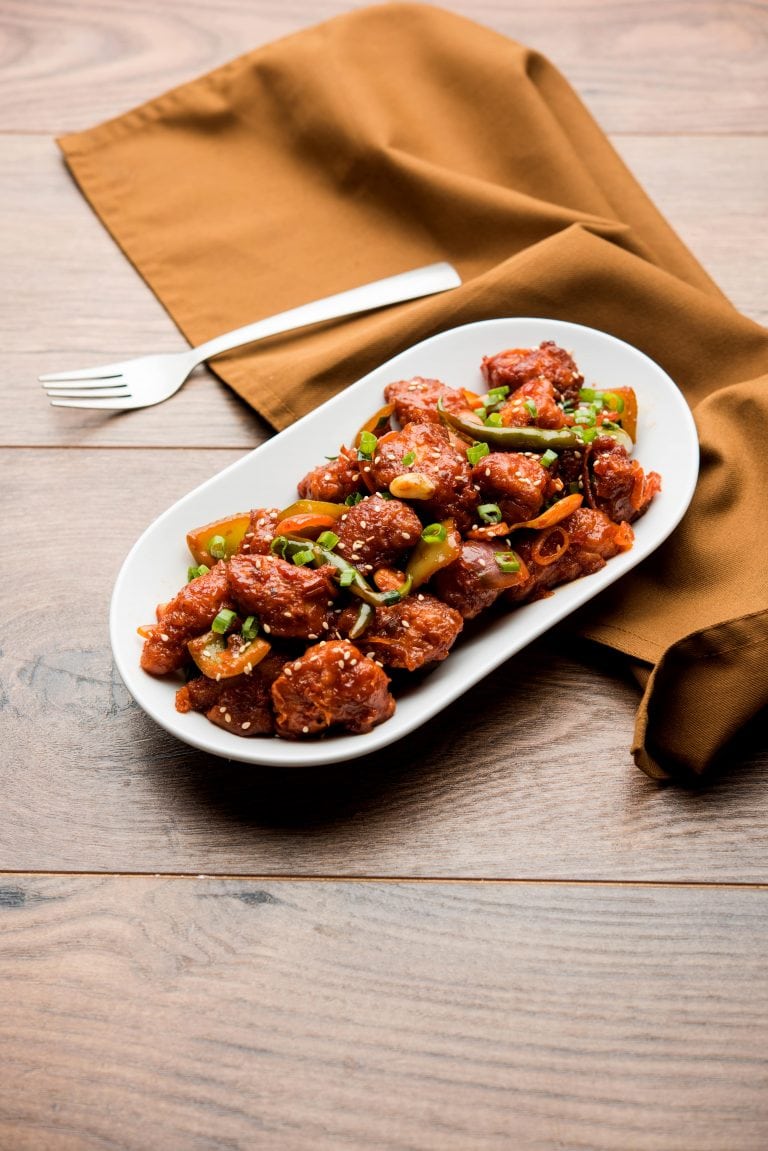 Storing Orange Chicken
Now that we've made orange chicken keto you're sure to be wondering, how do I store this crispy chicken to enjoy it every day?
While it's true fried chicken pieces won't stay crispy once sauced, you can always store the sauce and chicken separate to air fry the chicken alone later.
Once you've made the orange chicken keto friendly all you have to do is pop it into a tupperware container to cool and store in the fridge for up to a week.
Reheating
Our go-to method to reheat this delicious recipe whether it be chicken breast or chicken thighs is to cook it in a skillet. The hot frying pan will give the chicken a nice toasty sear.
This chicken can be heated in the microwave, but it may loose some of it's textural integrity. Another thing to note is that unlike boneless skinless chicken thighs, chicken breast can dry out in the microwave if you aren't careful.
Low Carb Chinese Food
Chinese food, and Asian takeout, in general, are always my favorite. However, I feel like it always makes me feel the most guilty too because they cook with a lot of sugar sauces and carb laden breadings.
There is something absolutely irresistible about their perfect combination of salty and savory, meaty and fatty, juicy and fresh. Don't even get me started on the delicious noodles and rice.
That's why we created Chinese Keto recipes that could be enjoyed guilt-free. Just like this tasty keto orange chicken you should try our:
Easy cashew chicken– A 25 minute recipe, this meal is sure to impress your whole family. It has tender vegetables, juicy chicken, and crunchy cashews. Just get a little rice wine vinegar and soy sauce so you can get to cooking!
Lemon chicken – We love citrus and just like the orange sauce in this recipe, we make our lemon chicken with fresh citrus zest and juice.
Egg roll in a bowl – Egg roll in a bowl is one of our go to weeknight dinners. It can be made with avocado oil or sesame oil, chicken pieces or pork, and even any kind of vegetable your heart desires. The options are really endless.
All you need to make most of the takeout recipes on our blog is some coconut aminos or soy sauce and a positive attitude, well and a little xanthan gum!
Easy Low-Carb Orange Chicken
When Chinese is on the dinner menu you'll be sure to find me lingering. The best part about eating low-carb is that there is a substitute for everything, or at least it's our job to make you believe so.
You can serve this savory dish up with some cauliflower rice, greens or just eat it on its own. It will satisfy you no matter how you serve it, and will even make for some great leftovers! Whether you're a Chinese food lover or not, this low-carb orange chicken is a must make recipe!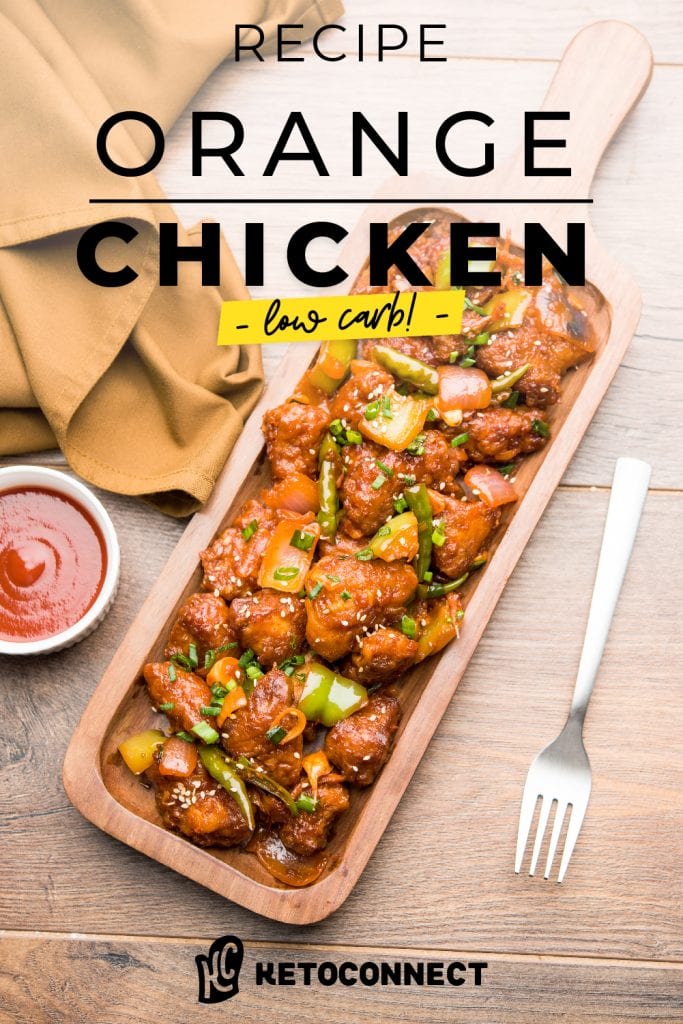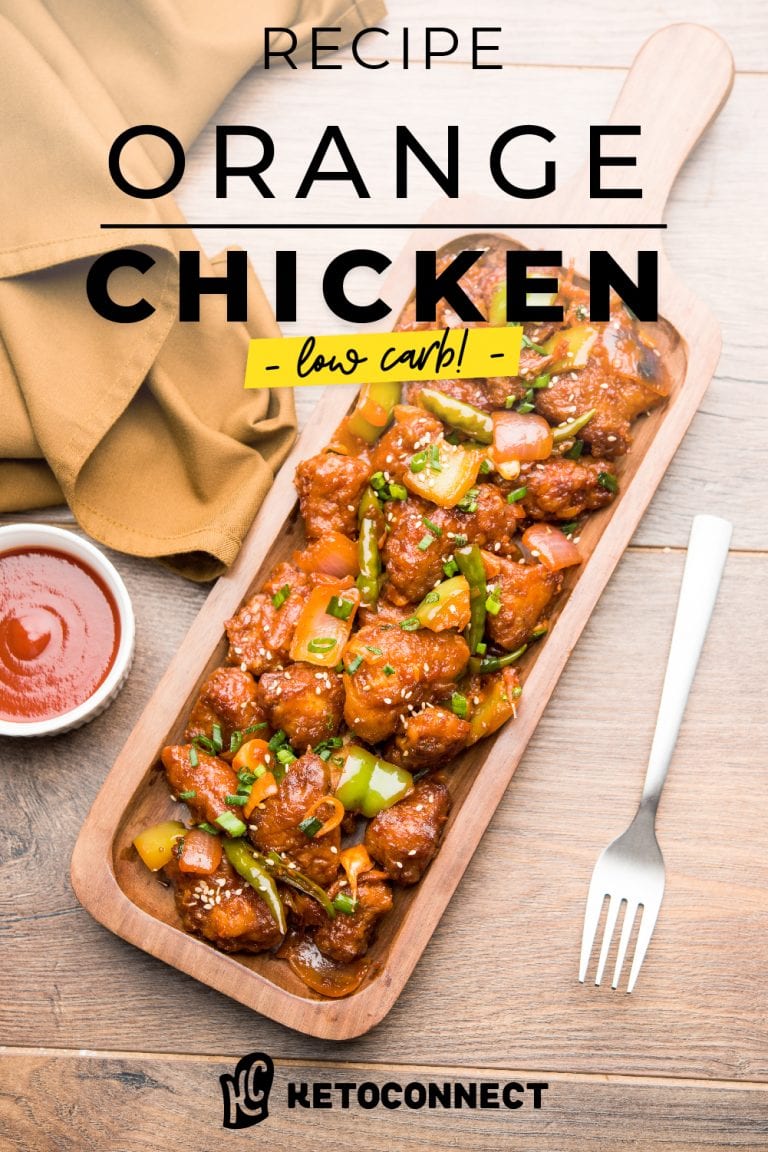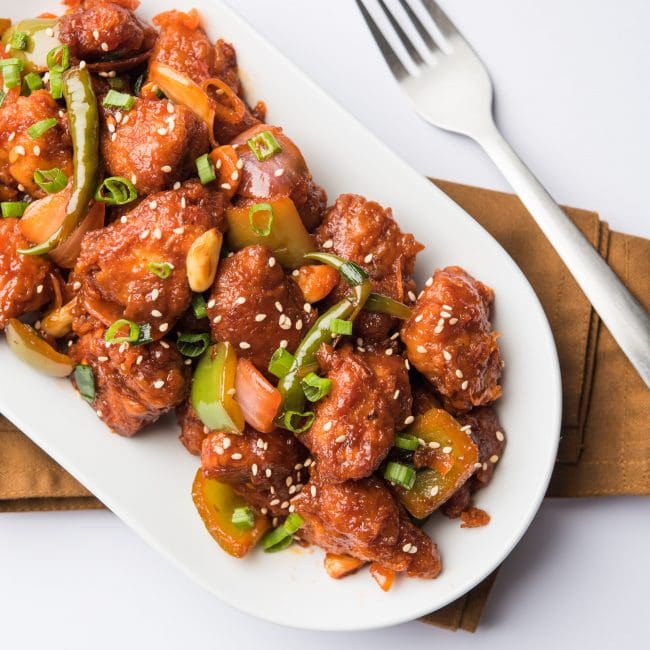 Keto Orange Chicken Recipe
If you are a sucker for anything Asian or citrus, then you are going to love this Keto Orange Chicken recipe!
Total Time 40 minutes
Servings 6 servings
Calories per serving 335kcal
Prep Time: 20 minutes
Cook Time: 20 minutes
Instructions:
Fry Chicken: Combine the pork rinds, coconut flour, and black pepper (and optionally mct oil powder) in a blender or food processor and pulse until it has made a fine powder. Shake this mix out into a medium bowl.

Pat your chicken breasts dry and then cut them into small cubes about ½ inch pieces. Sprinkle with salt and set aside.

Add oil for frying into the large skillet, about 2 tablespoons. Toss a handful of chicken cubes in the pork rind mix, shake off excess and add then into the skillet. Make sure the pieces aren't crowding the skillet, you will have to cook them in batches. Cook for 2-3 minutes or until browned then use tongs to turn them over and cook another 3 minutes, until amber brown.

Remove from the skillet and place on a paper towel lined plate. Add in the next batch of chicken and repeat until all of the chicken is done.

Make the sauce: Heat a small sauce pot over medium high heat. Add coconut oil and erythritol to the small sauce pot and stir to combine.

Using a zester, zest the whole orange (should yield about 1 tablespoon), and the garlic cloves and ginger into a small bowl and set aside. Cut the orange in half.

Once the sweetener has dissolved, lower the heat to medium and add in the orange zest mix, then squeeze half the orange juice into the sauce pot as well. Stir well and let it come to a simmer, let it simmer while you finish cooking the chicken. Stir it occasionally. Once it is thick and glaze-like remove it from the heat.

Transfer the chicken to a serving platter or bowl. Pour the orange glaze all over it, sprinkle with sesame seeds, if desired and enjoy! This is great over greens or cauliflower rice!
Nutrition Facts
Keto Orange Chicken Recipe
Amount Per Serving
Calories 335 Calories from Fat 202
% Daily Value*
Fat 22.4g34%
Carbohydrates 4.6g2%
Fiber 3.6g14%
Protein 26.4g53%
* Percent Daily Values are based on a 2000 calorie diet.