After what seems like hundreds of test batches we finally have these extra fudgy keto brownies to share with you. The awesome thing about this brownie recipe is that it only uses a small amount of coconut flour to hold together the overwhelming amount of chocolate fudge flavor! We even created an easy to follow recipe video which walks you through the step by step process of how to make keto brownies. Check it out below!
Tips For How to Make Keto Brownies With Coconut Flour
In our recipe testing we experimented with both almond flour and coconut flour brownie recipes. To our surprise, the coconut flour brownies actually came out fudgy and more flavorful. This is due to the fact that coconut flour is more absorbent than almond flour, so you need much less of it. This allows for the dark chocolate flavor to really shine. After so much testing of different recipes we can confidently say this is the best keto brownies recipe you'll find.
Use Cocoa Powder AND Bakers Chocolate
This combination is going to maximize the chocolate flavor and overall fudge factor of your brownies. Bakers chocolate is solid at room temperature so it is what helps hold these brownies together when they come out of the oven.
Mix Wet and Dry Ingredients Separately First
This is a standard practice when baking. You always want to mix the dry ingredients together in one bowl and the wet ingredients in a separate bowl, then combine the two. This creates a more consistent mixture and even distribution of flavor… and chocolate!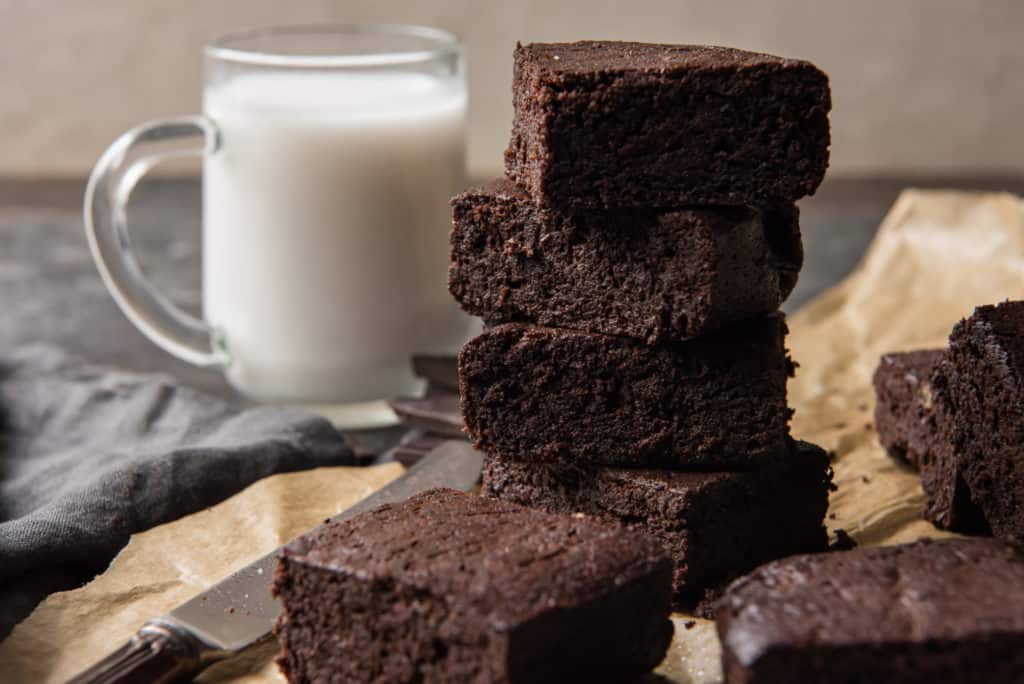 Choose the Right Keto Sweetener
Our sweetener of choice for this recipe is erythritol. If you're new to keto sweeteners then you may want to read up on them a bit before you jump into the kitchen. Erythritol is our preferred granular sweetener, we use it to replace sugar. Stevia is our preferred liquid sweetener and can be added to this brownie recipe if you want to increase the sweetness. Most of the time a combination of the two sweetener options will get you the most well rounded taste without any of the aftertaste that sugar replacements are known for.
Pro Tip: Find the combination of sweeteners that you most enjoy. Some people are very sensitive to the after taste that comes with stevia, while others can get bloated by using too much erythritol. Over time you will find what works best for you when making keto desserts.
Temperature Matters with Chocolate
Be mindful of the temperature of your batter mixture throughout this process. You want the chocolate to become liquid and not heat it any further than that. If the mixture gets too hot the chocolate can burn, or the eggs can begin to cook when you add them.
Don't Overbake The Keto Brownies
Keto baked goods can be tricky. They should often be taken out of the oven when they feel a little bit under done. As they cool they will firm up. As a rule of thumb, always err on the side of under cooking keto desserts.
Allow to Cool Completely
If you get impatient (which is understandable) then you may end up with a disaster on your hands. Keto brownies are notoriously crumbly until they cool completely.
Pro Tip: Put the finished brownies in the freezer to cool so you can eat them sooner. They take about 30 minutes to cool in the freezer.
Store in the Fridge (or Freezer)
As with all keto baked goods you're going to want to store these in the fridge. They will last for around 10 days in there. If you're anything life us though, you may want to store these keto brownies in the freezer. This makes for the perfect after dinner snack and extends the shelf life to one or two months. (If I'm being completely honest I've eaten these out of the freezer 6 months after we made them)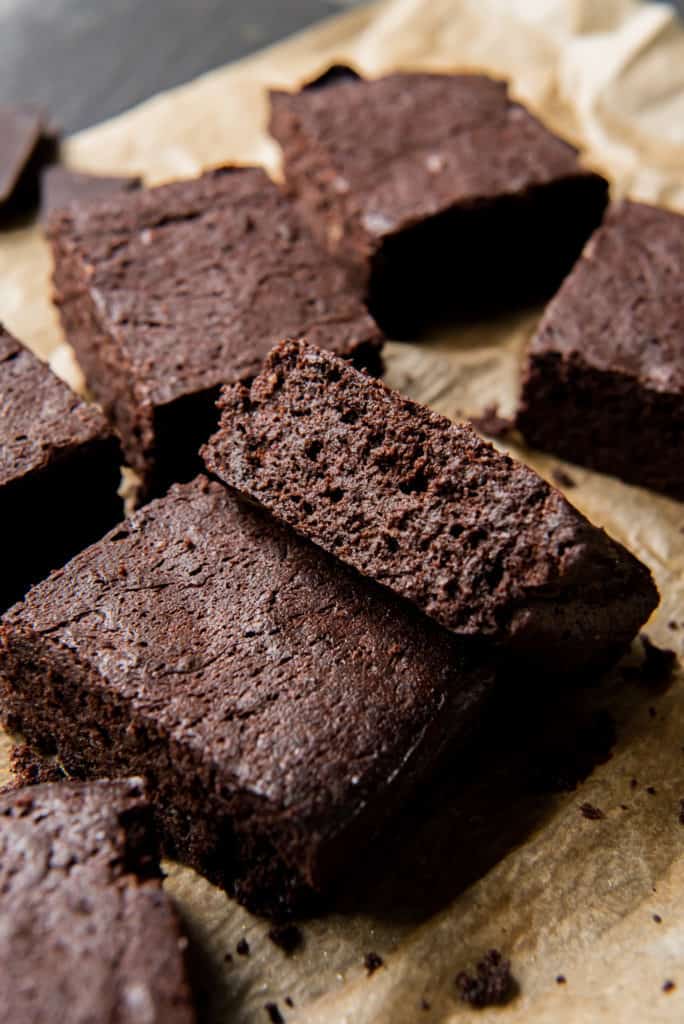 Are These the Best Keto Brownies?
There are so many brownie recipes out there and being that they are my all time favorite dessert I have gone through a lot of batches! Before this blog even started I was testing out other brownie recipes I found online, and nothing has compared or ever satisfied me like these have. I kid you not. Some were too dry, some were too oily and some just didn't taste like brownies at all. Once, Matt tried making me avocado brownies, and needless to say, they were a no go. Although, since writing this we have come up with a delicious avocado cookie recipe that you can take for a test drive.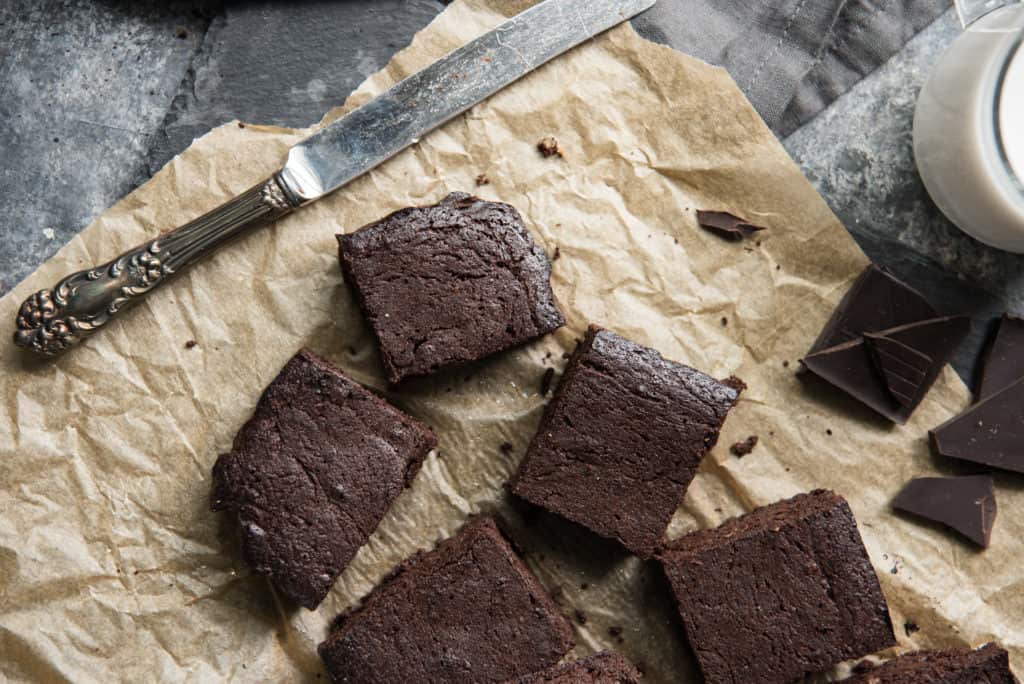 Looking for More Nut Free Keto Desserts?
Some other great dessert recipes of ours that don't use almond flour are:
Give those a try and let us know how they stand up against these fudgy Keto Brownies!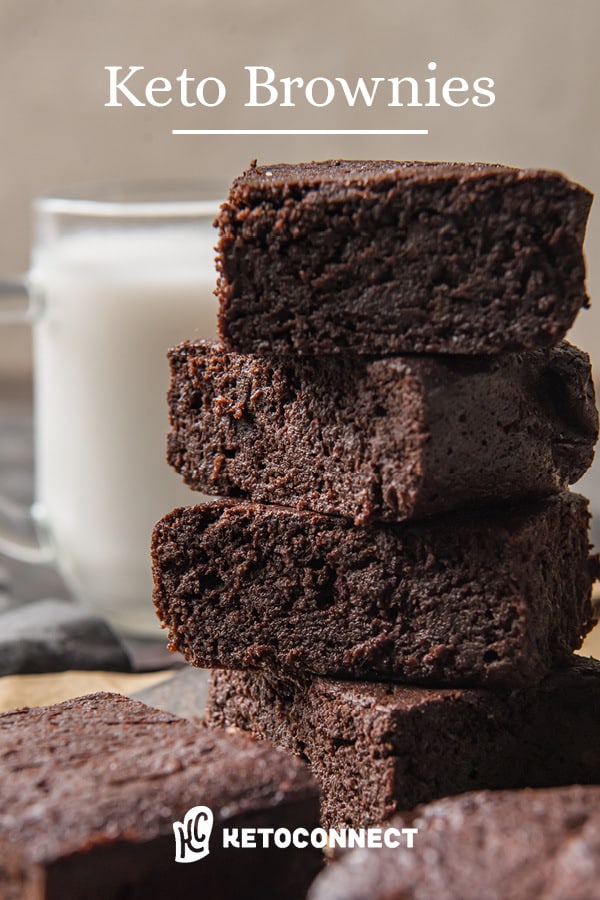 Recipe can be quickly added to MyFitnessPal – Search "KetoConnect – Keto Brownies"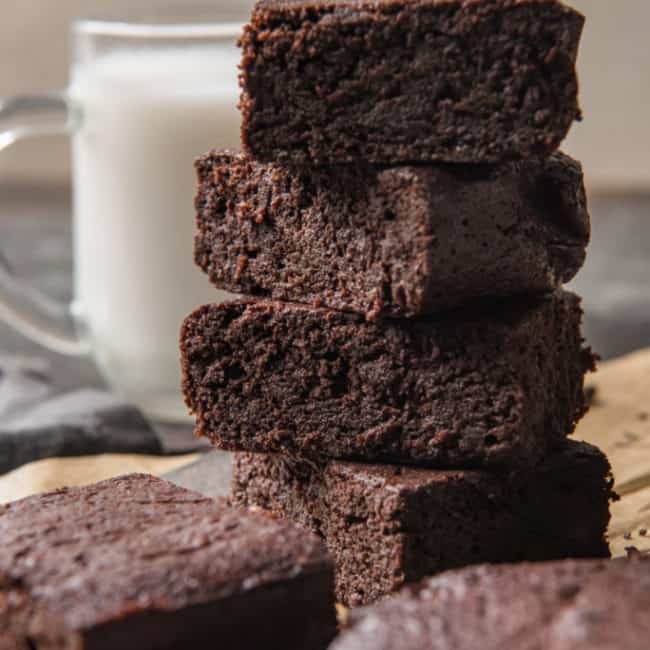 Keto Brownies
Total Time 1 hour
Servings 8 Brownies
Calories per serving 227kcal
Prep: 5 minutes
Cook: 55 minutes
Instructions:
Preheat oven to 325 degrees

Combine coco powder, coconut flour, and salt, and set aside

Add eyrthritol, eggs, vanilla and mix with a hand mixer. Mix until the volume of the mixture has tripled in size. This should take about 3-5 minutes on high.

In a 3rd bowl, melt together butter and bakers chocolate. This can be done using a double boiler method, or by repeatedly microwaving for 20s and mixing. If using the microwave be careful not to burn the chocolate.

Add egg mixture to the butter/chocolate mixture in 3 parts, folding in each time. Most of the erythritol will be at the bottom of the egg mixture, thats ok!

Once the wet ingredients are all combined, begin adding the dry ingredients. Add 1/3 of the dry mixture and fold into the wet. Repeat this process 3 times until all of the dry mixture is used and a homogeneous brownie batter is formed.

Place into a 325 degree oven for 50-55 minutes.
Nutrition Facts
Keto Brownies
Amount Per Serving
Calories 227 Calories from Fat 207
% Daily Value*
Fat 23g35%
Carbohydrates 5g2%
Fiber 2g8%
Protein 4g8%
* Percent Daily Values are based on a 2000 calorie diet.