The goal we had in mind when we created these muffins was to get them as chocolaty as humanly possible. We've achieved success! We're using 3 forms of chocolate in these muffins and still managed to keep them relatively keto friendly. Low carb chocolate muffins are the perfect breakfast for those days you want to treat yourself a little bit. We've made a video to show you how to make them step by step!
Chocolate Muffin!
We've been experimenting with a number of low carb flours lately and there was only 1 that was truly up to the job of harnessing all of this chocolate. Peanut flour! Peanut flour is a new item in our pantry and we are loving all of the possibilities it offers. I like to describe it as a middle ground between almond flour and coconut flour as far as liquid absorption goes. Almond flour is not absorbent at all, while coconut flour is hyper-absorbent. Discovering peanut flour has really opened up some new options for us since it adsorbs a good amount of liquid but doesn't get as dry and crumbly as coconut flour often does.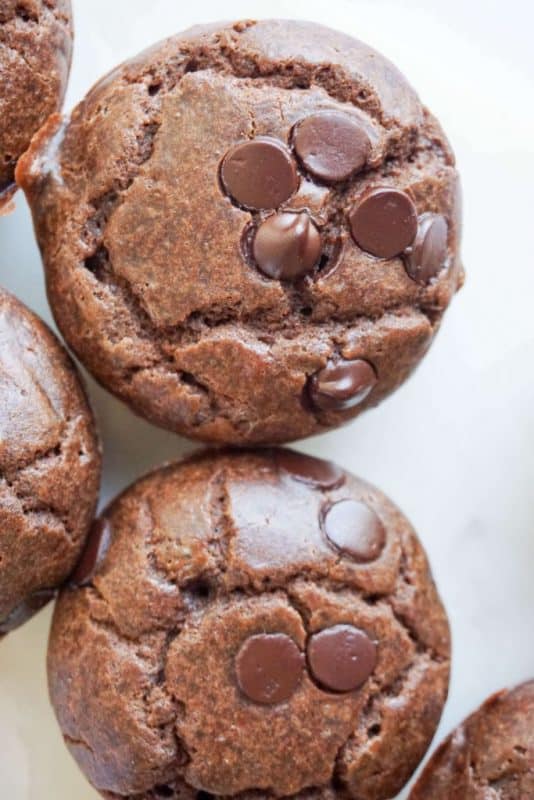 Low Carb Chocolates We Use
In this recipe we use 3 forms of chocolate, and these are the types we almost always have in our house:
Everyone has probably heard of cocoa powder before, but the other 2 might be new to you. Bakers chocolate is my absolute favorite. I often have a little block after dinner for a treat. At 1g net carbs per block this stuff is very keto friendly. It's not sweet AT ALL though. We use it to deliver that dark chocolate flavor we wanted in these muffins. Chopped chocolate is always a great addition to chocolate muffins!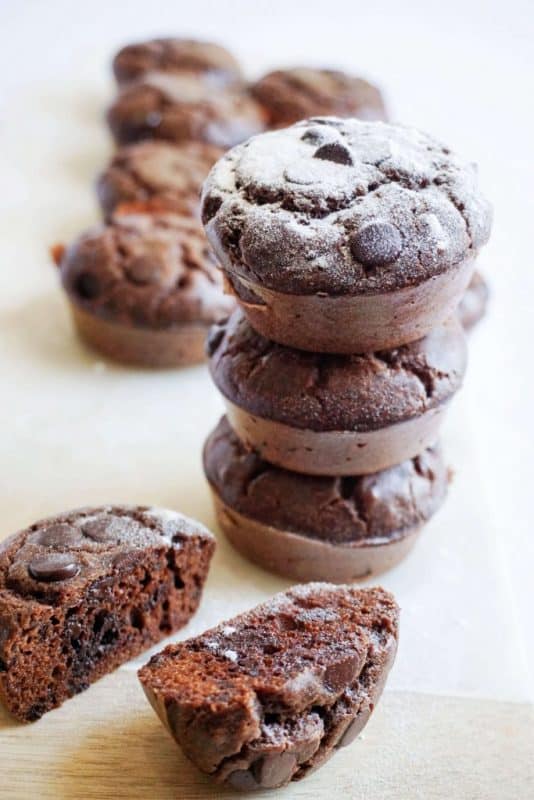 More Keto Muffins
If you're looking for more keto muffin recipes then have a look around our blog. Every single recipe is keto friendly and uses simple ingredients. A few of our readers favorite muffin recipes from our site are:
Keto Chocolate Chip Muffins – These muffins have the perfect amount of sweetness to satisfy your cravings, but won't kill your energy for the rest of the day.
Keto Blueberry Muffins – Everyone's favorite flavor muffin. These are great for breakfast or as an after dinner snack.
High Fiber Muffins – If you're looking for a bran muffin replacement on your keto diet then this is the recipe for you!
More Keto Chocolate Recipes
Lily's chocolate is another staple in our kitchen, however it can be quite pricey. A 9oz bag will generally run you $6-$8. These chocolate chips are what takes these muffins to the next level though. They are sweetened with stevia and add the slight sweetness you're looking for in a good chocolate muffin. If you can't find Lilly's you can add in some stevia or some extra erythritol to up the sweetness and you're all set.
If you're a chocolate fiend like us, try some of our other awesome chocolate keto recipes! We've got an awesome chocolate fudge cookie recipe as well as a delicious low carb chocolate cheesecake!
Search "Ketoconnect – Chocolate Muffins" On My Fitness Pal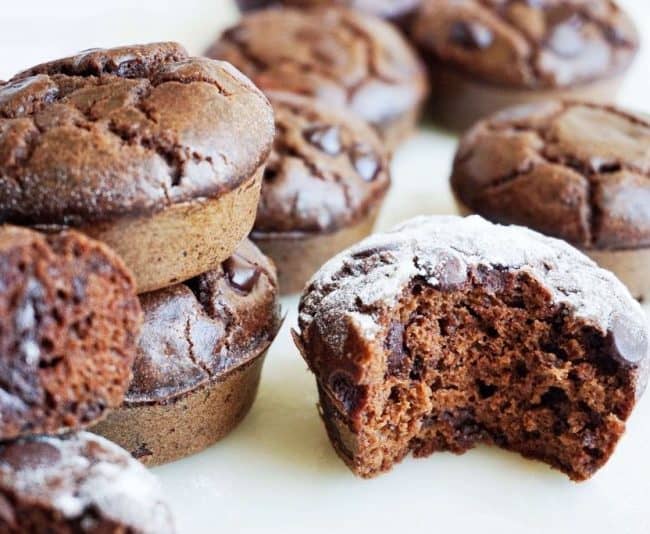 Low Carb Chocolate Muffins
These low carb chocolate muffins make a great breakfast, snack or make ahead option for keeping yourself on track!
Total Time 30 minutes
Servings 12 muffins
Calories per serving 112kcal
Prep Time: 10 minutes
Cook Time: 20 minutes
Instructions:
Start by combining dry ingredients. Thoroughly mix peanut flour, cocoa powder, erythritol, baking powder and salt.

In a separate bowl combine heavy cream and butter with a hand mixer.

Once combined add eggs and vanilla and mix until combined.

Add the dry ingredients to the wet and mix until combined.

Add all of the bakers chocolate and HALF of the Lilly's chocolate and fold together.

Scoop into muffin tins and top with the remaining Lilly's chocolate.

Bake at 350 for 20 minutes. Test with a toothpick. Enjoy!
Nutrition Facts
Low Carb Chocolate Muffins
Amount Per Serving
Calories 112 Calories from Fat 81
% Daily Value*
Fat 9g14%
Carbohydrates 4g1%
Fiber 2g8%
Protein 6g12%
* Percent Daily Values are based on a 2000 calorie diet.