We get asked all the time what the secret to our delicious and thick keto friendly hot chocolate is. Well, I'm here to tell you what it is, and exactly how you can make it at home tonight! Whether you are dairy free or not, this keto hot chocolate using canned coconut milk is going to blow your taste buds away.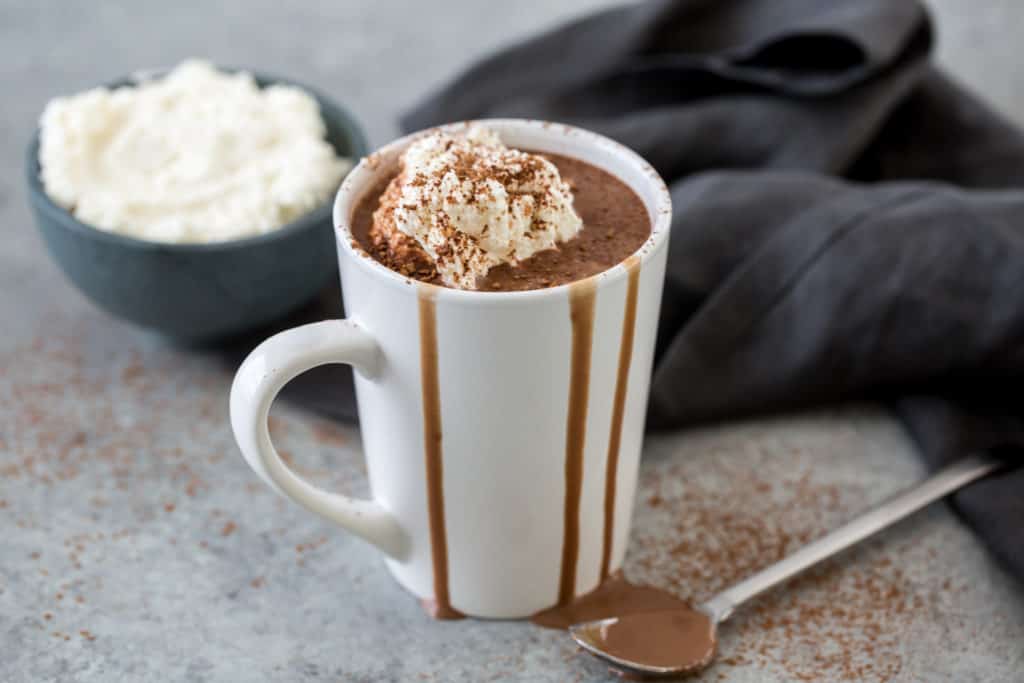 Dairy Free Hot Chocolate
Keto hot chocolate recipes are normally sugar free and gluten free, but not dairy free. We wanted to create an easy to make low carb keto friendly recipe that's thick and sweet just like the original. This dairy and gluten free keto recipe uses canned coconut milk to make a thick and delicious hot cocoa. The carb count is low and it cooks just like any other keto friendly milk. While you can use almond milk we really recommend canned coconut milk because it creates a much more decadent end product.
Is Chocolate Keto?
Cacao or the original form of chocolate is 100% keto friendly. Cacao is low carb, but also very bitter. It is the main ingredient that makes up dark chocolate. For this reason dark chocolate is keto, because it is mainly; or all cacao rather than a blend of cacao, milk solids, and sugar(1). We use a lot of bakers chocolate which is 100% cacao and works well in a variety of keto recipes. If bakers chocolate is too bitter for you, you can always add more stevia to the low carb hot chocolate mix.
Cocoa Powder on Keto
We made sure to again buy 100% cocoa powder. Don't be confused with any kind of hot cocoa mix or sweetened baking cocoa. Our favorites are Hershey's specially dark and Better Body Foods CACAO powder. Cacao powder is the unheated version of unsweetened cocoa powder and retains more antioxidants(2). Both unsweetened can be keto, it just depends on how much you want to spend.
Low Carb Chocolate
You will for sure have a variety of options online, and some in store as well. Store bought options will really vary on how sweet you want your hot cocoa. For a sweeter cocoa use the Lily's dark chocolate bars for a sugar free hot cocoa recipe. If you want a good dark chocolate store bought option we recommend 90-100% chocolate like the 100% bakers chocolate or 90% Lindtt chocolate bars.
Sugar Free Hot Chocolate
Our hot chocolate recipe is dairy free and sugar free. We felt making a recipe that was BOTH dairy and sugar free is vital because there are already so many heavy cream hot chocolates out there. This does pose its own problems though as we had to find a dairy free heavy cream option that was low sugar and still keto friendly. The sugar free hot chocolate base we settled on was canned coconut milk. It has the same thick texture as heavy cream without any of the dairy.
For the sweetener itself we chose liquid stevia. We find liquid stevia to do a good job sweetening this recipe alone without anything else added. If you don't like or have liquid stevia you can use erythritol or monk fruit instead. Just check to make sure your sugar free hot chocolate recipe has the right sweetness ratios.
Thick vs. Thin Hot Chocolate
We LOVE thick hot chocolate. I know this isn't for everyone, but I really think a thick keto hot chocolate is the best. It also works for dipping in cinnamon sugar donut holes or churros too because it's practically melted chocolate(Note: dip as in dip and bite this is not a glaze). For thicker hot chocolate make this recipe with no added almond milk, just canned coconut milk or coconut cream(the cream on top of canned coconut milk). Almond milk is thin and runny so the hot chocolate recipe won't be thick like with heavy whipping cream.
On the other hand, if you would much rather have thin hot chocolate use 1-2 cups of added almond milk. Almond milk and coconut milk will make a thinner dairy free option for low carb/ keto cocoa. The original recipe makes 3 servings, but with added milk you may get 4 or 5. The carb count and macros will change depending on what dairy free option you choose.
Try our keto chocolate milk recipe if you're looking for a more refreshing version of a chocolatey drink.
The Macros for Low Carb and Keto Hot Cocoa
We pride ourselves in making decadent keto recipes that are sugar and gluten free while still tasting like the original. This is one of the best hot chocolate recipes you'll ever try and it's super easy to make. Per serving (serving size 1/3 of recipe) it's only 2 net carbs, 279 calories, 27 grams of fat, and 1 gram of protein. There are 6 total carbs from the cocoa powder, but 4 grams of fiber making it 2 net carbs.
Topping Keto Hot Chocolate
Everyone knows a dollop of whipped cream makes the perfect topping for any keto hot chocolate recipe. If you want a dairy free option for whipped cream though, try whipped canned coconut cream. This is not coconut milk! Coconut cream is just the thick part on top of canned coconut milk. If you aren't dairy free you can just use regular heavy whipping cream made into whipped cream on your keto hot cocoa.
Another good topping is shaved chocolate, cinnamon, and a sprinkle of Mexican chili powder. This makes an Aztec style low carb hot chocolate.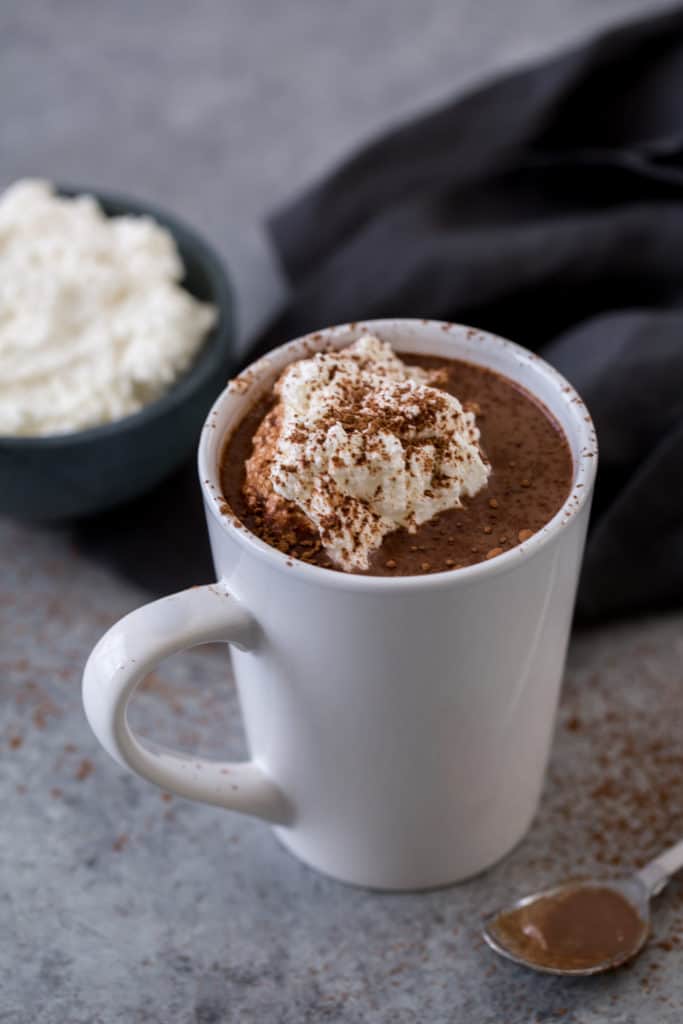 How to Make Keto Hot Chocolate
If you are ready to make our keto hot chocolate recipe get out a few ingredients and a pot. This low carb keto hot chocolate will be done before you know it!
Ingredients
The first and main ingredient of this dairy free hot chocolate is canned coconut milk. You can use unsweetened almond milk like in other low carb recipes, but know it will be much thinner. We specifically choose canned coconut milk because it is similar in viscosity to heavy cream. For the chocolate portion you will need unsweetened cocoa powder or cacao powder. As well as dark chocolate squares or a dark chocolate bar. We like anywhere between 90-100% chocolate for the lowest carbs.
The remaining ingredients you'll need are liquid stevia for sweetness (or any sweetener of choice), vanilla extract, and pink salt. Finally if you desire a thinner dairy free keto hot chocolate recipe you'll want almond milk or a nut milk of choice.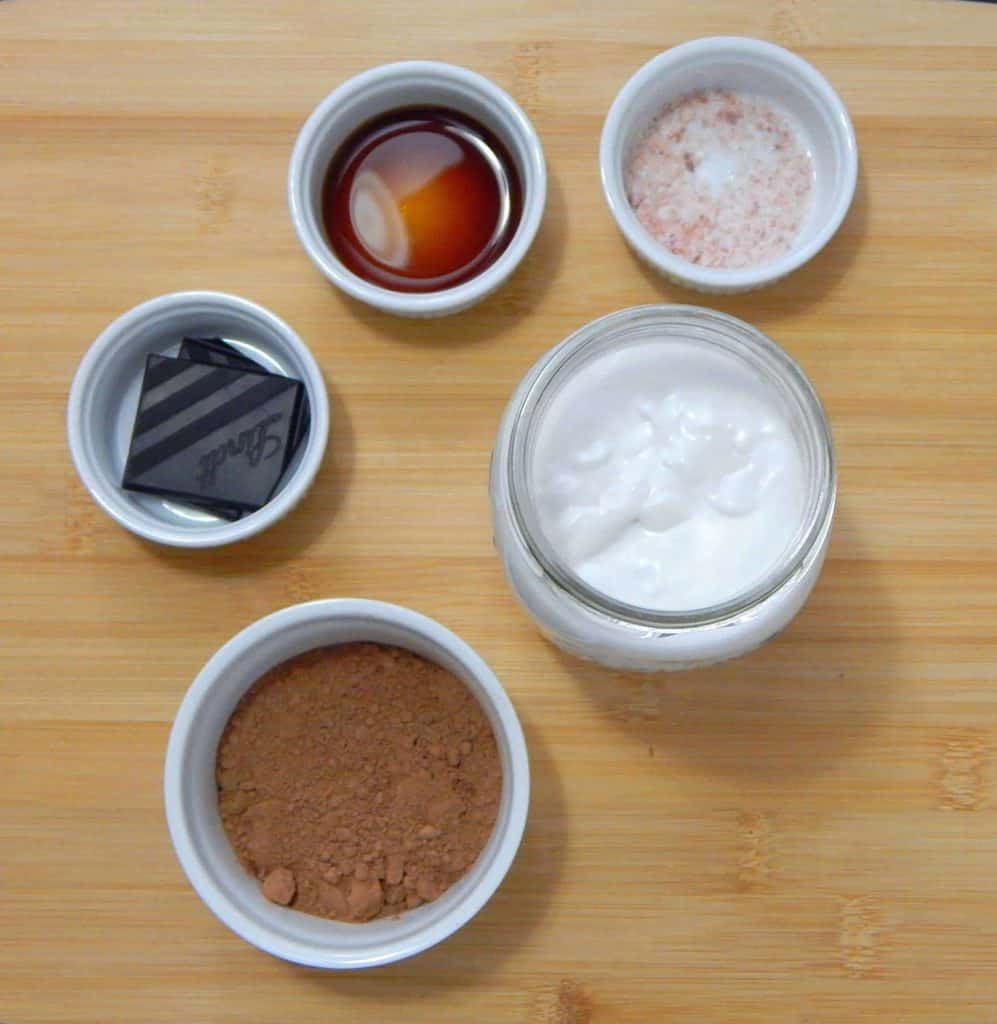 Making Low Carb Hot Chocolate
Begin by adding the cocoa powder, dark chocolate, vanilla extract, salt, and coconut milk to a small saucepan over low heat. Keep whisking until everything is dissolved and combined, you don't want any clumps of cocoa or burned chocolate.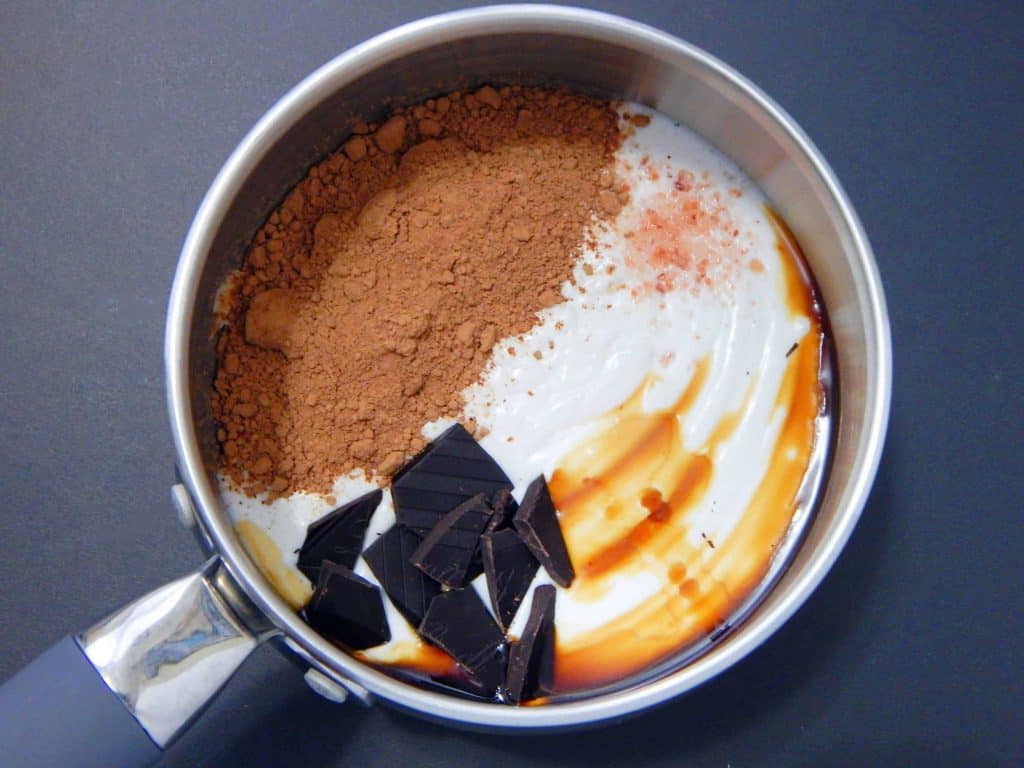 Start to simmer the hot cocoa and then add in almond milk if desired. You can now take it off of the heat and pour it into two- three mugs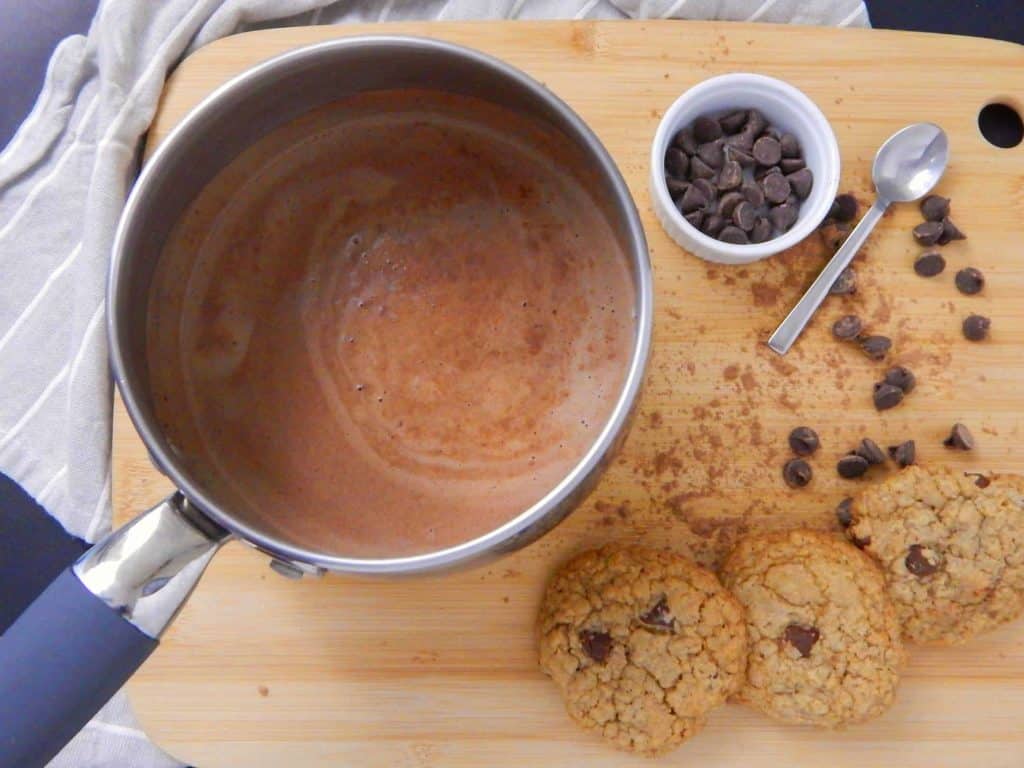 Top with whipped heavy cream or coconut cream and chocolate shavings.
Tips and Tricks for the Best Keto Hot Chocolate
Dairy: We've already given you the biggest trick for making this dairy free using canned coconut milk, however, if you don't have any on hand and love your dairy (we get it!) then you can swap in some heavy cream and still yield the same thick and delicious drink.
Sweeteners: While we like to use liquid stevia concentrate in this recipe any other sweetener you have on hand. You can use our sweetener conversion chart to quickly determine how much and which one to use to perfectly sweeten your keto hot chocolate!
Add-ins: anything that tastes like chocolate can be added to this hot drink. If you don't have chocolate bar on hand you can just increase the amount of cocoa powder, swap in some lilys chocolate chips or add some of my personal favorite, chocolate MCT powder or chocolate collagen from Perfect Keto!
Stovetop or Microwave
We are asked quite often if we can make this recipe in the microwave. The microwave has a few issues which is why we don't recommend it.
The recipe makes 2 servings- this recipe makes 2-3 servings depending on how much and which milks you use. It is already just too much volume to put in one mug and stick in the microwave.
Uneven heating- The microwave is notorious for uneven heating and cooking of food. You will more likely than not have chocolate sink to the bottom of the mug and burn.
It's hard to mix- Mixing clumps of cocoa powder can be difficult without extra space in a pot.
These are just a few reasons why we don't think the microwave does a good job at properly heating and cooking our cocoa. If you do decide to microwave the recipe make sure to stir well every 30 seconds and leave room at the top of your mug for mixing. By the time you've cooked three in the microwave though your pot on the stove would have been ready ? .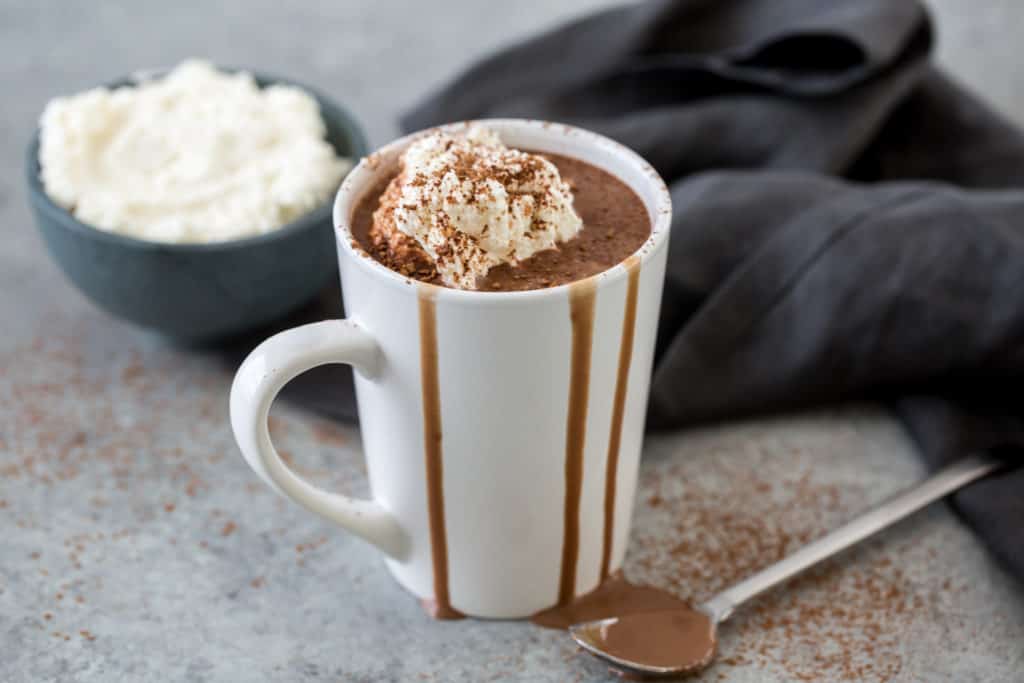 What Hot Drinks Can You Have On Keto?
People often find a keto or low carb diet to feel restrictive, but truth be told there are so many replacements available these days that you won't feel like you're missing out!
Something you may be unfamiliar with when starting out, but will grow to love is bulletproof coffee. Our tried and true recipe will quickly make you a convert and leave you satiated all morning long!
Additionally, if you love this hot chocolate recipe, but want to change things up you can make our keto white hot chocolate and rediscover your love for white chocolate while staying low carb!
Easy Keto Desserts
We all have those nights where we want a dessert so bad, but we don't want to put in the work to bake up a batch of cookies or brownies. To be honest, those are most of our nights.
If you decide you have the time to bake something I highly recommend you make 2-3 batches at a time and freeze them so you always have something to turn to. The majority of our desserts freeze well and taste delicious right out of the freezer, especially our chewy chocolate chip cookies!
If your freezer stash has already been wiped out; but you still need something sweet, you can quickly whip up a mug cake or protein waffles. You can thank us later!
Dairy Free Keto Hot Chocolate
This recipe is coming in hot (pun intended) and will leave your sweet tooth satisfied. It's a great way to up your fat for the day and top off the night when you're not feeling up to a bake sesh in the kitchen. If hot chocolate was never your thing we guarantee this keto version will be!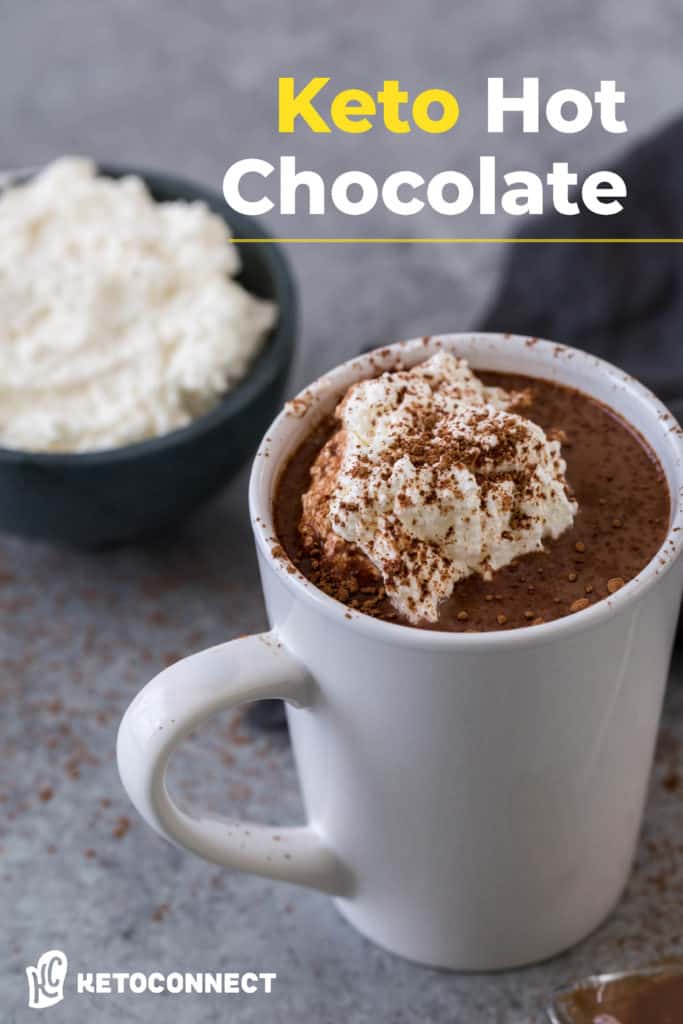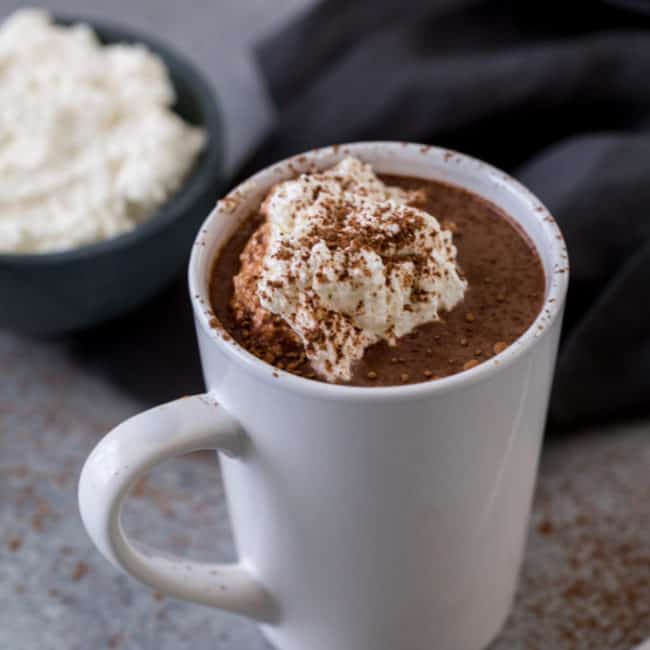 Keto Hot Chocolate | Dairy Free!
Our Keto Hot Chocolate combines dark chocolate squares and canned coconut milk for a dairy free twist on a classic thick hot chocolate recipe!
Total Time 10 minutes
Servings 3 servings
Calories per serving 279kcal
Instructions:
Add coconut milk, cocoa powder, dark chocolate, stevia, vanilla extract and salt to a small saucepan over low heat.

Whisk to combine until everything is completely dissolved.

Bring to a simmer and add nut milk to increase volume, if desired.

Remove from heat and pour into two mugs. Serve immediately.
Notes
Net Carbs: 2g
Yields: 3 servings
Nutrition Facts
Keto Hot Chocolate | Dairy Free!
Amount Per Serving
Calories 279 Calories from Fat 243
% Daily Value*
Fat 27g42%
Carbohydrates 6g2%
Fiber 4g16%
Protein 1g2%
* Percent Daily Values are based on a 2000 calorie diet.
Written By