Everyone loves a classic vanillas cupcake with chocolate frosting, right?! I don't think I've ever met a person who prefers a chocolate cake with a vanilla frosting, but if that is you please comment down below and let me know what does it for you! Either way you take your cupcakes, this classic keto cupcake recipe is the perfect dessert recipe to have in your arsenal for upcoming birthday parties or bake sales!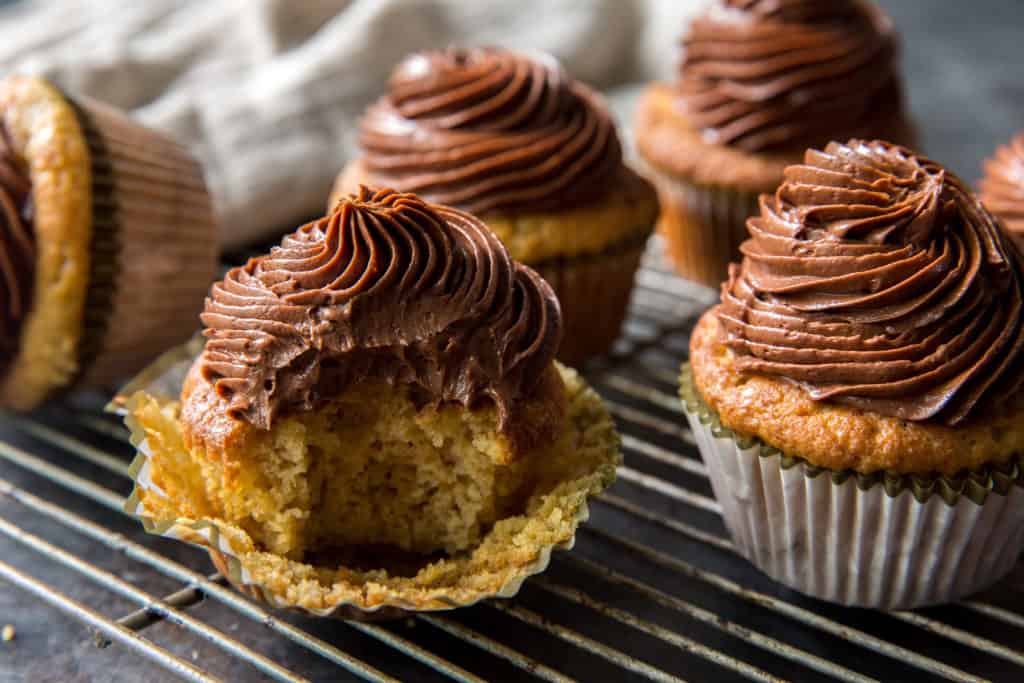 Keto Cupcakes And Mug Cakes Galore!
I've always been a huge cupcake lover! I prefer it to cake, cookies or even brownies any day of the week. So, naturally I also love mug cakes. Our food blog has lots to choose from, but of course, I have to share some of my favorite with you here.
What Are Keto Cupcakes Made Of?
This is a great question for two reasons. First, it's important to know that ratio of almond to coconut flour in order to achieve the best consistency. Second, real cupcakes are just so darn good, so can you even replicate them in a low carb version?!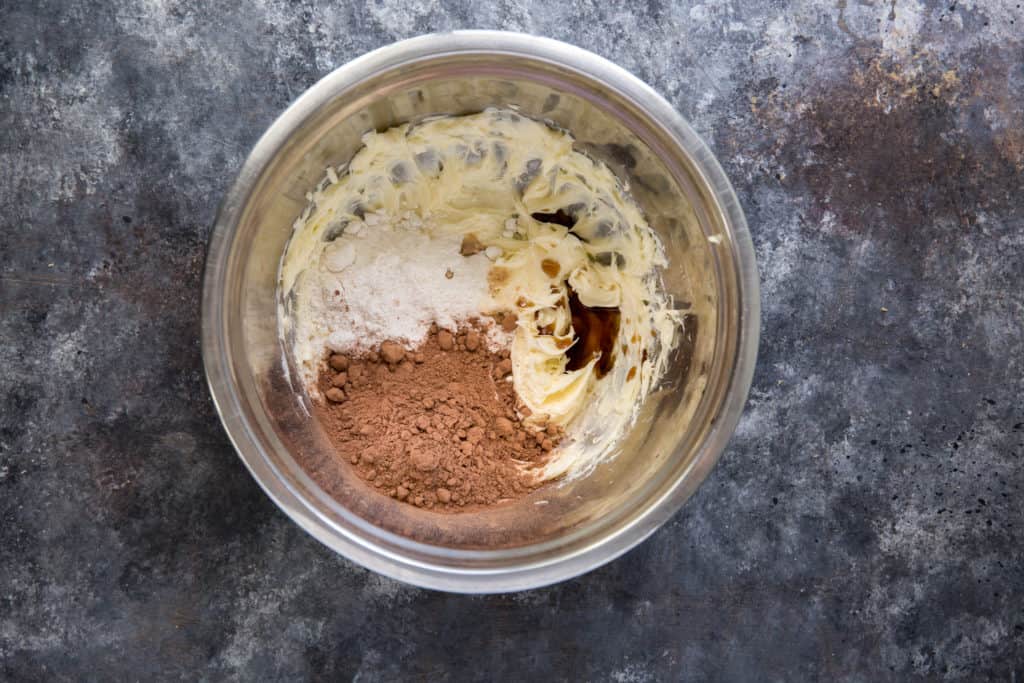 I'll start by saying that most keto baked goods use a mix of almond flour and coconut flour. Almond flour alone can be too soft and not absorbent enough to stay together after baked, while coconut flour is very absorbent and can often result in a dry crumbly baked good.
The next reason to know what keto cupcakes are made of is to address the age old question of "is it even good if it's low carb?" Well, i'm here to tell and show you (in the video below) that low carb cupcakes will leave you satisfied and forgetting about the high carb sugar bombs you used to eat. They are healthier for you and your family and still come out moist, dense, rich and cupcake shaped. We won't steer you wrong!
Cool Before Frosting!
I know it's hard to wait, but this step is very crucial. If your cupcakes are not fully cooled the frosting will melt off and create a huge mess! This would be very unfortunate, especially if you took the time to pipe the frosting on to the cupcakes like seen in the photos!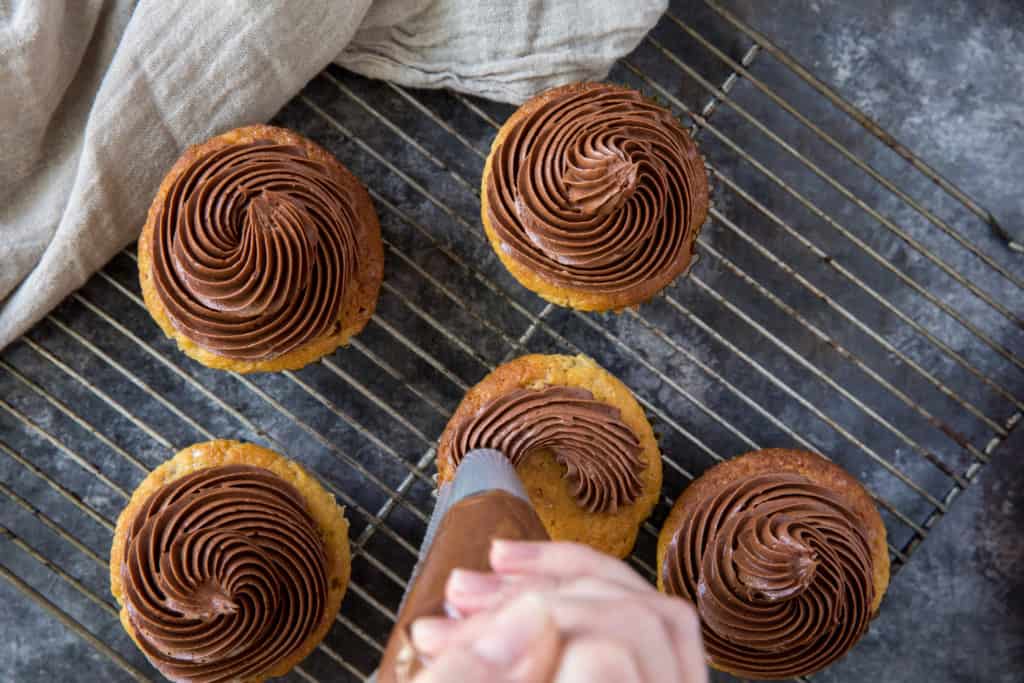 You can quicken the cooling process by putting the baked cupcakes in the fridge or freezer, which is what we often do. You can even make these in advance, store the cupcakes and frosting separately in the fridge, and assemble right before being served.
Easy Keto Cupcakes
These vanilla keto cupcakes with chocolate frosting are going to be the hit of your next birthday bash! You can even snag some low carb sprinkles and decorate them for a more festive look. Feel free to use the keto cupcake recipe as a base, and jazz it up with fillings and spices.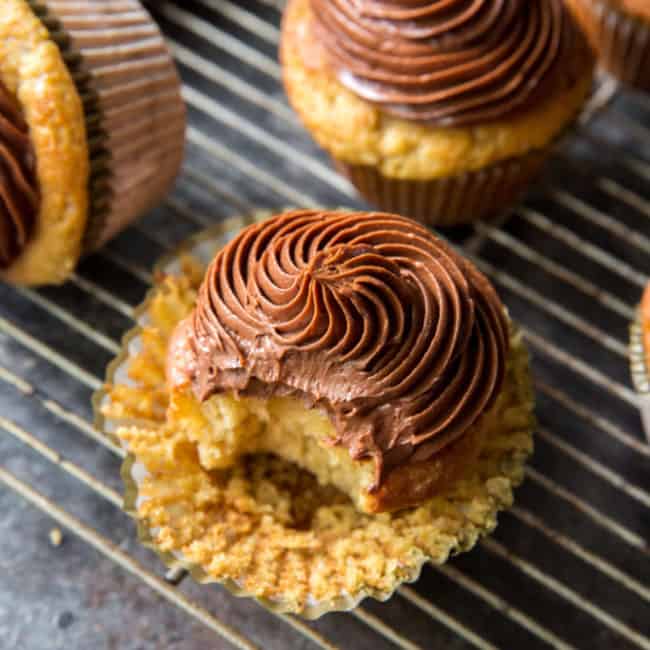 Vanilla Keto Cupcakes
These keto cupcakes are easy to make and combine a moist vanilla cake and rich chocolate frosting for the perfect birthday or holiday dessert!
Total Time 1 hour 5 minutes
Servings 12 Cupcakes
Calories per serving 308kcal
Prep Time: 10 minutes
Cooling Time: 30 minutes
Cook Time: 25 minutes
Instructions:
Cupcakes
Preheat oven to 350°F and line a muffin tin with cupcake liners or grease with coconut oil spray. Set aside.

In a medium bowl, whisk together almond flour, coconut flour, erythritol, baking powder, baking soda, and salt

In a separate bowl, mix eggs, melted butter, stevia, and vanilla. Add the wet ingredients to the dry ingredients and mix until just combined.

Divide the batter between the cupcake liners, filing them ¾ of the way full. Bake for 20-25 minutes, until a toothpick inserted in the middle of a cupcake comes out clean.

Allow to cool completely prior to frosting.
Frosting
Add the butter to a large bowl and beat with a hand mixer until fluffy.

Next, add cocoa powder, swerve and vanilla to the bowl. Beat until thoroughly mixed and smooth.

If frosting is too thick, beat in milk alternative or cream, 1 tbsp at a time until frosting reaches desired consistency.

Cupcakes are best stored in an air tight container in the fridge up to 10 days.

Note: the nutrition below is for each frosted cupcake if all the frosting was used. If you don't use all the frosting the macros (fat grams in particular) will be much lower.
Notes
Net Carbs: 3g
Serving Size: 1 frosted cupcake
Nutrition Facts
Vanilla Keto Cupcakes
Amount Per Serving
Calories 308 Calories from Fat 270
% Daily Value*
Fat 30g46%
Carbohydrates 6g2%
Fiber 3g12%
Protein 7g14%
* Percent Daily Values are based on a 2000 calorie diet.