Everyone knows sometimes you just need a little something sweet, like NOW. There's no time to put together a boxed brownie and wait for it in the oven, we need dessert! That's why we created the best dense and fudgy keto mug brownie that's gluten free and ready in under 5 minutes.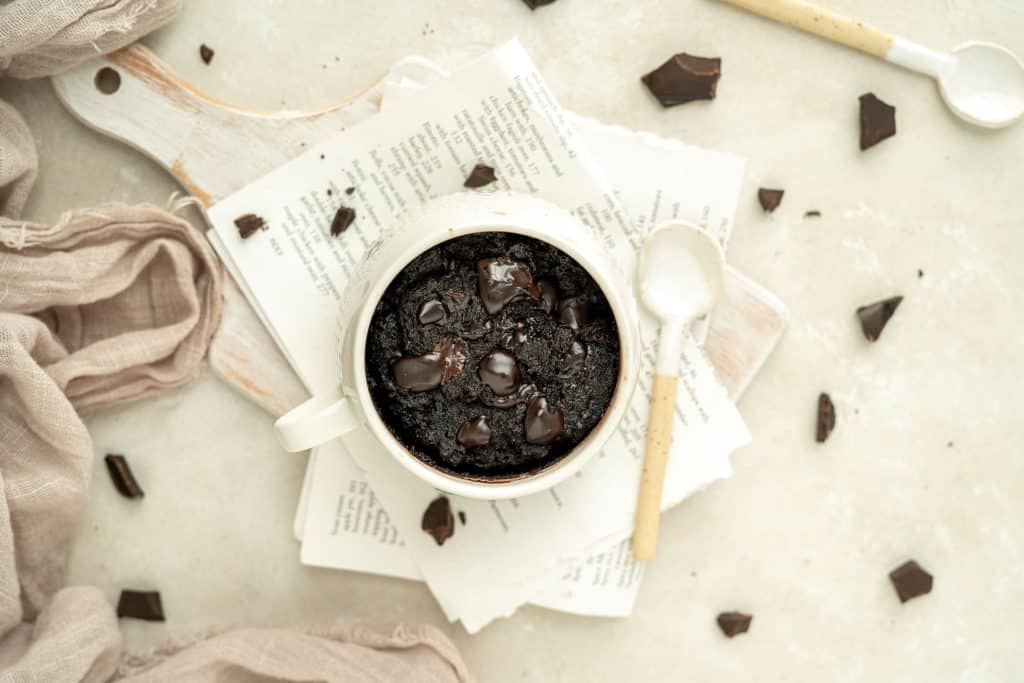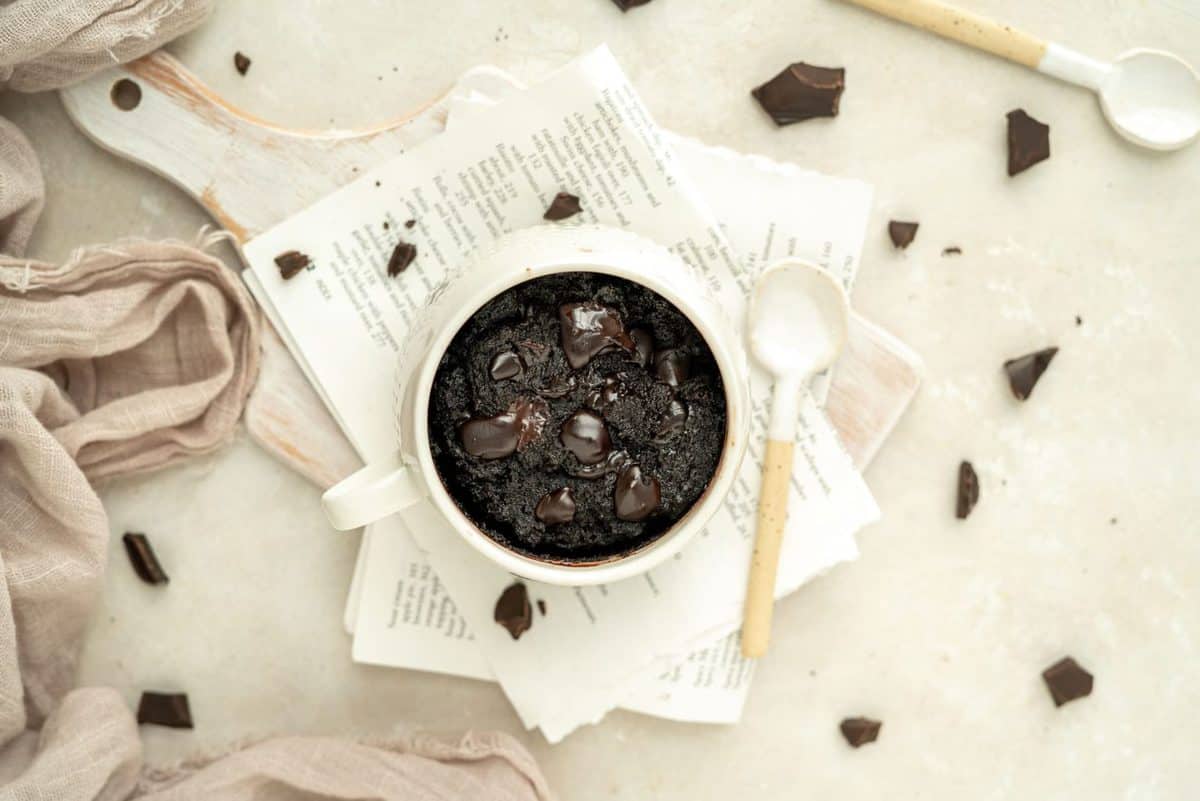 Gluten Free Brownie in a mug
If you are gluten intolerant or just watching your overall carb intake, this is going to be the recipe for you. The only "flours" you will need are coconut flour and cocoa powder. We chose to use coconut flour instead of almond flour because we feel it has a better overall texture in this recipe. Plus a keto mug brownie would require close to a 1/4 of almond flour which may cause gas and bloating from all the nuts.
Benefits to Avoiding Gluten
Gluten has been known to cause a lot of stomach and gut distress as well as inflammation. More people than you would think are gluten intolerant and have problems processing this grain. A big benefit to keto is the reduction in inflammation by cutting out gluten(1). Gluten can also damage your intestines making the absorption of nutrients more difficult(2). If you aren't sure what benefits come with avoiding gluten, hopefully you now know!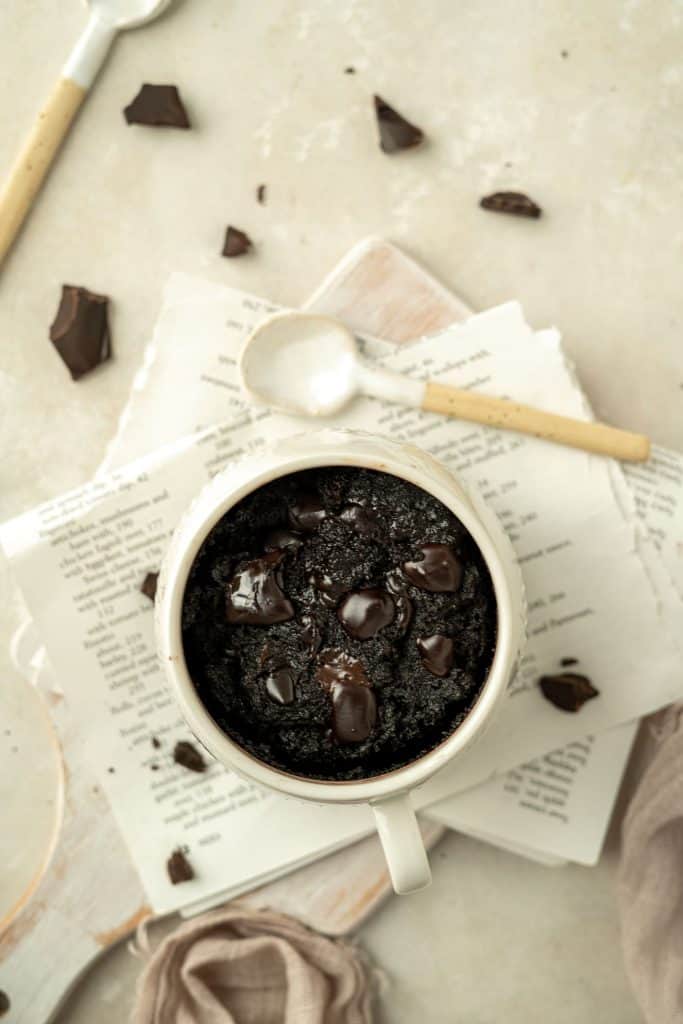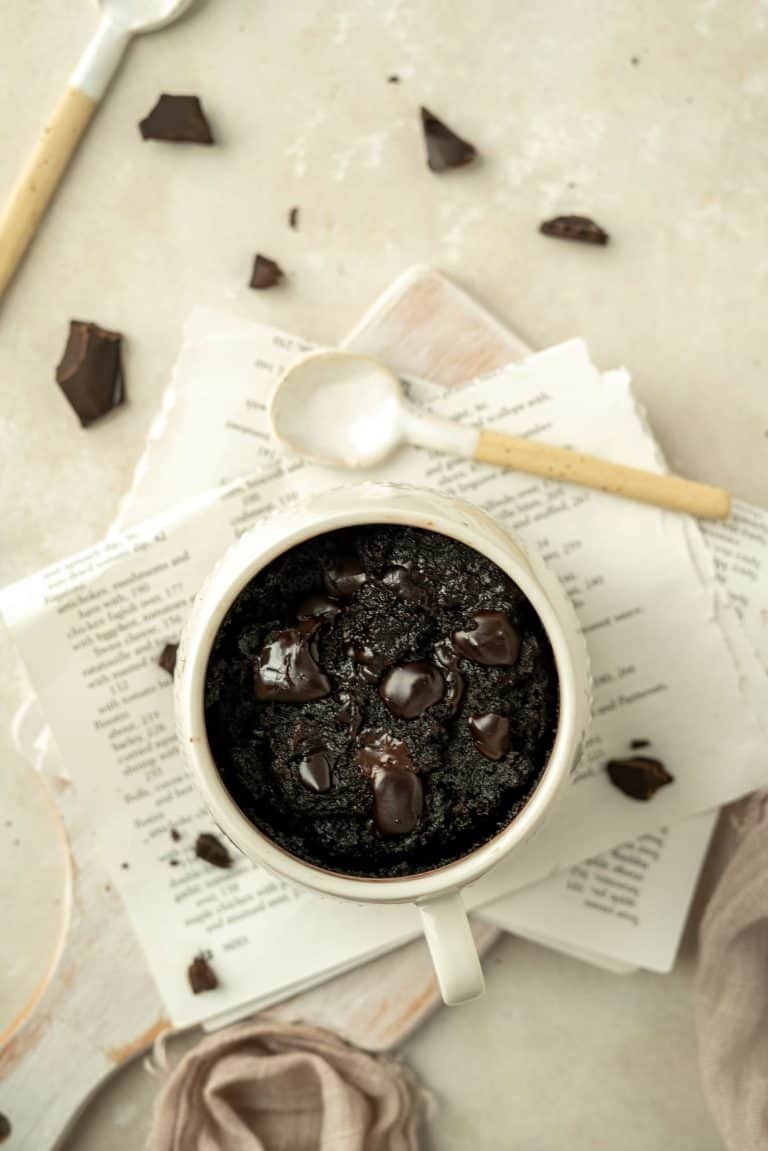 A Keto Mug Cake That's Nut-Free
If you have a nut allergy you have to try this chocolate brownie mug cake. A base of coconut flour means you don't have to fret over nuts or almond flour filling your dessert. Most often mug cake recipes call for almond flour, but we know what it's like to be avoiding or limiting nuts and wanted to have a nut-free option. If you aren't nut-free you can make this keto mug brownie with a spoonful of almond butter or peanut butter inside for extra fun.
Can I Make a Dairy Free Keto Mug Brownie?
Our low carb recipes are always formulated to have the best taste and texture possible. That being said, changing any one ingredient may cause a change in taste or texture. If you want to make your low carb keto mug brownie dairy free you will have to sub the butter and cream for different ingredients. To do this you can:
Subbing the butter and cream isn't recommended, but it is possible. You can always try vegan or dairy free products we just try to avoid them because of the lower quality ingredients. When in doubt just keep your keto brownie low in net carbs.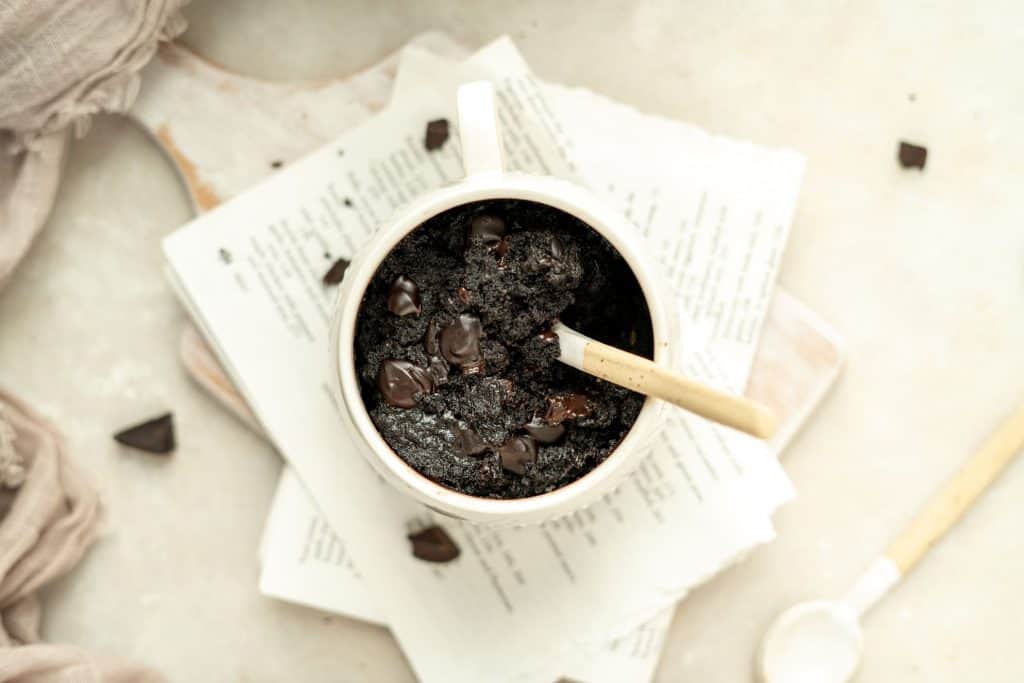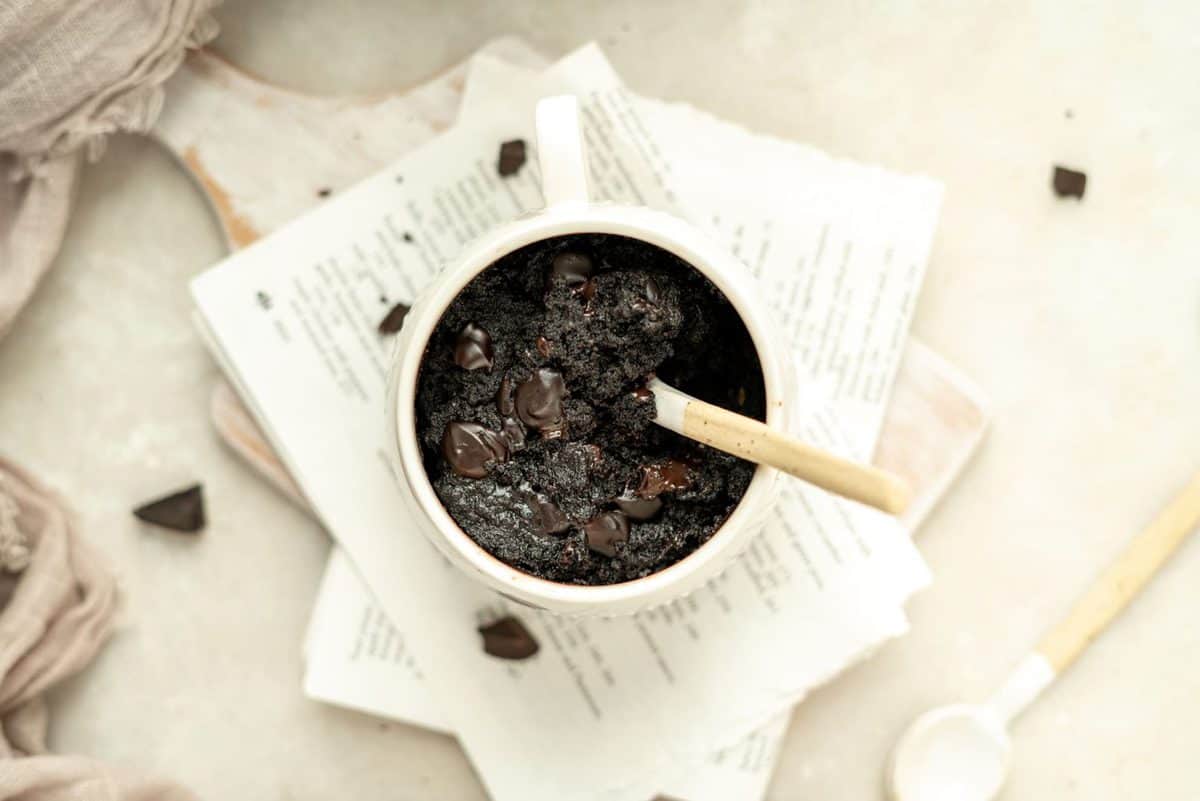 The Best Sugar Free Keto Mug Brownie
This keto brownie in a mug is the perfect low carb and sugar free treat to enjoy after dinner. You can top it with everything from chocolate chips to keto ice cream. We save you the carbs and calories by making this chocolate mug cake brownie with sugar free sweetener. The sweetener we used was granular erythritol because it is low in net carbs and gluten free. Any granular keto sweetener should work so long as it's low in net carbs. Some other options include:
Enjoy your keto mug brownie without all the sugar and almond flour. Making this keto mug brownie without sugar means you can use more toppings like freshly whipped cream and chocolate chips.
How to Make A Keto Mug Brownie
Now that it's time to get baking we can start preparing the mug brownie. Get out your microwave safe mug and let's begin.
Ingredients
For this mug brownie you will need Unsweetened Cocoa Powder and Coconut flour as the base flours. You will also need baking powder (baking powder not baking soda), granular sweetener, salt, and heavy cream. Both heavy cream and egg yolks are going to provide fat to make the brownie moist. Finally you will need butter (you can melt the butter in your mug) and 90% dark chocolate.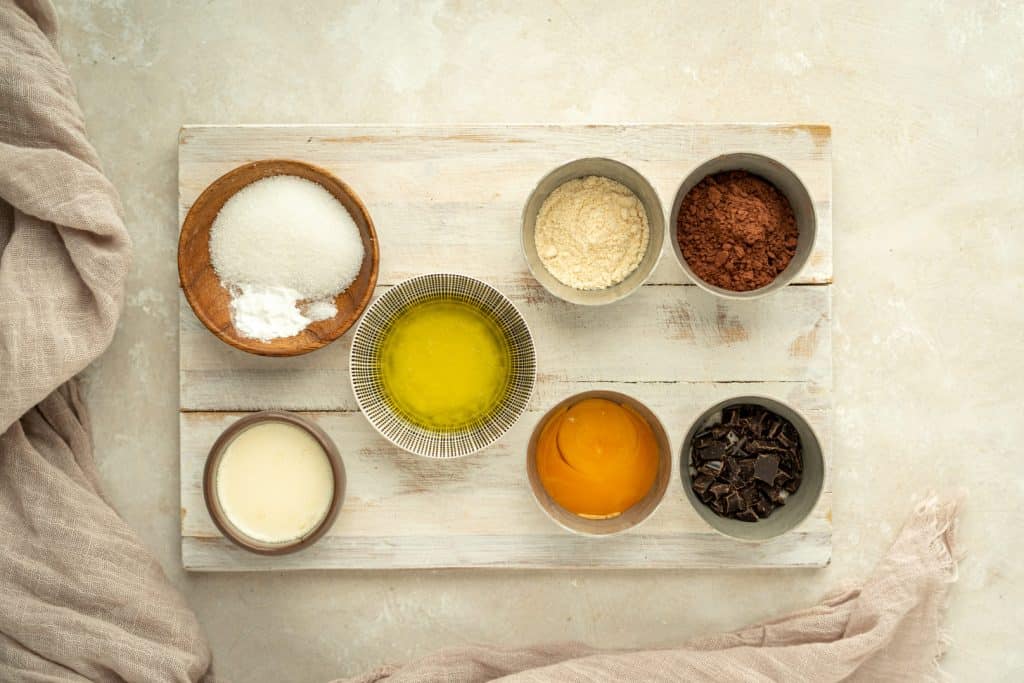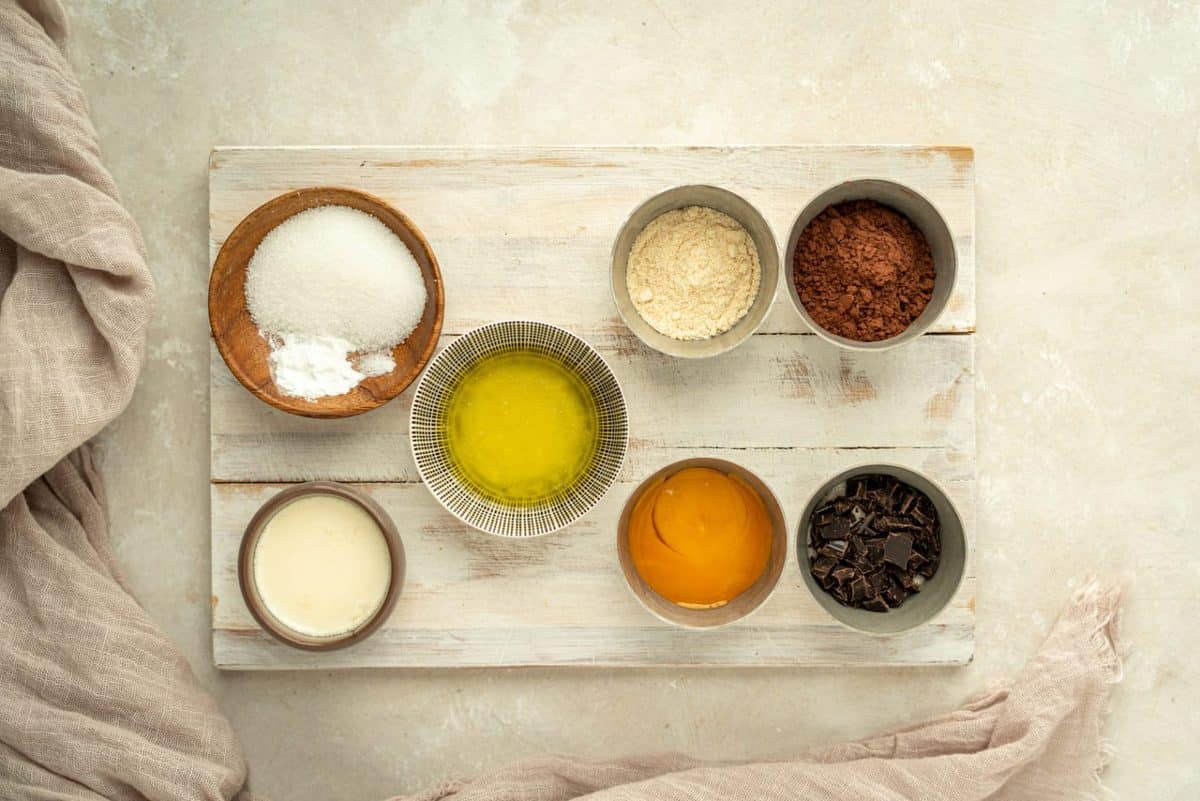 Preparing a Keto Mug Brownie
To begin making your mug brownie recipe combine and mix the dry ingredients in a mug.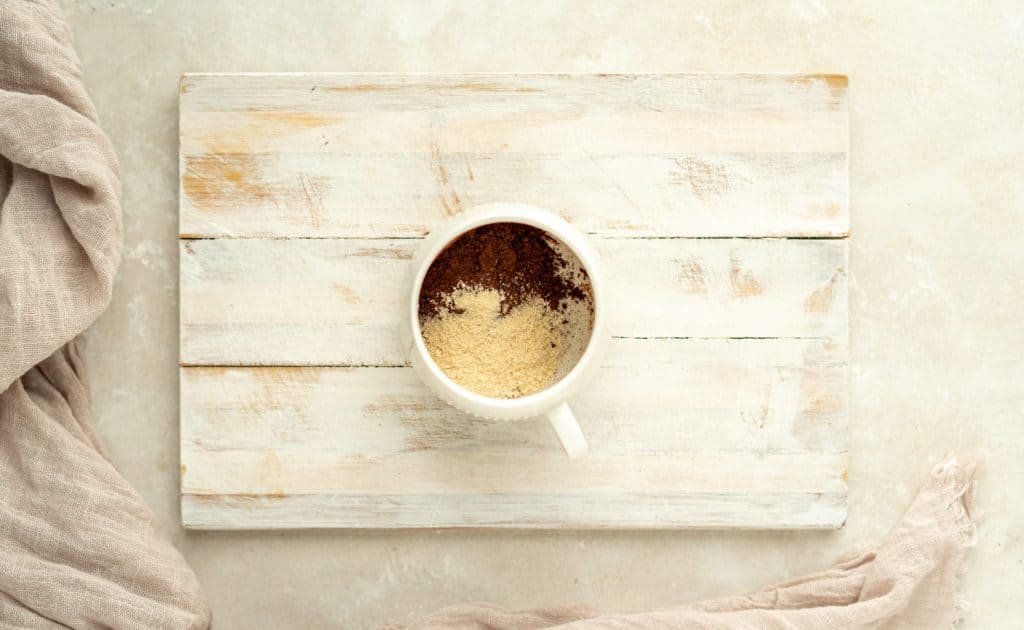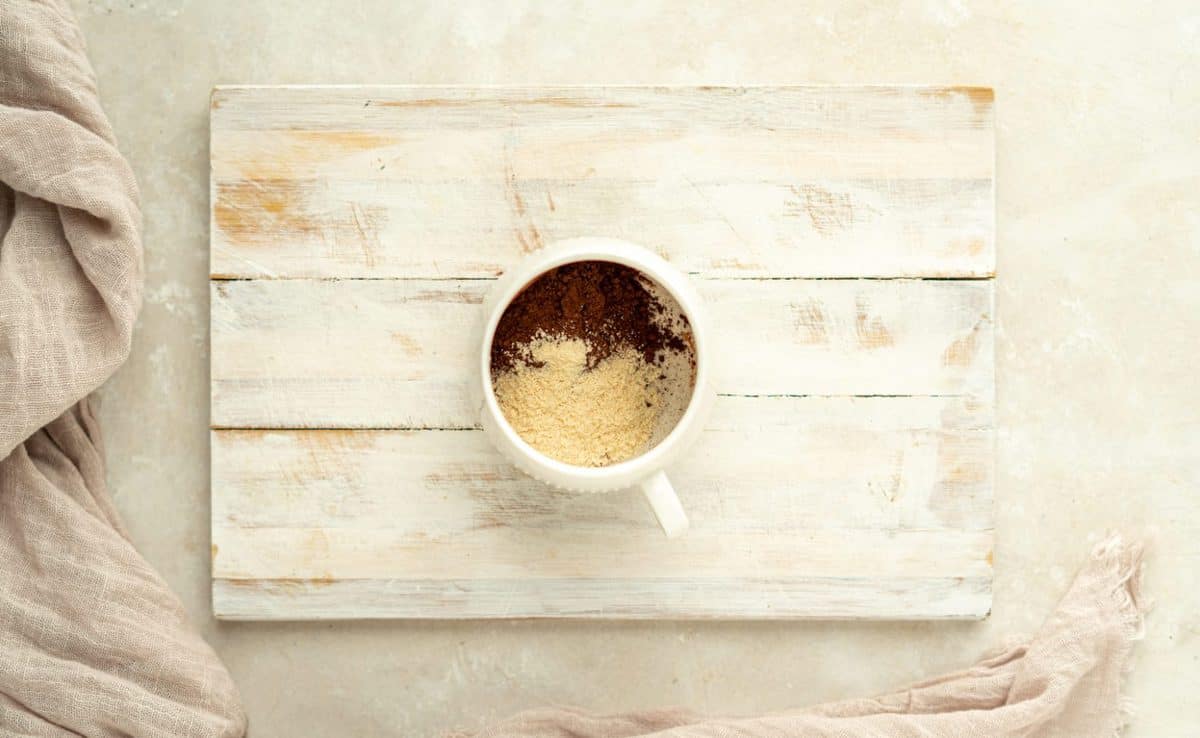 Then add the wet ingredients continuing to whisk until combined.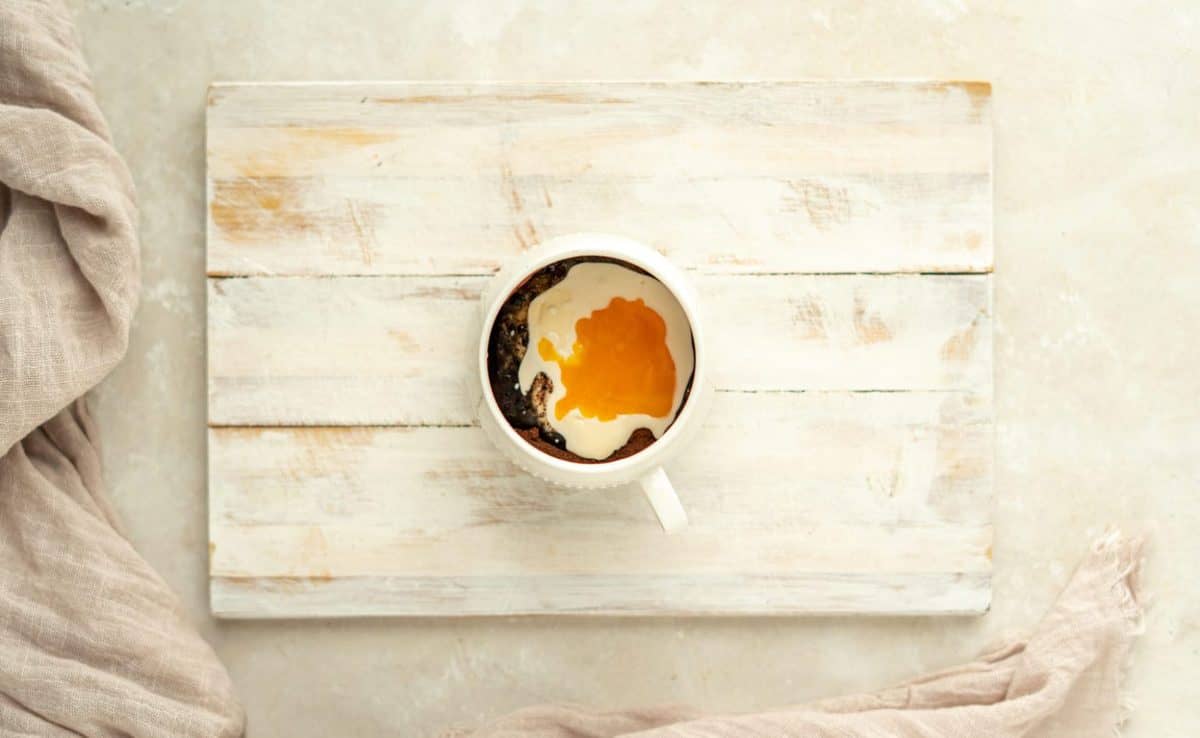 Once the brownie recipe is evenly mixed add your chopped chocolate on top. Microwave the mug cake for 50-70 seconds, depending on the power of your microwave. I love a really fudgy brownie so i'll often make the recipe a bit underdone. That's about 50-60 seconds. Give the brownie a chance to cool before eating it. Then go crazy with the toppings!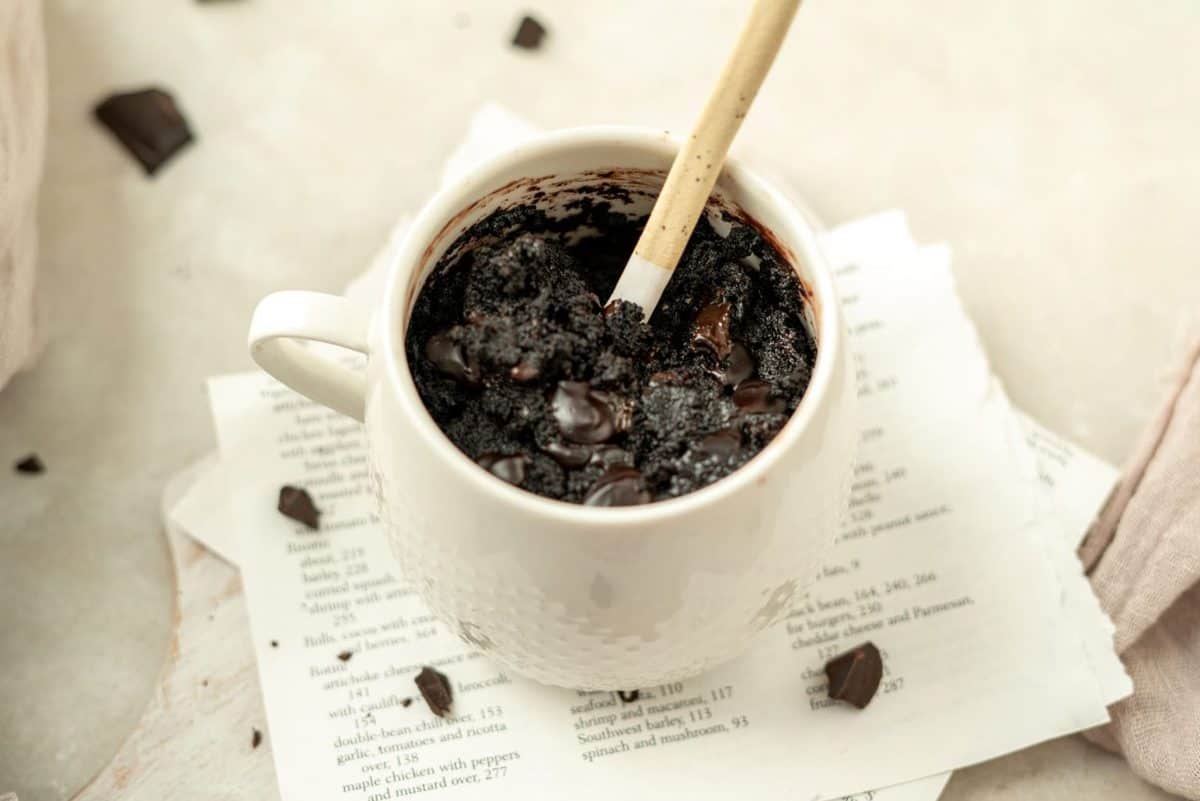 How to top Your Low Carb Mug Brownie
Topping a chocolate brownie really depends on the person. Some love just whipped cream or fresh vanilla ice cream, and others like every topping under the sun. What you top with is up to you, but some of our personal topping favorites are:
Toppings are the best part of all keto recipes so don't be afraid to get heavy handed. Add a little bit of everything next time and do exactly what your heart desires!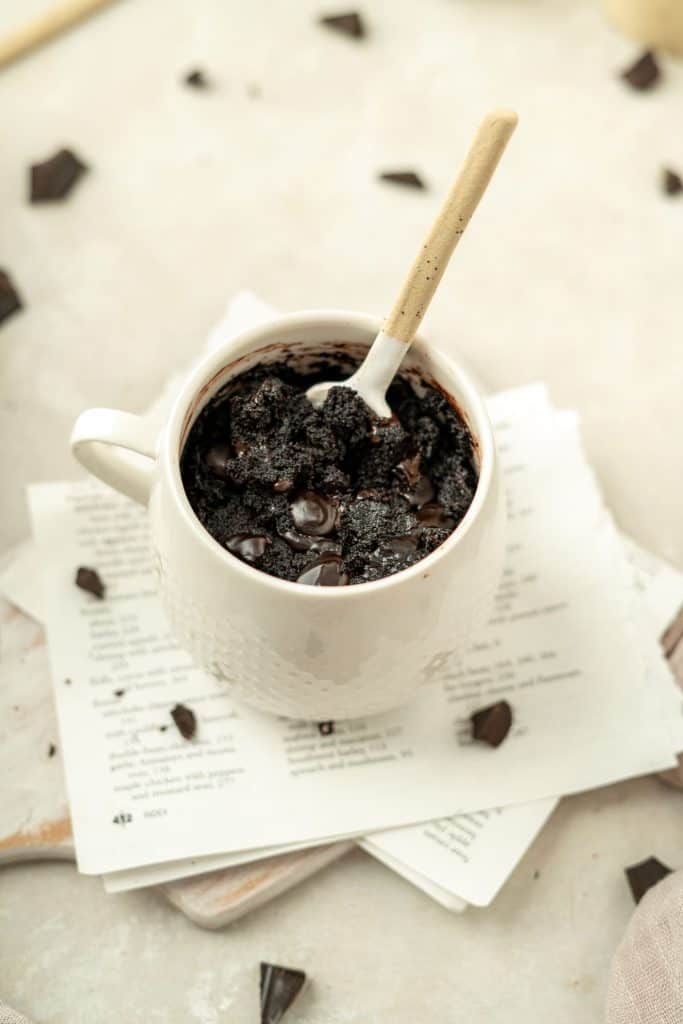 More Keto Desserts
The next time you want to try new keto recipes check out some of these delicious desserts. Our favorites are:
We love desserts and certainly don't discriminate on the type! Almond milk, unsweetened cocoa powder, almond butter whatever ingredients you have, we've got a dessert with it. So get creative and start baking.
Keto Mug Brownie
This is one of the best mug brownie recipes out there. Not only is it free from soy and sugar, but it's also low carb and gluten free. It's a staple recipe for anyone with a sweet tooth who wants to enjoy a treat each evening without overdoing it on the carbs. Enjoy this recipe and let us know what you think below!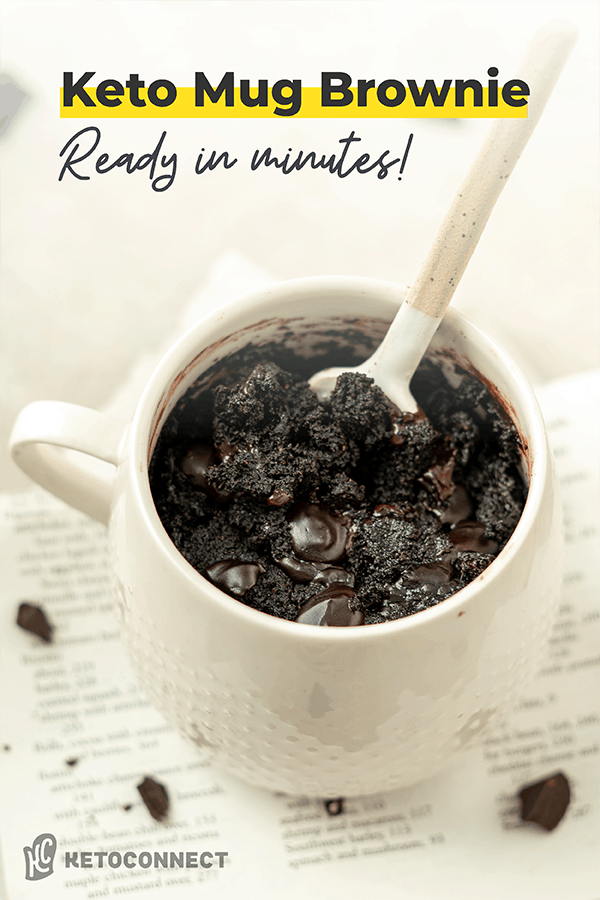 Keto Mug Brownie
A warm and fudgy keto mug brownie that's perfectly portioned just for you!
Servings 1
Calories per serving 417kcal
Prep Time: 3 minutes
Cook Time: 2 minutes
Instructions:
In a microwave safe mug, mix in all the dry ingredients.

Add the wet ingredients and whisk until combined.

Add the chopped chocolate on top.

Microwave for 50-70 seconds, depending on the power of your microwave. I like the brownie to be extra fudgy and slightly underdone, so I cooked mine to 60 seconds. Allow brownie to cool a few minutes before eating. Its is best eaten warm.
Nutrition Facts
Keto Mug Brownie
Amount Per Serving
Calories 417 Calories from Fat 324
% Daily Value*
Fat 36g55%
Saturated Fat 22g110%
Trans Fat 1g
Cholesterol 267mg89%
Sodium 146mg6%
Potassium 356mg10%
Carbohydrates 11g4%
Fiber 8g32%
Sugar 5g6%
Protein 8g16%
Vitamin A 1056IU21%
Vitamin C 1mg1%
Calcium 91mg9%
Iron 4mg22%
* Percent Daily Values are based on a 2000 calorie diet.
Written By