If you're craving a corn tortilla on keto, try Jicama wraps from Trader Joe's. It eases your carb cravings since it tastes like normal wraps, but with a slightly sweet aftertaste.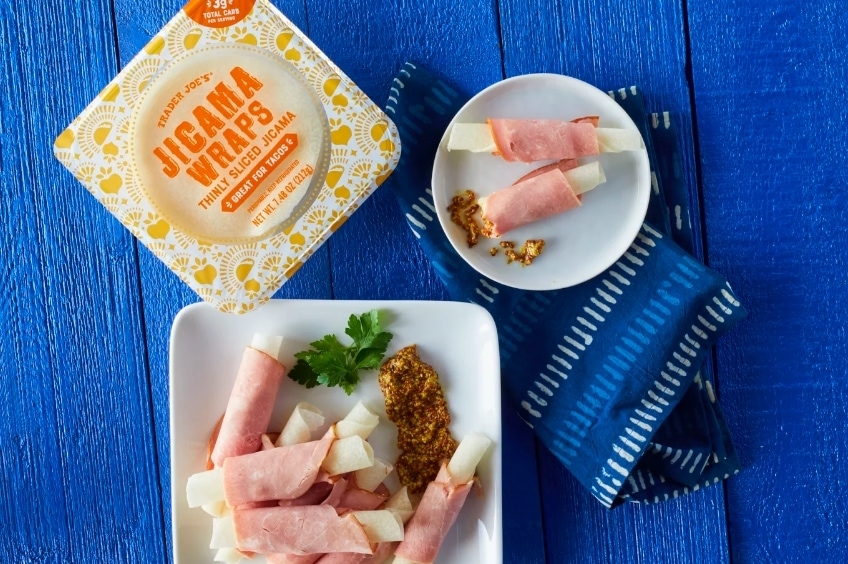 This article reviews everything you need to know about Jicama wraps before buying them. We'll talk about the nutritional value and some tasty recipes and alternatives to implement into your keto diet.
What Are Jicama Wraps and Why Should I Care?
Jicama wraps are keto-friendly alternatives to flour tortillas since they have zero net carbs.
Trader Joe's produces them by slicing jicama, a root vegetable, into thin slices. These slices are sweeter than store-bought wraps and offer a radish and nutty flavor that spices up your meals. They also don't use nasty ingredients like flour, vegetable oils, and added sugar, so it won't trigger inflammation.
But the texture caught my eye. I've noticed that you can wrap as many taco fillings as you want, and the wrap won't tear or fall apart. This strength gives your creative side extra freedom because you won't have to worry about the wrap breaking.
Jicama Wraps Nutrition Facts
Another reason why Trader Joe's Jicama wraps stood out to me was the nutritional value. One wrap contains:
1.5 grams of net carbs
No gluten
Seven calories
Less than one gram of added sugar
This means you can eat as much as you want without being knocked out of ketosis or triggering gluten intolerance symptoms.
Who Is Jicama Wraps for?
When testing and reviewing Jicama wraps, I found it can benefit the lives of:
Keto dieters
Celiac disease patients
Anyone who loves tacos
Keto Dieters
Because a Jicama wrap contains less than one gram of net carb, it won't knock you out of ketosis, regardless of how many you eat.
On keto, you want to limit carbs to under 50 grams per day, so if it's taco Tuesday and you eat 10 wraps in a day, your body stays in ketosis.
And unlike other keto wraps that taste like almond and coconut flour, these Jicama wraps taste like traditional Mexican tacos you'll find at a restaurant, but with a slight nutty twist. You won't have to compromise between your health and the tastiness of your tacos.
Celiac Disease Patients
A significant drawback to many keto products like Hero Bread is that it has large amounts of gluten. This is fine for keto dieters, but it's an impractical option if you're managing celiac disease.
You are left choosing between products with gluten or carbs.
Fortunately, Jicama wraps don't use gluten, so it's a tasty choice for anyone with gluten intolerance.
Even if you aren't gluten intolerant, you can still benefit by going gluten-free because industry leaders like Dr. Alessio Fasano states that nobody can digest gluten completely. It just floats in the large intestine, and your body perceives it as bacteria, causing an immune response.
This worsens inflammatory stomach issues like irritable bowel syndrome and leaky gut.
Anyone Who Loves Tacos
Jicama wraps are also perfect for anyone who loves preparing and eating Mexican foods because it tastes like corn tortillas and rarely breaks.
Tasty Jicama Wrap Recipes
If you don't know how to introduce Jicama tortillas into your keto diet, consider these yummy recipes:
Cheesy chicken Jicama wraps
Low-carb salmon Jicama wraps
Avocado and tuna wrap
Cheesy Chicken Jicama Wraps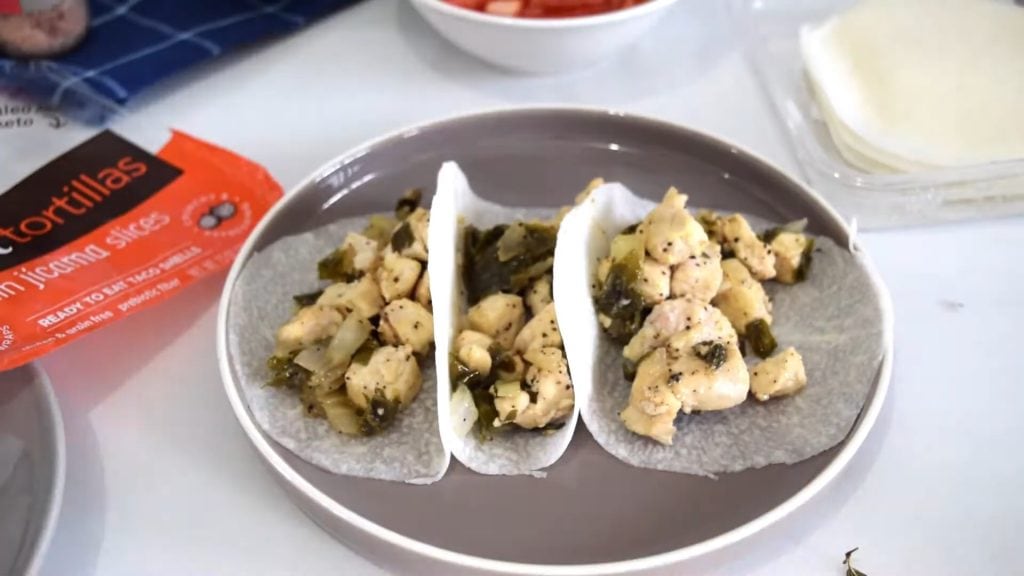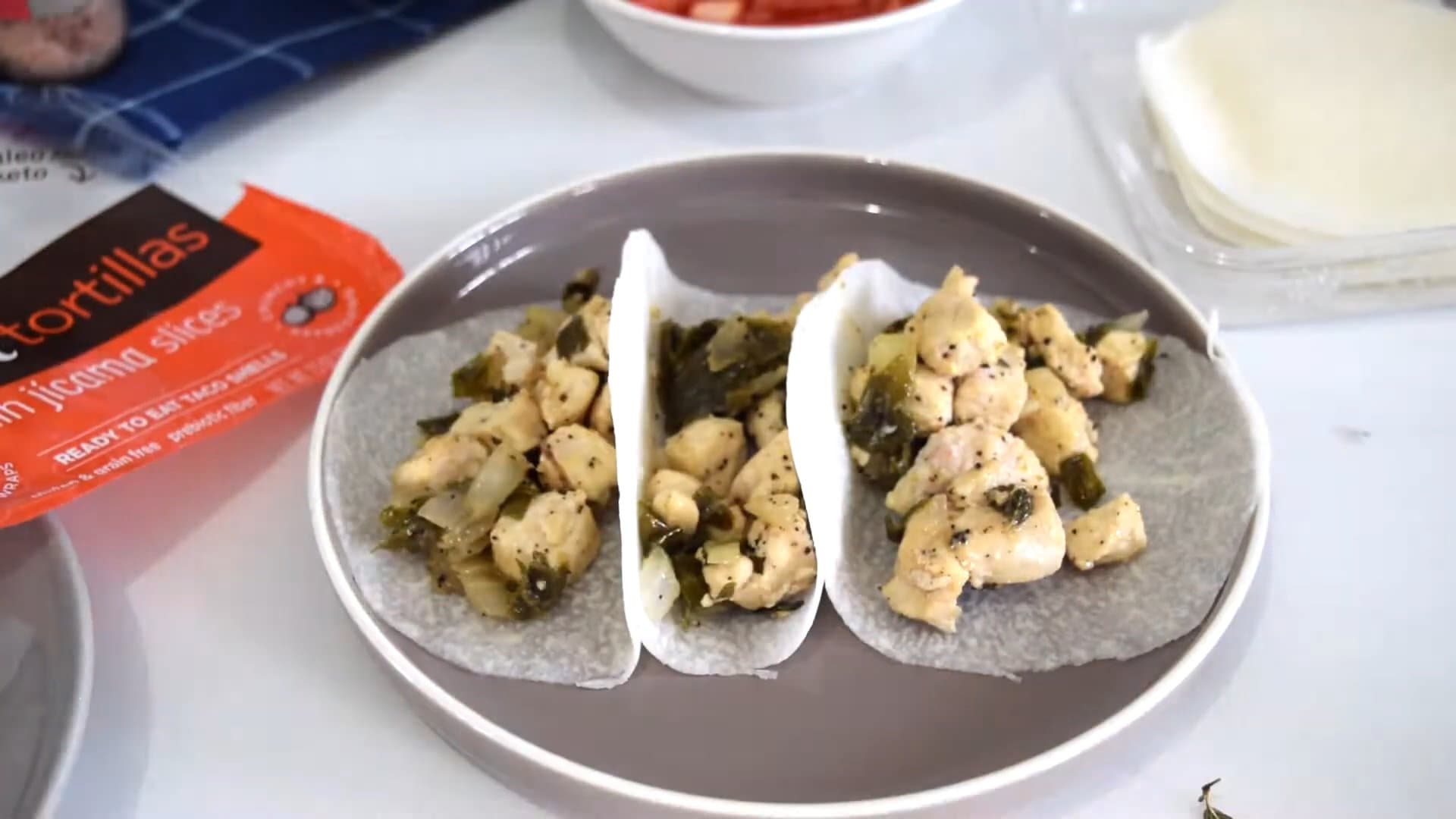 This cheesy chicken wrap contains less than one gram of net carb and only takes a few minutes to prepare. It works well as a snack when you're on the go or as a quick dinner after a long day at work.
For this recipe, you'll need:
One tablespoon of olive oil
One teaspoon of garlic
200 grams of chicken filet
One teaspoon of red chili
One teaspoon of dry coriander
Half a teaspoon of turmeric powder
One teaspoon of chili powder
One teaspoon of lemon juice
One cup of yogurt
A handful of fresh coriander
Two tablespoons of keto-friendly mayo
One teaspoon of red chili powder
A few Jicama slices
Your favorite vegetables
First, braise your garlic in olive oil and add 200 grams of boneless chicken. Keep stirring and let this cook for 10 minutes.
Next, add spices like coriander, turmeric, and chili powder with lemon juice.
Now it's time to prepare your mayo sauce. Pour your yogurt, keto mayo, salt and pepper, chili powder, and coriander into a large mixing bowl, and mix well.
The last step is to spread your mayo sauce on some Jicama wraps, and place the chicken on top alongside your favorite vegetables like onion, tomato, shredded cabbage and lettuce. Wrap this up and dig in!
Low-Carb Salmon Jicama Wraps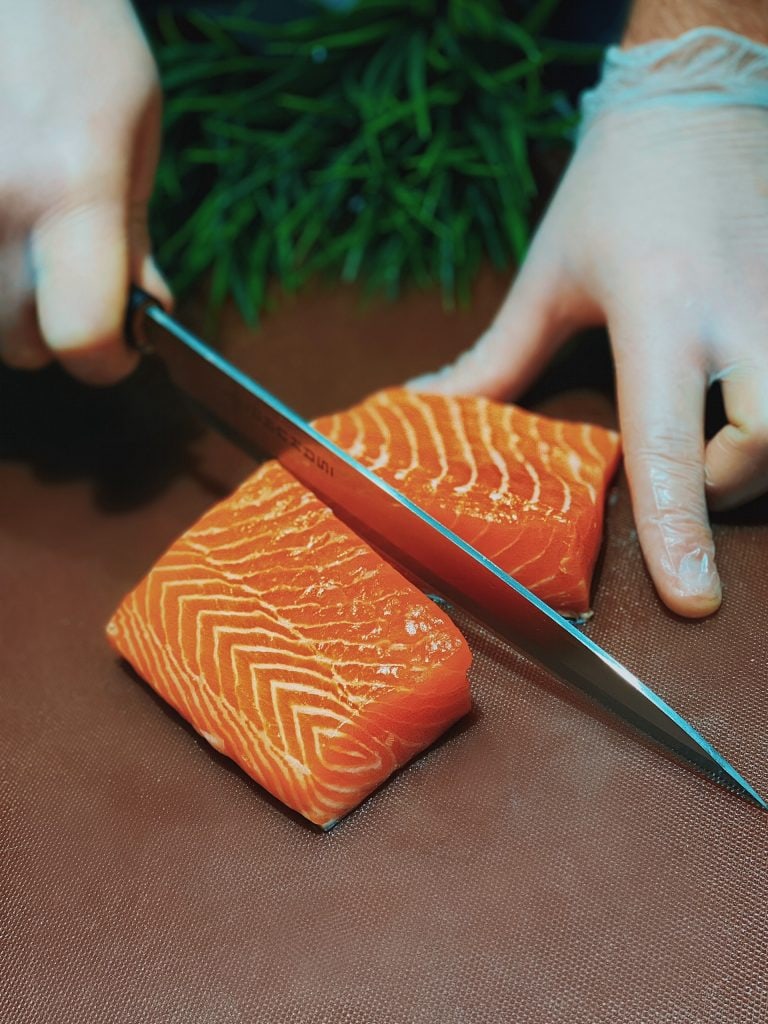 But if you prefer fish, opt for these tasty salmon Jicama wraps. It's easier to prepare than the cheesy chicken recipe since it doesn't require frying or many ingredients:
One Jicama wrap
Two tablespoons of cream cheese
Three smoked salmon slices
A half a cup of sliced cucumber
¼ chopped red onion
A tablespoon of chives
A handful of baby spinach
Lay your Jicama wrap on a plate and spread your cream cheese evenly. Place your salmon slices, cucumber, red onion, chives, and baby spinach neatly on top, wrap them, and enjoy!
Avocado and Tuna Wrap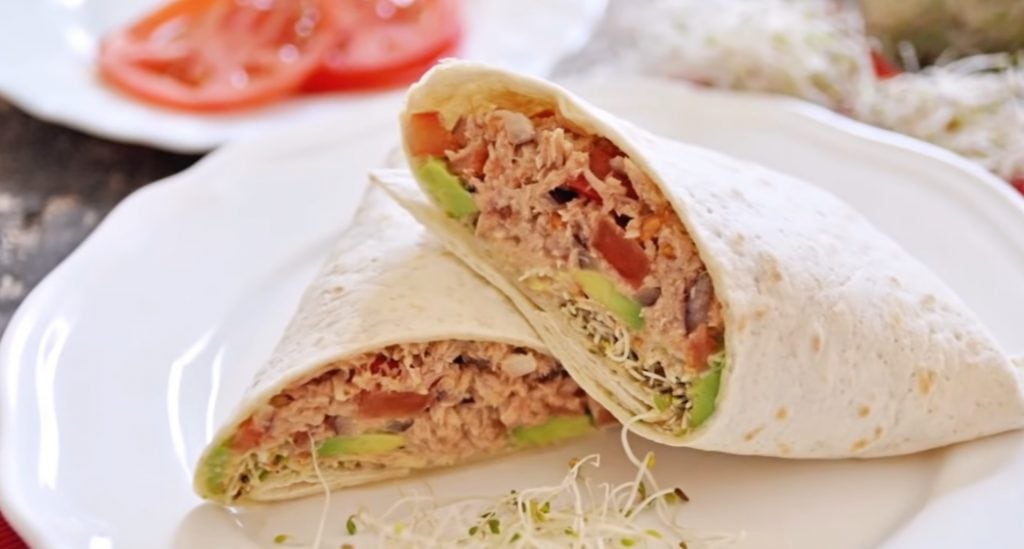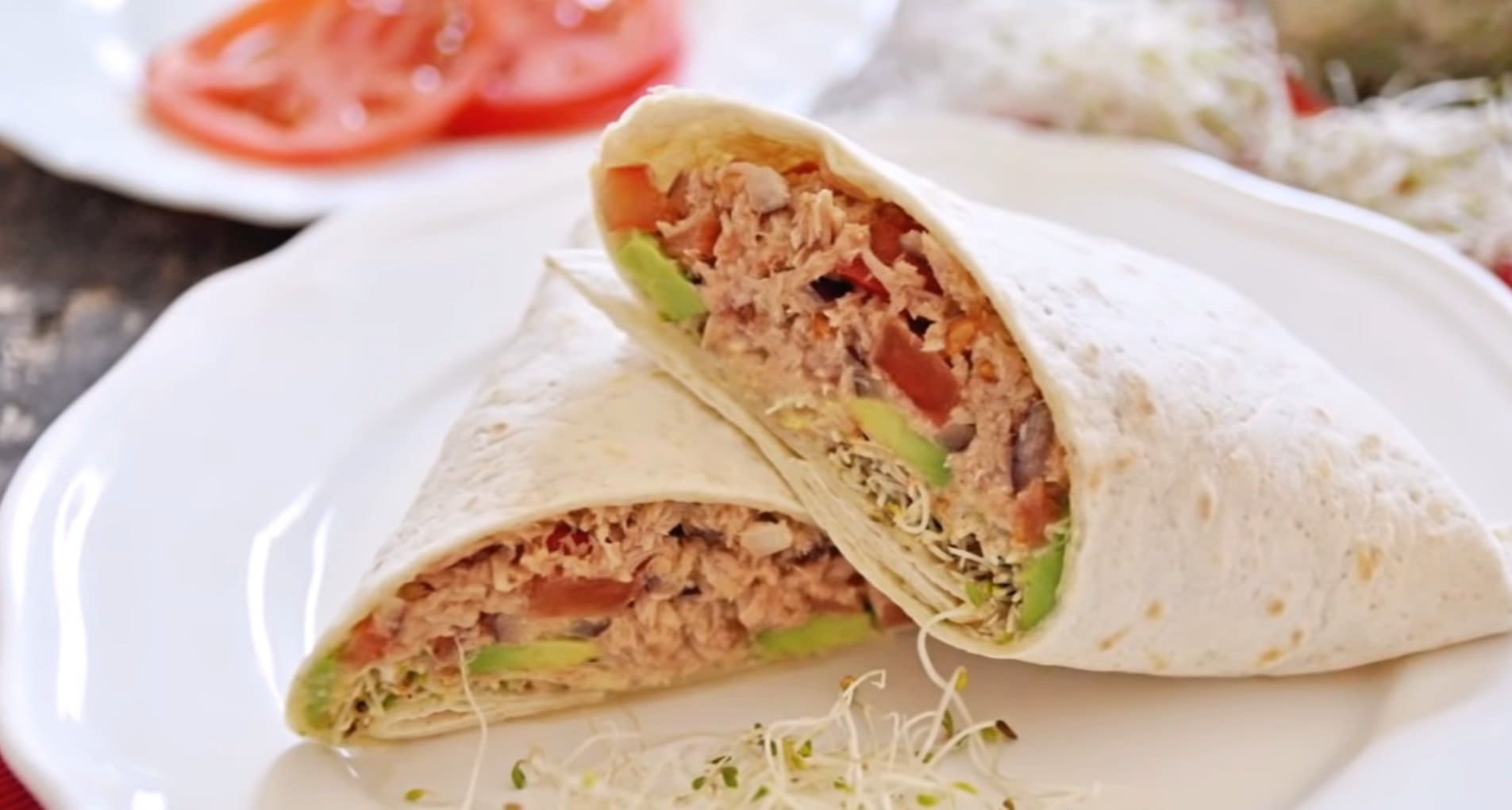 The last recipe we'll look at is the avocado and tuna wrap. It's a tasty and affordable way of increasing your fish intake if you're on a budget since a can of tuna only costs a few dollars. So gather the following ingredients:
One Jicama tortilla
A half an avocado cut in cubes
One tablespoon of lemon juice
A can of tuna
¼ chopped red onion
¼ diced red bell pepper
A tablespoon of parsley
A tablespoon of green onion
Salt and pepper to taste
Preparing this wrap couldn't be any easier. Simply add all your ingredients to a large bowl, mix, place it on your Jicama tortilla, wrap well, and you're good to go.
Low-Carb Alternatives to Jicama Wraps
Consider these yummy Jicama wrap alternatives when spicing up your keto diet:
Homemade Jicama wraps
Tortillas
Crystal Farms mozzarella cheese wraps
Homemade Jicama Wraps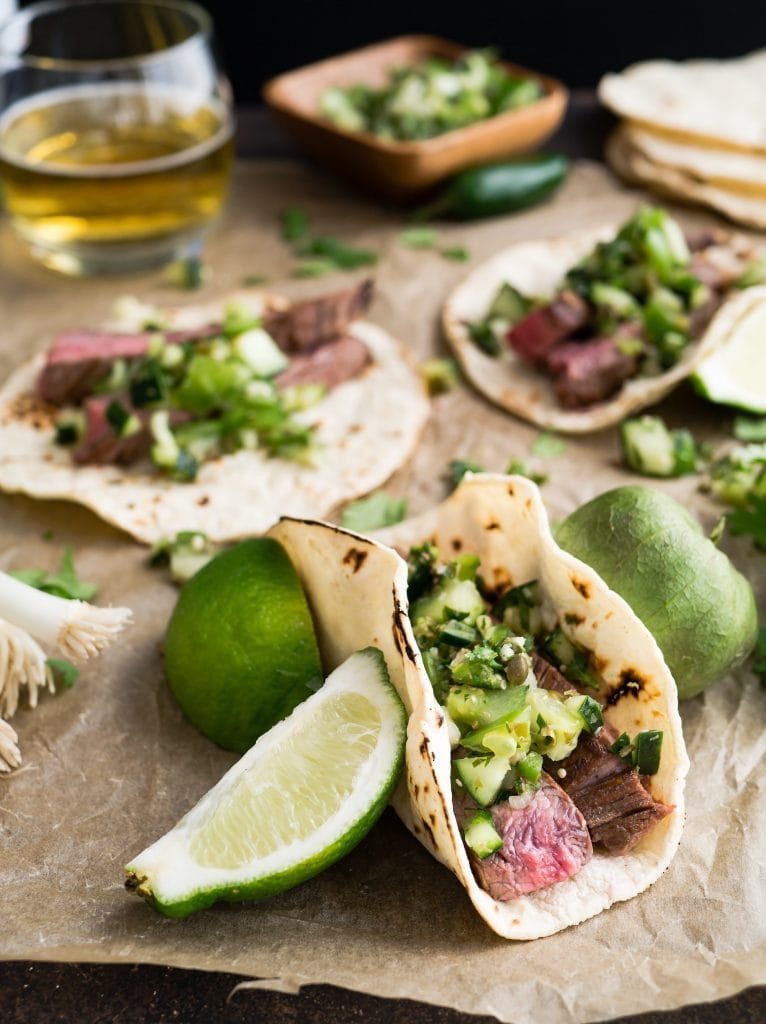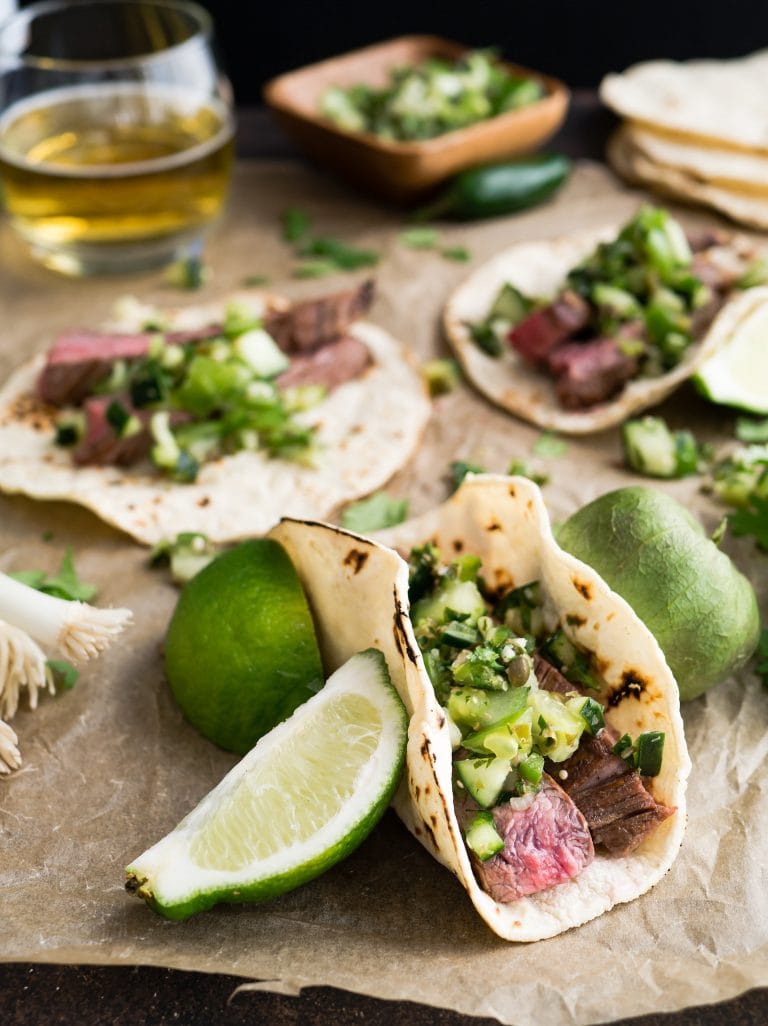 If you don't feel like buying Jicama wraps all the time or you're on a budget, try making them at home. It isn't difficult and is far cheaper than buying from Trader Joe's.
It only requires one indgredinet; a whole jicama. Wash it thoroughly with cold water and use a vegetable brush to remove dirt stuck in the tiny grooves.
Next, peel the tough jicama skin off with a potato peeler, leaving you with the softer inner filling. Cut it half crosswise and slice it into paper-thin sheets using a mandoline.
This thinly sliced jicama acts as a crispy yet firm wrap.
Keto Tortillas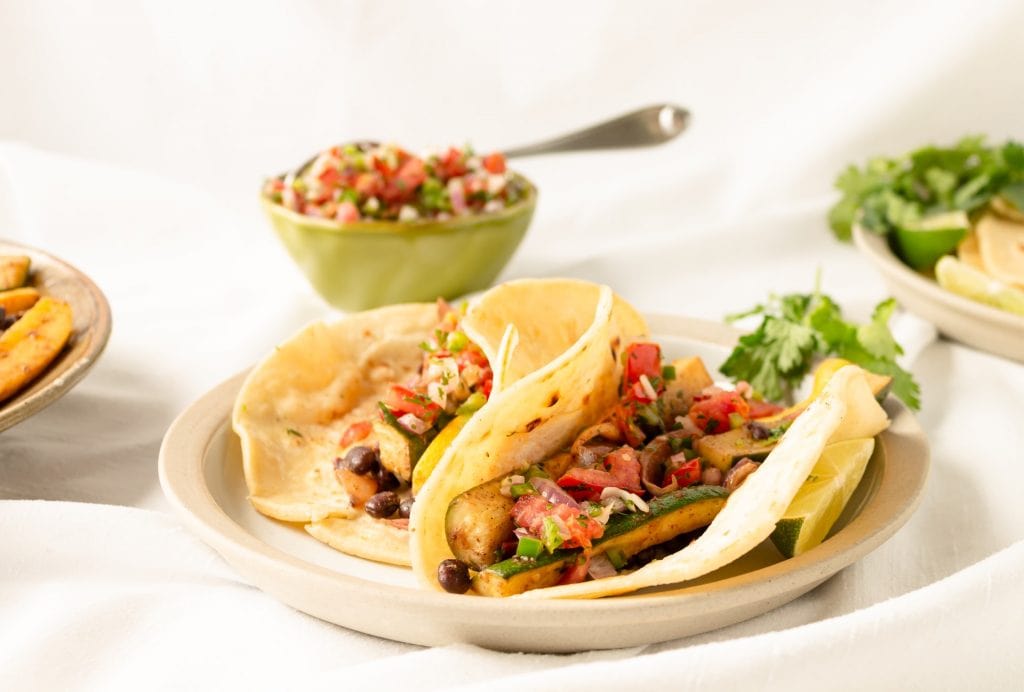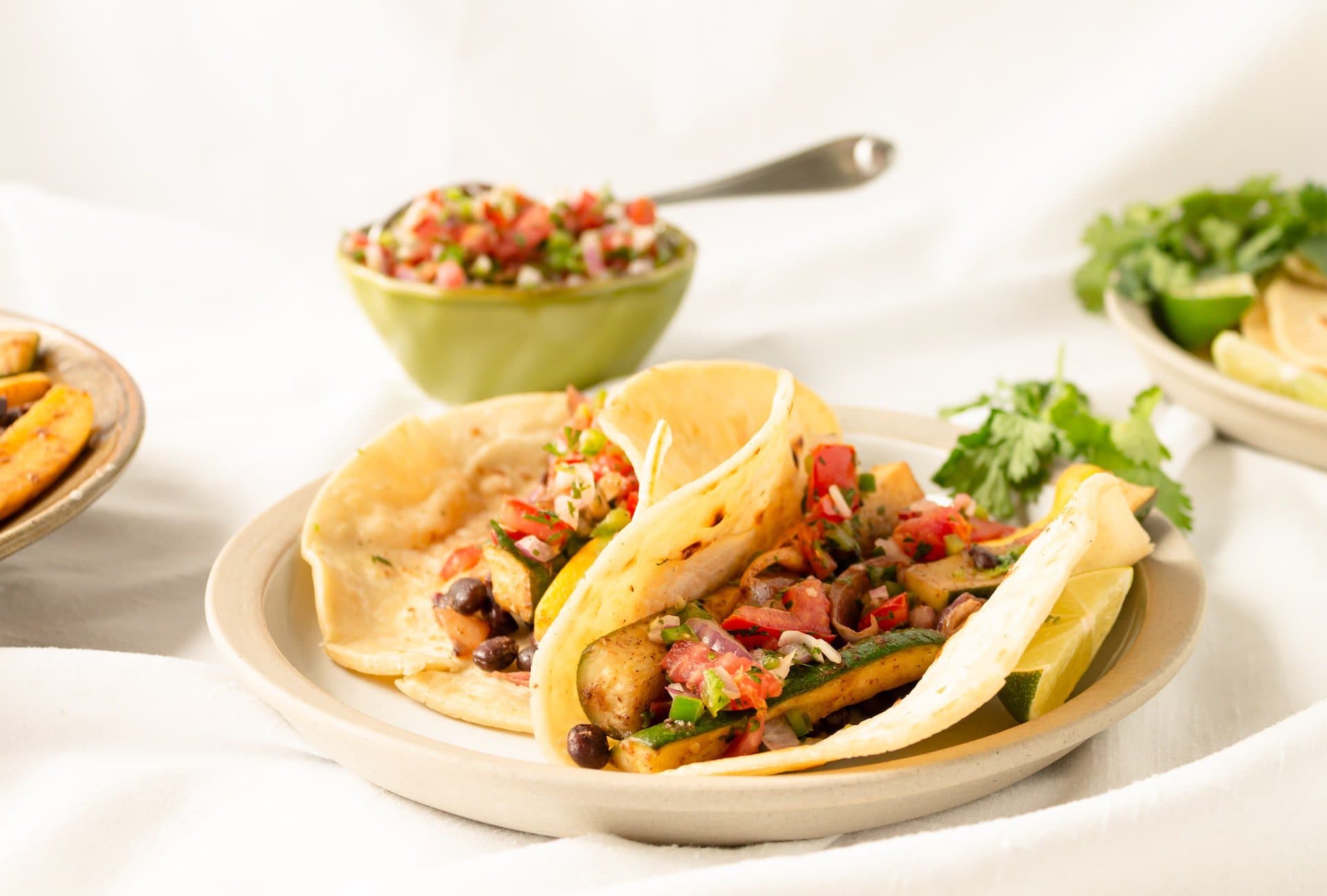 However, these Jicama wraps are quite stiff, so if you're looking for a softer low-carb alternative, consider making keto tortillas. You'll only need three ingredients, excluding the water and salt:
Two cups of almond flour
Six tablespoon psyllium husks
One teaspoon salt
One tablespoon of olive oil
One cup of warm water
Start by adding your psyllium husks, almond flour and salt to a bowl and mix well. While stirring, pour your water and olive oil. Let this mixture rest for a minute and knead it several times.
Cut the dough into eight pieces, place each one on a piece of parchment paper, and roll it out until it's thin. Use a knife to trim the edge, pop it in the pan on medium heat for two to three minutes, and enjoy!
Crystal Farms Mozzarella Cheese Wraps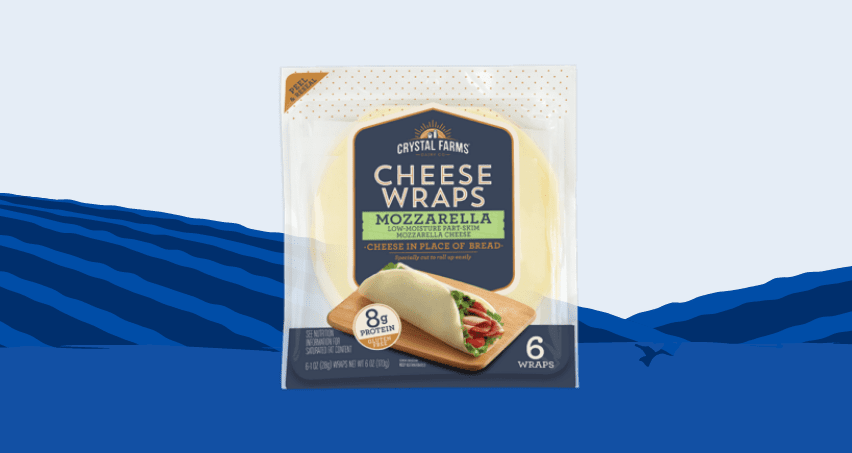 These mozzarella cheese wraps are a tasty alternative if you don't want to prepare homemade taco shells. One wrap contains zero carbs, six grams of fat and no added sugar, so it won't affect ketosis.
But what stands out is the flavor and texture. The mozzarella goes well with chicken and meat and the texture is similar to regular wraps since you don't get that almond or coconut flour feel.
Final Thoughts on Jicama Wraps
Jicama wraps are a keto-friendly alternative to flour tortillas on keto because one wrap only has 1.5 grams of net carbs. So on taco night, feel free to eat as much as you want. Get creative and enjoy your tacos with avocado, salmon, chicken or beef.
If you want to switch things up, get some keto tortillas, mozzarella cheese wraps, or make your own Jicama wraps because it's super cheap.
Written By