I think at this moment cauliflower has all the power in the world to transform into just about anything. From cauliflower rice to cauliflower pizza crusts, it's been used as the number one vegetable in ready made keto and low carb foods.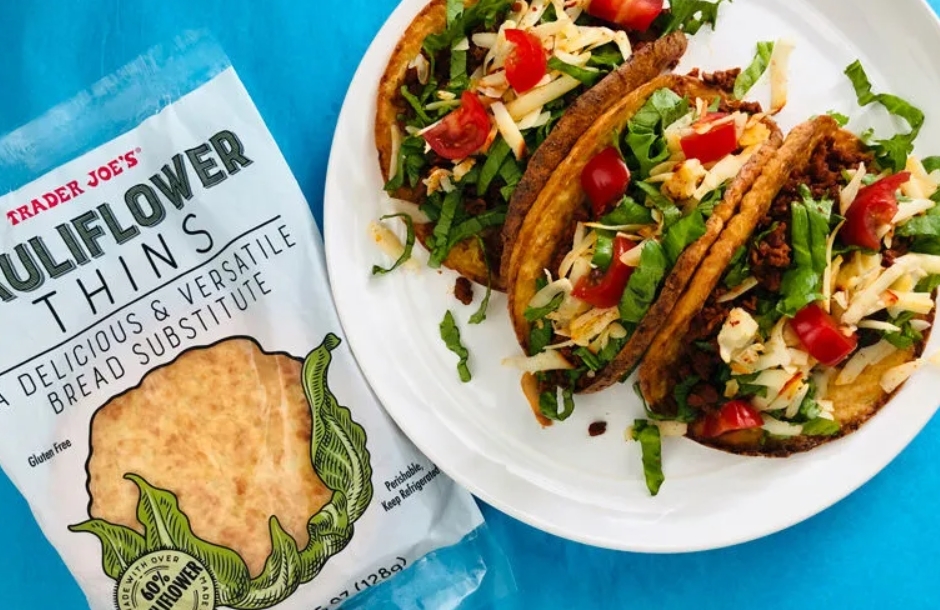 And, just to clarify, I'm really happy and excited I have all these products to review for you. Years ago it was so difficult to find anything keto at grocery stores that now I'm simply in heaven.
I wanted to review these Trader Joes Cauliflower Thins so you know exactly what to expect when you buy them. You won't get the same exact taste as you would in a tortilla or bread, but these come close.
Plus, a lot of keto food is made with unhealthy ingredients that can barely fit into your macros and aren't nutritious. These, on the other hand, are pretty awesome and I won't even lie, they're one of my favorite things to buy. Not only at Trader Joe's but overall in any grocery store.
Trader Joe's Cauliflower Thins Review
In this Trader Joe's Cauliflower Thins review, we'll talk about taste and texture, the quality of the ingredients used, the value for the money you're paying and our overall opinion of whether or not we would buy it again.
Just an FYI, you can find these in the refrigerated section, so make sure to keep them in the fridge when you get home as well.
Plus, if you need any inspiration or ideas on how to use these, scroll down to see how we prepare them at home.
Taste
Trader Joe's cauliflower thins contain not only shredded cauliflower, but also eggs and grated parmesan cheese. Due to their ingredients, they definitely do taste like cheese and eggs. It's not necessarily an overpowering flavor, but it's there.
While this isn't a bad thing in particular, if you're trying to use it with a sweet keto friendly condiment, it probably won't come out tasty.
You'll also get a strong cauliflower taste. Again, if you're used to store-bought low carb alternatives on the keto diet, this shouldn't be a problem for you.
They're really good for savory meals. You can also eat them on their own or with toppings of your choice since they make a great keto friendly bread substitute.
Ingredients Quality
I like them a lot. These cauliflower thins contain shredded cauliflower, liquid whole eggs (liquid eggs plus citric acid to maintain color), grated parmesan cheese (which is basically pasteurized skim milk, cheese cultures, salt and a microbial enzyme) plus deactivated yeast.
Any time I see something is used to "maintain color" I'm generally against buying it, but all the other ingredients are really good so in that case, I'm not worrying about it too much.
Overall, Trader Joe's Cauliflower Thins contain good and healthy ingredients. Especially since cauliflower is healthy and nutritious on its own!
Nutrition
One serving contains 2 pieces, which are around 64 grams.
Calories: 100 kcal
Fat: 5g
Protein: 9g
Total carbohydrates: 3g
Net carbohydrates: 1g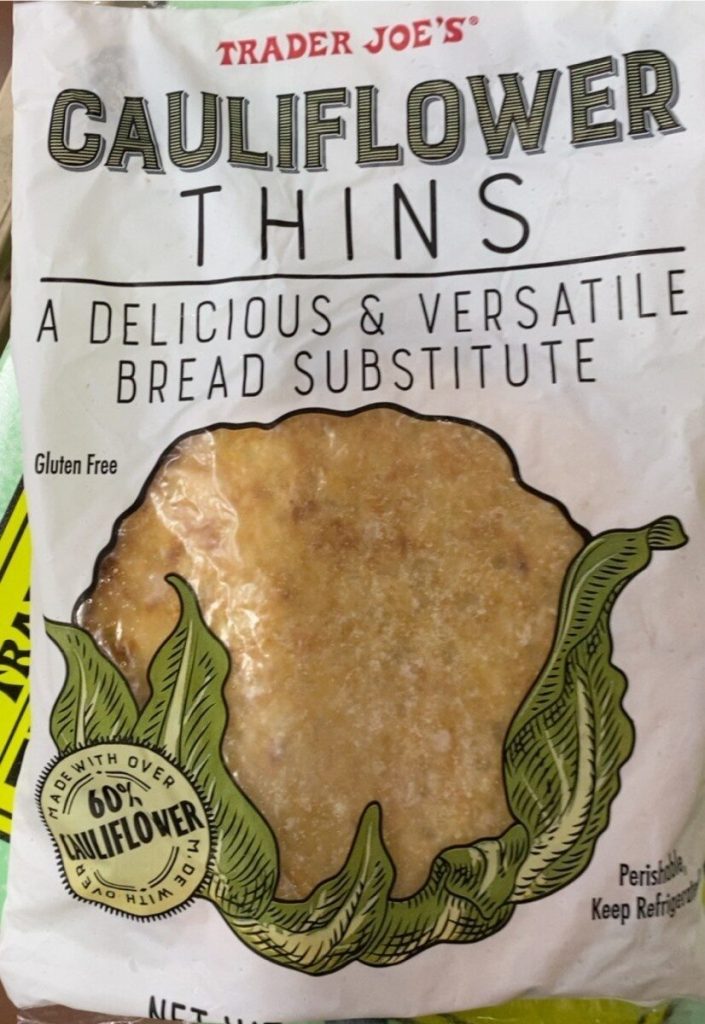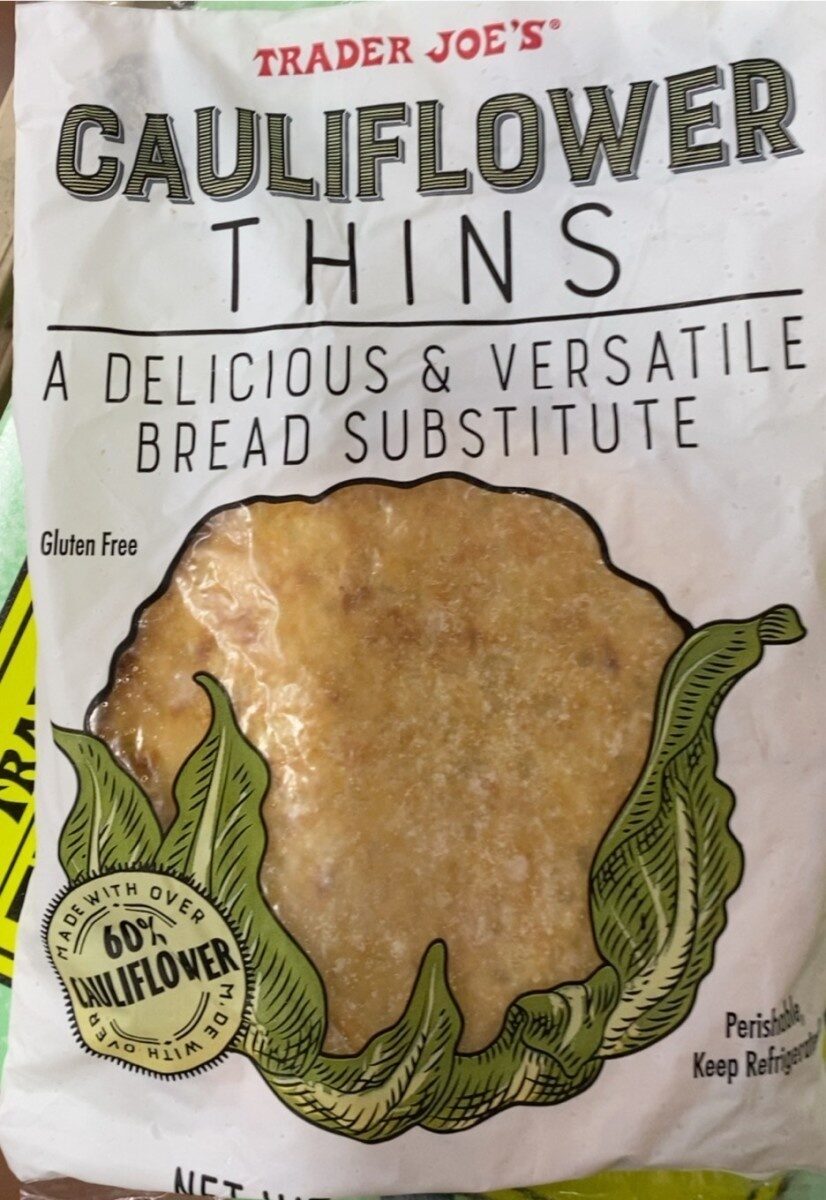 Value
Not only are these Trader Joe's Cauliflower thins low carb and delicious, they're also affordable. One bag with 2 slices inside will cost you $3.99. It won't break the bank and if you're on the go, these are perfect to use as a bread substitute in a sandwich.
However, if you're looking for a cheaper alternative to cauliflower thins and have some time on your hands, we've got this awesome Keto Tortillas Recipe you can make in 20 minutes (less than 3g of net carbs each!).
If you're craving sandwiches specifically, check out our post for The Best Keto Bread Recipe. It's one of our best recipes to date with more than 3000 reviews!
Overall: Would I Buy it Again?
Absolutely! We've been on keto for so long and we know what it's like first hand to try and find the perfect texture and flavor of store bought items.
I've been pretty mind blown with these cauliflower thins. The taste of cauliflower is there, but not overpowering. The egg taste is there as well, but mixed with the cauliflower I have no problem eating them with joy.
I love that they're gluten free too. A lot of keto and low carb passing items contain ingredients that will fit into your macros, but aren't gluten free, like wheat flour.
Overall, they're a great bread sandwich substitute for any diet. All you need to do is put it in an air fryer for a few minutes to crisp it up. Eat it with butter and salt, use it as pizza crust, a taco shell, a tortilla. Whatever you want to do, possibilities are endless!
Ways to eat Trader Joes Cauliflower Thins
This is completely up to you, but just in case you don't have an idea on how you can eat these, here are some of the ways we use them:
Keto Mini Pizzas
Grab a tablespoon of low carb tomato sauce, sprinkle with some mozzarella cheese and put pepperoni on top. Then, you can pop it into the microwave, air fryer or the oven.
I honestly recommend the oven just for a few minutes until the cheese melts at 400F. Of course you can add different toppings to make your own personalized mini pizza, such as peppers, mushrooms, parmesan cheese, basil leaves or anything else you'd like to use.
Keto Sandwiches
You can use Trader Joe's Cauliflower Thins as a low carb bread substitute. I'm not a huge fan of eating them cold, so I recommend you make these toasted or warm them up on a pan really quickly.
If you've been missing bread, this is one of the best alternatives if you want to make a sandwich. For lunch, you can go with a BLT and for breakfast just add an egg and some crispy bacon.
Keto Tacos
I love tacos. I love tacos so much that I can eat them for breakfast, lunch and dinner. These Trader Joe's Cauliflower Thins make a great substitute for tortillas or taco shells.
Simply add some ground beef with sugar free taco spices, shredded lettuce, cheddar cheese, tomatoes and sour cream. To bump up the flavor, don't forget about diced avocados or guacamole!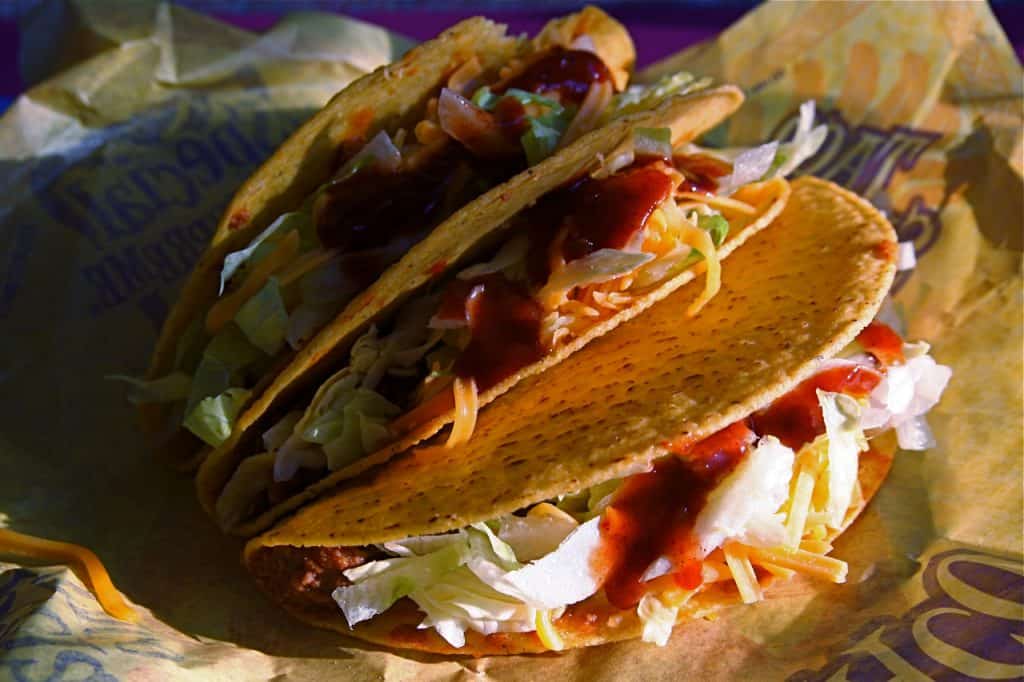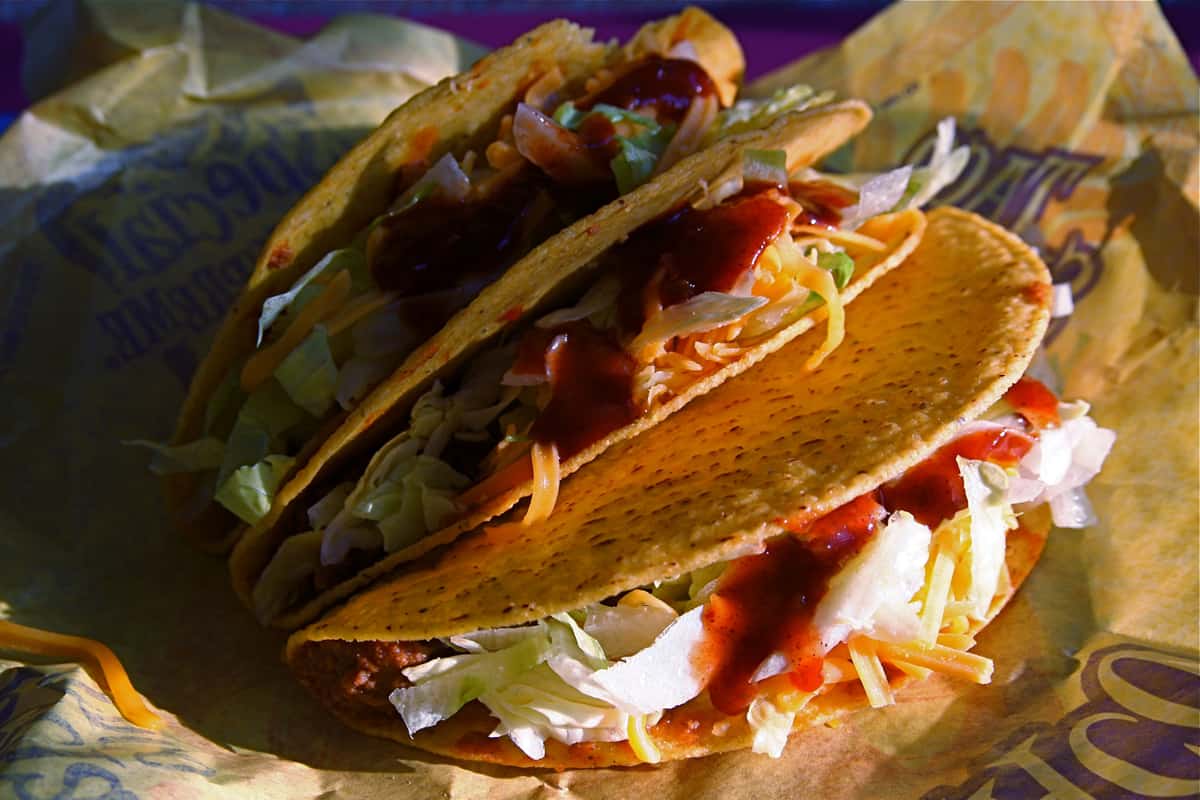 More Trader Joe's Keto Items
If you're already at Trader Joe's, I recommend you get other keto and low carb foods since you're already there. We have an entire updated blog post dedicated to Everything Keto at Trader Joe's in 2022, but here are our favorites:
Trader Joe's Riced Cauliflower Stir Fry – although it contains corn, it's still really low in carbohydrates and definitely low carb. It's delicious and perfect as a side dish.
Trader Joe's Avocado's Number Guacamole to Go – these are pre-packaged and they're a perfect size for lunch. Plus, there's just 2g of net carbs per serving.
Trader Joe's Giotto's Pomodoro Pasta Sauce – it's difficult to find a good low carb tomato sauce, and this one will fit right into your macros with only 4g of net carbs.
Trader Joe's Eggwich Breadless Sandwiches – great sandwich bread substitute, packed with 16g of protein and 12g of fat per serving.
Trader Joe's Folios Cheese Wraps – if you're not into the cauliflower thins, I highly suggest you try these out. You can crisp them up or consume straight out of the package.
Written By