Yogurt is creamy, high protein, and super convenient, but is yogurt keto? Most yogurt you find at the local supermarket is filled with added sugar, but lucky for you, that doesn't mean yogurt is off limits. Learn how to make your own yogurt at home (recipe below) and discover which brands offer low-carb yogurt.
The toughest part about this recipe is waiting to enjoy it as the probiotics work their magic. Although time intensive, it is far from labor intensive!
Can I have yogurt on keto?
A keto diet is a low-carb diet, usually consisting of 20-50g of carbs per day. To stay within this strict carb count, you need to avoid foods high in added sugar and carbs. Many conventional yogurt brands contain too much sugar to be enjoyed on a keto diet, especially when topped with granola. (Try Keto Granola!)
FREE PRINTABLE: Keto Food List
Join 150,000 others to get a FREE keto food list and new recipes every week!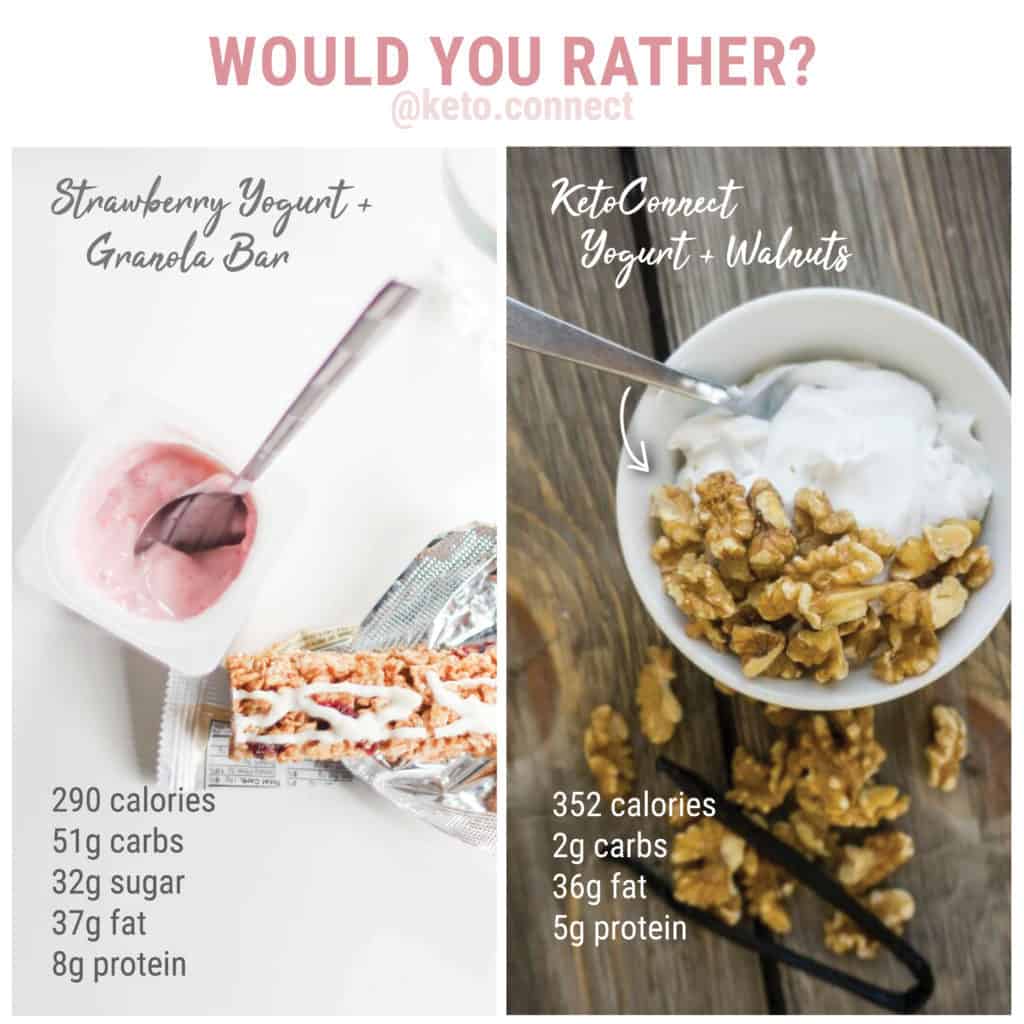 [tcb-script src="https://apis.google.com/js/platform.js"][/tcb-script]
Which Yogurt is Lowest in Carbs?
There are a few regular yogurt brands who offer lower carb options that some people may consider for their keto diet.
We get it. Not everyone has access to fancy keto friendly yogurt brands, and that's okay. Here are a few things to look for when shopping for a low-carb yogurt at the grocery store.
Choose Plain Yogurt – Plain yogurt means there isn't any added sugar or sweeteners. About 3/4 cup of plain yogurt is 10g of carbs. The carbs are naturally occurring from the lactose in the dairy. If you don't like the taste, try adding a few drops liquid stevia to sweeten it or top with berries.
Avoid Low-Fat – When brands remove the fat from a product, they usually replace it with sugar. Plus, the goal of a keto diet is to fuel your body with fat since it keeps you fuller for longer and doesn't spike blood sugar. Find brands that use "Whole Milk".
Read Labels – Regardless of what you are buying or what the packaging says, it's always important to flip the product over and read the nutrition label. You will have a better understanding of the serving size, carb count, and whether or not its a good food for your keto diet.
What brand of yogurt is Keto friendly?
Check out some of these keto yogurt brands! They're made with minimal carbs, high fat, and are delicious.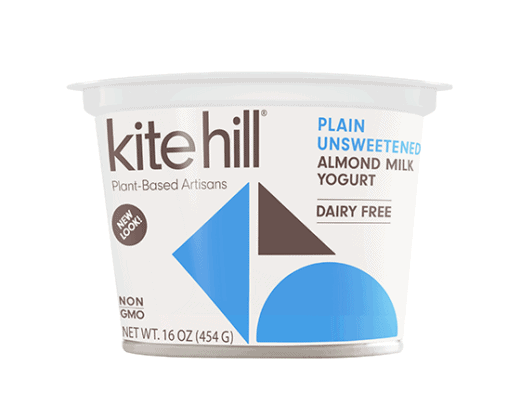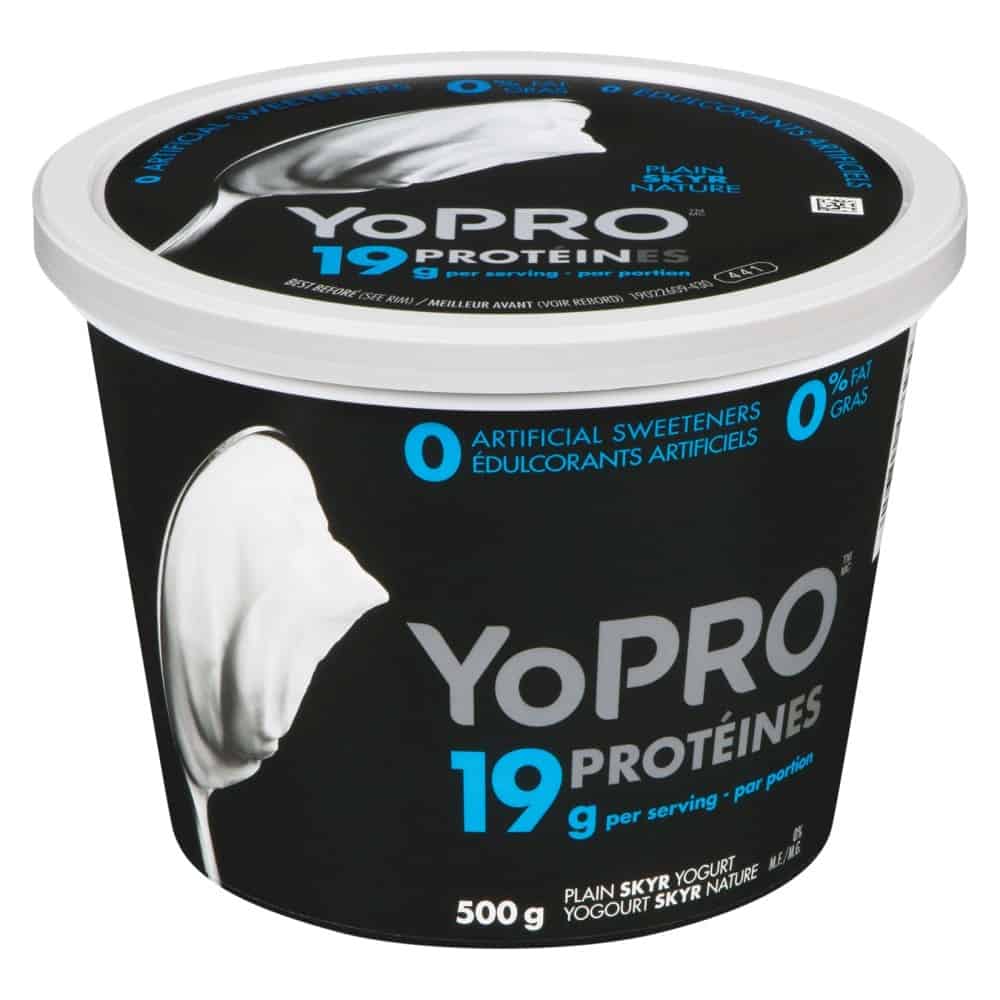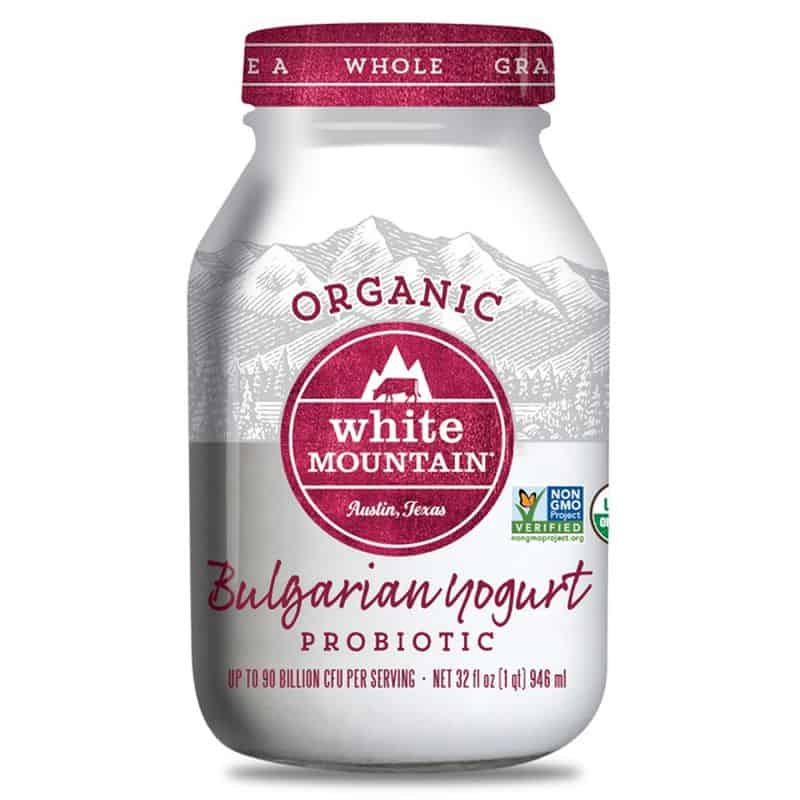 Add This Yogurt Recipe To Your Keto Diet Foods List
Matt and I definitely follow the if it fits your macros philosophy so your keto diet food list could contain way more foods than the next person who may do total carbs or stay very strict. However, this low carb yogurt recipe is one for everyone, even those who are dairy intolerant. We use canned coconut milk or cream to create this dairy free yogurt and it's basically zero carb! Add it to all the lists you have, keto and non-keto because homemade anything always tastes best!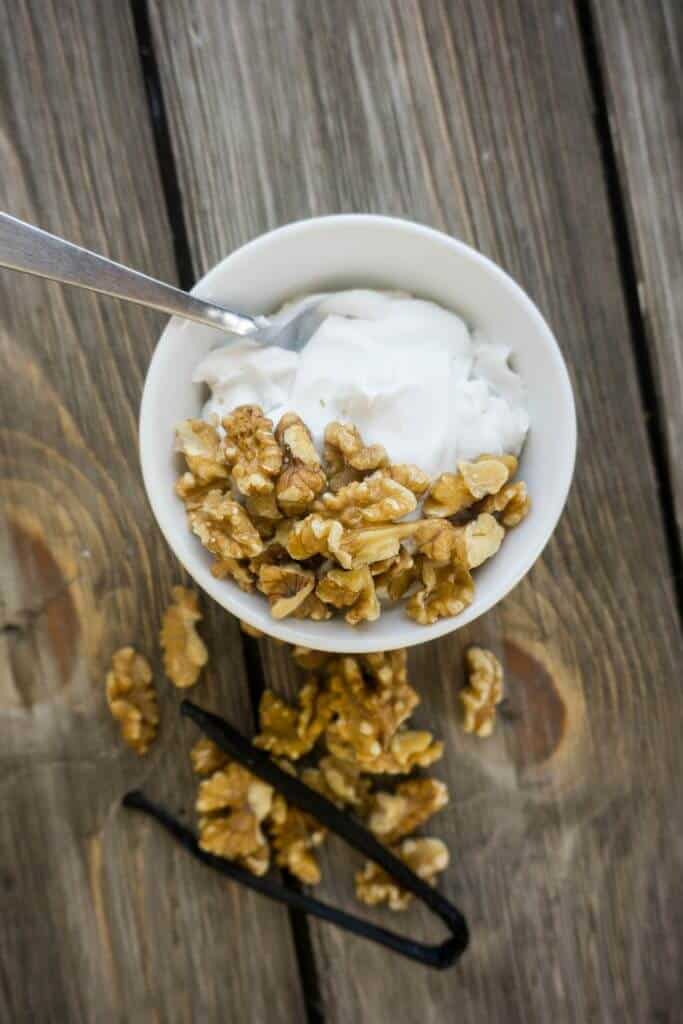 The Simplest Of Low Carb Sweets!
The best part about this recipe, in my opinion, is that once you make one batch using either a probiotic pill or yogurt starter you can make 4-5 more batches by using the first low carb yogurt you make. This allows you to have a high fat, low carb dessert recipe in the fridge at all times. You can simply add some vanilla or maple extract, spices of your choosing or protein or cocoa powder to create a simple and delicious low carb dessert! If yogurt isn't your thing you can give our no bake cheesecakes or keto brownies a try!
Keto Yogurt Benefits
High Protein to keep you feeling full and to nourish your body's cells.
Contain probiotics which improve good gut bacteria and promote better digestion.
Eating foods high in probiotics can improve your immune system.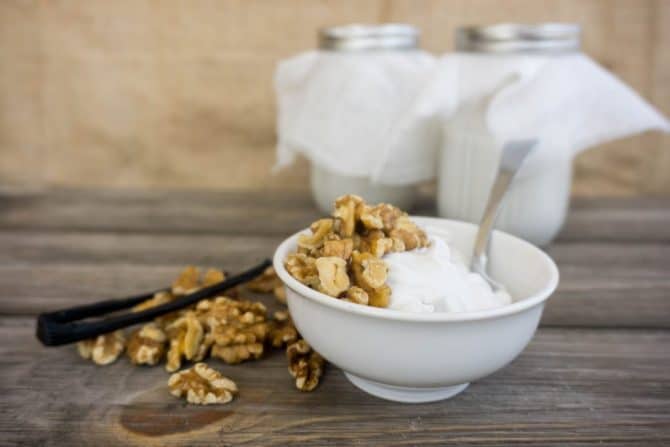 Low Carb Yogurt
If you're a fan of yogurt and are missing out on it since starting your new keto lifestyle then I highly recommend you watch video above of Matt making it so you too can bring yogurt back into your life! It's great for breakfast, lunch, dinner, as a side dish and dessert – you really can't go wrong by having some in your fridge. When making low carb yogurt requires no more than two or three ingredients, what is stopping you?!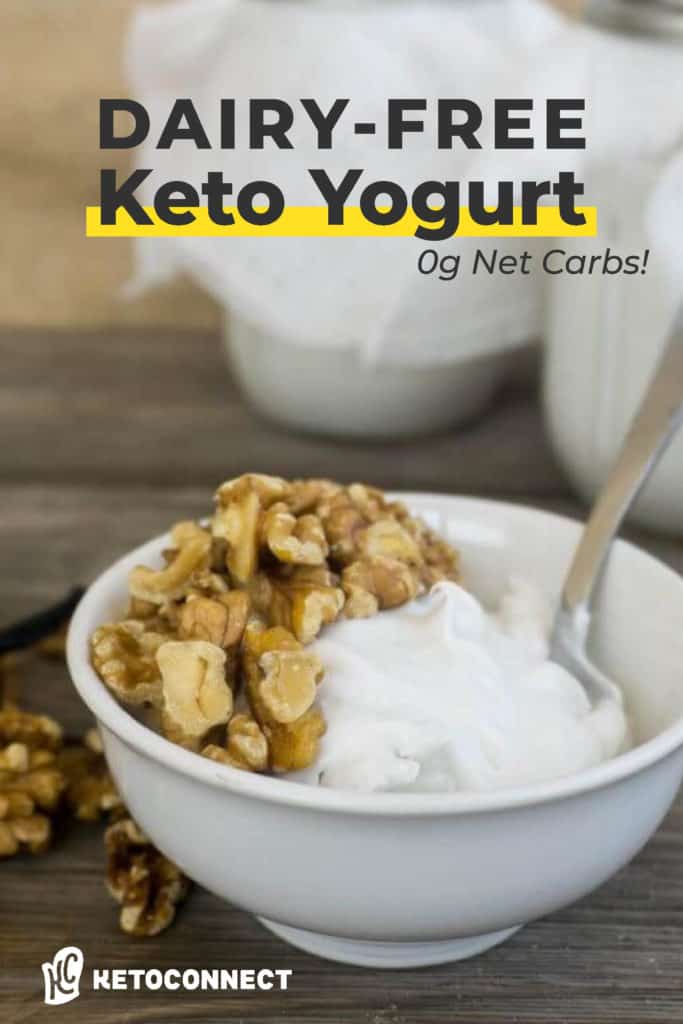 Recipe can be quickly added to MyFitnessPal – Search "KetoConnect – Low Carb Yogurt"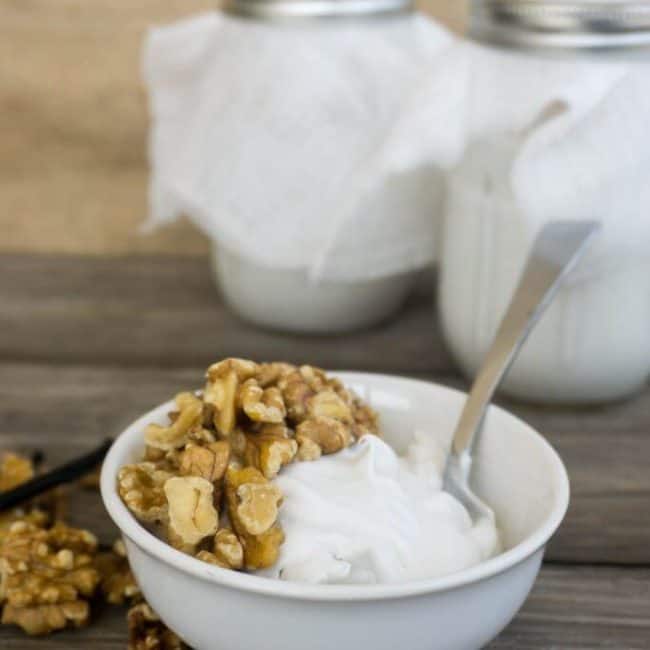 Low Carb Yogurt
You won't believe how easy it is to make your own low carb yogurt!
Total Time 2 days 5 minutes
Servings 9 - 1/3 cup servings
Calories per serving 167kcal
Ingredients:
Yougurt starter
1 packet yogurt starter (mellow taste)
OR
1 capsule (100 billion cultures) probiotics (tangy taste)
Instructions:
Allow your coconut cream to sit in the fridge for 24 hours prior to using. This will harden the cream so that you can easily separate it from the water. Scoop out all of the coconut cream fat (2/3 of the can) and add it to a clean, sealable mason jar or any jar on hand.

Heat the yogurt in the microwave (105 degrees) and use a heat thermometer to check the temperature of the coconut cream.

Add probiotic pill (open capsule and pour contents into the cream) or yogurt starter and add it to the cream and stir/shake it.

Cover the top with some cheese cloth and place a rubber band around the cheese cloth to keep it in place.

Place the yogurt in a dry place (microwave, oven, corner of the counter top) and let it ferment from 24-48 hours. Once the 24-48 hours have passed seal the container and place it in the fridge - this will stop the fermentation process.

Note: Consume within one week! Enjoy!

Note: When making the second batch you can use 2-3 tbsp from the first low carb yogurt made to start a new batch. No pill or starter is needed!
Nutrition Facts
Low Carb Yogurt
Amount Per Serving
Calories 167 Calories from Fat 162
% Daily Value*
Fat 18g28%
Protein 1g2%
* Percent Daily Values are based on a 2000 calorie diet.