Our keto yogurt is thick and creamy packed with healthy fats to keep you full for hours.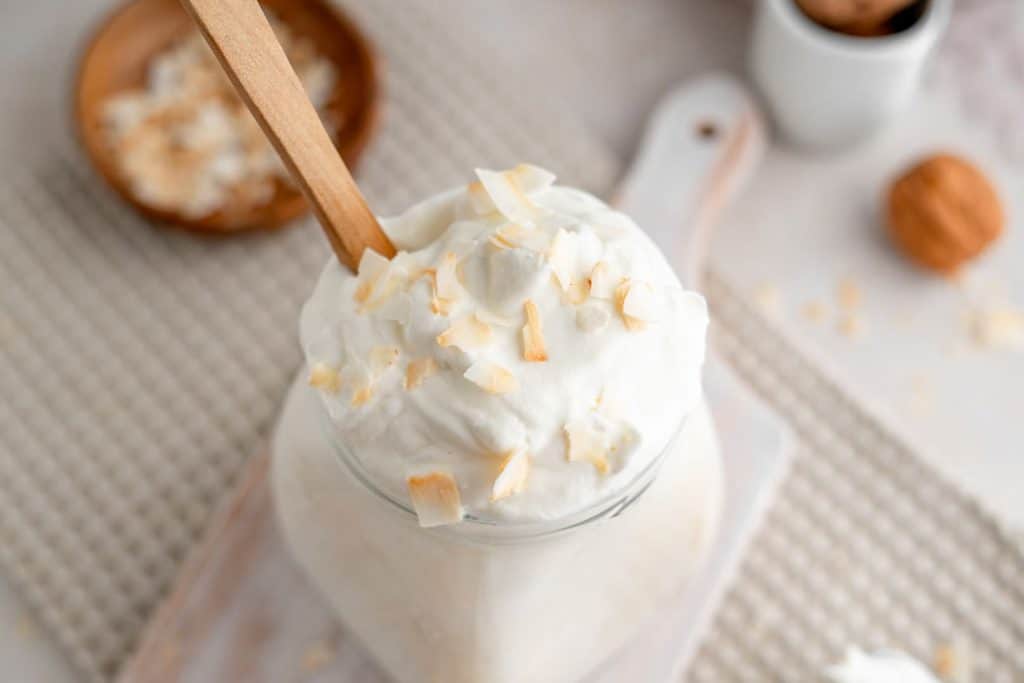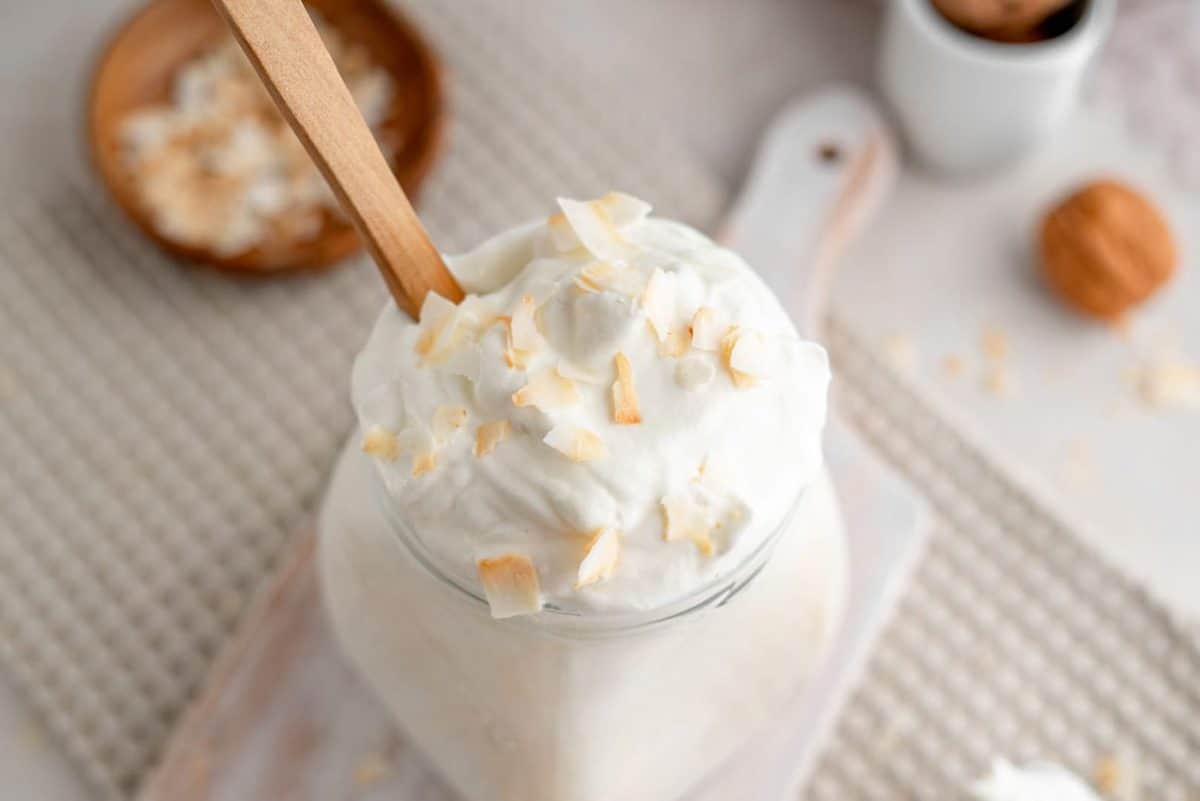 Traditional yogurt is creamy, high protein, and super convenient, but is yogurt keto? Most yogurts you find at the local supermarket is filled with added sugar, but lucky for you, that doesn't mean yogurt is off limits. Learn how to make your own yogurt at home (recipe below) and discover which brands offer low-carb yogurt.
The toughest part about this recipe is waiting to enjoy it as the probiotics work their magic. Although time intensive, it is far from labor intensive!
Can I have yogurt on keto?
A keto diet is a low-carb diet, usually consisting of 20-50g of carbs per day. To stay within this strict carb count, you need to avoid foods high in added sugar and carbs.
Many conventional yogurt brands contain too much sugar to be enjoyed on a keto diet, especially when topped with granola. While we can solve the high sugar granola problem with our Keto Granola, switching from a low fat greek yogurt may be a little more difficult.
Some standard household yogurt names and their per serving carb counts are:
Do Their Claims Hold Water?
As most people on a keto diet already know fat is not the enemy! Fat can keep you full and satiated longer than a product with a higher carb count.
That's because fat prevents a spike in blood sugar unlike high carb yogurts that are mainly sugar. On a keto diet we want to lower spikes in insulin to keep blood sugar stable and regulated. It will prevent diabetes and an overworked pancreas.
So, yogurts like low fat greek yogurt may claim added health benefits because they are in low calories, but actually may be hindering your weight-loss by hindering your ability to feel full.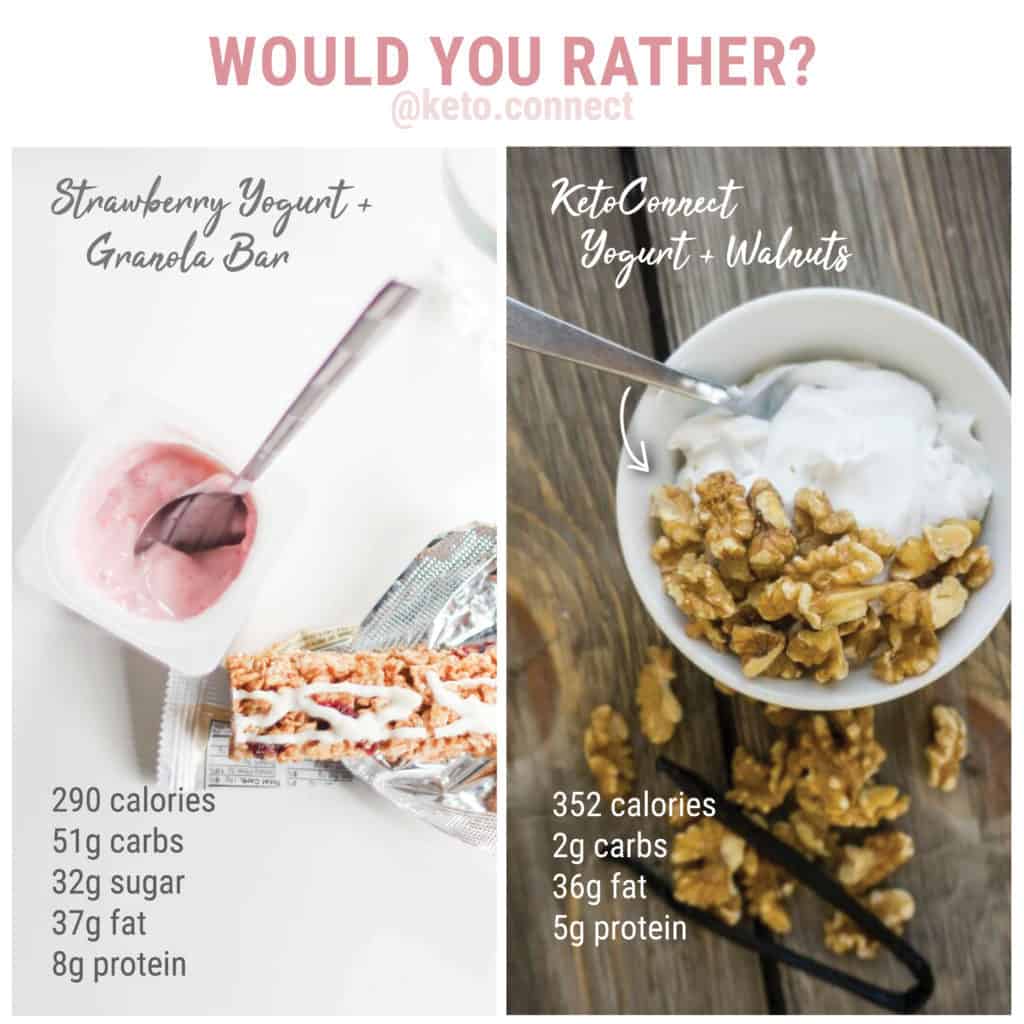 [tcb-script src="https://apis.google.com/js/platform.js"][/tcb-script]
Which Yogurt is Lowest in Carbs?
Like plain greek yogurt but aren't sure if there is anything you can pick up from mainstream brands near you? Don't worry because we found some greek yogurt with low enough net carbs to total carbs so you can enjoy a light and refreshing snack that's keto friendly.
Here are a few regular yogurt brands who offer lower carb options that some people may consider for their keto diet:
We get it. Not everyone has access to fancy keto friendly yogurt brands, and that's okay. Here are a few things to look for when shopping for a low-carb yogurt at the grocery store.
Choose Plain Yogurt – Plain yogurt means there isn't any added sugar or sweeteners. About 3/4 cup of plain yogurt is 10g of carbs. The carbs are naturally occurring from the lactose in the dairy. If you don't like the taste, try adding a few drops liquid stevia to sweeten it or top with berries.
Avoid Low-Fat – When brands remove the fat from a product, they usually replace it with sugar. Plus, the goal of a keto diet is to fuel your body with fat since it keeps you fuller for longer and doesn't spike blood sugar. Find brands that use "Whole Milk".
Read Labels – Regardless of what you are buying or what the packaging says, it's always important to flip the product over and read the nutrition label. You will have a better understanding of the serving size, carb count, and whether or not its a good food for your keto diet.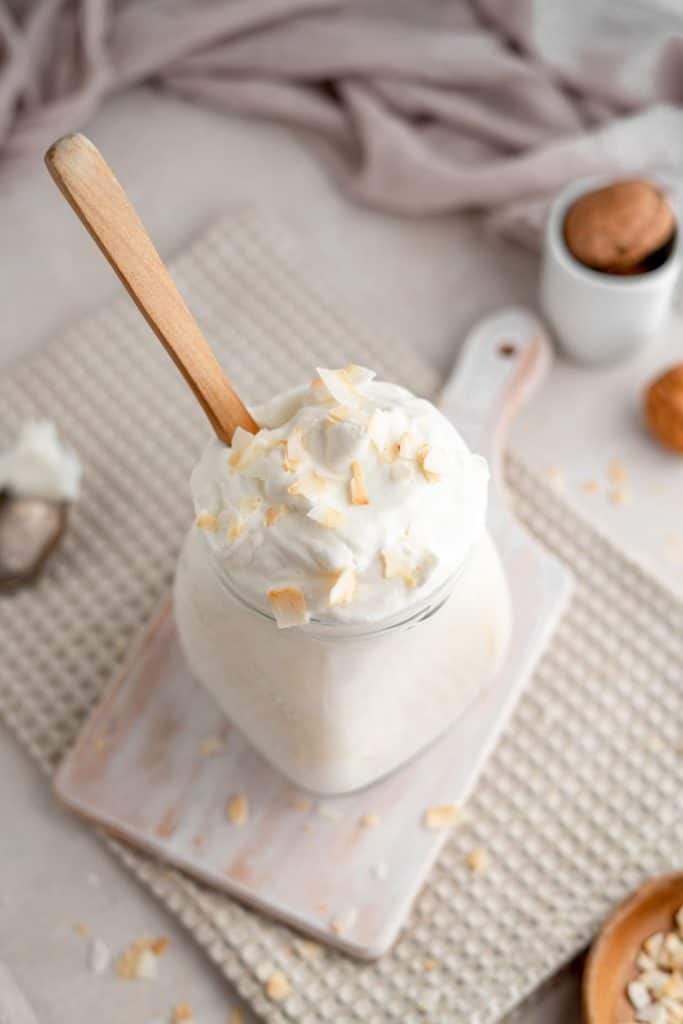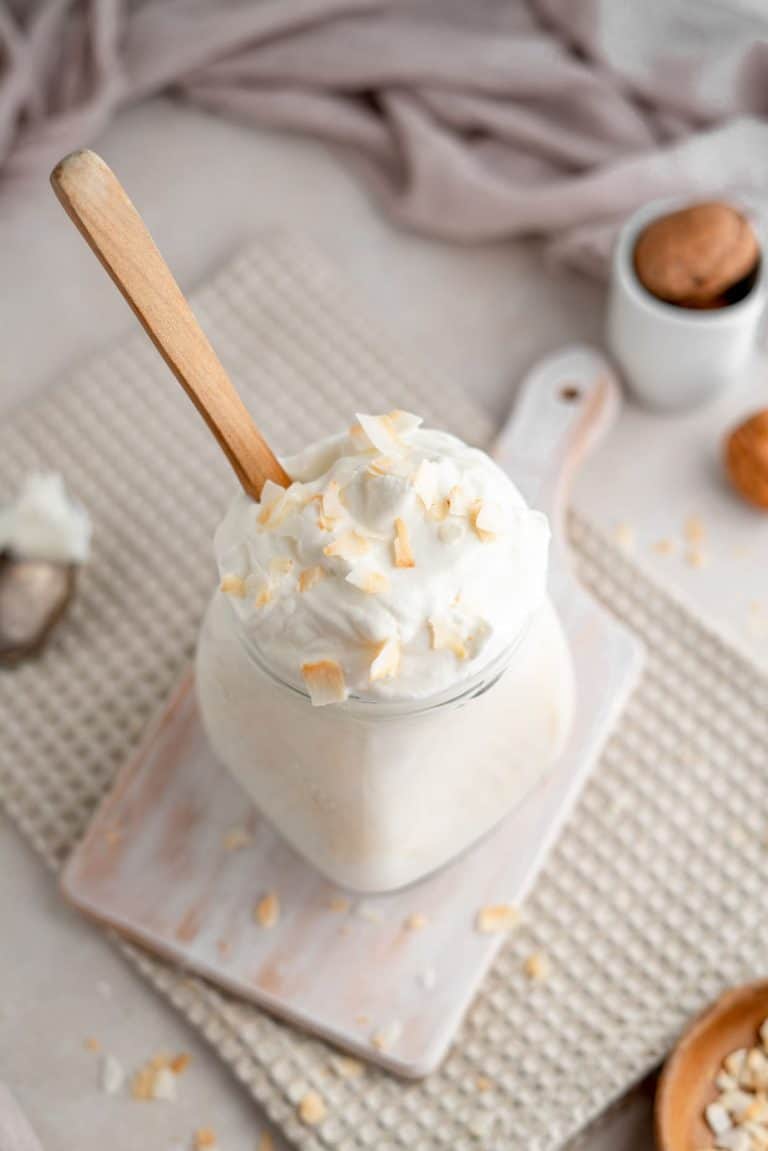 What brand of yogurt is Keto friendly?
Check out some of these keto yogurt brands! They're made with minimal carbs, high fat, and are delicious. Some can be found in stores across the country, and others you may have to specially order online.
Don't be afraid to ask your grocery store if they'd be willing so start carrying one of these brands. Often times stores will accept request forms for products they see a potential profit in.
This is a plain greek yogurt style keto yogurt. They have tons of different flavors like mango, cherry, vanilla, berry, coconut, ect. Each flavor is made with stevia and has just 2-3 net carbs per serving.
Different from strained greek yogurt Peak isn't just high protein, it's also super high fat. All that fat makes it super creamy and thankfully just 4 total carbs per serving.
It can be difficult to find a dairy free yogurt none the less a keto one. This almond milk dairy free based yogurt from kite hill has just 6 net carbs per serving. Compared to regular yogurt it tends to have more fiber and total carbs, but lower net carbs than traditional greek yogurt.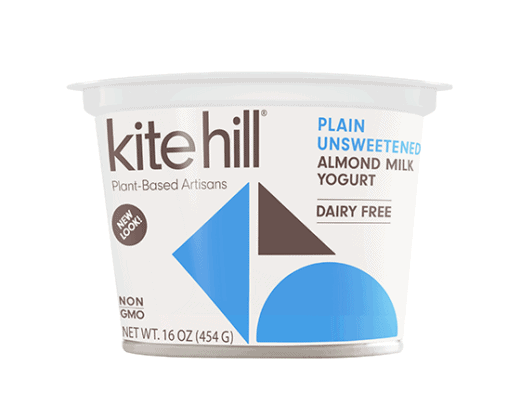 Skyr yogurt is a special type of yogurt that's often a bit more expensive, but great for keto because it's high fat and high protein. Brands will always vary, but it's common for this type of yogurt to have 7-9 net carbs.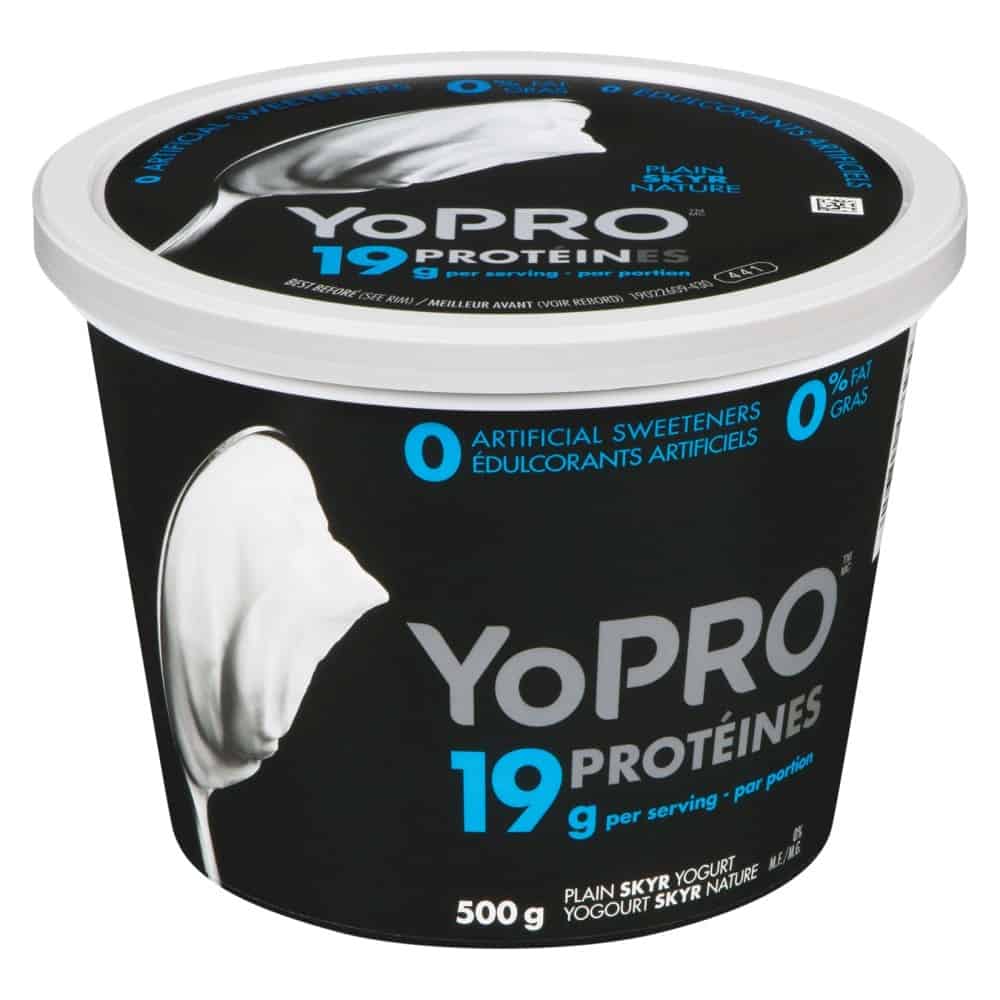 Bulgarian yogurt is great for those with a sensitive gut because it's rich in probiotics. The total carbs are a bit high but it's another great store bought option for those who don't want to deal with making their own.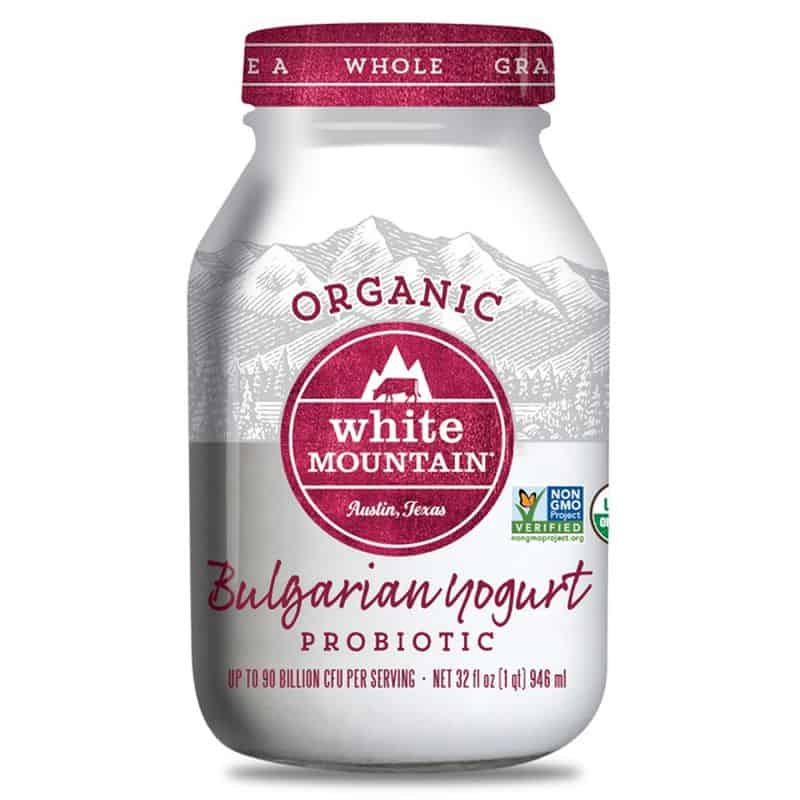 Add This Yogurt Recipe To Your Keto Diet Foods List
Whether you follow an "if it fits my macros" mentality or a strict keto one, this low carb yogurt recipe is one for everyone. And yes, even those who are dairy intolerant! We use canned coconut milk or coconut cream to create this dairy free yogurt and it's basically zero carb! Add it to all the lists you have, keto and non-keto because homemade anything always tastes best!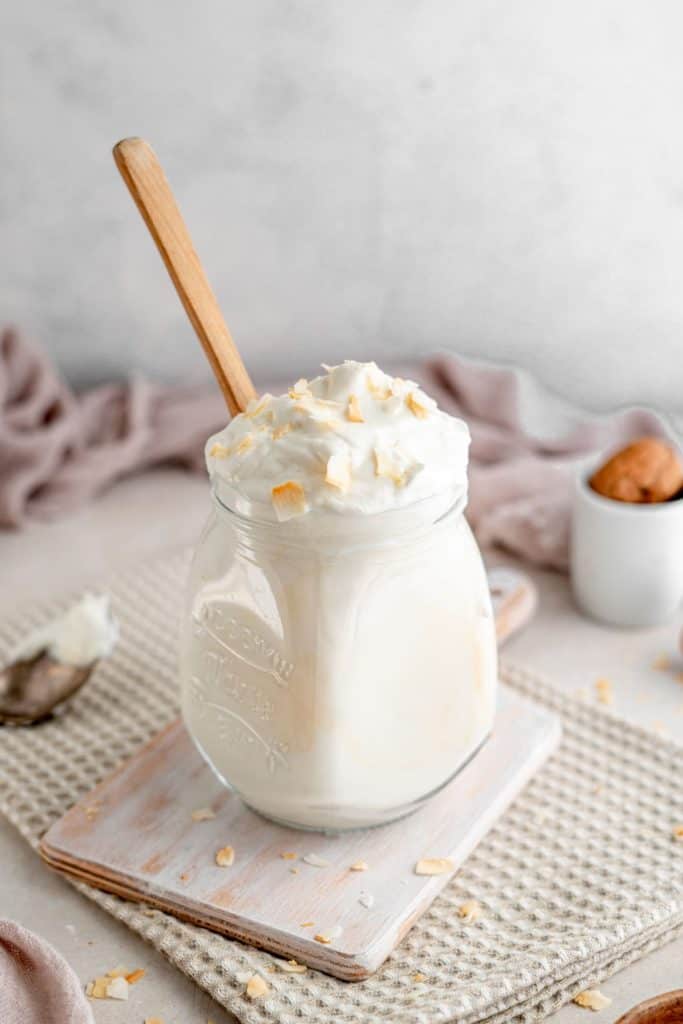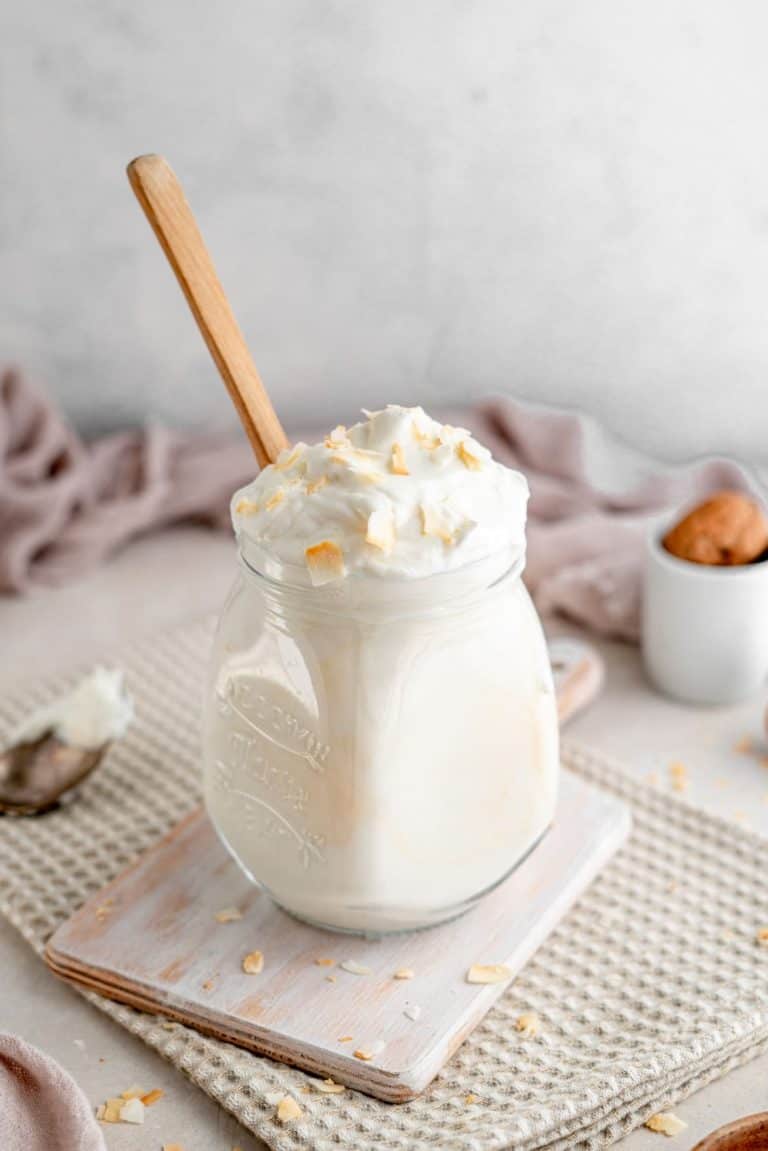 The Simplest Of Low Carb Sweets!
The best part about this recipe, in my opinion, is that once you make one batch using either a probiotic pill or yogurt starter you can make 4-5 more batches by using the first low carb yogurt you make. This allows you to have a high fat, low carb dessert recipe in the fridge at all times. You can simply add some vanilla or maple extract, spices of your choosing and protein or cocoa powder to create a simple and delicious low carb dessert! If yogurt isn't your thing you can give our no bake cheesecakes or keto brownies a try!
Keto Yogurt Benefits
There are tons of benefits to having keto friendly yogurt whether it's made with almond milk or coconut milk, low net carbs are just a bonus! Some benefits to having this keto coconut milk yogurt are:
High Protein to keep you feeling full and to nourish your body's cells. As well as blood sugar management from high amounts of fat.
Contain probiotics which improve good gut bacteria and promote better digestion. Products like this almond milk and coconut milk yogurt can also be easier to digest because they are dairy free.
Eating foods high in probiotics can improve your immune system. Even a small serving size of the best keto whole milk or coconut milk high fat yogurt can help increase the amount of probiotics in your body.
So while carb counts may vary quite a bit depending on the type of coconut milk yogurt you buy, there's no doubt a small serving size of yogurt is a great addition to your keto diet. Plus because we've broken down all the best keto yogurts you can even just pick up a high fat yogurt that's store bought and enjoy the same benefits.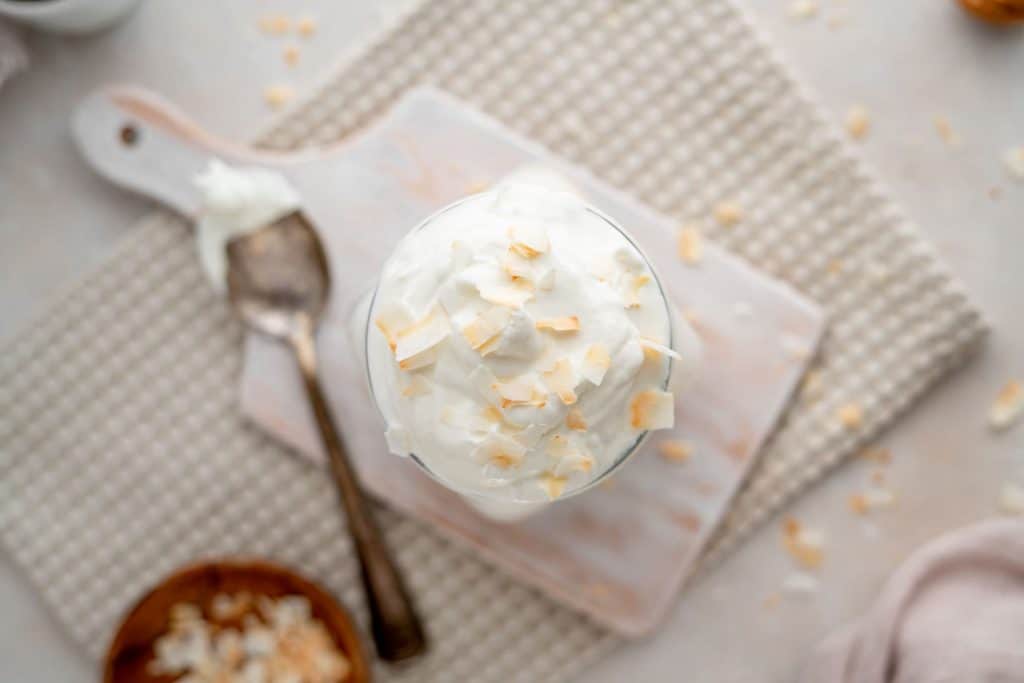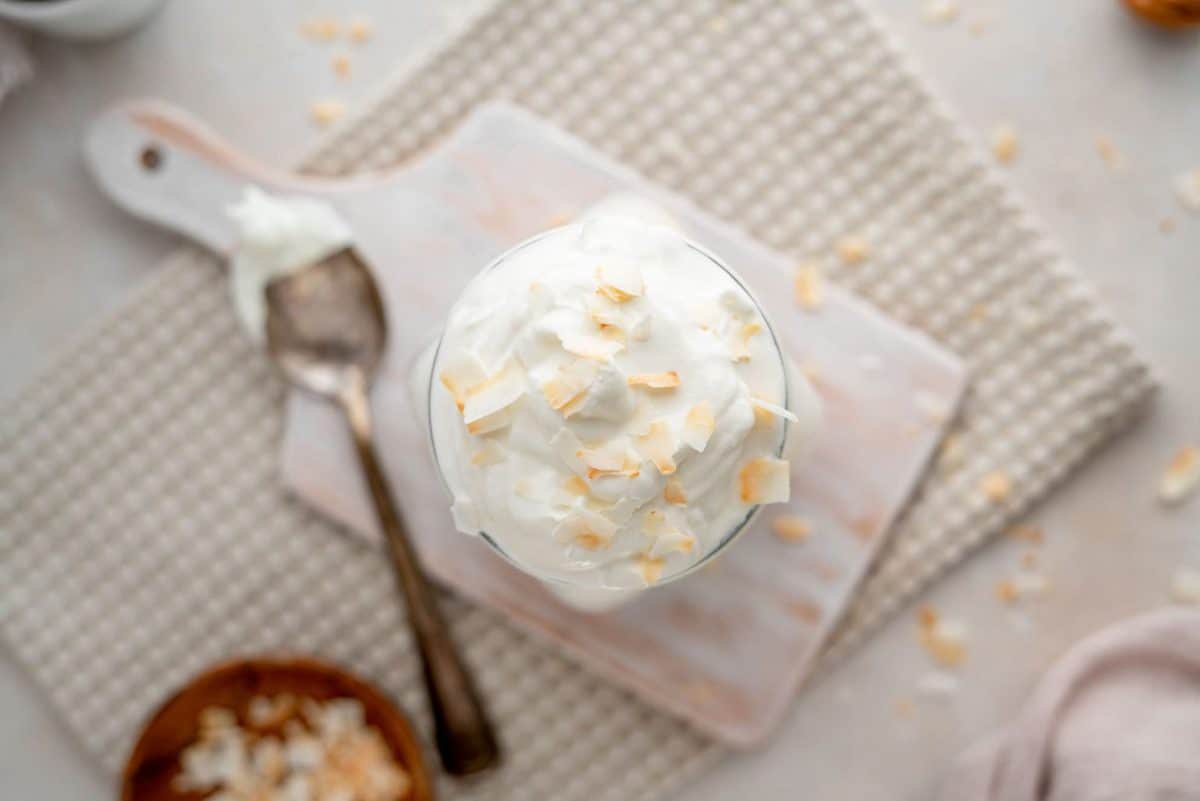 How to Make Keto Yogurt
Ready to take on the world of real food with delicious high protein and high fat ketogenic yogurt? Then you have come to the right place because our ketogenic yogurt is healthy and delicious so when you eat it you not only feel good, but enjoy the taste too!
Ingredients
To make our ketogenic friendly high fiber yogurt you are going to need 2 cans of coconut cream. These should be cream as it's thicker and makes a more traditional style healthy yogurt. Regular canned coconut milk is lower in calories but often more watery because of it.
You will also need 1 packet of yogurt starter or 1 capsule of 100 billion probiotics. Depending on which you chose the flavor will vary so read the recipe itself for flavor changes.
Finally if you want a vanilla flavored yogurt instead of plain try adding vanilla and stevia. Stevia will contain the sweetness we look for in regular yogurt options, and vanilla will contain a delicious flavor without any added calories.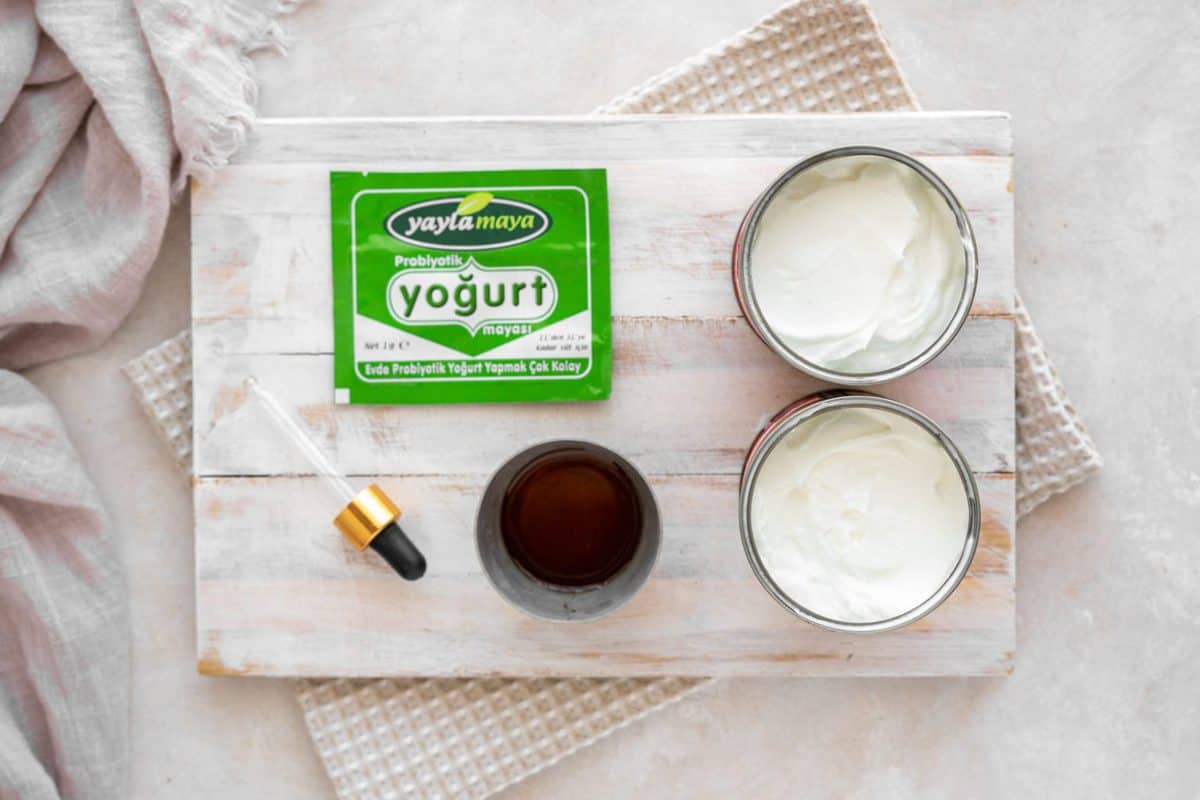 Making Keto Yogurt
Now that you have everything you need to make our healthy ketogenic yogurts it's time to get started! Begin by scooping all of the coconut cream from your can and placing it into a mason jar.
If you only have coconut milk let it sit for 24 hours in the fridge and then separate the cream from the coconut water.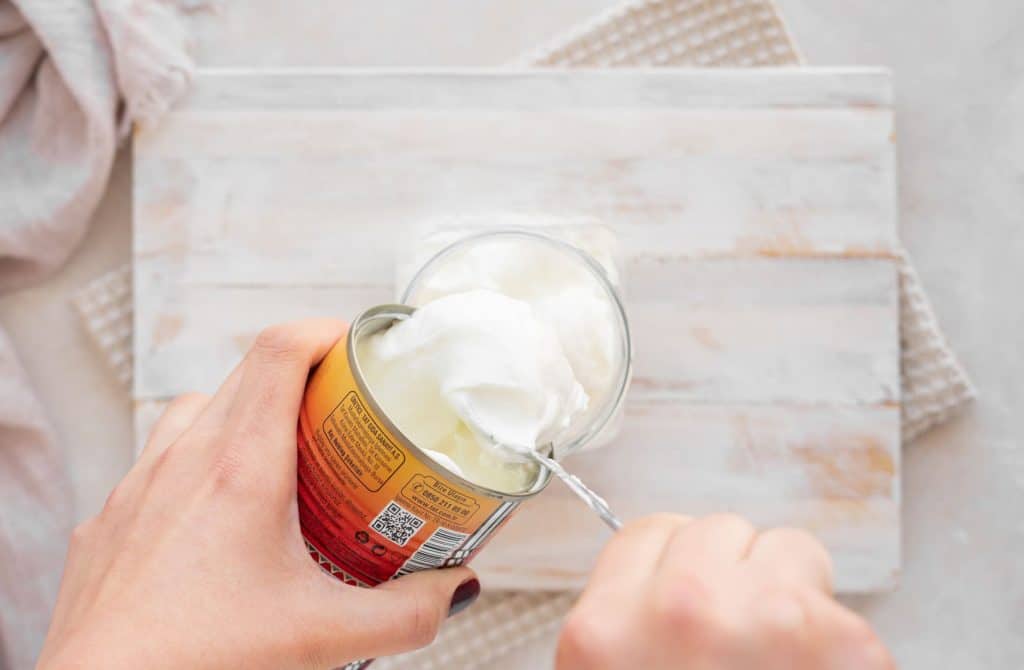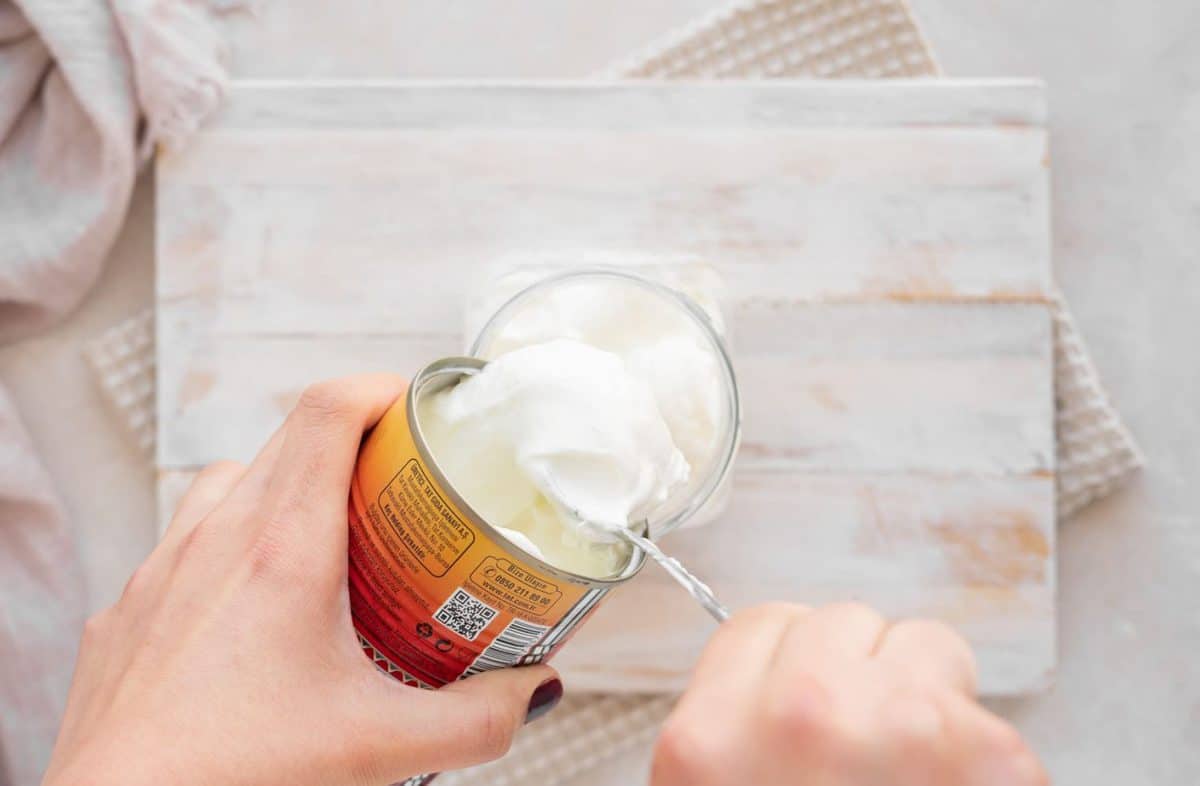 Next heat the yogurt in the microwave in 20 second intervals. You want it to reach 105 degrees. If it gets too hot wait for it to cool before adding in the probiotic. If it gets too hot it will kill all your living probiotics.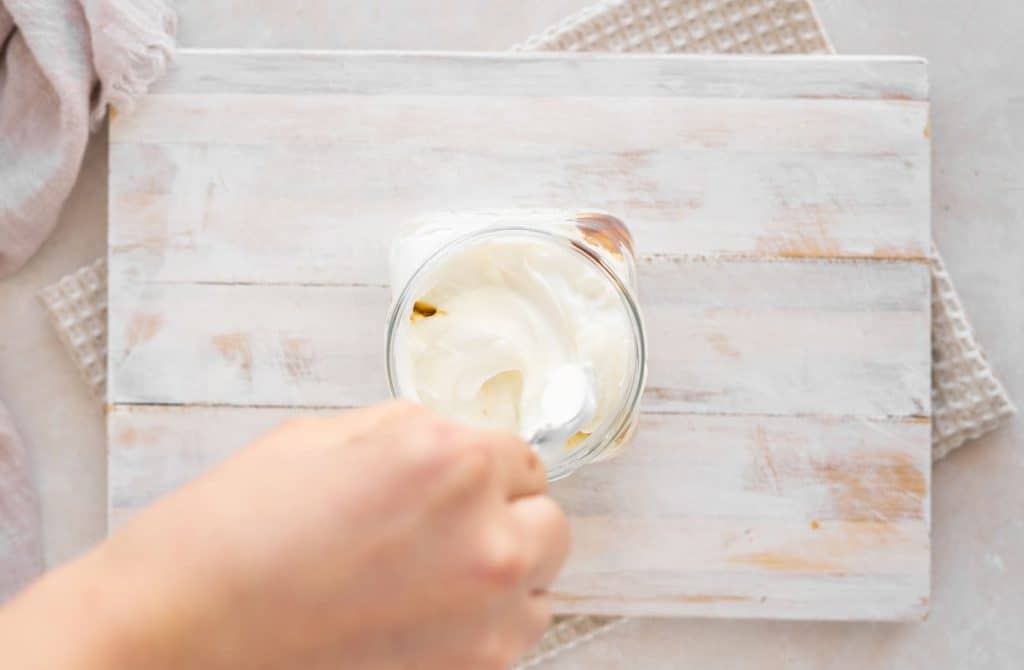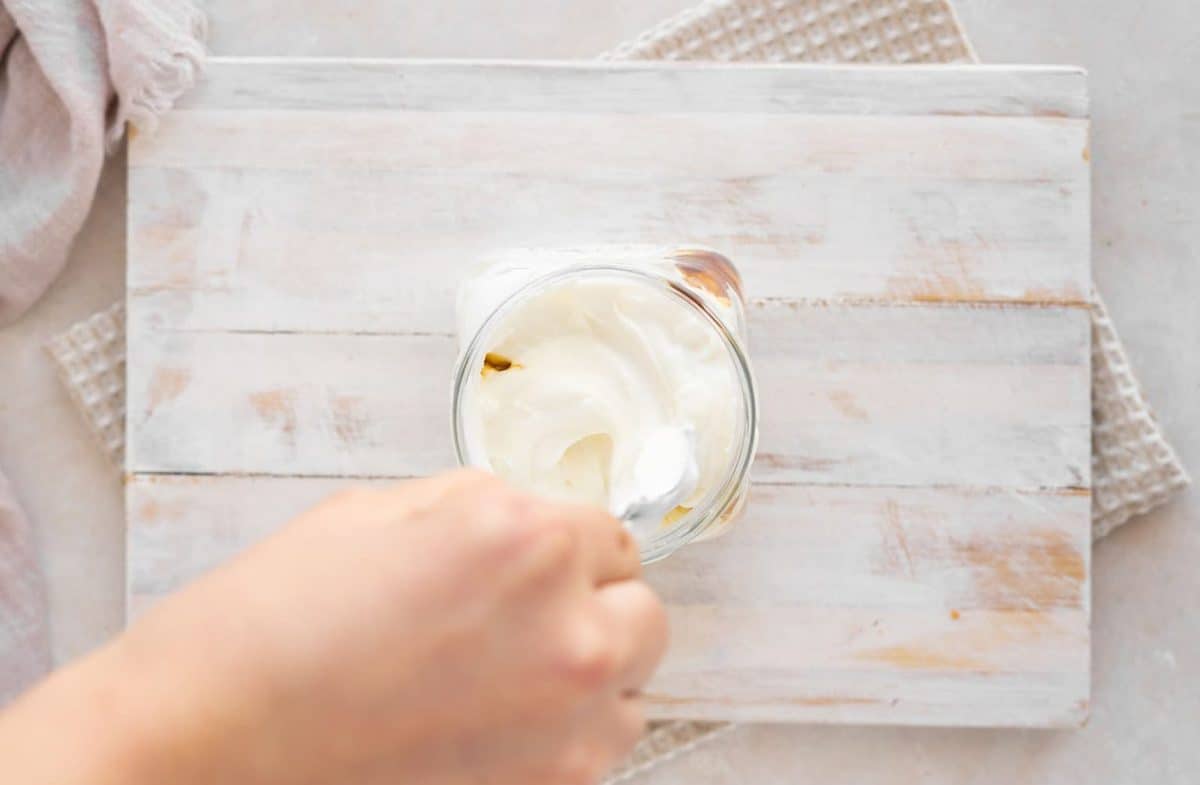 Once cool enough add your probiotic pill or starter to the yogurt and stir well. Cover with cheese cloth and place a rubber band along the top to hold it in place. Allow to ferment 24-48 hours in the microwave, oven, or counter top).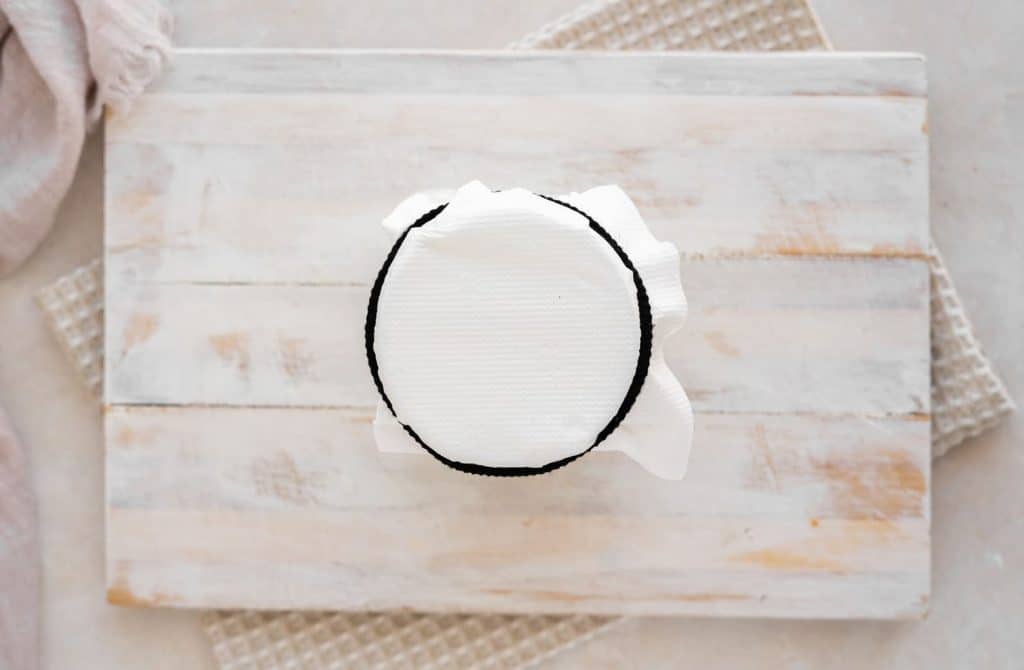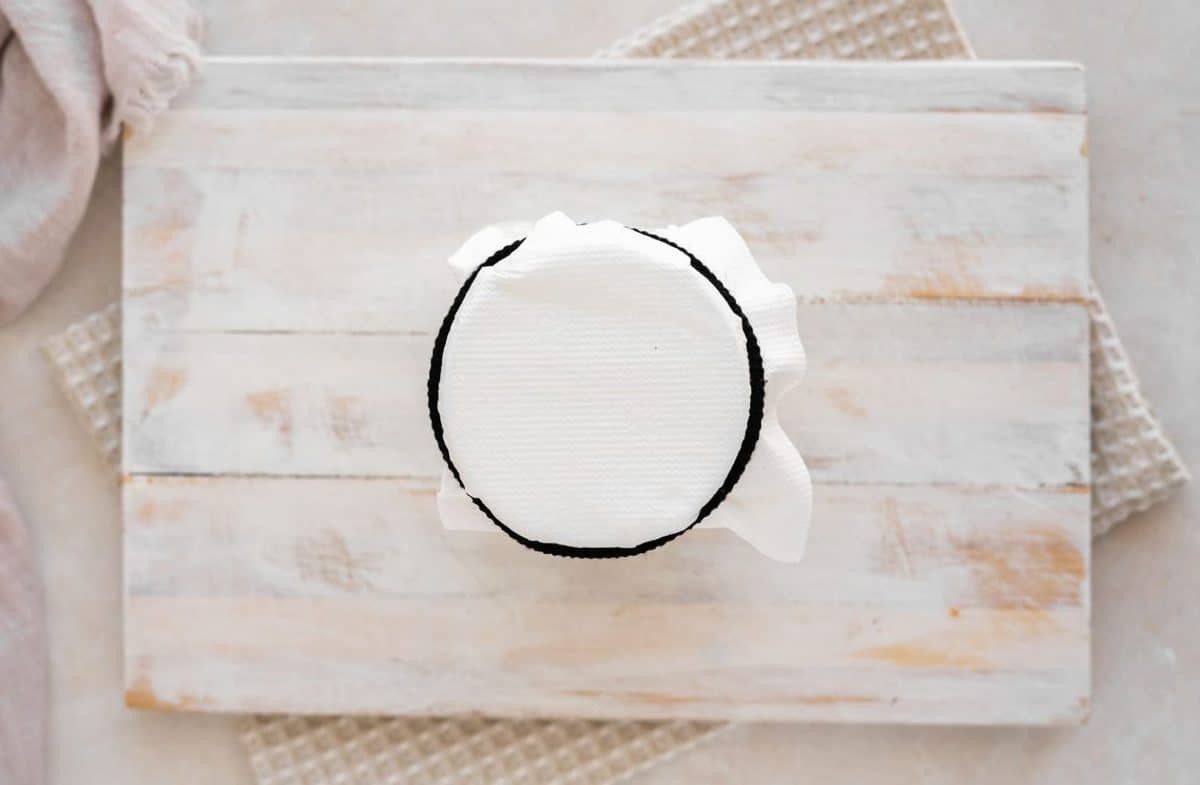 When it has fermented you can add your vanilla and stevia then store it in the fridge for up to a week. Next time you want to make a batch just use 2-3 tablespoons from this one instead of another pack of starter.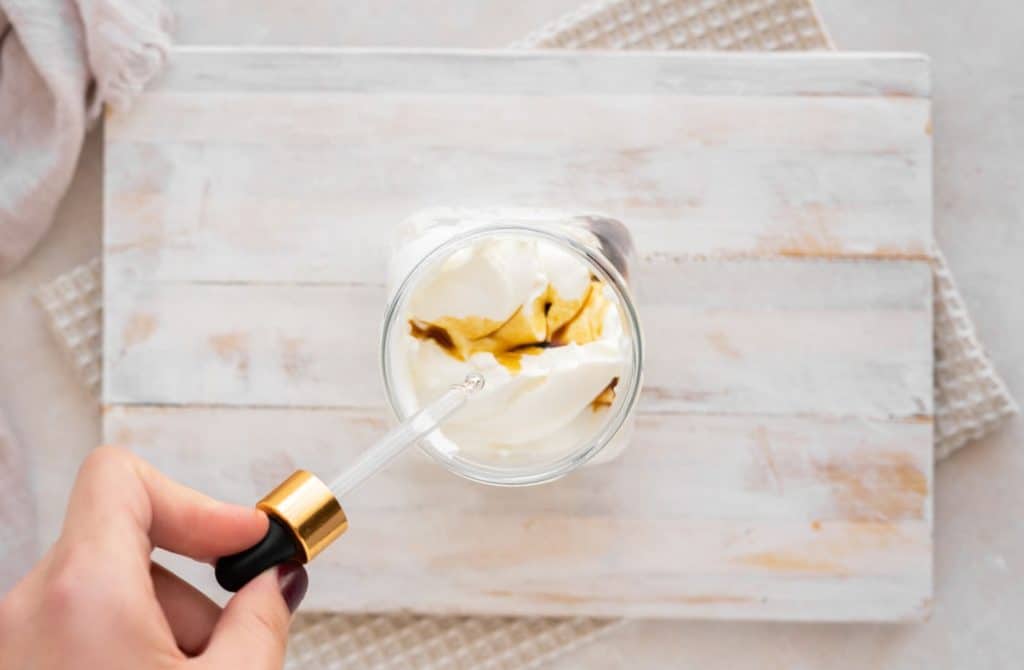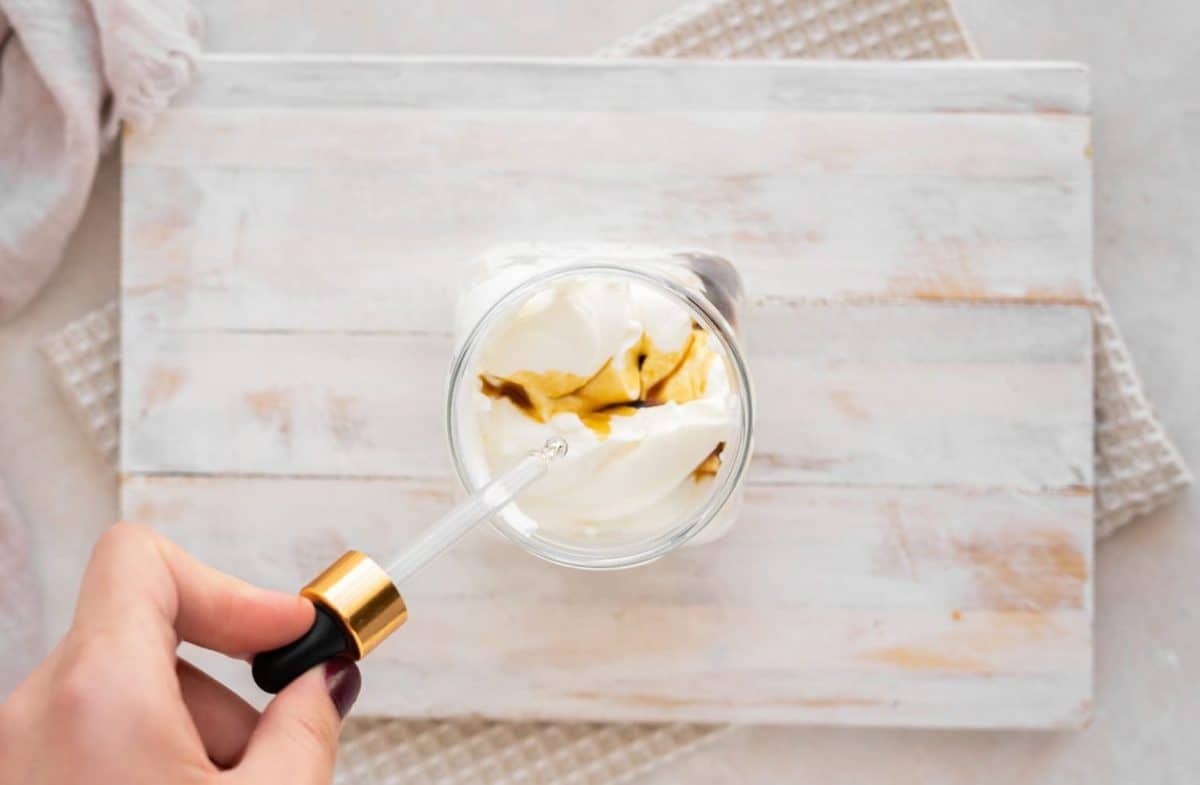 Storing Low Carb Yogurt
Different yogurt options vary based on ingredients and brand, but our healthy yogurt recipe lasts about a week in the fridge. You can usually eat it after a week, but it could over ferment and have a super tangy flavor. It's best to just eat it all up within a week.
When you're ready to make your next batch you can use 2-3 tbsp from this one as the probiotic portion. It already has the nutrition and bacteria in it so you don't have to open a whole other yogurt starter.
More Keto Breakfast Ideas
Love our recipes and want even more delicious high protein recipes? Our blog is packed with tasty recipes that will stabilize your blood sugar and keep you full for hours. Some of our favorites include:
With net carbs this low every one of these recipes are going to make a great food to enjoy early in the morning.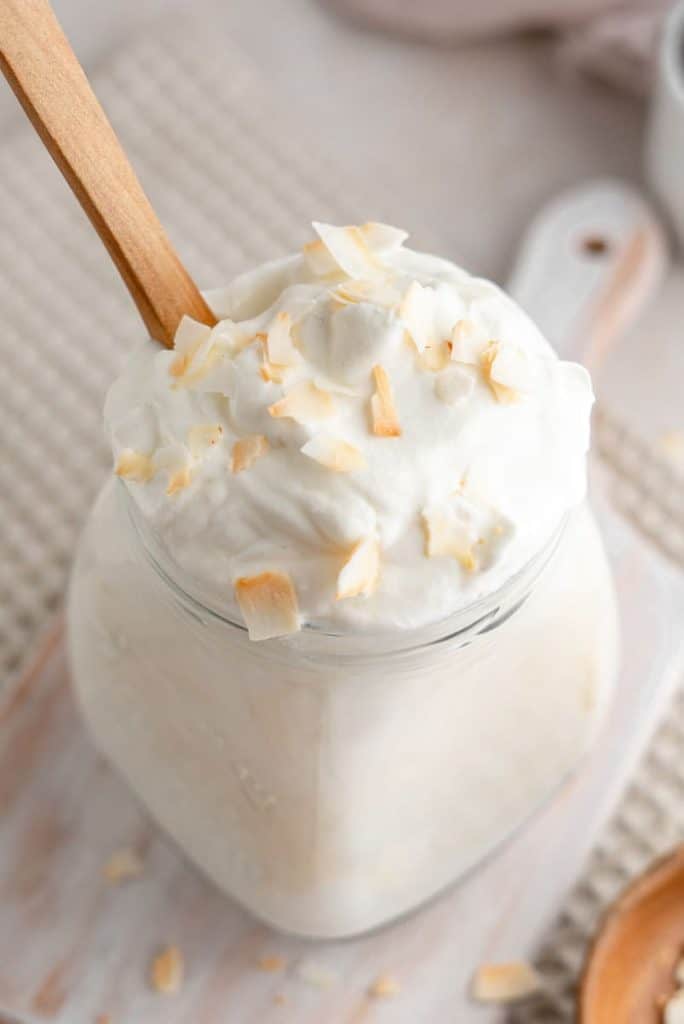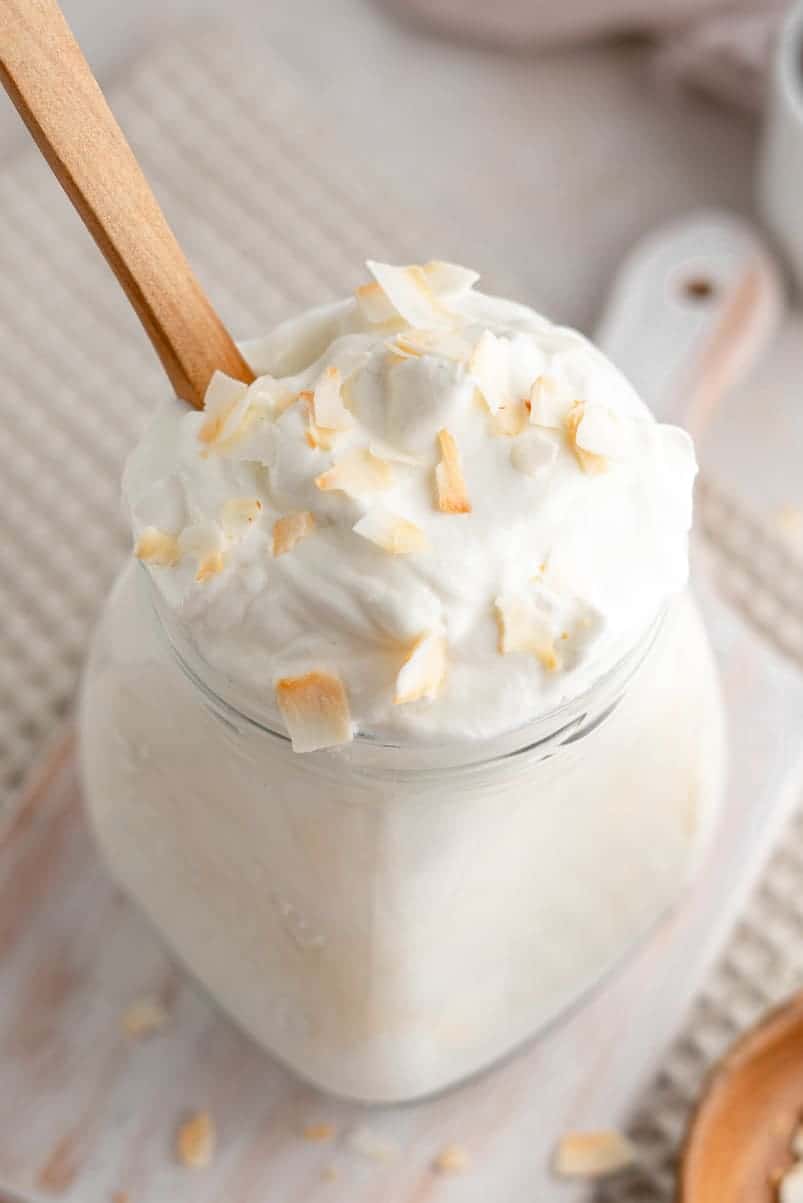 Low Carb Yogurt
If you're a fan of yogurt and are missing out on it since starting your new keto lifestyle then I highly recommend you watch the video above of Matt making it so you too can bring yogurt back into your life!
Yogurt like this is low in sugar and great for breakfast, lunch, dinner, as a side dish and dessert – you really can't go wrong by having some in your fridge. Making low carb yogurt requires no more than two or three ingredients, so what is stopping you?!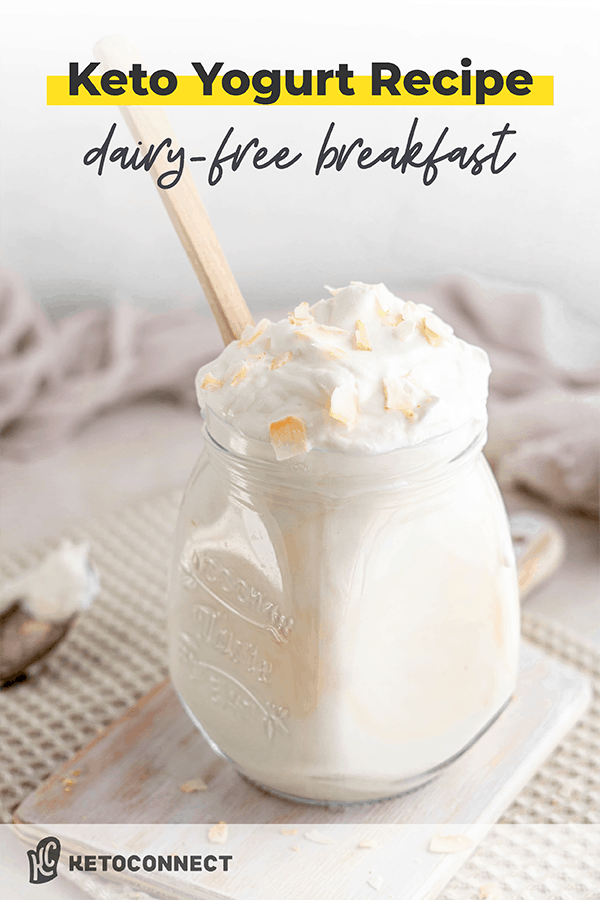 Recipe can be quickly added to MyFitnessPal – Search "KetoConnect – Low Carb Yogurt"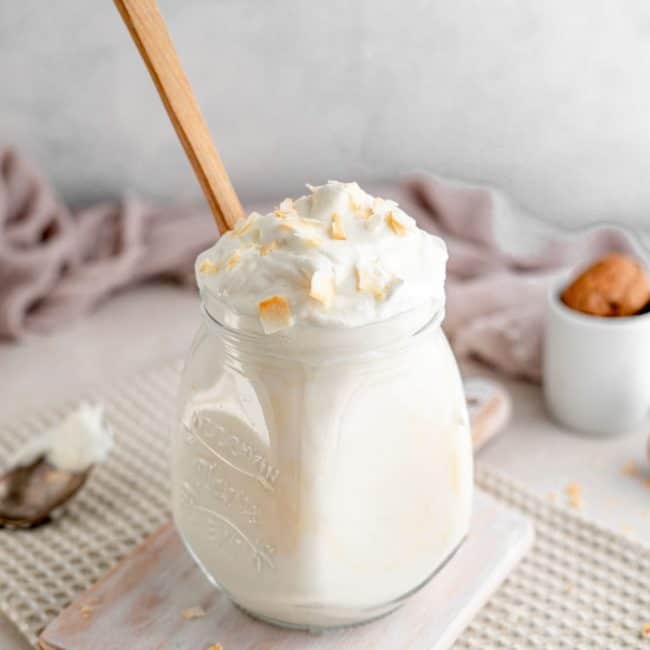 Low Carb Yogurt
You won't believe how easy it is to make your own low carb yogurt!
Total Time 2 days 5 minutes
Servings 9 – 1/3 cup servings
Calories per serving 275kcal
Ingredients:
Yougurt starter
1 packet yogurt starter (mellow taste)
OR
1 capsule (100 billion cultures) probiotics (tangy taste)
Instructions:
Allow your coconut cream to sit in the fridge for 24 hours prior to using. This will harden the cream so that you can easily separate it from the water. Scoop out all of the coconut cream fat (2/3 of the can) and add it to a clean, sealable mason jar or any jar on hand.

Heat the yogurt in the microwave (105 degrees) and use a heat thermometer to check the temperature of the coconut cream.

Add probiotic pill (open capsule and pour contents into the cream) or yogurt starter and add it to the cream and stir/shake it.

Cover the top with some cheese cloth and place a rubber band around the cheese cloth to keep it in place.

Place the yogurt in a dry place (microwave, oven, corner of the counter top) and let it ferment from 24-48 hours. Once the 24-48 hours have passed seal the container and place it in the fridge – this will stop the fermentation process.

Note: Consume within one week! Enjoy!

Note: When making the second batch you can use 2-3 tbsp from the first low carb yogurt made to start a new batch. No pill or starter is needed!
Nutrition Facts
Low Carb Yogurt
Amount Per Serving
Calories 275 Calories from Fat 261
% Daily Value*
Fat 29g45%
Saturated Fat 26g130%
Sodium 3mg0%
Potassium 270mg8%
Carbohydrates 6g2%
Fiber 4g16%
Sugar 1g1%
Protein 3g6%
Vitamin C 2mg2%
Calcium 9mg1%
Iron 2mg11%
* Percent Daily Values are based on a 2000 calorie diet.
Written By