Up until recently we used to be a strictly "no fruit in our dessert" type of household. But, Cheesecake? Yes! Fudgy brownies? Heck yeah! Homemade low carb ice cream? Absolutely! Things changed with our blueberry mug cake and ever since we've loved using fresh fruit in our low carb desserts. These raspberry pie bars are one of our favorites to make all year round.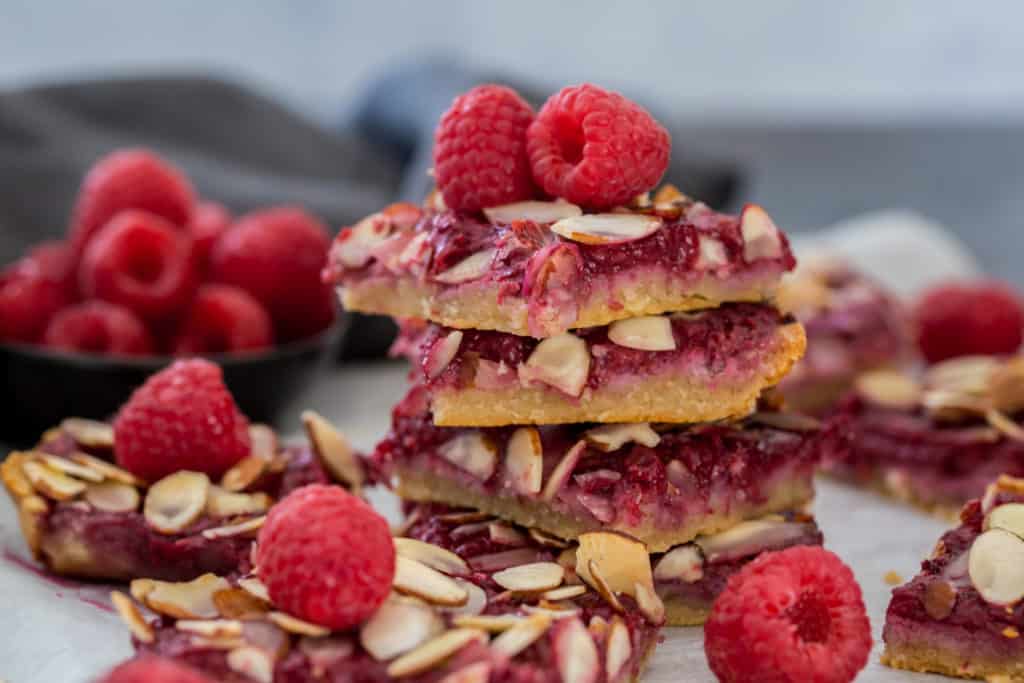 Berry Desserts For The Keto Win!
If you're on a keto or low carb diet your best bet for incorporating fruits is going to be through berries. Blackberries and blueberries are some of our favorites to always have in the fridge or freezer for a quick snack or whole foods dessert! Some keto desserts that incorporate berries are:
Keto Crepes with Raspberry Jam
Tip: If there is a big sale on berries in season, buy in bulk and freeze them to keep them fresh and sweet all year round!
Simple Almond Crust
This crust is thin, crisp and easy to make. It's the perfect golden crust for the indulgent raspberry filling. It's eggless for those who can't eat eggs or don't have any on hand and it's subtle in flavor so it doesn't take away from the star of the show; raspberries!
Fresh Filling
Fresh is always best, and this recipe proves just that! We don't overcook the berries and we keep the filing simple by utilizing the natural tartness in the raspberries to elevate this dessert. The minimal ingredients and transformation of the berries makes this dessert light and fresh, perfect for spring time.
You can replicate this exact recipe using any berry you have on hand. Strawberries (or strawberry jam) and blueberries would make this recipe less tart and more sweet, while blackberries and raspberries are for those who don't love overly sweet desserts!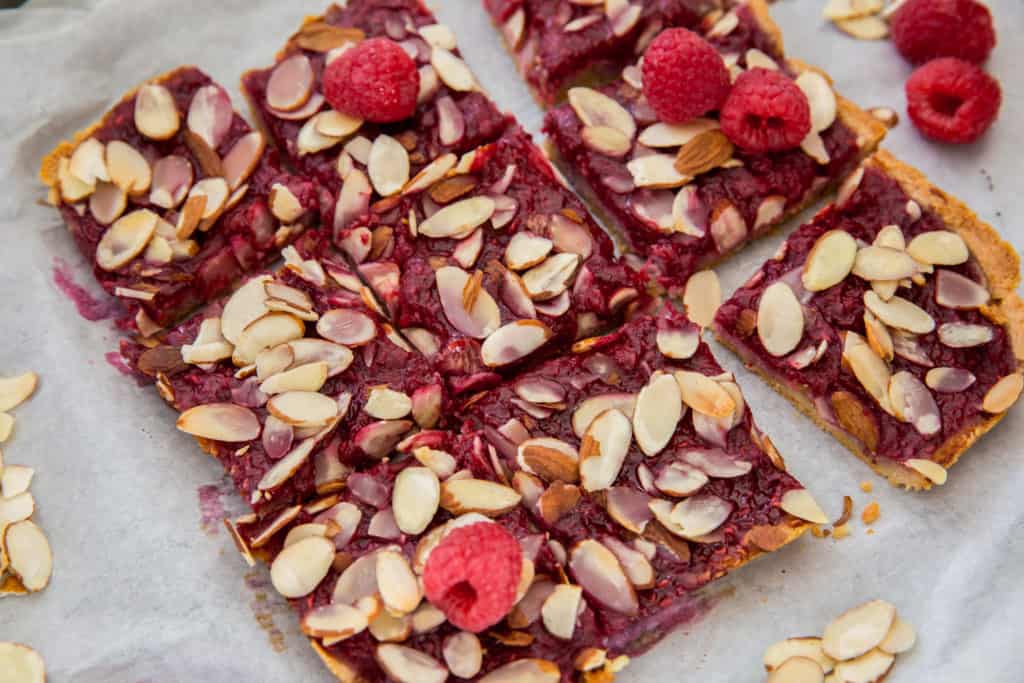 Raspberry Pie Bars
These raspberry pie bars transform fresh raspberries into a light, decadent dessert perfect for any time of year! With minimal ingredients and the quick bake time you can whip these up for Sunday brunch or your child's school bake sale (just don't forget to label them for any nut allergies!). If you are looking for a thicker, richer crust you can top this filling on our sweet keto pie crust recipe!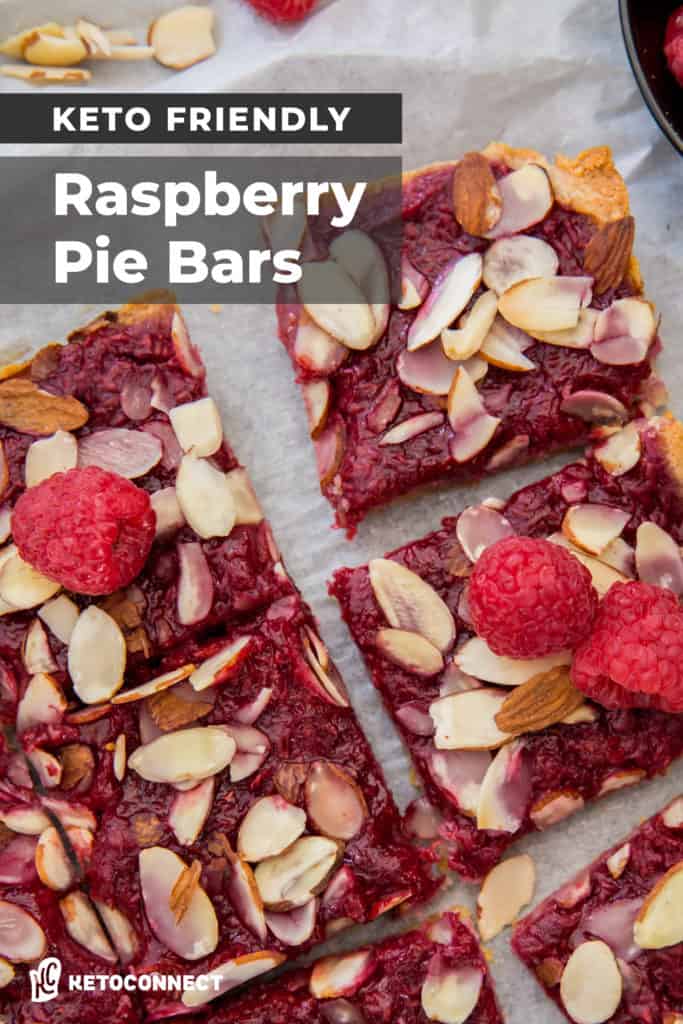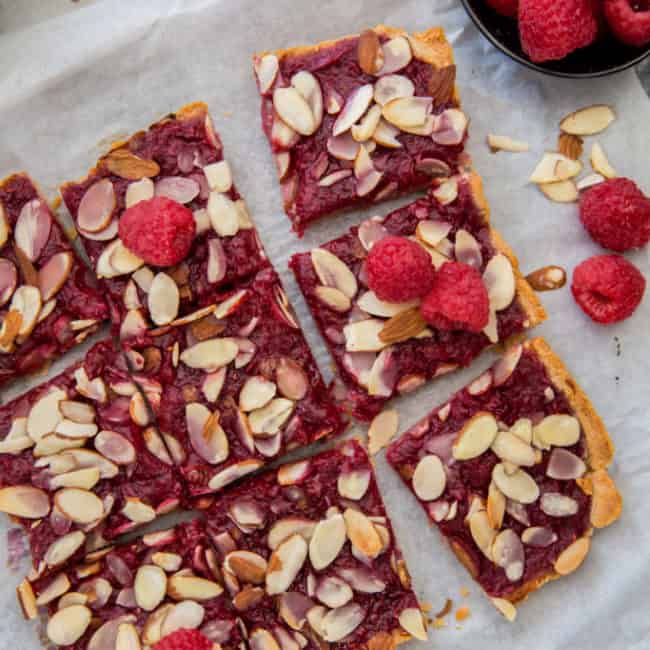 Raspberry Pie Bars
A sweet cookie crust topped with a layer of raspberry filling and crunchy, slivered almonds.
Servings 9 Bars
Calories per serving 192kcal
Prep Time: 5 minutes
Cooling Time: 15 minutes
Cook Time: 30 minutes
Instructions:
Make the crust: Preheat the oven to 350°F and Line a 8 x 8 square baking dish with parchment paper.

Combine all the crust ingredients in a large mixing bowl using a whisk or hand mixer until fully combined.

Add the dough to the lined baking dish and press into the bottom of the baking sheet.

Bake the crust for 12 minutes. Remove from the oven and let cool.

Prepare the raspberry filling by heating fresh raspberries and granulated erythritol over medium heat. Smash the raspberries and erythritol together using a wooden spoon.

Add the stevia extract, vanilla extract, salt and bring to a simmer. Cook for about 10-15 to thicken and reduce the filling.

Pour and spread the raspberry topping over the cooked crust. Top with chopped almonds.

Cook for an additional 7-10 minutes or until the almonds are slightly toasted.

Remove from oven and let cool before cutting into bars. Best stored in an air tight container or zip top bag in the fridge up to 10 days.
Notes
Net Carbs: 4g
Serving Size: 1 Bar
Yields: 9 Bars
Nutrition Facts
Raspberry Pie Bars
Amount Per Serving
Calories 192 Calories from Fat 144
% Daily Value*
Fat 16g25%
Carbohydrates 9g3%
Fiber 5g20%
Protein 6g12%
* Percent Daily Values are based on a 2000 calorie diet.
Written By