I officially have a new favorite cookie recipe and I plan to make them for every holiday and party moving forward! These Easy Thumbprint Cookies with blackberry jam are soft, moist, slightly tart and sweet, and will be loved by everyone. Check out the video to see how we make them step by step!
Our Favorite Cookies!
With the holidays in full swing you need a go to list of cookies to make. Growing up Matt's mom started baking them at the start of December so cookies were always on the menu! If you make the cookies from the list below you won't be tempted by the holiday desserts surrounding you at work and with your non-keto family and friends, and you can even spread a little low carb love!
That's five, sure to satisfy, keto cookies you can whip up and freeze for freshness or take to work and sneak a little healthy fat into your co-workers lives 🙂
Chill Your Dough
This step is extremely crucial because the dough is very soft and too loose to easily form into cookies. Once you have made your dough you are going to want to chill it for at least 60 minutes in the fridge. This will ensure that when you are working with it with your warm hands it won't go too soft too quick on you!
Another note to consider is how quickly you work with the dough. This isn't the recipe to get your kids involved in hehe. This is the cookies recipe where time matters so work quick, fill those thumbprints with jam and pop in the oven. You can call the kids over to help you eat!
Soft Or Crispy?
I'm personally a fan of soft cookies, but if you like your cookies a little browned and crispy you can go that route too! We've given you the timing for both options below in the instructions (in the video we make them soft) and it won't affect the blackberry jam at all.
Make Them Ahead
The great thing about cookies, these in particular, is you can make everything ahead of time! The blackberry jam can be whipped up in under ten minutes and stored in a air tight container in the fridge up to two weeks. And, the cookie dough can be stored in the fridge three days in advance so when you are ready to bake all you have to do is shape the cookies, fill with jam and bake!
Looking for other jam ideas? You might also like our Mixed Berry Keto Jelly Recipe!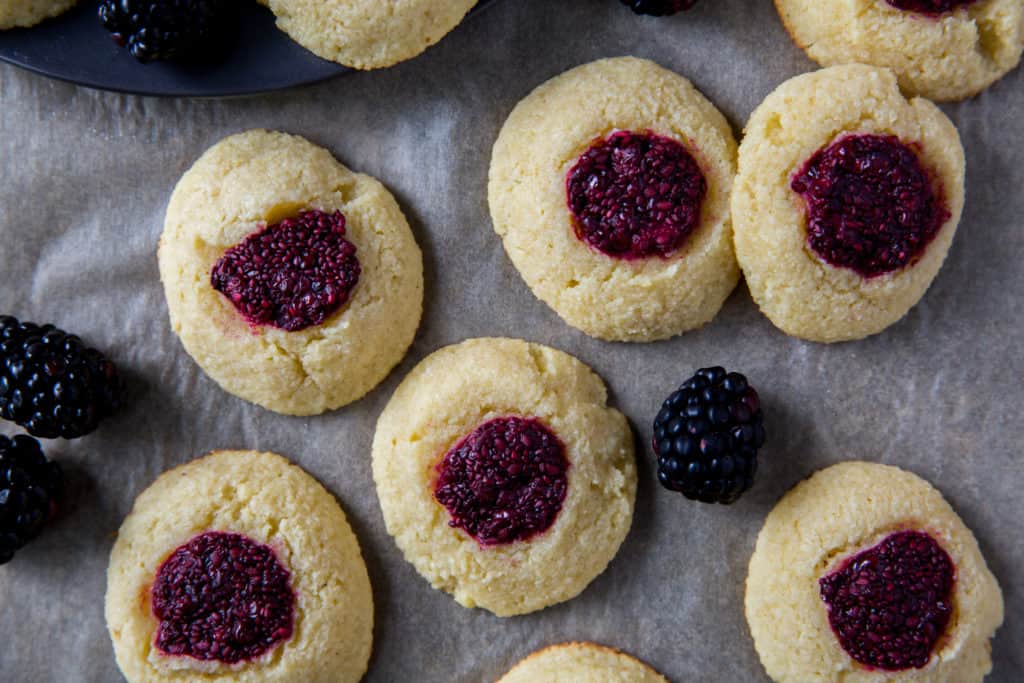 Easy Thumbprint Cookies
If you grew up eating thumbprint cookies during the holiday season like Matt then you're in for a blackberry jam treat. These cookies are the perfect low carb, healthy replacement and family and friends won't be able to spot the difference. Let us know if you make them this holiday season and what you think of them in the comments below or tagging us on Instagram!
Tip: these cookies would taste great with raspberry and blueberry jam too!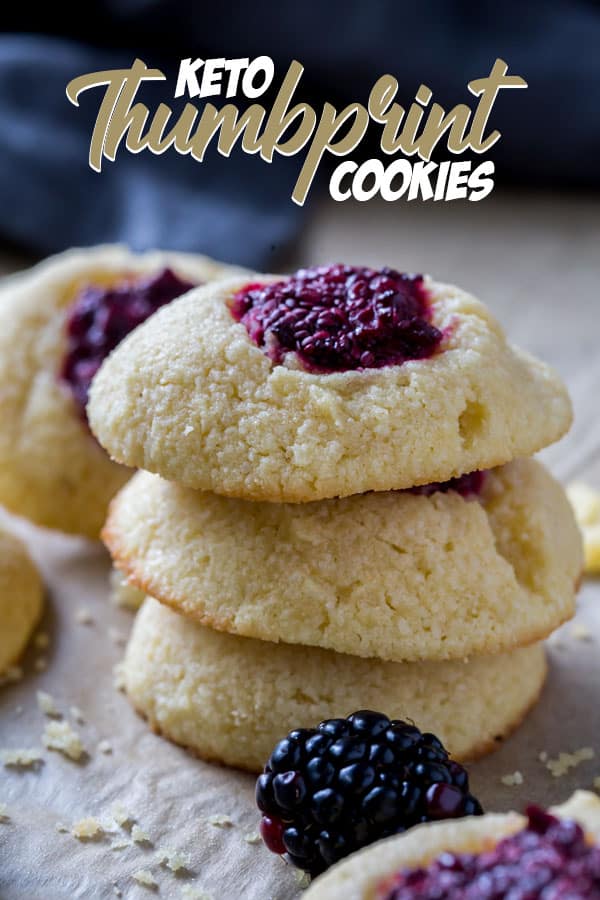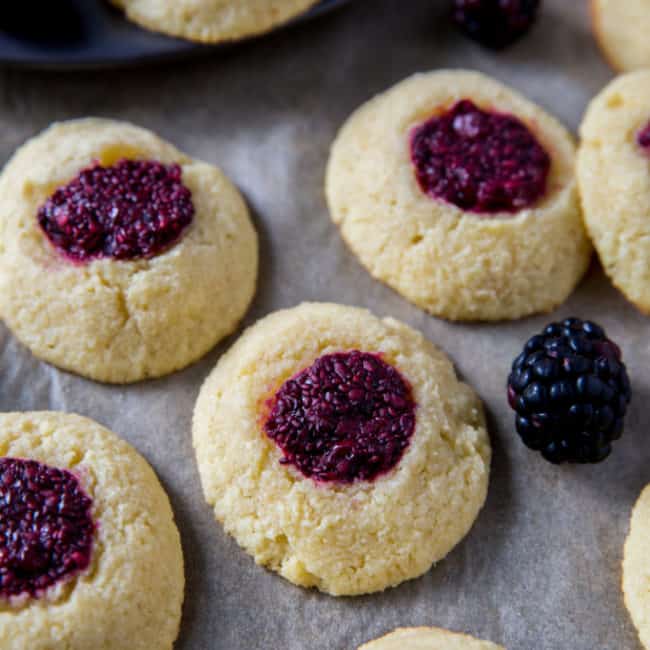 Easy Thumbprint Cookies
Low-Carb Sugar cookies filled with a blackberry jam.
Servings 14 Cookies
Calories per serving 148kcal
Prep Time: 10 minutes
Chill Time: 1 hour
Cook Time: 15 minutes
What You Need:
Food Processor or Electric Mixer
Instructions:
Combine almond flour, coconut flour, erythritol, baking powder and salt in a food processor. Pulse for 10 seconds until combined.

Add vanilla, stevia, egg and butter to the food processor and pulse until fully incorporated and dough is formed (will be very soft).

Place dough in saran wrap and refrigerate for at least 60 minutes. Line a rimmed baking sheet with parchment paper and set aside.

Preheat oven to 375°F and line a baking sheet with parchment paper.

While dough is chilling make the blackberry jam.

Place blackberries and lemon juice in a small saucepan set over medium heat. Bring to a boil, using a fork to crush berries as they soften.

Remove from heat and add chia seeds and stevia. Mix well and allow to cool.

Scoop cookie dough into tablespoon-sized balls and roll into smooth balls. Place 2 inches apart on baking sheet and use your thumb to gently make an indentation in the center of the cookie dough. Repeat with remaining dough.

Spoon cooled jam into each thumbprint, filling them to the top.

Bake for 9 (soft) to 11 (crunchy) minutes until edges begin to brown. Allow to cool for 5-10 minutes, then transfer to a cooling rack and allow to cool completely prior to serving.

Best stored in an air tight container in the fridge up to one week.
Notes
Net Carbs: 2g Serving Size: 1 Cookie Yields: 14 Cookies
Nutrition Facts
Easy Thumbprint Cookies
Amount Per Serving
Calories 148 Calories from Fat 117
% Daily Value*
Fat 13g20%
Carbohydrates 5g2%
Fiber 3g12%
Protein 4g8%
* Percent Daily Values are based on a 2000 calorie diet.