All you need is three ingredients plus water to make this sugar free strawberry jam. We're giving this one 5 stars when it comes to taste, convenience and time efficiency for sure. Pop your jelly into jars and save it for later!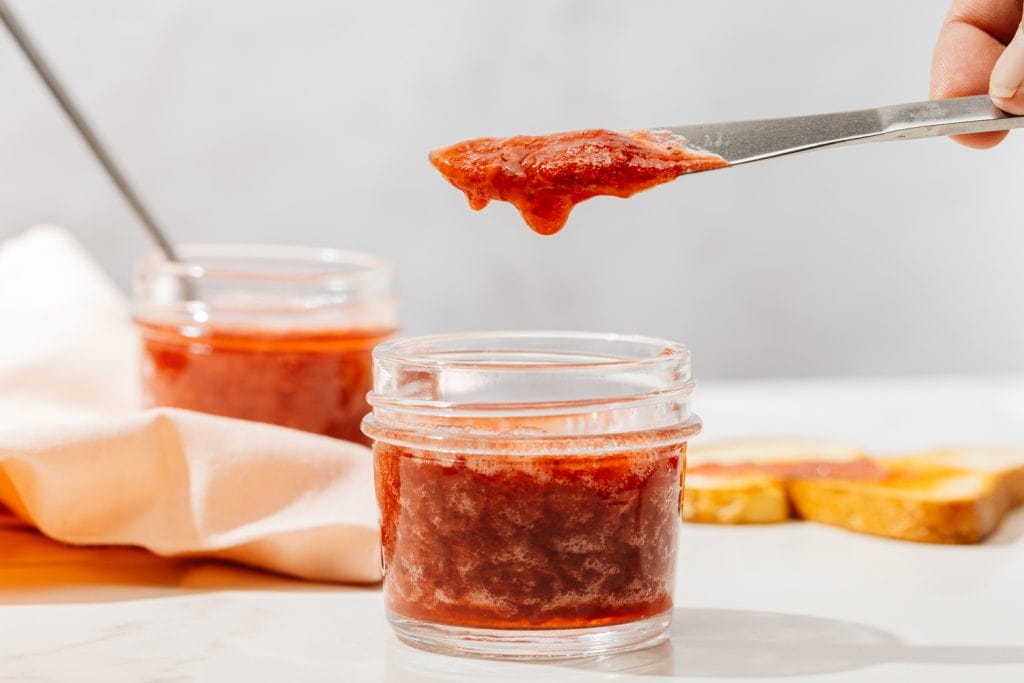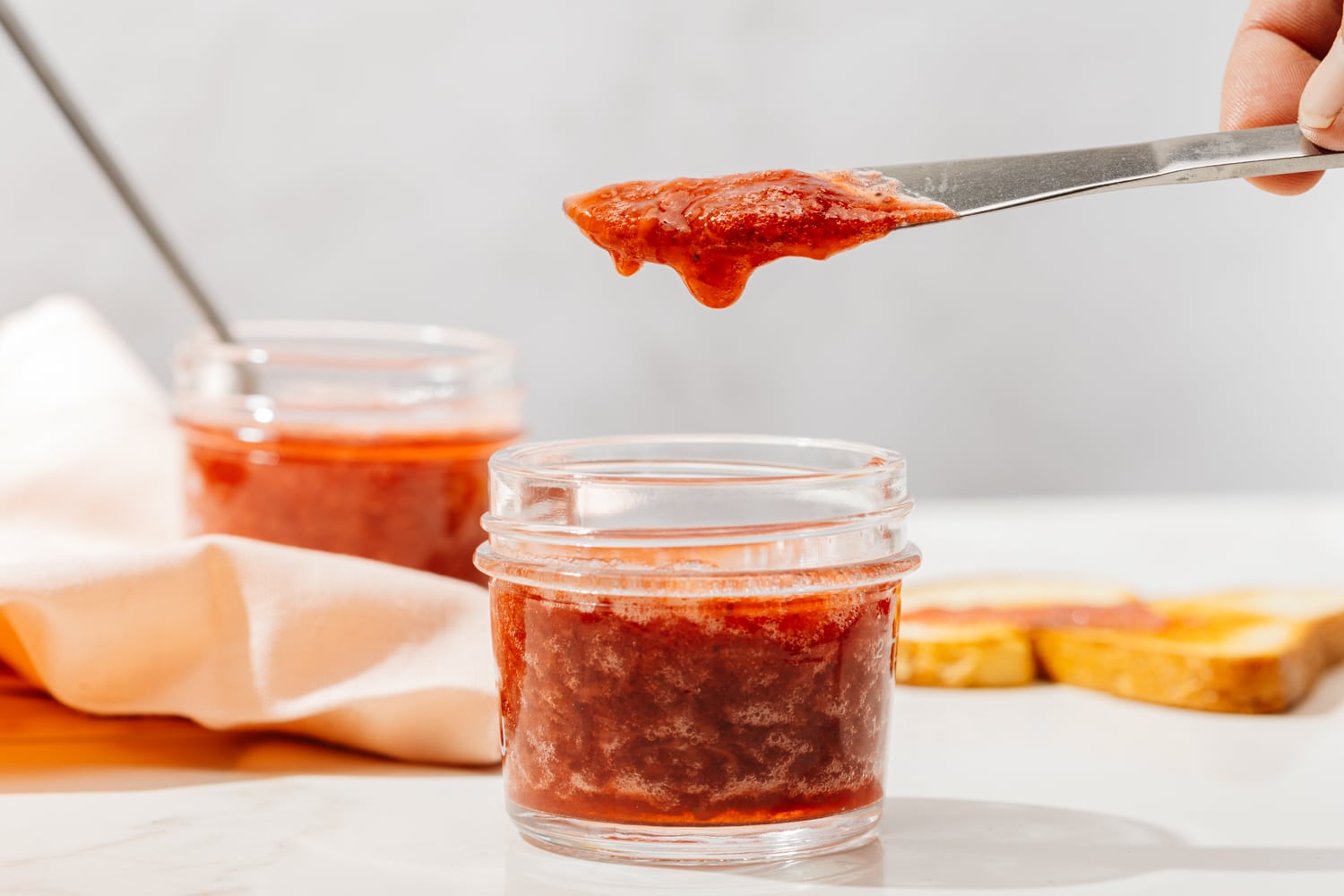 Traditional jams are full of sugar, but since we can't have that on keto we're gonna show you how to make a simple sugar free strawberry jam.
Fall is right around the corner and I don't know about you guys, but there is something about a good jam recipe that makes me feel like a kid again. I don't know one person that has never tried peanut butter and jelly sandwich in their childhood, it was my absolute favorite!
This sugar free recipe for strawberry jam is an awesome alternative for ketogenics, those on a low carb diet or even for diabetics. No sugar needed!
We love using it in the morning with our Keto Protein Pancakes or smear it on low carb, keto bread. Honestly it does last about two weeks if you keep it in the fridge, but it's so good it usually won't even last that long. I don't remember the last time it took us more than three days to eat all of it.
Is Sugar Free Jam Keto Friendly?
Depending on what you make it with. Blueberries, strawberries, raspberries and blackberries have considerably less sugar than other fruit. They're also high in fiber and if you do the math, whatever food has a higher fiber content also has a lower net carb content.
Rule of thumb? More fiber, less net carbs.
Because we're not using real sugar here, this recipe is good for those who are on keto or any other low carb diet. You'll still get a very similar taste without the unnecessary additives and significantly reduce insulin spikes caused by sugar in a regular, traditional jam.
Regular jam is usually filled with high fructose corn syrup, pectin and tons of sugar. We took a look at one of the most popular strawberry jams out there and per serving (1 tablespoon) they contain 9 g sugar. That's a lot! And not worth the guilty pleasure.
To put it into perspective, you can put around 15 grams of jam in a tablespoon. If 9 grams out of that is added sugar, that means 60% of the jam you get in the store is made up of sugar. This is why making your own low sugar jam using a keto sweetener is the only way to go.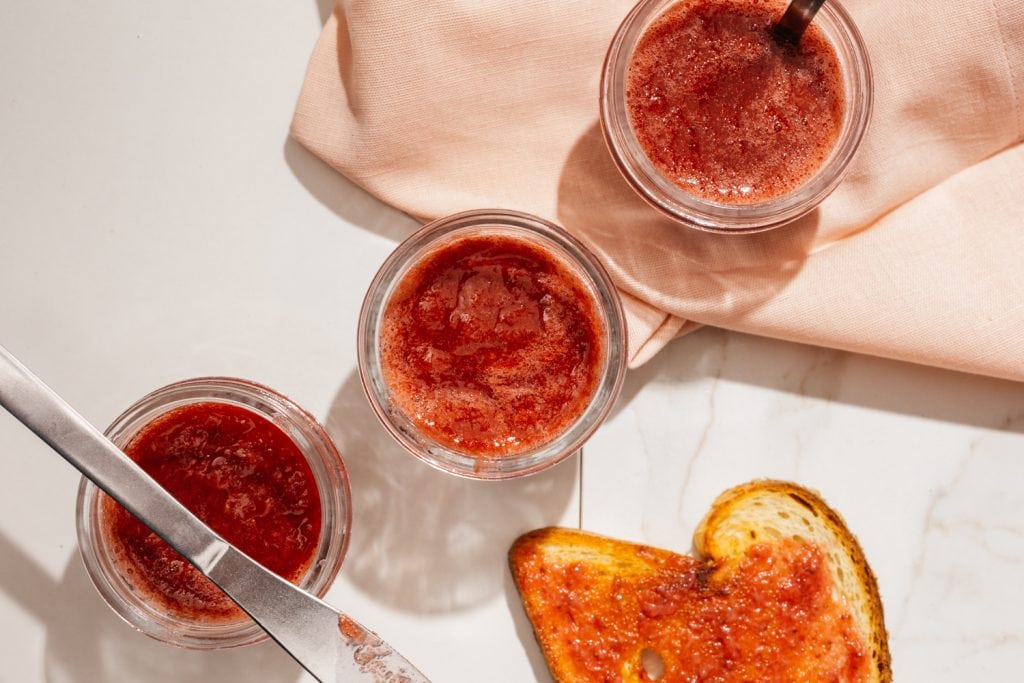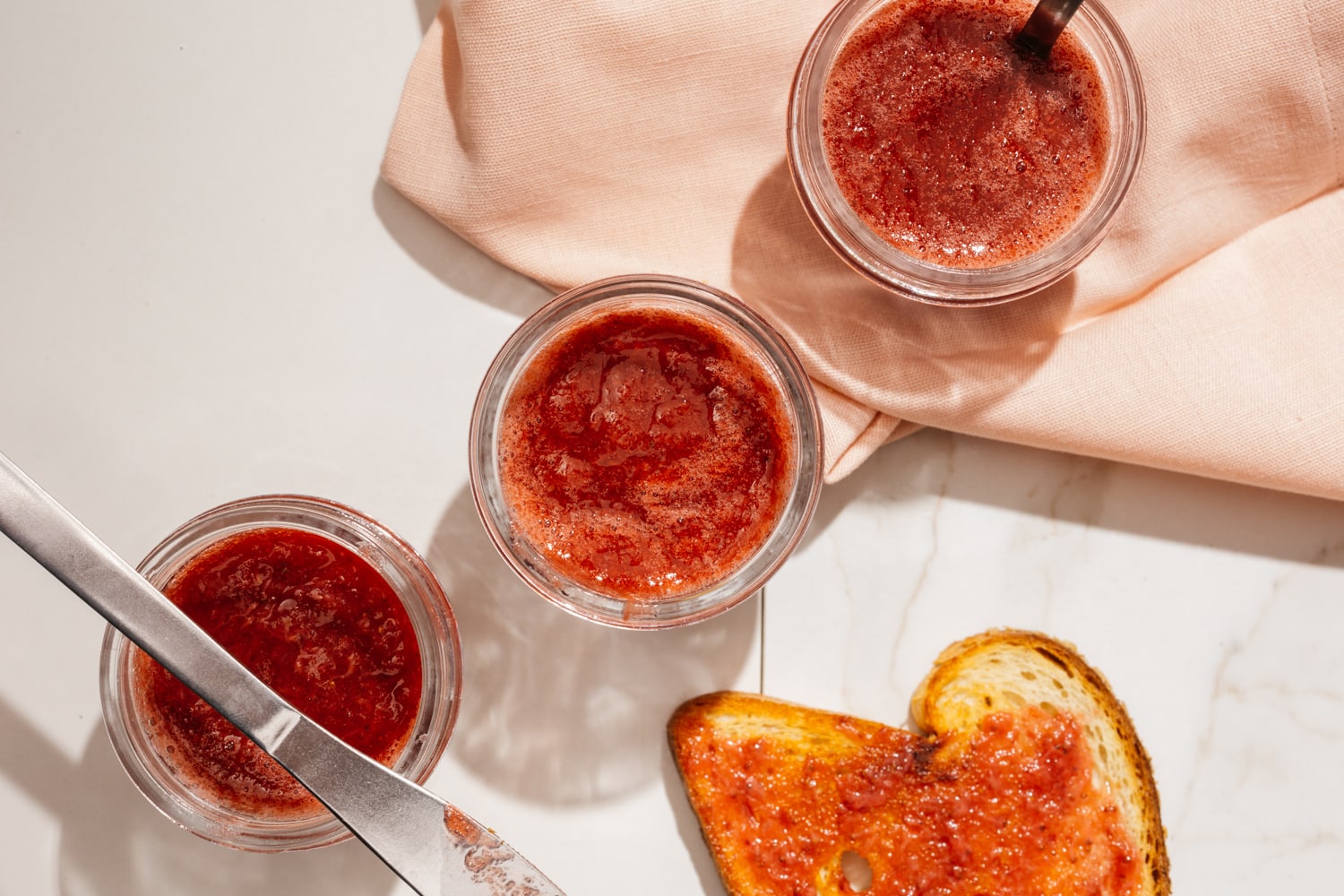 How Can I Use Sugar Free Strawberry Jam?
If you're not one of those people who likes to eat it straight out of the jar (don't judge me), there are plenty of recipes you can use jam with.
Smear it over low carb pancakes for breakfast or as a snack
Our Keto Crepes are seriously *meant* for this jelly. Whip up some cream, put berries on top and you're all set
Add it to Greek yogurt and ketogenic cereal recipes
Use it in our Keto Thumbprint Cookies
Pour a tablespoon or two over low carb ice cream
Add it in baking or use it whenever you're making low carb cheesecakes
How Do I Make Sugar Free Jam?
It's a really, really simple recipe! All you need are strawberries, water, gelatin and a keto sweetener.
Prepare your ingredients and tools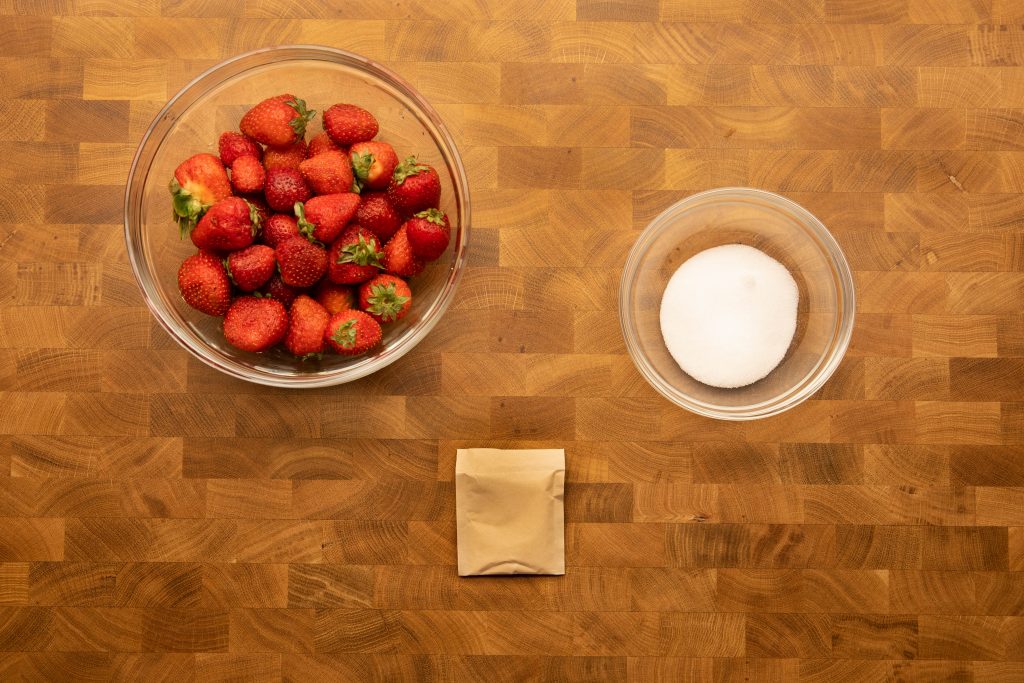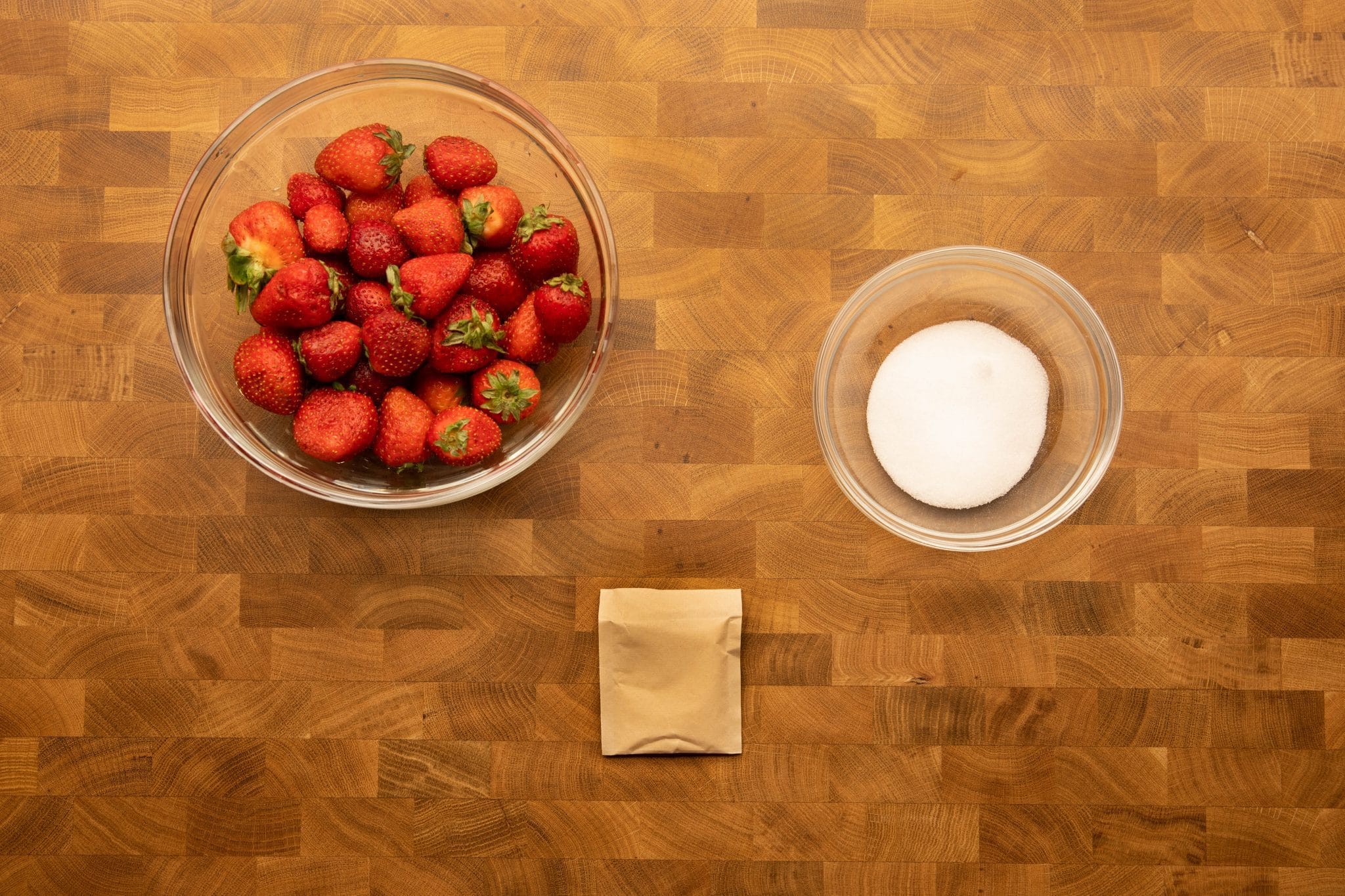 To make this sugar free strawberry jam recipe you will need:
2 lbs fresh strawberries
3/4 cup Swerve sweetener
1 tbsp gelatin
1 1/2 cups water
1/4 cup hot water (do not bring to boil)
Also, prepare these kitchen tools:
A medium sized pot
Potato masher
Two cups
Glass jars
Prepare strawberries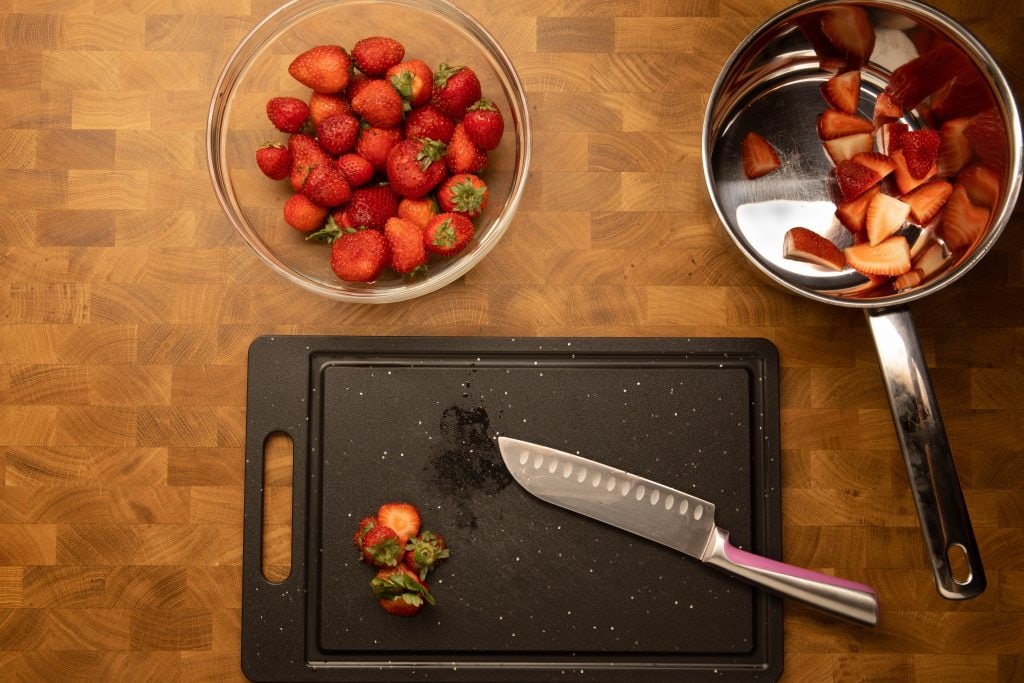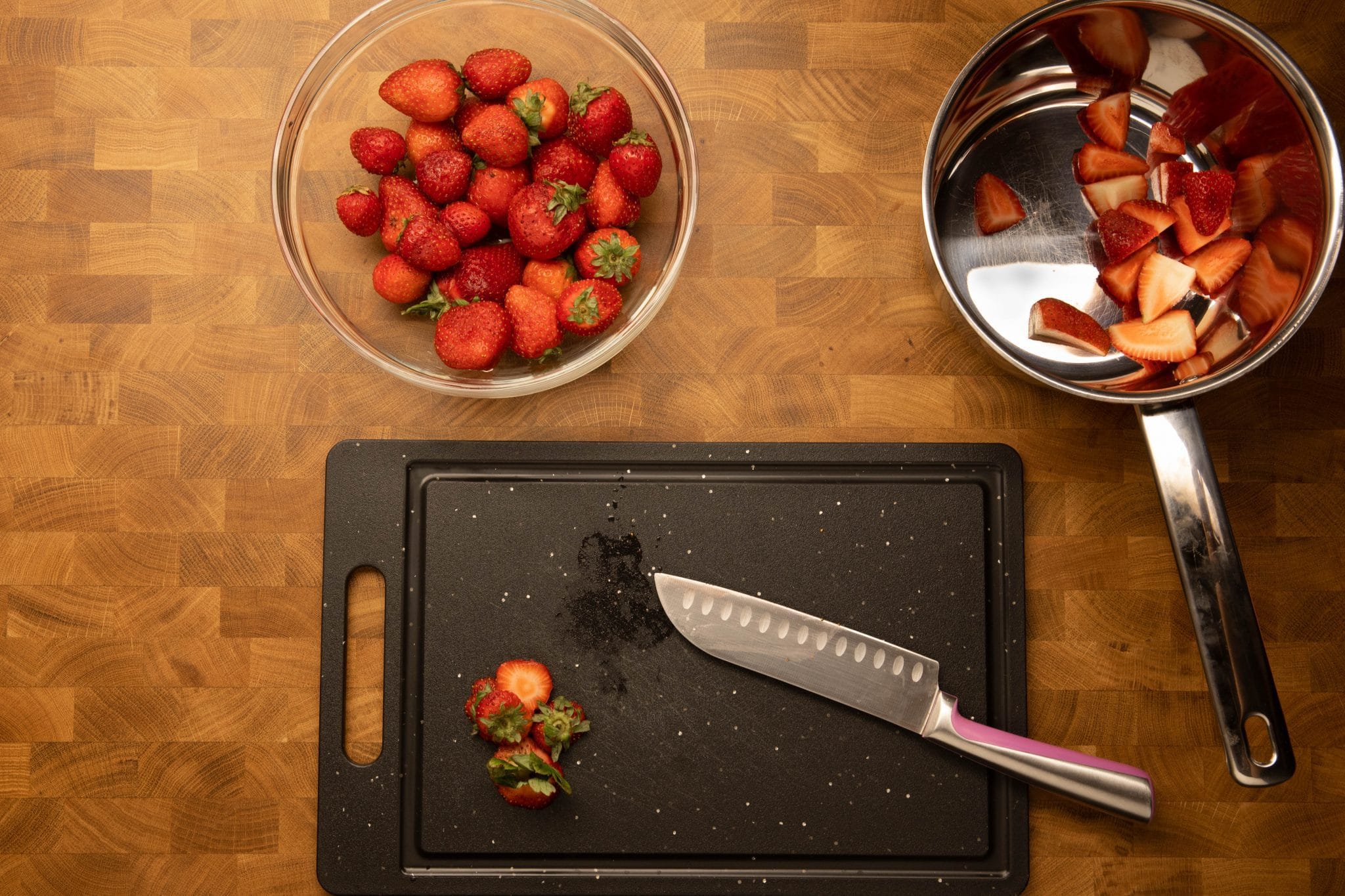 Wash strawberries thoroughly and take out the stems. You can simply cut it or hull it using the straw method.
Then, cut them up into quarters.
Bring to a boil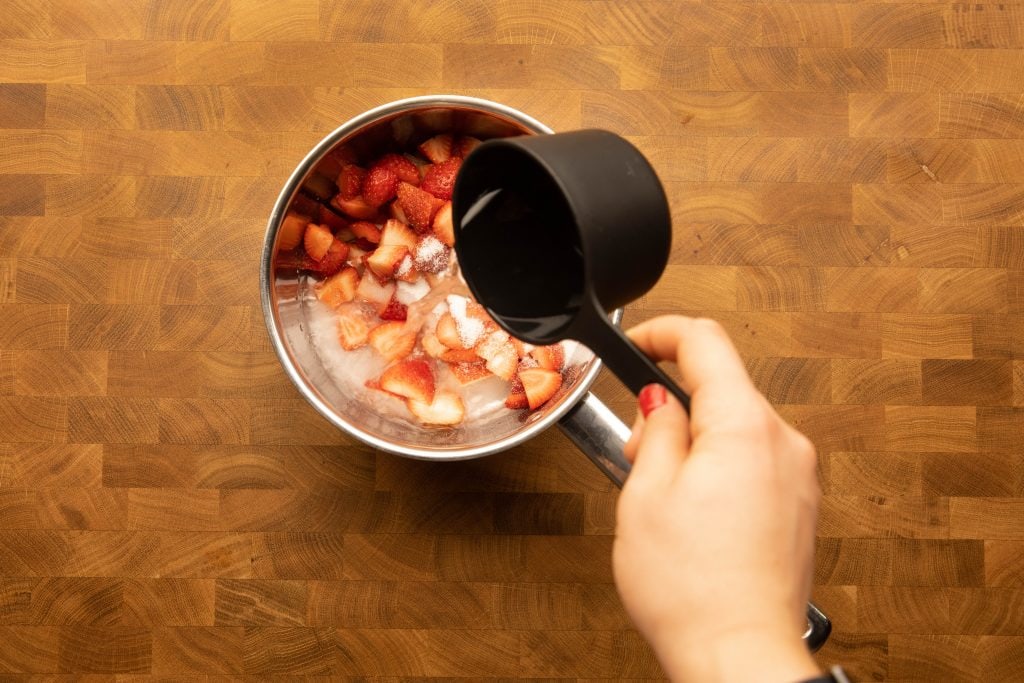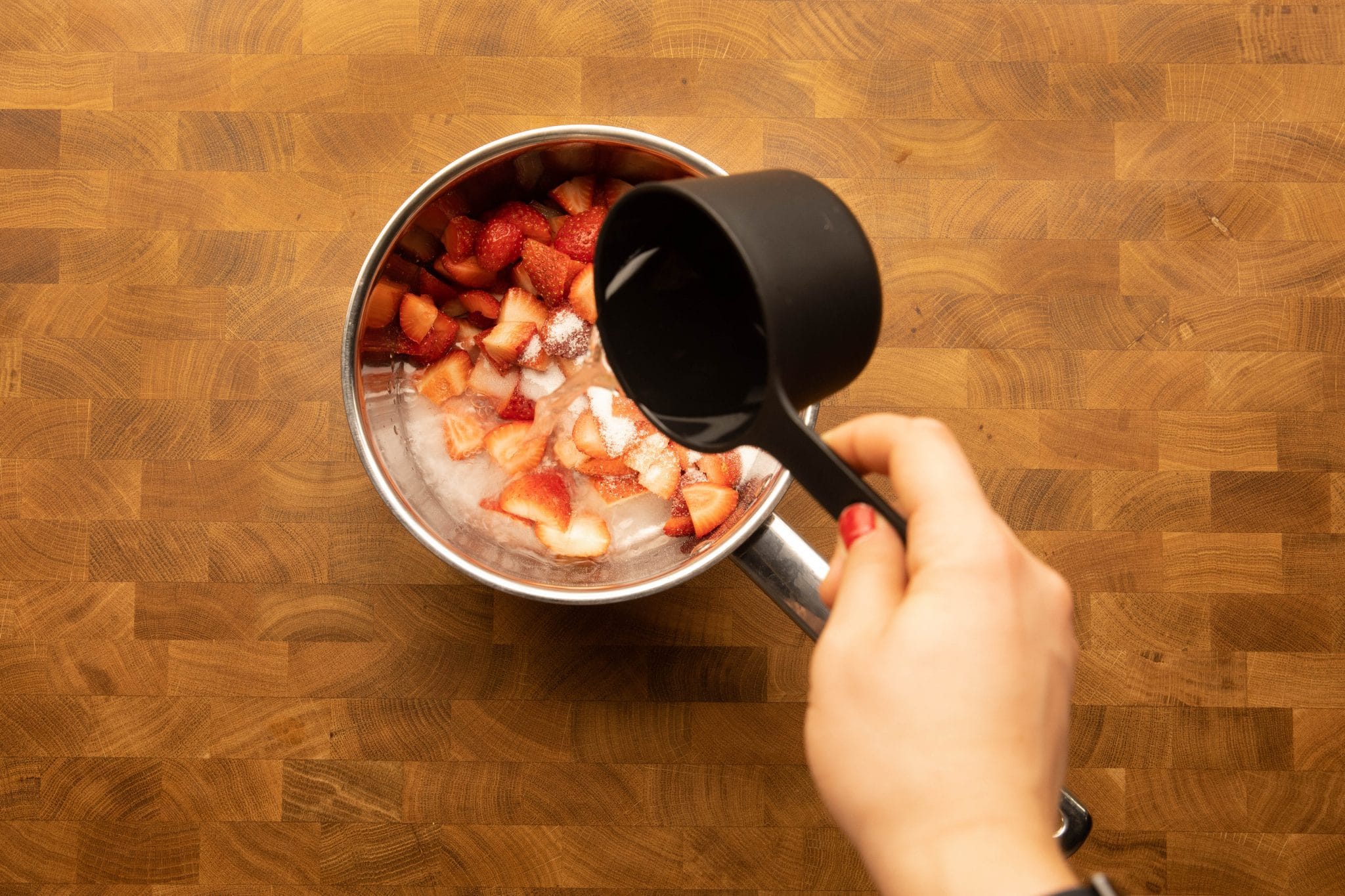 Place quartered strawberries, 1 cup of room temperature water and Swerve sweetener to the pot. Bring to a boil and simmer quickly until strawberries have fully broken down and start releasing fruit juice.
Then, wait until most of the liquid evaporates and your mixture will start to naturally thicken up a bit.
Use a potato masher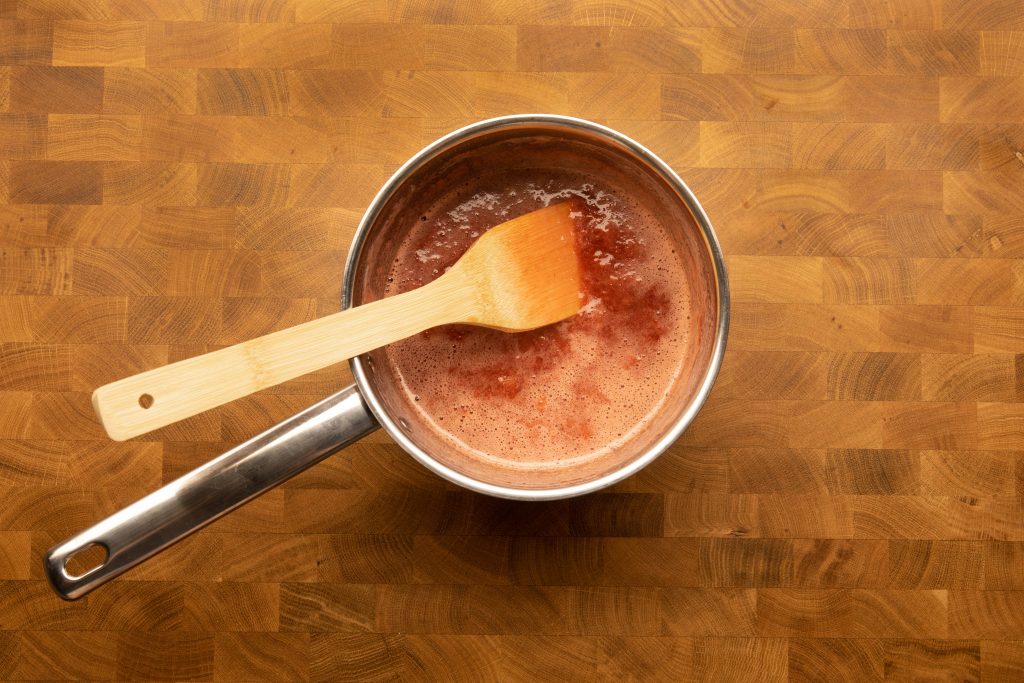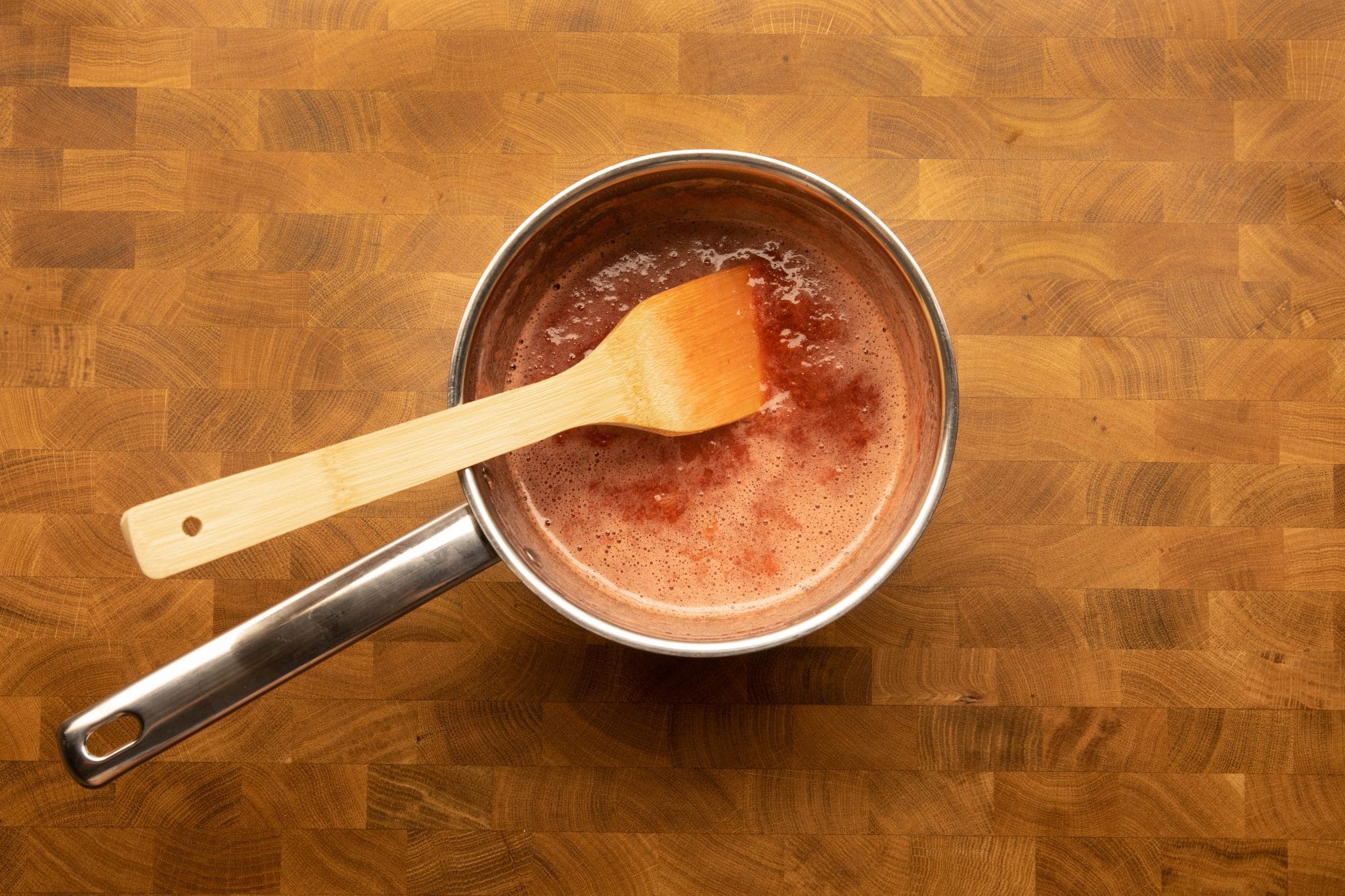 To break strawberries apart after you have already cooked them for some time, use a potato masher. It's so much easier than using a spoon or spatula since it will save you prep time.
If you're using frozen strawberries, you can probably reduce cook time by a few minutes since they are already mushy once defrosted. Remove from heat once done.
Bloom gelatin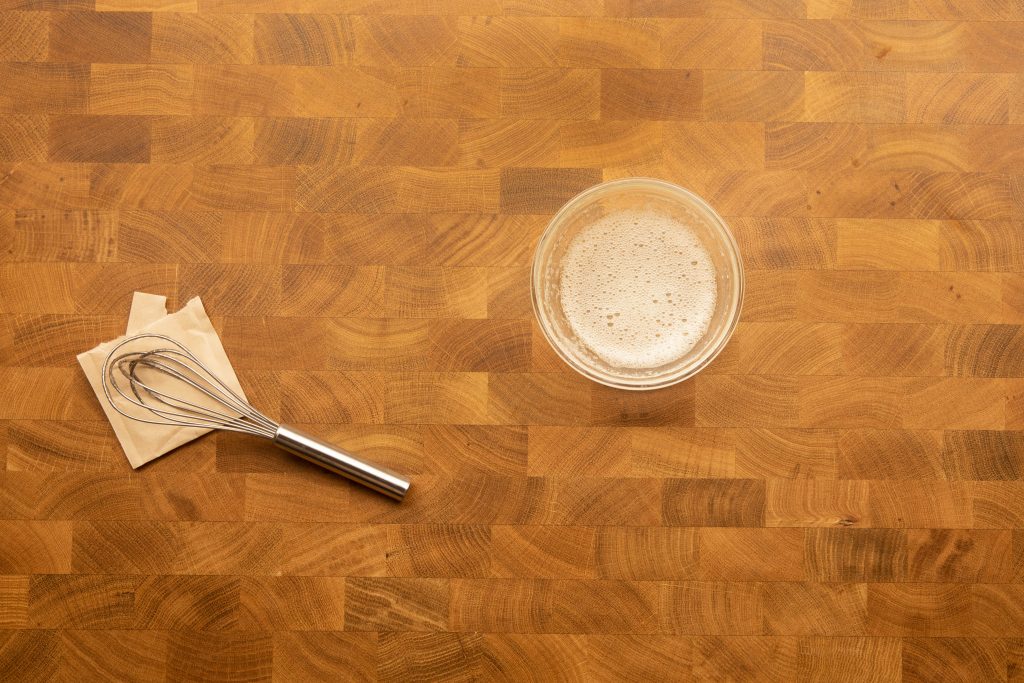 Sprinkle gelatin granules over a cup or a small dish filled with 1/4 cup of hot water. Make sure you are not using boiling water. Leave it for a few minutes to bloom.
Return to stove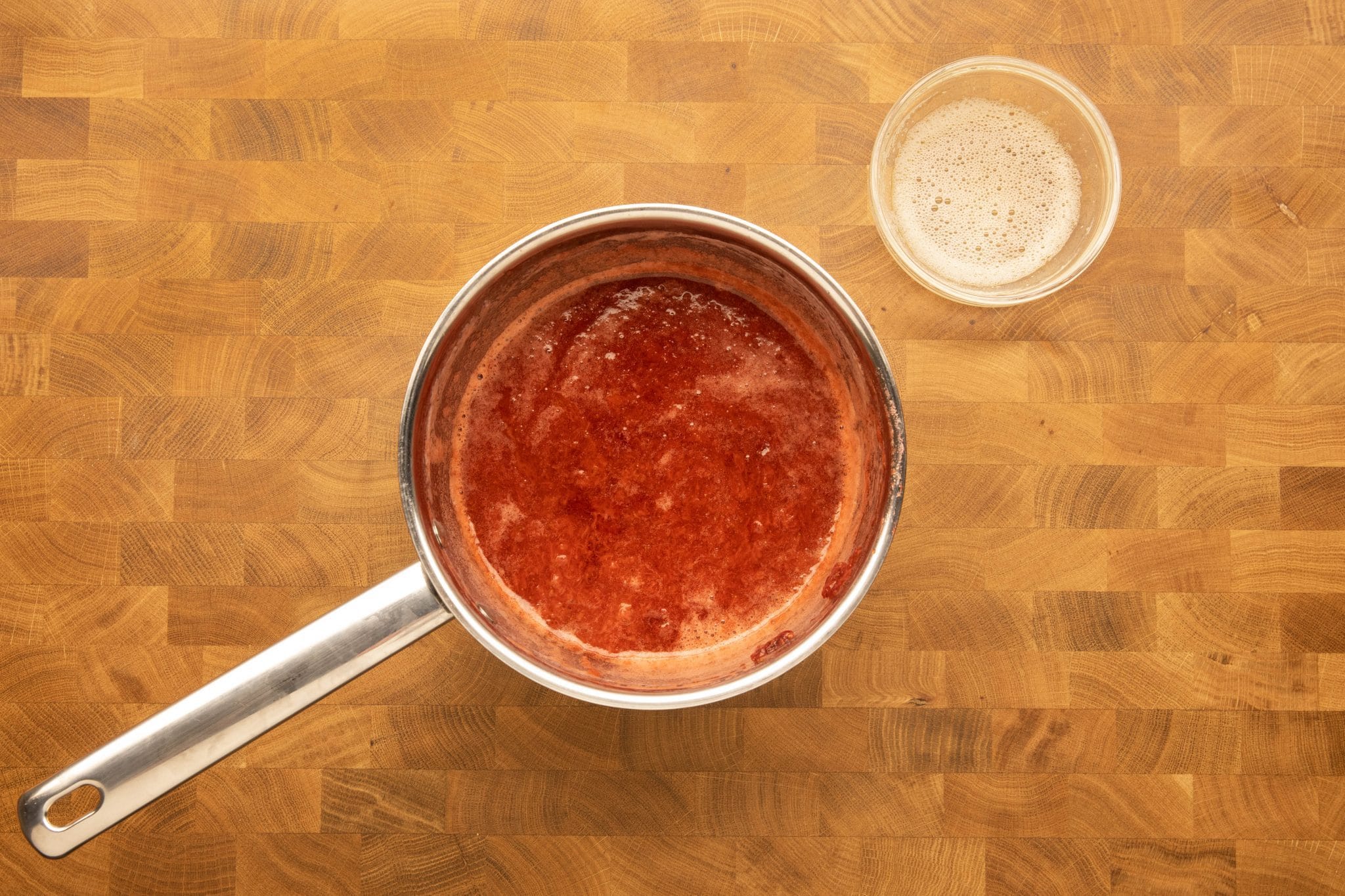 Return your sugar free strawberry jam to the stove and add bloomed gelatin with the remaining 1/2 cup of water. Simmer for about two minutes until it thickens up to a jam-like consistency.
Transfer to a glass jar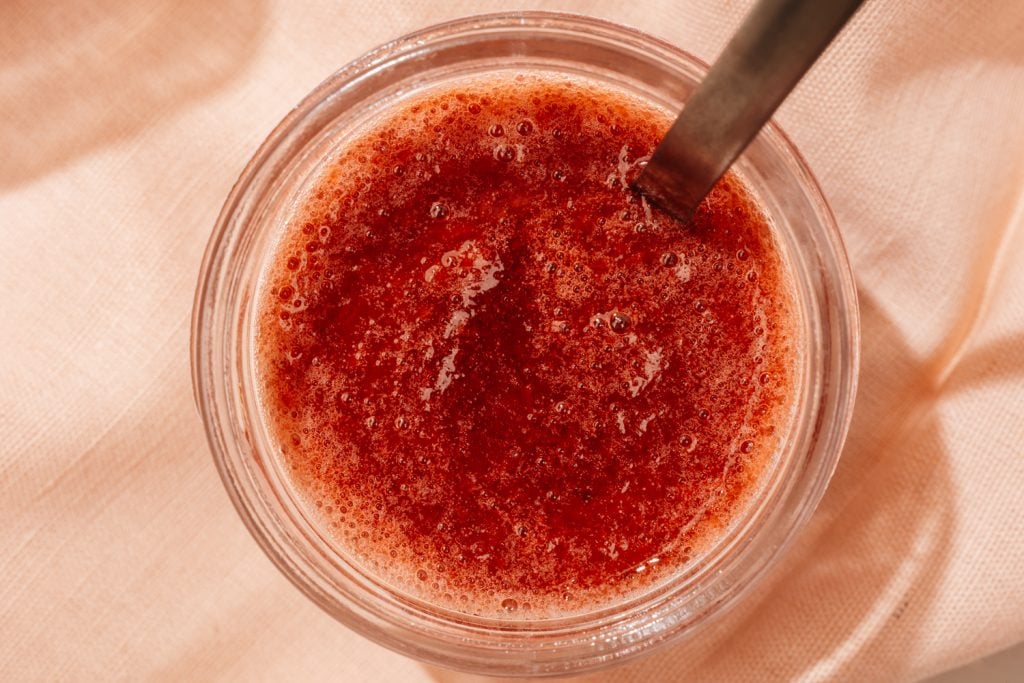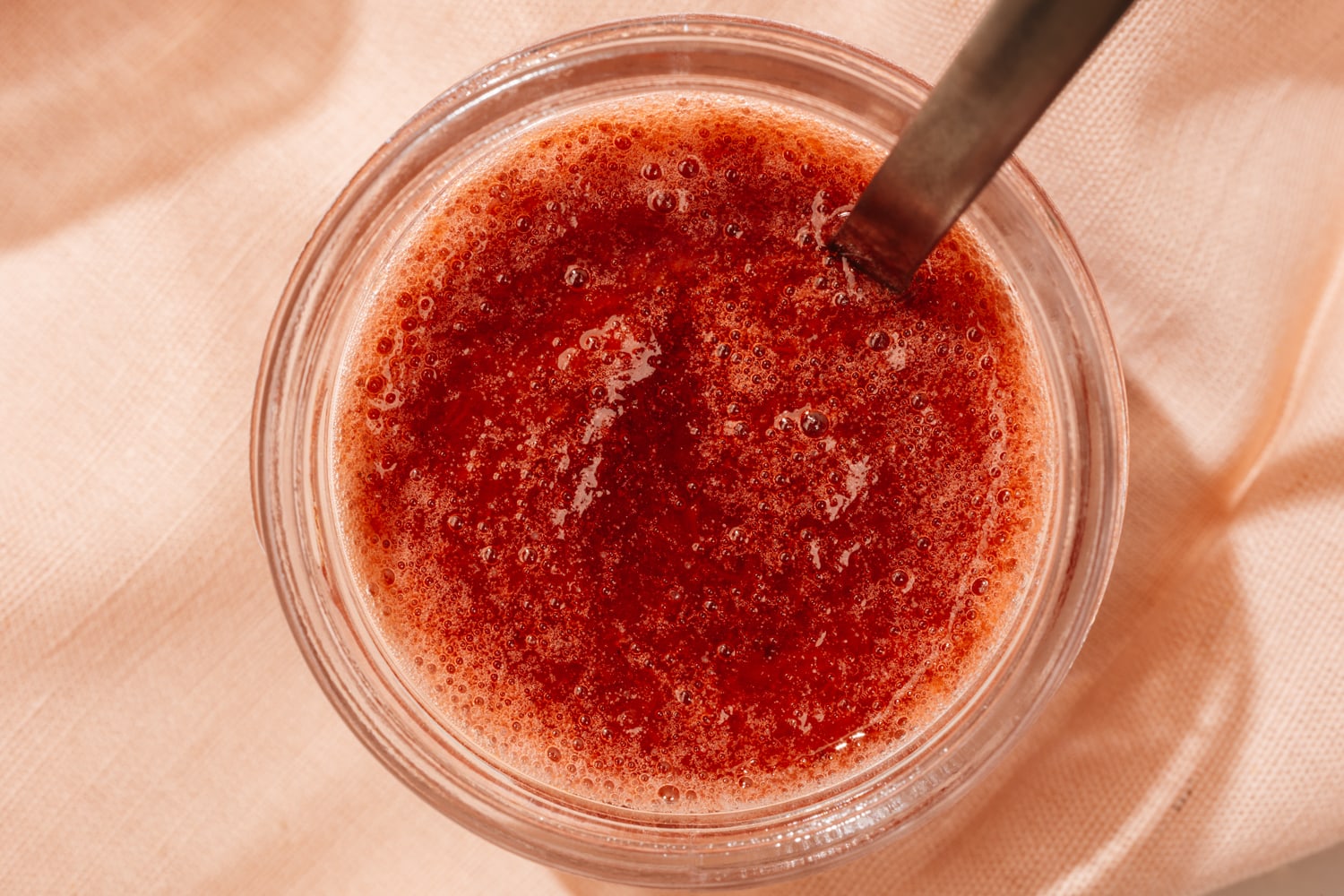 Transfer hot jam to jars. Be careful not to burn yourself! Wait for it to cool down and place in the fridge. Store it for up to two weeks.
Liked this recipe? You might also like our easy Keto Mixed Berry Jam Recipe. It's absolutely delicious, I promise!
Common Questions
Although this recipe only has a few ingredients, if you don't follow our tips correctly you may end up with a clumpy or runny jam. To avoid making any of these mistakes, check out these commonly asked questions.
Can I use frozen strawberries?
We used fresh strawberries because that's what we had on hand. You definitely can use frozen strawberries but the cooking process would be a little different.
In this recipe we added water with the fresh strawberries, but when it comes to frozen ones we would recommend you add half of a cup instead of a whole cup because they contain more water inside.
Can I use a different low carb sweetener?
In this recipe, we used Swerve. You can use it as a 1:1 replacement for sugar. It consists of erythritol, oligosaccharides and natural flavors and it's a wonderful replacement for sugar in general. It also doesn't have any calories.
We don't really recommend using other sugar replacements since we haven't tried them in cooking and these can be tricky on it's own.
When it comes to pure erythritol, if you use too much you will get an aftertaste and nothing will get rid of it. Ever felt like you put too much erythritol in something and it tasted like winterfresh after all? Yep, that feeling.
Stevia is usually a good option as well, but it also has a weird taste when it comes to jams. We've tried it before and were not too happy with the outcome.
I'd hold off on Splenda as well since their original formulation is mostly made up of sucralose and although that's not pure sugar, it will affect your blood sugar levels and spike your insulin.
Does this sugar free strawberry jam need water bath canning?
Nope! This sugar free strawberry jam is meant to be eaten within two weeks tops. If you go into the process of water bath canning, these foods usually last for a few months until they are opened.
If you do try it, let us know in the comments what recipe procedure did you change and how it worked for you. We're curious to know!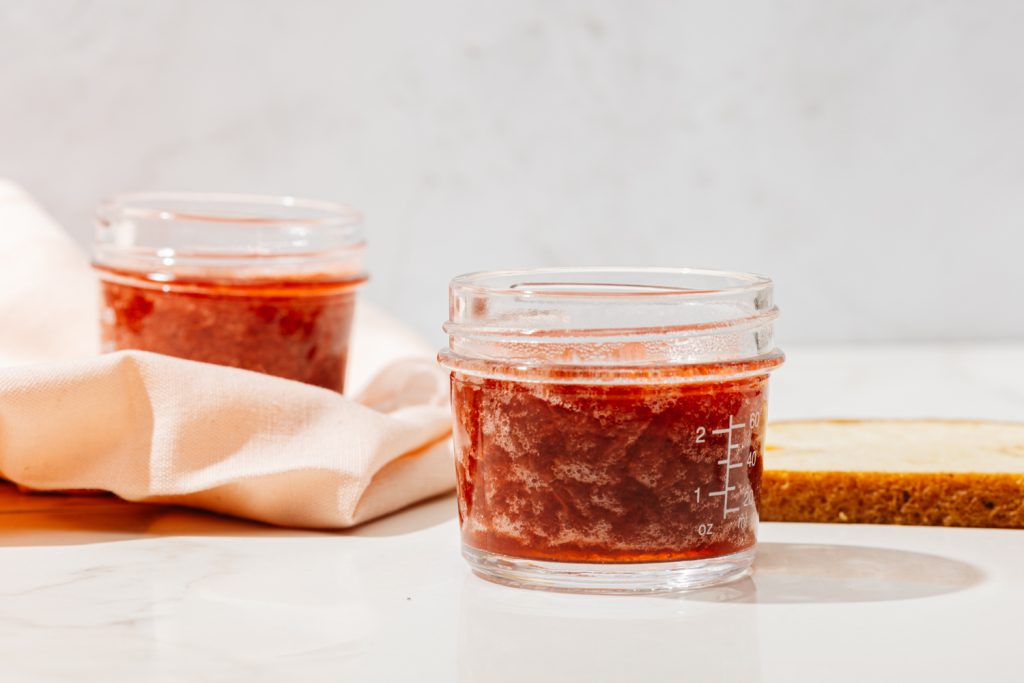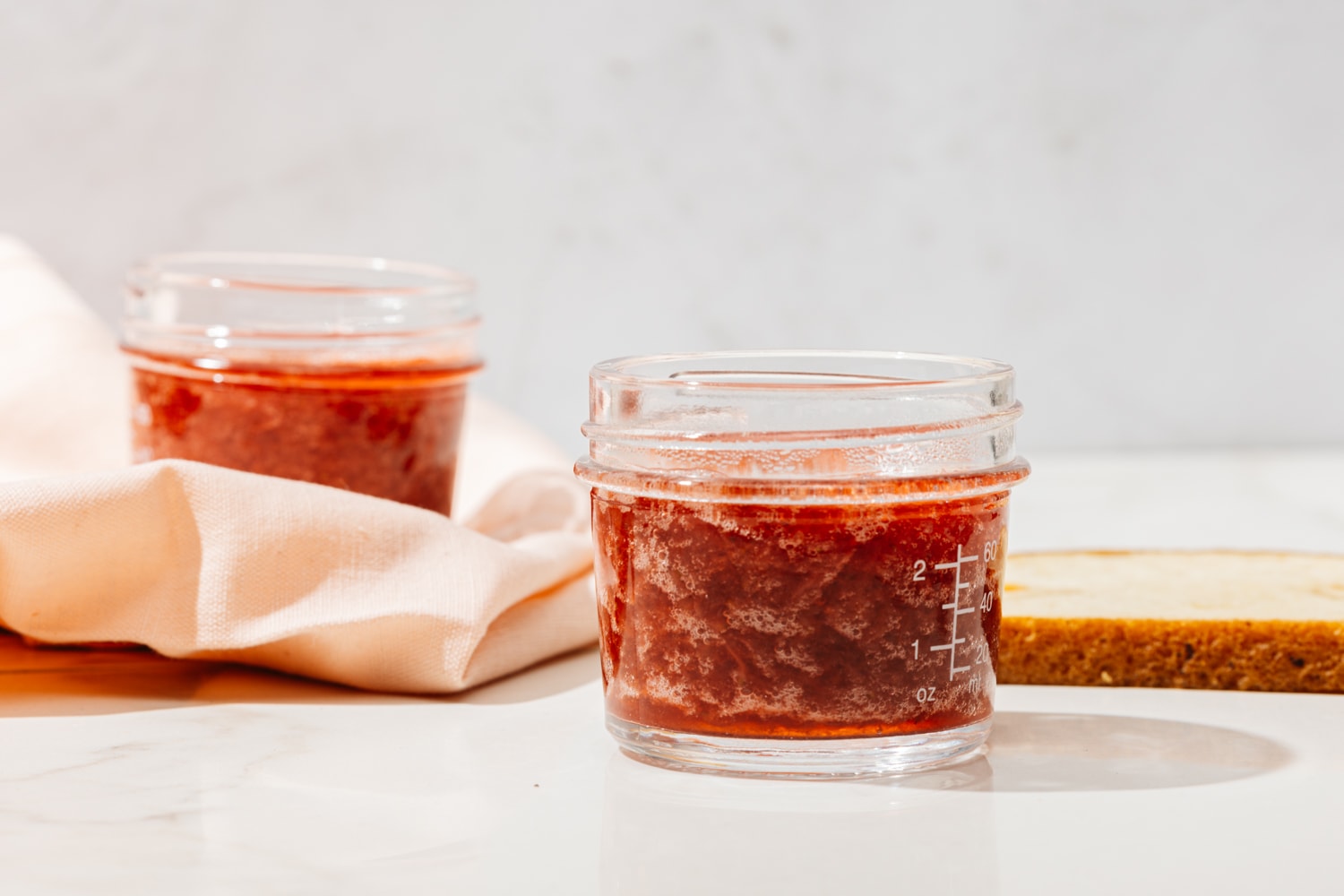 How can I thicken jam without sugar or pectin?
If you cook fruit and simmer it on low for a long time, it will yield a sauce-like consistency but it's going to be far off from what jam is supposed to be like.
Instead of pectin and sugar (which acts as a preservative in regular jams), we used gelatin. In comparison to gelatin, which is made up of collagen, pectin is mostly made up of carbs.
Is gelatin healthy?
Absolutely! Have you ever made bone broth and realize it turns into a jelly like substance the next day? That's gelatin. It's wonderful for your tendons, ligaments and skin.
Gelatin is made by cooking collagen and it's almost entirely made up of protein.
You can buy unflavored gelatin in any supermarket, in either granulated or "sheet" form. We used granules here since it's the most common one.
How do I use gelatin?
For this sugar free strawberry jam recipe, all you need to do is mix gelatin granules with hot water. Then, put it away for a few minutes to let gelatin absorb water, which will later help the strawberry jam to produce that jam-like gelatinous consistency we want to.
Remember to mix it with hot water and do not use boiling water. Otherwise, it will set too quickly and become clumpy. That's definitely not something we want.
How long will my sugar free strawberry jam last?
If stored in the fridge, it will last up to two weeks. In order to increase storage life you can also add a teaspoon of lemon juice during cooking.
This will not only increase shelf life but also give your sugar free strawberry jam better consistency since the acid in lemon will help with the gelling process.
Let Us Know in the Comments!
Thanks so much for reading and please let me know if you loved it just as much as we did in the comments! It's one of our homemade, staple recipes especially for weekends and breakfasts so I'm sure you'll enjoy it just as much as we do.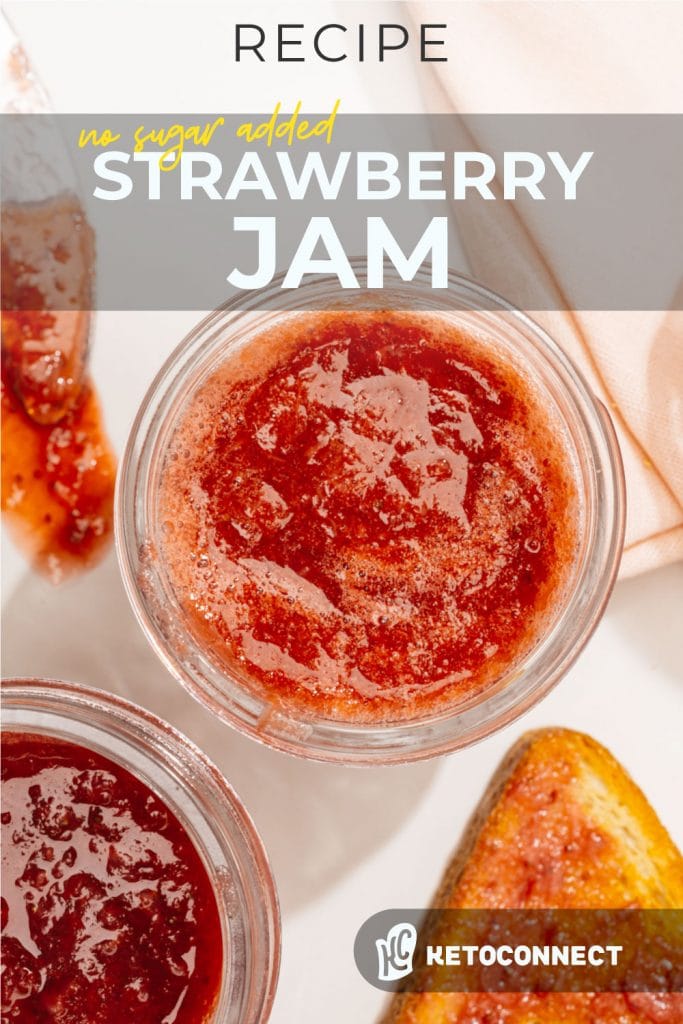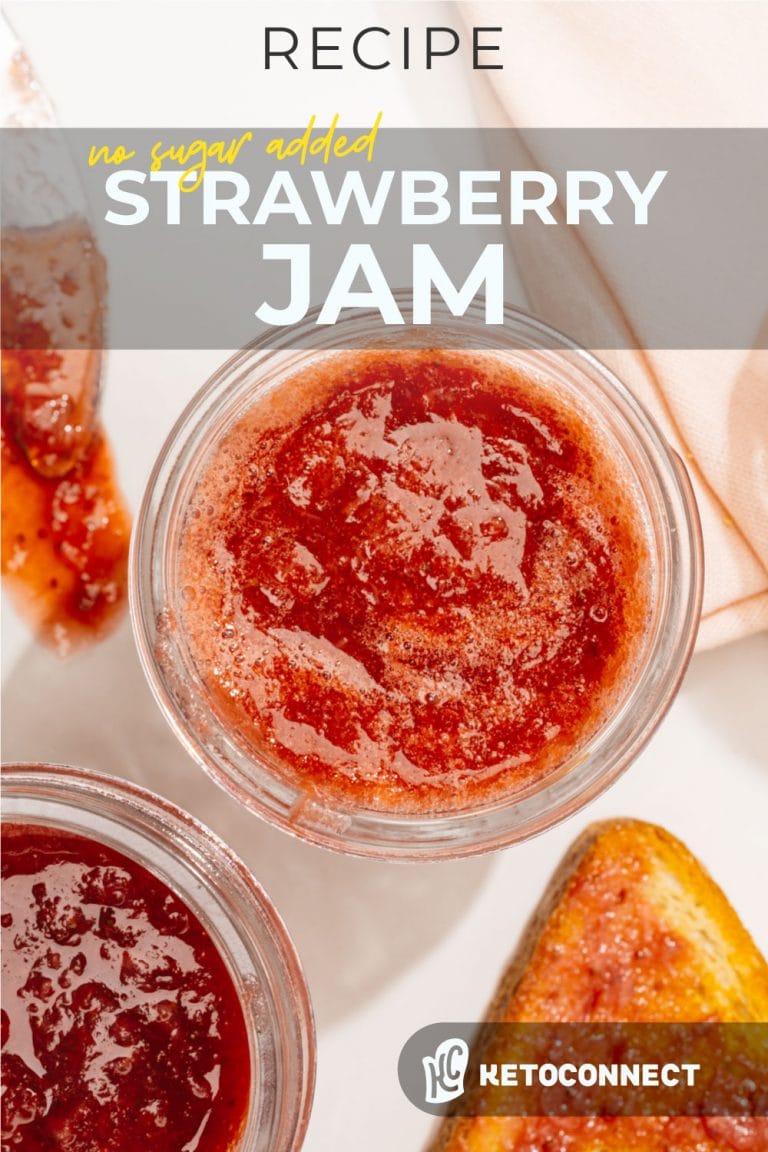 Keto Friendly Sugar Free Strawberry Jam Recipe
Use only three ingredients to make this strawberry jam recipe for your breakfasts (and not only!)
Total Time 15 minutes
Servings 4 servings
Calories per serving 78kcal
Prep Time: 5 minutes
Cook Time: 10 minutes
What You Need:
A medium sized pot

Potato masher

Two cups

Glass jars
Ingredients:
2 lbs Strawberries chopped into quarters
3/4 cup Keto Sweetener
1 tbsp Gelatin
3/2 cup Water
1/4 cup Hot Water for the Gelatin
Instructions:
Combine the strawberries, 1 cup of water, and sweetener.

Bring to a simmer and cook until the strawberries have fully broken down. Assist by mashing while it cooks.

While the berries cook add the gelatin to the 1/4 cup of hot water to bloom.

When the strawberries have cooked down remove from the heat. Add in the remaining 1/2 cup of water and bloomed gelatin.

Return to the stove and simmer for 2 minutes. Pour the cooked jam into glass jars and leave to cool.

Will last in the fridge for about two weeks.
Notes
In order to increase storage life, you can also add a teaspoon of lemon juice during cooking.
Nutrition Facts
Keto Friendly Sugar Free Strawberry Jam Recipe
Amount Per Serving
Calories 78 Calories from Fat 9
% Daily Value*
Fat 1g2%
Saturated Fat 1g5%
Polyunsaturated Fat 1g
Monounsaturated Fat 1g
Sodium 11mg0%
Potassium 347mg10%
Carbohydrates 17g6%
Fiber 5g20%
Sugar 11g12%
Protein 3g6%
Vitamin A 27IU1%
Vitamin C 133mg161%
Calcium 40mg4%
Iron 1mg6%
* Percent Daily Values are based on a 2000 calorie diet.
Written By