If there's one dessert recipe we always come back to, it's keto cheesecake. We've made keto recipes for baked cheesecake, cashew cheesecake, cheesecake fat bombs – you name it! And now, we're back with yet another mouth-watering cheesecake recipe. This time, we've created a Keto No Bake Cheesecake that's creamy, easy to make and quite possibly one of the best things we've ever tasted.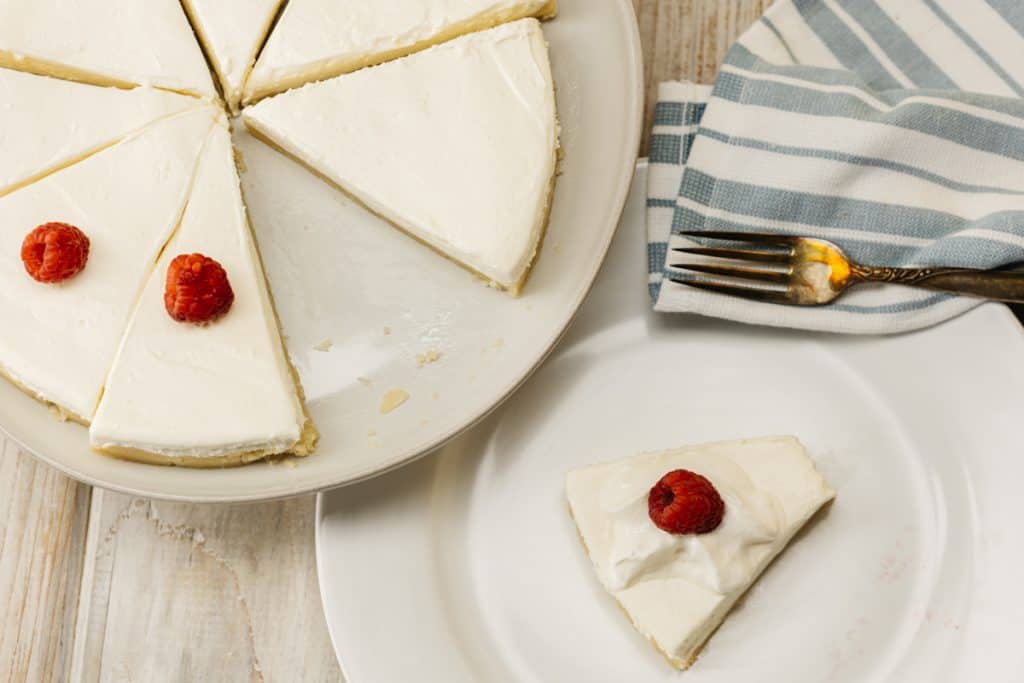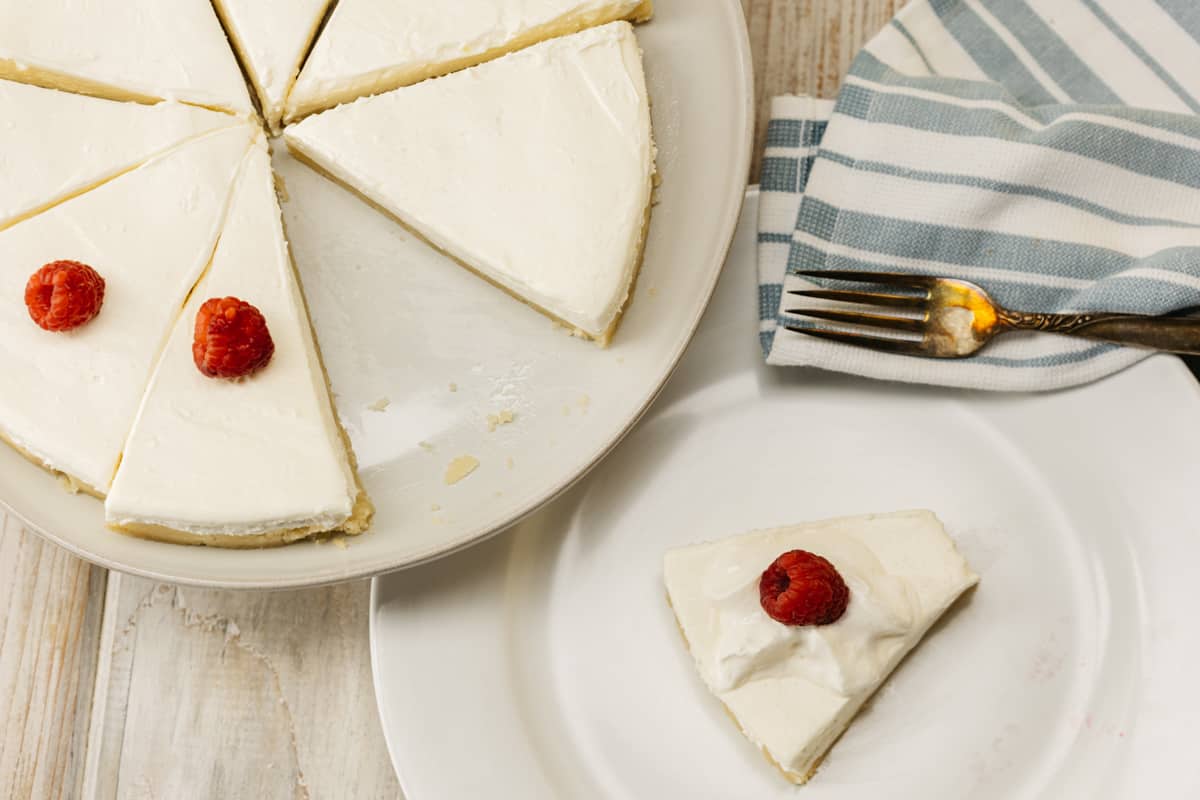 Why We Love This Low-Carb No Bake Cheesecake
It's hard to pick a favorite recipe. But when it comes to our gluten-free keto cheesecake experiments, this one is definitely up there. Here's why!
Perfect for Summer
Cheesecake might be an all-seasons dessert, but sometimes it's just too hot to turn on the oven. Fortunately, this Keto No Bake Cheesecake sets completely in the fridge or freezer – no cooking required.
Creamier Than a Baked Keto Cheesecake
Sure, we love a gluten-free baked cheesecake (check out our Strawberry Cheesecake Recipe!). But in our opinion, no bake cheesecakes are so much creamier – and this No Bake keto Cheesecake is proof of that.
That may or may not have something to do with all the heavy cream we used for the filling.
It's Hard to Mess Up
Low-carb baking is fun, but sometimes it can get a little stressful.
Watching the timer, dealing with a burned or cracked keto dessert, realizing your oven's temperature is way off – wasn't this supposed to be relaxing?
Our Keto No Bake Cheesecake might require a little patience while you wait for it to set, but trust us: it's worth the wait!
Cheesecake is Great for a Keto Diet
Cheesecake is kind of like the alfredo pasta of desserts. No, really – think about it.
It's got all the makings of a filling, keto-friendly meal, like cheese, heavy cream and butter. The only thing is, it's sitting on top of a bed of carbs.
No, not pasta. In this case, it's a Graham cracker base and all that sugar.
Unlike a lot of keto remakes, a low-carb cheesecake recipe requires very few ingredient substitutions to lower the net carbs.
Even the most keto-friendly cheesecake still uses the same traditional, high-fat filling as the original recipe.
Creating this no bake keto cheesecake recipe was as simple as using a keto-friendly sweetener for the filling, and a low-carb biscuit base. For more high fat recipes like this check out our 17 best keto fat bomb recipes.
How to Choose the Right Sweetener
When it comes to choosing the right sweeteners, there's more to it than finding something that's sugar-free and sweet.
It's important that you think about how the sweetener will behave in the recipe. Cooking is chemistry, after all!
For most traditional dessert recipes, granulated sugar does more than just add sweetness. It also affects the consistency of the final product. This Keto No Bake Cheesecake requires powdered sweetener for that very reason.
This is why we recommend using a keto sweetener that can be used in a one-to-one ratio for sugar.
Some of our sugar-free favorites include:
Erythritol
Erythritol and stevia blend
Erythritol and monk fruit blend
Allulose
Many people like to use xylitol, but this can cause digestive issues for some.
Whatever you choose, make sure it won't kick you out of ketosis by spiking your blood sugar. Check out our extensive sugar substitute guide for more sugar-free insights on figuring out sweeteners and net carbs.
Can't find powdered sweetener? No problem! Make your own by simply blitzing any granulated sweetener in the blender.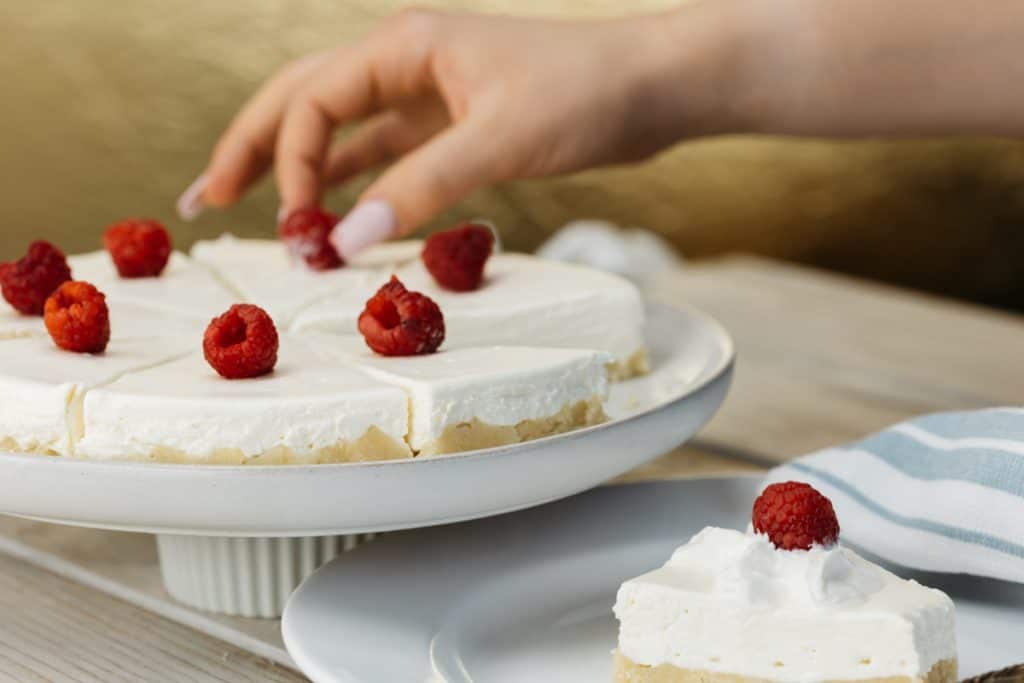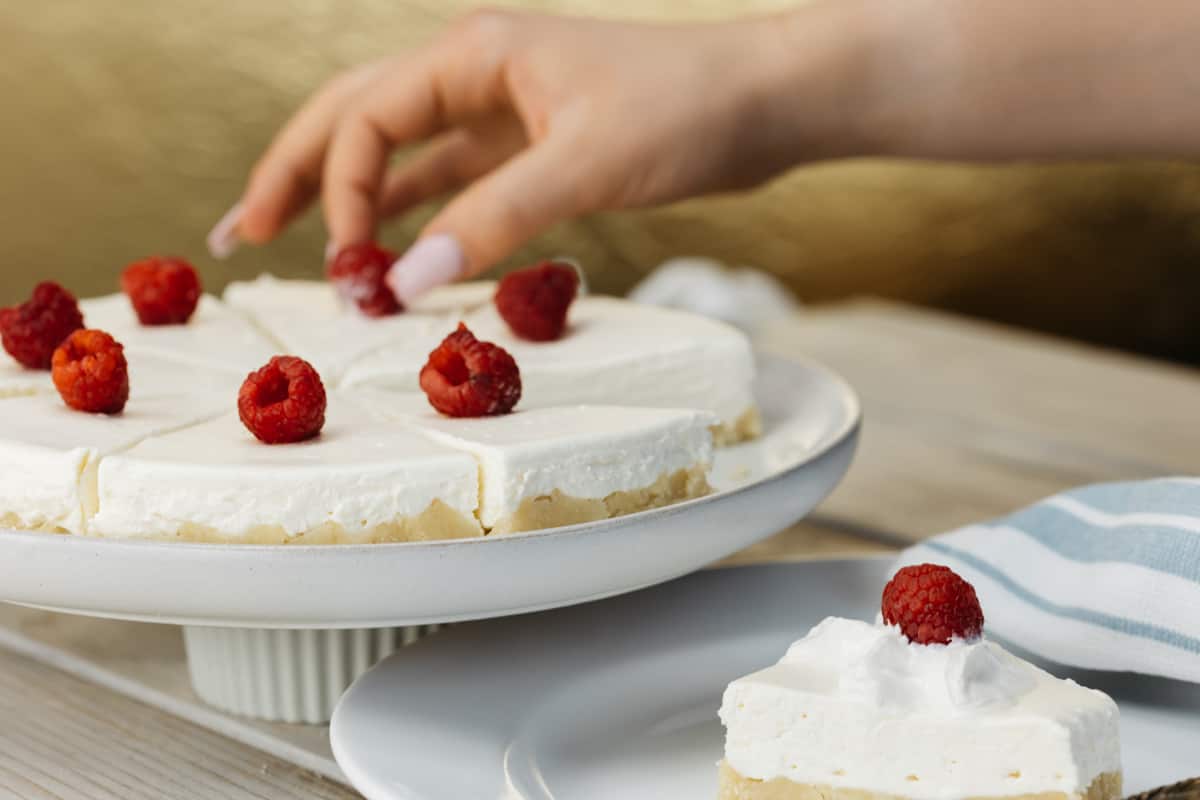 Experimenting with Flavors
We've tried a lot of different keto cheesecake flavors in the past. But for this easy Keto No Bake Cheesecake recipe, we decided to keep it simple with just a touch of vanilla extract. We didn't even add lemon juice!
However, you can add whatever flavors you like. This recipe is the perfect base, so let your imagination run wild.
Try adding some fresh lemon juice and rind for a zesty lemon Keto No Bake Cheesecake, or add in some chocolate to make things extra-decadent.
You could even try crumbling and mixing in some of our Chewy Keto Chocolate Chip Cookies for a cookies-and-cream vibe.
Serving Suggestions
This easy Keto No Bake Cheesecake recipe's simple but delicious vanilla flavor means you can also dress it up however you want with sides and garnishes.
Here are some keto-friendly ideas to get you started:
Shaved or melted dark chocolate
Fresh berries
Extra whipped heavy cream
Rhubarb compote (try this recipe)
What You'll Need
There are just a few key tools required to make this low-carb no bake cheesecake recipe. The one thing you won't need? An oven.
You will need:
A large mixing bowl
A small bowl (preferably glass)
A mixing spoon
Parchment paper
An electric hand mixer
A spatula
A cheesecake pan (also known as a springform pan)
If you don't have a springform pan, you may be able to use a regular solid cake tin that's well-lined with parchment paper. Note that if you do this, it may be a little messy to remove.
If you're lucky enough to own one, you can use a stand-up mixer to mix the filling.
You could also try to substitute the electric mixer for a regular whisk if you need a really good arm workout, but we don't recommend it.
How to Make Keto No Bake Cheesecake
Making this low-carb no bake cheesecake is easy. The hard part? Waiting for it to set. So the sooner you start making it, the sooner you'll be able to eat!
Melt the butter in a glass bowl. This can be done by placing the bowl over a larger bowl of hot water, or periodically microwaving it in 15-second bursts until melted. Chopping the butter up first will help it to melt faster.
Pour in your remaining almond flour base ingredients and mix well until combined with the melted butter to form a dough.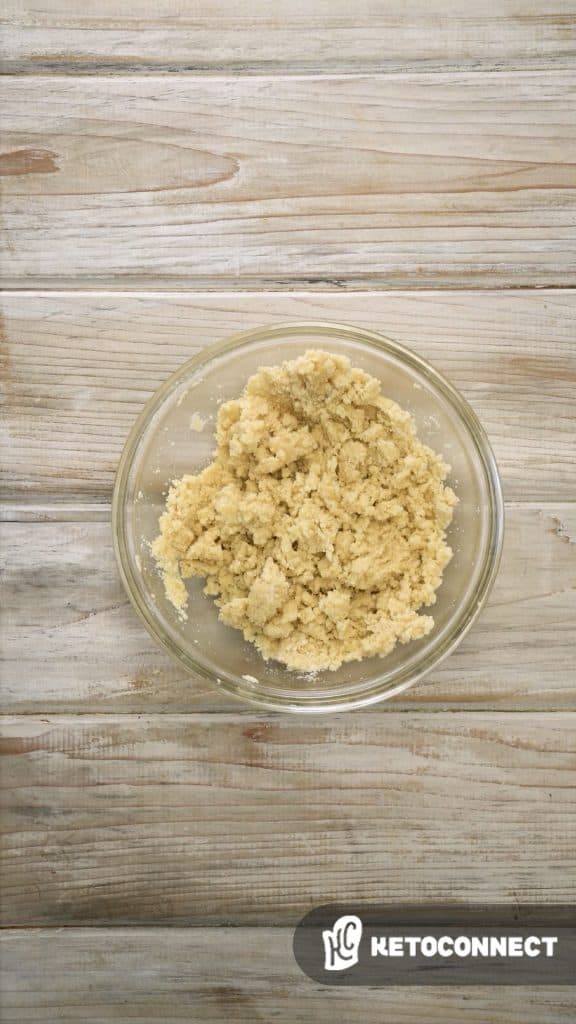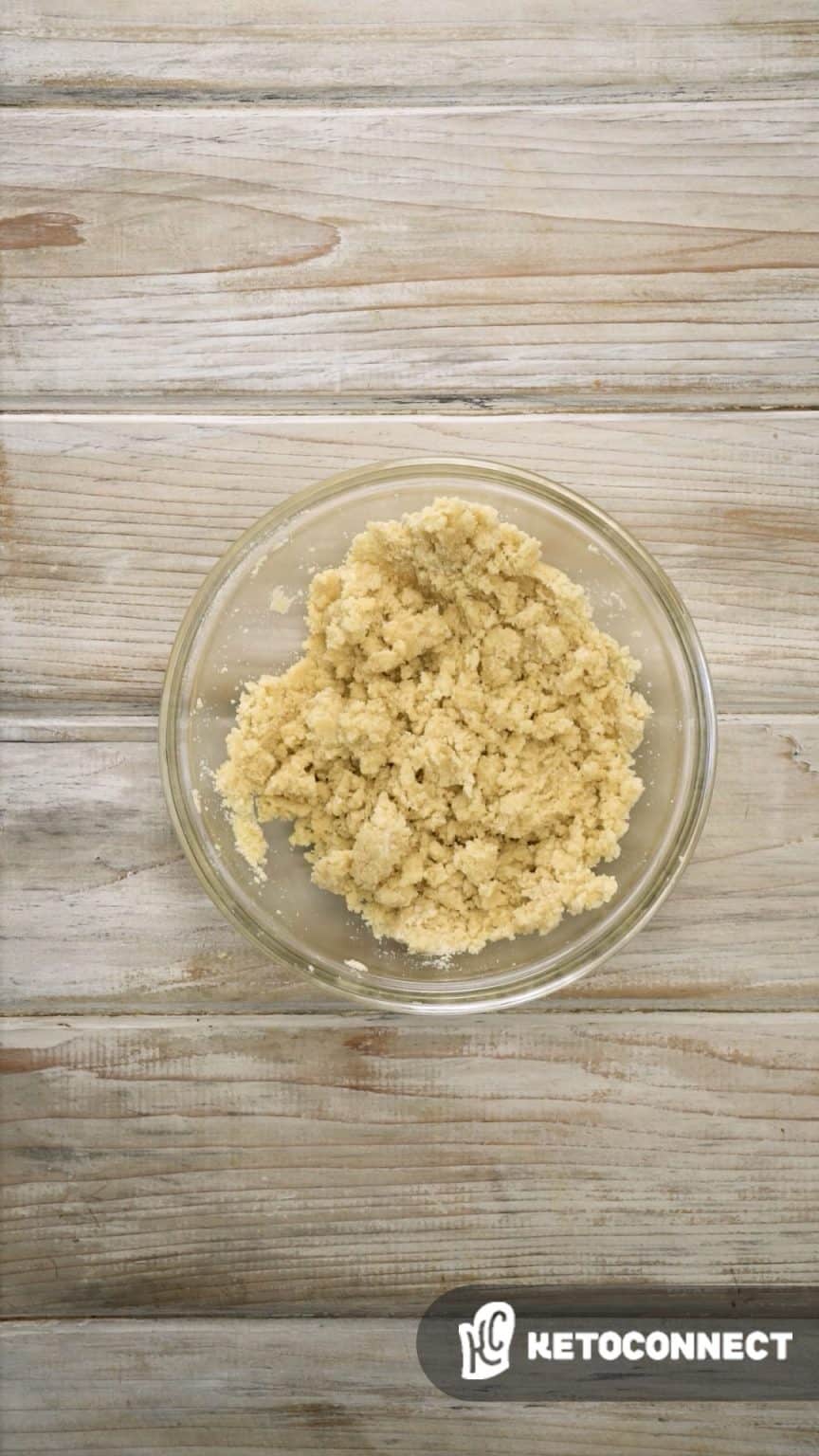 Using parchment paper, line your cheesecake pan and spoon the base mixture across the bottom of the pan.
Flatten the crust with your spoon, making sure it's evenly covering the bottom of the pan right up to the edges. Place the pan in the fridge to chill while you make the base.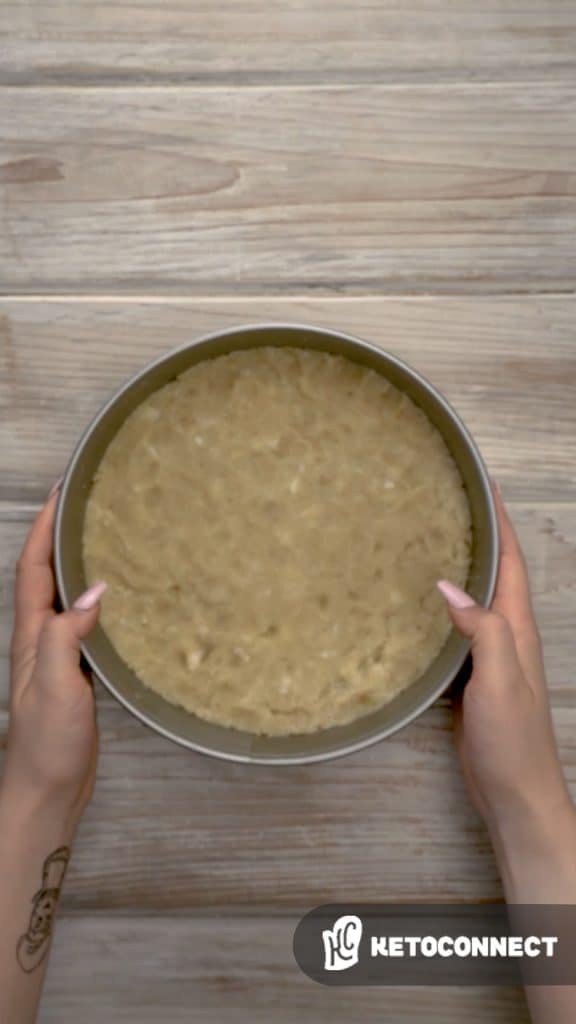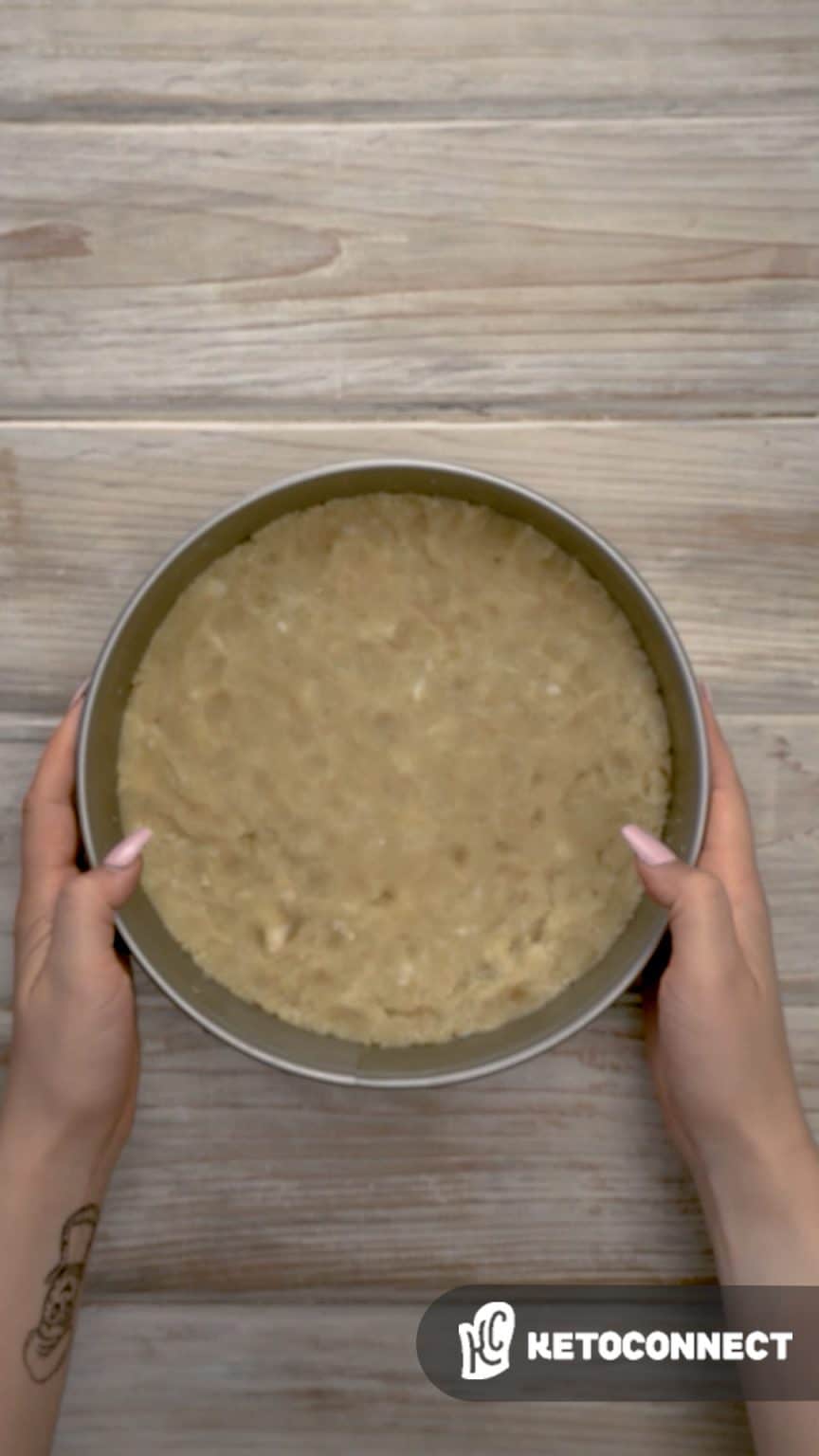 Add your base ingredients into a large mixing bowl. Cream together using an electric hand mixer. Your end result should look thick and smooth, like ice cream.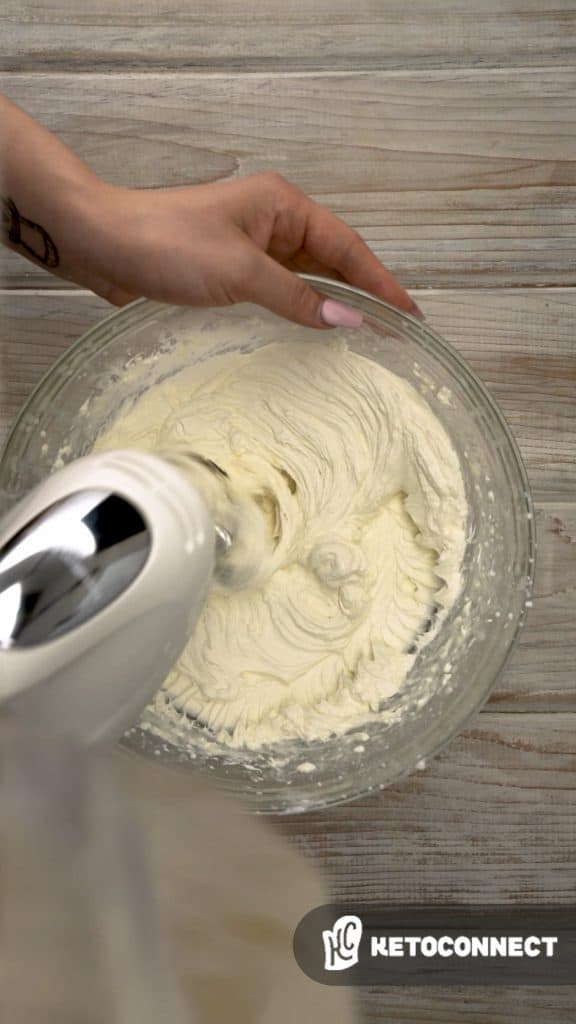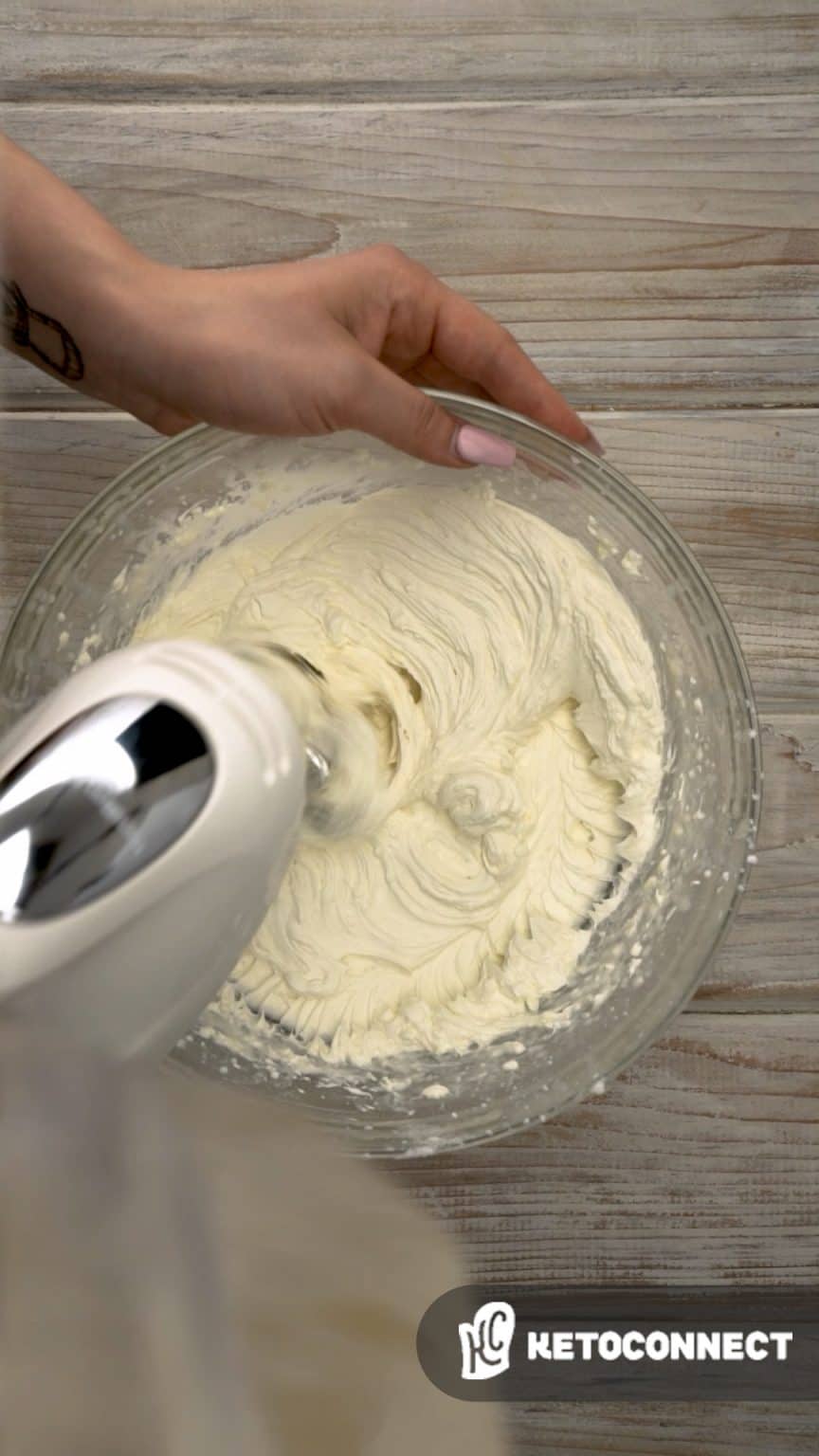 Pour your cheesecake filling into your cheesecake pan, smoothing out the top with a spatula.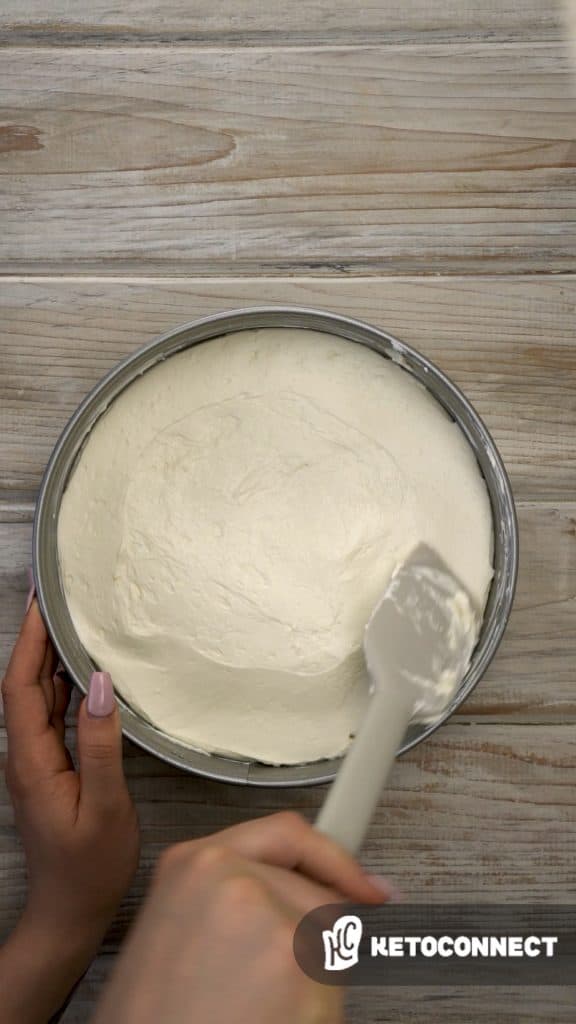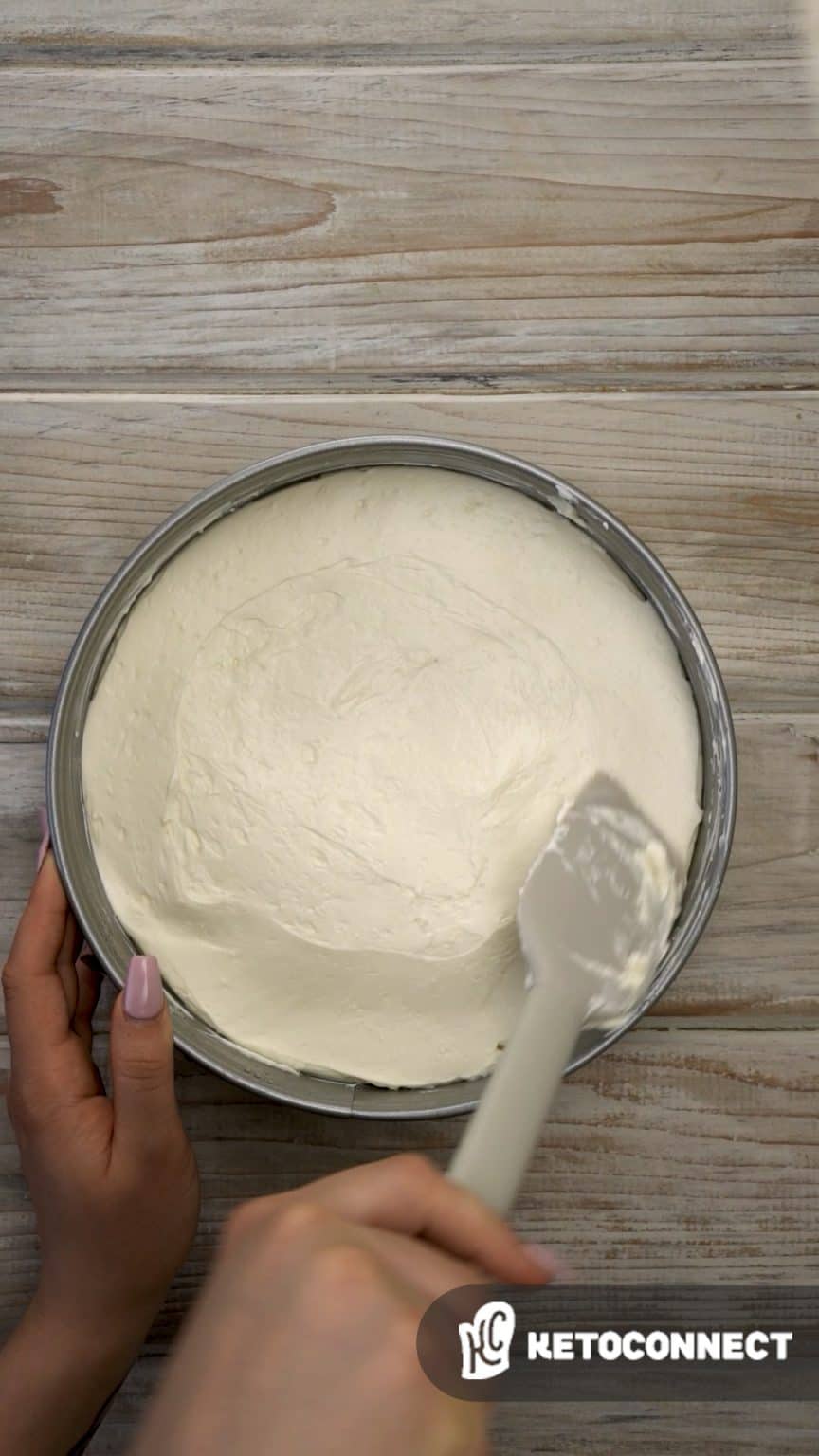 Allow to set in the fridge for at least five hours, or two to three hours in the freezer.
Slice and serve with your garnish of choice. If you set your low-carb no bake cheesecake in the freezer, leave it out to soften before eating.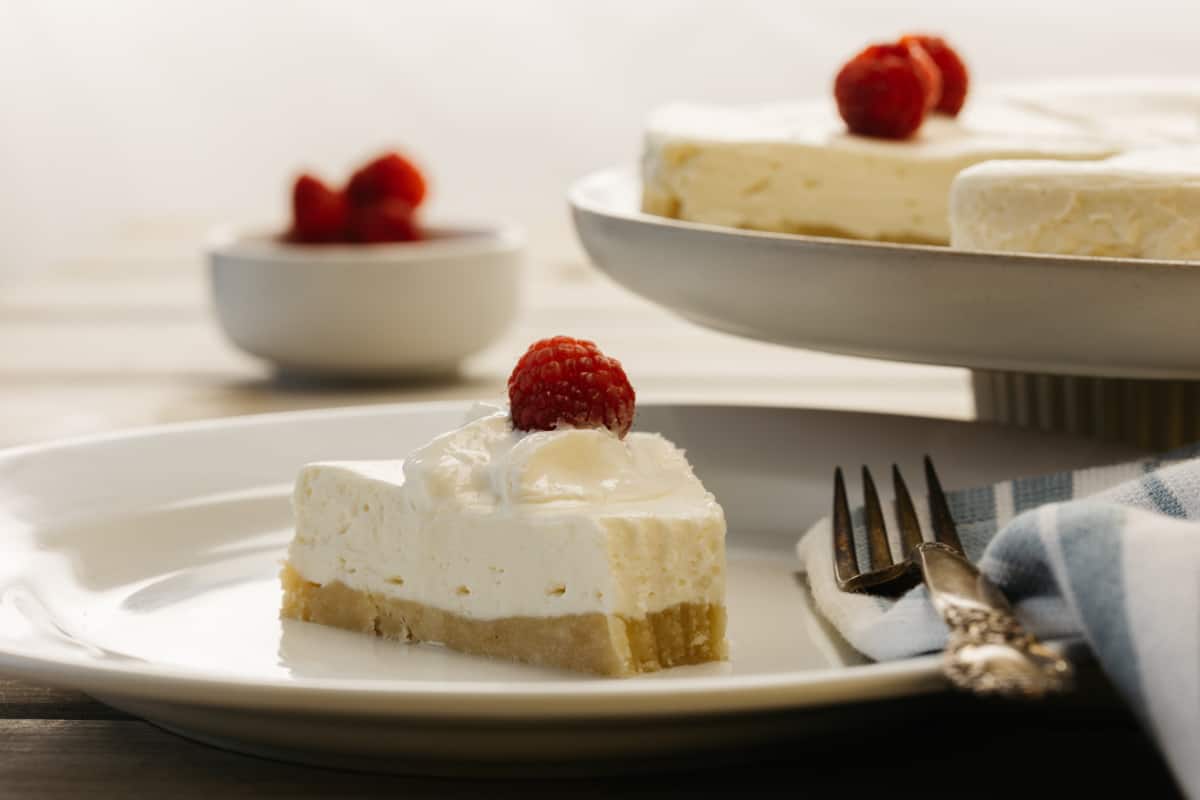 How Do I Store My Cheesecake?
Make sure to cover your low-carb no bake cheesecake before storing in the fridge for up to five days.
A word of warning: this cheesecake is so good, it may not last that long!
You can also freeze your keto no bake cheesecake. We suggest cutting it into slices first, so you only need to take out one piece at a time when you want to indulge.
Remember to allow it to soften before serving for the best texture and flavor.
Even More Keto Cheesecake Recipes
Yes, we have a cheesecake obsession, and we're not afraid to admit it.
If you're as crazy about this no bake cheesecake as we are, be sure to check out some of our other popular keto recipes:
Make sure to keep an eye on our keto dessert page for more future recipes. We're sure this won't be the last time we make keto cheesecake…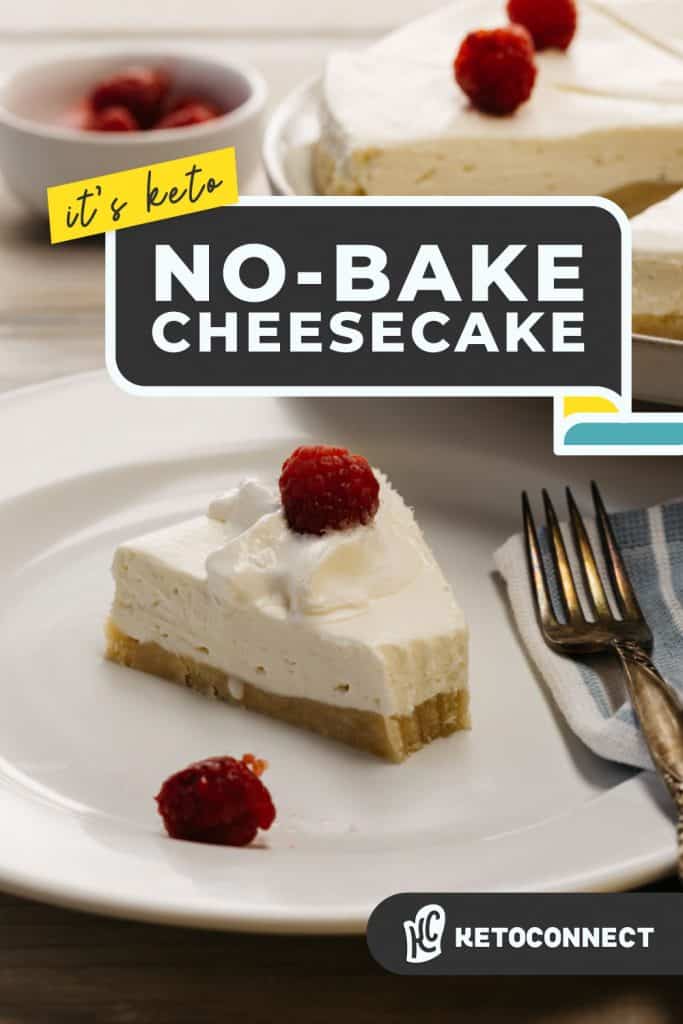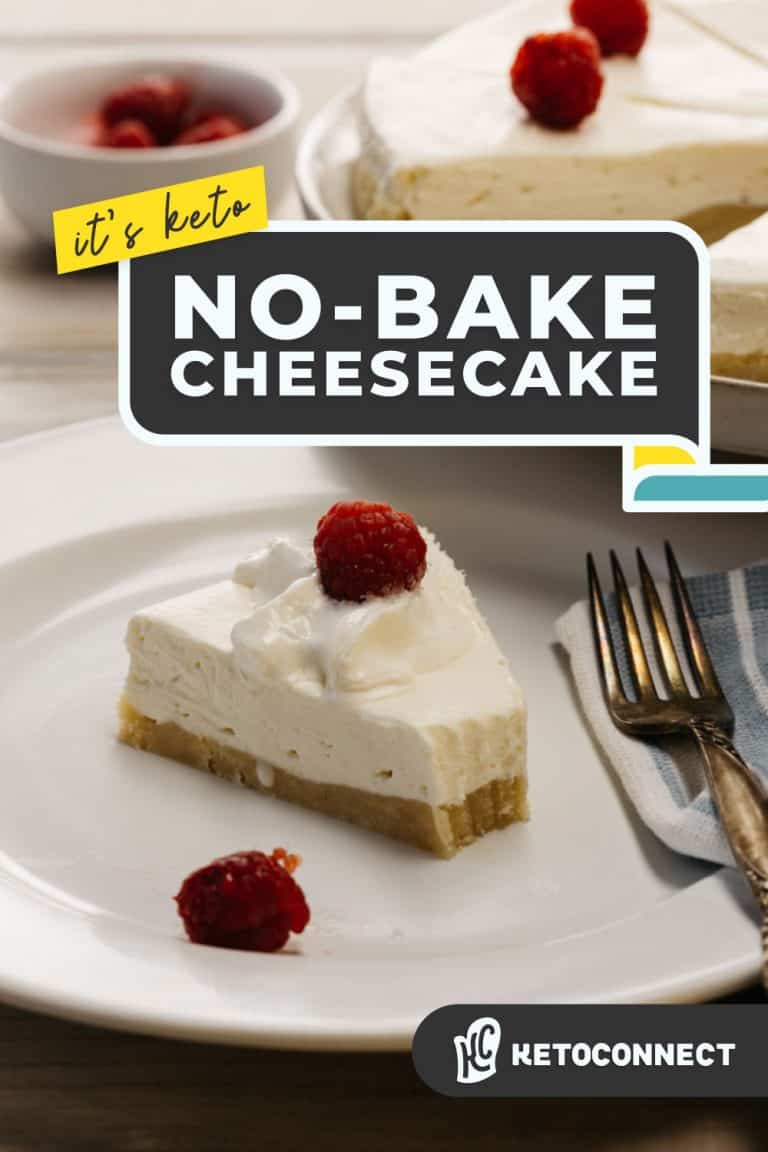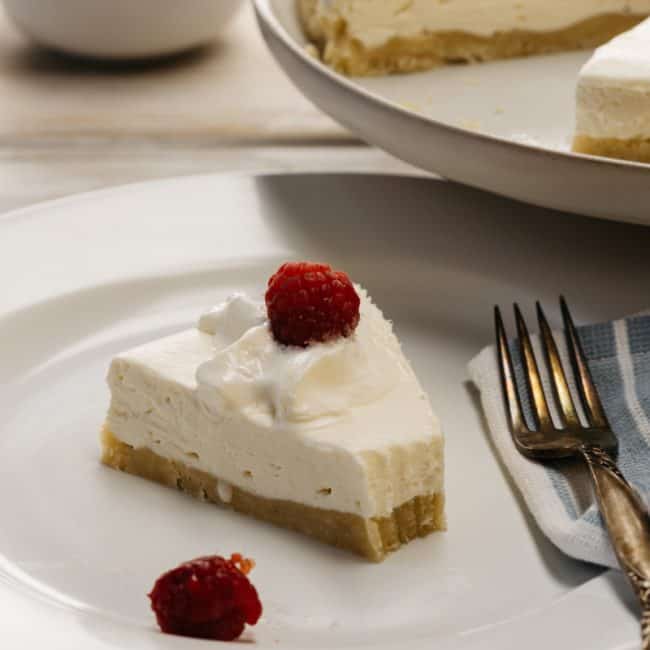 Keto No Bake Cheesecake Recipe – Gluten Free and Sugar Free
A delicious low carb treat that the whole family will love! And the best part, no oven required!
Total Time 5 hours 15 minutes
Servings 8
Calories per serving 498kcal
Prep Time: 15 minutes
Resting Time: 5 hours
Instructions:
In a glass bowl melt the butter.

To the butter add all remaining base ingredients.

Mix well to distribute all ingredients evenly.

Line a cheesecake pan with parchment paper and add the crust mixture in.

Flatten the crust so it evenly covers the bottom and edges. Allow to chill while making the filling.

In another bowl cream together the filling ingredients until thick and smooth. Scoop the filling into the base and set in the fridge for at least 5 hours. Or the freezer for 2-3.

Slice and serve, you may need to allow it to soften if coming from the freezer.
Notes
This cheesecake is best served directly out of the fridge. Net Carbs: 6
Nutrition Facts
Keto No Bake Cheesecake Recipe – Gluten Free and Sugar Free
Amount Per Serving
Calories 498 Calories from Fat 432
% Daily Value*
Fat 48g74%
Saturated Fat 19g95%
Trans Fat 1g
Polyunsaturated Fat 1g
Monounsaturated Fat 8g
Cholesterol 92mg31%
Sodium 287mg12%
Potassium 85mg2%
Carbohydrates 10g3%
Fiber 4g16%
Sugar 3g3%
Protein 11g22%
Vitamin A 1111IU22%
Calcium 133mg13%
Iron 2mg11%
* Percent Daily Values are based on a 2000 calorie diet.
Written By