Mug cakes are a ketogenic delicacy. They can be customized easily, are high in fat, and when made right can be completely sugar free and keto friendly. There is nothing better than a keto mug cake after dinner!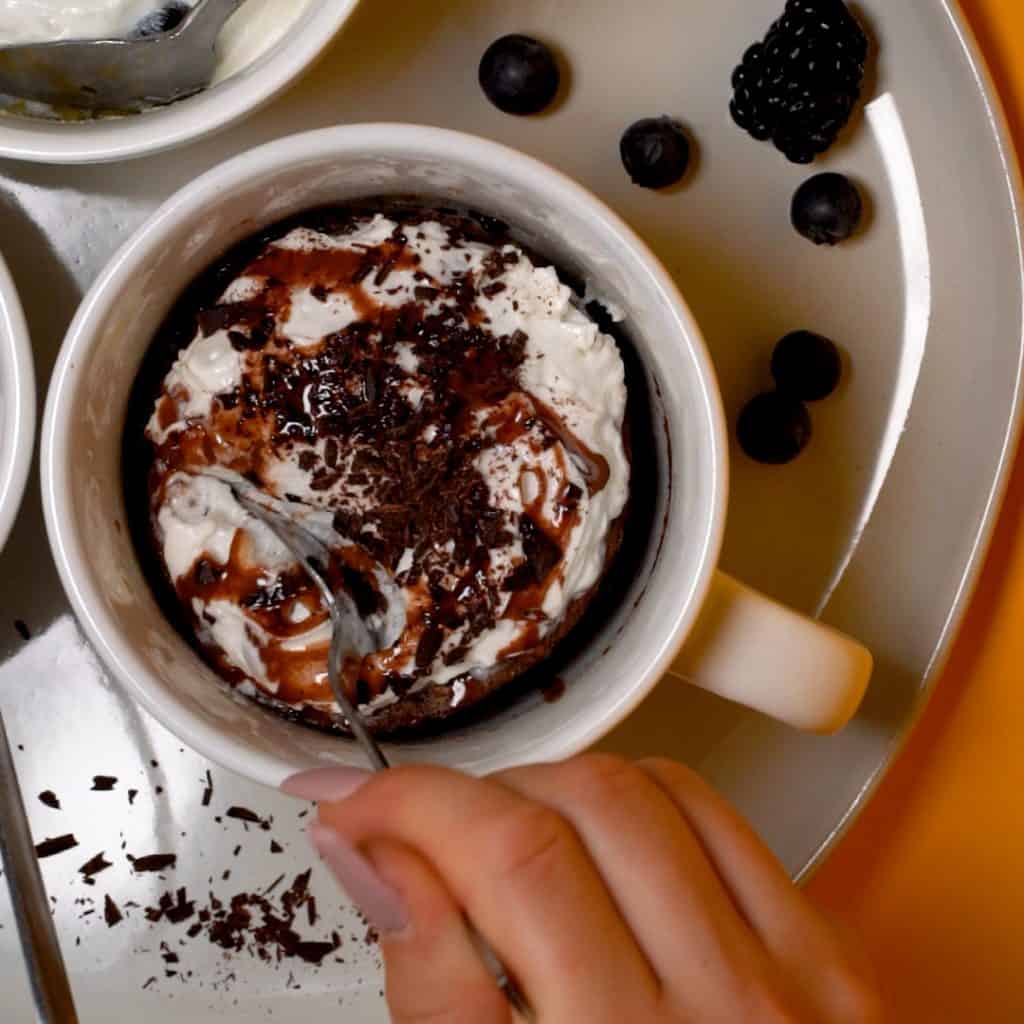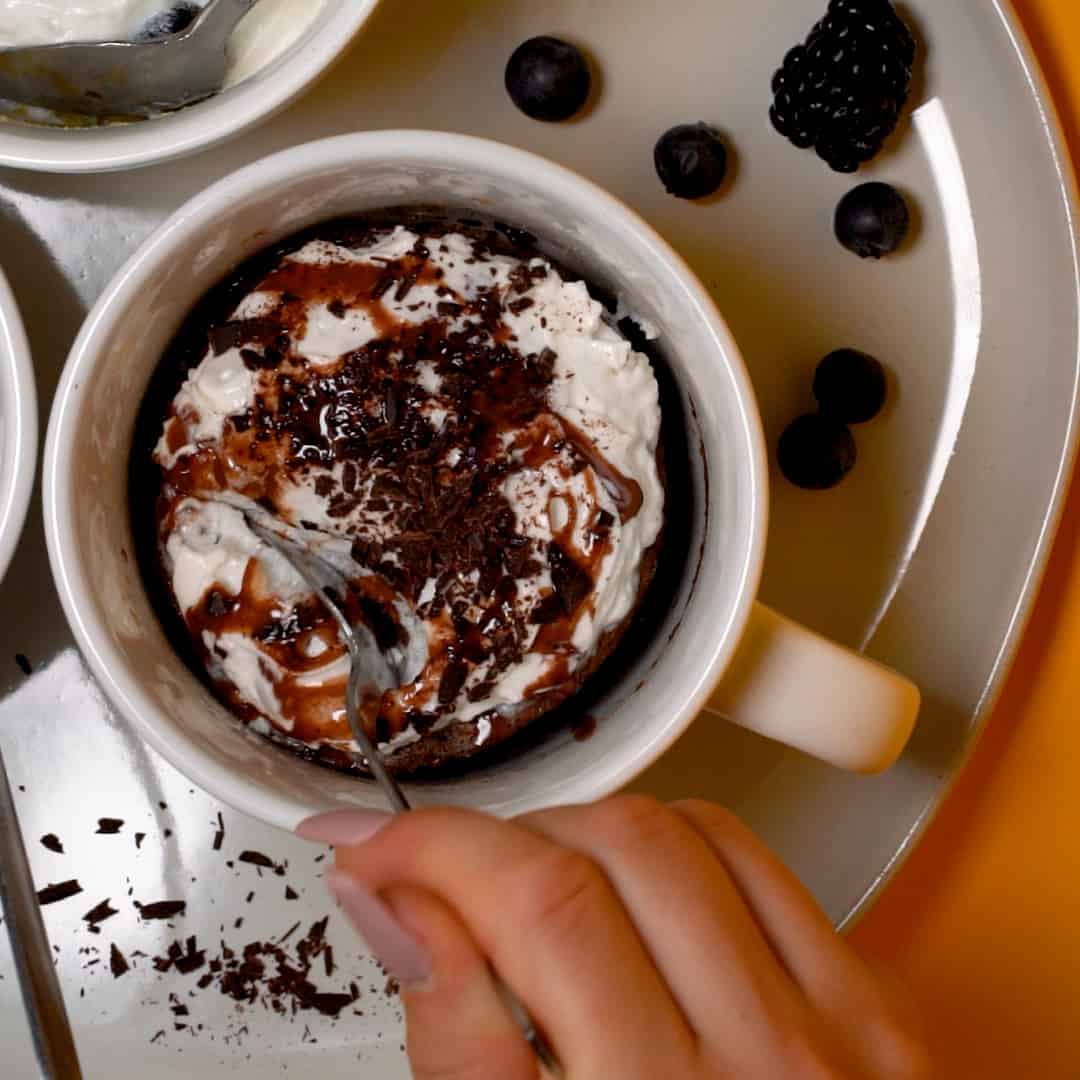 What is a Mug Cake?
Mug cakes have become an internet trend over the past few years. It basically describes any type of cake that can be quickly made in the microwave (usually in a few minutes or less). The "mug" in mug cake refers to the coffee mug that these tasty cakes are usually cooked in.
Being huge fans of fast and easy recipes, we decided to create a bunch of different flavor options to try out in your keto mug cake.
This keto mug cake recipe includes a base and 5 different flavor options. The base can be made using either almond flour or coconut flour. You can get creative with the flavorings for your mug cake, but we've provided you with 5 different options in this recipe:
Keto Peanut Butter Mug Cake – Add 1-2 tablespoons of peanut butter.
Blueberry Mug Cake – Add 1/4 cup Fresh Blueberries.
Keto Chocolate Mug Cake – Add 1 tablespoon cocoa powder and a touch of extra sweetener.
Pumpkin Mug Cake – Add 1 tablespoon pumpkin puree and 1/4 teaspoon pumpkin pie spice.
Keto Vanilla Mug Cake – Don't add anything! The base recipe is already vanilla flavored. You can add a bit more vanilla extract for a stronger vanilla flavor.
If you've never tried a recipe like this before you might want to go with the keto chocolate mug cake. Chocolate cake is a favorite of ours and we make it the most often out of all our mug cake recipes.
Low Carb Mug Cake Nutrition
The ingredients you use will dictate just how keto your mug cake really is. That's why we use a super low carb base with almond flour, erythritol, and vanilla.
Each serving of the mug cakes base has 36 grams of fat, 13 grams of protein, and 6 grams of net carbs. These are great macros for anyone that just wants to enjoy an after dinner treat without messing up the rest of the day.
Ingredients You Need
This keto mug cake recipe uses a straightforward base of butter, almond flour (or coconut flour), granular sweetener, heavy cream, baking powder, and an egg.
Once you have the base ingredients you can get creative and add whatever additional flavorings you would like. We provide you with 5 options in this post, but don't let that confine you. Use your favorite flavor combinations to come up with a mug cake that is truly your own!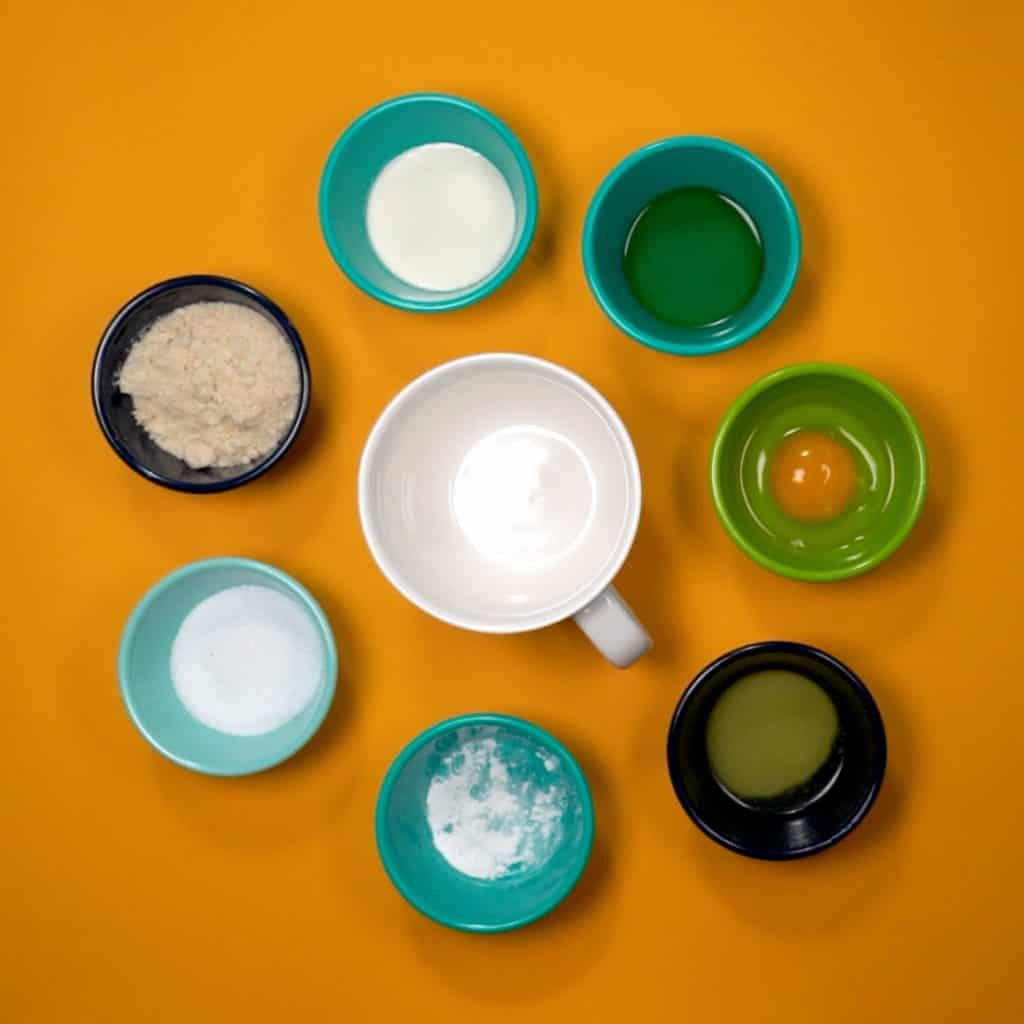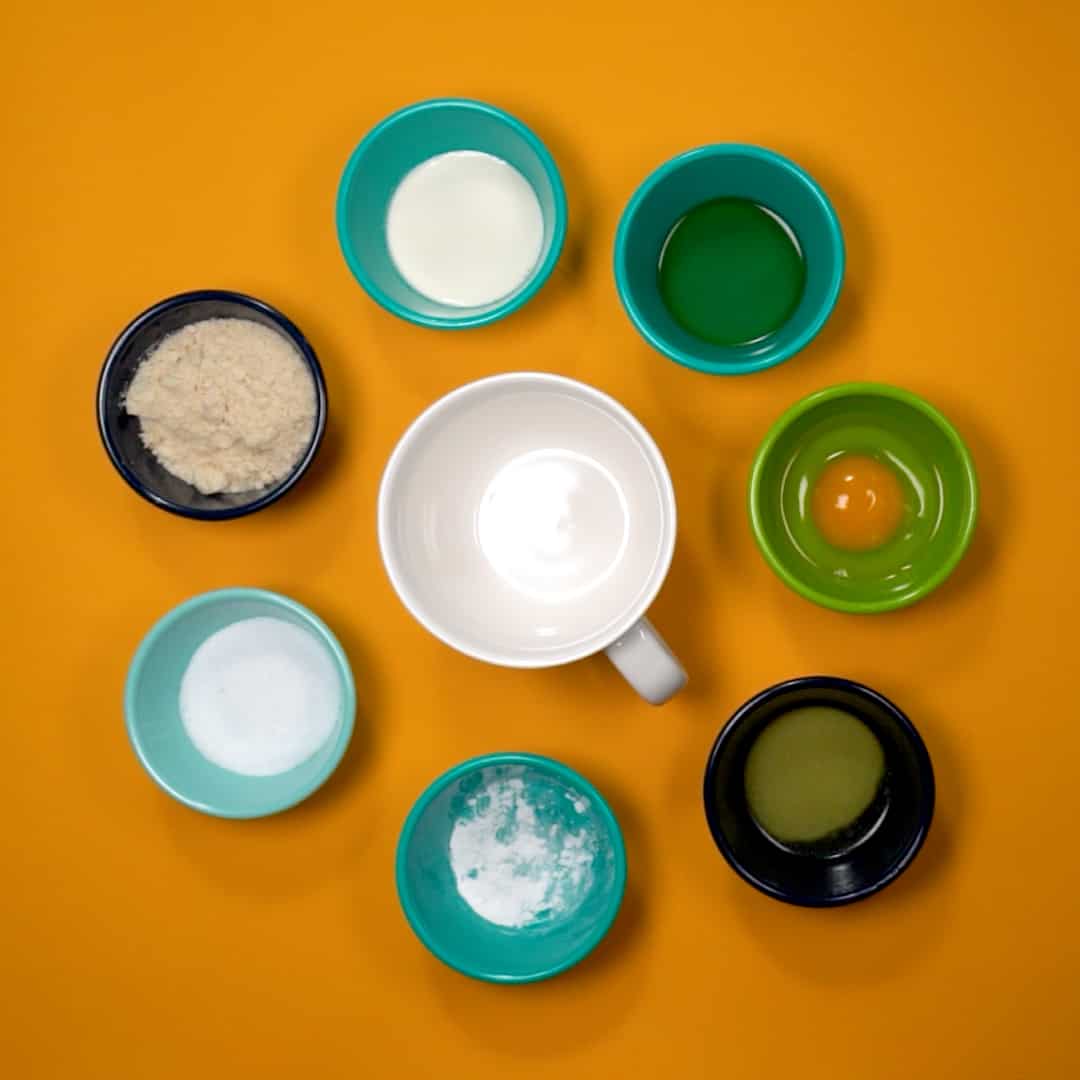 Keto Mug Cake Variations
For this recipe we use a vanilla base that has both nut and nut free options. We also wanted to provide other flavor options than just vanilla which is why we came up with these tasty flavors.
Vanilla
The most basic flavor is sometimes the best. To make a keto vanilla mug cake you just need to follow the recipe and ignore all of the optional flavorings. Using the vanilla recipe is great with the addition of some walnuts or pecans and a pinch of cinnamon for a fun fall twist.
Blueberry
I used to get blueberry muffins from Dunkin' Donuts all the time. The muffins were over-sized, filled with a ton blueberries, had the perfect pound cake-like texture, and even had sugar sprinkled right on top.
To make a keto blueberry mug cake you simply need to add some fresh blueberries to the mug cake batter prior to microwaving. The blueberries will come out soft and warm. They add a flavorful explosion to every bite.
Pro Tip: If you want a stronger blueberry flavor and a blue mug cake you can crush the blueberries and mix them into the batter before cooking.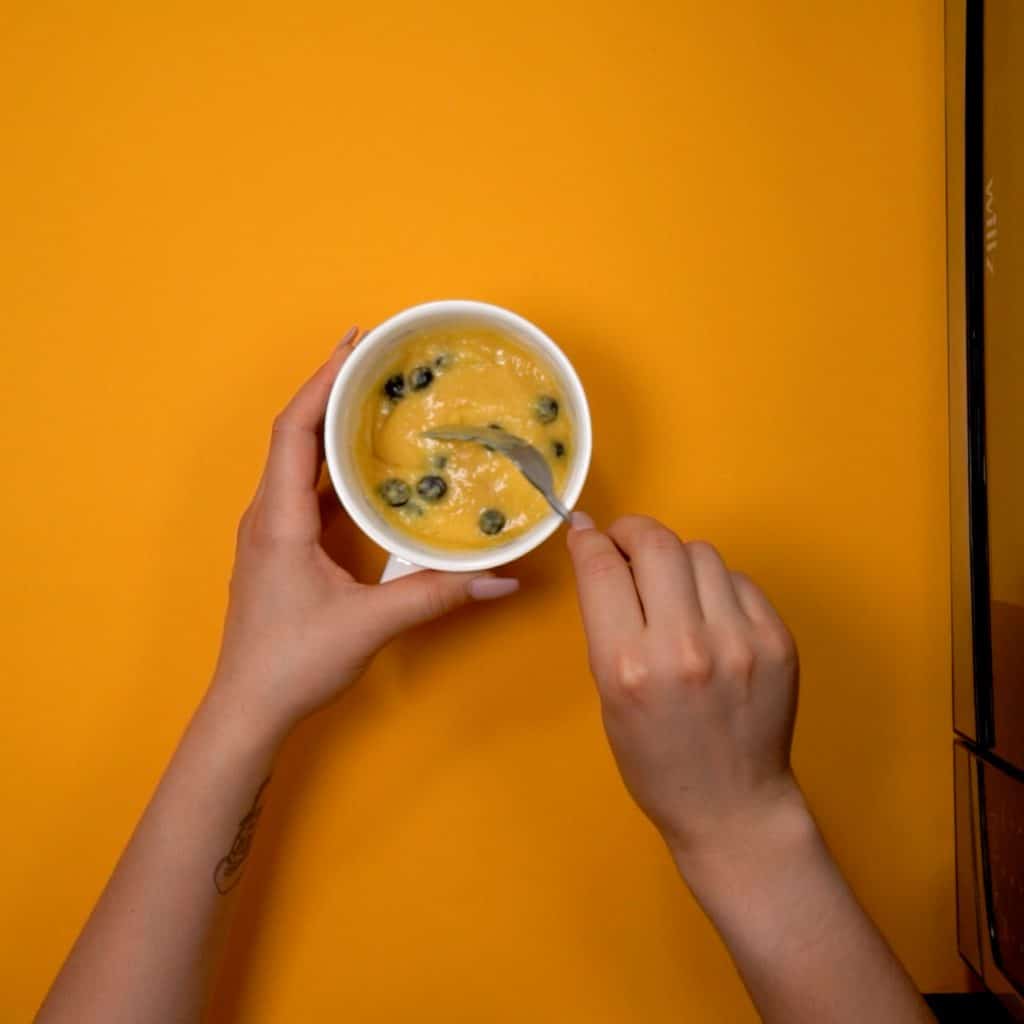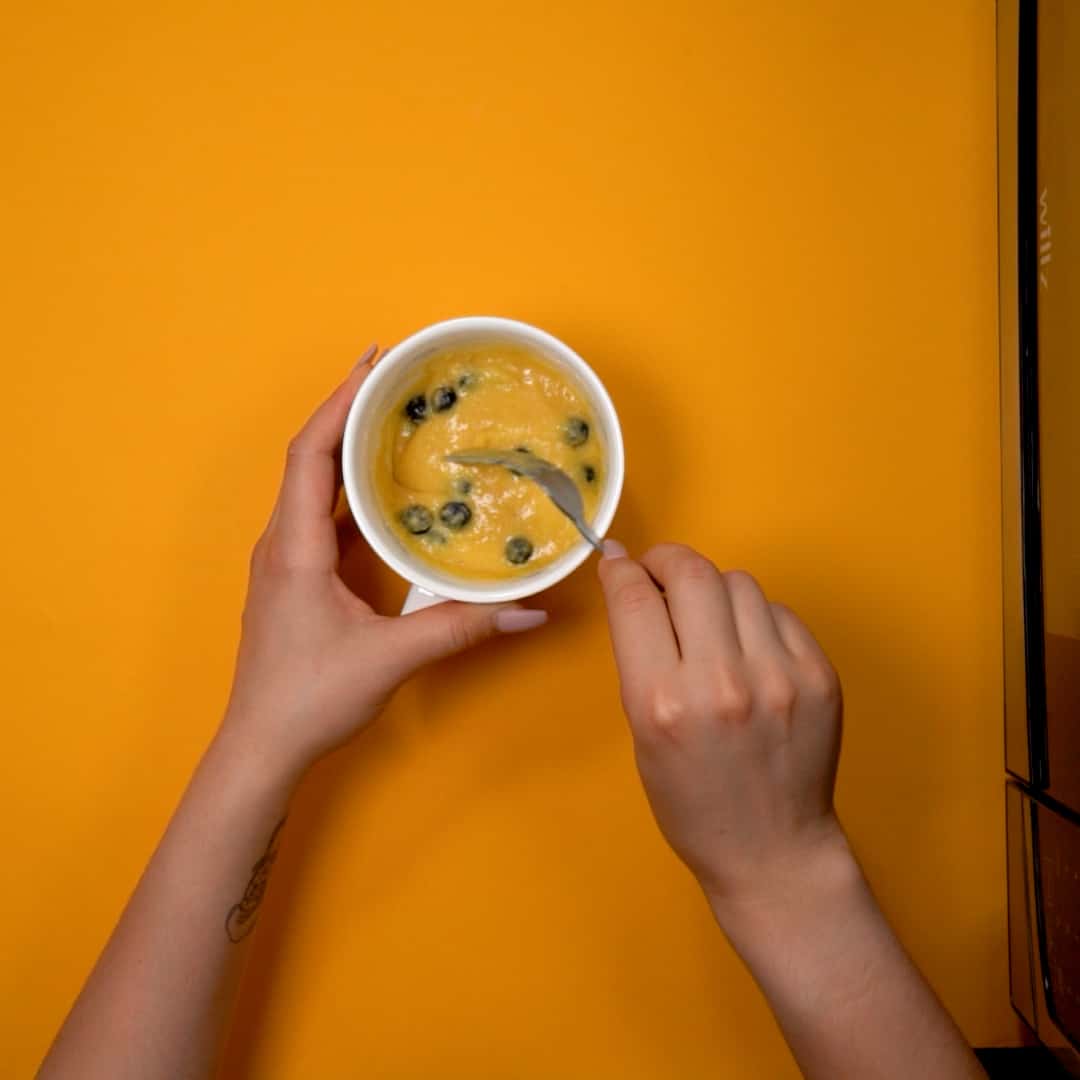 Peanut Butter
Missing your old childhood favorite of peanut butter and jelly sandwiches?! Well, we've got the perfect solution. Our Keto Peanut Butter Mug Cake uses the addition of peanut butter to flavor the mixture before cooking.
To find a keto friendly peanut butter option just look for brands that use 2 or less ingredients. They will all use peanuts, and some may also add salt to their peanut butter. You want to avoid the cheap brands like JIF and Skippy that add sugar.
Pro Tip: Add peanut butter powder to your mug cake for a stronger peanut butter flavor.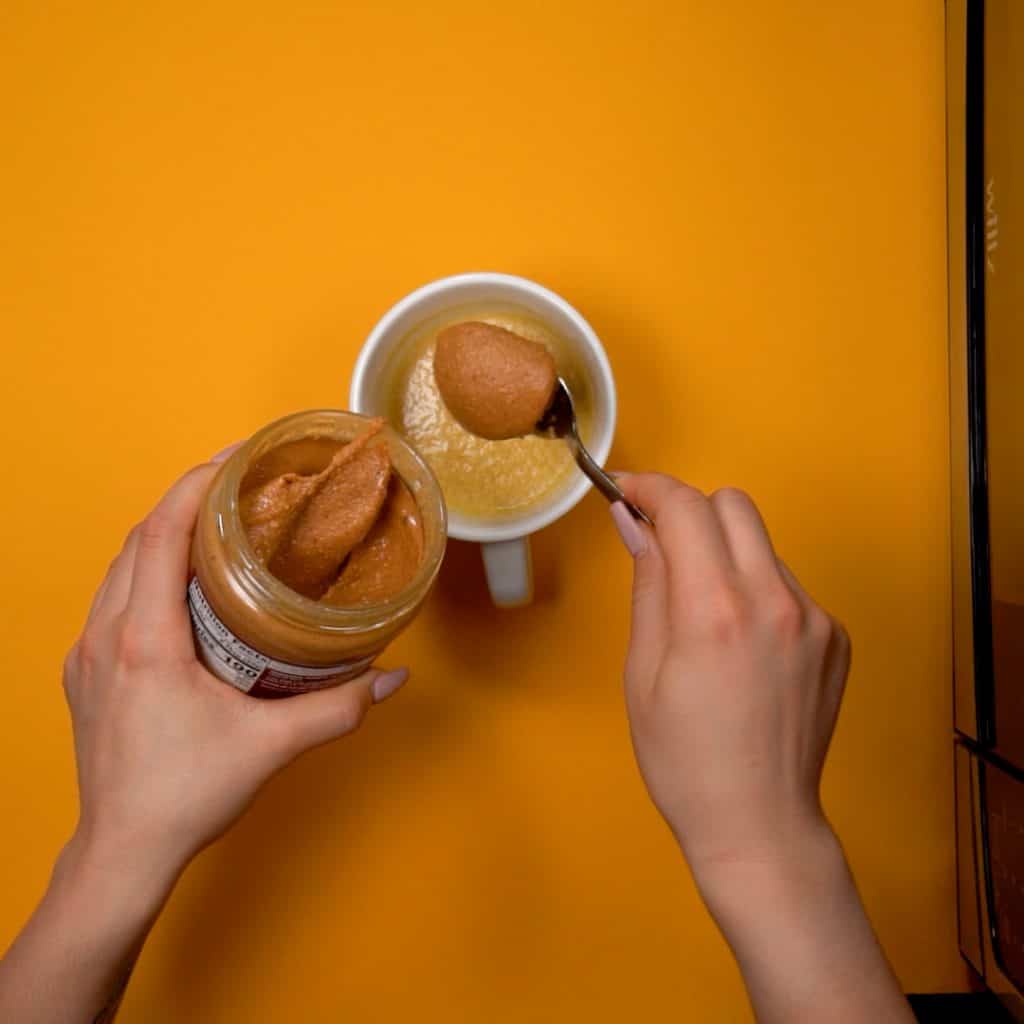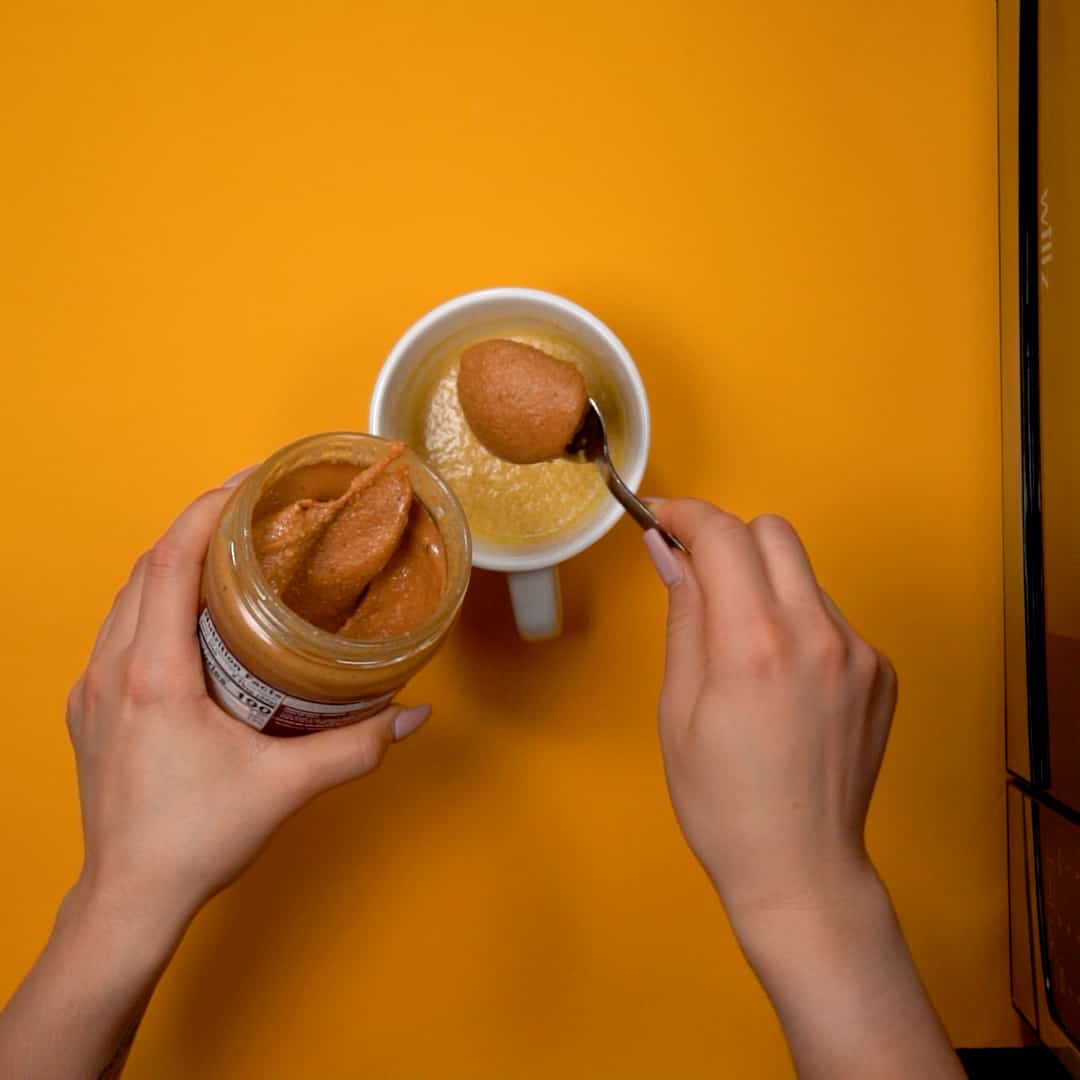 Chocolate
This keto chocolate mug cake is probably the most popular flavoring option. We make this recipe after dinner at least once a week.
To make a keto chocolate mug cake you need to add cocoa powder for the chocolate flavor. Sometimes I will even add a square of dark chocolate for a stronger chocolate taste. For an even more intense chocolate mug cake flavor try our mug brownie recipe!
Since chocolate can be bitter you will need to add a tiny bit of extra sweetener to this version.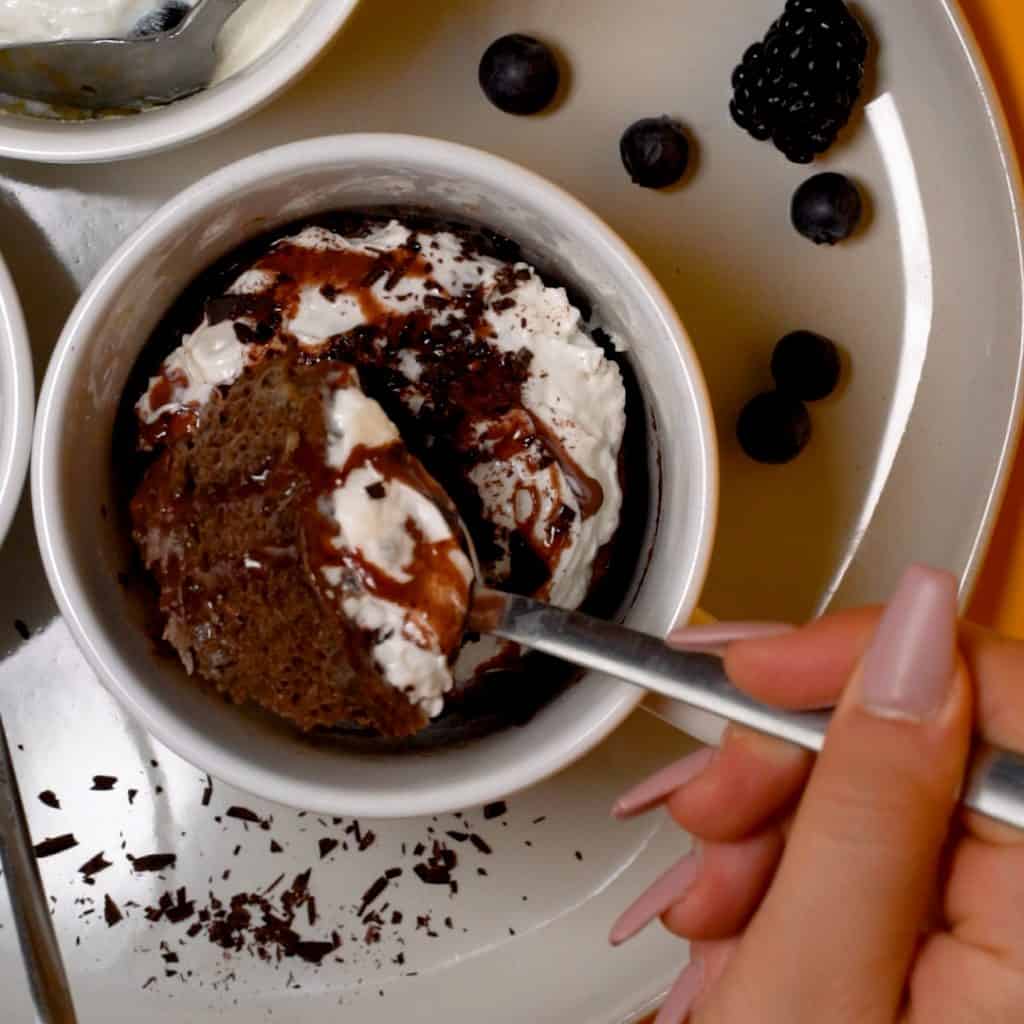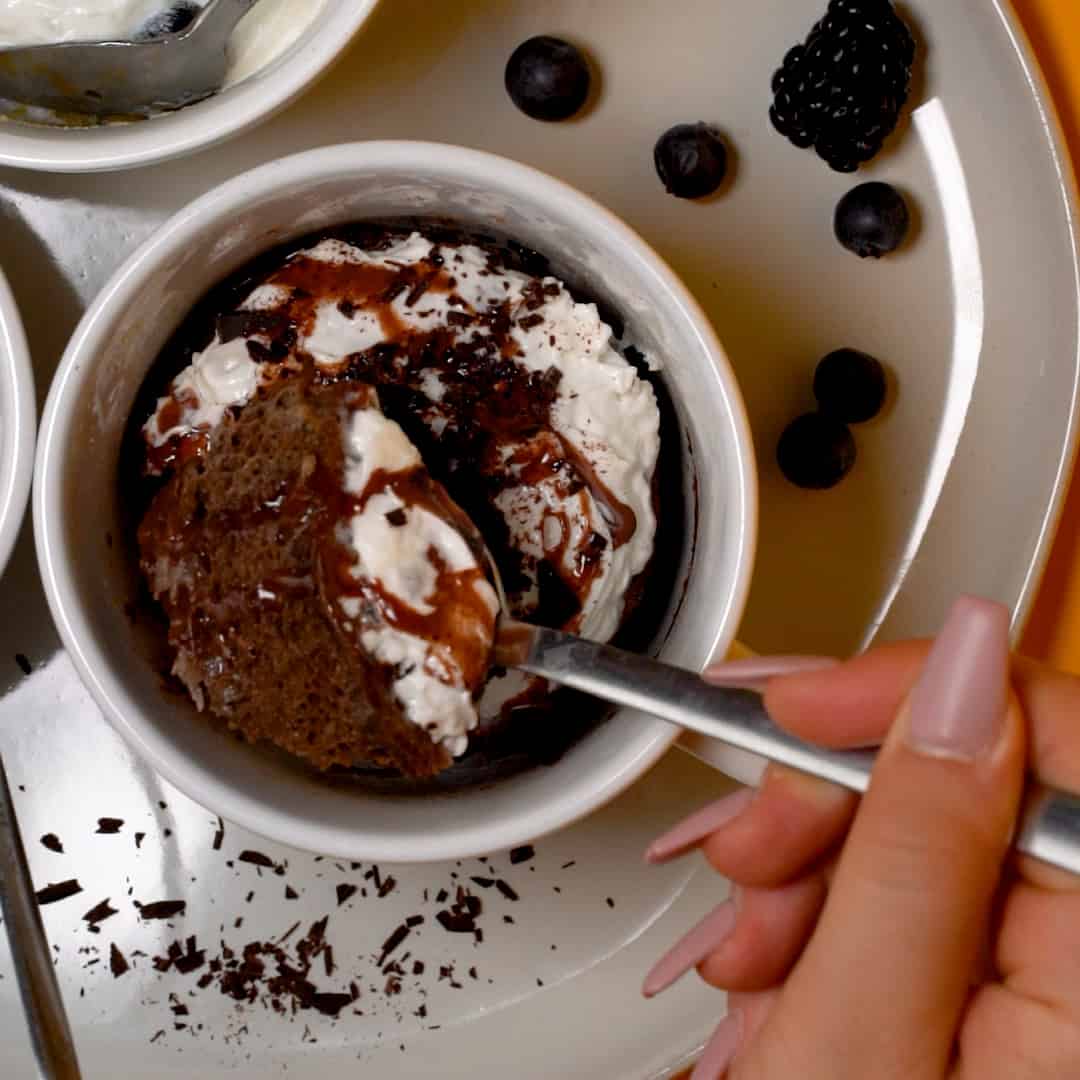 Pumpkin
If you love fall and pumpkin spice you're going to love this mug cake. It's spiced, sweet, and super tasty when paired alongside a latte.
Plus contrary to what most people think, pumpkin isn't all that high carb thanks to all the extra fiber. Pumpkin is also low sugar, but subtly sweet so the cake itself needs less sweetener.
Most people are disappointed with the flavor they get when just adding pumpkin to a mug cake. Adding pumpkin pie spice to the mix is what gives this flavoring option that signature pumpkin pie feel.
The best thing about the pumpkin mug cake is the moist texture you get from the pumpkin.
Make it With Coconut Flour Instead
Luckily we tested this mug cake out two different ways to find the perfect ratios between coconut flour and almond flour.
We found that you need a bit less than half the amount of almond flour to create the right ratios with coconut flour. That means instead of 1/4 cup of almond flour (4 tablespoons), you will want 1.5 tablespoons of coconut flour.
The cream helps to bring in extra fat and moisture that coconut flour doesn't have so don't be afraid to add an extra tablespoon if you want the cake super moist.
Make it Dairy Free
Yes you can, but it won't be quite as good. You need to find a substitution for the butter and heavy cream.
Use coconut oil instead of butter.
Use almond milk or water instead of heavy cream
When using the almond milk or water in place of heavy cream use about half of the amount.
Steps for Making the Best Mug Cake
We've made many a mug cakes in our keto days and have compiled the best tips and tricks to getting the perfect mug cake every time. We made this base close to 10 times in order to make sure it was perfect. With a recipe that's gluten free, keto, and sugar free it doesn't get much better than that! Here's how to become a pro at making mug cakes:
Melt the Butter
The first step is to melt the butter. Thoroughly melting the butter by placing it in the microwave for 15-20 seconds will make mixing the remaining ingredients in easier.
You don't want the butter to be scorching hot or burned. Just melt it until it is completely liquid and stop!
Add the Dry Ingredients
It's important to do this step next to avoid cooking your egg with the hot butter! Add all of the dry ingredients directly into the melted butter and lightly mix. This creates a barrier between the hot butter and the egg you are about to add.
Don't forget the baking powder! It is absolutely essential to get your low carb keto mug cake to be fluffy and soft.
Add the Egg and Mix
Now we can add our egg. I like to use a fork to mix everything together because it means there is one less dirty dish to wash. At this point you should have a relatively homogenous mixture. If you have a few clumps it's no big deal, the microwave will take care of that.
Add Your Flavorings of Choice
This doesn't necessarily need to be the last step. If your flavorings are powders then you are better off adding it with the dry ingredients. If you want to add any final touches like blueberries, raspberries, nuts, or sugar free chocolate chips now is the time to do it.
Microwave for 45 to 75 Seconds
This is by far the most important step in achieving a perfect mug cake. The amount of time you place this in the microwave is crucial for the moistness and tenderness of your cake.
Every microwave is different so it's hard to say exactly how long yours will take. An indicator that I use is when the mug cake starts rising above the rim of your coffee mug it's done. Taking it out at this time will result in a tender, slightly undercooked center (sort of like a lava cake).
Making a Mug Cake in the Oven
Mug cakes can be baked, but you need to do it in an oven safe dish or ramekin. The texture may also be a bit different than a normal mug cake. To cook, place into a 350 degree oven for 15-20 minutes. Check with a toothpick to ensure it is fully cooked.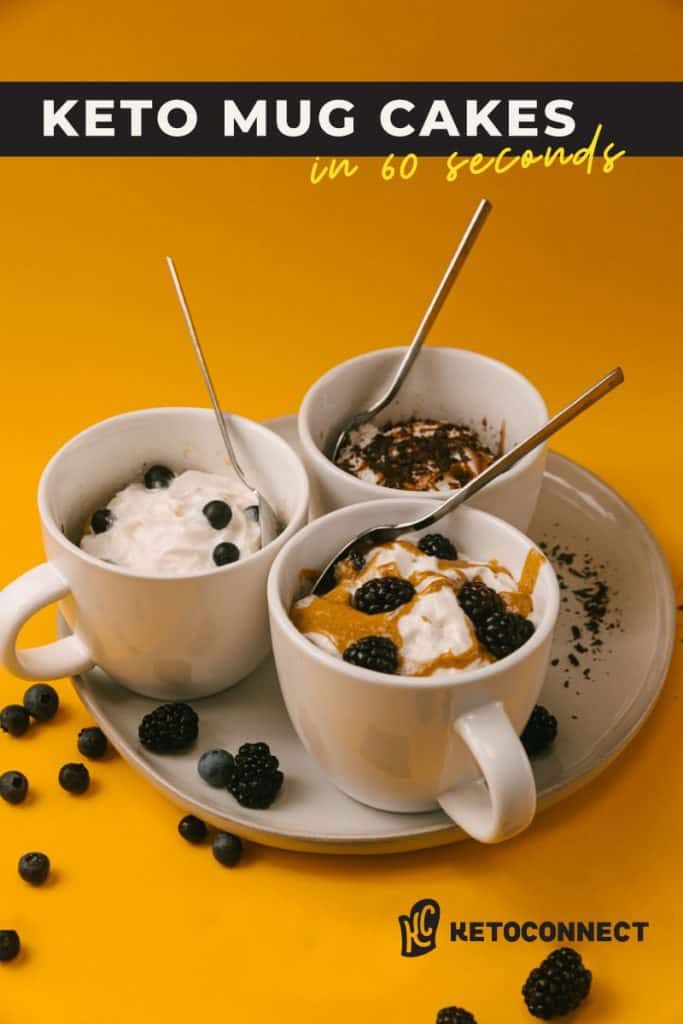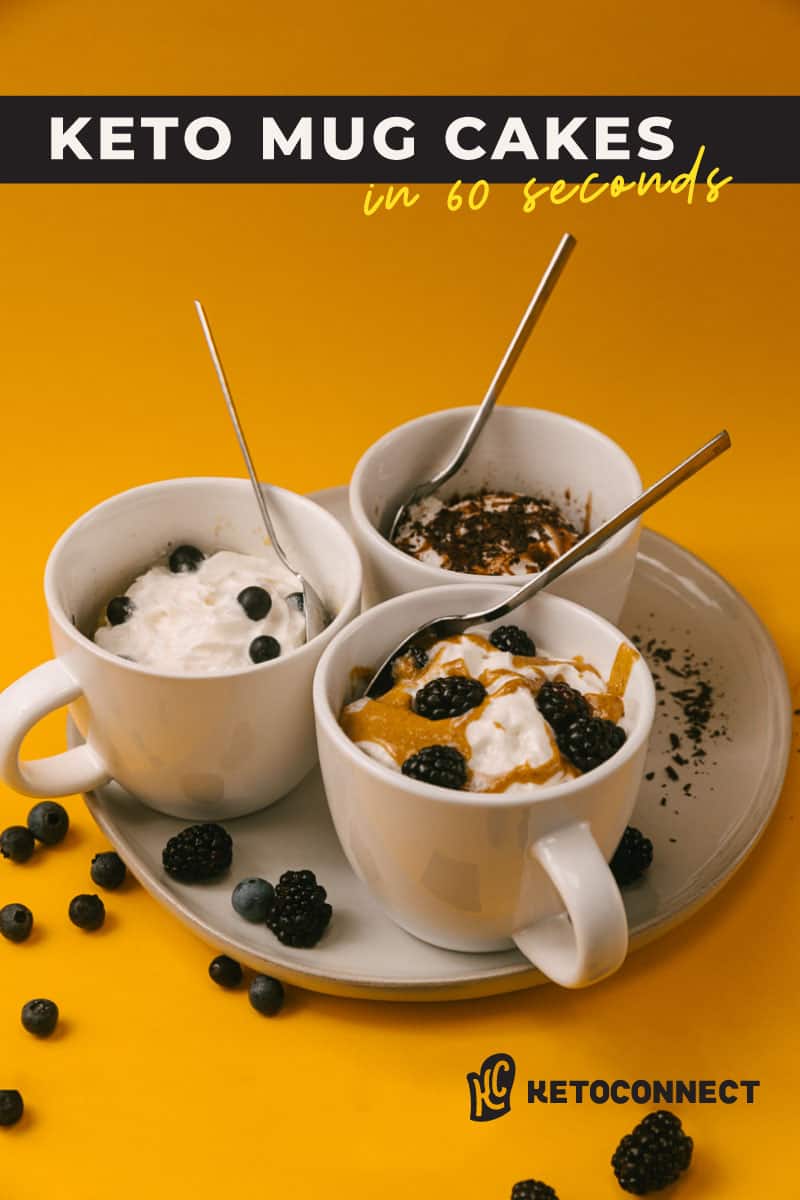 Keto Friendly Toppings
Topping a low carb mug cake is pretty individual based on your preferences, but that doesn't mean we don't have our favorite suggestions!
Our favorite mug cake toppings are:
Whipped Cream– Whipped cream is a standout best when it comes to any kind of cake. Yes a scoop of keto ice cream is extra tasty, but once you start you might not be able to stop! Instead make our keto homemade whipped cream!
Sugar Free Chocolate Chips– Sugar free chocolate chips are another sneaky delicious topping. They work with all these mug cakes, and some brands now even carry keto white chocolate varieties. This goes great on the chocolate keto mug cake as well as the peanut butter.
Berries– Strawberries, blueberries, and raspberries make great additions to mug cakes because they are sweet yet tangy to counterbalance the already sweetened mug cake.
Nut Butters– This can be any of your favorites, we love going ham on the peanut butter and almond butter, but sunflower seed butter is another great nut free alternative.
For more fast and easy dessert options like this, read our post on the top 17 best keto fat bomb recipes.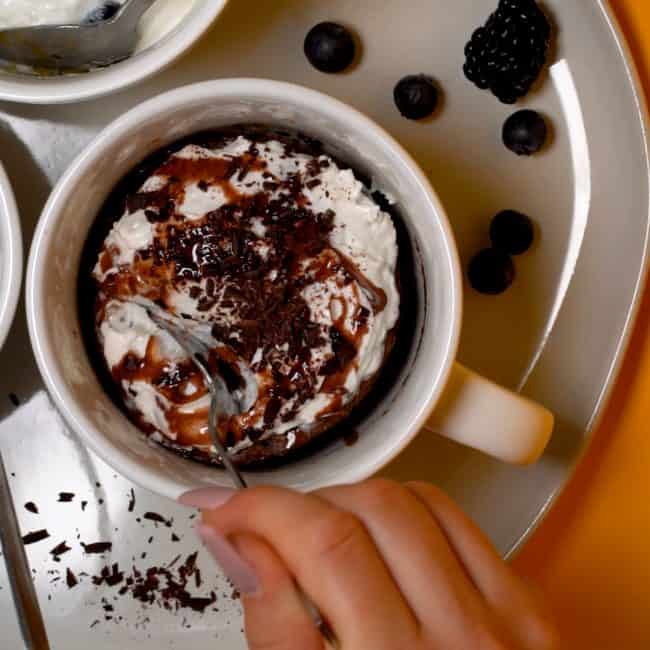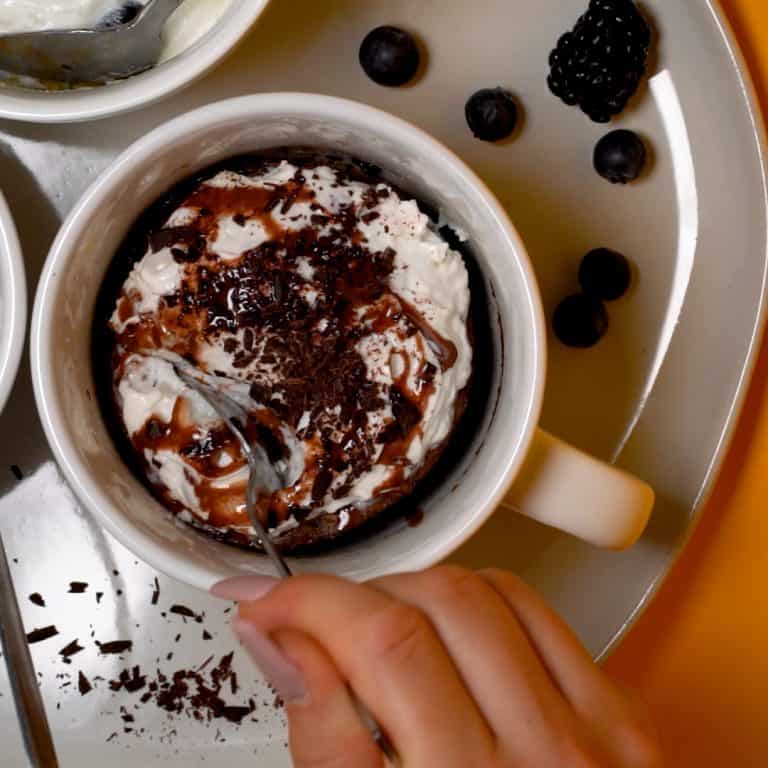 Keto Mug Cake Recipe
Five delicious mug cake variations perfect for breakfast, or as a sweet treat to end the night.
Total Time 4 minutes
Servings 1 cake
Calories per serving 386kcal
Prep Time: 2 minutes
Cook Time: 2 minutes
Ingredients:
Blueberry
1/4 cup Fresh Blueberries
Instructions:
To Make the Base OR Vanilla Mug Cake
In a mug melt the butter for 30 seconds, or until a liquid.

Next add in all the dry ingredients and mix well.

Add the cream, vanilla, and egg, mix again to avoid clumping.

Microwave for 45-75 seconds or until mug cake is fully cooked.

Allow to cool a bit before topping
To Make All Other Variations
Prepare base according to directions above *DO NOT COOK YET*

Once the batter is ready simply mix in all additional ingredients depending on the base of choice.

Microwave the mixed batter for 45-75 seconds or until cooked all the way through
Notes
Net Carbs: 3g Nutrition information is for the base *alone*. You will have to account for the other variations separately. 
Nutrition Facts
Keto Mug Cake Recipe
Amount Per Serving
Calories 386 Calories from Fat 324
% Daily Value*
Fat 36g55%
Saturated Fat 13g65%
Trans Fat 1g
Polyunsaturated Fat 2g
Monounsaturated Fat 6g
Cholesterol 237mg79%
Sodium 468mg20%
Potassium 186mg5%
Carbohydrates 6g2%
Fiber 3g12%
Sugar 1g1%
Protein 13g26%
Vitamin A 840IU17%
Vitamin C 1mg1%
Calcium 144mg14%
Iron 2mg11%
* Percent Daily Values are based on a 2000 calorie diet.
Written By