Up until this point we've had our hand at several dessert recipes, but nothing quite like this Low Carb Custard. Personally, I am not a fan of lime or lemon desserts, but Matt changed my opinion with this one! If you're craving something sweet, but still light and refreshing this low carb lemon custard is your best chance of hitting all of those desires. Watch Matt make it below!
Volume 90%
Press shift question mark to access a list of keyboard shortcuts
Keyboard Shortcuts
play/pause
increase volume
decrease volume
seek forwards
seek backwards
toggle captions
toggle fullscreen
mute/unmute
seek to %
Next Up
ketoconnect – Keto Mug Cakes – Delicious vs. Nutritious
09:31
Next Up
bacon_custard
05:27
It's Like A Thick Lemon Pudding!
Though I don't love lemon flavored desserts, I do love a thick pudding, and this is basically that! Ditch the instant pudding mixes because this is the real deal. It's significantly lower in carbs and you know exactly what is going into it - no preservatives! It's also only requires five ingredients to make, and it would work great as a frosting or a filling!
What To Do With Egg Yolks?
Lemon custard of course! I can almost guarantee you always have butter, cream cheese, and a lemon or lime on hand. If so, why not put those egg yolks to use and make a creamy, indulgent, yet refreshing dessert that everyone will love? There are also several other ways to use left over eggs yolks, such as making our salt cured egg yolks or low carb truffles. Just as a tip, make sure to add the yolks in one at a time as you whisk the mixture to ensure thorough mixing!
Low Carb Custard
We don't make enough zesty dessert, which is a shame because they are always so refreshing while still satisfying your sweet tooth! We are in the works of making a key lime pie that we have high hopes for. If you decide to make this custard, a good way to use it aside from eating it straight out of the bowl, would be to pair it with our olive oil cake or use it as a frosting on our protein cakes! This low carb custard is a great, refreshing way to end any of your meals!
Recipe can be quickly added to MyFitnessPal - Search "KetoConnect - Low Carb Lemon Custard"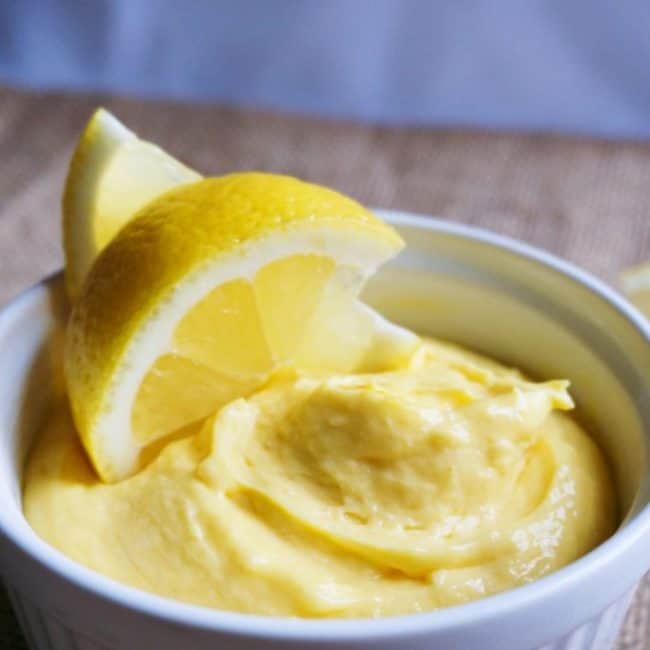 Low Carb Custard | Lemon!
Total Time 2 hours 15 minutes
Servings 2 servings
Calories per serving 412kcal
Instructions:
Add the butter and cream cheese to low heat sauce pan.

While it is melting down grate in some lemon zest, 15 drops of stevia and the juice of half of a lemon. Stir until it starts to come together.

Slowly add in 1 yolk at a time as you continue to stir with a whisk. The end product should be a smooth, creamy texture.

Cook it for a couple minutes additionally and then add the xanthan gum and combine.

Remove from heat and pour the mixture into a bowl. Cover the bowl loosely with plastic wrap and place in the fridge for two hours to set.
Nutrition Facts
Low Carb Custard | Lemon!
Amount Per Serving
Calories 412 Calories from Fat 369
% Daily Value*
Fat 41g63%
Carbohydrates 3g1%
Protein 7g14%
* Percent Daily Values are based on a 2000 calorie diet.