My love for soup has no limits. I enjoy anything from hearty chilis, to even the simplest of soups like this Keto Egg Drop Soup. This keto egg drop soup recipe takes less than 10 minutes to make and is light yet filling. Plus it has unmatchably rich flavors of ginger, soy and sesame oil.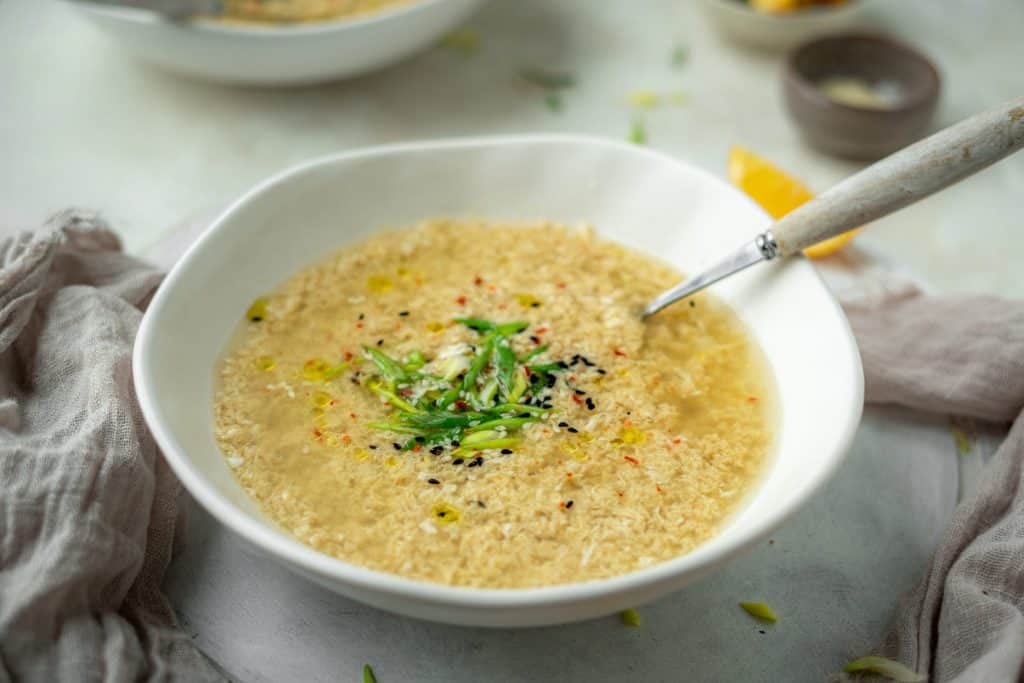 You're guaranteed to have all the ingredients for this recipe on hand, and it's great for a quick meal when you're sick or even when you're just craving something Asian.
The Easiest Homemade Egg Drop Soup
When I hear the word easy I think in terms of number of ingredients, number of steps, and how long it will take me to make before I can devour. This recipe is definitely high up on the easy scale! It has seven total ingredients (two of which are optional). The only steps required are whisking, boiling, and adding in the eggs. It takes less than 10 minutes total time to make. If that's not easy I don't know what is! Plus, when it's homemade you feel so much better about putting it into your body, because you know exactly what went into it.
What to Make With Keto Egg Drop Soup
Egg drop soup is a traditional Chinese soup, so we prefer sticking to an Asian keto recipe theme. Some of our favorite keto main dishes to pair with this Chinese low carb egg drop soup recipe are:
All of these keto recipes make great gluten free options for those looking to complete their egg drop soup meal. They are each made with tons of fresh flavors like ginger and sesame, to give you a flavor explosion in every bite.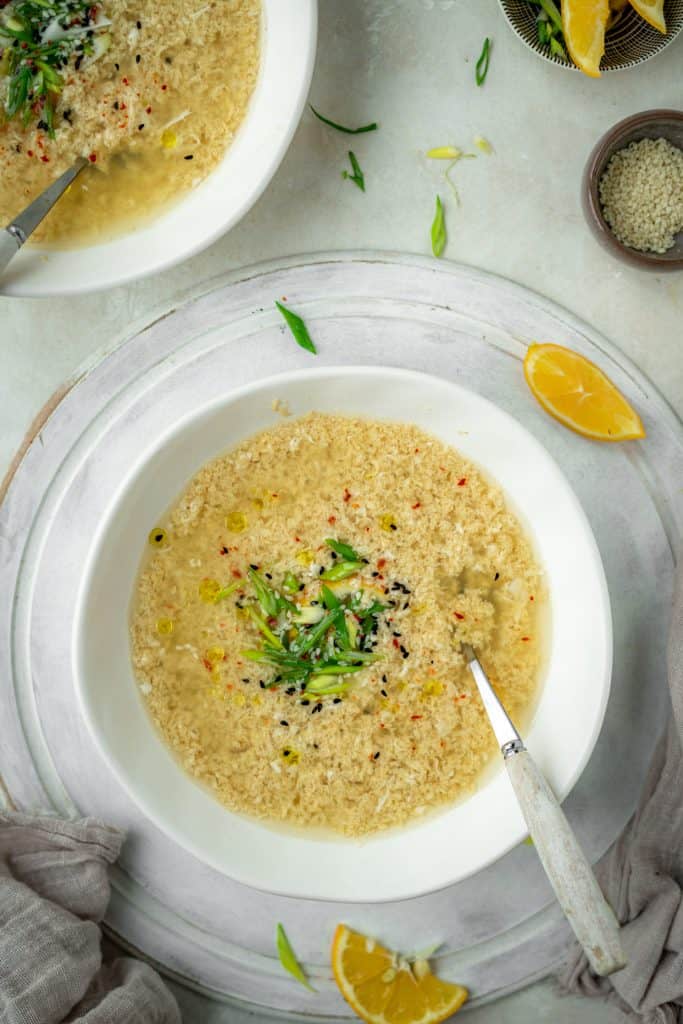 How to Make Thick Egg Drop Soup
If you prefer a thicker egg drop soup add a bit of Xanthan Gum. It will help to give the chicken broth more viscosity without any corn starch or flour. Keto friendly recipes do not contain corn starch because per serving (1 tbsp) there are 7 grams of carbs, and 6.9 grams of net carbs. That is why traditional egg drop soup isn't always keto.
Tips for a Thinner Egg Drop Soup Recipe
If you want a thinner egg drop soup recipe simply add more broth or water to the batch. Make egg drop soup based on your preferences for the best possible results!
Preventing Rubbery Eggs
Do you find that when you make egg drop soup the eggs become rubbery? Then this tip is for you. To make egg drop soup without rubbery eggs, avoid over cooking them! Overheating the eggs can cause protein bonds to fully form which make them rubbery. A bit of xanthan gum will also help with preventing chewy eggs.
Gluten Free Egg Drop Soup
Traditional egg drop soup uses soy sauce for the salty umami flavor. Soy sauce is not keto because it has both soy and wheat which can be inflammatory on a keto diet(1). In order to combat this but still have a traditional flavor we chose to use coconut aminos. Coconut aminos are a low carb gluten free option for those who want a soy sauce replacement. It is not sugar free, but is lower in carbs and works well in keto recipes. If you prefer a less sweet soy sauce replacement you can try tamari which is packed with salty flavor and is 100% gluten free. While wheat free, it does still contain soy. Weigh out your options and pick whichever flavor and ingredients you prefer.
Tips to Make Egg Drop Soup
If you are ready to make the best ever egg drop soup recipe you've come to the right place. This recipe is rich, hearty, and easily customizable to make your perfect mix.
Keep the Eggs in Tact– Stir slowly to prevent the eggs from breaking into too small of pieces.
Pour Eggs with a Measuring Cup– To make sure the eggs evenly break apart and mix in, use a cup with a spout. This allows the eggs to fall in ribbons rather than one giant blob that will cook together when entering the hot chicken broth.
Stir Consistently– This prevents burning of eggs which may sink towards the bottom. Remember to stir gently though so the eggs don't break apart too much.
Use Quality Ingredients– Using bone broth over chicken broth or pasture raised eggs over conventional ones will really make all the difference in this recipe. The simpler the recipe the more the ingredients will shine, and this egg drop soup is certainly quick and easy to make!
Be Patient– If you whisk the eggs in too quickly you risk dropping the temperature of the chicken broth. You want to make sure your chicken broth stays hot so it doesn't take too long for the eggs to cook.
Stir Speed Depends on Preference– Stir speed will dictate whether your eggs are thin and wispy or thick and hearty. For thicker eggs stir slowly so the eggs have time to set. If you want the egg drop soup recipe to have thin eggs stir quickly to break them up fast enough.
Play Around with the Thickness– If you want a broth with more viscosity, add in a pinch or two of xanthan gum. It will thicken the broth while it boils so it's ready when you add in your eggs.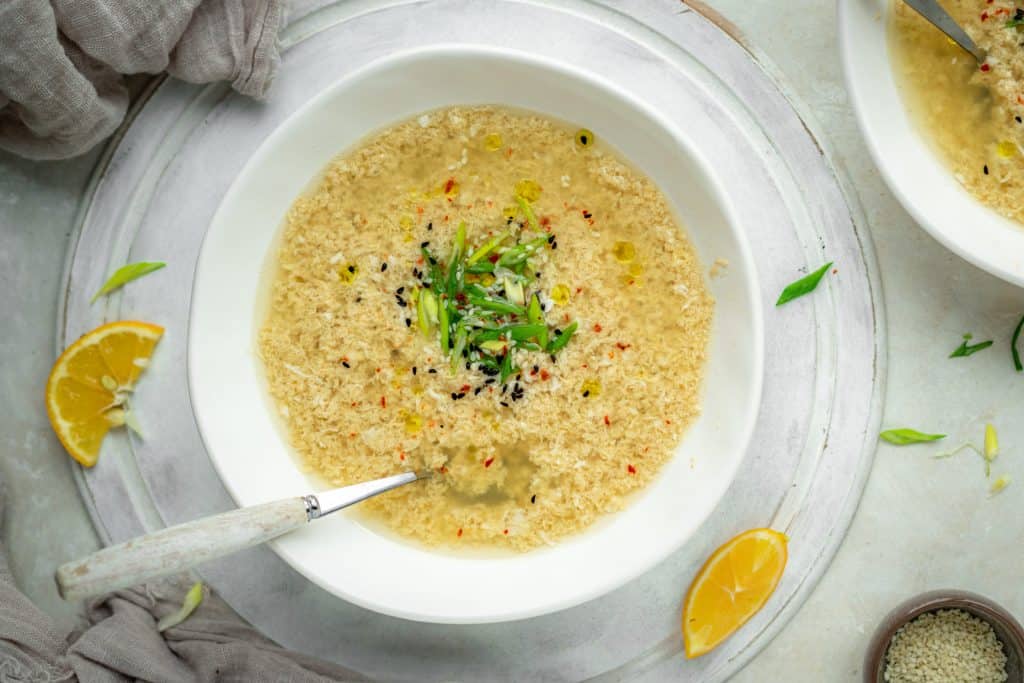 How to Make an Easy Keto Egg Drop Soup
If you want an easy keto egg drop soup recipe this is it. Our egg drop soup requires just 5 ingredients and 10 minutes of your time, making this soup the perfect heat and eat recipe.
Ingredients
To prepare this easy keto egg drop soup you will need broth (we used chicken broth), some eggs, and liquid aminos. For the spices you will want ground or fresh ginger and garlic powder. Optionally you can also top your egg drop soup with sesame oil and sliced green onions.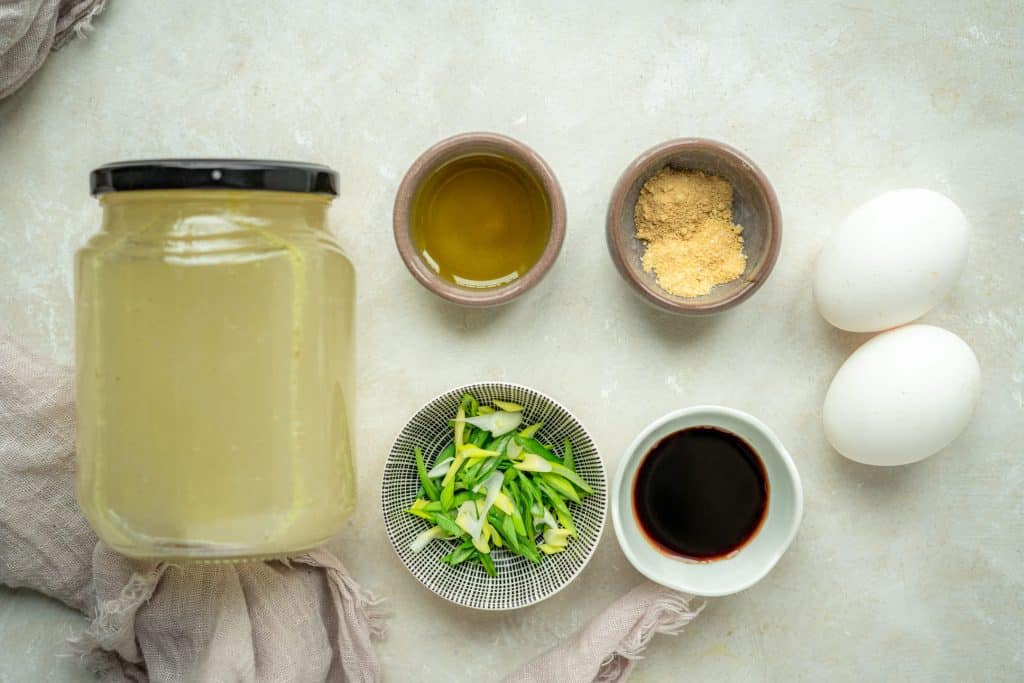 Cooking Low Carb Egg Drop Soup
Now it's time to cook your easy keto egg drop soup. It will take just 10 minutes to make this soup, so get ready to fall in love and make it on repeat.
Begin by heating a pot over medium high heat. Add the chicken broth, garlic, ginger, and liquid aminos. Stir well to dissolve the powders and then bring it to a boil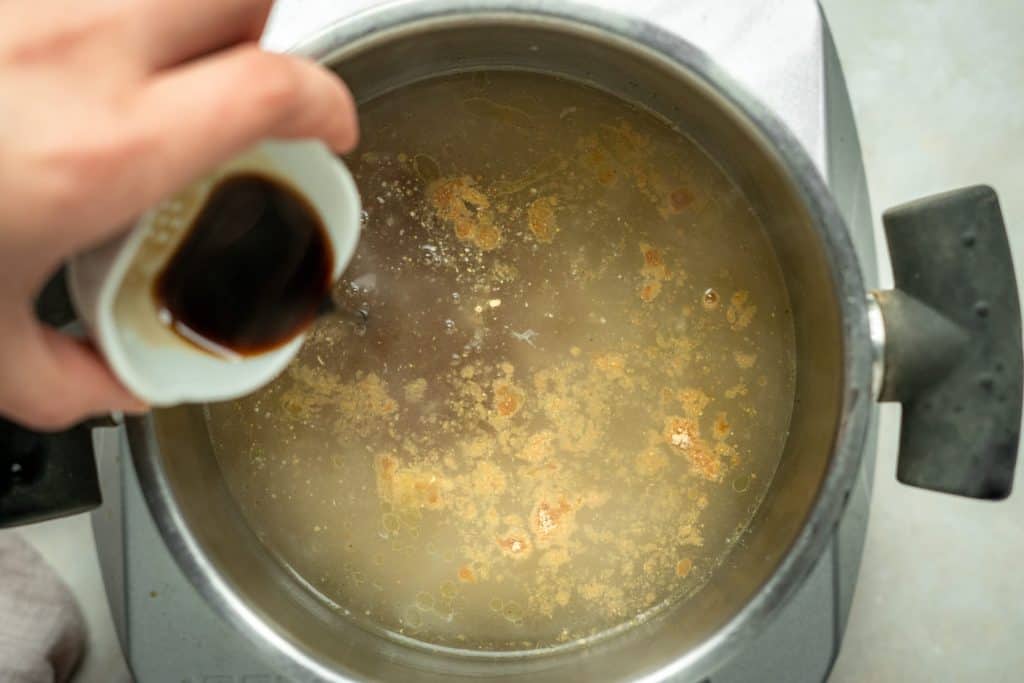 Next crack two eggs in a small bowl whisking well to fully combine the eggs and whites.
When the broth begins to boil remove it from the heat and swirl a fork in it. You want a circular vortex to form. Once the water is swirling, SLOWLY pour the egg mixture into the hot broth. Continue to stir with a fork as the eggs are added.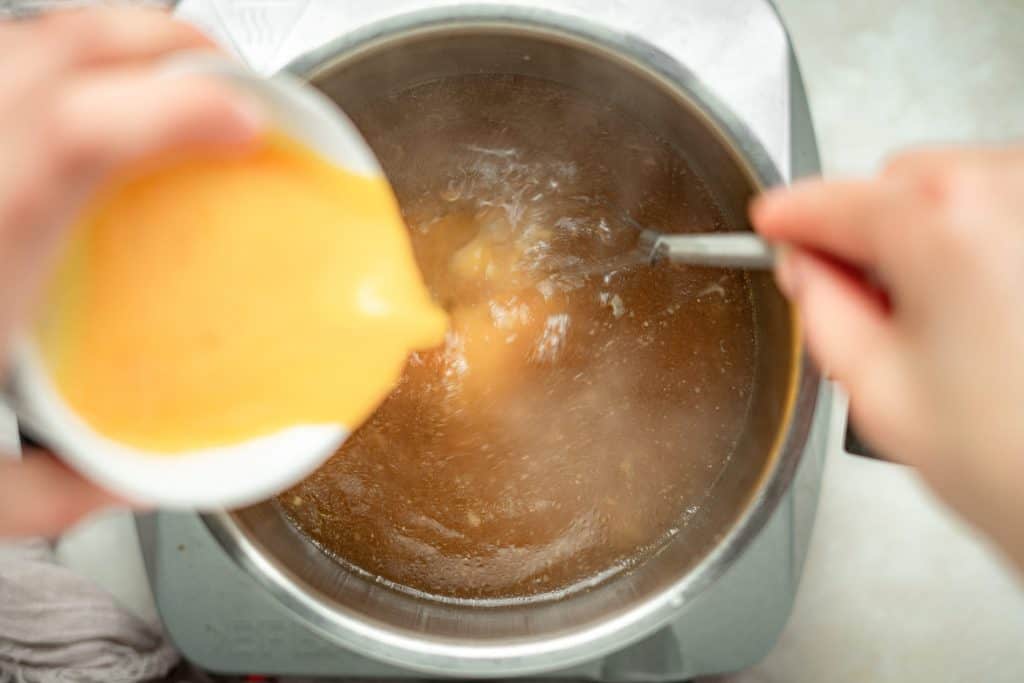 Serve immediately and feel free to garnish with 1 tsp of sesame oil and/ or green onions. This easy keto egg drop soup does not store well as the eggs will become rubbery when reheated. AKA eat up!
Customizing Easy Keto Egg Drop Soup
If you made this egg drop soup recipe and are looking for even more delicious ingredients to add, check out our list of customizations below:
Broth– Try changing up the broth! Traditionally we use chicken broth, but bone broth or vegetable broth all make great options to add instead.
Vegetables– Vegetables may not be the first thing you think of in egg drop soup, but they do make a great addition to a variety of keto recipes. Some keto friendly vegetables we love and have added in the past are mushrooms, green onions, zucchini, and bok choy.
Garnishes– A good garnish is super important in homemade meals. Some of our favorite recipes have added garnishes like green onions, sesame oil, and sesame seeds.
Protein– Not only does protein make a complete meal, but it also bumps up the satiety factor and flavor of the dish. Try to add chicken, cooked salmon, or seared pork belly to new recipes in order to make a really standout dish.
There are endless combinations of ingredients you can use to make new recipes out of our egg drop soup base. Feel free to get creative and let us know how you made your perfect soup below.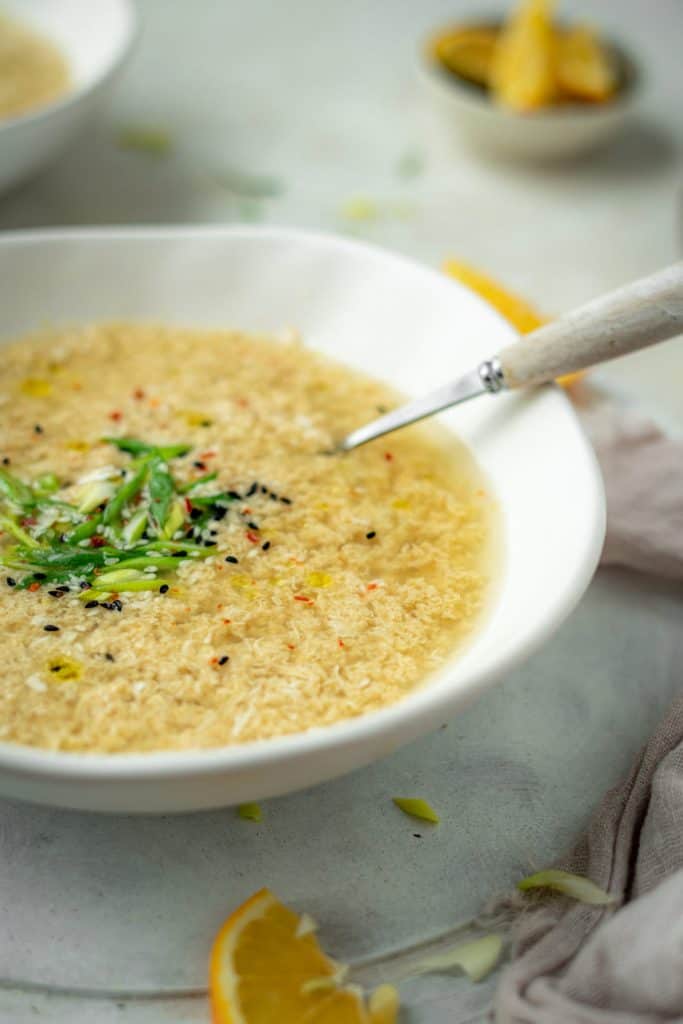 My Favorite Low Carb Soups
I have always been a soup person and nothing has changed since starting keto. I'm also someone who likes anything even remotely soup like, such as chilis and stews. They are all perfect meals in my book. They have an easy one-pot clean up aspect, and are always filling and satisfying. My favorite soup and soup-like recipes we have on our blog are:
All of our keto recipes are simple yet delicious and make staying low carb easy. Try some of these delicious soups and enjoy the comforting flavors they bring.
Quick and Easy Keto Egg Drop Soup
If you only have ten minutes to spare for dinner, or you're looking for something filling without having to devote all night to making it, this recipe is for you! Add whatever seasonings you want to enhance this quick and simple Chinese dish. We love adding fresh ginger, sesame oil, or even fresh garlic sautéd in. Add more eggs to the broth if you want a higher calorie, more filling meal to keep you satiated for longer. This Keto Egg Drop soup would even be a great appetizer on a Chinese take-out inspired night, which you could then follow up with our low carb cashew chicken!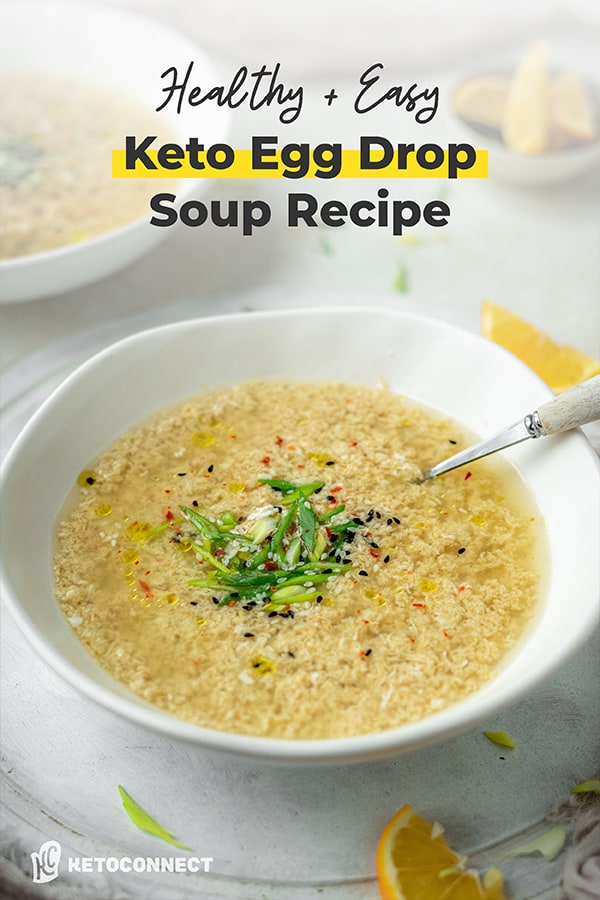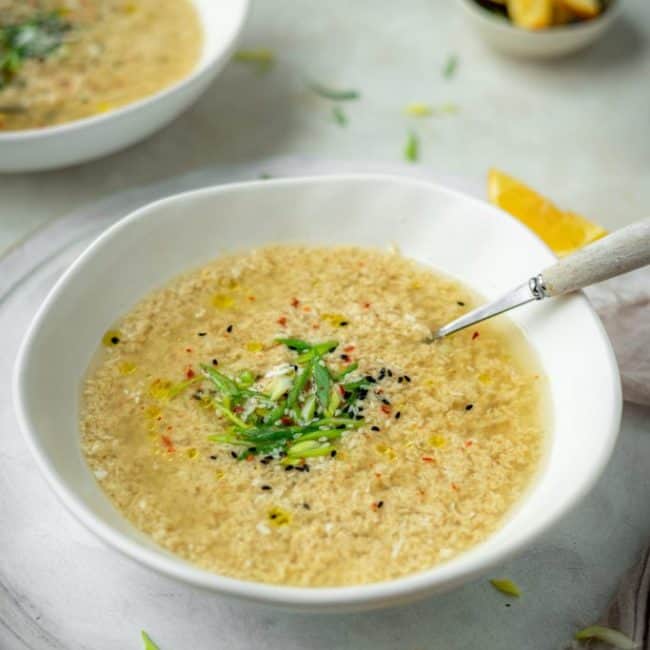 Keto Egg Drop Soup
A blend of garlic, ginger, and aged umami flavors to create the perfect Asian soup.
Total Time 10 minutes
Servings 2 servings
Calories per serving 139kcal
Instructions:
Heat a medium saucepan over medium-high heat. Add the chicken broth, soy sauce, ginger and garlic and bring to a boil. Whisk to combine and dissolve the powders.

While the broth is coming to a bowl crack two eggs into a small bowl and whisk to combine.

Once the broth is boiling, remove from heat and using a fork begin a circular motion in the broth. Slowly pour the egg mixture into the hot broth as you continue to stir with the fork. The egg should cook immediately in long string shape.

Serve immediately and garnish with 1 tsp sesame oil and green onions, if desired.

This does not store well so best if all is used the day of making.
Nutrition Facts
Keto Egg Drop Soup
Amount Per Serving
Calories 139 Calories from Fat 95
% Daily Value*
Fat 10.5g16%
Carbohydrates 1.5g1%
Protein 9.5g19%
* Percent Daily Values are based on a 2000 calorie diet.
Written By