It's that time of the year again. Your table is set, the turkeys in the oven, and you have a Low Carb Pumpkin Pie in the fridge waiting for your guests. It's in that moment you realize, you NEED a good whipped topping for that pie! So that brings up the question "Is Cool Whip Keto?"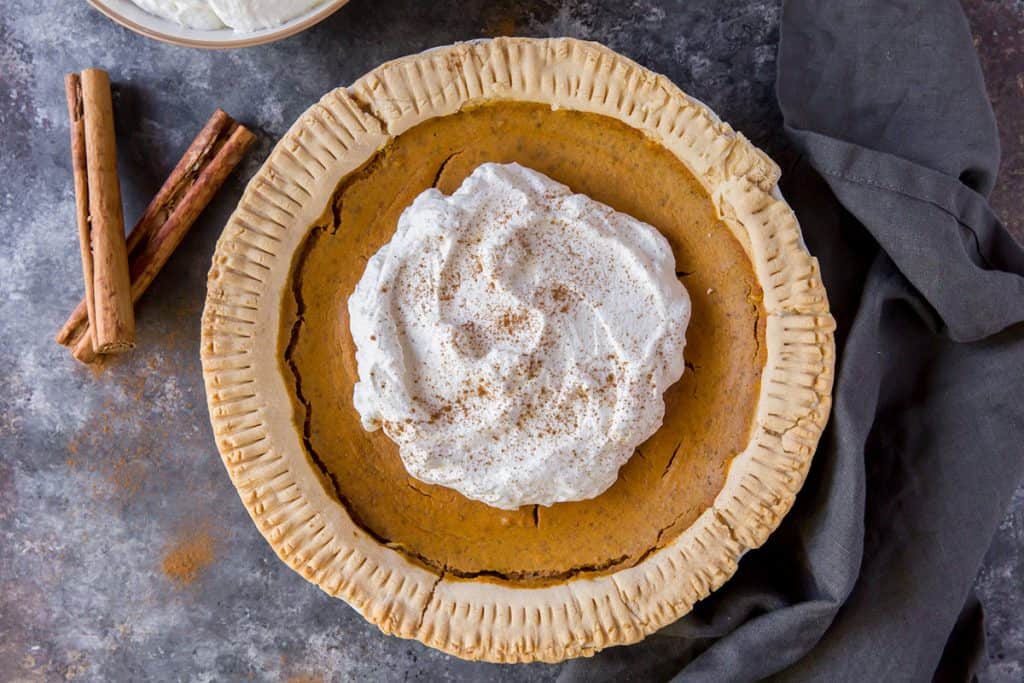 Before you run to the store and try picking up a pre-made whipped cream or ice cream, read through this page and learn about the best way to get that cool whip fix while on keto. Plus we've even included a homemade low carb recipe option that's ready in minutes!
Can I Eat Cool Whip on Keto?
Eating cool whip while on keto really depends on your diet preferences. The short answer, no, cool whip is not keto friendly for those on a strict low carb diet. HOWEVER, cool whip in small amounts can easily fit into a low carb/ keto diet. So what should you keep in mind when deciding if you want to eat cool whip this holiday season?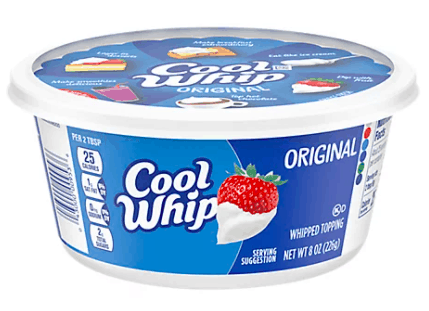 Macros
If you are following a more dirty keto approach (ex. eats processed foods, lots of hydrogenated oils/peanut butter), macros might be the only thing that matter to you. If that's you that's a-okay! Your keto diet is just that, yours! So let's talk macros since you follow the "if it fits you macros" approach.
Per serving size of cool whip it is 2 tablespoons (or 9 grams) . This is reasonable for a cup of hot cocoa or to top a bit of pie this holiday season. Anymore then that (ex. a whole bowl with berries) may run the risk of knocking you out of ketosis. This is because per serving there are 1.5 grams of fat / 3 grams of carbs- No fiber / 2 grams of sugar/ and 0 grams of protein.
While you can fit 3 grams of carbs into your allotted 20 NET per day (respectively), it is still worth considering skipping this topping. For three net carbs you could eat these keto friendly recipes instead:
So yes, macro wise cool whip can fit in a keto diet and may not even knock you out of ketosis, however two tablespoons of whipped cream may not be worth it when compared to other lower carb treats you can have. There is no magic number of carbs that will knock you out of ketosis because everyone's body is different. Just keep an eye out for your body personally and how eating traditional whipped cream makes you feel.
Ingredients
Everyone knows that whipped cream is delicious, but many don't realize the ingredients inside are a bit unsavory… I'm going to break down some of the ingredients so we can discuss why cool whip might not be the option for you, especially if you're very ingredient conscious.
Sweetener
Cool whip, like many whipped creams has some form of sweetener. Natural whipped cream (aka heavy whipping cream) is a bit sweet which is perfect for a low sugar treat that doesn't feel sugar free. The problem comes when brands add a bunch of extra sugar in order to make their products more addicting. 2 tbsp of cool whip has 1 gram of sugar. That doesn't sound bad until we break down the source. There is both corn syrup AND high fructose corn syrup in this brand of whipped cream. Don't let the vegetable corn fool you, corn syrup is highly processed and refined. This syrup is just another name for starch and sugar. High Fructose Corn Syrup is also linked to type two diabetes, as well as insulin resistance(1).
Hydrogenated Oils
The package reads vegetable oils, however these aren't oils like avocado and expeller pressed coconut oil. They are using ultra refined hydrogenated oils such as palm oil and hydrogenated coconut oil. These oils are no longer a healthy fat. Palm oil specifically is extremely unsustainable for the environment, and is linked to cardiovascular disease. In order to make hydrogenated oils you must turn liquid fat into a solid, thus creating a trans fat (2). These man made fats are extremely unhealthy and should be avoided whenever possible. There are actually very few products that still disclose these trans fats properly in the nutrition label. Anything that says hydrogenated oils in the ingredients list will have those bad trans fats, for example no stir peanut butter. They use hydrogenated oils to emulsify and make the product shelf stable. It may not always list trans fats, but they are there. Just like no stir peanut butter this cool whip has them too.
That Lovely "Less Than 2 Percent"
While brands love to claim that it's only less than two precent of the serving, bad ingredients are still bad ingredients. Keto whipped cream should never contain things like natural and artificial flavors. Cream itself has a lovely flavor that doesn't need chemical made additions. If you really want extra flavor you can add vanilla extract which is low carb because you only need a small amount. Whipped cream also shouldn't have "polysorbate 60, sorbitan monostearate, sodium polyphosphate". Do you know what all those ingredients are? Neither did I at first. Once you google them you can see repeats of these ingredients in things like wax products and cancer studies.
This is not to tell you that having cool whip every once in a while is going to kill you. IT'S NOT. It should make you aware though about what is going into your body. You deserve to be an informed consumer and make choices about ingredients you can actually understand.

Dairy Free Whipped Cream
A lot of times when you're browsing the isles for whipped cream you see different options such as coconut or almond milk bases. DON'T BE FOOLED. The great part about becoming an educated consumer is that you can see through their marketing and know that just because it's dairy free doesn't mean it's healthy. The serving size: 2 tbsp of the traditional almond milk whip is 2 grams of carbs per 5 grams (notice that's less weight and volume than the original cool whip). The coconut milk version isn't any better with a whopping 3 grams of sugar and 3 total carbs per 2 tbsp.
If you are dairy free and want a keto whipped cream option try whipping the thick part of a refrigerated can of coconut milk for 4-5 minutes, or until peaks form. For some extra fun whip in a little sugar free chocolate protein powder to make a protein filled chocolate coconut mousse. Both of these are high fat and sugar free keto whipped cream options, perfect for keeping your net carbs low.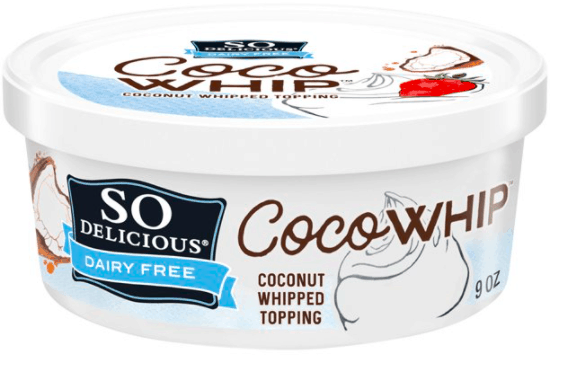 So Can You Enjoy Cool Whip on Keto?
Yes, technically you can. "Is cool whip keto", should be something you ask yourself based on what you know now. What really matters is what foods you feel comfortable consuming on your keto diet. It is definitely dirty keto but can be integrated in a low carb/ ketogenic diet. With 2-3g of carbs a serving feel free to use it for topping your pie every once in a while.
If you do want a keto whipped cream that you can feel good about the ingredients, try our homemade sugar free whipped cream recipe below. This is truly keto and good for you, just how heavy whipping cream should be. Plus because it's a sugar free keto food, it won't leave you feeling sick later.
How to Make Cool Whip Keto:
This recipe is so easy you have no excuse to even consider buying the store bought stuff. With only three simple ingredients and 5 minutes of your time, this year's desserts will be topped off with the best in no time.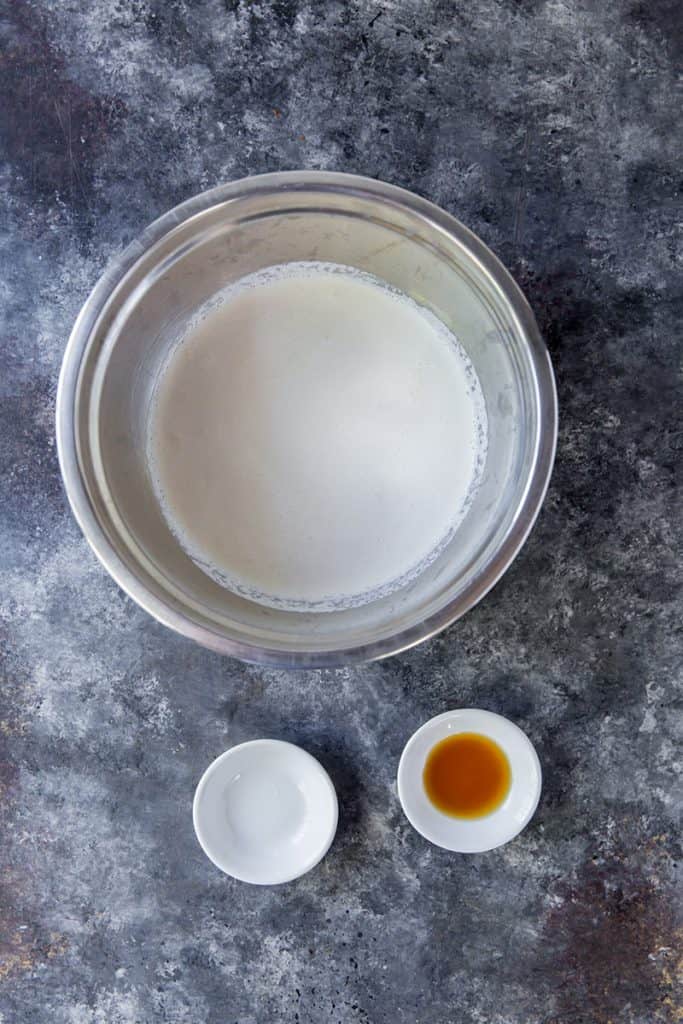 Ingredients:
2 cups cold heavy whipping cream– It is important the heavy cream is cold because the temperature affects how well the cream will whip. If possible buy organic pasture raised or grass fed cream because it has the richest and fattiest texture. Plus high quality cream usually means that it's the only ingredient and it hasn't been mixed with emulsifiers like carrageenan.
20 drops stevia extract– Liquid stevia works wonders in recipes to keep the cream smooth and sweet without a ton of sugar alcohols. %100 sugar free, you can always add more stevia if you want. Start with 20 drops then add more to taste.
1 tsp vanilla extract– Who needs artificial flavors in their whipped cream when you can have real vanilla extract! This flavorful ingredient can make any recipe 10x better and keep the recipes net carbs under 1 because you don't need much.
The Recipe for the Perfect Keto Whipped Cream
When you're ready to put it all together and top those pies, pull out your mixing bowl. This keto recipe will take about 5-7 minutes for everything (not including chilling the bowl). Before you know it, you'll have a delicious keto whipped cream.
First, combine all ingredients in a large cold metal bowl. – Again this helps with whipping so we recommend throwing your bowl in the freezer for 10-15 minutes before hand.
With an electric hand mixer, mix all ingredients until medium peaks are formed. – We even love using a stand mixer to make it fully hands off. If you do go the hand mixer route, start slow so there's no cream explosion.
That's it enjoy it! Store leftovers in the fridge and consume within 7 days.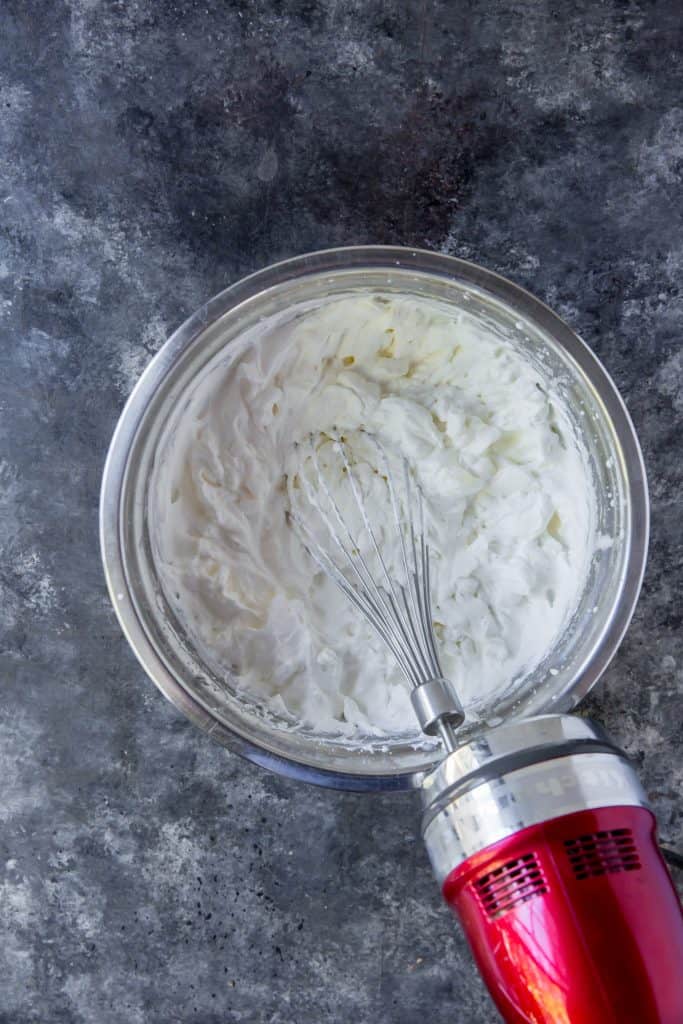 What to do With Keto Whipped Cream
Incase you have a ton of extras or you just love keto whipped cream. We've got some great keto recipes for you to try out. Top these delicious recipes with heaps and heaps of our sugar free keto whipped cream:
Making Whipped Cream Fun (Customizations!)
If you're looking for some other options to make specialty desserts with whipped cream look no further. To customize your low carb cool whip:
Add Protein Powder– This addition makes any whipped cream a special new flavor. We love chocolate or peanut butter flavored protein powder which makes this keto whip cream extra thick. Just make sure your protein is low in net carbs and keto friendly.
Chocolate Shavings- Grate or chop your favorite dark chocolate into the whipped cream and serve with berries for a delicious high fat dessert that's low carb and keto
A Spoon Full of Jam- No really. Add a spoon full of sugar free jelly to make a delicious treat. It's especially tasty when paired with some of the peanut butter protein powder whipped cream. It is certainly a peanut butter jelly time moment made keto friendly
Matcha Powder- You may want to add a bit of extra sweetener, but 1 tsp of matcha powder blended into heavy whipping cream makes a nice and light dessert that pairs well with an easy low carb vanilla mug cake recipe.
Ice Ice Baby
Throw tablespoons of keto whipped cream on a parchment paper lined baking sheet. Stick them into the freezer and once they have frozen you have perfect little whipped cream keto bites. They are high fat and keto friendly, plus they are great for someone who always needs a little something sweet at the end of a meal. Another good option is dipping the bottom of them once frozen into melted chocolate or PB2 that has been prepared. Then re- freeze the keto bites and enjoy.
Frozen treats are also a good option because they take more time to eat. If you pound back keto desserts that have lots of sweeteners, try them frozen for a change! Trust me it's a great hack for those recipes that are hard to have self control with.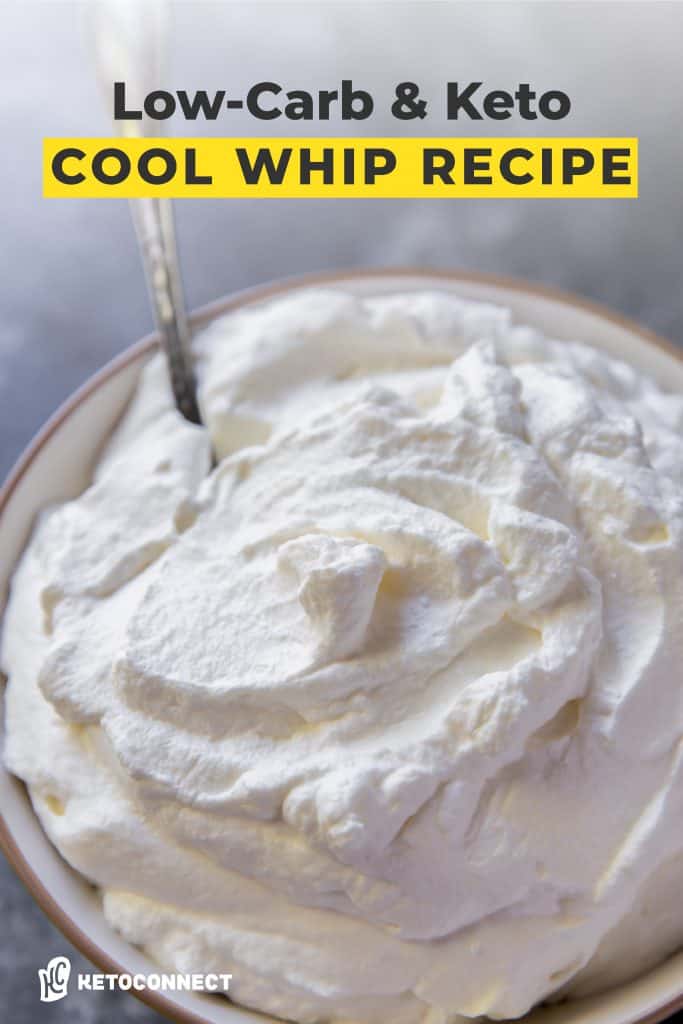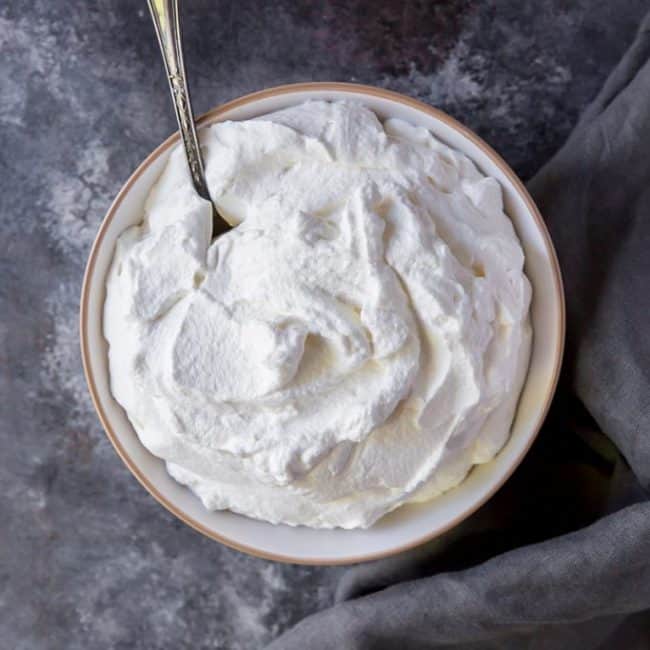 Keto Cool Whip
Is cool whip keto? It is now when you use this simple three ingredient recipe!
Total Time 2 minutes
Servings 16 servings
Calories per serving 103kcal
Prep Time: 2 minutes
Cook Time: 0 minutes
What You Need:
Electric Hand Mixer

Large Mixing Bowl
Instructions:
Combine all ingredients in a large metal mixing bowl. Mix with an electric hand mixer until medium peaks are formed.

Store in fridge for 3-5 days.
Notes
For a thicker cool whip you can add some cream cheese to the already whipped heavy cream. If you do not have a metal mixing bowl this can still be made with a plastic mixing bowl. 1 gram net carbs per serving
Nutrition Facts
Keto Cool Whip
Amount Per Serving
Calories 103 Calories from Fat 99
% Daily Value*
Fat 11g17%
Saturated Fat 7g35%
Cholesterol 41mg14%
Sodium 11mg0%
Potassium 22mg1%
Carbohydrates 1g0%
Sugar 1g1%
Protein 1g2%
Vitamin A 437IU9%
Vitamin C 1mg1%
Calcium 19mg2%
* Percent Daily Values are based on a 2000 calorie diet.
Written By