When it comes to Italian desserts there is nothing quite like the rich coffee flavor you get with Tiramisu. The only downsides are that it's loaded with carbs AND it takes an entire afternoon to make properly. We'll show you how to make keto tiramisu the easy way in less than 15 minutes!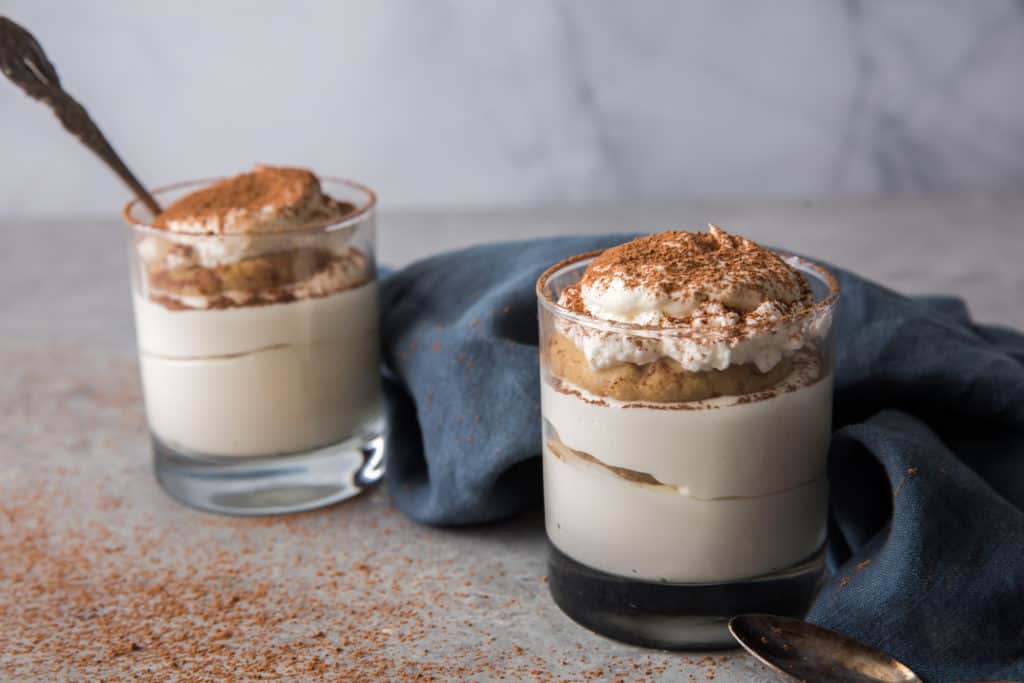 Making Low Carb Keto Tiramisu
Turning this high carb recipe into a keto dessert not only makes it much healthier, but it also reduces the cook time. You won't need a double boiler or tons of prep time, and you won't feel like you're on a low carb diet.
Traditional tiramisu is a rich dessert that has layers of cream filling and soft Italian cookies called lady fingers. To replicate this dessert we are going to make a homemade lady fingers replacement. We will also be using some keto hacks to achieve a fluffy cream layer that will rival the high carb version of this dessert.
What we're not going to be making here is a keto tiramisu cake. This recipe is a true tiramisu that will remind you of the one you used to order at the fancy Italian restaurant. Make sure to tip the waiter!
This recipe made our list of the top 17 best keto fat bomb recipes!
Make The Keto Ladyfinger Cookies (Very Easy)
I know it sounds intimidating. Making keto cookies first, then assembling them with the rest of the low carb tiramisu recipe, but it's actually quite simple. The only step of this keto dessert that requires cooking is these keto cookies. We just need a handful of simple keto friendly ingredients.
Before starting it is very important to have all the ingredients at room temperature. If everything is not at room temperature it will be hard to mix together and you'll end up with a lumpy cream. No one wants lumpy cream.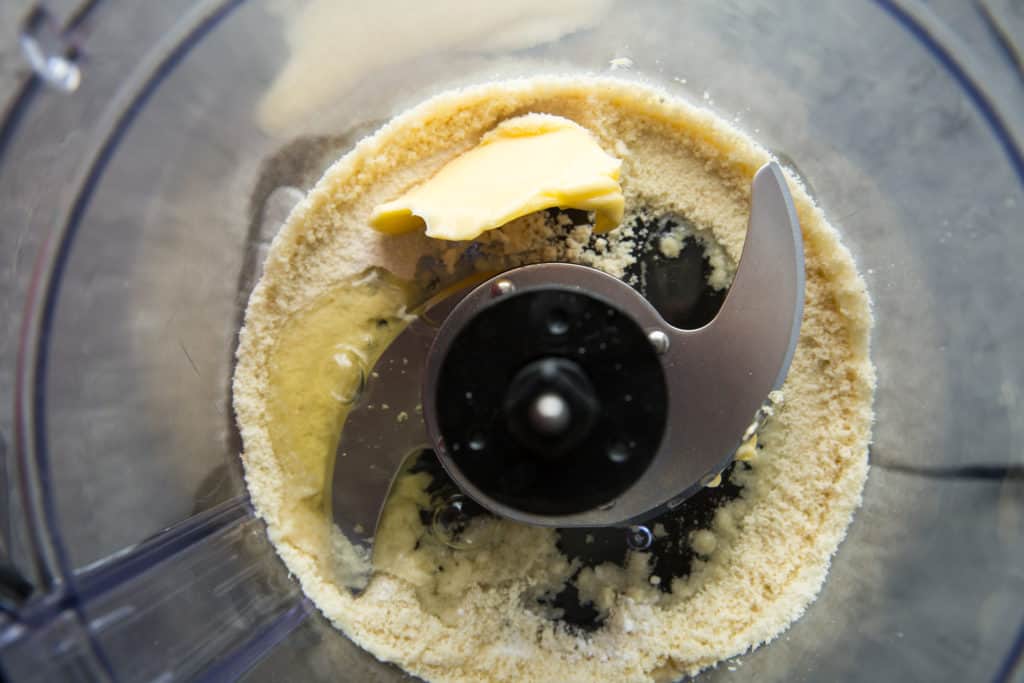 For the base we use a mixture of almond flour and coconut flour. This combination will achieve the texture we're looking for from these cookies. We want them to be firm enough to hold up to the coffee and cream filling that they will eventually be up against. Almond flour on it's own produces to crispy of a cookie. This base of flours (almond flour and coconut flour) is what sets the stage for this gluten free low carb tiramisu.
For the sweeteners we use a mixture of erythritol and stevia. This combination of low carb keto sweeteners gives us the best of both worlds. We get a strong sweetness without the aftertaste that can be a problem with sugar replacements in high amounts. We use a powdered sweetener when it comes to the erythritol for this keto recipe.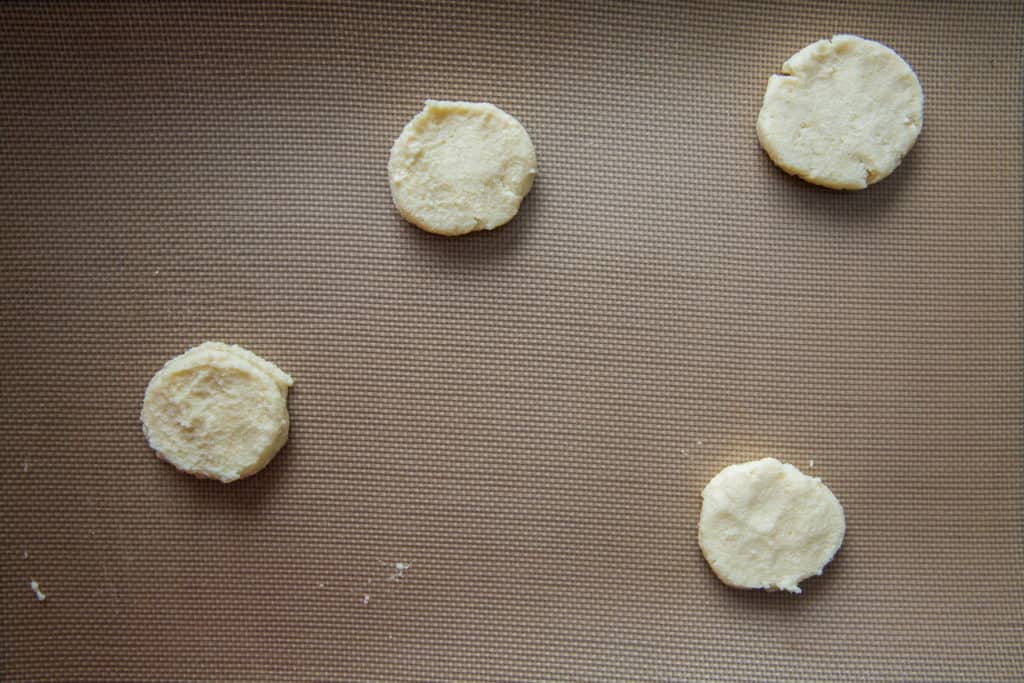 Why do we use egg whites in this recipe and not the egg yolks? The removal of the egg yolks will make the cookie layer firmer and crispier. Egg yolks would make them chewier and more bread like, which we want to avoid in this dessert.
Brew the Coffee or Espresso
Strong coffee is the signature flavor of a tiramisu. The goal is to get as much of that flavor into this dessert as possible, which brings up a few options. Brewed coffee will be too weak and should only be used as a last resort. The best two options are espresso or instant coffee. Both of these can be made very strong, and will pack enough of a punch to be tasted over the high fat cream filling. Place this in the fridge for when the cookies come out of the oven.
You can add rum to this keto tiramisu recipe for an added kick.
If you feel you're not getting a strong enough flavor you can add some coffee extract to this step.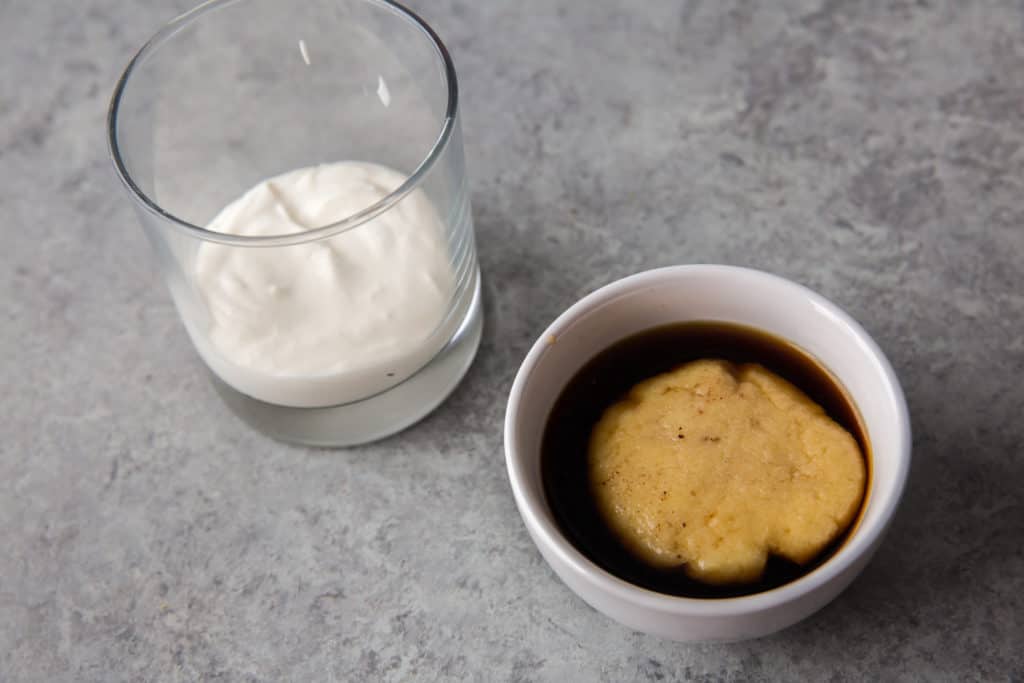 Make the Sugar Free Cream Layer
When making tiramisu on a keto diet you can either use mascarpone cheese or cream cheese for this layer. Mascarpone cheese is the more traditional ingredient, but in many of our keto recipes we use cream cheese as a replacement because it is more widely available. The two are very similar in taste, with cream cheese having slightly more of a tangy flavor to it.
As with most keto desserts, ensure that all ingredients are at room temperature. You will need two bowls, one for the heavy cream, and another for the remaining ingredients. Whip these separately and gently combine with a hand mixer, food processor or counter top mixer. When combining you want to stop as soon as the whipped cream has combined and is still fluffy. Don't overmix. Typically you would gently fold this step but in this recipe mixing works better.
Beating the heavy cream works best when it is very cold. If you're struggling with this part of the recipe this is likely the issue.
Assemble the Keto Tiramisu Recipe
Now for the fun part. I guess the fun part of most keto recipes is eating them, but assembling this keto tiramisu is pretty fun too.
Using a stemless wine glass or a clear dessert cup start by adding a layer of the cream filling. I like using a cookie scoop for this step.
Make sure your cookies and espresso are cooled, otherwise the cookies may fall apart. Dip the cookie into the espresso and submerge for 5 seconds. Add the cookie to the serving glass.
Top with another layer of cream filling until the cookie layer is completely hidden.
Dust with a healthy dose of cocoa powder. Using a dark chocolate cocoa powder gives this keto recipe the most traditional flavor.
Now all that's left to do is sit down and enjoy!
As with all of the best keto desserts, be sure to keep in the fridge. It will last for up to a week so you can enjoy it after your keto meals on busy nights.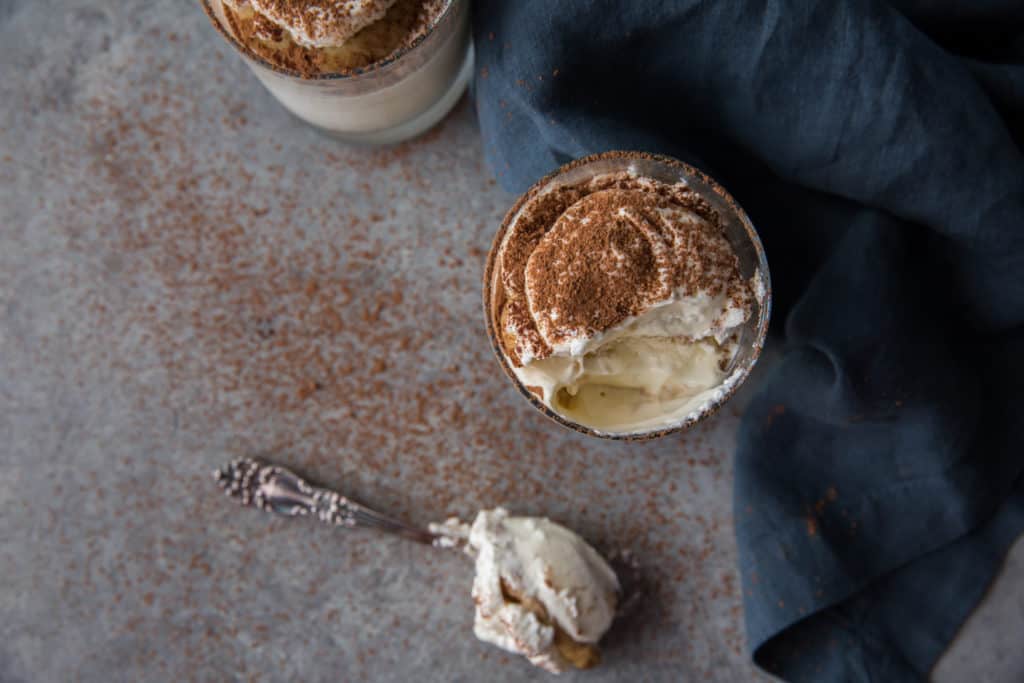 Changes to This Gluten Free Tiramisu Recipe
People often ask if you can make this recipe dairy free. Many people on a dairy free keto diet still love this classic dessert, but the sad truth is this is just one of those keto recipes that can't be made without dairy. The cream filling is too essential of a component that without it some keto desserts just wouldn't be the same.
If you want some dairy free keto desserts to add to your keto meal plan then try these:
A popular low carb keto alternative to this more traditional tiramisu keto recipe is to make tiramisu cake. While that is an option, tiramisu sponge cake just isn't the same. Part of the fun of being on a keto diet is making indulgent high fat keto recipes that you don't have to apologize for. Tiramisu sponge cake just introduces more elements that need to be replaced with keto alternatives.
New to the Keto Diet and Need More Low Carb Recipes?
Well you just so happen to be at the best low carb keto food blog in the world. We have hundreds of sugar free, gluten free, keto recipes. A handful of our favorite low carb keto concoctions are:
Browse this site and find different options to add to you keto meal plan for the week, or for a low carb version of your favorite food. Remember, a low carb keto diet should not feel restrictive if you intend on sticking to it over the long haul. Every recipe on our site is sugar free, gluten free and keto friendly. Unlike other sites that have a mixture of different diets and recipes, you can browse ketoconnect.net with confidence knowing everything is keto.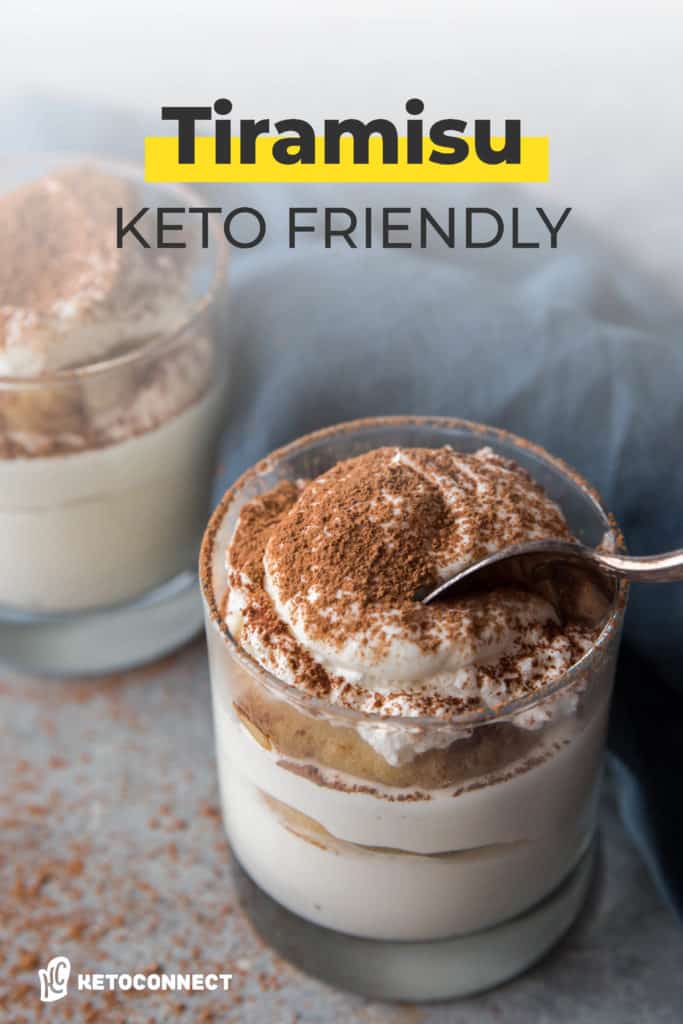 Make sure to leave us a comment if you make any of our keto friendly dessert recipes.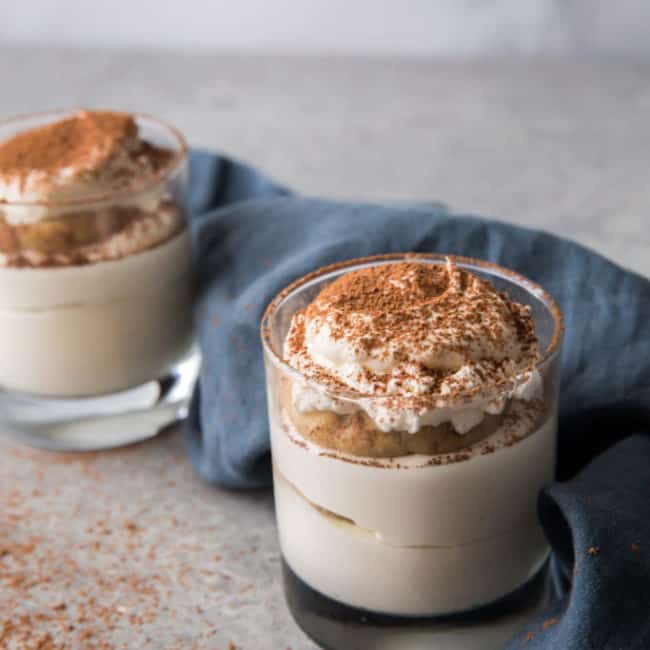 Keto Tiramisu
Our easy to make single serve Keto Tiramisu recipe will transport you to Italy without the the traveling or the carbs!
Total Time 18 minutes
Servings 4 Servings
Calories per serving 397kcal
Prep Time: 10 minutes
Cook Time: 8 minutes
Ingredients:
Instructions:
Cookie Layer
Preheat oven to 375°F and line a baking sheet with parchment paper.

Combine almond flour, coconut flour, erythritol, baking powder and salt. Mix until well combined using a whisk.

Add the vanilla, egg and butter to the dry ingredients. Cut the butter into flour mixture, or combine on pulse setting in a food processor.

Chill dough in the freezer for 10 minutes.

Once chilled, form the batter into 4 balls and flatten them. Space at least 1.5 inches apart from each other on baking sheet.

Cook for 6-8 minutes of until golden brown around the edges. Remove and allow to cool prior to dunking in coffee mixture
Coffee Mixture
While cookies bake, combine coffee and rum (if using) in a small bowl; chill.
Filling
In a medium mixing bowl, combine cream cheese, vanilla extract, erythritol, and stevia using an electric mixer until smooth and creamy.

Pour the heavy cream into a separate bowl and whisk on high speed until medium to stiff peaks form, about 1 minute. Do not over beat.

Add the whipped cream, into the cheese mixture and whisk on low speed until the cream cheese is well incorporated into the cream, about 1 minute.

Spoon some cream into the bottom of a stemless wine glass or dessert cup. Dip a cookie in the coffee mixture for 5 seconds, soaking it lightly and then place on top of the cream. Dollop some more cream on top of the cookie.

Sprinkle with unsweetened cocoa powder, if desired, and refrigerate until ready to serve. Repeat steps to create three more keto tiramisu desserts.

Leftovers best stored in air tight container (small glass jars work great) in the fridge up to 2 days.

Note: Feel free to use only a portion of the filling. This will decrease the fat and calories on each Keto Tiramisu!
Notes
Net Carbs: 5g
Servings: 4
Nutrition Facts
Keto Tiramisu
Amount Per Serving
Calories 397 Calories from Fat 351
% Daily Value*
Fat 39g60%
Saturated Fat 21g105%
Cholesterol 119mg40%
Sodium 252mg11%
Potassium 139mg4%
Carbohydrates 6g2%
Fiber 1g4%
Sugar 2g2%
Protein 8g16%
Vitamin A 1332IU27%
Calcium 90mg9%
Iron 1mg6%
* Percent Daily Values are based on a 2000 calorie diet.